With breathtaking scenery and amazing landscapes, the idyllic island that sits at the edge of the world is gradually becoming one of Australia's most popular holiday destinations. Known affectionately as "Little Tassie" by locals, one will find untouched wilderness, spectacular views, gourmet cuisine and a myriad of fun activities here in Tasmania!
Traverse across the gorgeous island with our one-week itinerary to catch a snapshot of its hidden gems – trust us, it will definitely be love at first sight with Little Tassie!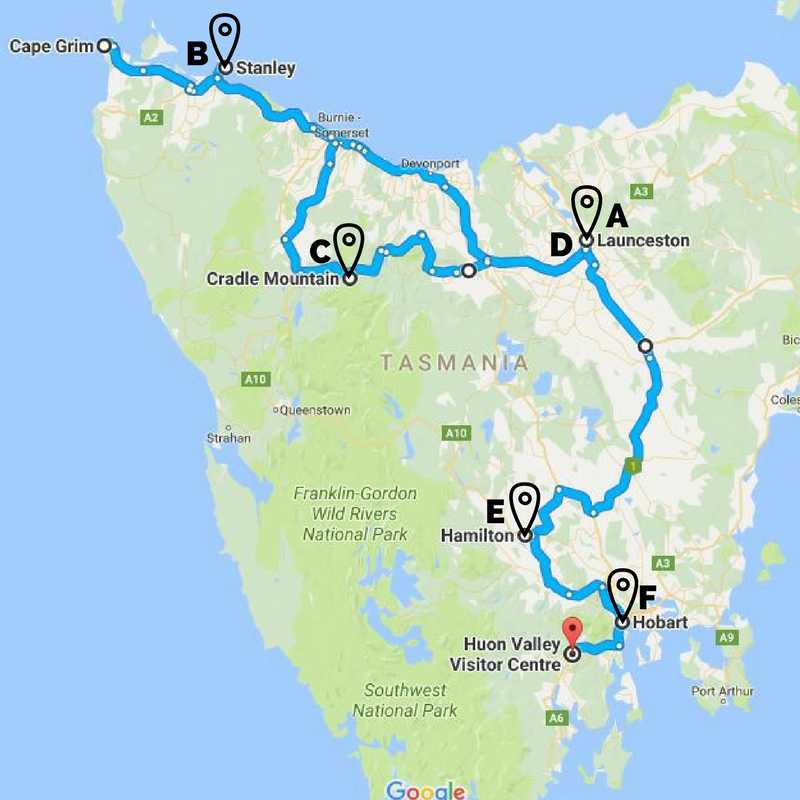 First things first! Rent your vehicle from Zero Excess at Launceston Airport as it allows you to drop off your vehicle at Hobart Airport, the final stop of your road trip.
In addition, arrive a day before to settle down and do the necessary grocery shopping for the road. Plus, recharge yourself from the 10-hour plane ride to get ready for a long adventure ahead. We hope you are as excited as we are, because this is going to be one EPIC road trip!
Day 1: Explore Launceston
We began our road trip in Launceston, Tasmania's second largest city. Home to some of the best-preserved Victorian streetscapes, this region also has a vibrant food and wine culture that will be sure to ignite the food connoisseur in you.
To the north in Tamar Valley, you will find over 25 wineries where you can sample Tasmania's acclaimed cool-climate wine. These include the Leaning Church Vineyard,  Moores Hill Estate and Native Point Wine. Savour on the finest Tasmanian Chardonnay, Riesling, Sauvignon Blanc, Pinot Gris and Pinot Noir in these vineyards!
Next, drive over to Bridestowe Lavender Estate for a romantic walk through a majestic field of lavender. Established in 1921 by London perfumer CK Denny, this historical farm began with a packet of lavender seeds from the southern French alps – the Lavandula Angustifolia. As Little Tassie's climate and conditions resembled the famous lavender regions of Provence, it was the perfect place to breed these magnificent lavender plants!
When you are visiting, be sure to try the mouthwatering lavender ice cream and shop for wacky lavender products. There are lavender heat pack bears, lavender soap and diffusers, lavender culinary ingredients and even lavender hampers for those who want them all!
Just a short five-minutes' drive away from the city centre, your final stop is the Cataract Gorge – a huge natural basin filled with the cold, refreshing waters of the South Esk River. Hop onto the slow speed, single-span chairlift to catch a bird-eye's view of the magnificent gorge. Word has it that this is the longest single chairlift span in the world!
As the day comes to an end, head back to Launceston for the night. Just a head's up – pack your bags as you will be moving to another town tomorrow night!
Day 2: Launceston – Stanley
Kickstart the second day with an interesting 'raspberry' breakfast at Christmas Hills Raspberry Farm. You are in for a treat – Christmas Hills Raspberry Farm serves a wide range of food choices, from crumpets with homemade raspberry jam to a unique raspberry coconut risotto!
After a hearty breakfast, take a short 10-minutes' drive to Ashgrove Cheese Farm to check out cheese making in Tasmania. This particular cheese farm also sells quirky cheese flavours, including Wild Wasabi, Bush Pepper, and Lavender!
Craving for chocolate? Simply drive north for about 20 minutes to the House of Anvers Chocolate Factory to taste the best chocolate and truffles in the region.
Opened by Igor Van Gerwen, House of Anvers boasts of using the freshest and finest ingredients for chocolate making. This include Tasmanian cream, whose flavour Igor believes is the richest in the world!
From here, the drive to Stanley will take about two hours. Ride along the scenic coastal route to enjoy the ocean breeze and spectacular views of pearly white beaches. If you are a beach-lover, you must stop by Boat Harbour Beach, a secluded sanctuary not known to many, to soak in the soothing melody of the rhythmic waves.
For tonight, find rest in the beautiful north-west town of Stanley.
Day 3: Stanley – Cradle Mountain
If you are an avid photographer, today's itinerary is perfect for you. Not only will you get a chance to capture Tassie's incredible landscapes and stunning coastlines, you will also have the opportunity to photograph Australia's famous wildlife!
We begin the day with a visit to Cape Grim at the remote north western tip of Australia. Take in deep breaths while you are there – it is said that this secluded region of Tassie has the cleanest air in the world! Afterwards, head to the nearby Woolnorth Wind Farm to witness the grandeur of a field of windmills.
Thereafter, take a two-hour's drive towards Launceston to Table Cape Tulip Farm where you can admire colourful fields of lilies, iris, and daffodils. Make sure you schedule your visit during September to October to catch a glimpse of your favourite striped tulips!
Take as many Instagram-worthy shots as you can before continuing down the same route to Burnie Makers' Workshop for an engaging paper-making tour. Fun fact: Making paper by hand, the experts at the Burnie Makers' Workshop use traditional methods and unique local fibres, including wombat poo, apple pulp and rainforest leaves!
If you are starving by now, hop over to The Burnie Farmers' Market and Country Crafts, the first ever farmer's market in Tasmania, to buy fresh and cheap local produce. There is even an outdoor cappuccino bar for visitors to sit and mingle with local farmers!
Afterwards, take a one and a half hour's drive to the devil's sanctuary – [email protected]. As you venture into its lair, learn more about the ongoing conservative efforts to rescue and protect this endangered species. Check out the after-dark feeding tours at 5.30pm for a close up opportunity to watch the Tasmanian Devils feast!  
Be warned! While the Tasmanian Devils may look cute and furry, do not underestimate their feistiness! In fact, the Devils received their name because of the frightening screams they make while fighting for food. Their reddish-black ears are also said to resemble the devil's horns!
You are done for the day! Now, head over to Cradle Mountain Wilderness Village for a homely cottage stay overlooking luscious greenery. Before you turn in for the night, enjoy a romantic moment stargazing with your loved ones from your home away from home.
Day 4: Cradle Mountain – Launceston
Wake up earlier today to explore the tranquil Cradle Mountain National Park. Famed as the jewel of Tasmania's nature, the mesmerizing scenery here will steal your breath away. Ancient pine trees lining the enchanting Dove Lake, coupled with the cooling weather, makes the rugged mountain a walker's paradise. If you are lucky, you may even see wild platypuses and  Tasmanian Devils!
After a peaceful morning stroll, head back to Launceston. On the way, drive through Paradise (yes, that's the name of a quaint Tasmanian village) to the Marakoopa Cave to see rare glow worms – just when you thought Tasmania's wildlife cannot get any better!
A short 20-minutes' drive away from here, take a pit stop at Melita Honey Farm to relish in the delightful Tasmania Leatherwood honey. Then, grab a "Swampwich" (local hot smoked salmon sandwich) at 41 South Tasmania Salmon and Ginseng Farm for your late lunch before going on a 45 minutes' drive back to Launceston.
We know it's been a long day on a winding road, so head to Country Club Villa for a good rest. This spacious Villa comes with a fully-equipped kitchenette so you can even whip up your own meals if you are too tired to head out for dinner! Relax in the comfortable living room as you enjoy free Wifi and a HD flat screen TV – you'll feel right at home!
Day 5: Launceston – Hamilton
Prepare your cameras as we take on the Heritage Highway today! If you think that it's going to be just another highway, you cannot be more wrong. This historical highway traces the original route between Launceston to Hobart, and was built by convicts in the early 1800s. There's so much to see and do along the highway that some travellers can take up to TWO days to cross it!
On the way, stop by the idyllic town of Evandale to visit the famous Tasmanian Gourmet Sauce Company. Not only is its architecture pretty and alluring, the shop also sells the finest jams, sauces and condiments in Tasmania! While you are there, take a quiet stroll along the streets of Evandale to enjoy its picturesque Georgian buildings.
Another notable place along the Heritage Highway is the village of Ross. Small as it may be, the village has a big story to tell. Once a prominent location with a strong military presence, one will noticed that many of its buildings and streets are named after battles of the Napoleonic wars. The Ross Bridge, for example, exemplifies the rich Australian history encapsulated by Ross. Constructed by convict labour, this sandstone bridge is the third oldest bridge in Australia!
Apart from its colourful history, Ross is also renowned for its scallop pies! At Bakery 31, these special Tasmanian Pies are made with fresh and juicy sea scallops from the Tasman Sea. This delicate pastry is wickedly good, we guarantee that you won't just stop at one!
Where to stay along the Highway you ask? Well, we've found you a superb accommodation for the night! At Curringa Farm, experience an authentic farm stay with the cutest farm animals that will melt your heart. Not only are their award-winning cottages clean and spacious, they also offer splendid views of lakes and mountains!
Day 6: Hamilton – Hobart
Rise and shine! Take the morning to enjoy some farm activities and the scenic Derwent Valley where the farm sits. It's not everyday that you find such a charming farm, is it? Jane, the hospitable co-owner of Curringa Farm, also bakes a mean Royal Danish Sweetheart Cake, so be sure to try that out!
In the noon, bid reluctant farewells to Curringa Farm and head to Bonorong Wildlife Sanctuary for an opportunity to interact with fascinating native animals. Run by a team of passionate individuals, this Wildlife Sanctuary dedicates itself to protecting endangered species in Australia.
Meet Thumper, one of the rescued wombats at Bonorong Wildlife Sanctuary! This adorable wombat lost her mother when she was just the size of a grapefruit. Her mother had sacrificed herself to protect Thumper against the impact of an incoming vehicle, leaving an infant Thumper alone and helpless. Workers from the Wildlife Sanctuary had found her on the brink of death, but thankfully they arrived just in time! They then rehabilitated her for 20 months till she became this healthy and happy wombat.
After a 30 minutes' drive from the Wildlife Sanctuary, you will finally arrive in Hobart – the enchanting capital of Tasmania! Nestled at the foot of Mount Wellington, Hobart is both whimsical and eclectic. Despite its slow-paced lifestyle, the numerous galleries, bars and restaurants in Hobart stand testament to the city's creative and vibrant culture.
To experience Hobart's beauty, treat yourself to an exhilarating seaplane ride just before sunset. As you witness glorious views of the city against the backdrop of the setting sun, you will find an unexplainable affection towards Little Tassie that you never want to leave.
In addition, Hobart's fresh seafood is not to be missed! For dinner, head to Fish Frenzy for a delicious spread of oysters, scallop, fish and prawns!
Since it's your last night here in Hobart, pamper yourself with a memorable stay at the luxurious lodge, Lenna of Hobart. "Lenna", meaning "house" in Tasmanian Aboriginal, is a carefully preserved, historical hotel that sits at Hobart's waterfront. With colonial-style architecture and a panoramic view of Hobart, guests will be sure to have an unforgettable stay.
Day 7: Hobart – Huon Valley – Hobart
Ah, time passes so quickly we are already on the last day! Before we get started on today's activities, have a delectable breakfast at Jackman and McRoss, a brilliant bakery with freshly-baked pastries. Make your last breakfast in Tasmania count!
We then head south to the beckoning Huon Valley for a walk above the treetops on the Tahune Airwalk. 30 metres above the forest floor, there is no better way of experiencing the calming forest. Take a quiet minute to appreciate your last moments with Tasmania's nature – it's truly a gift that keeps on giving!
It's always the hardest to say goodbye, especially after all the terrific moments here in Tasmania. This is precisely why Tasmania is so magical – it captures your heart a little bit at a time, till you are entirely captivated by it. Yet, this one week road trip has barely scratched the surface of this extraordinary island! Tasmania is definitely a holiday destination where you can keep coming back, but never get tired of it.
Aren't you dying to go on a Tasmanian Road Trip already? We can help you get there. Jetabout Holidays, the experts on Australia, has THE roadtrip package just for you. With car rental and accommodations at each location meticulously arranged for you, all you need to do is bring yourself! Furthermore, if you wish to customise your road trip, simply let them know and they'll help you personalise your ideal holiday!