So, you are about to leave Australia after weeks of travel. Your friends and family back home are patiently waiting for your return. What do you think are the best souvenir items that you can bring home for them? Because whether they've told you or not, no one wants to get magnets and keychains anymore. But don't worry, we are saving you from the trouble of guessing. We made a list of Australia souvenirs for your shopping reference. Take your pick!
Also read: The ONE Thing You Didn't Know About Each of Australia's 6 States and 2 Territories
Edible Australia souvenirs
1. Vegemite
Not everyone loves it, sure. But bringing home at least one jar of vegemite home means that you've been to the Land Down Under. Made from leftover brewers' yeast extract, you only need a small amount of this black Australian spread for your toast to taste good.
Fun fact: Did you know that vegemite is not only eaten with bread and butter? Australians use it in making spaghetti, beef stews, and tomato toast, too!
Where to buy: Woolworth's
Price: From AU$3.35
2. Tim Tam
The famous cream sandwich from Arnott's is just too good for you to forget bringing a few bags home for your friends. These goodies come in different flavours so make sure that you get to try most if not all of them. Watch out for supermarkets going on sale because the price can go down super low!
Where to buy: Woolworth's
Price: From AU$1.80
3. Violet Crumble
Australia is not just about Tim Tams, people. If you want to bring home something crunchy and filled with honeycomb, Violet Crumble chocolate bar is the best choice for you. Just make sure that you pack these sweet treats in your suitcase carefully or else they will crumble before you even get home.
Where to buy: Woolworth's
Price: From AU$1
4. Kangaroo Jerky
Because you can't bring home the famous kangaroo and crocodile pizza served at The Australian Heritage Hotel, get your loved ones some kangaroo jerky instead. It is conveniently available in grocery stores and souvenir shops so it won't be hard to find. This kangaroo jerky is a unique twist to the traditional beef jerky that is more widely available worldwide.
Where to buy: Cole's Supermarket
Price: From AU$5.45
5. Haigh's Chocolates
If you're in Sydney and have visited the Queen Victoria Building, you probably have seen some people inside the small store of Haigh's Chocolate. The artisan chocolates are handmade, and hand wrapped even though it's been open since 1915 with over 15 stores nationwide.
Where to buy: Haigh's Chocolates, Queen Victoria Building, Sydney
Price: From AU$0.90/ 6g
6. Tea from T2
T2 is an Australian chain of specialty tea shops. They have an extensive range of tea available all year round. Why not bring your tea-loving friends a bag or two?
Where to buy: 269 Little Collins St, Melbourne
Price: From AU$17
7. Wine from Yarra Valley
Melbourne visitors usually make a day trip to Yarra Valley. Tourists can visit Victoria's wine growing district for a gourmet tour which includes a variety of wine, cheeses, and chocolates. After the tour, you can get your friends and family some bottles of wine and maybe a bottle for you, too!
Where to buy: Wine Yarra Valley
Price: From AU$24
8. Bickford's Lime Juice Cordial
Since 1874, Bickford's has provided Australians with their signature Lime Juice Cordial. You can quickly get their array of thirst-quenching products from Woolworth's as well.
Where to buy: Woolworth's
Price: From AU$3.85
Essential products to purchase as souvenirs in Australia
9. Bondi Wash
Bondi is not just a beach in Australia. It's also a brand name of an Australian product line. From hand wash to dog wash, they've got it all for you! One of their best sellers is the baby wash which is 100% gentle because it doesn't use synthetic preservatives that could be harmful to your babies.
Where to buy: Bondi Wash, 76 Gould St, Bondi Beach
Price: From AU$1
10. Lucas' Papaw Ointment
Lucas' Papaw Ointment is so soothing that even Michelle Phan is obsessed with it. It is a topical application that can soothe your insect bites and even minor burns. So cool, right? Just make sure that you are buying from authentic Lucas' Papaw ointment stockists because apparently, some manufacturers copied the red packaging of this product to deceive consumers.
Where to buy: Woolworths/ Cole's/ Big W Department Stores/ Priceline Pharmacies
Price: From AU$5.25
11. Emu oil moisturiser
Now, that's interesting! Do you think your skincare obsessed loved ones are going to go crazy over this different type of moisturiser? Emu oil is said to improve the ageing condition of your skin and can prevent wrinkles, too.
Where to buy: Emu Tracks
Price: From AU$8.50
Footwear and Accessories
12. Ugg boots
Oh, mate! Wherever you are from, you've probably heard of Ugg boots. Their sheepskin boots are one of the top Australian souvenirs brought back home by tourists. However, if you're an animal lover, you might not want to know how they make these boots.
Where to buy: Australian Ugg Original
Price: From AU$89
13. Kangaroo made leather products
Real McCaul specialises in creating leather goods like wallets, bags, and jackets made from kangaroo skin. Kangaroo leather was proved to be the most durable leather in the world because of the thickness that makes it very unlikely to rip off. If you're looking for a leather product of high quality, then make sure that the makers used kangaroo leather.
Where to buy: Real McCaul, 77 Memorial Dr Eumundi, Queensland
Price: From AU$29
14. Opal jewellery
No wonder Sydney's public transport card is called Opal card. Opal is the national gemstone of Australia.
Where to buy: Opal Minded, 55 George St, The Rocks NSW 2000, Australia
Price: Up to AU$15,000
Aboriginal Australia souvenirs and decorations
15. Boomerang
We are not talking about Instagram, alright? Boomerang in Australia has a different meaning. The aboriginal hunters use this distinct Australian emblem as a weapon in hunting.
Where to buy: Oz Gifts at The Rocks Shop, 11 The Rocks Centre
Price: From AU$16
16. Aboriginal designed things
From tablecloths to bags, authentic aboriginal art designed products in Australia are worth taking home. The members of the Indigenous Artists and Communities receive royalties for their designs when you buy items from Bulurru Australia.
Where to buy: Bulurru Australia
Price: From AU$19
17. Didgeridoos
Another product of native Australians is the didgeridoos. You can compare this wind instrument to a trumpet or pipe. Although it can be as long as 10ft, we're sure that your musically-inclined friends are going to love this musical instrument.
Where to buy: Spirit Gallery
Price: From AU$140
Novelty Australia souvenirs and quirky goods
18. A Ned Kelly poster
You can get a Ned Kelly poster or anything Ned Kelly related. Ned Kelly, or Australia's Robin Hood, is one of the most popular persons in the history of Australia. Kelly and the Gang are widely known for being notorious bushrangers.
Where to buy: Iron Outlaw
Price: From AU$14.95
19. Stuffed animals
Koala, Kangaroo, Emu and Tasmanian Devil. Who wouldn't want a stuffed animal that's both plushy and cute?
Where to buy: KMart
Price: From AU$7
20. Sydney Harbour Bridge coat hanger
What's a visit to Australia without seeing the iconic Sydney Opera House and Sydney Harbour Bridge? Aside from photos, you can bring the Sydney Harbour Bridge back home, too. You can get the Sydney Harbour Bridge coat hanger as a souvenir to have a piece of Australia in your own home even years after your visit.
Where to buy: Bits of Australia
Price: From AU$6.95
21. Stationery items
Stationary items make great Australia souvenirs, too! Not only do they come in unique designs that show off the country's culture, they're also quite useful and practical. This botanical Australia assorted card pack provides you with a variety of colourful designs to choose from. The best part? The cards and the packaging itself are locally made from 100% post-consumer waste! Ultimately, people who love writing letters to their friends and family will surely appreciate this gift. 
Where to buy: Bits of Australia
Price: From AU$25
22. Australia's icons tea towel
Naturally, home goods make lovely and functional souvenir gifts as well. This Australia's icons themed tea towel would be a great way to remind you of your travels and adventures. At the same time, its eye-catching design adds a splash of colour to your humble abode. It's also perfect to have around when you're having your morning coffee or afternoon tea!

Where to buy: Australia the Gift
Price: From AU$5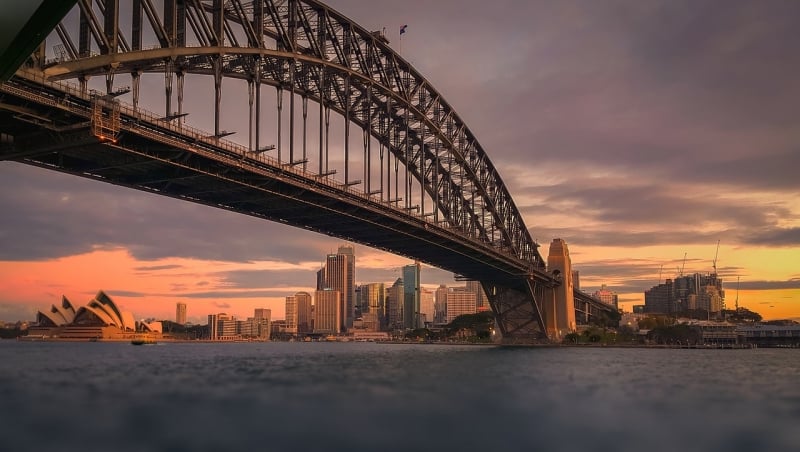 Also read: It's Adventure Time in Sydney With This 6D4N Itinerary! (Dolphin Watching, Sand Boarding & More!)
Coming home with these Australia souvenirs is not a problem at all. Whatever your budget is, a lot of products are available in the market. The prices vary as well, so it's not hard to get something special for your friends and family while shopping for souvenirs in Australia for yourself, too. To be honest, it's just a matter of baggage allowance that will keep you from buying all of them!
---
FB featured image credit: Geber86 via Canva Pro