Bangkok is one of the most visited cities on earth, and many travellers visit Bangkok not just once but time and again. For many, Bangkok is the place to go crazy shopping. The city is home to many shopping malls and markets, and they cater to fashionistas and designers as well as those looking for cheap bargains. If you're not interested in fashion and clothing though, don't steer clear of this city because there are still plenty of other things to do in Bangkok.
1. Admire the sculptures at Wat Pho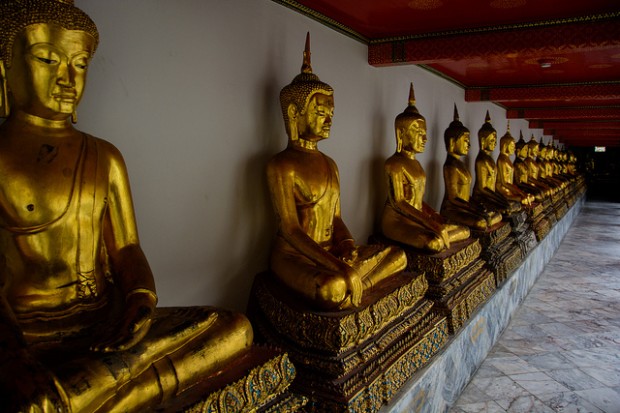 Image credit: www.david baxendale.com
Wat Pho is one of Bangkok's many temple complexes. This particular one is one of the city's largest temples and is nicknamed 'the temple of the reclining Buddha', after the giant gold-leaf-covered 46-metre reclining Buddha sculpture that's the temples main attraction. Additionally, there are rows of dozens of other Buddha statues, beautiful reliefs and murals, a landscaped garden and stupas.
2. Explore the Grand Palace
Image credit: Geee Kay
Without question the most spectacular sight in the entire city of Bangkok, the Grand Palace was constructed in 1792 and used to be the seat of government, home to the Thai kings and location of the royal court for a century and a half. The complex consists of the marvelous Wat Phra Kaew temple, palaces, halls and courts.
Also read: Exploring the Grand Palace and Khlongs of Bangkok, Thailand
3. See Wat Arun at dawn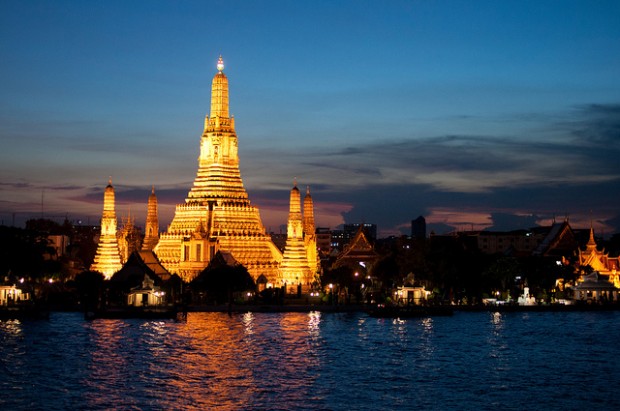 Image credit: Mark Fischer
The reason you should see Wat Arun, also known as 'the temple of the dawn', at dawn is because it looks absolutely spectacular when the low-angled sunrays hit it from across the Chao Phraya River. The temple overlooks the river and is made up decorated spires, making it a rather unusual yet brilliant temple in Bangkok.
4. Take a tuk tuk tour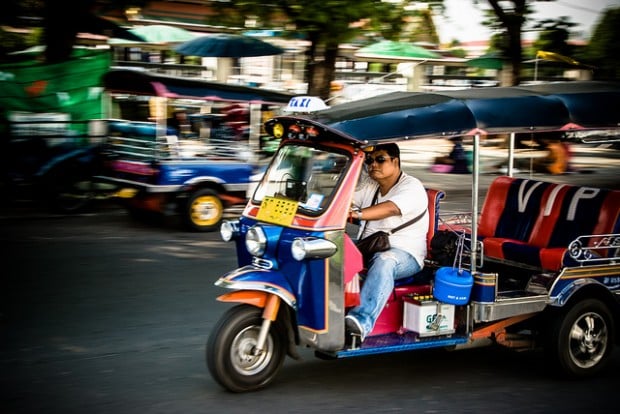 Image credit: Didier Baertschiger
There really is no way to see Bangkok than by tuk tuk, one of the very symbols of the city. Those little vehicles with three wheels are found on pretty much every street corner and are great fun to travel around in. Some tour companies offers tours in tuk tuks to visitors. Definitely consider participating in one of those!
Also read: To Tuktuk, Taxi, BTS or Bus When Getting Around Bangkok?
5. Buy fresh produce at the floating markets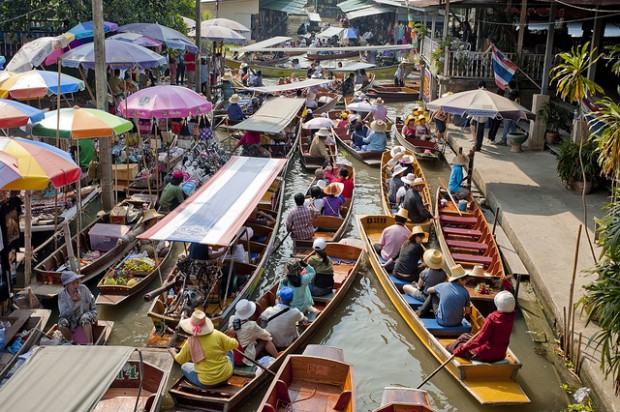 Image credit: Colin Tsoi
Bangkok's floating markets, with their boats filled with heaps of vegetables and baskets of fruits, are one of the main tourist attractions. In fact, nowadays the markets are aimed more at tourists than at locals. Nonetheless, the atmosphere is very enjoyable. Treating yourself to a fresh coconut cocktail or a bite to eat from a floating kitchen could well be one of your trip's highlights.
6. Visit Soi Cowboy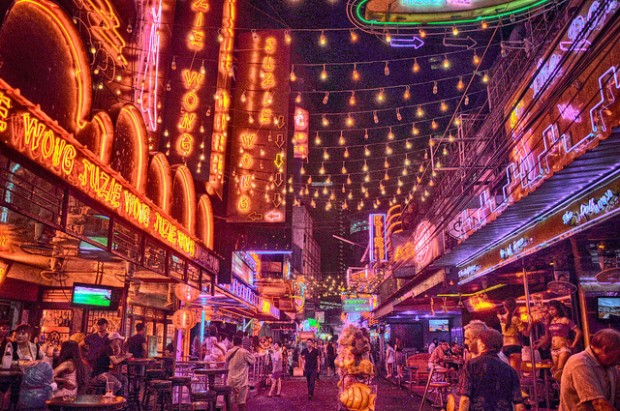 Image credit: Eustaquio Santimano
Not a place to visit with children, Soi Cowboy is one of Bangkok's more relaxed red-light districts. It's a casual and vibrant area, colorful neon lights lighting up the streets and bars that line it. This is an area that's always crowded with tourists, expats and, of course, Thai girls. If you're not in the mood to party, just walking down the street is an experience in itself.
Also read: Best Gay Bars in Bangkok For a Wild Night Out
7. Navigate Chinatown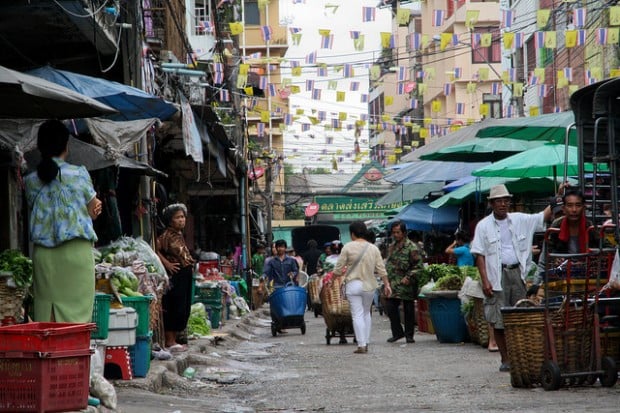 Image credit: LisArt
Arguably the best district for street food, Chinatown is a busy tourist attraction as well as an area home to foodies and ambitious chefs. It is as crowded during the day as it is in the evening, but it's the evening when the streets are at their most atmospheric and energetic. In addition to street food stalls, you'll also find restaurants and gold stores.
8. Visit Jim Thompson's House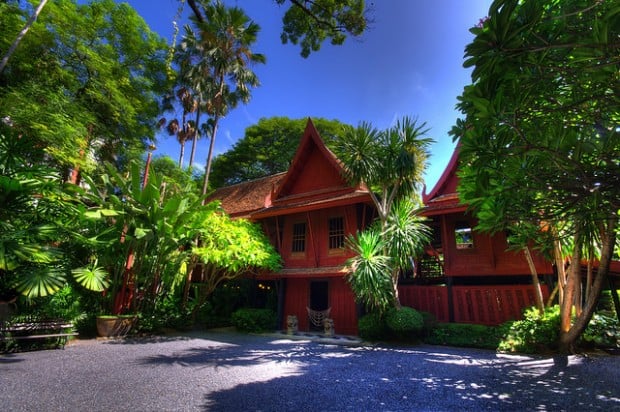 Image credit: Twang_Dunga
Jim Thompson was a middle-aged American architect who lived in Thailand for more than thirty years. His passion was art and heritage from Southeast Asia, a passion that shines through in his expansive collection of antiques, Buddha statues, marble ornaments and more. His old residence is actually a complex of six traditional teakwood houses and now houses his impressive art collection.
9. Experience bustling Khao San Road
Image credit: Oleg Sidorenko
Khao San Road may just be one of the world's most famous roads. An extremely bustling area 24/7, the street is absolutely filled with shops, food stalls, markets, bars, fast food joints, neon lights and people. The nightlife on Khao San Road is legendary and maybe even infamous—it's after sunset when mobile bars claim the road and turn it into an open-air party.
10. Take a tour of the canals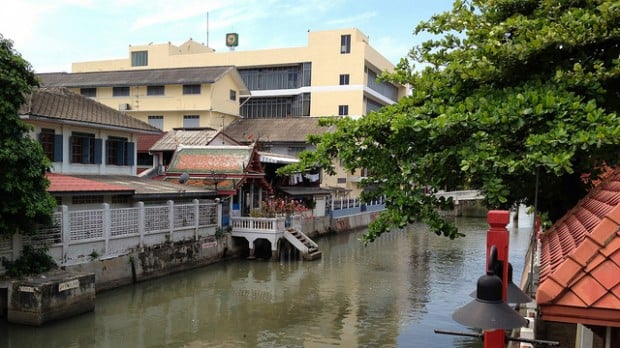 Image credit: David McKelvey
The city used to be crisscrossed by dozens of canals. Although most of them have been filled up to prevent diseases, several canals are still there today. Unlike the busy Chao Phraya River, though, the canals are void of any bustling trade activities. What's left are century-old bridges and ancient wooden houses. Taking a tour of the canals of Bangkok is seeing the city from a completely other side. Suggested 'khlongs' to visit are Khlong Mon, Khlong Bangkok Yai and Khlong Bangkok Noi.
11. Enjoy a cocktail on a rooftop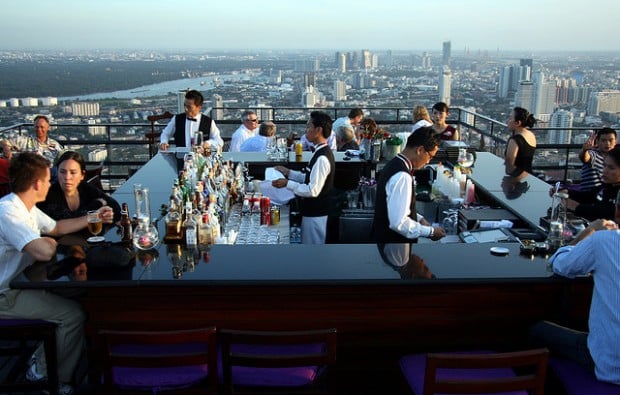 Image credit: Travel Aficionado
The best views are definitely had from a rooftop of one of the many tall skyscrapers that make up the skyline of modern-day Bangkok. Some of those skyscrapers have restaurants or bars on their upper floors, fantastic places to finish off a long day of exploring.
12. Attend a Muay Thai match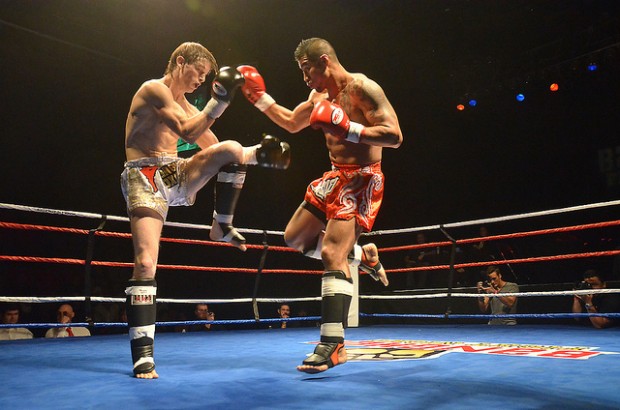 Image credit: Eric Langley
You can catch a Muay Thai, better known as Thai boxing, in two venues in the city, Ratchadamnoen Stadium and Lumpinee Boxing Stadium. Matches generally take place all evening long, with the top matches happening at the end.
Also read: The Bangkok Bucket List: 20 Challenges For Your Next Trip