If you have never been on a road trip, New Zealand is the best place to do it for the first time! This dreamy, island country is replete with natural beauty and spectacular scenery – imagine slow paced leisurely drives, but with gorgeous mountains and lakes right outside your window. Since the planning process can get overwhelming, here is a 10 day New Zealand road trip itinerary to get you going.

Day 1: Auckland
Kickstart your road trip in Auckland, the heart of New Zealand. As one of the major cities in the North Island, there's no doubt that it offers some of the best urban experiences in the country. Spend some time sightseeing at Viaduct Harbour, where you can catch views of the iconic sky tower, other lofty skyscrapers and impressive super-yachts docked at the harbour.
Don't miss out on the bustling cafe scene in Auckland. Pop into any of their eclectic, hipster spots for an unexpected gastronomic adventure. Visit The Rocket Store, an up-and-coming joint that serves up delectable bagels paired with aromatic coffee. Even after you are done with your food, you can continue to stay and enjoy the relaxed ambience of the cafe.
Day 2: Auckland > Hamilton > Rotorua  
After exploring the city, it's officially time to hit the road! Head down State Highway 1 to Hamilton, and pay the Cornerstone Alpaca Farm a visit. Take a short tour around their charming farm, and fall in love with these cuddly creatures – just remember to be gentle!
Opening Hours: 10am to 4pm (daily)
Address: Cornerstone Alpaca Farm Tours, 49 Peach Road, Gordonton, Hamilton – Waikato,  3791, New Zealand.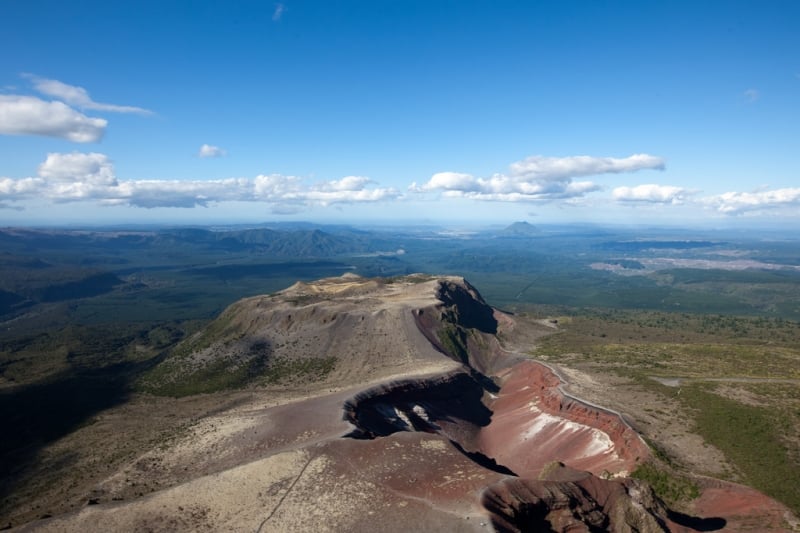 Thereafter, continue downwards on State Highway 1 and State Highway 5 to make your way to Rotorua. Renowned for its geothermal activity and Maori culture, this town epitomizes the core of New Zealand's identity. Make a stop at Mount Tarawera, a mammoth volcano that gave rise to one of the country's most catastrophic eruptions in 1886. Its huge crater remains as a testament to its devastation, and is a popular site for tourists to visit. If you have time to spare, soak in the warm, soothing waters of Lake Tarawera before returning to town for the night.
Day 3: Rotorua > Taupo > Napier
To maximise your time in this beautiful country, start your day bright and early! Head down State Highway 5, and take a break at the stunning lakefront town of Taupo. Take a short drive along the Thermal Explorer Highway and experience unparalleled beauty at Great Lake Taupo. As the largest lake in New Zealand, it spans an enormous region and gives rise to a plethora of novel sights. Be mesmerised by the Haku Falls, or go hiking at the nearby Tongariro National Park – the possibilities are endless.  
As gorgeous as Taupo is, you have to keep moving! Continue along the Thermal Explorer Highway and arrive at Cape Kidnappers in Napier. If it is possible, time your arrival for sunset to enhance your experience here.  Marvel at the magnificent sandstone headland, and observe native birds in the largest gannet colony in the world. Cape Kidnappers is only a short 30 minute drive back to the Napier town centre, so you can easily make your way back for dinner and some rest.
Day 4: Napier > Wellington
On this section of the trip, it's time for a long drive southwards. Be rest assured that you'll still have the opportunity to stop and enjoy New Zealand's captivating scenery. From Napier, head down State Highway 2 until Woodville, before going on State Highway 3 to reach Manawatu Gorge. This unique gorge is also a water gap, which runs all the way around the surrounding ranges from one end to another. Either embark on a scenic hike within the gorge, or stop at the viewing point for some peace and tranquility.
Make your way back to Woodville, and continue southbound on State Highway 2 to reach Fensham Reserve. Owned by the Royal Forest and Bird Protection Society, this reserve is dedicated to the preservation of the native kahikatea swamp forest (that's between 400 to 700 years old) and local birds such as the NZ Kingfisher and North Island Fantail. Take the circuit track and surround yourself with these amazing flora and fauna. When you're done, get back on the State Highway 2 to settle at Wellington.
Day 5: Wellington > Picton

Did you know that Wellington is actually the capital of New Zealand? With its vibrant culture, pristine beaches and picturesque hills, this underrated city has so much to offer. Wellington is also known as one of the coffee cities of the world, so be sure to get your caffeine fix at cafes like Customs Brew Bar, The Flight Coffee Hangar and Leeds St Bakery. Just outside the city, the famous Red Rocks Reserve is a short 30 minute drive away – check out this enigmatic coastal marvel and keep your eyes peeled for some furry seals!
Since Wellington is located at the southernmost point of the North Island, it allows for convenient access to the rest of the country on South Island. All you have to do is cross the Cook Strait, the connection between the Tasman Sea and South Pacific Ocean. Don't worry, you won't have to ditch your car. The Interislander is a ferry for vehicles, and you and your beloved car will make it across to Picton together.
Day 6: Picton > Christchurch
Before you embark on another long stretch of driving, make sure you have enough fuel to last the day! Choose from the many hearty sandwiches at Wave Cafe & Courtyard, and have breakfast with blue skies and striking mountains as your backdrop.
Opening Hours: 7am to 4pm (daily)
Address: 22 High St, Picton 7220, New Zealand
Get your engine going and take State Highway 1 and State Highway 63 to Nelsons Lake National Park. Soak in this breathtaking landscape – towering alpine ranges, immaculate lakes and lush forested valleys. Take short walks and be enchanted by the myriad of views, or maybe even go skiing up in the mountains! Just make sure you don't exhaust yourself, and remain alert for your drive down to Christchurch via State Highway 7.
Day 7: Christchurch
When people think of Christchurch, it is hard to ignore the memory of the horrific 2011 earthquake. The city has exemplified true resilience, and banded together to rebuild their home after the overwhelming devastation. Still, as you explore the city, you'll definitely chance upon remainders of the tragedy. The Cardboard Cathedral sits a few blocks away from the damaged ChristChurch Cathedral, and is the first non-commercial building to be erected after the earthquake. Consequently, it symbolises progress, and acts as a beacon of hope for the people.
Even though it was planned to be a transition church, it has now become a permanent structure. Another significant reminder is the 185 empty chairs installation. What started as a temporary memorial for the 185 individuals who lost their lives has also become permanent, and is now a popular fixture in the city.
Aside from exploring the city, you can also unwind by going for a guided day tour to Waipara Hills. Get ready to get let your hair down when you visit this award-winning wine range; tantalize your taste buds with a curated selection of wines and cheeses, and take in the beauty and fresh air of the Waipara Valley.
Opening Hours: 10am to 5pm (daily)
Address: Waipara Hills Winery, 780 Glasnevin Road, SH1, Waipara, North Canterbury, Waipara, Christchurch – Canterbury, New Zealand
Day 8: Christchurch > Twizel
Bid the city farewell, and commence on the most scenic leg of your trip. First, make your way to Peel Forest by taking State Highway 1 and the Thompsons Trek. Explore the largest reserve in the Geraldine Reserve, and enjoy the serenity of Emily Falls. Thereafter, get on the State Highway 79 and State Highway 8 and pass by the alluring Lake Tekapo. This incredibly vibrant colour stems from fine rock-flour that gets suspended in the water – it seems too blue to be true!
Continue on State Highway 8 to reach Twizel, a town that was founded in 1968 to house construction workers involved in the Upper Waitaki Power Scheme. The humble town has evolved a lot since then, and it is now a bustling location for nature lovers and outdoor enthusiasts. Whether you want to mountain climb, kayak or go biking, Twizel offers the perfect amount of adventure for you!
Day 9:  Twizel > Omarama > Queenstown
The next day, keep on State Highway 8 to get to Clay Cliff Lane in Omarama. These arid cliffs are situated on the active Ostler Fault Line, and consist of both deep ravines and piercing pinnacles. Stand in awe of this unique 2 million year old landscape, don't hesitate to take a walk around.
After your exploration of the alien-like cliffs, follow State Highway 8 and go through Lindis Pass. This dramatic mountain pass is hilly and winding, so be sure not to speed! Take things slow and relish in the vast emptiness of your surroundings. Continue on this path until Tarras, then take a detour on State Highway 8A and State Highway 6 (northbound) to reach Lake Wanaka.
If that tree looks familiar, it's because you've probably seen New Zealand's most photographed tree somewhere else. Known as Wanaka's Willow, this iconic lone tree casually sits in the lake with the Southern Alps in the background – it certainly makes for a good picture. Take all the photos you want of this enchanting landmark, but be sure to not cause any damage to its surroundings. When you are done, continue on State Highway 6 (southbound) to finally reach Queenstown!
Day 10: Queenstown
Instead of passively experiencing nature, why not interact with it in ways like never before? Queenstown offers the exhilarating opportunity of literally jumping off a gorge, with the river just beneath you! Savour the adrenaline rush as you strap up and get ready to leap off the 43m high Kawarau Suspension Bridge; it's truly a once-in-a-lifetime experience you'll never forget.
Lord of the Rings fans, it's time to rejoice! Take advantage of your time here in 'Middle Earth', and journey to various filming locations to walk the grounds where your heroes once have. Opt for day tours out of Queenstown, and let your knowledgeable guides share fun facts about the area and the filming experience. Are you guys geeking out yet? The original Hobbiton Movie Set is a must-visit for all you die-hard followers of the series.
Of course, we cannot forget about food! Queenstown serves up amazing local cuisine, made only from the freshest produce. Head to Rehab Cafe, which utilizes high-quality, locally grown ingredients for their flavourful and healthy dishes. Whether it is breakfast, lunch, dinner or dessert, the cafe is sure to plate up something delicious for sure.
Opening Hours: 9am to 7pm (daily)
Address: 33 Camp Street Queenstown
With that, your 10 day road trip in New Zealand is done! If you follow this itinerary, you would have travelled across the whole country, and experienced beautiful sights like no other. Still, don't be pressured to follow the schedule to a tee – mix and match the activities and destinations, and tailor make your own itinerary to suit your specific needs. No matter what, a road trip in this stunning country will be life-changing for sure!