Roadtripping in a campervan is one of the best ways to explore New Zealand. My girlfriend (now fiancée) and I can attest to that as we recently embarked on an epic journey around NZ's South Island in the middle of winter. Armed with 8 days and 7 nights, it was crucial to map out a route that maximised our decision to rent a certified self-contained campervan.
In New Zealand, there are many spots away from the cities that allow freedom camping. Freedom camping is the practice of putting up tents or parking up campervans in areas not designated for camping. Do take note that freedom camping is only for certified self-contained vehicles (having bathroom and toilet facilities on board) and that you will definitely get a ticket if you are caught for parking a non-certified vehicle at a freedom camping site.
Campervan Rental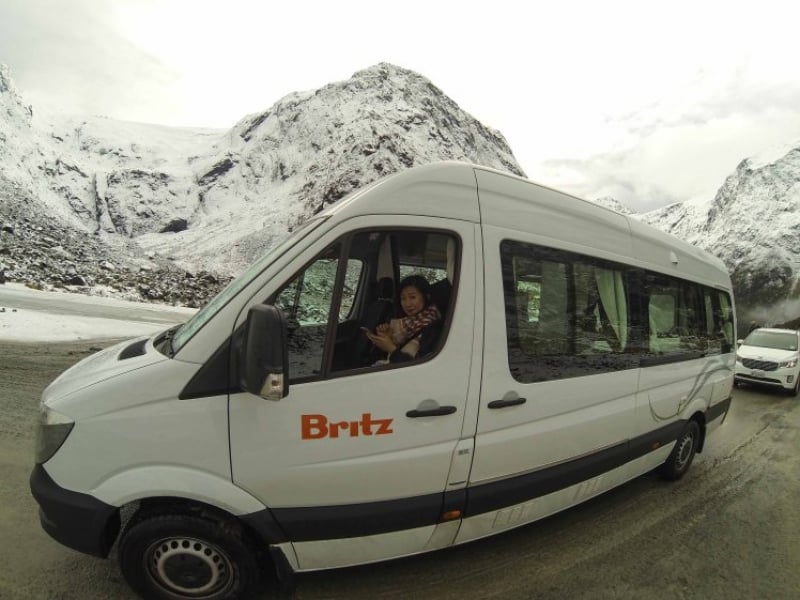 After months of research on campervan rental companies, Britz seemed to be the best in terms of price and quality. Their vans are relatively new and had the best reviews. Their marketing team offered to do away with a certain portion of our total fee in exchange for some social media push – that shaved off a few hundred bucks of the total rental cost.
My girlfriend and I chose the Venturer plus 2+1 (typically for a couple with a kid) over the Venturer because of the diesel heating capability while the engine is off. This is really important in winter because we would have been miserable in the cold without a powered site. Our vehicle was a Mercedes Sprinter that ran on diesel – which is great because it is more efficient and cheaper than petrol. In New Zealand, there is a road recovery surcharge which is at NZD6+ for every 100km travelled. We decided to go for the Liability Reduction Option at NZD40 a day, otherwise there would be a NZD7500 charged to the credit card (to be refunded after rental if all is good). I figured out that there would be twice exchange rate losses if we were to choose the latter because I was using a Singapore-issued credit card.
Later on in the journey, we got a cracked windscreen which could have cost thousands and up. This is a perfect illustration of how important insurance is! The majority of parking spots in South Island are free except for some parts in the cities. However, there are free parking spots in Queenstown if you know where to look. For example, we parked up to 5 hours for free at a holiday park. This was because we bought our Queenstown gondola tickets through them at no additional cost.
Rental cost for 8 days (Christchurch to Queenstown): NZD479

Total liability reduction option: NZD360 (NZD40/1day)

Diesel expenses: NZD151.86

LPG top up: NZD15.33

Road recover surcharge for 1300km travelled: NZD81.60

Powered sites for 4 nights: NZD146

Total cost: NZD1233.79, comes to about

NZD77.19

a day for each person
Food
One of the main determinants of your overall expenditure will be food. We cooked majority of our meals since we went with a luxurious campervan option. Our Britz Venturer plus came with full cooking capabilities, which included a stove, microwave and even a barbecue pit. Eating out is expensive in New Zealand, but cheaper than the US, UK and even Singapore. In the US, you tip an additional 10-20% depending on the service. While in the UK, there is a discretionary service charge of 12.5% is added to the bill. A ridiculous 10% service charge and a 7% Good and Services Tax is on top of the bill in Singapore. Yet in New Zealand, you pay for whatever that is on the menu – at nett price!
For grocery shopping, we recommend Pak'nSave as it is one of the cheaper supermarkets around. However certain items are cheaper at other outlets. Avoid buying certain seasonal fruits or vegetables as they can get quite pricey. For instance, we bought a cucumber for a hefty price tag of NZD5… just to make poke bowls in winter. Never again.
Groceries for 8 days: NZD157.50

Eating out at restaurants for 2 meals: NZD84.90

Total cost: NZD242.40, comes to about

NZD15.15

a day for each person
Miscellaneous
Another big portion of your expenditure will be from leisure and activities, especially in Queenstown –  the adventure capital of the world. We are not adrenaline junkies and managed to save quite a bit here.
For data plans, try to get the roaming data plan back home. we chose to do this as it worked out to be the cheaper option for me. It varies between countries though, so be sure to do your research first!
Queenstown Gondola with 2 luge rides for 2: NZD98

Onsen Hot Baths for 2: NZD96

Ziptrek Queenstown for 2: NZD378 (sponsored)

Milford Sound cruise for 2: NZD180 (sponsored)

Total cost: NZD194, this amount varies according to what activities you decide to go for.
Overall, be prepared to spend about NZD110 a day if you are following our way of travel and budgeting. This excludes the price of air ticket to get to New Zealand and travel insurance. For such a fantastic experience (though it was bitter cold at some point) and the trip of a lifetime, it is definitely worth it.
The Route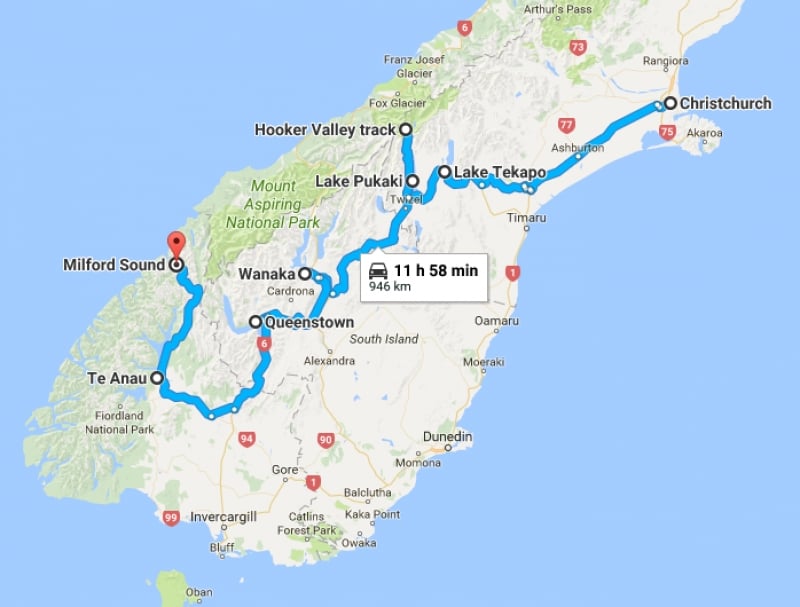 There is so much to be seen in the South Island so we mapped out a couple of checkpoints along our Christchurch to Queenstown route. We covered about 1,300km in the end due to some of the detours we made along the way.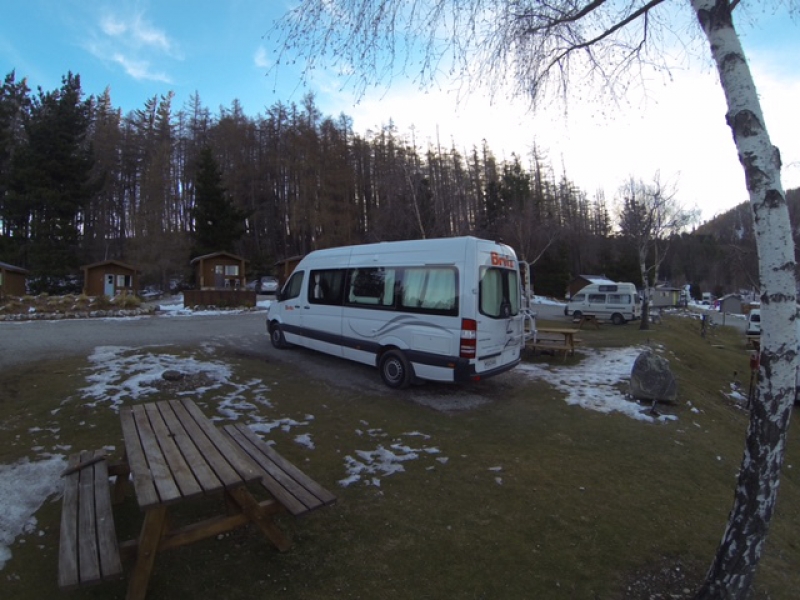 Do remember to always check for updates for driving conditions, especially in winter. There were snow blizzards and road closures in the last few days of our road trip but luckily, it did not affect us too much. However, it is still good to plan for some travel delay just in case. We would recommend visiting NZ during the shoulder seasons to avoid the crowds in summer and cold in winter. If you are planning a campervan trip in New Zealand soon, you can also check out Campervan Finder, a reliable, fast and easy way to get your ride that's also easy on the pockets!
Contributed by: The More I Travel