Itching to travel? Your opportunity is here! The NATAS Travel Fair is back, happening from 2 to 4 August 2019 at Singapore Expo Halls 5 & 6! With more than 100 exhibitors who're going to be at the mega-fair, you can look forward to securing the best deals for your upcoming holiday in the region!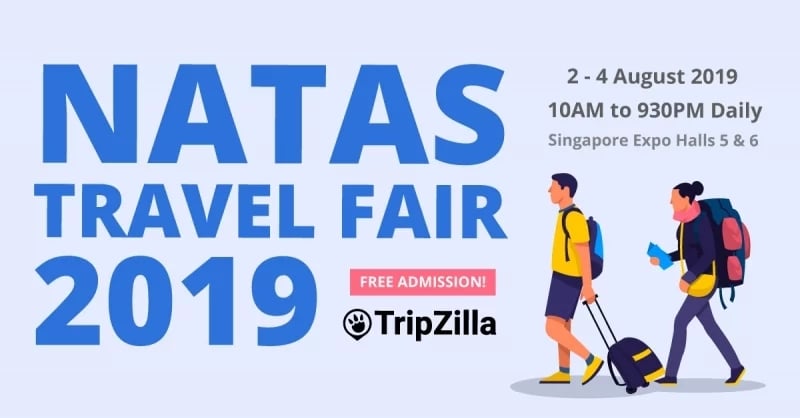 Being Singapore's biggest travel fair, you can expect a lot of exciting things in store for you while you're there! Celebrating its 40th anniversary, NATAS will be giving away more than 1,500 goodie bags worth $50 at the travel fair. In addition, you can also participate in the NATAS Grand Draw, where you may stand a chance to win tickets of different tiers to London, Warsaw, and more! Visit TripZlla's NATAS Travel Fair 2019 page for all the latest information.
Read also: NATAS Travel Fair August 2019 — Bigger, Better Travel Deals!
Why wait till Friday though? Start shopping for the best deals, here's a sneak peek to the kind of the deals to your favourite destinations in Asia that you'll get to see at the travel fair: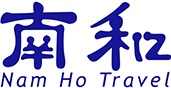 Offered by: Nam Ho Travel (Booth 5H53)
Departure Dates: Sep 2019
Price S$2,688 (2nd pax S$0)*
*Terms and conditions apply.
Deal highlights:
✓ Travel with 88.3Jia FM DJ Jia Ming 
✓ Free 3D Shanghai for 11D Package 
✓ 5* hotel stays throughout
✓ Complimentary sack of Dongbei Rice 
If you can't decide if you want a holiday surrounded by nature, or being in the city, 8D/11D Dongbei Romantic Mid-Autumn FUN! FUN! FUN! is for you. With a blended mix of Mother Nature and modern landscapes in a city setting, you will never find yourself bored with the lineup of activities for you during your holiday. From discovering the rich history behind the Qing Dynasty architecture at the Manchu Street to going on rides at the exciting Volga Manor, there is definitely something for everyone of all ages. 
Some of the highlights you can expect to see and experience in the itinerary includes a trip to the Red Beach National Scenic Gallery, which is an 18 kilometre-long rare red beach. You can also embark on your journey up to the Maanshan Observation Deck, which gives you a vast overlook of the picturesque Changbai Mountain. 
Grab this chance to travel with one of our local DJs, and live luxuriously at 5-star hotels throughout the trip. Also, don't forget to snag some good deals while shopping at Shanghai, one of China's most cosmopolitan cities, before you head back to Singapore!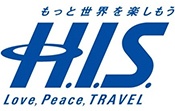 Offered by:
H.I.S. International Travel
Departure Period:
Now – 31 Dec 2019
Price:
S$1,398 (1-for-1)
Deal Highlights:
✓ Return flights on ANA/Japan Airlines
✓ 3-night hotel accommodation (3–3.5 stars) in Central Tokyo like the Smile Hotel Asakua and Shinjuku Washington Hotel, and/or Osaka like the Shin Osaka Washington Hotel
✓ Complimentary 7D data SIM card
The bustling and thriving cities of Tokyo and Osaka are no strangers to many of us! From the many rich cultural and historical sites to the wide gastronomical offerings of local Japanese cuisine, you will never find yourself bored or running out of things to eat and do in the cities of Tokyo and Osaka. 
With 4D3N Japan Free & Easy package, you will be staying in a 3-star hotel in a central location around Tokyo or Osaka. A stone's throw away from the major metro stations in Tokyo and Osaka, your accommodation options are the perfect launchpads for you to explore the streets and attractions in and beyond the city.
You can also experience the unique vibrant and unmistakable character of Tokyo and Osaka — the crossroads of tradition and modernity — at your own comfort and pace with this package. So if you are looking to explore Japan leisurely without having to break your bank, then this 1-for-1 free-and-easy travel package might just be what you are looking for!
Offered by: Thai Airways
Departure Period: 16 July – 30 November 2019
1 August – 30 November 2019 (For destinations in Europe only)
Price: From S$253 
Deal highlights:
✓ Receive up to $40 worth of Changi Gift Card for each adult ticket purchased (exclusive during the NATAS Travel Fair only)
✓ 1 free stopover in Bangkok permitted for the entire journey
Book your next holiday with MasterCard and Thai Airways for some of the best deals around! Flying to more than 18 destinations like Bangkok, Ho Chi Minh, Seoul and Tokyo, it's time to finally explore the destinations you've been planning to visit! You can also stand a chance to receive a gift card for every ticket purchased. Find out more here!
Offered by: AirAsia 
Departure Period: Now – 29 Feb 2020
Price: From S$52
In case you hadn't noticed by now, we have a long weekend to celebrate National Day (and Hari Raya Haji)! Don't worry, it's not to late to make your travel plans and think about where to go. If you're a DBS/POSB cardholder, good news for you! AirAsia flights to destinations like Krabi, Phuket, and Kota Kinabalu are going from S$54, and even lower from S$52 for BIG Members! What are you waiting for? Book by 4th Aug 2019 and be on your way to your Holiday Quickies!
Interested to learn more about these enticing travel deals coming your way, or even check out more options like them? Head down to the NATAS Travel Fair during 2-4 August 2019 and land your next holiday!