Fellow foodies, embark on this gastronomical journey with me as I explore Pulau Pinang with my tummy. This post will be a recollection of my recent trip to the island, covering the popular Penang street food – Chicken Rice, Char Kway Teow, Assam Laksa, Chee Cheong Fun, Hokkien Mee, as well as cool cafes and restaurants around Georgetown and near Gurney Drive.
I was with my friend, a Malaysian who grew up in Penang. He had spent years working overseas and we're on this trip to visit his parents and to re-discover Penang. The best way to travel Penang is self-drive. We got our car from Big Thumb car rental. The next best option would be to rent bicycles. But Penang, being much bigger than Malacca, means that you can only cover limited places on two wheels.
1. Fatty Loh Chicken Rice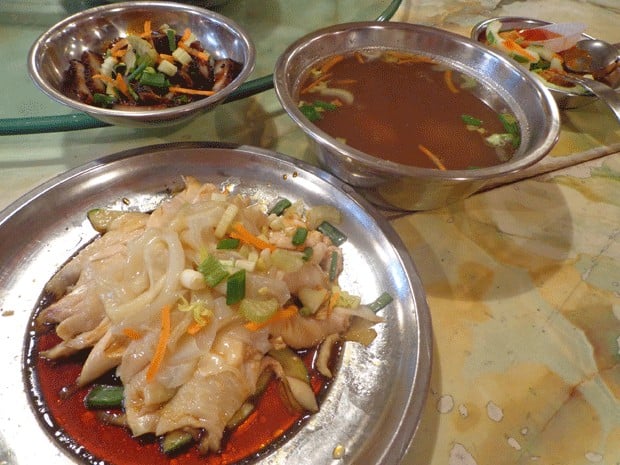 Location: 21 Jalan Fettes, opposite Kuil Sri Sakthi Vinayagar Hindu temple
It was lunch time and we're on the hunt for food when we came across Fatty Loh's chicken rice shop. My friend recommended it since it was a famous spot for tourists. To be honest, I never thought that Penang could be famous for chicken rice. And I wasn't too wrong about it. We ordered a plate of Steamed Chicken (for 2 pax), BBQ Pork (char siew as commonly called in Singapore), a bowl of Peanut & Pork Soup and 2 cups of Longgan Tangkuah (longan & winter melon) drink for RM22 (SGD8). We were also served a complimentary small plate of fried pork chop.
The food was good but not excellent. I was reading this Time Out review and realised that if I had ordered their roasted chicken with rice, I would probably have given them more points. What I loved was the feeling of dining in a museum at Fatty Loh's. The place was like a warehouse of antiques and artefacts.
Also read: Non-Stop Eating on the Penang Food Trail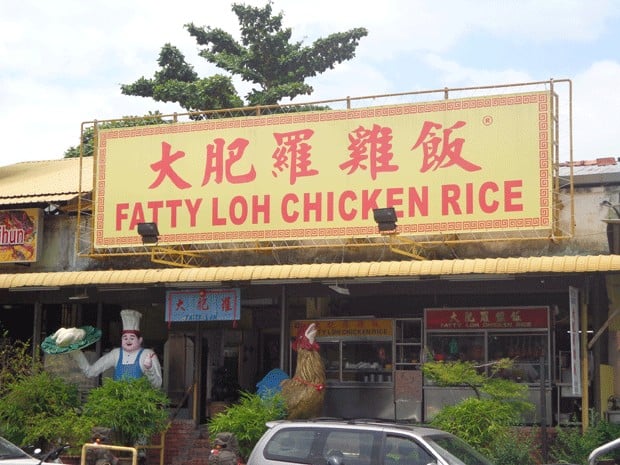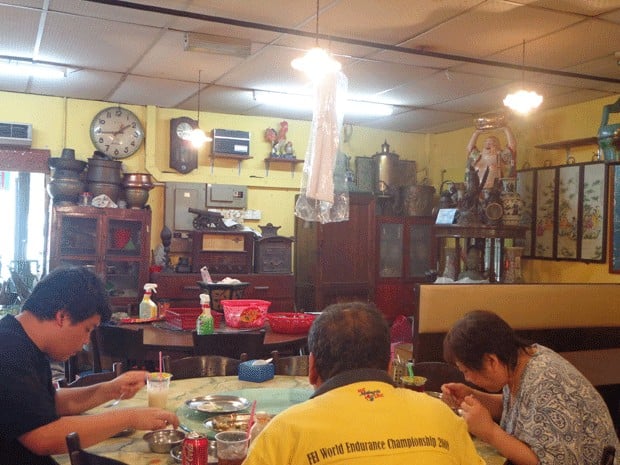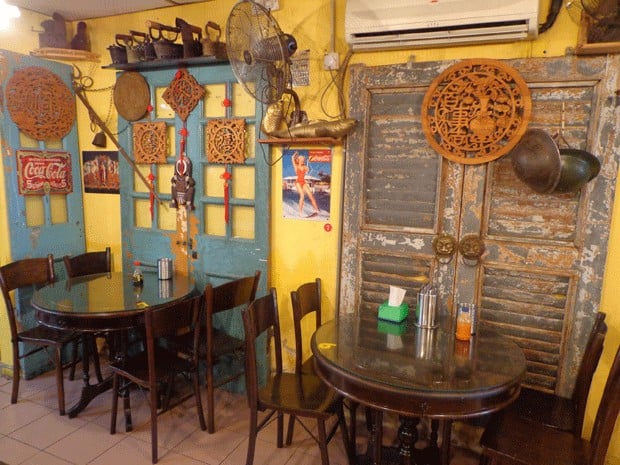 2. Kedai Kopi Sin Hwa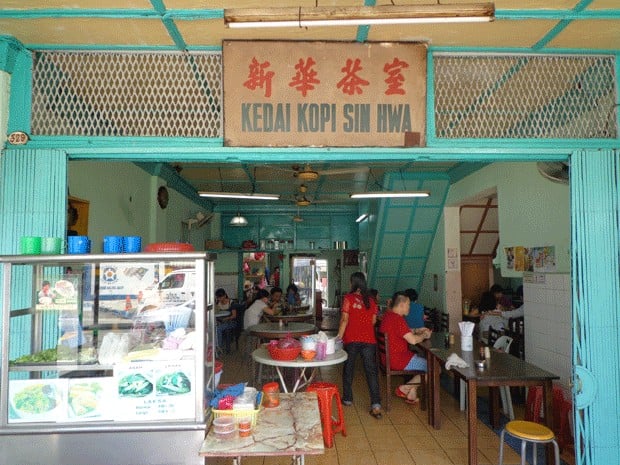 Location: Opposite Pulau Tikus police station in Burma Road
This was my 3rd trip to Penang, and it turned out to be a food hunt every time. After our meal at Fatty Loh's, my friend drove us to his favourite Assam Laksa stall. Guess what, this coffee shop even has their own Facebook page! As we had just finished eating at Fatty Loh's, we ordered the Assam Laksa without noodles. According to a Malaysia food website, this Assam Laksa is somewhat different in taste as it's cooked with tamarind juice instead of tamarind peels. We ordered one large bowl and one small bowl and it costs RM8.50 (SGD3.13). This coffee shop is also well-known for their Char Kway Teow.
3. Kafe Goodall
Location: Opposite Penang Chinese Girls' School
We headed back to our hotel for a short rest before driving to Kafe Goodall for dinner. There are a few Goodall Food Courts but we went to the one opposite the famous Penang Chinese Girls' School. What is highly recommended is the Chicken Satay. Unlike the ones I tried in Singapore, this one was especially tender and the chicken bits were chunkier. We also had Char Kway Teow, Hokkien Mee and Char Hor Fun to share among four of us. Something unique about the Hokkien Mee and Char Hor Fun (we simply called it Hor Fun in Singapore) is that they mixed bee hoon (rice vermicelli) with the noodles. Naturally the bee hoon would soak up the gravy, making the taste more wholesome.
Also read: 5 Must-Try Hawker Food in Penang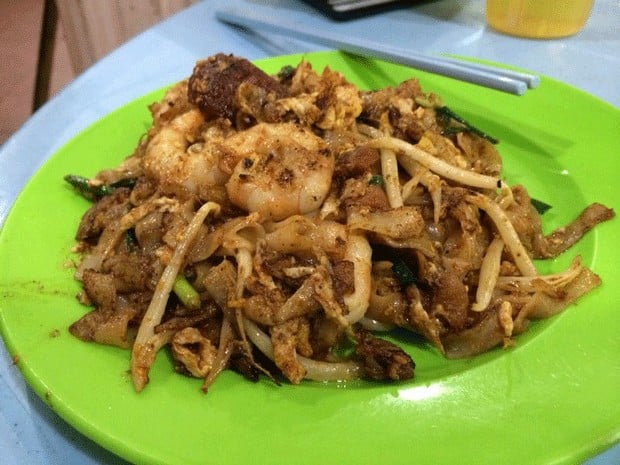 4. Taman Emas Kopitiam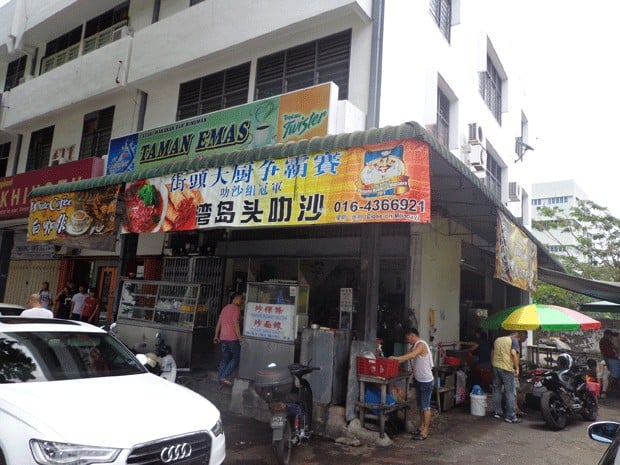 Location: Opposite Penang Chinese Girls' School
Here's a secret you need to know – Penangites don't eat lunch. Most street food places are open for business only at night. And you can also find a lot of good places for breakfast. But when it comes to noon, a lot of food places are closed. A stone's throw away from Kafe Goodall is Taman Emas Kopitiam, this place closes on Monday so please plan your itinerary properly. The Assam Laksa here is famous and extremely popular on weekends. It has also won northern Malaysia best hawker award in 2011.
The broth is made from fresh fish meat blended into the assam soup. Remember to order the popiah to complement the broth. The locals will dip the popiah into the broth. In my opinion, this is the best Assam Laksa I had tried in Penang, it was better than the famous Assam Laksa at the foothill of Kek Lok Si temple. We also managed to try the Char Kway Teow and Chee Cheong Fun there. The Chee Cheong Fun was really soft and it simply melted in my mouth. I gave a double thumbs up for this.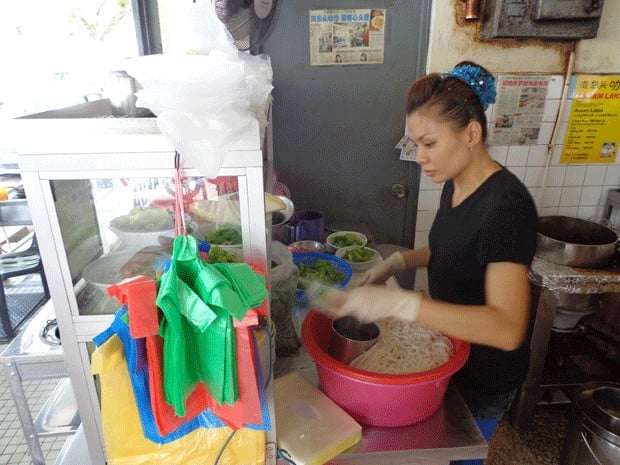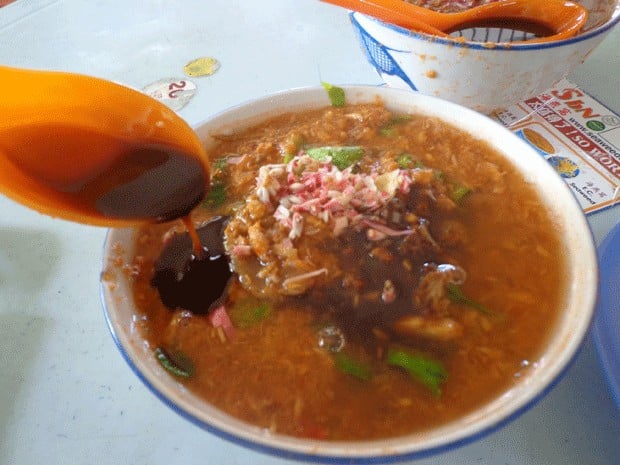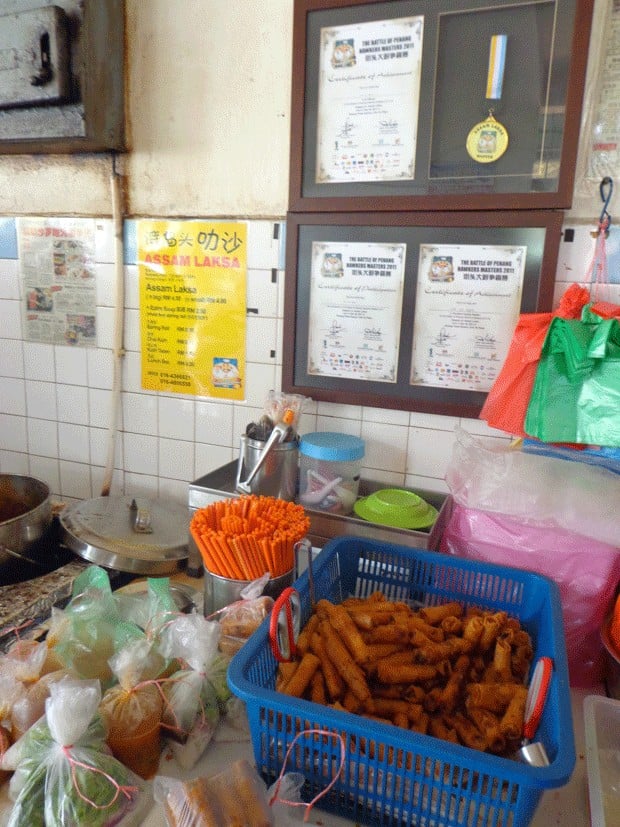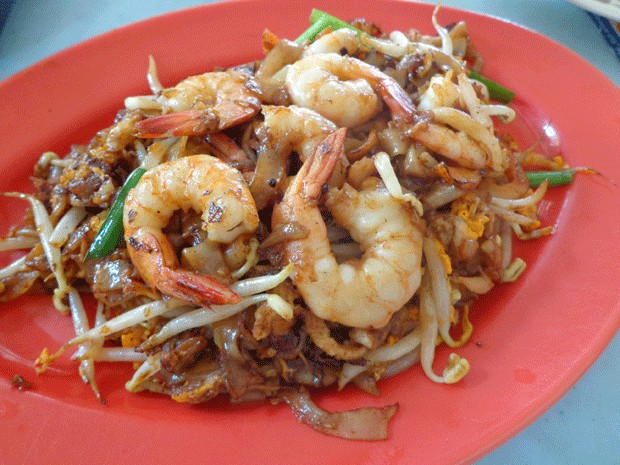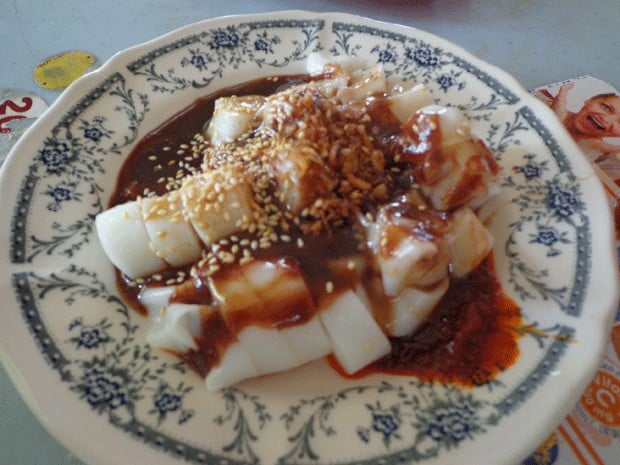 5. Chinahouse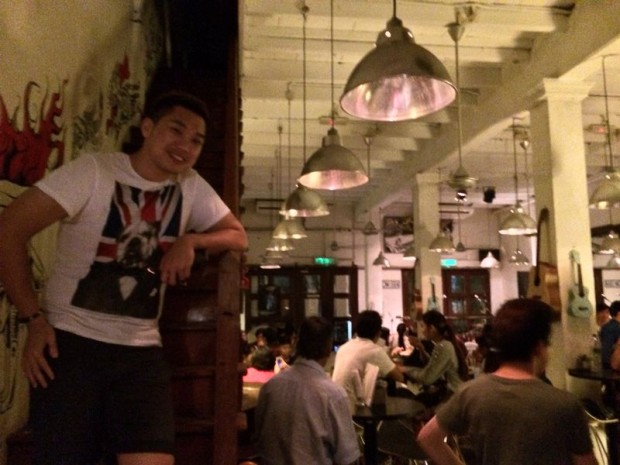 Location: 153 & 155 Beach Street and 183B Victoria Street
Enter from Beach St and gain immediate access to The Canteen – an inviting artsy warehouse that holds live music from indie stars from Thursday to Sunday
I wonder why I haven't been to this place earlier. Chinahouse is one of those places whose charms captivate you to keep beckoning back for more. Lonely Planet said it's Penang's best. Cake-tastic cafe, restaurant and bar complex spanning a whole block. Chinahouse is a mammoth of 3 heritage buildings situated right in the middle of the core zone of Georgetown. Enter from either Beach Street or Victoria Street and you will be greeted with 14 unique spaces comprising of souvenir shop, cafe, restaurant, art gallery, live music and bakery all round into one.
This longest cafe in Penang is the perfect example of how Georgetown has moved on with time. Chinahouse is modelled on a lane way concept with one path from Beach Street to Victoria Street, while some outlets go off this lane, the lane passes through others. This juxtaposed cafe provided free wifi and paper with crayons for you to doodle on the table tops. Some of the artworks by patrons turn into display in their street gallery.
We're there the after diner night before and we love it so much that we returned the next day for afternoon. I had a pot of Lemon Ginger Mint tea (RM12 / SGD4.42) and my friend tried their Blueberry Mango Coconut Smoothies. The place gets crowded every night, so for better service, come when there's daylight.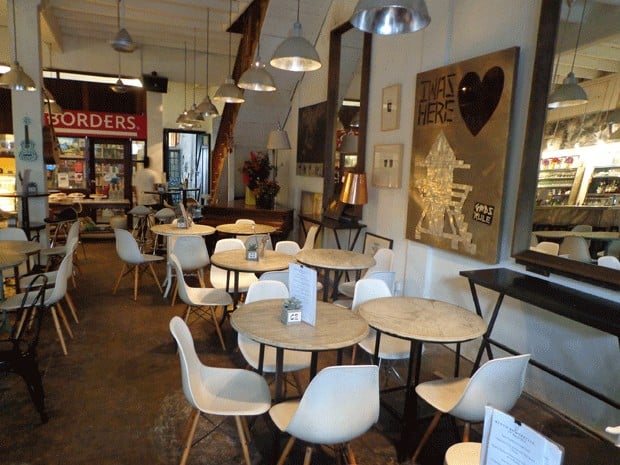 By day, The Canteen serves the best Bento Box, a mix of Western and Asian flavours – a rice-based menu with tasty mains and morsels. Don't miss out on Comedy Night every first Thursday night of the month!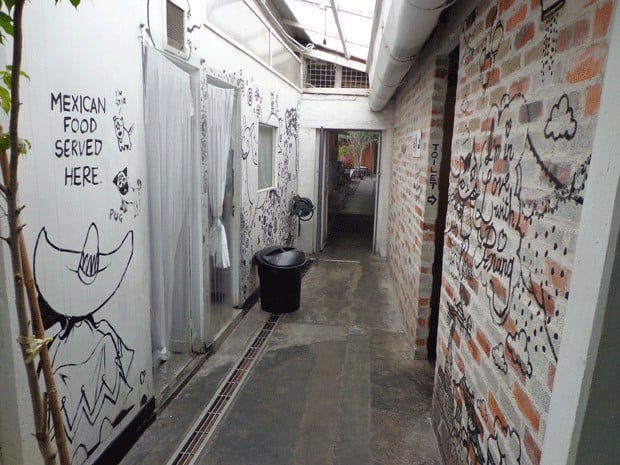 On Saturday, the bakery (on the left) sells an average of 450 slices of cake. The bakery is 10 chefs-strong, and they have to try out 10 new recipes a week (if they don't try new recipes a week, they get fired).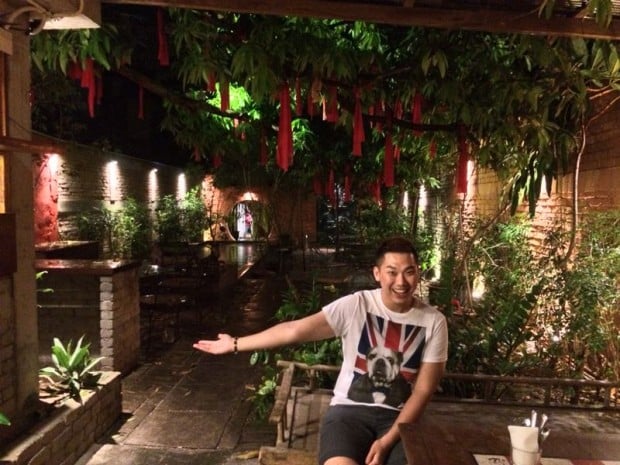 Pardon my ridiculous expression as I'm mesmerised by this poolside dining concept of the Courtyard Cafe. Order and pay from the different cafes / restaurants inside and bring your food out to enjoy the breeze under these lucky trees.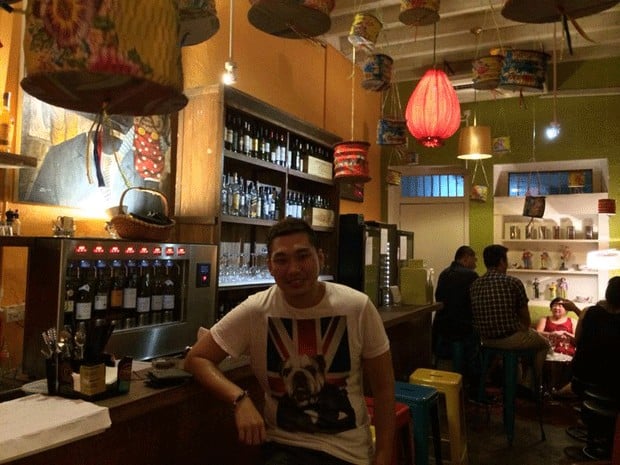 Vine and Single offers a tasting of 8 different red wines by the glass. The best cocktails in town at Mr. B's Martini Bar – the popular choices are mojitos, margaritas and long island teas.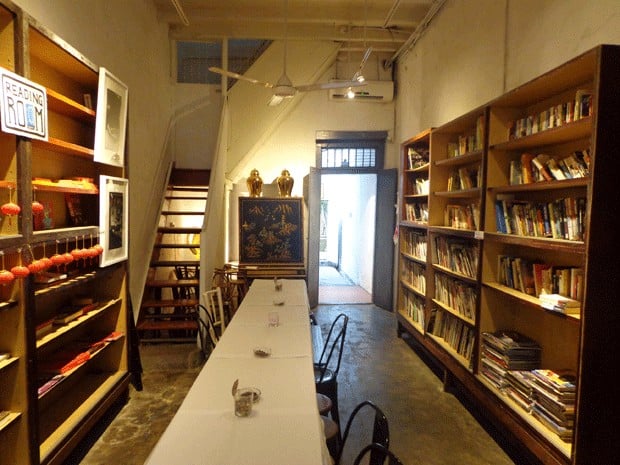 Reading Room offers a space for talk-fest with friends. Or simply grab the books from the shelves for a quiet afternoon. The owners also encourage you to "accidentally-on-purpose" leave your books behind to become inspiration for others.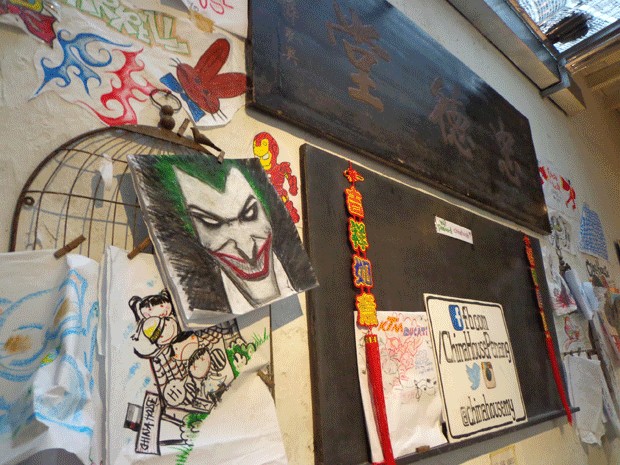 Chinahouse aims to be an arts platform supported by interesting other concepts. Besides Art Spaces in 153 & 155 Beach Street, and performance at The Canteen, feel free to art-jam on their table tops.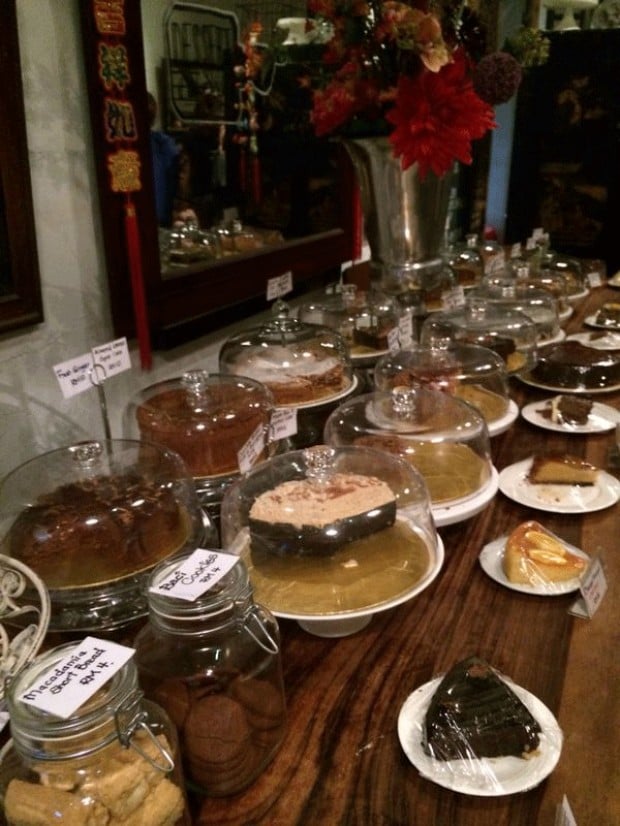 Baked fresh daily – Chef Jo Jie and her team of 10 talented bakers serve up delicious cakes, brownies, tortes, slices, biscuits, breads and pies to suit any craving.
6. Macalister Mansion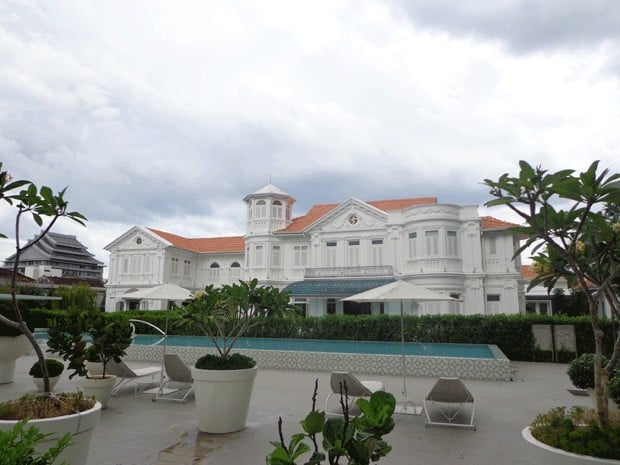 Location: 228 Macalister Road
Located along the historic Macalister Road and designed around the idea of an old English Mansion, this beautifully restored boutique hotel offers 8 unique rooms for comfort accommodation. Even if you're not staying there, Macalister Mansion offers 5 venues to relax and unwind. We checked-in to The Living Room for afternoon tea. The afternoon tea set for 2 with TWG tea costs only RM69 (SGD25.4), available from 3-6pm.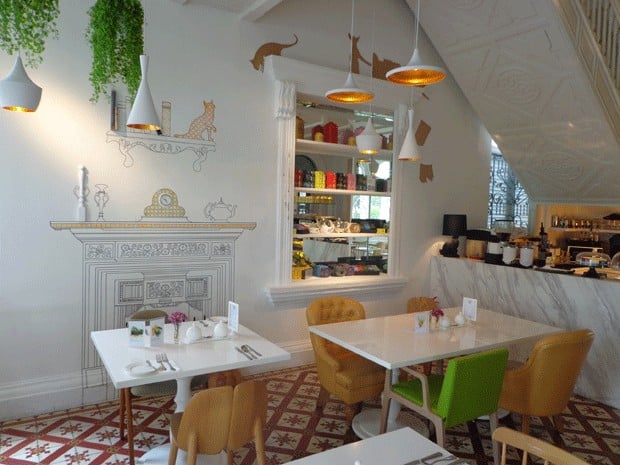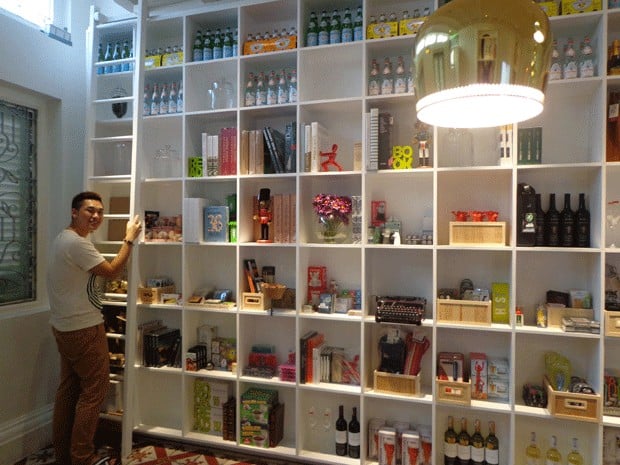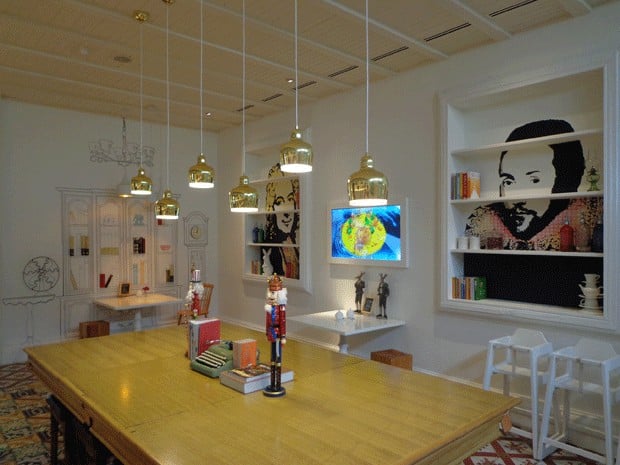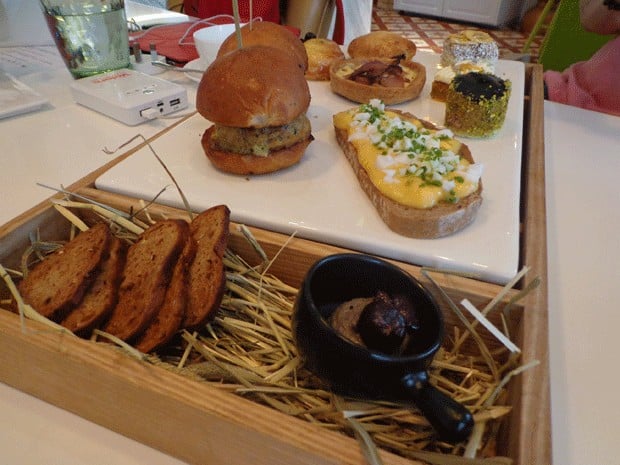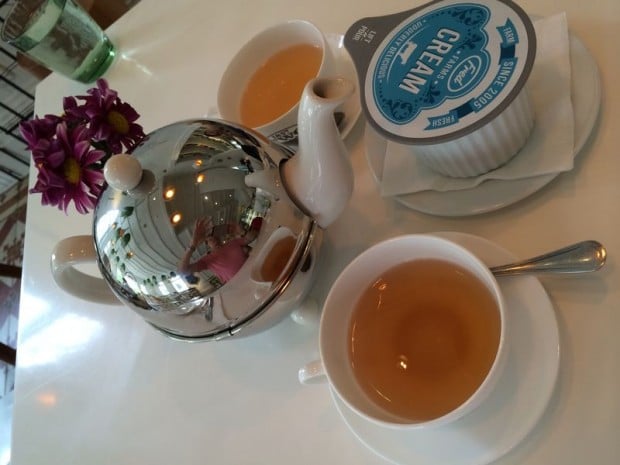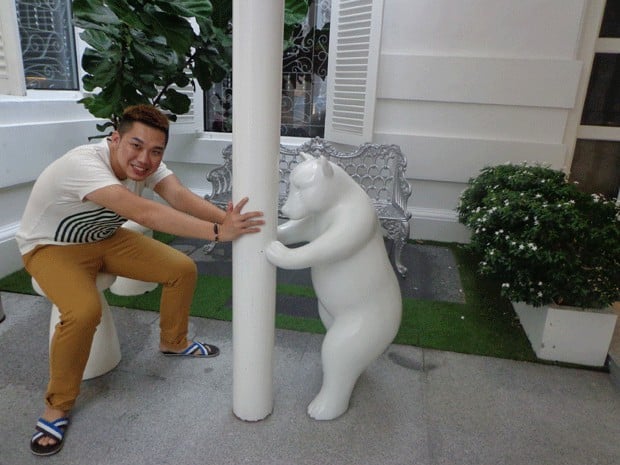 7. Gurney Paragon & Plaza Gurney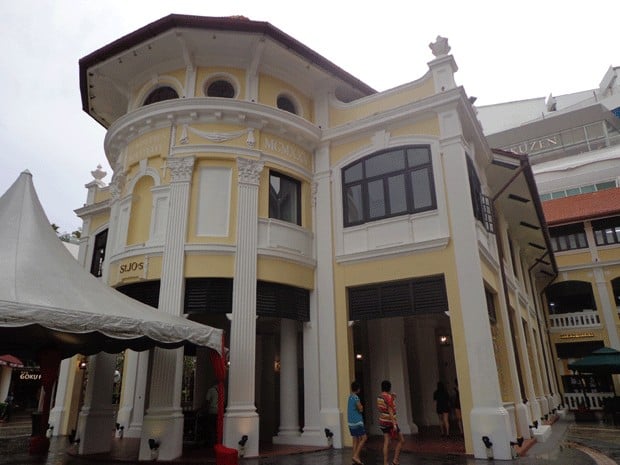 Location: Along Persiaran Gurney / Gurney Drive
Built around and inspired by the former St. Joseph's Novitiate, the relatively new mall along the promenade features stylish restaurants and cafes, and a good place for shopping. We spent our afternoon indulging sinful sweets like the Famous French Toast (RM16.80 / SGD6.18), Vanilla Souffle (RM16.80 / SGD6.18), Matcha Parfait (RM16.80 / SGD6.18) with Matcha Latte (RM10.80 / SGD4) and hot tea at Miam Miam. It's a good dessert place but if you prefer coffee, then head over to Ben's which in also located within St Jo's.
I was craving for contemporary Peranakan food and my friend suggested heading over to Plaza Gurney's Basement 1 for The Little Nyonya Cuisine. Previously I had been to The Little Nyonya restaurant located at Queensbay Mall, and being rushed for time, we ordered two sets of Nasi Lemak Special (RM17.60 / SGD6.48 each) and Nyanya Curry Chicken (RM15 / SGD5.52) for sharing. The food is good if you're not a fussy eater who likes home-cooked style Peranakan food.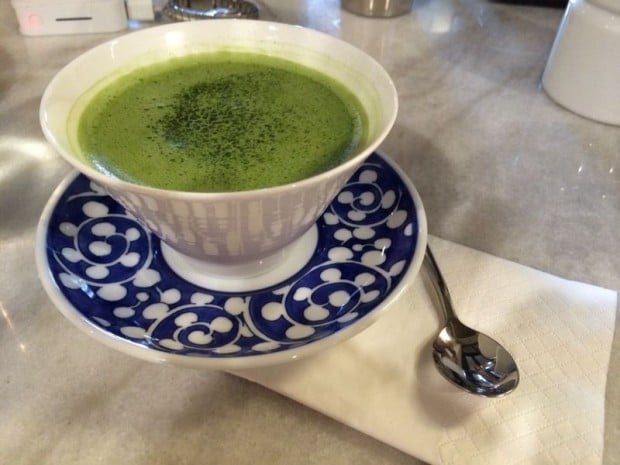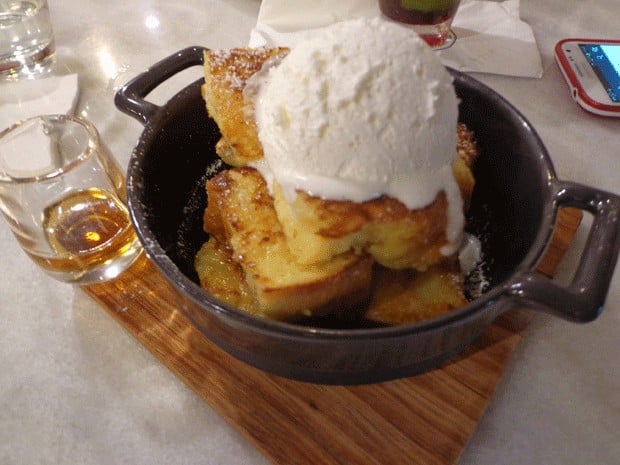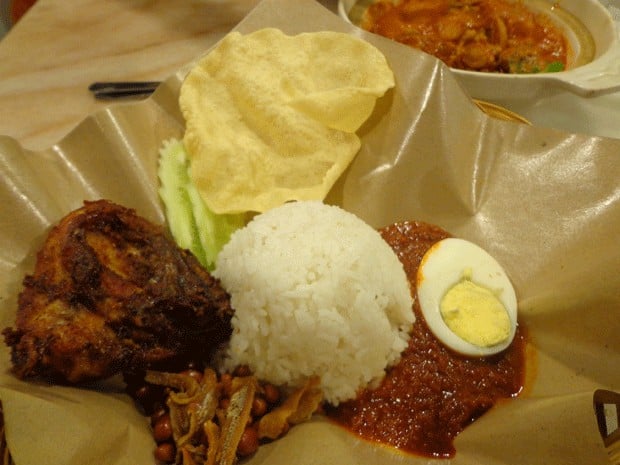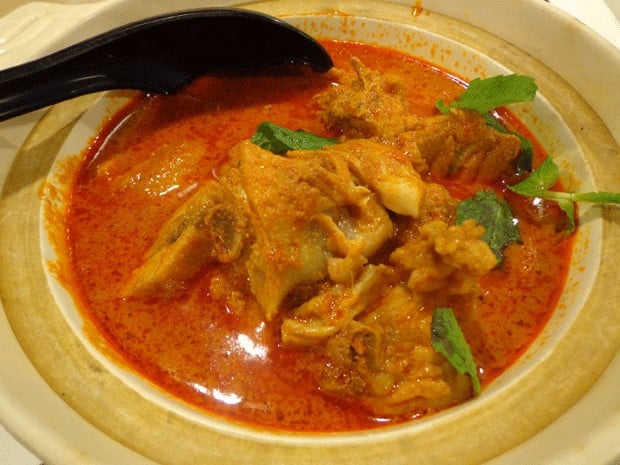 8. Auntie Gaik Lean's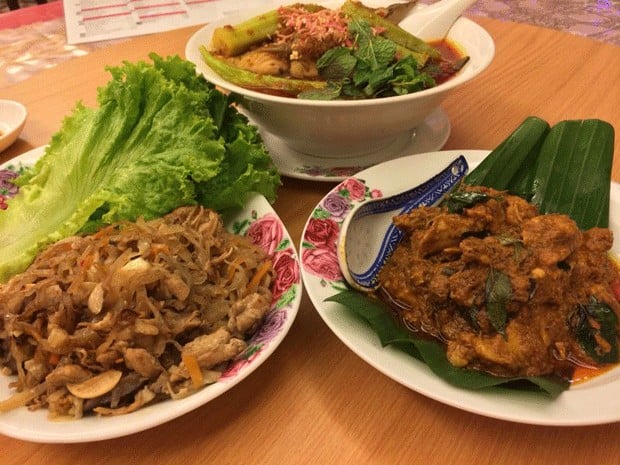 Location: No. 1 Bishop Street, Georgetown
For dinner, my friend brought us to Auntie Gaik Lean's old school eatery. This quintessential decorated restaurant is the best kept foodie secret for Peranakan cuisine. It's a pity that Auntie Gaik Lean is too busy stirring the woks in the kitchen and there was no official website or Facebook. This place relies on the age old word-of-mouth marketing and the various media exposures to spread the word, but it is always full house on weekends.
Located right in the core zone of Georgetown, Auntie Gaik Lean explained to us that Penang's Peranakan food is very different from Malacca, as the latter is influenced heavily by the Portuguese culture. Having been to Nancy's Kitchen in Melaka, I would definitely give Auntie Gaik Lean double thumbs up.
On our table top that night was Nyonya Chicken Rendang (RM25 / SGD9.20) – dry curry chicken with coconut milk, Gulai Tumis (depending on market price) – tamarind fish curry served with ladies fingers, Jiew Hu Char (RM22/32 / SGD8.10/12) – traditional nyonya mixed julienne vegetables & shredded dried cuttlefish served with lettuce. My favourite dish would be Jiew Hu Char. Scoop a spoonful of shredded dried cuttlefish onto the lettuce and wrap it like a spring roll – it's crisp, fragrant, and simply delicious.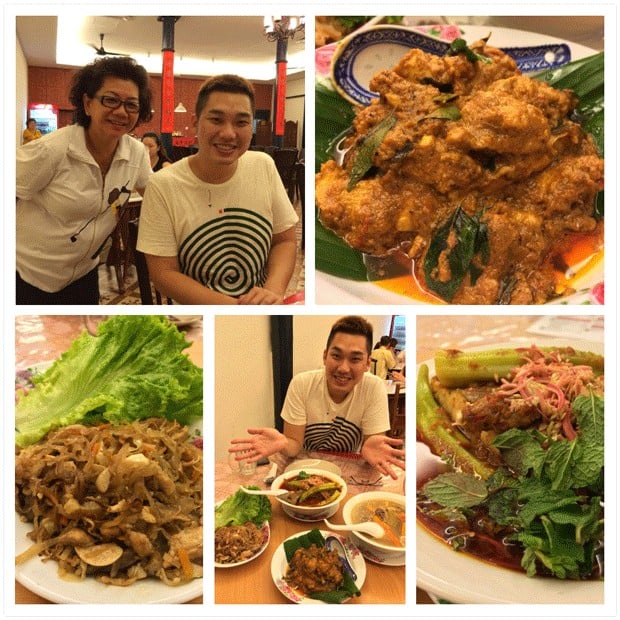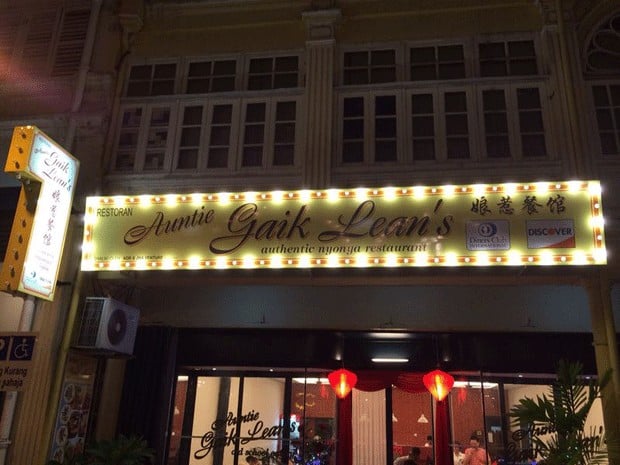 What are some of your favourite places for food or afternoon tea in Penang? Please share and comment below to let me know.
Also read: Road Trip to Penang
Contributed by Malcolm Sunny – Wine + Travel.