With long stretches of coastlines and numerous lakes, rivers, and canals, it's perhaps no wonder that entrepreneuring and imaginative people have set up cool floating or over-water accommodations in Thailand. There is sometimes nothing more soothing than the sounds of water gently lapping below you as you drift off to sleep, and some of Thailand's water-based hotels actually softly bob and sway too.
Fishing, swimming, kayaking, and canoeing are popular activities at some of the country's floating hotels and guesthouses, and many are more than a little novel. Here are some of the best floating hotels in Thailand for a stay that's a bit different from the norm:
1. Float House River Kwai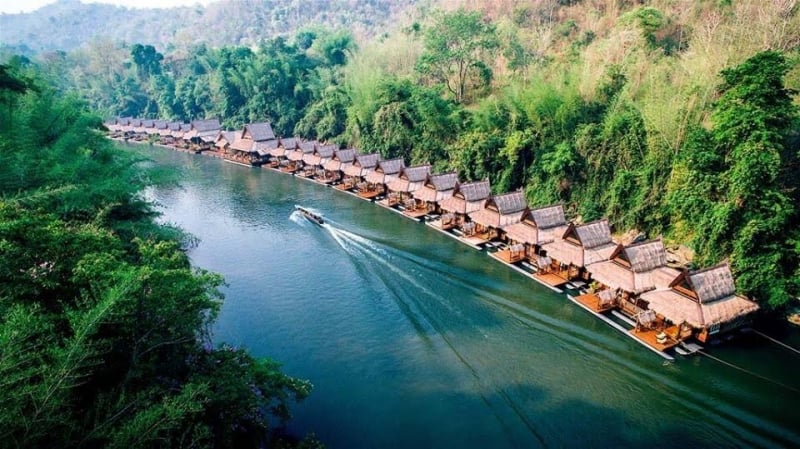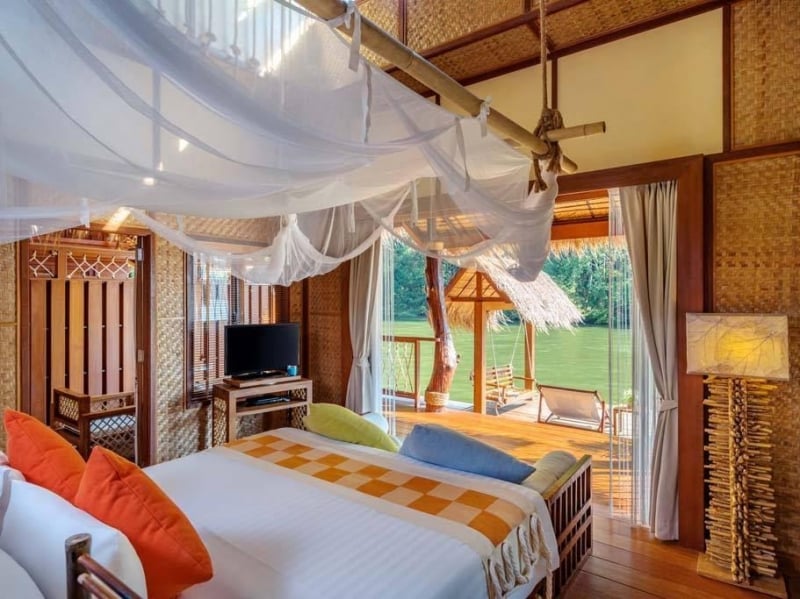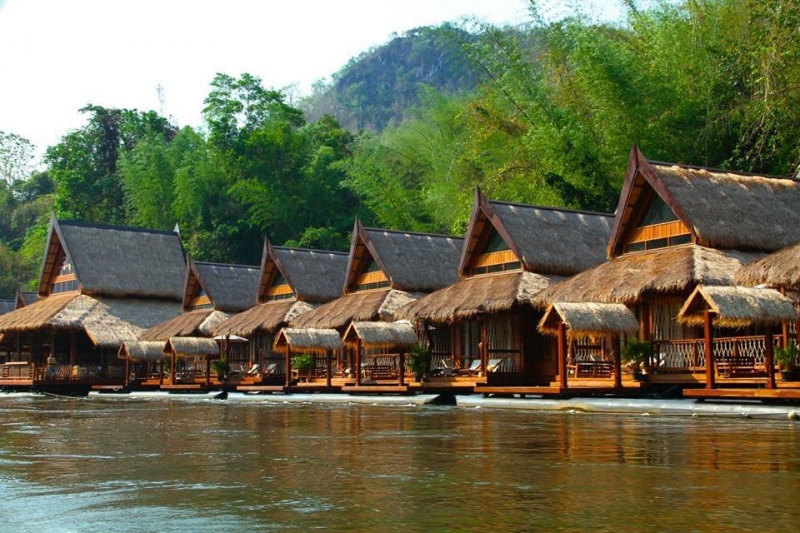 One of Thailand's most famous floating accommodations, Float House River Kwai has gorgeous over-water villas. Each has a private bathroom, terrace with sun beds, pier, TV, free Wi-Fi, and tea and coffee making facilities. All are decorated in a traditional Thai style with lots of elegant teak wood. There's plenty of communal space between each villa and the views are magnificent. Take to the waters in a canoe or long-tail boat or board a bamboo raft for a sightseeing adventure. Cultural shows add to the diversity and there's an onsite floating restaurant-bar that serves delicious local and international cuisine.   
2. 500 Rai Floating Resort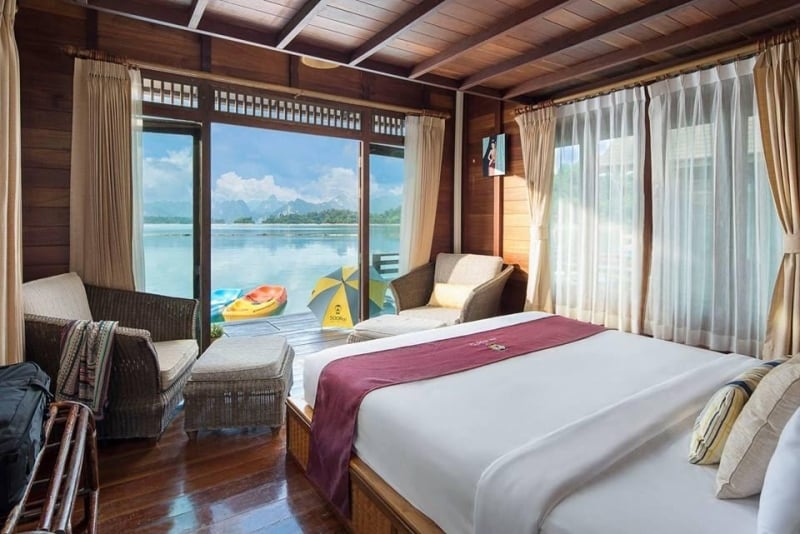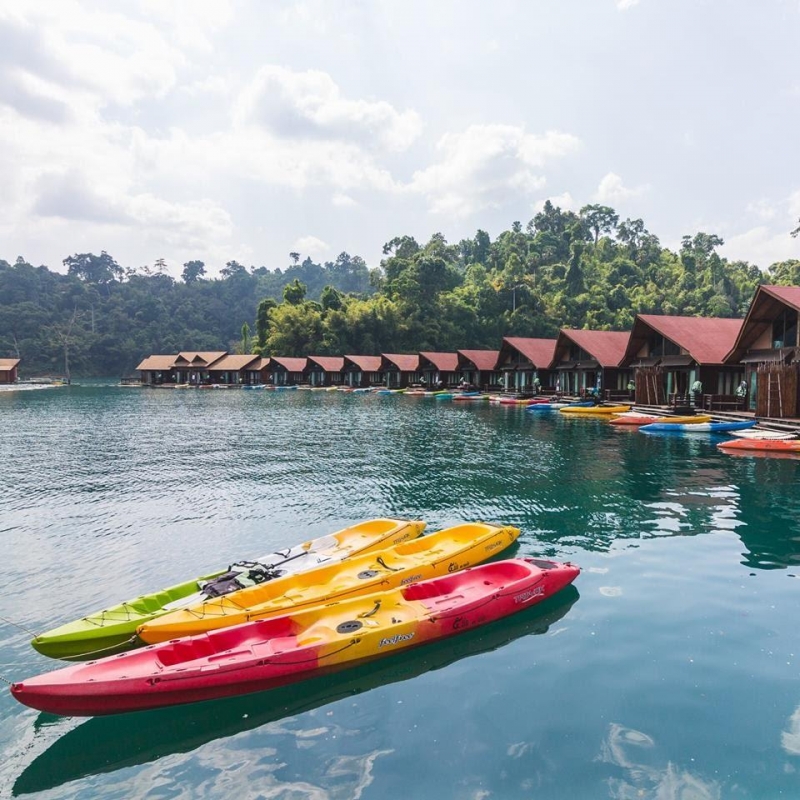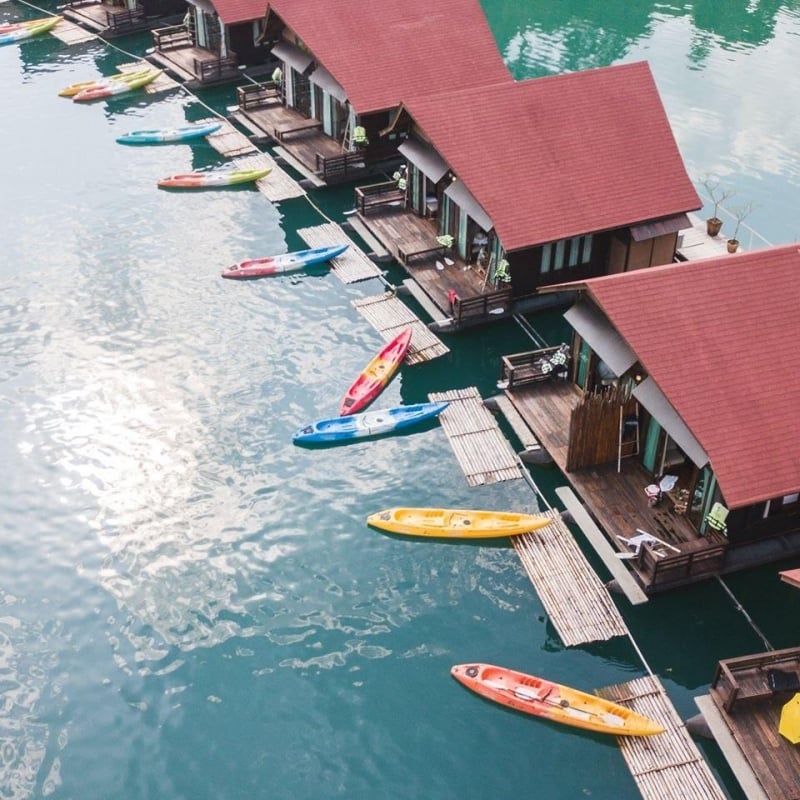 500 Rai Floating Resort is one of several floating accommodations on the spectacular Cheow Lan Lake in Surat Thani's Khao Sok National Park. Peaceful and quiet with amazing views, you can access the pristine waters for a refreshing swim from right outside your door. The deluxe rooms are semi-detached and can sleep up to five people, with a king-sized bed in the main room and two single beds in the loft. Rooms are en-suite and come with a kayak and five life jackets. There are villa rooms, family rooms for up to ten people, deluxe suites, family suites, and even a honeymoon suite that is completely separate from the other raft houses and surrounded on all sides by sparkling water. The floating resort has its own restaurant and you can arrange massages onsite.
3. Blue Sky Resort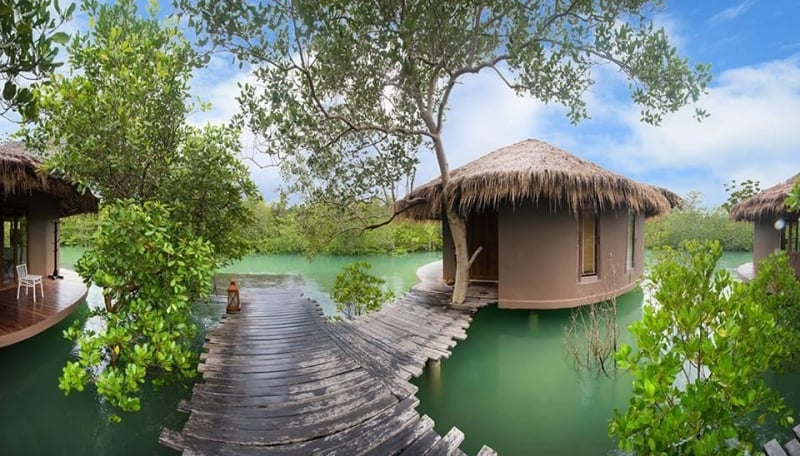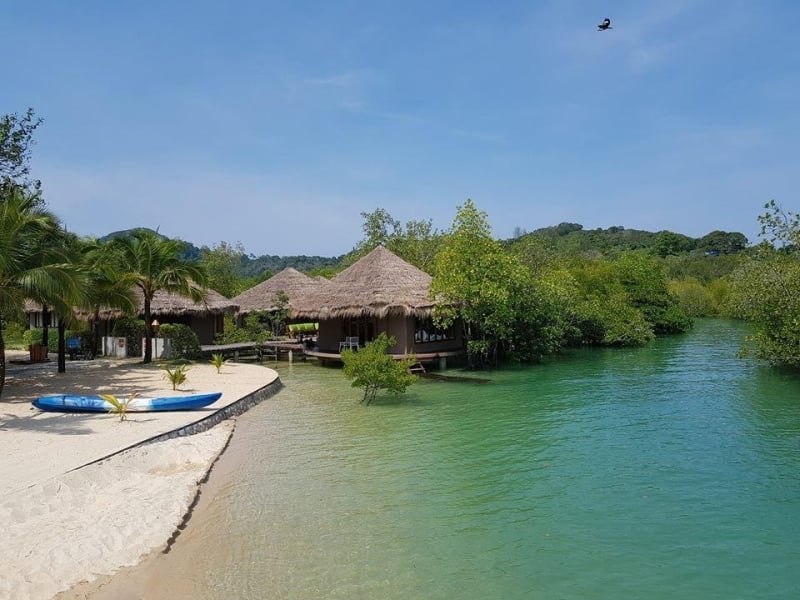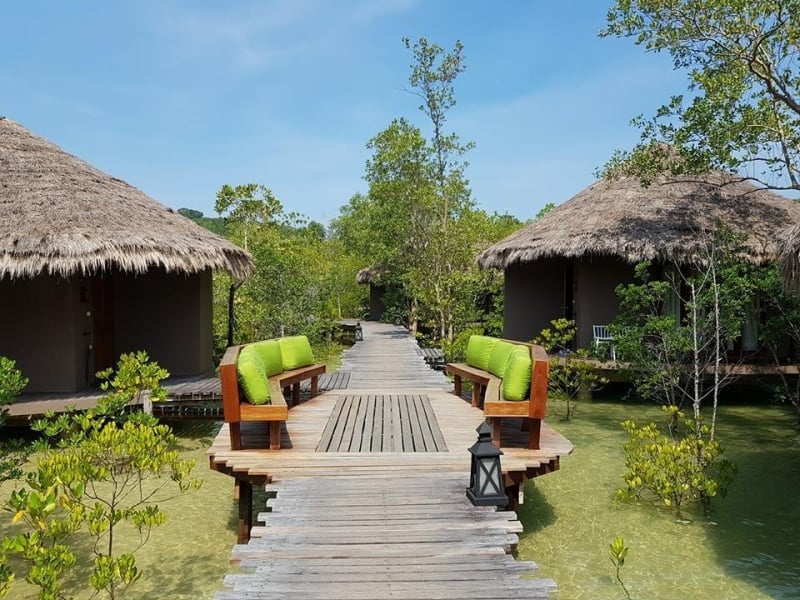 The Blue Sky Resort is located on the under-visited island of Koh Phayam, which sits off the coast of Ranong. Koh Phayam has splendid sandy beaches, a rustic way of life, and a jungle area where hornbills fly from branch to branch. The Blue Sky Resort is an ideal accommodation for enjoying the island's charms. It has beautiful bungalows built right over the water in a mangrove forest; the resort's aim was to replicate the gorgeous resorts common to the Maldives. The round bungalows have thatched roofs and are all en-suite with a private balcony and TV. Guests can borrow kayaks and bicycles for free and the resort has a swimming pool, spa, and restaurant-cum-bar. If you want a more intimate evening, you can also order room service.   
4. Eakachai Boathouse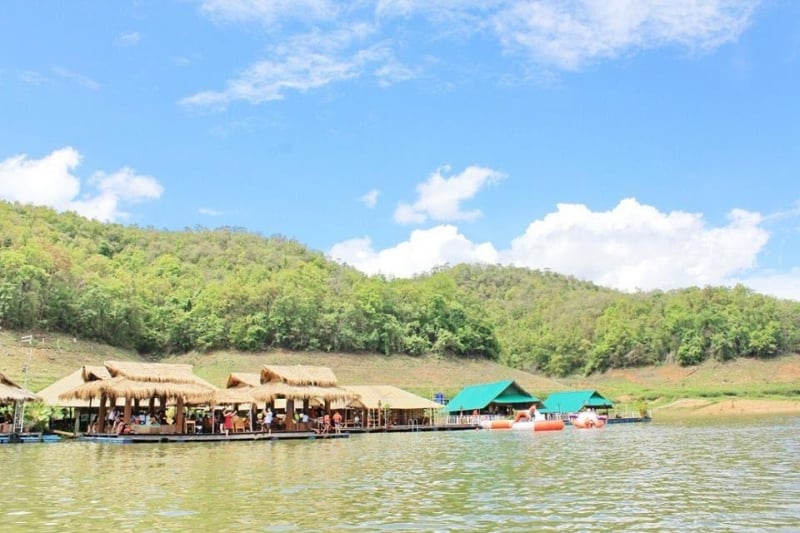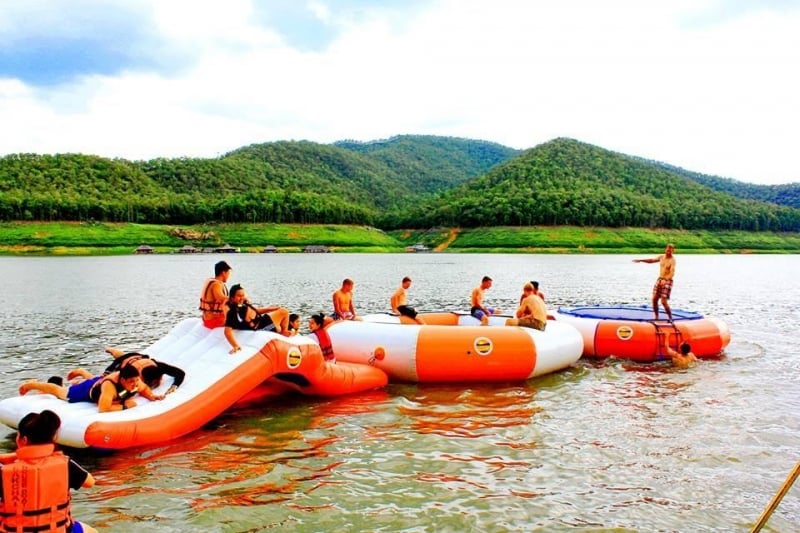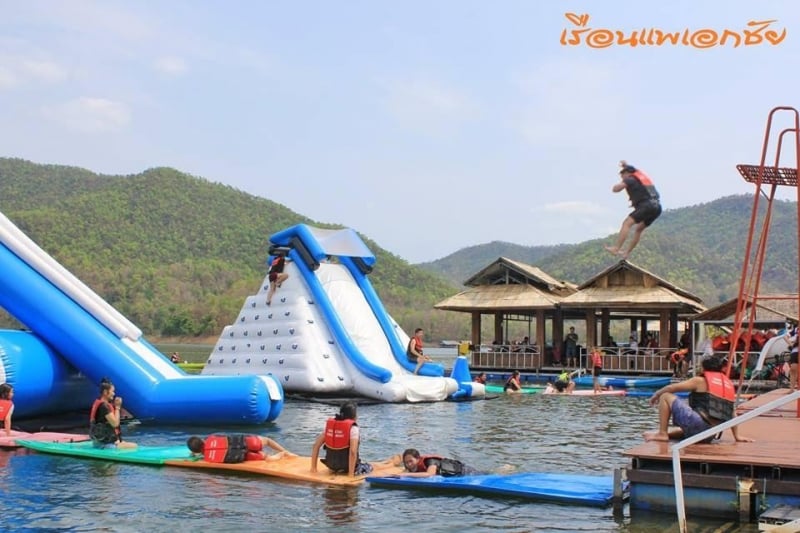 Eakachai Boathouse is a fun floating accommodation at Mae Ngat Reservoir in Chiang Mai's Sri Lanna National Park. The moored boathouses are basic but comfortable. All rooms have a private bathroom and electricity. The location, views, and activities are what really make this place special! Chill out and unwind without a care in the world, try your hand at fishing, take a dip in the lake, relax with a cool beer, and paddle across the waters in a canoe. Inflatable toys, a diving platform, a trampoline on the water, and slides add to the carefree atmosphere. There's also a sunbathing deck and a restaurant.  
5. Mom Chailai River Retreat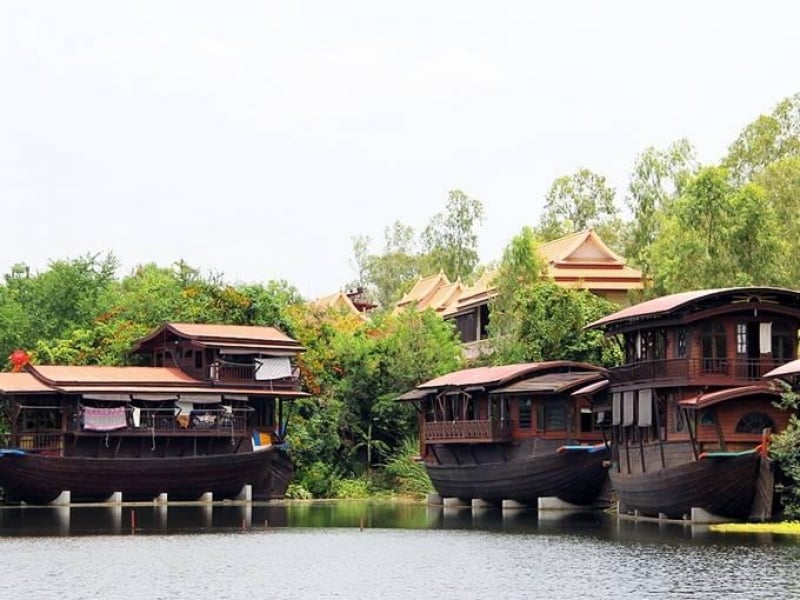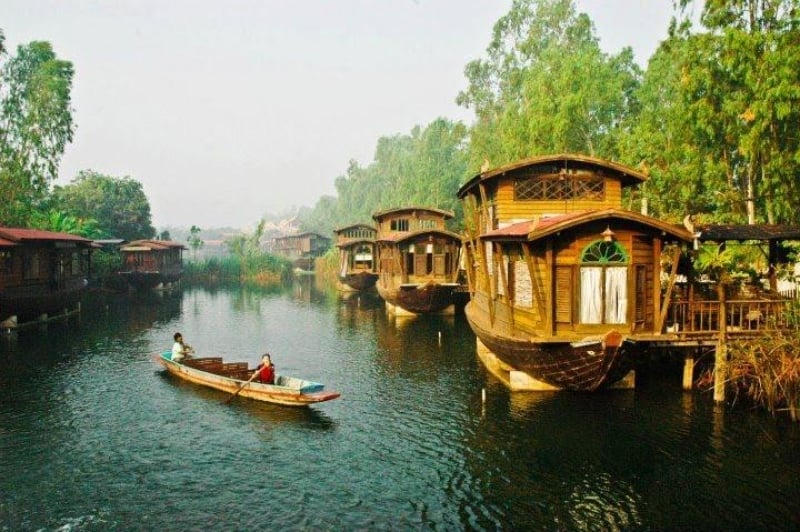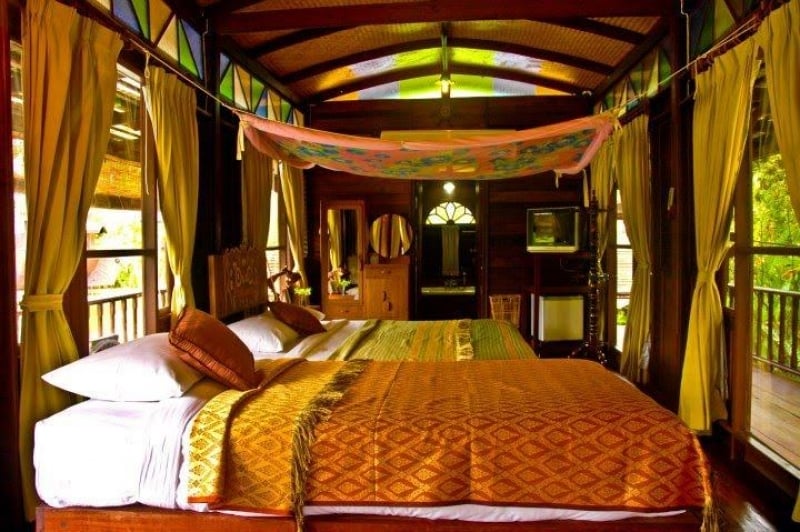 Sometimes also referred to as the Antique Boat Hotel, Mom Chailai River Retreat is an unusual resort in off-the-beaten-track Nakhon Pathom. Just a short distance from the frenetic capital of Bangkok, the peaceful resort has riverside bungalows and rooms. Why just look at the river, though, when you can sleep on it?
Book a stay in an old houseboat, safety moored to stop you literally drifting away, and listen to the lull of the water as you fall asleep. The gorgeous antique boats are comfortable, with a private bathroom, seating area, desk, fridge, cable TV, and kettle. Alternatively, there are raft houses too. The views are awesome. The resort has a swimming pool, spa, two restaurants, and lovely gardens, and you can rent a bicycle to explore the fertile surroundings. If you want to add more floating adventures to your trip, pay a visit to the nearby floating market at Wat Lumphaya.
6. Ruknam Resort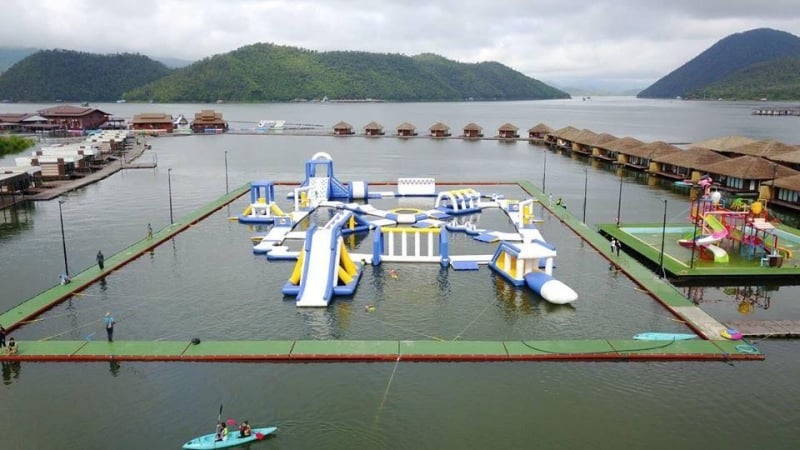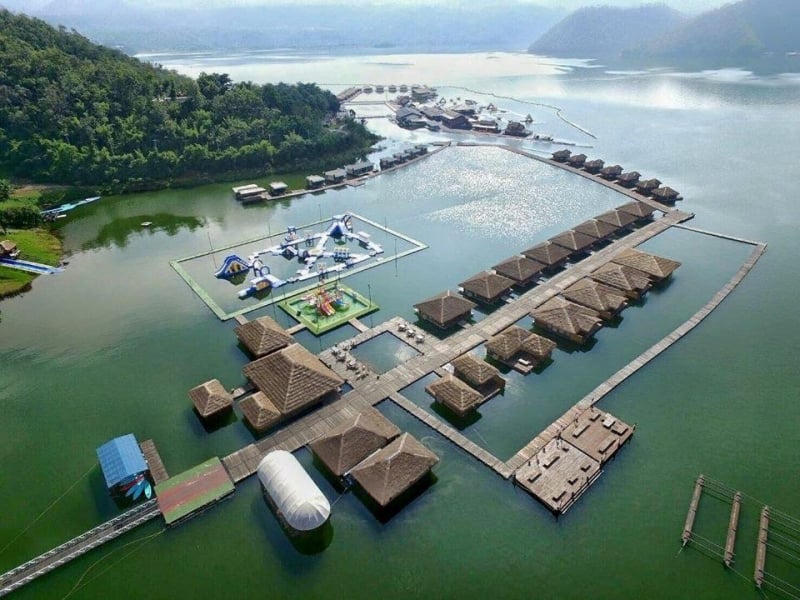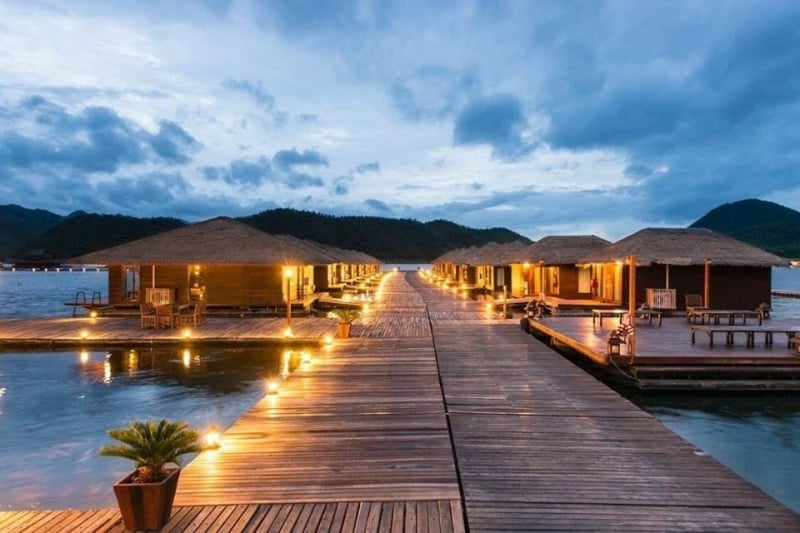 Sitting over the waters of the Srinakarin Reservoir in Kanchanaburi, the rooms of Ruknam Resort are simply delightful. Decorated with a nautical theme, the rooms are en-suite with a minibar and TV. You can dine in the onsite restaurant or join the dinner cruise on the water. A buffet breakfast is included in the room rates. Relax and admire the striking views, enjoy the sounds of nature, or hop in a boat to explore the reservoir further. You can also swim in the cool waters and there's a fun area with inflatable toys, slides, and obstacles, sure to please kids and adults alike. For little children, there's a separate play area as well. The surrounding mountains make for awesome explorations on dry land.   
7. Kaengkrachan Boathouse Paradise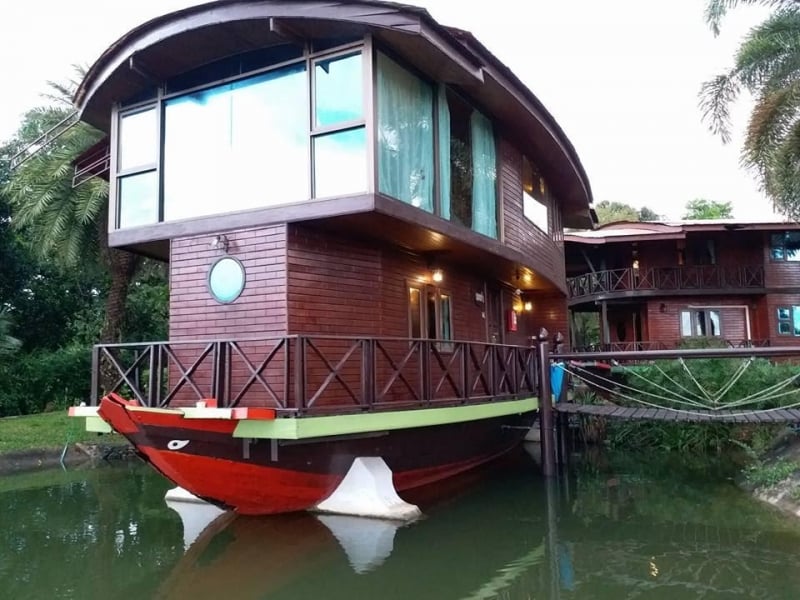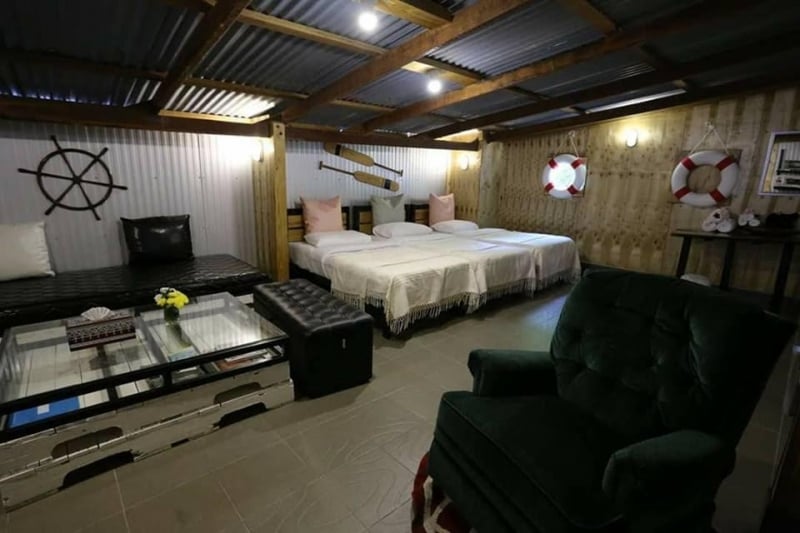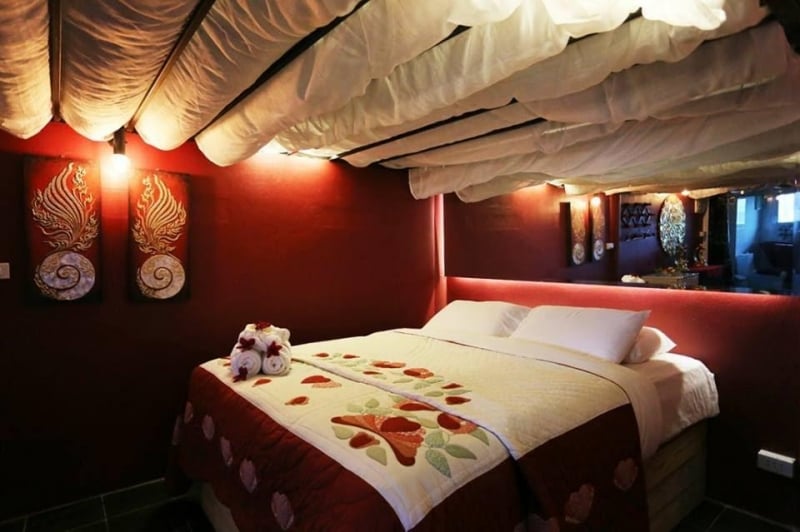 Kaengkrachan Boathouse Paradise is a boutique resort in Phetchaburi Province. It's close to the stunning Kaeng Krachan National Park, which is Thailand's biggest national park. There are several accommodation types here, but the most interesting for water babies will be the cute little boat houses. Safely anchored, the houseboats feature lots of dark wood and nautical designs. There are also boathouse rooms, made from metal and glass, with things like oars, tillers, compasses, lifebuoys, and anchors as decoration. The resort has an outdoor pool with sun loungers, a restaurant-cum-bar, gardens, and a picnic area, and activities include kayaking and cycling.      
8. Karoon Hut Guest House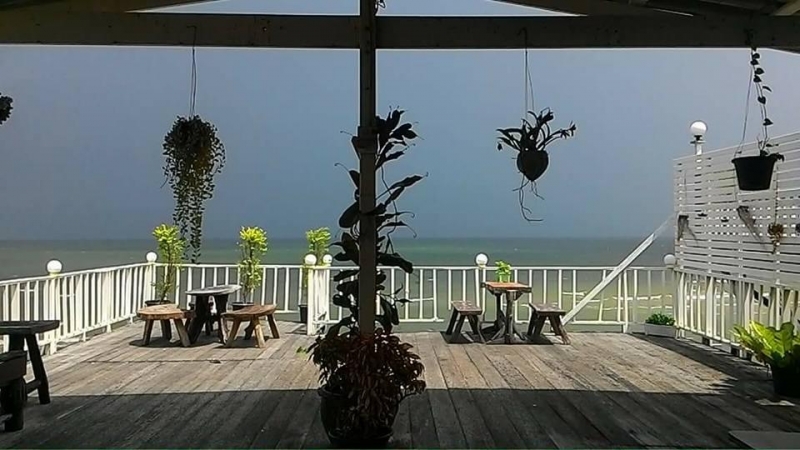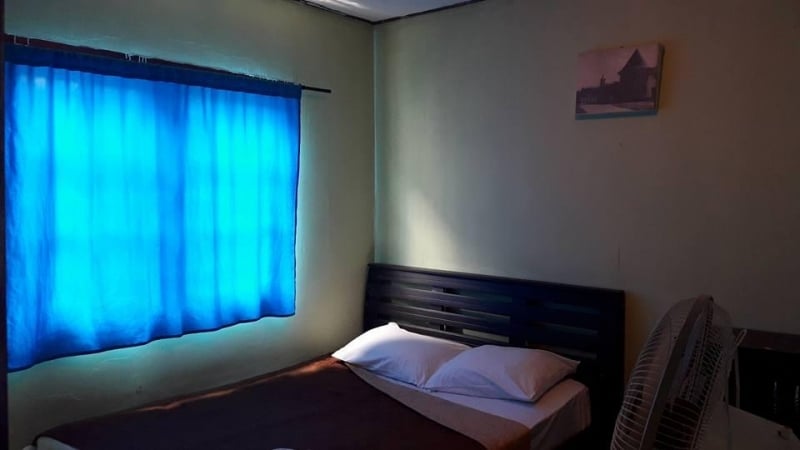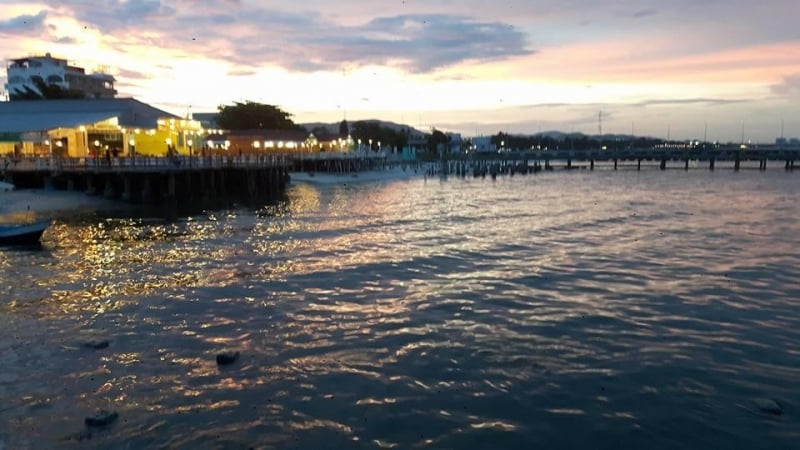 Karoon Hut Guest House is a cheap and cheerful guesthouse in the heart of popular Hua Hin. The en-suite rooms are basic, and some may say slightly aged and worn, but they let you drift into sweet dreams while listening to the sounds of the ocean. The guesthouse is built on a wooden pier that stretches out into the sea. How much water you'll have beneath your room at high tide depends on how far along the pier your room is. At the end of the pier, there's an outdoor seating area with great views. Nearby, you can dine in a seafood restaurant built on a pier too, and the beach is just a short stroll away.    
9. Bangkok Tree House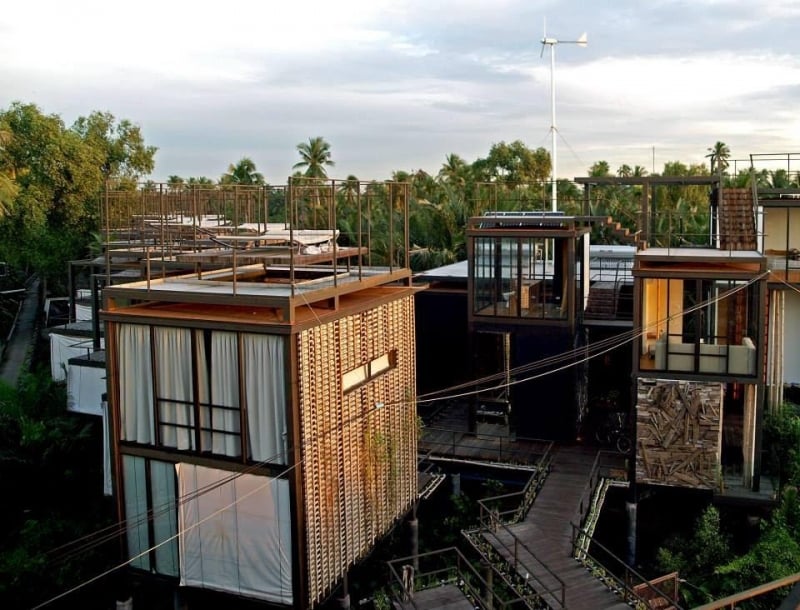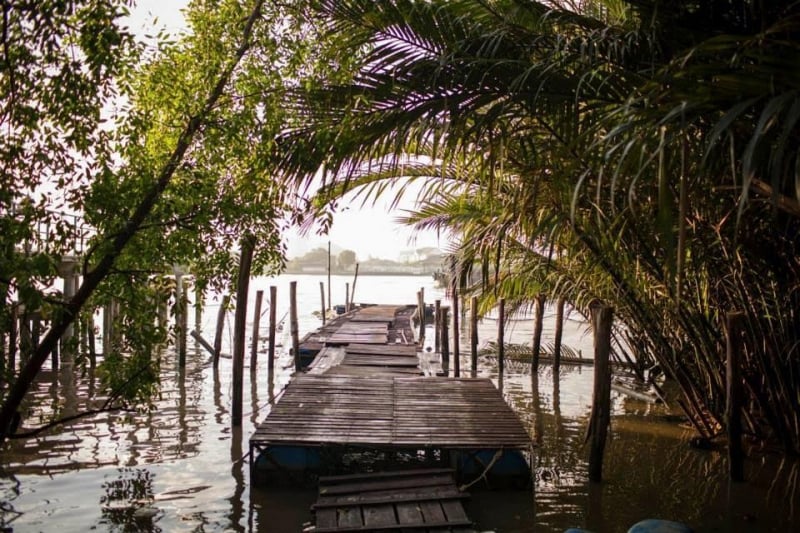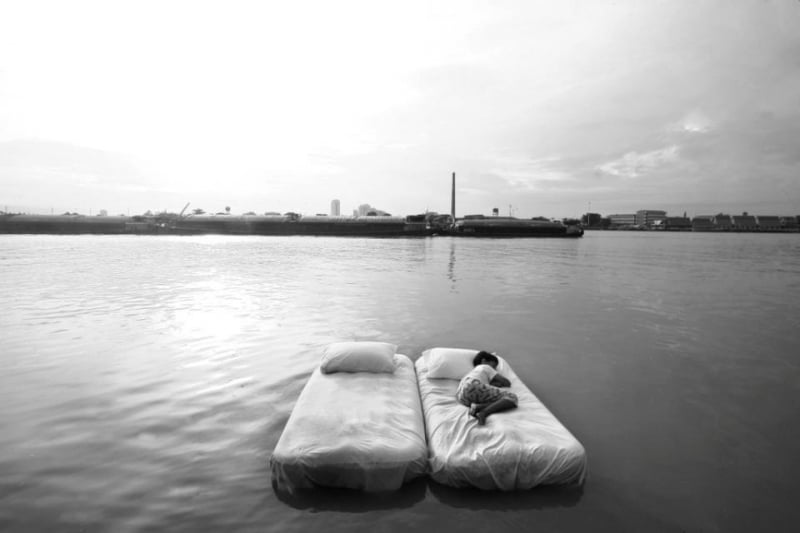 Bangkok Tree House is a novel concept in the Greater Bangkok Area. Located in Samut Prakan Province, the lovely accommodation sits alongside the Chao Phraya River and is surrounded by greenery. Bangkok Tree House is mostly known for its stylish loft rooms (hence the resort's name!), all of which offer terrific views of the river or the lush trees.
It does, however, have a sleeping option that takes you much closer to the water—the River Nest is essentially a floating inflatable mattress right on the river! Who knows where you'll wake up! The availability of this "nest" depends on the season and the weather conditions. The resort has a restaurant that serves healthy and tasty dishes. Vegan options are always available for those who prefer to follow a plant-based diet. The floating market of Bang Nam Peung is just a short bike ride away.    
10. KC Hotel Over Water Villas Resort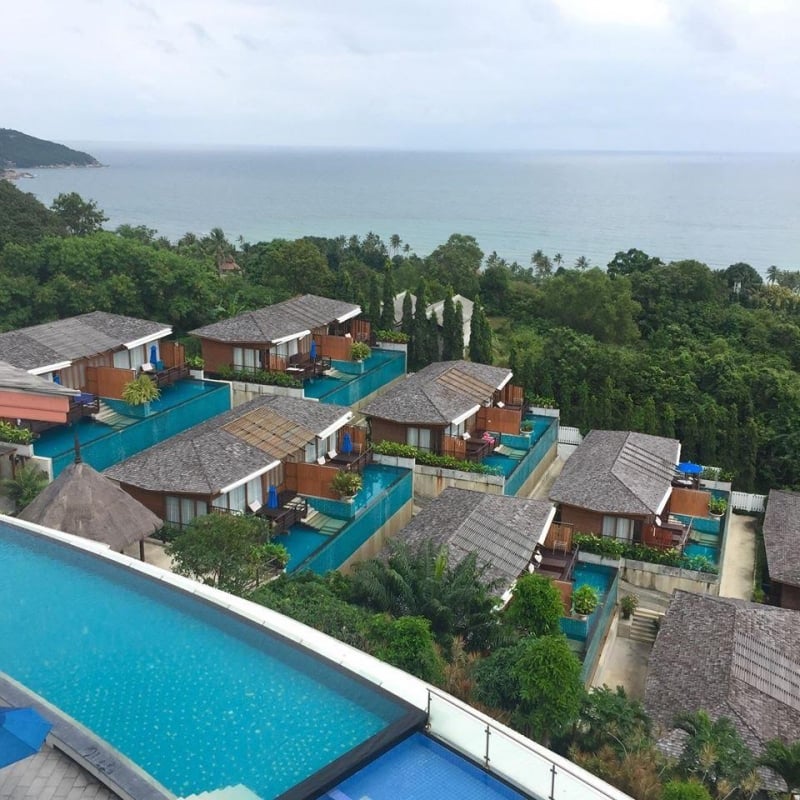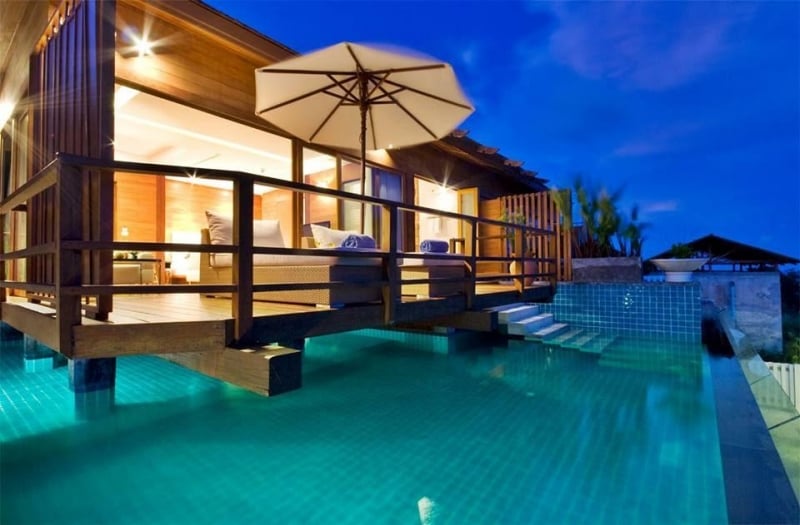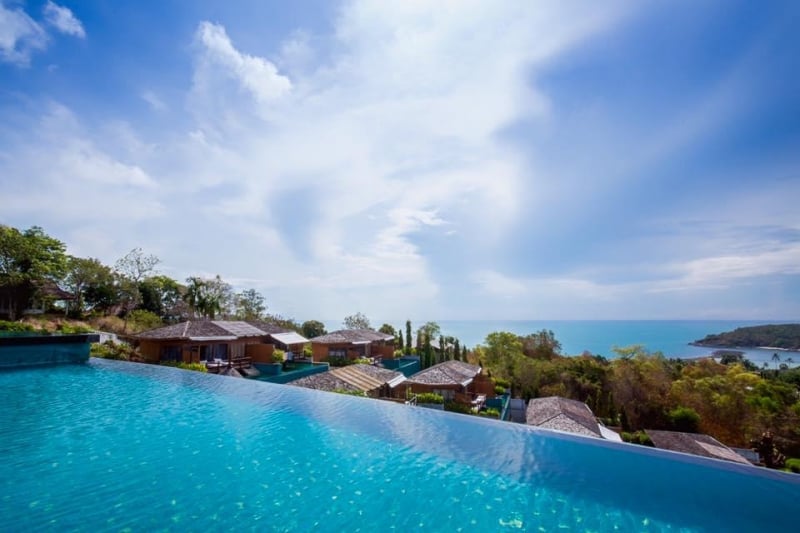 It may not be a natural water source that you fall asleep over when you stay at KC Hotel Over Water Villas Resort, but there's water below your bungalow nonetheless. Villas have been built on stilts over private infinity-edge pools! The stylish and luxurious villas are filled with elegant touches and designer details. All have a private bathroom with a jacuzzi bathtub and a separate shower, a balcony, a TV, a minibar, and a safe. The resort has top-class facilities and amenities too, including an infinity-edge pool, a spa, a rooftop sundeck, a fitness centre, a hydrotherapic float tank, and an exquisite restaurant. Located on the gorgeous island of Koh Samui, the resort provides fabulous views of Chaweng Bay.
11. Tara Cape Resort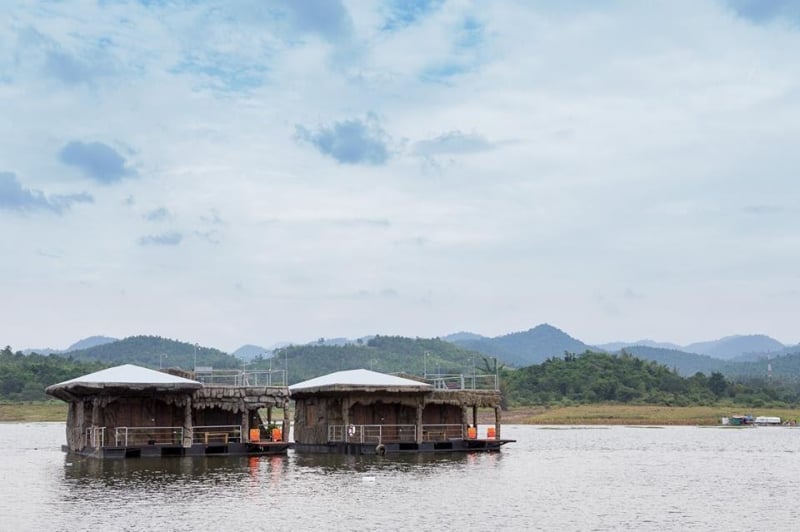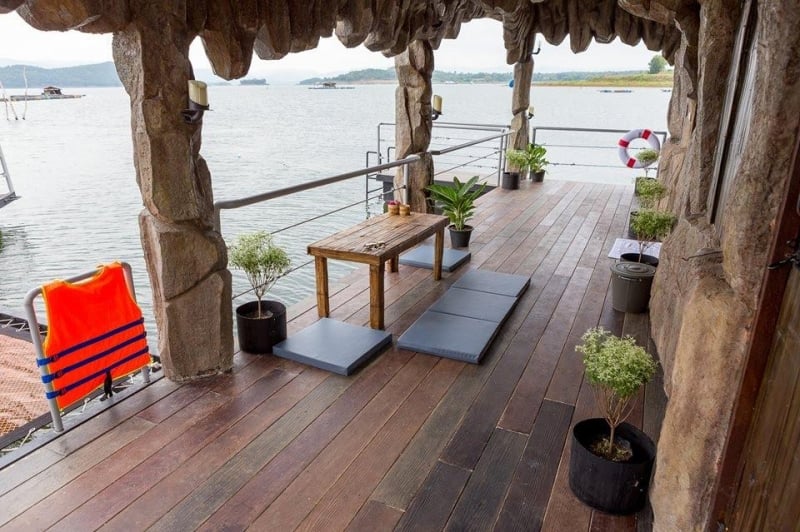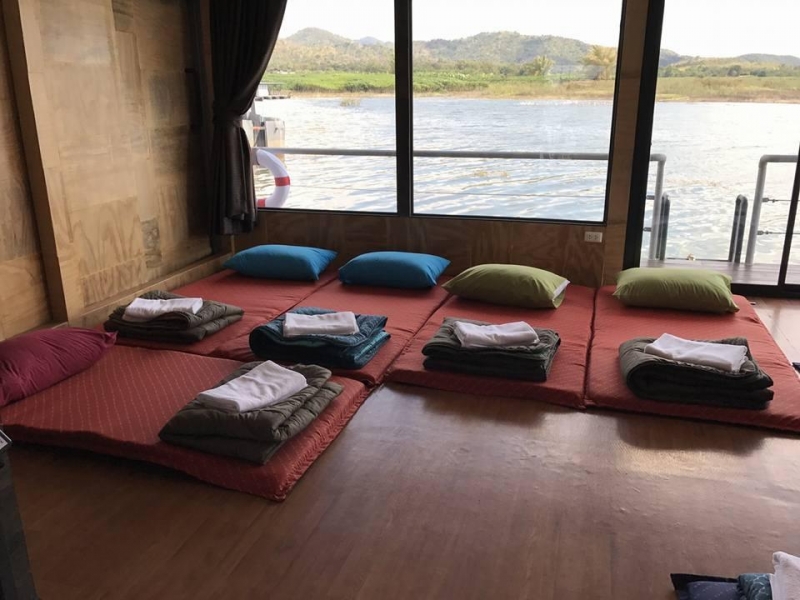 Tara Cape Resort is another Kanchanaburi gem, with floating rooms over the reservoir in Si Sawat. Rooms come with a private bathroom and a terrace, and free Wi-Fi is available. Some rooms have double beds, while others have Japanese-style tatami mats to accommodate larger groups and families. Breakfast is included in the nightly fee and it is served outside your room; you can choose between American or Thai breakfast options. Canoeing, fishing, swimming, and relaxing are popular activities, and the views are fantastic.
12. Rin Beach Resort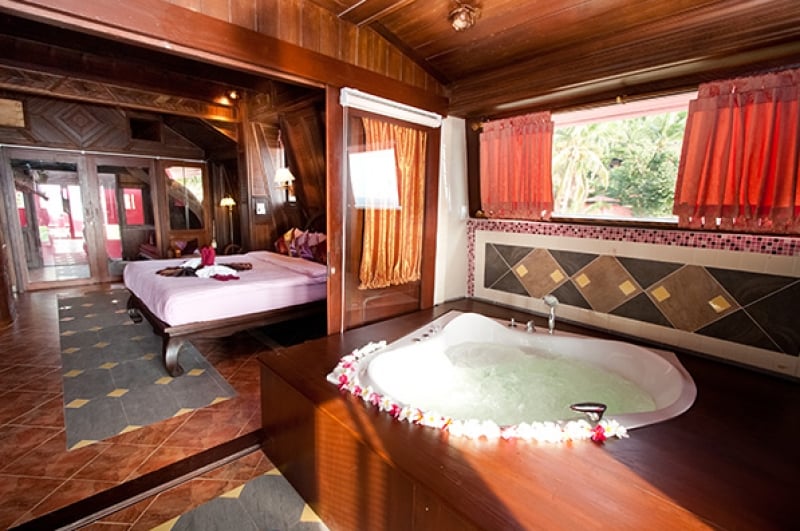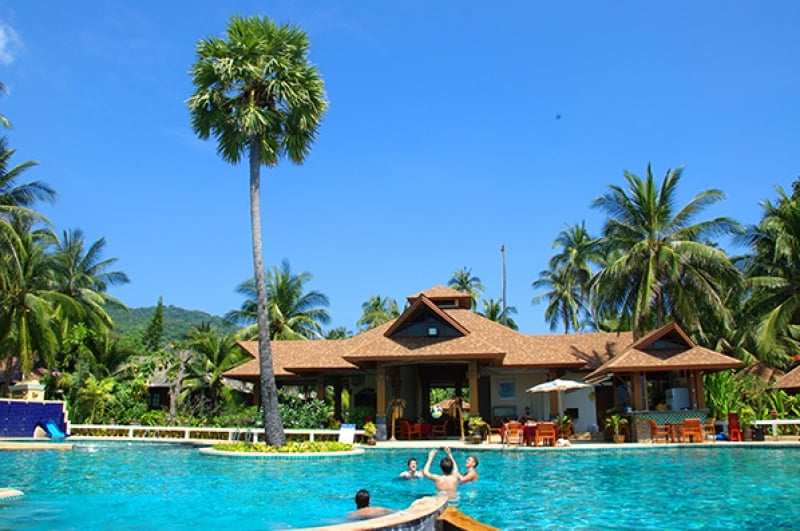 Located on Thailand's famous party island of Koh Phangan, Rin Beach Resort is on Haad Rin Nai Beach, also known as Sunset Beach. It's a short distance from the action at Haad Rin Nok Beach, home to the infamous Full Moon Parties. There are several accommodation options, including deluxe and superior rooms with either a beach or a garden view, economy rooms, and colourful boat houses. The luxury boat houses have a private jacuzzi tub, a double bed, a minibar, a safe, and A/C. The resort has a large swimming pool and a poolside restaurant, and you can book tours and rent transport with ease.   
13. Khao Sok Smiley Lake House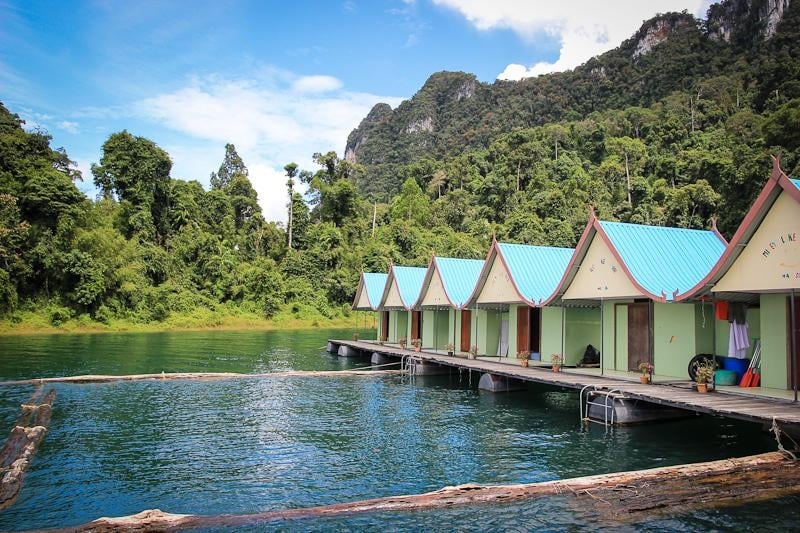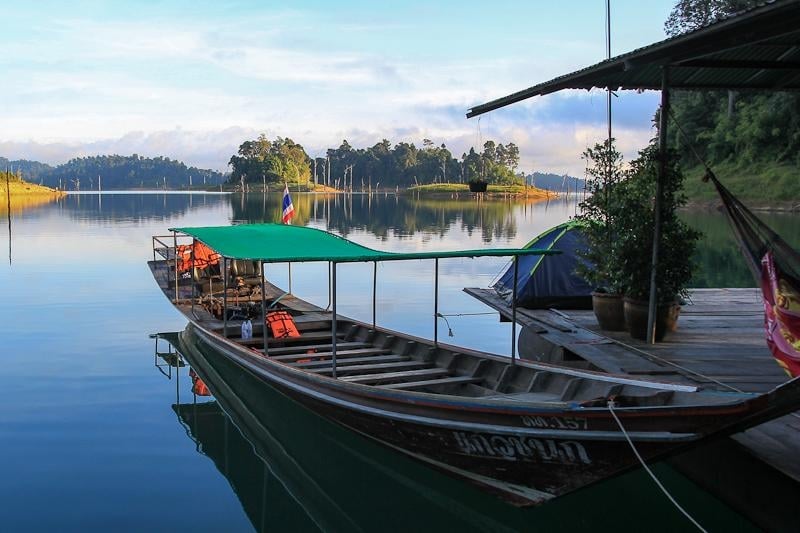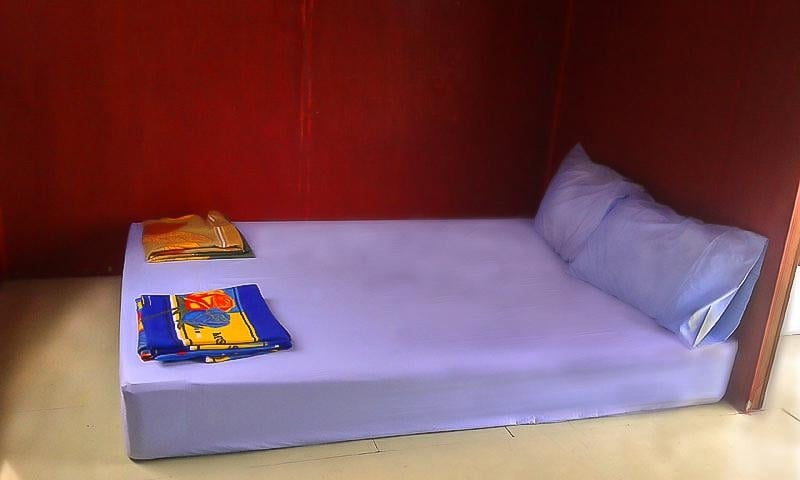 Another floating accommodation at the awesome Cheow Lan Lake in Khao Sok National Park, Khao Sok Smiley Lake House bobs on the blue-green waters of the lake. With lush greenery all around and the sounds of nature filling the air, it's a great place to escape from the world for a while. There's no Wi-Fi and no distractions, just you, your friends, great views, and nature. Even the electricity is switched off in the daytime—but why would you be lurking in your room at this time anyway?! Swim, kayak, join trips, and explore! There's a raft restaurant-cum-bar where you can refuel and mingle. Do note that you cannot book this accommodation independently; it must be visited as part of a tour.
14. Mango House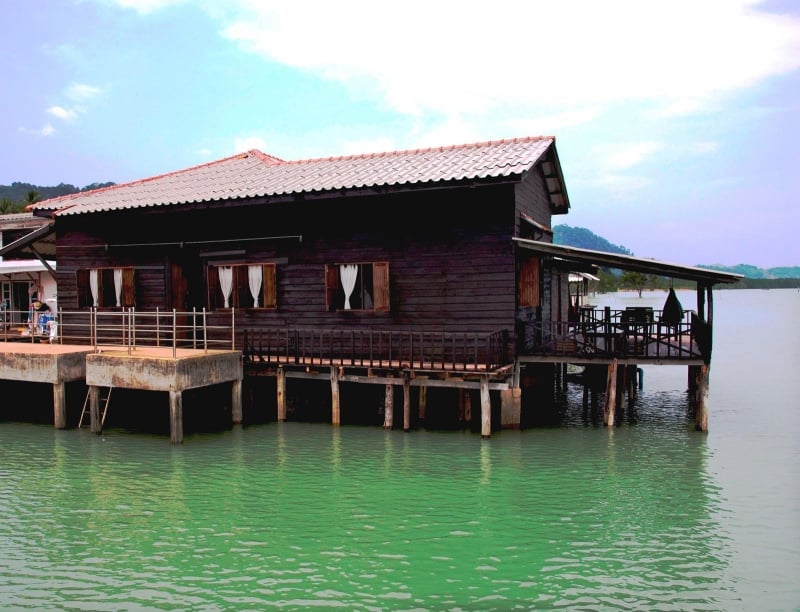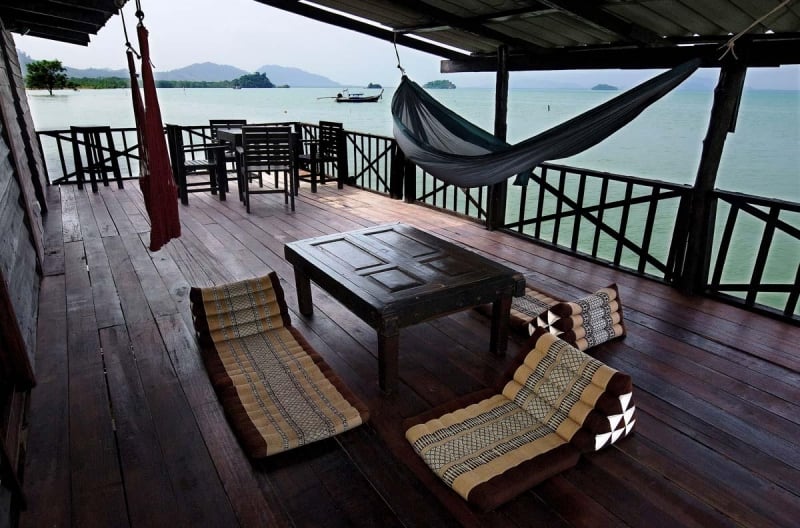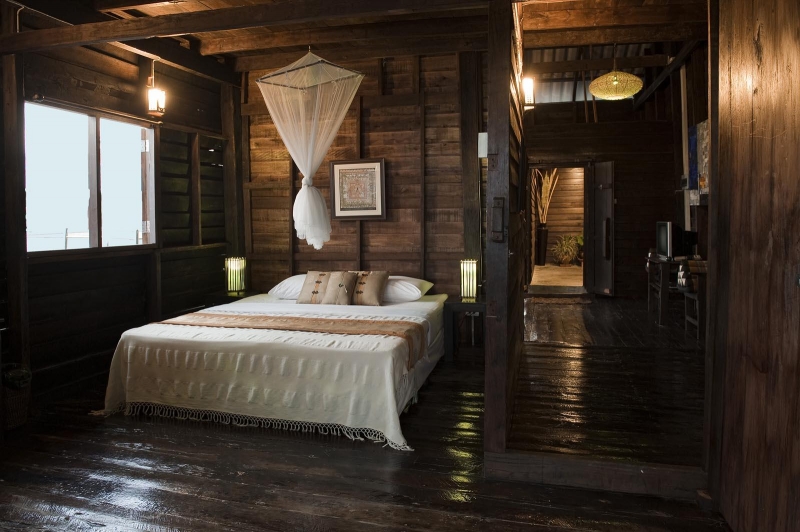 A small and intimate guesthouse on the Thai island of Koh Lanta, Mango House has a few overwater rooms as well as regular rooms on the seafront. All rooms are basic but comfortable. What makes the rooms above water even more special is the fact that they are restored and renovated Chinese-Thai homes on stilts. The prices are affordable, the views are great, there's lots of old-world charm, the vibe is relaxed, and the best of Koh Lanta is at your fingertips.  
15. Om Waters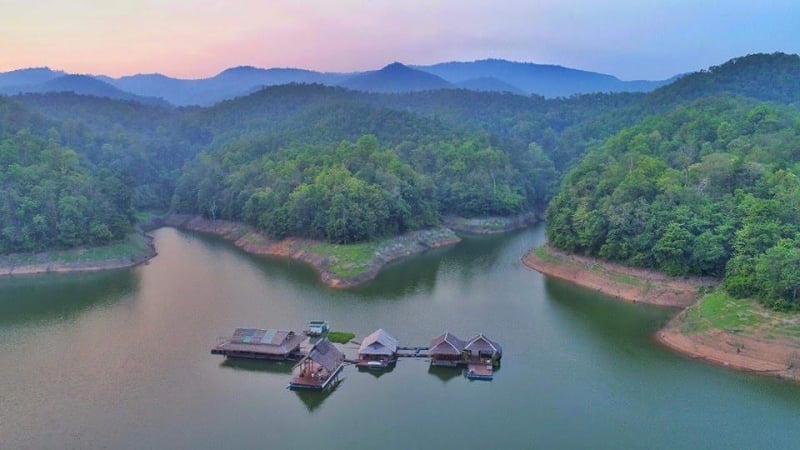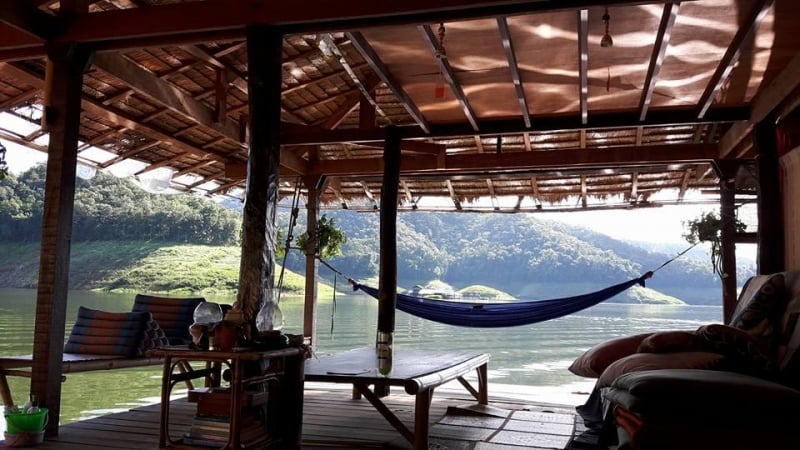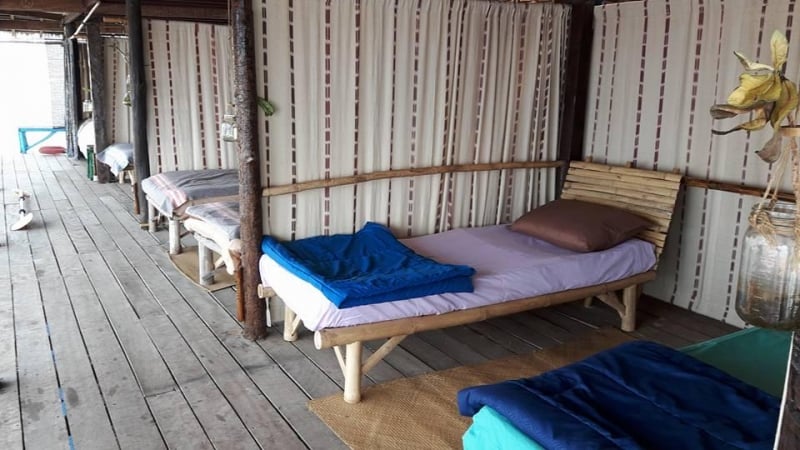 Om Waters in Chiang Mai calls itself a floating retreat centre. Situated over a large lake in Sri Lanna National Park, the tranquil resort lets you fall asleep underneath the stars amid glorious nature. Wake up early to catch the sun rising and to see the misty fog rolling across the water before joining a range of activities designed to benefit the mind, body, and soul. From meditation and yoga to dance and massage, you're sure to have a blissful and restorative stay here. The sleeping arrangements are mostly communal, with open-air dorms, spaces separated by curtains, and a couple of more private spaces. You're also free to drag your mattress out onto the open deck. There's a shared kitchen, communal bathrooms, and a lounge with hammocks, cushions, chairs, and books. Guests can use the standup paddleboard and kayak.    
16. River Kwai Jungle Rafts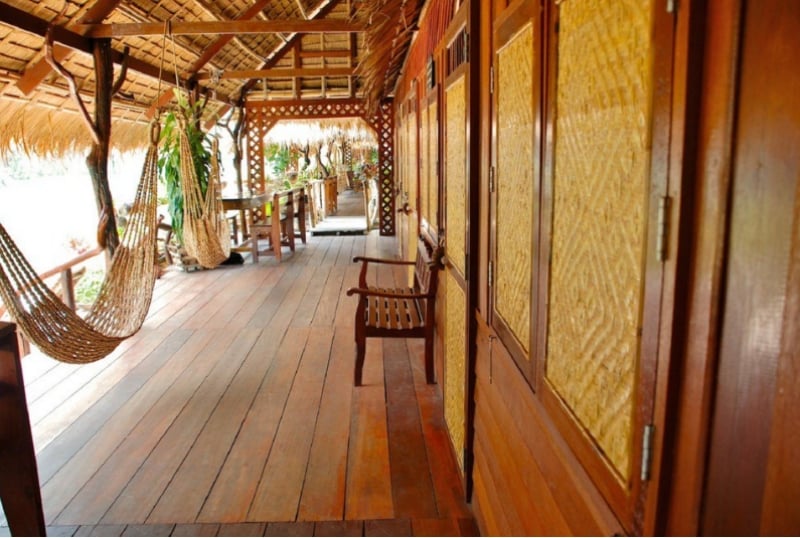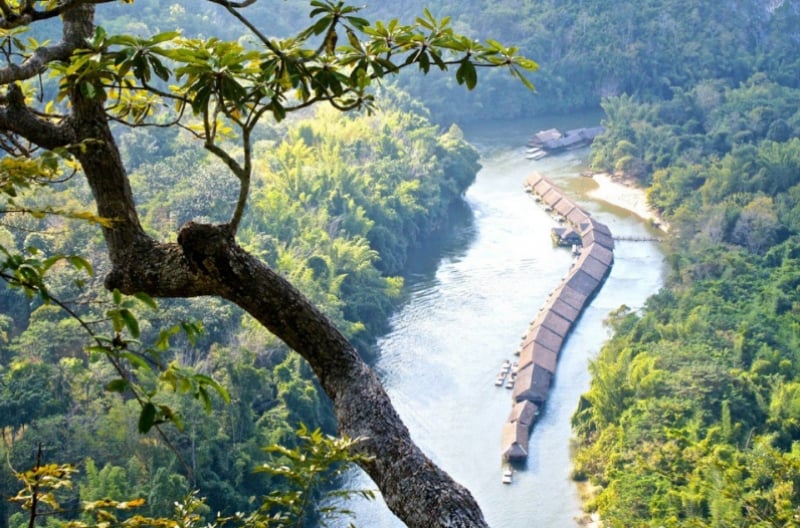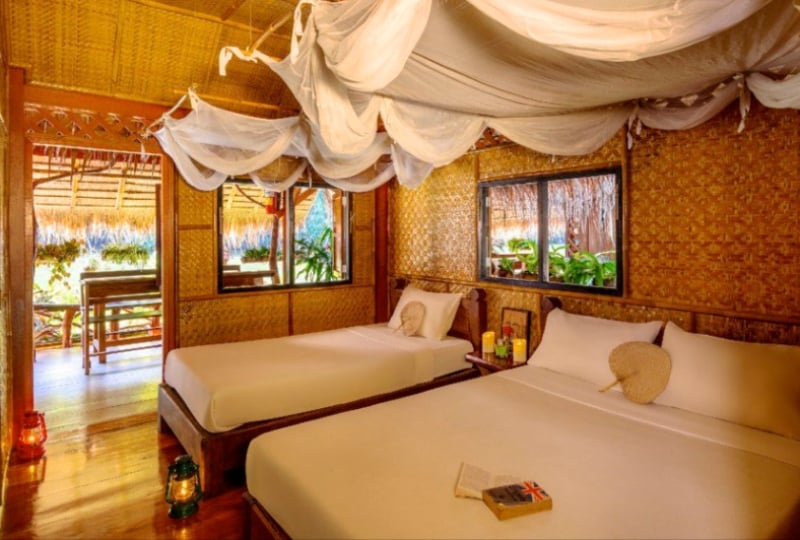 A floating eco-hotel in Kanchanaburi, River Kwai Jungle Rafts is constructed on the River Kwai Noi with the jungle close to hand. The lovely huts are made from woven bamboo, and all rooms have a private bathroom and a balcony with an enticing hammock. You really can get back to nature here, as there's no electricity. Kerosene lamps are used to light the way of an evening. Life may be simple, but that doesn't mean there's no fun to be found—jump into the river right from outside your room, go canoeing, have a bamboo rafting experience, join a boat trip, go jungle trekking, and ease any aches and pains with a traditional Thai massage. Don't worry if you feel peckish—the floating resort has a restaurant.  
17. The Oia Pai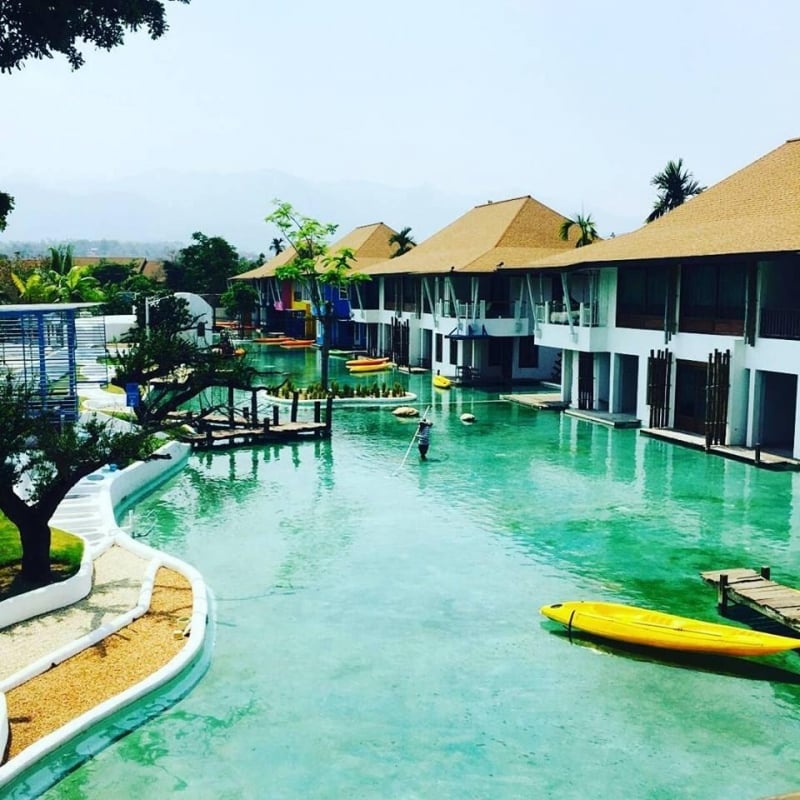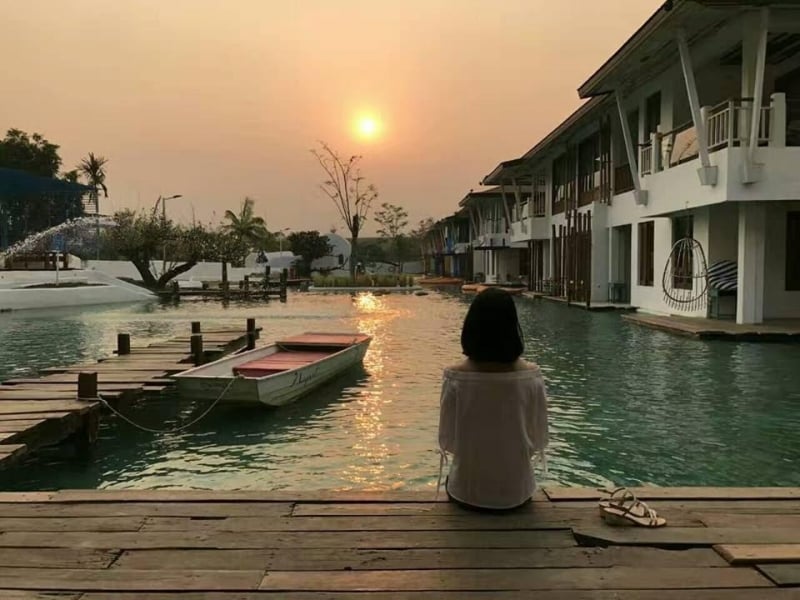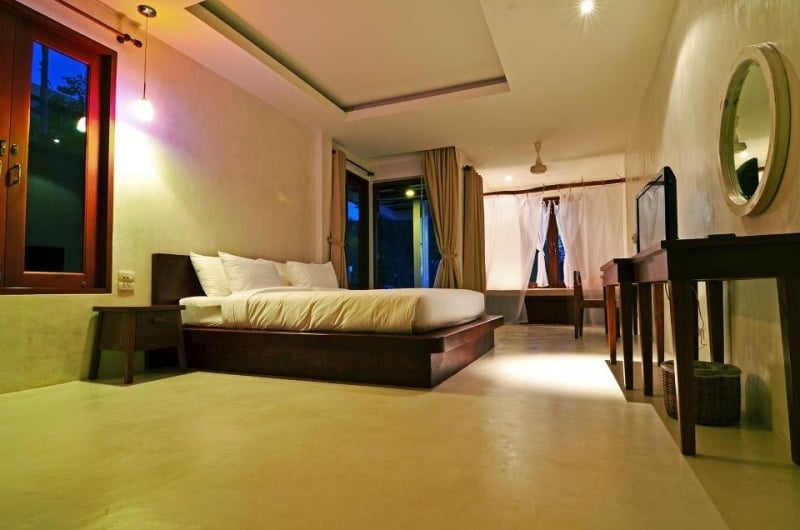 Located in the hippie hangout of Pai in Northern Thailand's province of Mae Hong Son, The Oia Pai is a great base from which to explore the beautiful mountainous surroundings and discover remote villages. Serene and tranquil, it's far removed from the hustle and bustle of city life. The modern rooms are built right on the edges of a man-made salt lake. Terraces hang out over the water and you can kayak right up to your door if you book a ground-floor room. The upper rooms have terrific views of the lake and you can access the waters from the boardwalks and small piers. Free bicycles can be borrowed for land explorations and the resort has an excellent restaurant. Rooms are en-suite with free Wi-Fi, a TV, a safe, and a fridge.  
18. Sai Yok View Raft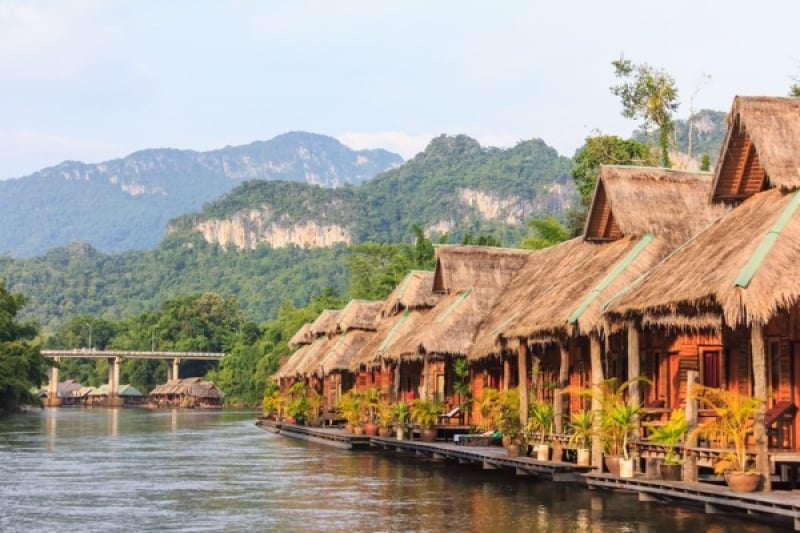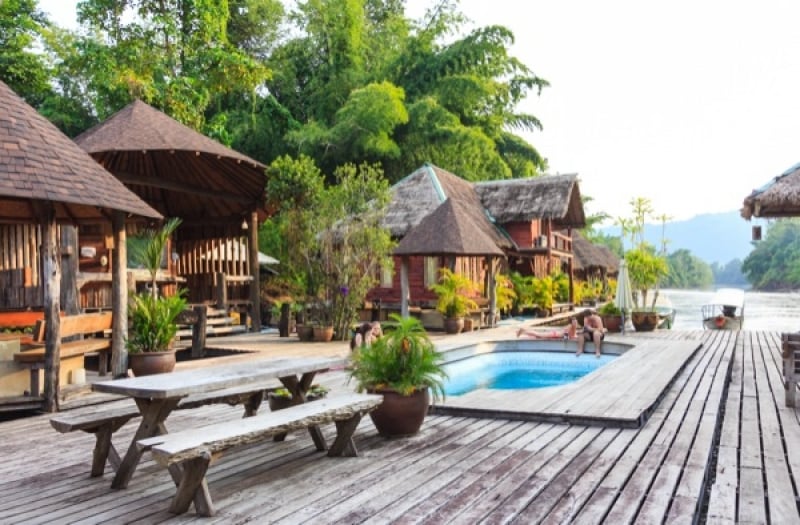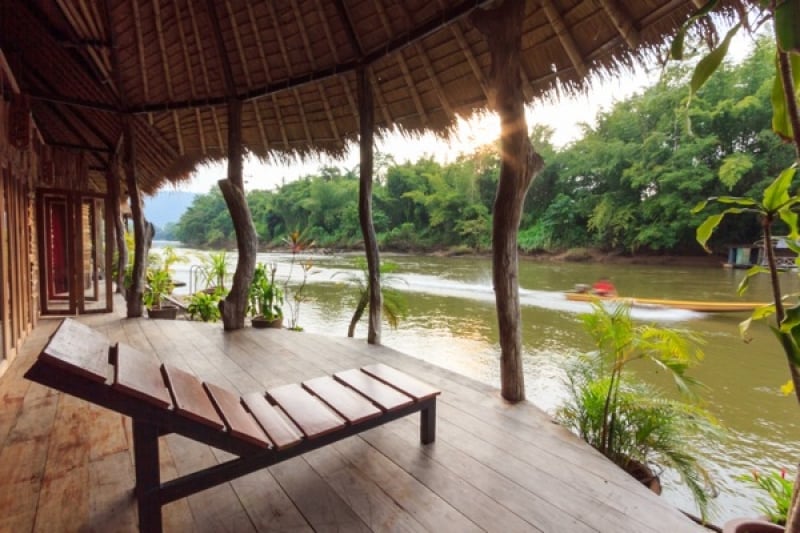 Sai Yok View Raft is another floating accommodation in Kanchanaburi. Sitting on the banks of the Kwai Noi River and providing direct access to the water, the large resort offers a peaceful retreat in the middle of nature. Rooms are simple but clean and cosy, with private bathrooms and air-conditioning. Floral arrangements add to the natural ambience and as soon as you open your door, you'll be greeted by beautiful views of the water and greenery behind. The resort has a small plunge pool and a restaurant and you can borrow kayaks and go fishing.  
19. Rungaroon Fishing Resort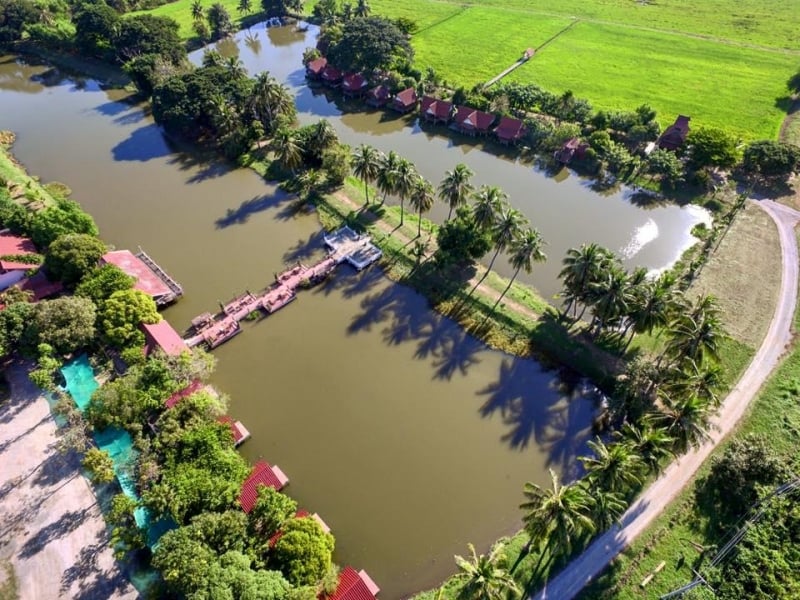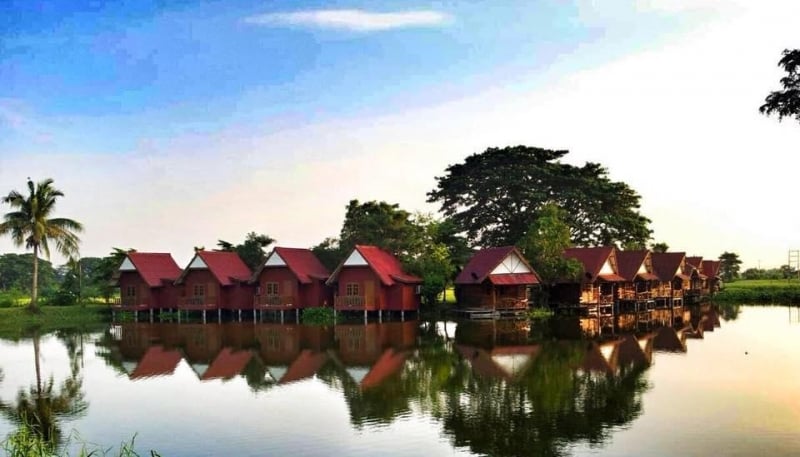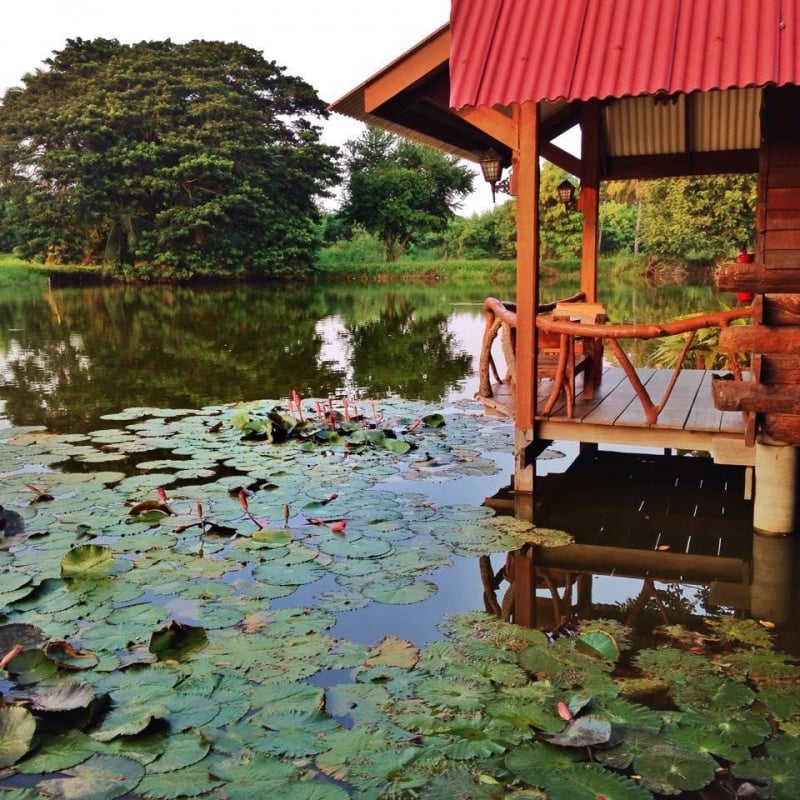 Keen anglers who love sleeping with the water beneath them could do far worse than to book a stay at Rungaroon Fishing Resort in Singburi, Central Thailand. Wooden bungalows sit on stilts around a large lotus-filled fishing pond, and you can rent equipment and fish right from your balcony. Rooms are simply furnished but comfortable and the onsite restaurant dishes up Thai favourites, including the local delicacy of snakehead fish from the Mae La river.
20. Mountain Float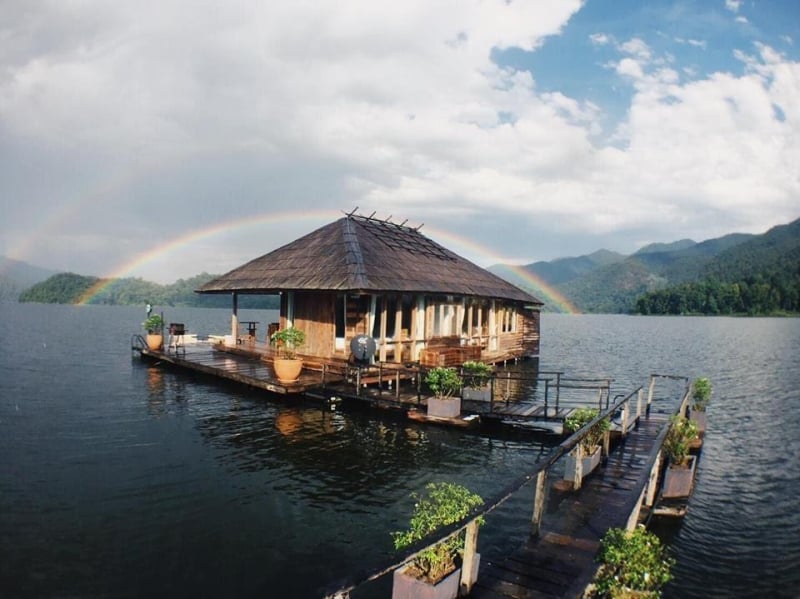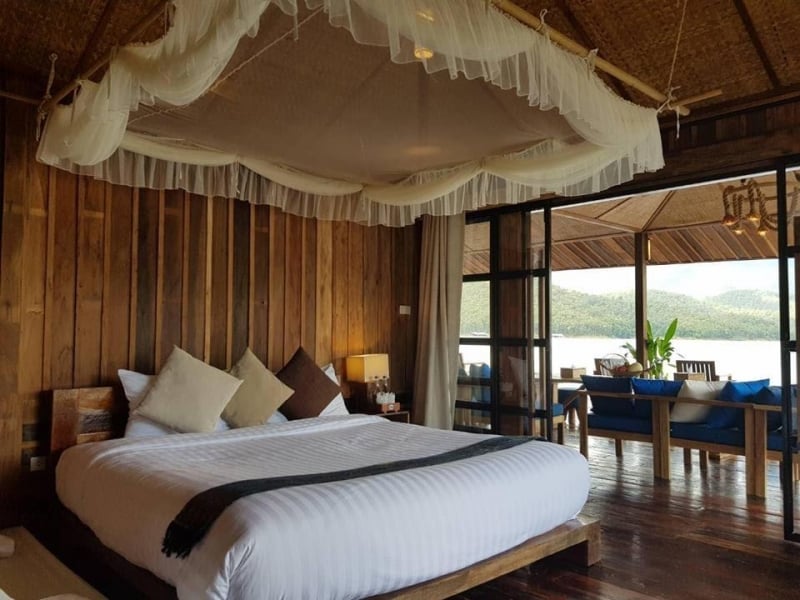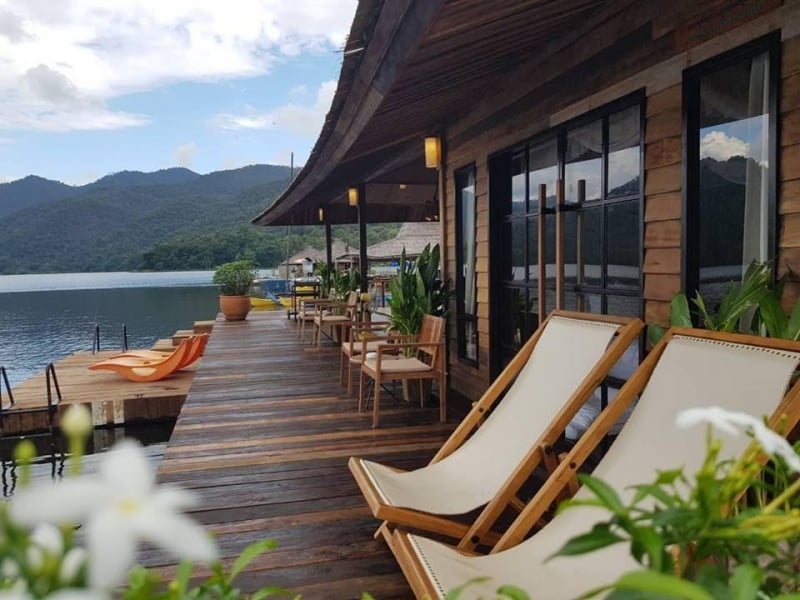 Another Chiang Mai option for people who want to sleep over the water, Mountain Float can be found at the Mae Ngud Somboon Chol Dam. The cosy houseboats are sturdy, with each boat split into four private en-suite rooms. There's a choice of one double bed or two single beds in the rooms. There are also dorm rooms, which are ideal for solo and budget travellers. Meals are available in the restaurant and you can meet other guests and relax on the terrace. There's also a lovely floating lounge pod. You can borrow kayaks and go for a paddle on the glistening waters if you're feeling active.  
Bonus: The Imperial Boathouse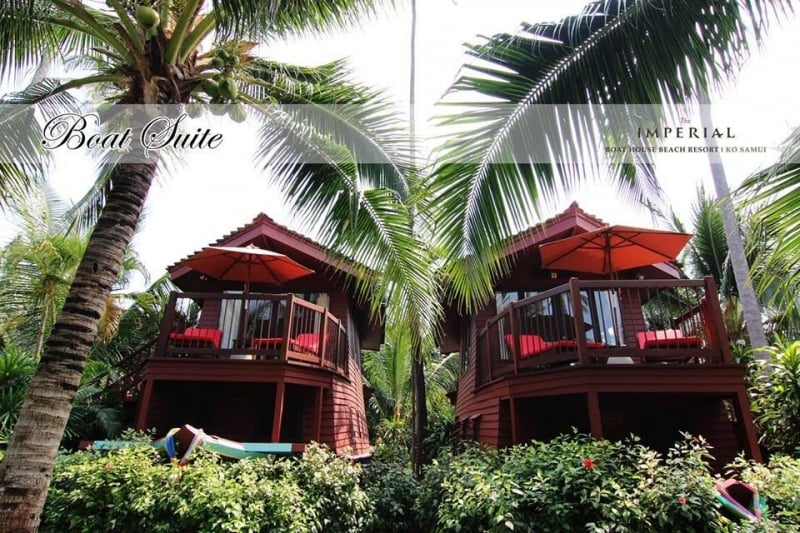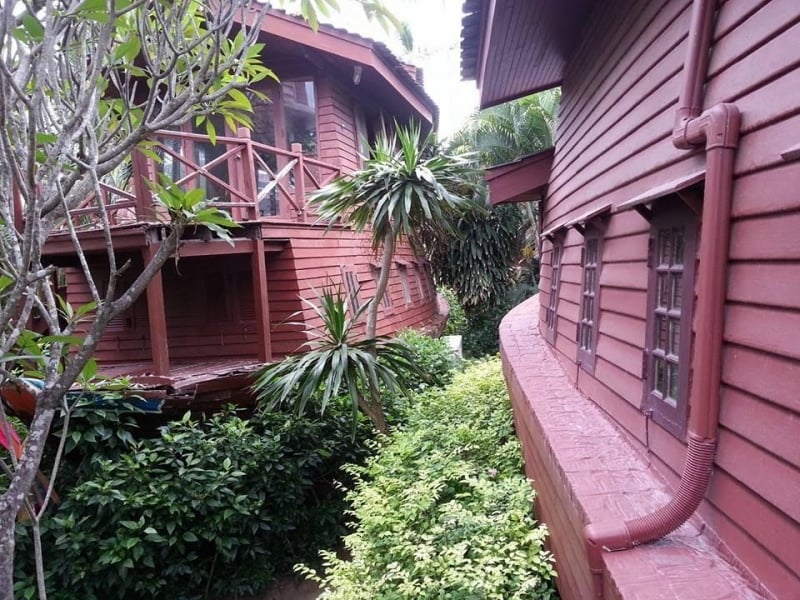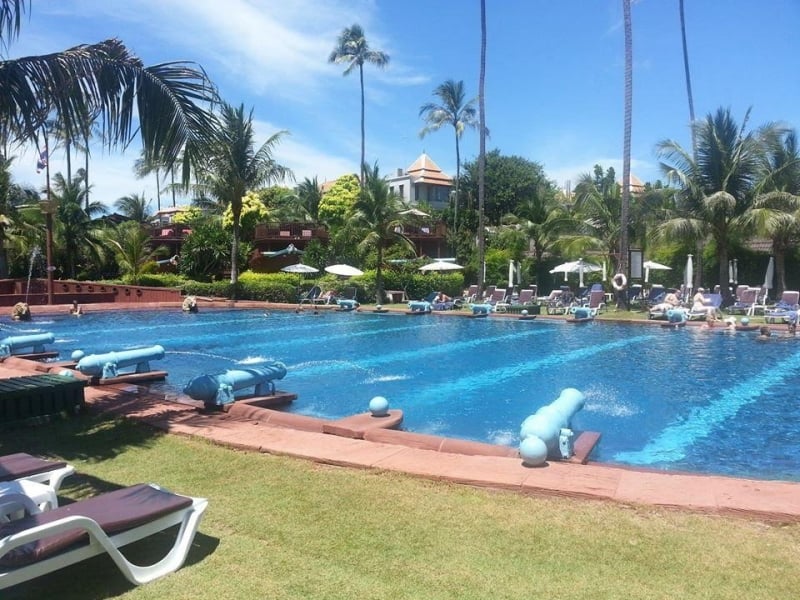 As a bonus cool boat-themed accommodation, The Imperial Boathouse in Koh Samui may not be over water … but it has lots of boats! The unique resort is located next to Choeng Mon Beach. There's a strong nautical theme throughout the resort—even one of the two swimming pools is shaped like a boat! The accommodation is in lovingly restored teak rice barges. The boats once traversed the Chao Phraya River and are now retired here as luxury abodes. They feature a bedroom, bathroom, separate living area, and outside deck. There are also a variety of other rooms throughout the resort's tropical gardens. You can also enjoy the gym, spa, and restaurant.
If you want to explore an eerily deserted floating resort, check out the former Koh Chang Grand Lagoona. Once a luxurious resort but then strangely abandoned, it used to house people in a seven-story cruise ship (now known as the island's ghost ship!), teak boats, and floating villas.
There are many floating resorts around Thailand—which ones will you visit?