Since 19 people, including 10 Singaporeans, perished atop Mount Kinabalu after a magnitude 6.0 earthquake struck in June 2015, the process of climbing Kinabalu has been thoroughly revamped.
A new trail – the Ranau Trail – was built from scratch in a span of just three months after the earthquake which destroyed infrastructure and closed off trails. Currently, there are a few trails that lead to the summit but the most traversed one is the Ranau Trail. Other trails are known to be more difficult and may require specialised equipment too. Since the earthquake, it is also compulsory for climbers to be accompanied by a Mountain Guide up the mountain. As only 120 climbing passes are issued every day, hikers are also advised to book their climbs at least three months in advance.
I hope that this article, written based on my experience on Mount Kinabalu in August 2017, will serve as a guide for hikers looking to climb Mount Kinabalu post-2015.
We began our climb on 9 August, Singapore's National Day, and booked our climb way back in March 2017. On the day of our climb, we arose at about 6am as our transport to Mount Kinabalu would depart at 7am.
From Kinabalu City, it takes about two hours to reach the Mount Kinabalu Visitor Centre by car. We reached the Visitor Centre just after 9am. At the Visitor Centre, you will be issued with your climbing passes after filling up the indemnity forms. After going through the paperwork, you will then be introduced to your guide.
Our guide was Mr Aling, a Sabahan with over eight years of experience and 800 climbs of Mount Kinabalu under his belt. Right from the get-go, we knew that we were in good hands. He shared that from the Visitor Centre, we will drive 4.5km to Timpohon Gate, where we will begin our ascent on foot. Timpohon Gate stands at an altitude of 1,866m (6,122 ft). The route from the Gate to the summit is 8.72km long and features an elevation gate of 2,229m (7,312 ft).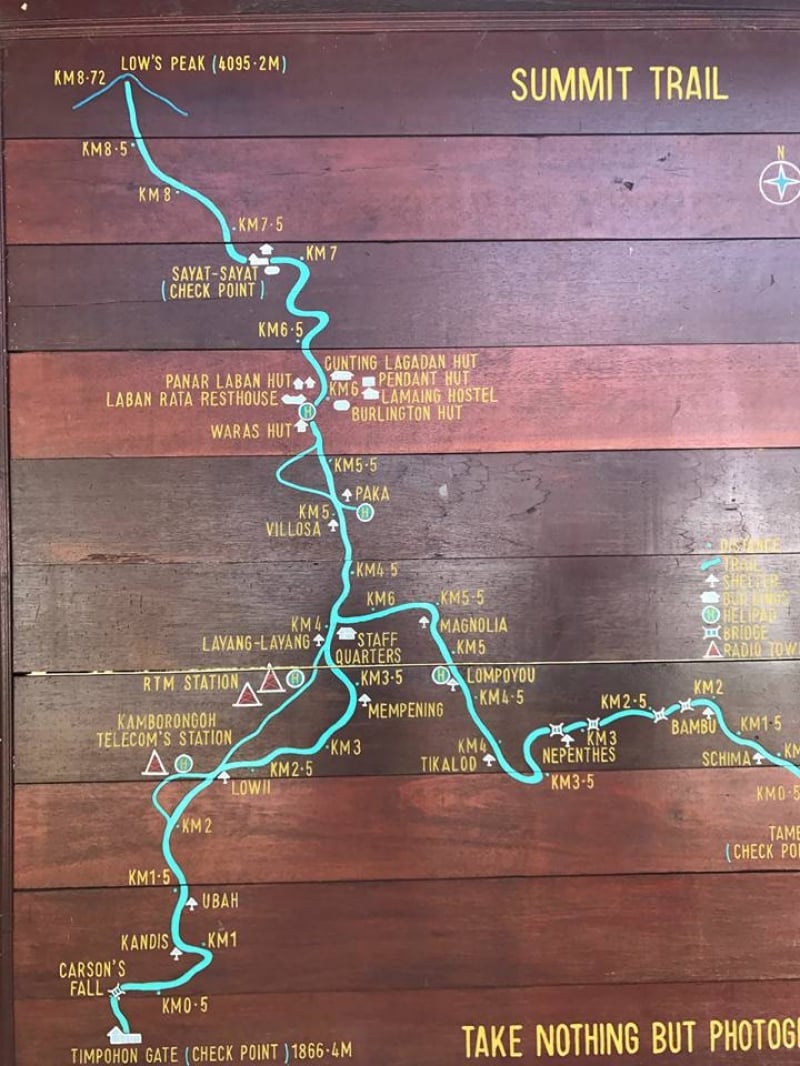 Just before we began our ascent, our guide conducted a safety briefing and broke the route up for us. From the Gate to Pendant Hut, our rest stop for the night, we would pass a total of seven rest points. At the Layang-Layang rest stop, which was 4km away from Timpohon Gate, we will be having our lunch before proceeding for another 2km to Pendant Hut.
He said that as we were attempting the Via Ferrata, we have to reach Pendant Hut by 4.30pm for a compulsory safety briefing and demonstration. He also reminded us that in the event of inclement weather, it would not be possible to proceed to the summit.
We started the climb at about 10am and proceeded at a slow and steady pace as we were told to reserve our energy for summitting and also for the return leg. The first 4km consisted mostly of paved steps and wooden steps through a forested area. We took the opportunity to rest for about 10–15 minutes at each rest stop and hydrate ourselves.
If you find it troublesome to lug 1.5L water bottles around in your backpack, you can try using a hydration bladder instead. It definitely came in handy whenever we needed a quick sip. Trekking poles can be helpful at the earlier stages of the climb but you will be better off without them during the final ascent as some steep segments of the rockface may require you to have both hands on the rope or even be on all fours (in bad weather).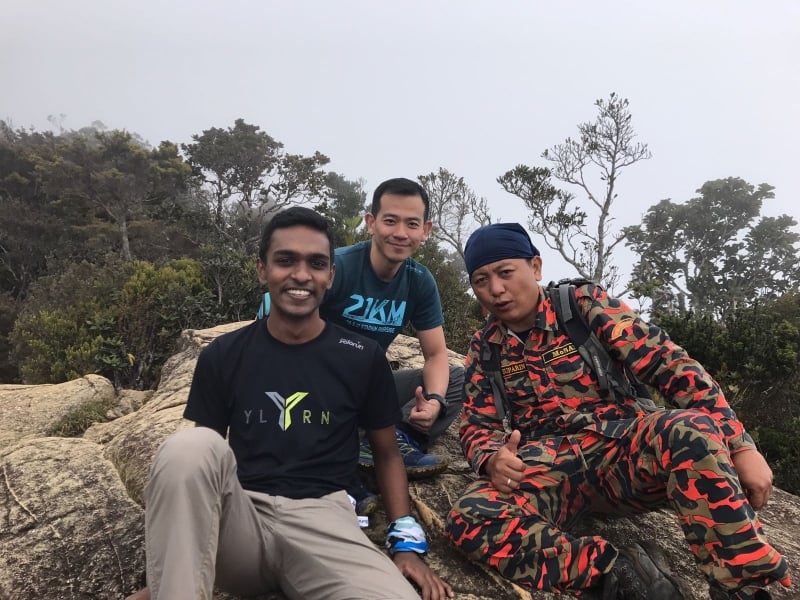 Along the route, we made many friends and we were always greeted with a smile and a hearty 'Hello!' whenever we passed by fellow climbers who were on their way up/down Mount Kinabalu. We also met many Sabahans who carried huge loads of items like vegetables, construction material and even toilet paper up the mountains to the huts. Aling told us that these porters go up and down the Mountain 4–7 times a week carrying huge loads as it was the only way to access the huts. Even though they carried loads that were way heavier than what we were carrying, they always smiled and gave way to the climbers; they were much faster than us too.
After lunch, we covered another 2.2km to reach our huts. This stretch featured a good mix of steps and natural rocks. If you are attempting the Via Ferrata, you will be staying at the Pendant Hut as that is where the briefing for Via Ferrata participants would be held. Pendant Hut is the highest hut among the other huts and you will need to climb a flight of stairs to reach it. But on the bright side, it is the first hut on your way back from the summit. If you are not attempting the Via Ferrata, you will be staying at one of the four other huts. The huts all come equipped with sleeping bags, toilets and shower facilities. I learnt the hard way that the showers do not come with a water heater. Taking a cold shower at 3,289m in five degree cold was certainly an experience to remember.
If you start climbing at 10am, after accounting for rest breaks, lunch and a leisurely pace, one can expect to reach your hut by about 3–4pm. Dinner will be served at Laban Rata from 4–6pm. We were pleasantly surprised when we saw the buffet spread that awaited us at Laban Rata.
After dinner, we retired for the night before rising at about 1.45am to make our final preparations for the climb to the summit. There was 2.5km and 806m of elevation gain between us and the summit. At 2am, a light breakfast was served in the form of toast and tea/coffee and we departed at 2.30am.
If you wish to summit, you have to pass Sayat-Sayat, the final checkpoint that is 1km away from Pendant Hut, no later than 5.30am. At Sayat-Sayat, you will also need to show your passes.
From the Hut to Sayat, the route consisted of steps through a forested area but after Sayat-Sayat, the rockface beckons. On certain segments of the rock face, you will need to hold on to a white rope to propel yourself up. On the rock face, you will be exposed to the elements without any shelter provided by the forest that shielded most of the route thus far. There are some times when you may have to be on all fours too. In such situations, your mountain guide will advise you on the safest route, handgrips and footholds. No technical climbing skills will be required but do dress adequately to deal with temperatures of five degrees and below.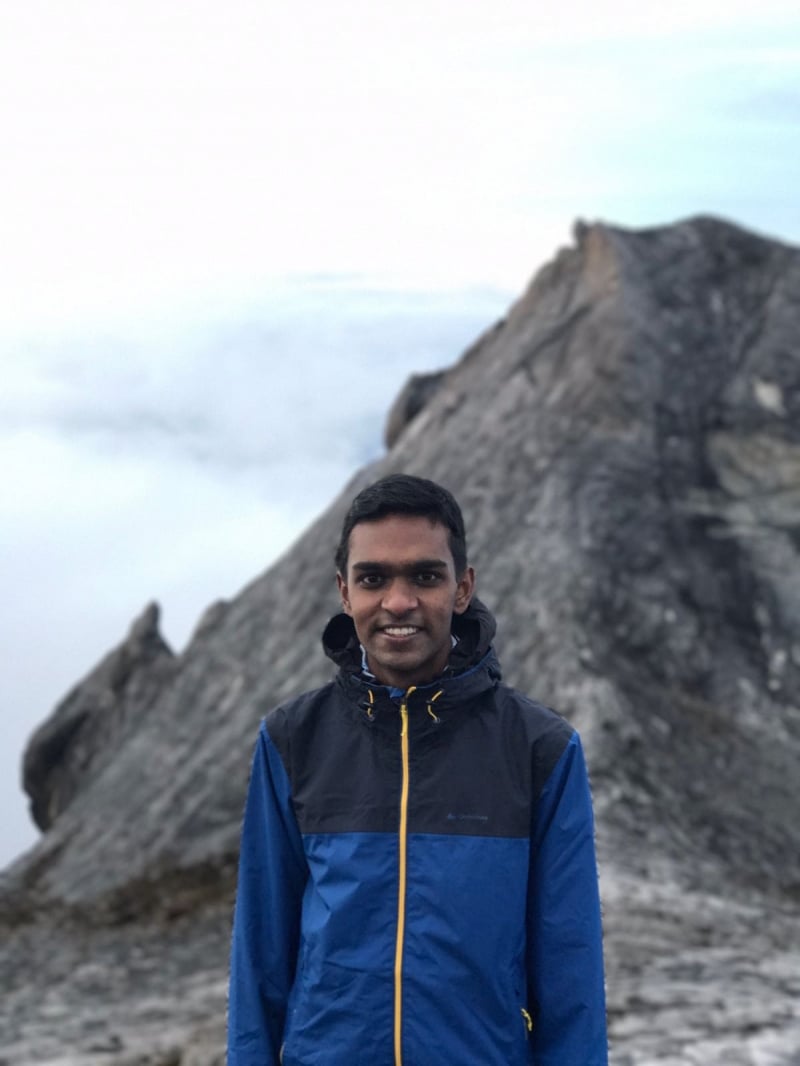 Take your time and do not rush to the summit because if you reach there too early, you might experience a phenomenon the locals like to call KFC – Kinabalu Freezing Cold. If you reach the summit at about 5am, you will have to wait at least 30 minutes to see the sunrise in the unforgiving cold. Aling was experienced enough to know that we were heading too fast and advised us to rest a little longer before the final 500m to the summit. We summited just in time to see the first light.

In all honesty, the view from the summit on the morning of 10 August was not much to behold as it was very cloudy, but just as we started descending, the clouds began to disperse and a view that was almost as breath-taking as the climb presented itself. Just after the rock face, there is also an observation deck where one can put their backpacks down and soak in all the sights of Sabah. Going down the rockface was a little tricky as the parts where we had to use a rope to traverse were slippery.
One has to adopt a quasi-abseiling position in order to get down safe. I would have to admit that during some sections of the downhill, I preferred sliding down. In my opinion, going down also requires a little more brainpower as you'll need to think about where to place your hands and feet so as to avoid tumbling down, especially when no steps are present.
After descending from the summit, Via Ferrata participants are required to report to their respective starting points. There are two routes for the Via Ferrata: Low's Peak Circuit (a longer route that takes about three hours to complete. This route also holds the Guinness World Record for the highest Via Ferrata in the World) and Walk the Torq (a shorter route that takes about an hour to complete that also features a helicopter ladder). Via Ferratas are not suitable for acrophobics as they present beautiful yet scary views of Mount Kinabalu and Sabah itself. However, safety is indeed the topmost priority and every climber on the Via Ferrata has not only the harness but an additional line of safety in the form of a secondary rope to keep them safe.
After having a simple brunch at Pendant Hut, we checked out just before noon and descended Mount Kinabalu. Aling, who told us during the climb up that descending the mountain will be harder than ascending it, was, as always, prescient. The climb down took quite a toll on our knees and we reached Timpohon Gate at about 4pm. After the four-hour descent, we were presented with certificates for summiting. Climbers who complete the Via Ferrata will also receive a separate certificate acknowledging their efforts.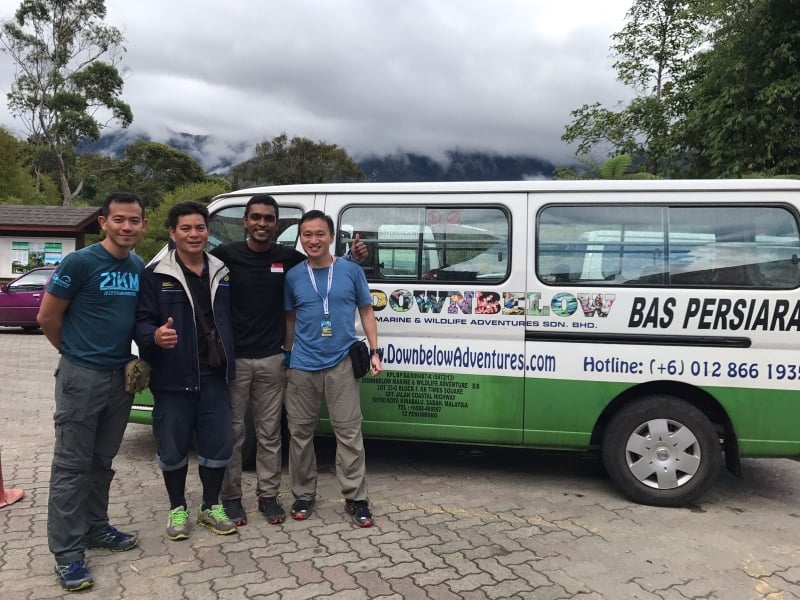 At the end of the climb, we bade farewell to Aling and took one last photo for the road.

You can view more photos of our climb here.
Packing list (Essentials): Windbreaker, Jacket, T-Shirt (extra), Pants (extra) and Socks (extra), Headlamp, Beanie/Buff, Gloves Hydration Bladder, Medicine, Toiletries (bring a can of Prickly Heat and Wet Wipes if you aren't a fan of icy cold showers atop mountains). Waterproof all your essentials and have a rucksack cover or trashbag handy to waterproof your entire backpack if necessary.
Packing list (Non-Essentials): Trekking Poles, Sunblock, Energy Bars and Gels, Slippers, Powerbanks
This climb and article is dedicated to my fellow alumnus from First Toa Payoh Secondary School, Mr Muhammad Daanish Amran. Daanish was one of the facilitators for the Tanjong Katong Primary School Students who were on Mount Kinabalu at the time of the earthquake and he lost his life while trying to protect the children.