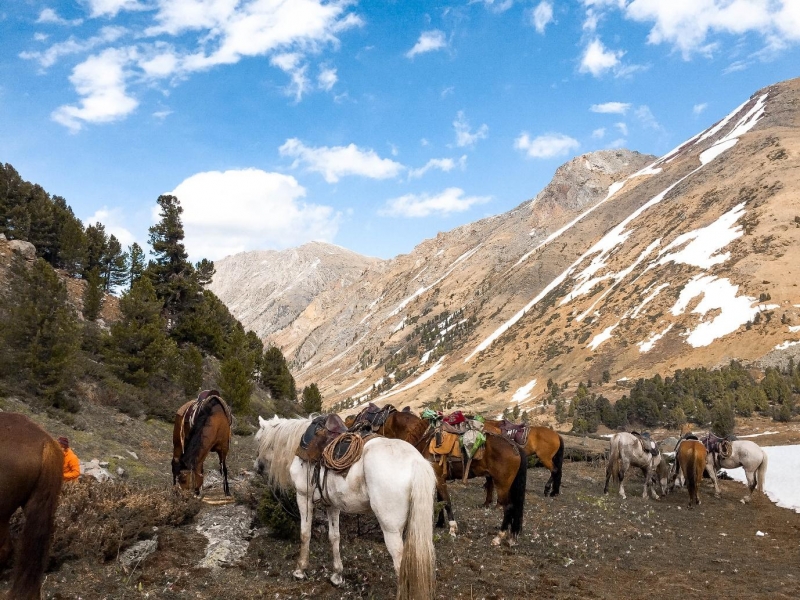 What's your ideal graduation trip?
Many would picture it as a well-deserved reward as they go traipsing to South Korea or Taiwan with friends to indulge in sightseeing, food and shopping activities. But Michelle Kwok's grad trip is not your typical grad trip.
"I had a goal: to push my limits, develop more guts and come back as an improved person." With that, the fearless daredevil, together with a private tour group, embarked on a 20-day self-discovery journey to explore the vast wilderness of Katon-Karagay National Park in East Kazakhstan, Oskemen.
And the best part? She horse-trekked through the snow-capped Altai Mountains.
It may seem like an easy feat for experienced horse riders but what makes Michelle, who has little horse riding experience, take on this challenge on a road less travelled?
Horse trekking in Kazakhstan is her definition of life
After a horse riding experience in Inner Mongolia, Michelle has been constantly dreaming of another similar adventure. To her, horse galloping is more thrilling than a roller coaster ride. It defines the unpredictable and uncontrollable aspect of life.
"It is difficult to gain full control of a horse, just like how life is as uncontrollable." – Michelle
Like many others, Michelle has never heard of Kazakhstan before she embarked on this trip.
While researching for a country with unrestricted natural habitat to horse trek in, she stumbled upon Zavkhan Trekking, a team that specialises in exploratory horse trekking expedition to Mongolian trekking regions, Tajikistan, and Kazakhstan. And it was this chance encounter that brought her to Kazakhstan.
Contrary to popular belief that Singaporeans can't live without WiFi and handphone signal, what attracted Michelle to Kazakhstan was, ironically, the lack of these so-called necessities. "I get to enjoy the simpler things in life, away from distractions like work and social media," she muses.
Debunking the myth of Kazakhstan: her pre-trip preparation
The biggest problem that Michelle faced was to get her family's approval to travel to this destination that's located near the dangerous borders of China and Russia.
You may be quick to condemn Kazakhstan as a war-torn barren wasteland, classifying it as a terror-prone country such as Pakistan and Afghanistan. But Michelle begs to differ.
"Traveling to East Kazakhstan was a calculated risk. The fear comes from the unknown of not knowing the country itself rather than its actual security." – Michelle
She researched extensively and obtained information from the tour. Her NPCC experience also came in handy in preparing her for circumstances such as drinking unfiltered water and bathing in icy-cold rivers.
Even still, she was unprepared for the bitter cold nights. Sleeping in the outdoors with only a small pitched tent and one jacket didn't help.
Despite that, waking up every day to the beauty of nature made up for the unbearable cold.
The tenacious journey in East Kazakhstan
When asked about her hesitations on going for this trip, she replied that instead of hesitation, it was more of a worry that she'd burden other travellers in the tour group due to her inexperience in horse-riding and her acrophobia (the extreme fear of heights).
"There were many times that I got so scared till I cried, especially when horse-trekking down the Altai Mountains. That's when the horror starts. But no matter what, I told myself to move on." – Michelle
She recalled her cliff-hanging experience of being caught by an overhanging branch while horse-trekking up a winding and narrow path. Heaving a sigh of relief, she thanked God to have stopped the horse in time, else she'd have fallen and rolled down the steep terrain.
Most of her journey was made at a leisurely pace in the Katon-Karagay National Park, near the Altai Mountains, with her tour group of westerners, a tour guide, a translator and a group of wranglers, rangers and helpers.
At first, horse-trekking in the valley bottom of the Altai Mountains was still manageable. But the challenging part was the ascent to the mountain's snow-capped peak.
As the snow grew deeper, the horses got bogged down in the knee-deep snow. With the harsh conditions and extra weight of the rider that add up to 100kg or more, many horses struggled. Even experienced horse riders in the group wanted to give up at one time.
As Michelle was riding on a horse different from the one she rode on in the earlier weeks, there was a lack of trust and rapport with the horse. The fact that it was rather unstable when trotting made her fear more. Being acrophobic, she was hesitant to dismount and walk through the deep powdery snow. Yet, she had no choice. Exhausted and tired, she trudged uphill on foot, pulling her horse behind, falling along the way but picking herself up to move on.
From forging new friendships to tasting exotic Kazakh cuisine
"My best memories were the valuable friendships formed with the Kazakhs and Mongolians." – Michelle
If anything could complete the beautiful mountainous landscape, it had to be the amiability of the Kazakhs and Mongolians. With hand signals as the only viable communication tool, Michelle managed to transcend language barriers and forge long-lasting friendships with the locals. She also shared that having black hair and eyes made her quite popular among the locals as these features are highly regarded as an authentic Kazakh.
When asked about Kazakh cuisine, Michelle declared her liking for Manti, the lamb or beef dumplings popular in the Central Asia region. It resembles the Chinese jiaozi. "To cater to the taste-buds of the westerners in my tour group, we had tomato pasta for two consecutive weeks. Imagine my joy when I finally ate something Asian!" she exclaimed.
Other than Manti, she savoured a feast of homecooked Kazakh cuisine served in a nomadic style and even drank fresh fermented mares' milk, Kumis, which tasted like a sour alcoholic drink.
Three life lessons from this Kazakhstan trip
As the saying goes, travelling is the only thing you buy that makes you richer. It's an invaluable investment that teaches you more about life than burying yourself in work from 9 to 5 every day.
A 24-year-old girl who exudes maturity and intelligence from within, Michelle spoke of this trip as being a timely reminder that has reinforced three important life lessons: be open-minded; life can be happy even if it's simple; and whatever the difficulty, just keep moving because you'll get there.
Her next travel escapade? Michelle expressed her hope to embark on another horse-riding trip but to Western Mongolia this time so she can meet up with the Mongolian helpers instead. Let's hope that she'll fulfil her travel plans soon!
From Michelle to you
A piece of advice from Michelle to aspiring travellers intending to horse trek in Katon-Karagay National Park, East Kazakhstan, Oskemen: Just go and experience it for yourself.
Having a certain level of fitness is necessary but it doesn't matter if you're experienced in horse trekking or not. So long as you're willing to try, be daring and step out of your comfort zone, nothing is unachievable.
If you'd like to learn more about Michelle's horse-trekking trip to East Kazakhstan, you may follow her on Instagram (@mich_shellsss) or add her on Facebook. She'll be happy to share with you about her wanderlust!