A small island nation known for its mouthwatering street snacks, bustling night markets, Chinese temples and hot springs, Taiwan is certainly a hot favourite amongst travellers from all walks of life –  which is why, it's definitely a destination you have to visit if you haven't! With so many cities and activities to choose from, planning a trip to Taiwan may seem slightly daunting for a first-timer who only has a week to spare.You want to see everything, but there isn't enough time!


During my recent trip to Taiwan, I got to experience the uncontested beauty of Northern to Southern Taiwan – all in a week! With AirAsia's affordable flights available from Singapore to both Taipei and Kaohsiung, whichever part of Taiwan you decide to head to, you're all covered. I thoroughly enjoyed my flight from Singapore to Taipei, which was not only comfortable and turbulent-free; but also had the option of delicious inflight meals!
Furthermore, for bookings made from now till 31 Dec 2017 for the period of 25 March till 30 June 2018; flying direct from Kuala Lumpur (KUL) to Taipei (TPE) and Kaohsiung (KHH) only costs RM 269 (Premium Flatbed from RM 699) and RM 219 respectively! Don't miss this great deal and get your flights sorted here!
At a glance
Day 1: Arrival in Taipei (Taoyuan International Airport)
Day 2: Taipei
Day 3: Taipei – Leofoo Village (Hsinchu County)
Day 4: Leofoo Village – Tainan
Day 5: Tainan – Kenting
Day 6: Kenting – Kaohsiung
Day 7: Kaohsiung (Kaohsiung International Airport) – Home
Day 1 (Taipei)
Upon our arrival at Taoyuan International Airport in Taipei, we headed to our hotel to drop our bags and freshen up before heading to our first stop –  Chiang Kai Shek Memorial Hall (中正紀念堂)! One of the most prominent historical landmarks in Taiwan, it was erected in honour and memory of the former President of the Republic of China, Mr Chiang Kai-Shek.
As we arrived, we were first greeted by a huge and magnificent front gate, which resembled that of a traditional Chinese palace. Strolling through its square, Liberty Square, we admired its huge compound which was surrounded by a park and at the end of the square was a beautiful white building with a blue octagonal roof, the Memorial Hall; as well as a statue of Chiang Kai-Shek himself. Besides taking in the beauty of the entire place, don't forget to use this opportunity to discover some of Taiwan's history as well as to snap some photographs! If you're lucky, you might even be able to watch the changing of guards ceremony, which happens a few times daily.
From there, we headed to Four Four South Village (四四南村), a military dependents' village located near Taipei 101, in the Xinyi District.


Formerly a military barracks where people would hide from air raids, only a small portion of this village is still conserved for cultural and exhibition purposes. A rather small area with a number of old houses donning colourful doors; strolling through it was an interesting experience, where we got to imagine what life was like then. Besides the Military Dependents' Village Museum on site, most visitors come for Good Cho's – a well-preserved cafe which features the remained interior style of the village. From here, we even had a clear view of the majestic Taipei 101 which we couldn't resist taking selfies with!
After all that excitement, boy, were we hungry! With no trip to Taiwan complete without gorging on some steamed pork buns (小笼包), we then headed to the world-famous chain restaurant Ding Tai Fung to satisfy our cravings! For those that don't already know, Ding Tai Fung has an open-kitchen concept whereby customers are able to see the steamed pork buns being handmade. For lunch, we enjoyed an aromatic spread of dishes – their signature steamed pork buns, egg fried rice, Dan Dan noodles, fried pork chop, beef noodles, shrimp and pork wontons tossed in chicken broth and more! Not only was their egg fried rice fluffy, flavourful and served with a generous amounts of ingredients; their beef noodles was springy and delicious as well! We left full and extremely satisfied.
Our next stop was the iconic Taipei 101, a stunning skyscraper which was formerly known as the Taipei World Financial Centre and the tallest building before Burj Khalifa in Dubai was built. A 101-storey high building gifting visitors with a stunning panoramic view of the entire city, it's extremely popular amongst tourists who flock to its observatory which spans four floors (5, 88, 89, 91F). From the ground floor, we proceeded to take a high speed elevator to the observatory on the 88th floor, whereby we were greeted with a magnificent and unobstructed view of the entire city! Besides taking photos and marvelling at such a stunning sight, we explored the museum which allows visitors to learn about the design and construction process of Taipei 101 as well as buy souvenirs.
To end the day off, we decided to indulge in some retail therapy at Ximending Shopping District, a popular hangout amongst the youth and young adults. Brimming with clothing shops selling the latest fashion, souvenir stores, food-carts and more; we were truly spoilt for choice with the beautiful designs and mouth-watering snacks we saw! Besides snagging some accessories and souvenirs for my loved ones, we enjoyed trying some local Taiwanese snacks like Oyster Mee Sua, Taiwanese sweets and more! For those who enjoy people-watching, this is also a great place to have a glimpse of bustling Taipei.
Day 2 (Taipei)
After a good night's rest, we were all refreshed and ready to start our next day of exploring all that Taipei had to offer! After a hearty breakfast, we headed to YehLiu Geopark which was located on the north coast of Taiwan along a cape stretching from the town of Wanli.  
A premier destination that tourists flock to for a glimpse of the various rock sculptures formed by erosion, YehLiu Geopark is home to many unique geological formations including the iconic 'Queen's Head'. Being a geography enthusiast, I found this geopark extremely fascinating and truly enjoyed admiring the rock sculptures, which were named based on the object they resembled. Besides the Queen's Head which had attracted a long queue of visitors waiting to take photos with it, other remarkable formations we saw included the Fairy Shoe and Elephant Rock! Due to the constant erosion that's happening, the rock formations are constantly changing in their appearance therefore, do head there before the Queen's Head (which is currently supported by an extremely thin neck) breaks off!
Next, we headed to Jiu Fen Old Street (九份老街), located at the mountain town of Jiu Fen, east of Taipei. A beautiful long street known for its narrow alleyways, traditional teahouses, souvenirs shops and Spirited Away feels, Jiu Fen was definitely one of the highlights of my trip and a must-visit! A decommissioned gold mining mountain town originally built by the Japanese; Jiu Fen is not just rich in history and culture but also traditional charm and yes, tourists. (be prepared for massive crowds!) Thanks to the plethora of delicious restaurants and souvenir shops selling traditional snacks like Pineapple Cakes (鳳梨酥) , Sun Biscuits (太陽餅) and Pork Paper (猪肉纸), I didn't have to search high and low for snacks to bring home for my family and friends. If you're heading here, do try some of Taiwan's traditional snacks which your tastebuds will definitely fall in love with! You may find Jiu Fen and the famous Ah-Mei Teahouse familiar-looking, due to its resemblance to the scene and bathhouse in Miyazaki's hit film Spirited Away, which was inspired by this very place! Not only is it a gorgeous and absolutely Insta-worthy place, Spirited Away fans will feel like they've just stepped into a set of their favourite film.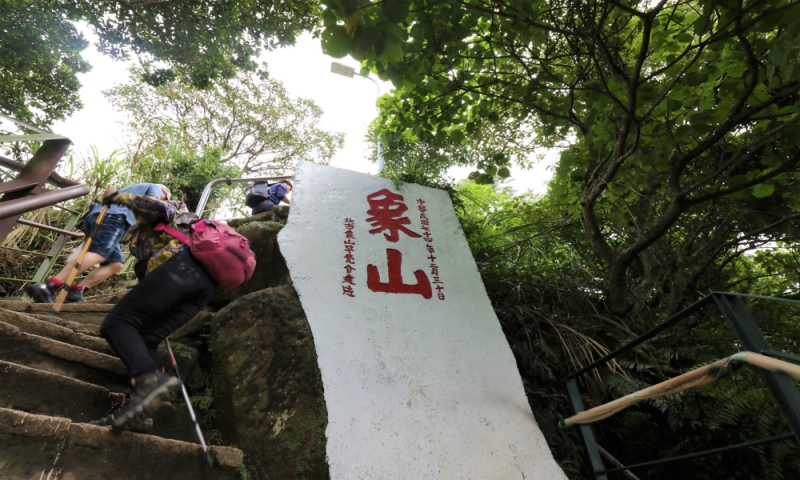 After the continuous snacking at Jiu Fen, we decided that it was time to burn some calories by conquering the 183m high Elephant Mountain Hike Trail! One of the most popular hiking trails amongst tourists and locals alike, many come here to enjoy the stunning bird's eye view of Taipei from the top whilst keeping fit. For those that aren't a fan of outdoor activities, not to worry! This trail is certainly manageable, with proper footpaths and stairs with railings. After working your legs for a bit, you'll be greeted by an awe-inspiring view of the entire city which will make the entire hike worth it. Even if you don't wish to complete the entire hike, the view is gorgeous from the first rest station so do head there for some exercise and plenty of great photo opportunities!
Following our good workout, it was time for a good dinner at the Addiction Aquatic Fish Market which is basically, every sashimi and seafood lover's paradise! Located on Minzu East Road, this large Fish Market is unlike your typical wet market – it was clean, classy and didn't even reek of a fishy stench! And what's more, it offered an amazing variety of live and cooked seafood ranging from crabs, oysters, fish and octopus to exotic species of seafood! The entire place was separated into various sections: a wet market selling live seafood, a sushi bar where customers could stand and enjoy their sashimi, a hotpot restaurant, charcoal grill, a fresh food supermarket and more! After browsing through their live products and savouring some fresh sashimi at the sushi bar, we headed to their restaurant for our evening meal.
For dinner, we feasted on a huge sashimi and oyster platter, steamed crabs, steamed fish, grilled prawns and more! For seafood lovers, this place is a definite must-visit –  not only is their range of seafood extremely fresh and extensive, their prices are very affordable and value-for-money!
Afterwhich, we headed to Shilin Night Market – one of Taipei's largest and most famous night markets! (Yes, the feasting doesn't ever stop in Taiwan.) With a surfeit of food stalls, souvenir stalls, clothing stalls and more; whatever you're looking for, you're bound to find it here. Besides trying some traditional snacks like the Taiwanese XL Chicken Cutlet and Shaved Ice, we indulged in Taiwan's famous Papaya Milk and ended the night with a soothing massage.
Day 3 (Taipei – Leofoo Village)
Rise and Shine! On our final morning in Taipei, we headed to the National Palace Museum which houses the largest and finest collection of Chinese art and was originally founded within the walls of the Beijing Forbidden City in 1925. With plenty of exciting and informative exhibitions ranging from Egyptian Mummies to items from the Qing Dynasty and Chinese Calligraphy, we spent a good two hours walking around and taking in the whole place. Funnily enough, the signature masterpiece of  the entire museum was a Jade Cabbage which was one of the 'Three Treasures' of the National Palace Museum. Definitely worth a visit if you're a history or Chinese culture enthusiast!
We then departed for Leofoo Village in Guanxi Township, Hsinchu County which was approximately an hour's drive away. WIth Leofoo Village Theme Park and Leofoo Animal Zoo Resort here, we planned to spend the day playing to our heart's content! For families with young children, I highly recommend coming here! Not only is it suitable and exciting regardless of age, you'll definitely have a great time of family bonding.
P.S. For all those Running Man (a Korean variety show) fans out there, they even filmed here and had to ride the Screaming Condor as punishment!
Being the adrenaline-lover that I was, the minute I stepped into Leofoo Village Theme Park (LVTP), my eyes lit up! One of Taiwan's most famous theme parks and the First Fantasy World in Asia that combines both an amusement park and a safari, LVTP was certainly an experience I would never forget! With various themed areas such as the Arabian Kingdom, South Pacific, Wild West and African Safari, each felt like being in a different continent altogether. Boasting of a plethora of rides ranging from the thrilling Screaming Condor, Ring of Fire and Pagoda's Revenge to more children-friendly ones such as the Bird Flight, however daring you are, you'll definitely have a great time here! Besides screaming our lungs out, we enjoyed feeding the llamas and taking a train ride through the Safari where we spotted rhinos, giraffe, goats, zebras and more!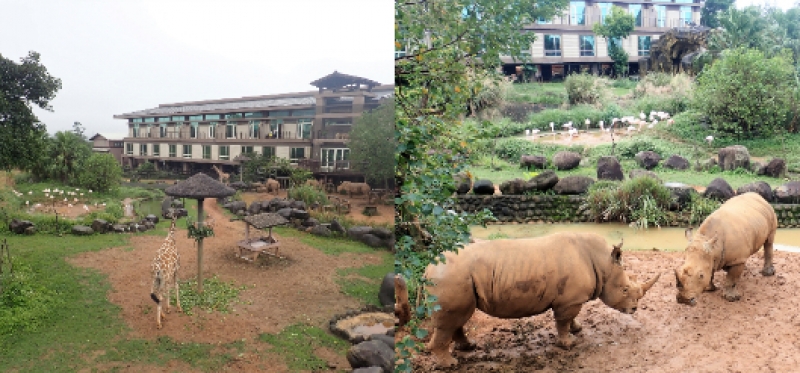 After a thrilling and fun-filled afternoon, we retreated back to the Leofoo Animal Zoo Resort where we would stay for the night. With a full-blown zoo in the middle of the resort consisting of rhinos, giraffes, sheep, flamingos and more; you could literally wake up to these wild animals roaming outside your windows! It was hands down the COOLEST resort I'd ever been to.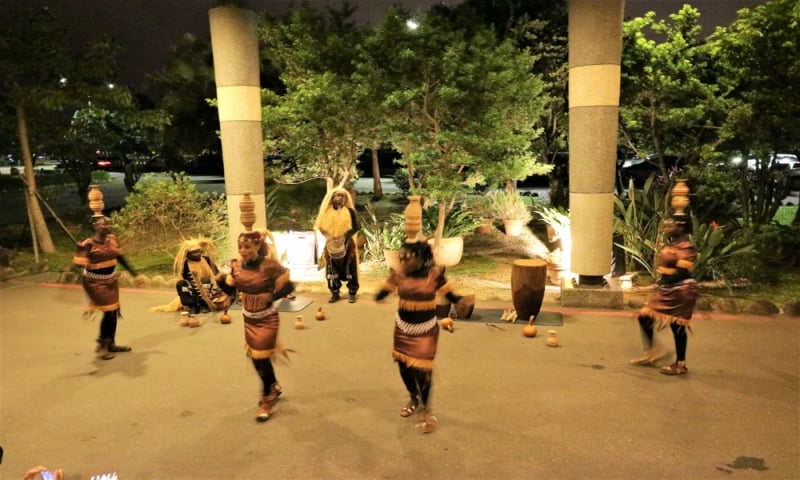 We then ended the night by having dinner and enjoying an African Performance, right in the grounds of our resort. Hailing all the way from Uganda, these performers donned traditional African costumes and wowed the crowd with their tribal dances and drum performances!
Day 4 (Leofoo Village – Tainan)
The next day, it was time to bid goodbye to the adorable animals as we drove three hours to our next stop – Tainan, Taiwan's oldest and fifth-largest city! A city on Taiwan's southwest coast brimming with hipster enclaves, delectable delights and traditional charm; Tainan certainly surprised me with its beauty!
Our first stop was Shennong and Zhenxing Street, two well-preserved streets lined with old shophouses, quaint cafes, art galleries and mini museums! For those avid Instagrammers or social media butterflies, this is definitely a must-visit! Not just aesthetically pleasing, nostalgia-evoking and absolute Insta-worthy, you'll get to have a glimpse of what Tainan looked like in the past as you stroll down memory lane. If you're hungry, do pop into any of those cafes for a bite and a cool cafe experience!


After taking tons of photographs of the beautiful old-shophouses and lanterns which decorated the street, we proceeded to our next stop: Ten Drum Cultural Village, an abandoned sugar refinery turned into a cultural park!
Unlike certain cultural parks which have undergone heavy renovation and much modernisation, Ten Drum Cultural Village had largely retained the traditional exterior of the sugar refinery, contributing to the 'old-school' experience which visitors will get a taste of during their visit. One of the main highlights here was its exciting Taiko Drumming Shows, which both adults and children will enjoy! Not only was there a plethora of family-friendly activities ranging from learning basic drumming techniques to exploring the beautiful bookstores and cafes on site, everywhere we turned was also photo-worthy! In addition, we enjoyed the delicious tea eggs and traditional Taiwanese cuisine that could be found at their restaurants.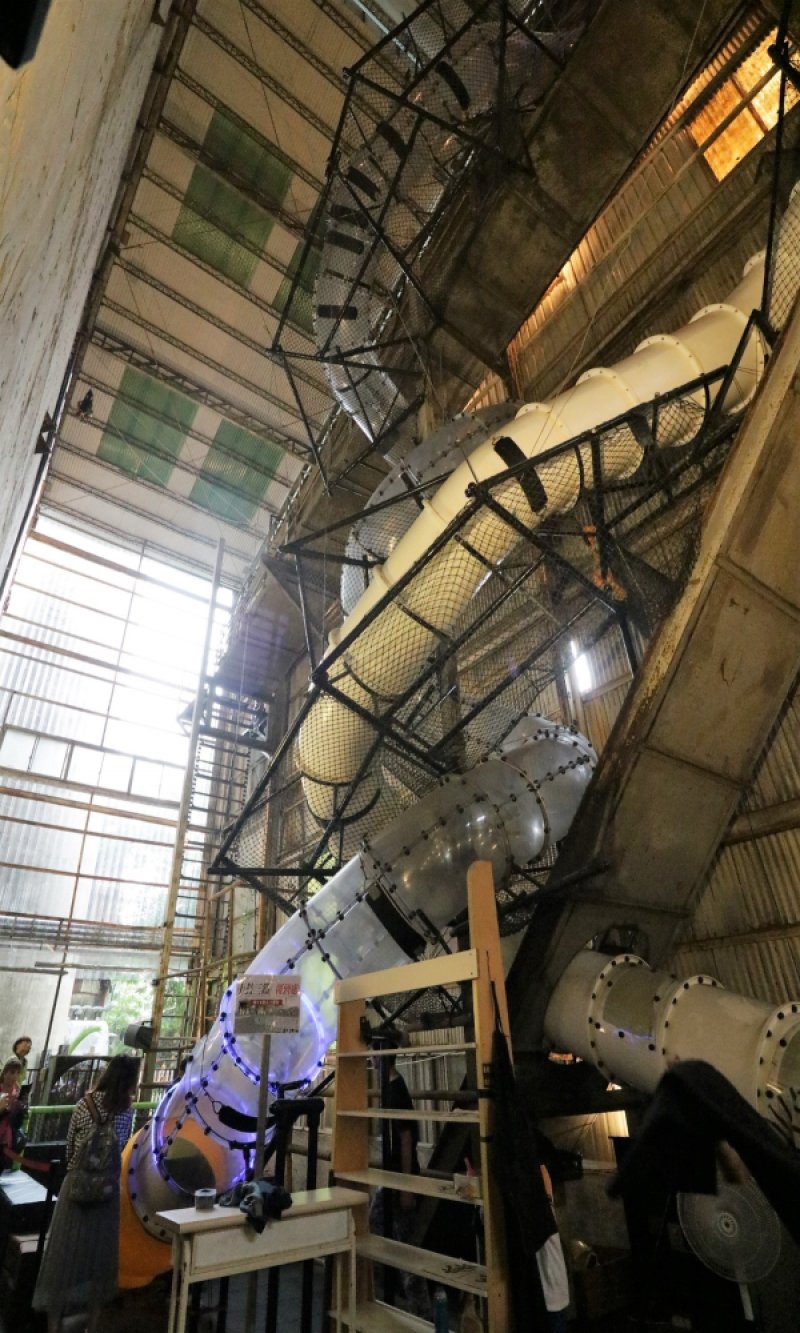 Another main highlight that I would certainly never forget was this incredibly long and fast three-storey high slide, which could be experienced in six seconds! Visitors taking the ride are provided with protective gear which they have to wear and for those who love thrilling rides, trust me, THIS takes the cake!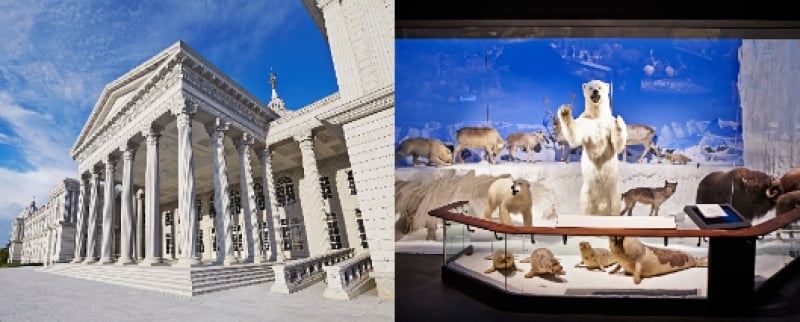 After all that excitement, we headed to Chimei Museum to get cultured! A stunning museum sporting awe-inspiring European-style architecture, you'll feel as if you've just stepped into Europe as your enter the grounds of the museum. Not just aesthetically impressive, Chimei houses a comprehensive collection of Western art, weaponry, natural history and more! With four exhibition rooms, one temporary exhibit gallery and a large sculpture hall amidst its large compound, we had tons of fun marveling at the amazing pieces dating back to the Ancient-Greco Roman Period, sculptures by French sculptor Rodin and more. One of my favourite exhibits was undoubtedly the broad collection of real animal skins and specimens from all over the world, which had been stuffed to recreate realistic-looking animals! All of us, history-enthusiast or not, left thoroughly mesmerised by this museum.


Afterwhich, we headed for dinner at  Zhu Xin Ju Restaurant, a traditional restaurant built in 1976 with NO menu! Located in the West Central District, a meal here was certainly a heartwarming and nostalgic experience. A traditional brick-walled shophouse sporting peeling paint and traditional furniture, it offers customers a feast of traditional dishes as they step in – the catch being that they can't get to choose what they want to eat! After taking our fill of photos, we gobbled down our mouth-watering feast of traditional Taiwanese dishes which consisted of Milk Fish in sauce, steamed prawns, herbal chicken soup, stewed pork belly and more! Despite being simple and common dishes, the dishes were all full of flavour and reminded me of my own mother's cooking – simple, yet heartfelt. For those that crave  a novel dining experience, don't hesitate to visit this well-preserved gem of a restaurant. If you have time, do also head upstairs to check out its roomful of cool antiques ranging from a bicycle to Chinese cutlery!
For those that enjoy staying up late, you can head to Tainan Flower Night Market after dinner, for an authentic night market experience. Boasting of numerous food, game and clothing stalls selling everything ranging from the latest fashion and accessories to popular street snacks, you'll certainly have the time of your life here! For those who enjoy games, do also have a go at some old-school games such as aiming hoops at glass bottles and tossing coins on a table! Who knows what cool gift you may walk away with?
Day 5 (Tainan- Kenting)
Good morning! It was time to escape the hustle and bustle of Taiwan's city life as we headed to our next stop – Kenting, a beach town located at the southern tip of Taiwan consisting of a national park, idyllic beaches, fishing harbours and more! A favourite vacation spot amongst the locals, you'll feel relaxed the moment you arrive. Our first stop was Kenting National Park, an area known for its white-sand beaches, coral reefs, caves and northern mountains. With a numerous activities to do here ranging from watersports like surfing, scuba diving and snorkeling to hiking the picturesque trails, we were truly spoilt for choice! We spent the entire morning indulging in watersports, bird-watching, relaxing in the hot springs and lazing on the beach, trying to get the perfect tan. Not only was the view breathtaking, the serenity and sea breeze on our faces helped us to unwind and forget our worries!
Feeling rejuvenated, we left for the National Museum of Marine Biology and Aquarium, one of Taiwan's largest and most beautiful aquariums! I don't know about you, but I've always loved aquariums. Not only are they stunning to take photographs at, being surrounded by huge schools of fishes swimming around makes me feel alive and carefree. Besides boasting of a long and magical Underwater Tunnel, the surfeit of exhibitions and variety of sea life is bound to impress you! From fishes, corals and fiddler crabs to dugongs, penguins and seals; we spent a good three to four hours here exploring all that they had to offer! There was even a whale explorium and an exhibition on the waters of the world, which was fascinating. In addition to that, we attended an interactive sea life talk, played around with the interactive exhibitions and browsed through the gift shop! For those interested in sea life or simply looking for an educational and family-friendly attraction, I would highly recommend this.
Afterwhich, we took a quick stop at Eluanbi Lighthouse, located on Cape Eluanbi. Also deemed as 'The Light of East Asia' thanks to its powerful intensity amongst Taiwan lighthouses, Eluanbi Lighthouse was built during the Qing Dynasty to guide ships and prevent accidents in the area and it is currently still functional and used as a historical monument and tourist attraction. Housed in a large park, visitors are welcome to enter and enjoy the greenery of the park as well as snap photos of this beautiful lighthouse. Just a ten-minute walk from the lighthouse is the seafront, where you can enjoy the seabreeze and sound of the waves! For those looking to take romantic and stunning photographs, coming at sunset would be ideal.
To end the night off, we headed to Kenting Street – a bustling long street filled with food stalls, clothing stalls, bars, clubs and more! Besides boasting of a huge variety of yummy street food such as crepes and roasted potatoes which we feasted on for dinner, we enjoyed a relaxing drink or two in a makeshift bar whilst listening to the sound of the waves. For those looking for a good dose of nightlife and excitement, do head here for some drinks or to sing the night away at a karaoke! I even got to experience a fish spa for the first time, which only cost me TWD 150.
Day 6 (Kenting – Kaohsiung)


This morning, enroute to Kaohsiung, we took a quick stop at Pen Bay International Karting Land! A 3.5km motorsport circuit in Dongang Township, Pen Bay boasts of fast and furious go-karts ranging from 200cc to the speedy 270cc that visitors can choose from. In addition to having a huge racing circuit, go-karters can race with one another and have their timings clocked into the system, which they can check the board for after the race. We spent a fun and adrenaline-filled morning here go-karting and left feeling refreshed and exhilarated!
From there, we drove an hour to Kaohsiung, Taiwan's second-largest city and the bustling home to many skyscrapers, beautiful parks and shopping streets! Our first destination here was Cih Ji Temple in the Zuoying District, which houses the iconic Dragon Tiger Pagodas and Lotus Lake.  Built in 1976, this temple consists of two stunning towers – the Dragon and Tiger Tower which are home to paintings of twelve Magi, the Jade Emperor's thirty palaces as well as those of Confucius. Besides being an architectural wonder and an Instagram-worthy attraction, the Dragon Tiger Pagodas represent traditional Kaohsiung's culture and visitors are able to wander around its beautiful surroundings which consist of the Spring and Autumn Pavilions and the Confucius Temple, just to name a few! From the top of the Dragon Pagoda, you even get a panoramic view of the entire place!
After two hours of taking photos and admiring its historical beauty, we headed to the famous Love River, to enjoy the scenic night view of Kaohsiung. Similar to other big cities, the Love River boasts of a gorgeous view of high-rise buildings, city lights and river cruises which visitors can ride on. Running from the South to the North of the city, the river itself is not only stunning and peaceful, but also clean and offers a relaxing environment for a stroll or a date. Many restaurants, cafes and bars line the river so you've plenty of options if you're hungry! With miles of walkways and bike paths along the river bank, many locals and even tourists enjoy cycling around for a glimpse of the entire river. In the evenings, musicians can also be found basking here, adding to the romantic vibe of the place.
Our final stop was the famous Liuhe Night Market, where we headed for dinner. Situated on Liuhe Road, we were greeted by a bustling array of food stalls, clothing stalls, game stalls and stalls offering beauty services as soon as we walked in! With Kaohsiung known for its seafood, we gorged on snacks such as barbequed shrimp, crab porridge and more. Boy, was it delicious! We spent the rest of the night snacking, shopping and savouring our last night in Taiwan.
Day 7 (Kaohsiung – Home)
With some time left before our flight home, we headed to do some last-minute sightseeing and shopping, starting with Cihou Fort! Located in the Qijin District, Cihou Fort is a historic fort which was previously used to guard the northern entrance to Kaohsiung Harbour. An impressive red-brick and stone fort which was fortified by the Chinese army following World War II, light and machine gun nests cut in the rock can still be found there! Besides walking around and taking photos of this historic gem, we had a great time learning about its history. It also makes a great vantage point, with gorgeous views of the Cijin Beach and sea!
Our very last stop was the Shinkuchan Commercial District, where we did some last-minute shopping! One of Kaohsiung's most famous shopping districts, Shinkuchan is littered with international brands, trendy local boutiques, restaurants, snack stalls and more; selling literally everything! Many young people in their twenties enjoy shopping here, thanks to its affordable prices and surfeit of fashionable items. Before heading to Kaohsiung International Airport for our flight home, I even managed to bag a few pieces of clothing, a pair of shoes and some souvenirs for my friends!
There you go! A complete itinerary from Northern to Southern Taiwan, all in a week! For a first-timer heading to Taiwan, I suggest using this itinerary to experience various cities and the best of Taiwan, before you decide to narrow down to certain places on your next trip. From the delicious street snacks and cups of bubble tea to the magnificent scenery and attractions, you're bound to fall in love with what bustling Taiwan has to offer! Not to mention, its friendly and welcoming locals who won't hesitate to flash you a big smile.
Whether you decide to head for a relaxing getaway to Kenting or partake in the flurry of activity in Taipei, AirAsia offers extremely affordable flights to BOTH Taipei and Kaohsiung with top-notch service to boot!
Flash Sale:
For bookings made from now till 31 December 2017 for the period of 25 March – 30 June 2018:
Direct flights:
Kuala Lumpur (KUL) to Taipei (TPE): RM 269 (Premium Flatbed from RM 699)
Kuala Lumpur (KUL) to Kaohsiung (KHH): RM 219
Don't miss out!
Inspired to travel to Taiwan? Get your trip planning started with AirAsia's incredible flight deals here!
---
Special thanks to AirAsia for their hospitality and for allowing me to experience such a fun and unforgettable trip!