Unless you're deathly allergic to pollen and other flora-related triggers, I think we can all agree that the mere sight of flower fields in full bloom is quite a spectacular treat.
These patches of fertile land are breathtaking reminders of how truly beautiful our world is. Plus, we can't deny the fact that flower fields make for the most Instagrammable photos! So on your next trip, why not go to a destination that features one of these world-famous flower-filled fields?
Just make sure to go at the right season so you're assured of full blooms and the most vibrant colours. Remember: Frolic away, but be sure to respect Mother Earth and all her wonders while you're out and about!
1. Bulb Region, Netherlands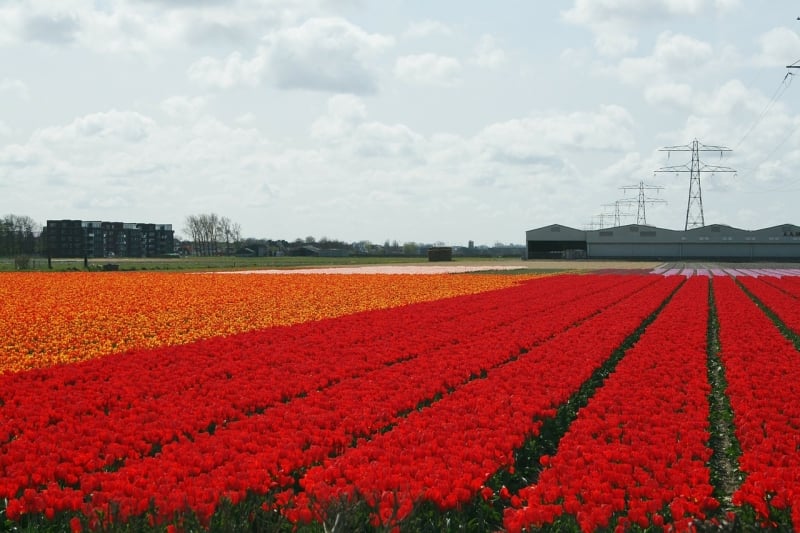 Flower fanatics know that the Netherlands grows the world's most exceptional tulips — so much so that the country's many tulip fields have become iconic tourist spots. Among these places is a coastal hinterland found trailing through Noordwijkerhout, a town between the cities Leiden and Haarlem. This quaint area is called the Bollenstreek or the Bulb Region (also known as the Bulb District), which grows around three billion tulip bulbs every year. Locals and tourists alike will tell you that Bollenstreek produces perfect bulbs. You can be the judge of that.
Best time to go: Mid-March to mid-May; Mid-April if you want to attend Amsterdam's Tulip Festival
2. Rapeseed Fields, China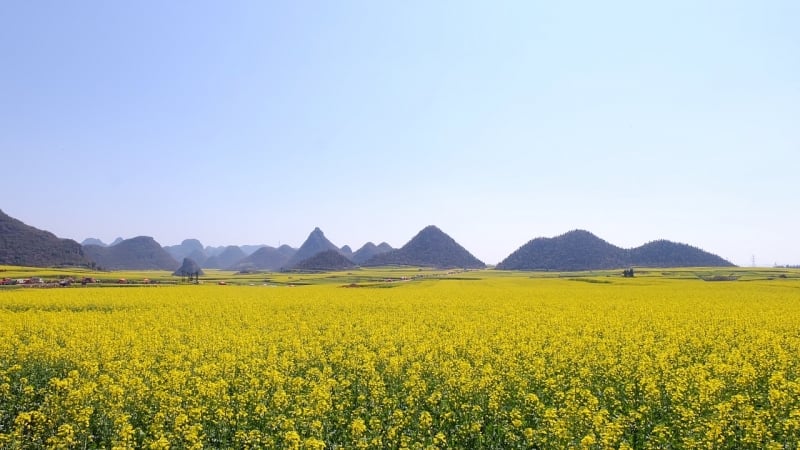 Chances are you first encountered Rapeseed in the kitchen or at the grocery store. Yes, the flowering plant that's called Rapeseed (or Canola) is the very same plant that's used to make Canola oil. What most of us don't know is that Rapeseed, in great numbers, is as useful as it is a sight to behold. The plant's flowers have a tendency to paint the terrain a bright yellow. Because of this, Rapeseed fields in Yunnan Province's Luoping County have become a popular go-to.
Best time to go: February to March
3. Hallerbos Forest, Belgium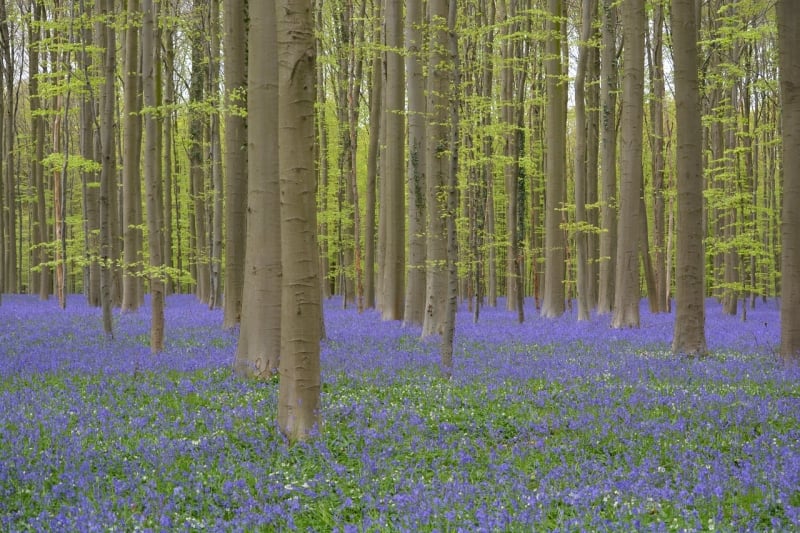 Belgium's famed Hallerbos Forest is called "The Blue Forest" for a pretty good reason — it literally turns into dreamy shades of blue and purple once a year. In the Springtime, the vast area is covered in bluebells, a flower that's also known to have an enchanting scent. For this reason, many call the Hallerbos Forest a mystical place. Imagine a fairytale forest come to life.
Best time to go: April
4. Hitachi Seaside Park, Japan
Nestled in Japan's Ibaraki Prefecture is Hitachi Seaside Park, a 350-hectare property that's dedicated to seasonal flower gardens. Since it's home to a wide variety of flowers and grasses, Hitachi remains a must-visit spot all year round. Springtime is the season for Nemophilia or Baby Blue Eyes. Fall, on the other hand, sees the blooming of pink-to-fuschia Kochias.
Hitachi Seaside Park also houses other attractions, such as cafes, restaurants, an amusement park, biking tracks, and even an outdoor area for recreational sports.
Best time to go: All year, but late April is best for seeing Baby Blue Eyes in full bloom; Fall comes in October
5. Hitsujiyama Park, Japan
The thing about Hitsujiyama Park in Chichibu, Japan is that it offers visitors the chance to frolic in a field of pink Shibazakura while enjoying the majestic view of Mt. Buko in the background. Picture this: A snow-capped peak stands out from a distance. Before it lies a carpet of soft petals that range from purple to pink — Shibazakura in full bloom. A quiet lake sits still reflecting clear skies above. If that isn't a picture-perfect image of tranquility, we don't know what is.
Best time to go: Early April to early May
6. Kaas Plateau, India
A UNESCO World Heritage Site, Kaas Plateau in Maharashtra, India is home to an impressive population of wildflowers. There's no better place to observe flora from this region than in Kaas Plateau, also known as Kaas Pathar. An amazing fact about this natural wonder is that flowers bloom right after the monsoon season. It's always a treat to go, but make sure you check the weather forecasts first!
Best time to go: September to October
7. Keukenhof Gardens, Netherlands
Another must-see in the Netherlands is the Keukenhof Gardens or the Garden of Europe. It's one of the world's largest flower gardens, which grows around seven million tulip bulbs annually. Now that's something that you don't see every day. You'll find Keukenhof Gardens in Lisse, South Holland, where the landscape bursts into colour every Spring thanks to the area's healthy population of tulips.
Best time to go: Mid-April to early May
8. Lake Tekapo, New Zealand
As if New Zealand's turquoise Lake Tekapo isn't beautiful on its own, the blossoming of pink and purple Lupins makes it even more breathtaking. Technically, this isn't a flower field, but it's a natural flora phenomenon that you should see at least once in this lifetime. The season for Lupins isn't the warmest time of the year either; you might have to bundle up in case it gets chilly, but we promise you it's worth it.
Best time to go: Mid-November to early January
9. Lavender Fields, France
What might make France even more appealing as a classic tourist destination? It's home to the most luscious lavender fields you'll ever set your eyes on. Check out the Lavender Route in Provence and behold the beauty of the French countryside.
Best time to go: June to July
10. Sunflower Fields, Italy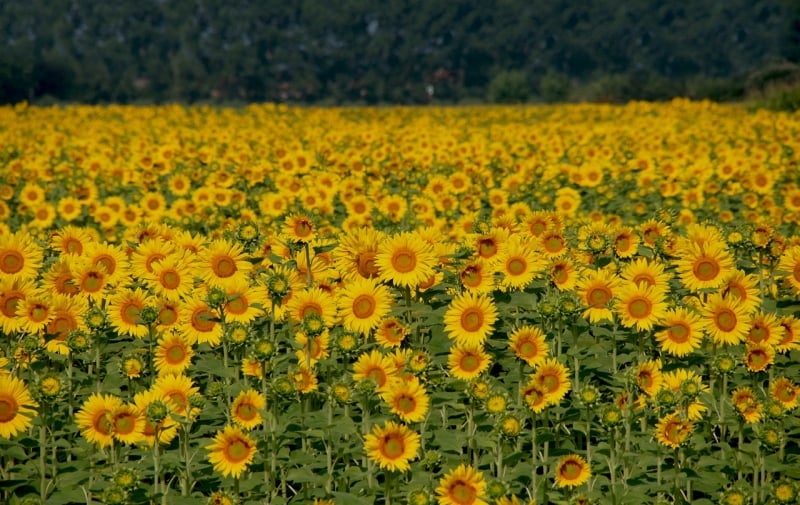 Last but not least, how could we forget the most iconic flower that symbolises happiness and cheer in most parts of the globe? Its name alone brings sunshine on a cloudy day. There are many sunflower fields in the world, but head to Italy, where they say sunflowers grow best.
Best time to go: July
There you have it, the most beautiful fields with world's most beautiful blooms. Perhaps it's time to update that travel bucket list.
Also read: Stunning Flower Blooms & Where to See Them in Asia