点击阅读中文版:近期大马最火红的创意美食大集合!还没吃过你就落伍了!
Nothing can unite Malaysians more than FOOD and I'm sure many would agree with me on that. We all love our nasi lemak, char kuey teow, laksa, satay…we enjoy these all-time favourites – all the time. However, sometimes, we do crave for something new, something inspiring, something weird…but creative. These fascinating newcomers in our vibrant F&B industry have certainly caught my attention. Let's see if they catch yours!
Nasi Lemak Cheese Cake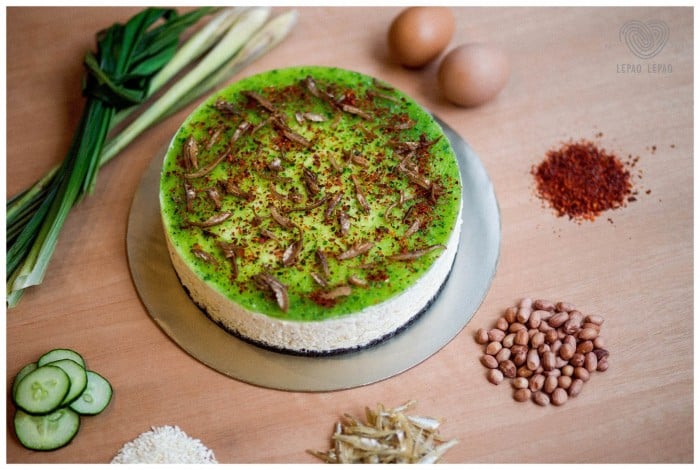 Image credit: Lepaq Lepaq Facebook
If this is not mind-blowing, then tell me what is. Cheesecake paired with sambal belacan and ikan bilis…so is this supposed to be a main or a dessert? I can't decide. Well, either way I'm sure this 'localised' cheesecake would be (oddly) delicious.
Where to find this:
Lepaq Lepaq
57, Jalan Ceylon, Bukit Ceylon, 50200 Kuala Lumpur, Malaysia.
Nasi Lemak Spaghetti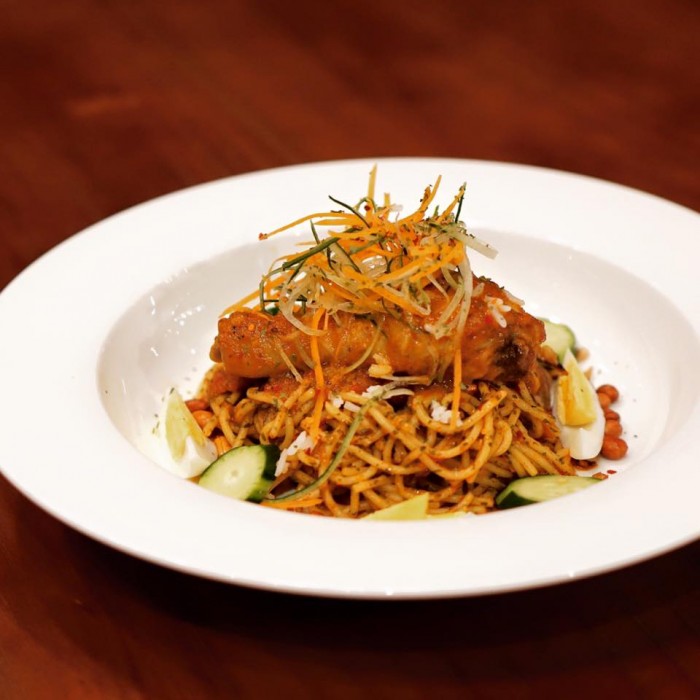 Image credit: Twenty5chef Catering & Events Facebook
Nasi lemak lovers (and spaghetti lovers) rejoice! We would really like to express our utmost gratitude to the genius who came out with this idea to combine two of our all-time favourites. Now who's up for a killer plate of pasta with belacan fried chicken? I mean, who's not?!
Where to find this:
Twenty5
No 18G, 7, Jalan Radin Bagus, Sri Petaling, 57000 Kuala Lumpur, Malaysia.
Special Foot Long You Tiao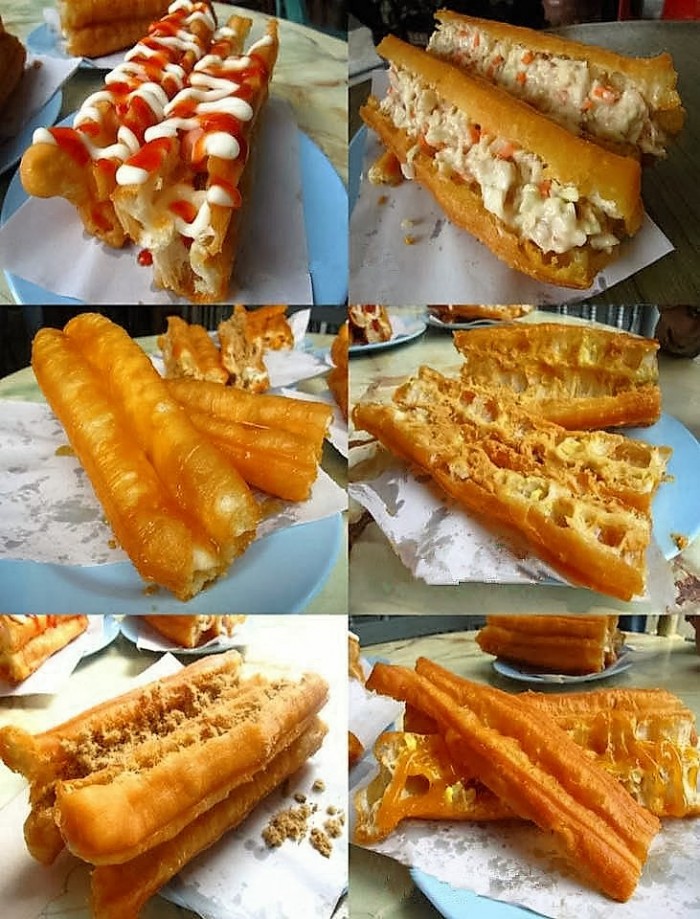 Image credit: Y Cariso
Kiss normal you tiao goodbye because nothing can stop us from gulping down these special foot long you tiaos! So how special are they? Have you ever tried you tiao stuffed with a generous amount of tuna and mayonnaise? Or chicken floss? Or sausage?! Well, you'd better try it or you're OUT!
Where to find this:
Te Chang You Tiao Wang Enterprise
1250-A, Jalan Paya Terubong, 11600 Penang, Malaysia.
Shah Alam Durian Cendol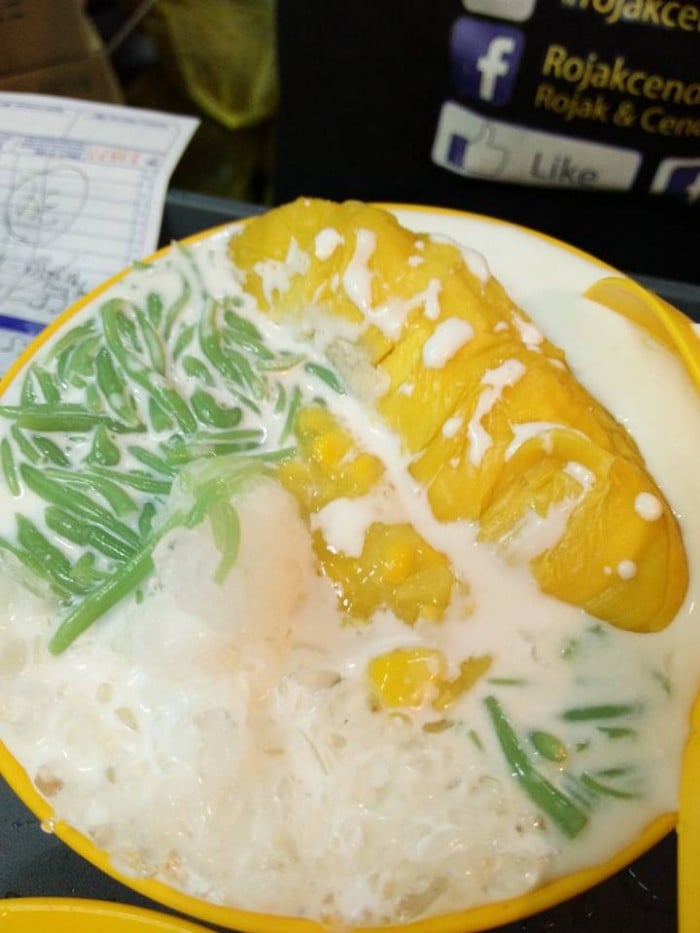 Image credit: Rojak & Cendol Shah Alam Facebook
Okay, I'm not going to lie to you. Durian cendol is neither new nor creative, but anytime in a day, I'm dying for that killer bowl of durian cendol! Just, look at the fat and juicy WHOLE piece of durian (including the seed because as promised the durian is placed WHOLE) served with fresh coconut milk and chewy green strands…and tell me you're not moved at all?!
Where to find this:
Rojak & Cendol Shah Alam
No. G2, Medan Selera Delima, Section 24, 40300 Shah Alam, Malaysia.
Also read: 7 Must-Visit Orchards in Malaysia for the Coming Durian Season
Black Thorn Durian Cendol
Image credit: I Love Malaysian Food Facebook
We Malaysians just can't get enough of durian, can we? *wink* You might think this is a repetition of the previous one, but let the durian experts assure you, this is definitely NOT! The lesser known Black Thorn durian is often said to be as good as Musang King, if not better. It has a lighter yet more sophisticated taste — a taste that even the most experienced durian eaters can't explain in words. Try it for yourself and let's see if they are exaggerating (they better not)!   
Where to find this:
Durian King @ Bukit Bintang
Jalan 1/77B Off Jalan Changkat Thambi Dollah, 55100 Kuala Lumpur, Malaysia. (in the open car park lot behind Berjaya Times Square)
Dancing in the Pan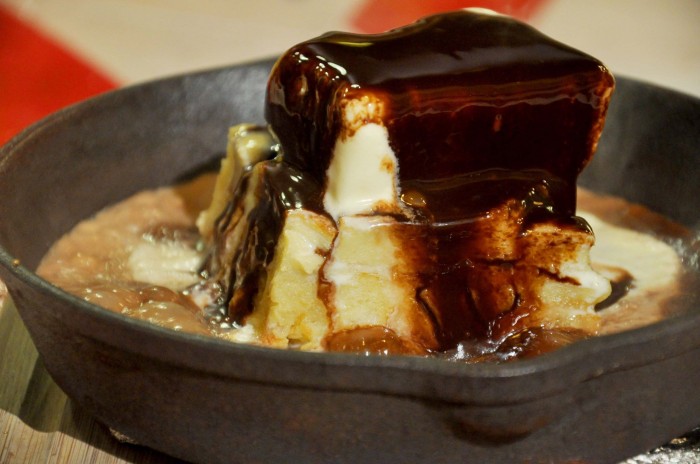 Image credit: Eatisdaisai Facebook
To describe the dessert is easy: Dancing in the Pan is bread pudding with ice-cream served on a sizzling plate. However to savour this, a man needs to be brave and skillful! This dessert will go from dancing in the pan to burning in your mouth…for ONE second before the ice-cream melts on your tongue and everything just goes soooo well together. Want to feel hot and icy at the same time? Dancing in the pan is your best bet!
Where to find this:
I Am 80s Cafe
35, Jalan SS4C/5, Taman Rasa Sayang, 47301 Petaling Jaya, Malaysia.
Raindrop Cake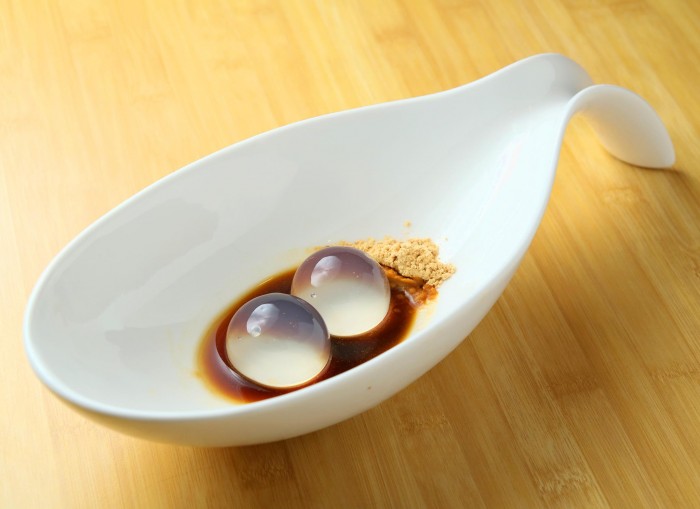 Image credit: Ishin Japanese Dining Facebook
Raindrops keep fallin' on my head…and cake! Sorry for the music pun, very lame I know… Anyway, the jiggly jiggling raindrop cake or mizu shingen mochi has made a huge splash in Japan and I believe the trend will continue to grow into a worldwide phenomenon. Some say this transparent jelly-like dessert is toooooo adorable to eat but hey, don't you want to feel the giant raindrops burst (wahhh) in your mouth? That must be really cool!
Where to find this:
Ishin Japanese Dining
No. 202, Persian Klang Batu 3 3/4, Off Jalan Kelang Lama, 58000 Kuala Lumpur, Malaysia.
ABC Gunung Kinabalu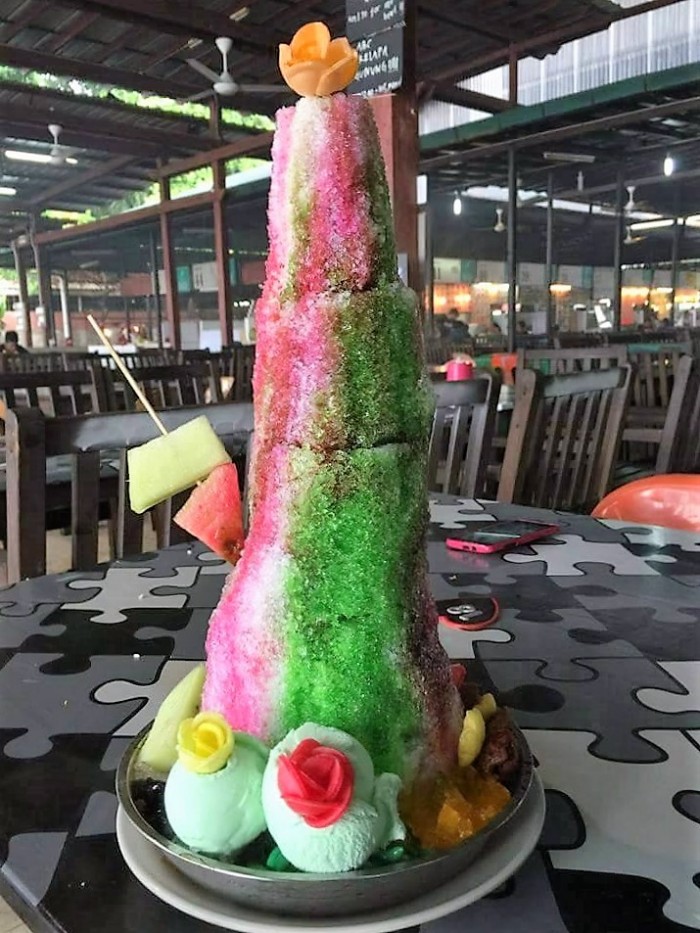 Image credit: D' Jesselton Sabah Facebook
We are quite familiar with the giant roti tissue at Original Kayu (you do know about this don't you?), but have you ever seen a giant ice kacang – as gigantic as shown on the picture above – before? No you haven't! Meet ABC Gunung Kinabalu, as majestic as its name suggests, be sure to bring along some friends to help you with the massive amount of ice flakes, ice-cream and all the other ingredients buried under the mountain.
Where to find this:
Restoran Pondok Pantai
Tanjung Aru, Kota Kinabalu, Malaysia.
Salted Egg Yolk Cronut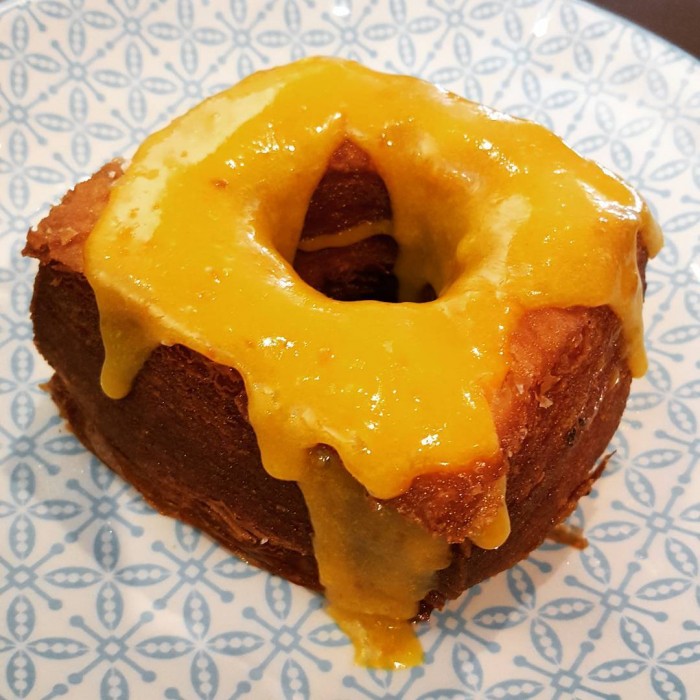 Image credit: Instagram @foodpunography
Salted egg yolk croissant is so yesterday, get over it and aim for salted egg yolk CRONUT instead! Cronut, the croissant-doughnut hybrid has gained so much fame and love since its first appearance in New York a few years back. Now that cronut has decided to join the highly competitive salted egg yolk war…can you imagine the next salted egg yolk inspired pastry? I cannot. Rich custard filled crispy cronut topped with salted egg yolk is already PERFECT.
Where to find this:
Dotty's
20-G, Jalan Tun Mohd Fuad 2, Taman Tun Dr. Ismail, 60000 Kuala Lumpur, Malaysia.
Double Cheese Croissant Taiyaki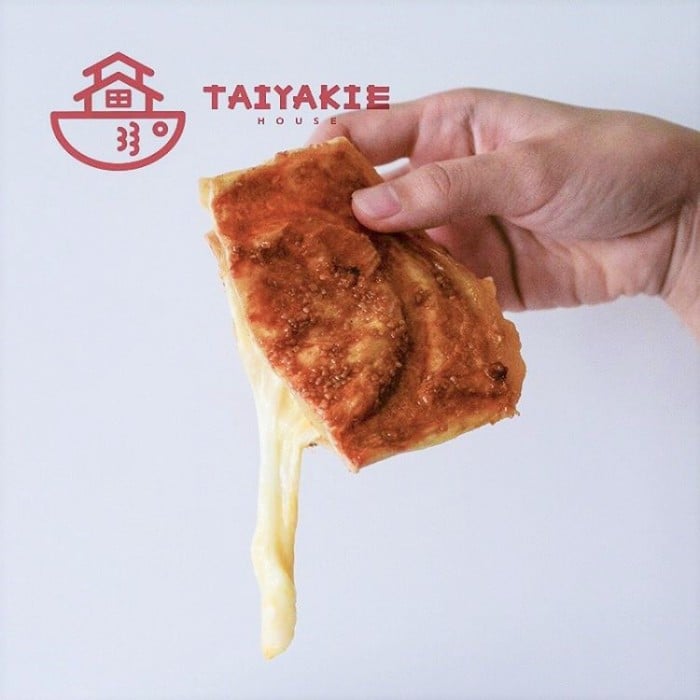 Image credit: Taiyakie Malaysia Facebook
Ohhh dear, look at that ooze-your-heart-out cheese filling, and the oh-so-instagrammable crispy fish-shaped croissant! I still remember taiyaki ice-cream (I bet you remember this too: ice-cream stuffed in the mouth of a fish-shaped waffle cake) was all over social media by the end of last year…now you know how fast the food trend changes! So what's next? Maybe tom yum taiyaki? (Tried curry taiyaki in Japan before, weird but interesting.)
Where to find this:
Taiyakie Malaysia
77, Jalan SS15/8A, Subang Jaya, 47500 Selangor, Malaysia.
Panda Bingsu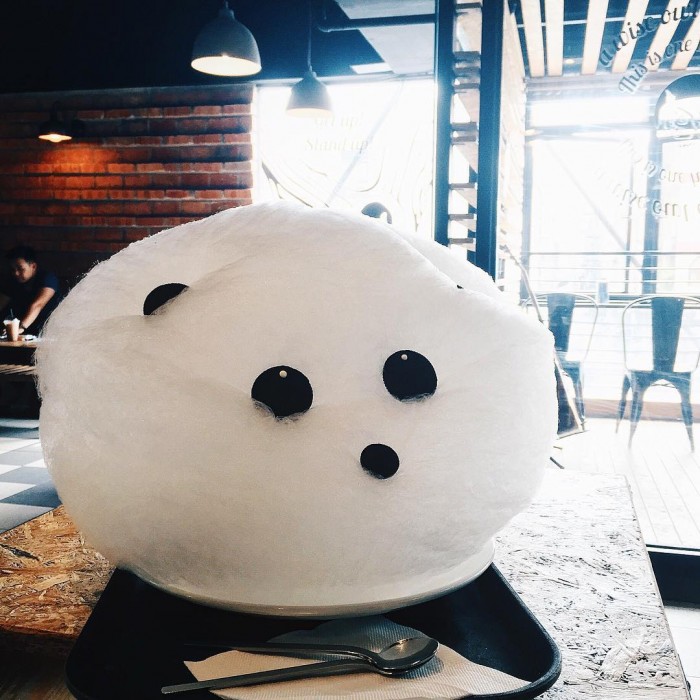 Image credit: Instagram @jeannnieeew
Another kind of Korean wave has hit the shores of Malaysia: Bingsu! Or the Korean shaved ice dessert, which has also become a worthy opponent of the traditional ice kacang (never a replacement though). So what's up with the cotton candy panda? It is, of course, to make you willingly pay for a super-duper adorable bowl of bingsu and yes, shut up and TAKE MY MONEY you pretty littah panda!
Where to find this:
OW:L Espresso
A-02-1, Menara Rajawali Jalan SS15/8, Subang Jaya, 47500 Selangor, Malaysia.
Also read: 34 Must-Try Foods in Malaysia – Part 1
Strawberry Waffle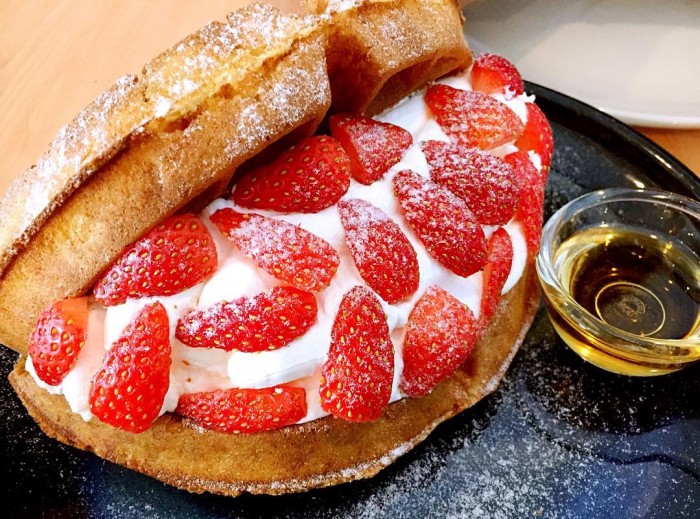 Image credit: Instagram @mel_eats_around
Uhh-huh! You laughed at 'strawberry waffle' because you assumed there is nothing much people can do to make a simple combination of waffle and strawberries any special. Now you know you were so wrong! Add a SINFUL amount of FRESH CREAM and violaaa – this strawberry waffle is now officially irresistible and unbeatable!
Where to find this:
Soft Launch Cafe
101, Jalan Radin Bagus, Sri Petaling, 57000 Kuala Lumpur, Malaysia.
Let's Stack The Fun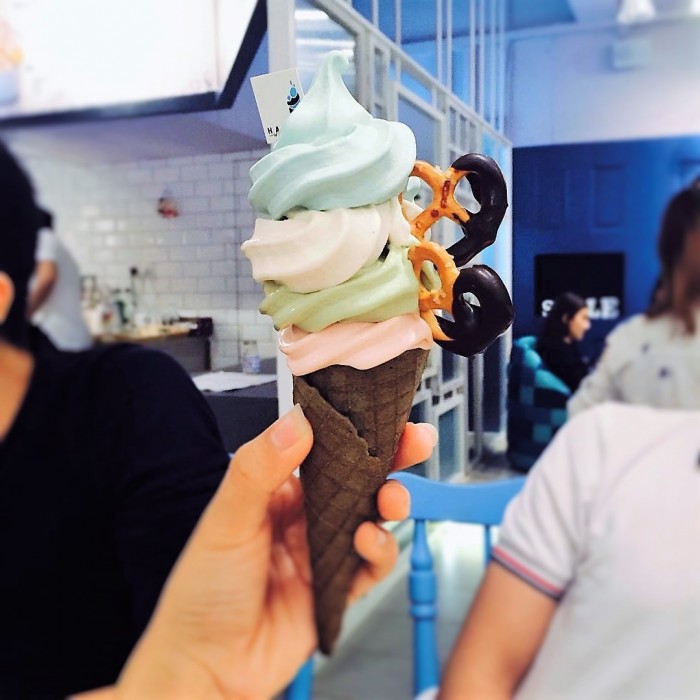 Image credit: Instagram @stephenieee_
The name is well suited for a fascinating four-flavour soft serve. With four kinds of fun – (from top to bottom) blue pea gula melaka, pink peppercorn, green tea sakura and strawberry rose – on one crunchy waffle cone, what more can you ask for a dessert? Let's stack em' up and savour that dreamy colour palette, will ya?
Where to find this:
Hail's Soft Serve
No.28 Jalan SS21/58, Damansara Utama, 47400 Petaling Jaya, Selangor, Malaysia.
Gold Leaf Ice Cream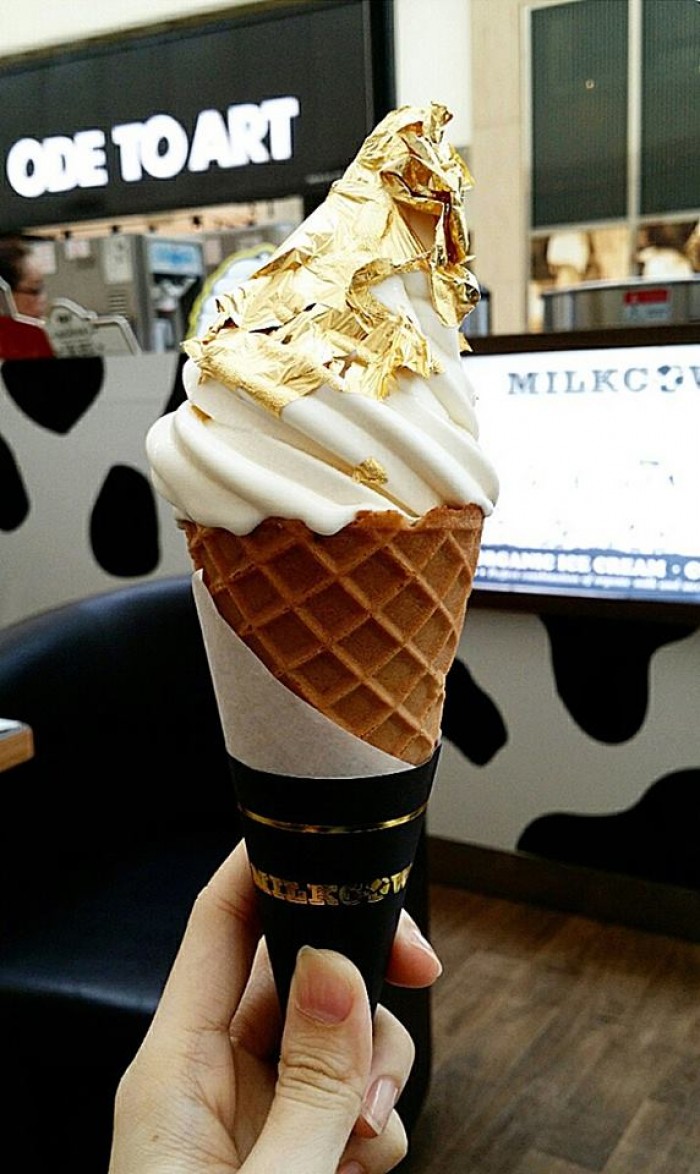 Image credit: Milkcow Malaysia Facebook
Last but not least, soft serve wrapped with edible gold…win liao loh!
Where to find this:
Milkcow Malaysia
LG K23, The Gardens Mall, Mid Valley City, Kuala Lumpur, Malaysia.
I can't stand my stomach growling anymore…three last words to all foodies out there: HUNT THEM DOWN!!!
Also read: Spiciest Foods Around Asia! Can You Stomach Them All?