Johor Bahru is a city in Malaysia that is bustling with activity. Brimming with mammoth shopping malls, tons of hipster cafes, massage parlours and theme parks, there's just so much to see and explore. However, if you're here for this one sole purpose – to blow all your ringgit, we've got just the itinerary for you.  
We recommend spending about 2-3 hours per mall, depending on what you're looking for. Don't forget to factor in time for meals and travelling time between malls! If you won't be driving, simply book a Grab or Uber to help you save more time.
Pro-tip: Do your research first! Do you want to spend more time shopping for clothes and skincare or electronic gadgets and sportswear? If you think you won't fancy what certain malls have to offer, go ahead and skip them so you have more time to browse your favourite mega malls instead!
Day One
Start your day bright and early at Johor Bahru City Square and have some breakfast before starting your shopping spree!
✔ Easily accessible from the Johor Customs (making it the perfect mall to start your spree)
✔ Houses a plethora of over 150 stores and brands and over 50 food outlets
There's no better place to start than at a mall where you'll find yourself spoilt for choice. From a plethora of clothing brands like Cotton: On to ESPRIT, sportswear brands like Nike and Adidas and other beauty and wellness stores, go ahead and indulge yourself before moving on to the next mall!
Address: No. 106-108, Jalan Wong Ah Fook, Johor Bahru
✔ Lots of popular fashion and retail brands
✔ Family-friendly play area available for those who are travelling with kids
Move on to Komtar JBCC which is just a 10-minute walk from City Square Mall. Here, you'll find your favourite body care items at Bath & Body Works and other branded fashion labels like Dr Martens, Victoria's Secret and F.O.S. There's also Marks & Spencer to stock up on your favourite branded chips and goodies!
If you have the kids with you, Komtar JBCC has an Angry Birds Activity Park (the first in all Southeast Asia) which has fun entertainment play zones (based on the popular mobile game) for the little ones. Adults can look forward to having a coffee break at the selection of eateries and cafes available in the activity park too.
Address: Johor Bahru City Centre, Bandar Johor Bahru, 80000 Johor Bahru
✔ Lots of hipster, Instagram-worthy eats to satisfy your tummy
✔ Large hypermart for grocery shopping (Tesco Hypermarket)
You'll probably be feeling super famished right now from your morning "workout", so head to KSL City next for some tasty eats and drinks! The best part? KSL City is just a mere 8-minute drive from Komtar JBCC, so your stomach won't be left growling for that long. Try out the 30cm-long fries drizzled with moreish sauces like cheese and mayonnaise or curry sauce and the wafer-thin biscuits pressed with your choice of seafood like prawns or scallops!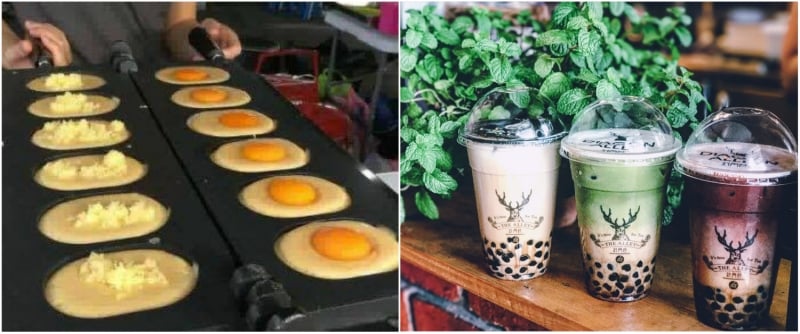 For other Instagram-worthy treats, why not try getting an egg-bread, which features a molten, runny-egg and your choice of topping, encased in fluffy batter. If you're a cheese-lover, opt for the cream cheese egg-bread which gives way into creamy, cheesy and eggy goodness right from the very first bite (careful, it's hot!). For ice-cold thirst-quenchers, grab milky bubble teas or bottles of gorgeous, dreamy layered drinks which are aptly named after sunsets and the northern lights!
After having your fill, hang around and shop to your heart's delight for super-cheap groceries, stationeries and household stuff at Tesco Hypermart, sing some karaoke at the rooms available for rent or wander around more of the shops before hopping to the next mall!
Address: 33, Jalan Seladang, Taman Abad, 80250 Johor Bahru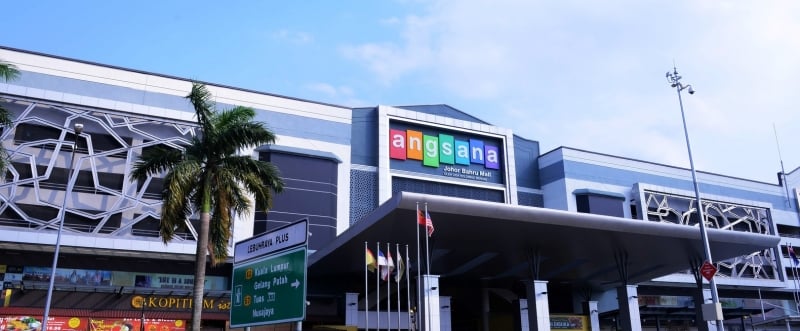 ✔ Consists of five levels with over 238 shops for your shopping pleasure
✔ Has bowling and karaoke facilities
If you need a little break from toting around those bulging shopping bags, drop 'em in a corner and have some fun at Angsana Johor Bahru Mall (15-minute drive from KSL City), which has a huge bowling alley and karaoke rooms for rent. Prices for a karaoke room start as low as RM10 (~S$3.40) per hour, so spending an hour or two having fun won't really cost you too much from your shopping budget anyway!
Address: Plaza Angsana, No. 52, Jalan Tampoi, Pusat Bandar Tampoi, 82100, Johor Bahru
✔ Newest and largest mall in Johor Bahru
✔ Has the largest ice-skating rink and largest indoor rock-climbing wall
Finally, the last stop for today is none other than the spanking new Paradigm Mall that just opened late November last year! You will take about 10-15 minutes to drive here from Angsana JB Mall. Feel free to spend the rest of your late afternoon and evening exploring, shopping and dining at the largest shopping mall in Johor Bahru.
Besides having over 600 shops which include both well-known international and local brands, you will also find a myriad of recreational facilities like an ice-skating rink, indoor rock wall as well as a Golden Screen Cinema. There is even a large gourmet-produce supermarket (Grocer Village) and a huge Parkson department store within the mall too!
Address: 76, Jalan Mewah Ria 2/2, Taman Bukit Mewah, 81200 Johor Bahru
For accommodation, you can opt to stay at the 4-star Paradigm Mall Hotel or choose any other hotel located in the area, such as YP Boutique hotel, TH Hotel Kelana Jaya or Sovotel at Kelana Jaya. Room prices can start from RM138 (~S$46.50) a night for a Deluxe King Room at YP Boutique – that's right, you don't have to fork out too much for a good night's rest!
We have a list of hotels that you can check out, too!
Day 2
For today, set aside an ample amount of time to hit the infamous Johor Premium Outlets where you'll be able to snag your favourite branded goods at a discounted price! Now, this really depends on each label, and you might comment that some discounts aren't that fantastic, but hey – more savings equals to more money for more shopping, right?
✔ The best place to shop for your favourite luxury and branded goods
✔ Also has sportswear brands and brands for children like Cotton: On Kids and Ralph Polo Lauren Children
It only takes about a 20-minute drive from Paradigm Mall to the Johor Premium Outlets, so if you stayed at that the area around Paradigm Mall for the night, you can be one of the first few shoppers to get there bright and early once it opens! From luxury brands like Armani and Tory Burch to Padini and Polo Ralph Lauren as well as Kate Spade and Gucci – the outlet stores here definitely give you a good reason to splurge.
There are also other popular sportswear brands like Nike, Adidas, and Asics as well as accessory brands and fine leather and luggage brands too! Good deals can include discounted rates of 30%-50% off regular prices so be sure to keep your eyes peeled as you shop away.
If you're feeling peckish or would like to have some brunch, there are a plethora of restaurants and eateries to choose from – including Starbucks Coffee, Subway, Marrybrown and Pizza Hut. So make sure to have a good meal (or a short coffee break at least!) before going to your next stop.
Address: Jalan Premium Outlets Indahpura, 81000 Kulai, Johor
✔ Cluster of mega malls that can cater to your last-minute shopping whims and fancies
✔ Only a 25-minute drive away from the causeway and 30-minutes away from Senai airport
From here move on to either Aeon Mall Bukit Indah which is a 20-minute drive away or take a 30-minute drive to Aeon Tebrau. We recommend going to Aeon Tebrau as it is also located beside IKEA Tebrau (largest IKEA in Southeast Asia) and Tesco Extra Tebrau City. As compared to Aeon Bukit Indah, Aeon Tebrau is much bigger, so there are more shops to explore. The best part? They just opened a new wing as well after doing some renovation work last year – cheers to that! This trio of malls definitely make the perfect last stops for your crazy 2D1N shopping spree.
Wish you had ended up getting that bottle of perfume from Victoria's Secret or tee-shirt from Superdry at the malls you hopped to earlier? This is your last chance to get them at one stop shop Aeon Tebrau. Be it stuffing your face silly with delicious IKEA meatballs to grabbing an extra carton of milk powder or paper towels at Tesco, make sure you get everything you need before your journey back to the airport or causeway!
Address: 1, Jalan Desa Tebrau, Taman Desa Tebrau, 81100 Johor Bahru
And there you have it, a 2D1N itinerary specially crafted for those who need some retail therapy (frankly, all of us do). No matter if you're looking for the latest fashion buys or stocking up on groceries – JB has got it all. All you need is one free weekend and some cash to blow for a shopping bonanza beyond your wildest dreams.