Malaysia has no shortage of picturesque islands that dot the country from the east coast all the way to the west. Langkawi is a brilliant example, with its surreal bays and beaches emerging as one of Malaysia's top tourism drawcards.
Sitting nicely off the coast of Kedah and adjacent to the Thai border, Langkawi's 99 magical islets are surrounded by the glimmering Andaman Sea that boasts crystalline waters. Interspersed with lush tropical rainforests, the islets are also home to staggering cliffs that dramatically jut out of the turquoise placid waters.
Fun Fact: Langkawi is an amalgamation of the Malay word helang (eagle) and kawi (Sanskrit for the bird's reddish-brown tone). Brahminy Kite eagles are the main residents (visit the iconic Eagle Square!) and are indeed emblematic of the island.
Langkawi hides a treasure trove of exciting activities that will make for an epic holiday. Although there are countless of reasons to visit this premium tourist destination, here are seven to get you started! Disclaimer: The following pictures may leave you awestruck.
1. The breathtaking beaches are a feast for the eyes

What is a vacation without heavenly beaches? The gentle motion of the waves lapping against the shore, the balmy sea breeze and the bath-temperature waters always have a way of enticing visitors (read: sun-worshippers). Paradisiacal Langkawi is certainly an electrifying locale that keeps tourists coming back for more.
There are numerous beaches scattered all around the main island as well as some lesser-known ones on neighbouring smaller islands. If you want to roll out your towel and while away time on Langkawi's vibrant beach town, head to popular Pantai Cenang on the south-west coast or admire mesmerising vistas at scenic Datai Bay. Prefer ultimate seclusion? Venture north and relax at Tanjung Rhu's exclusive beach. During low tide, walk across shallow waters and explore the tiny islands of Pulau Pasir and Pulau Gasing. Alternatively, head to Pantai Kok or Pantai Tengah and embrace ultimate tranquility.
Warning: It is common to find jellyfish in the waters surrounding Langkawi. The creatures, known locally as obor obor, lay their eggs by the shore on evenings. Check with the locals if it is safe to swim before you plunge right in!
2. Mouth-watering cuisine and local delights will tantalise your taste buds
The locals take pride in their unique cuisine, evident in the multi-ethnic mélange of tastes, from Indian and Chinese to Malaysian and even Thai influences. A paradise for gastronomes, Langkawi offers a dizzying array of flavourful dishes. Fun Fact: Langkawi was formerly ruled by the Thai monarchy during World War II and is geographically closer to Thailand than mainland Malaysia. So you can definitely enjoy some of the best Tom Yum Goong right in the heart of Langkawi.
For a taste of authentic and affordable Pan-Asian food, stop by Langkawi's colourful night markets.The night markets shift to different locations around the island but note that there will be at least one every evening. The atmosphere, thick with the aromas of sizzling street food, beckons.
Sample unique rice dishes like the bluish-purple Nasi Kerabu, Nasi Dagang and Nasi Tomato. If you prefer something more bite-sized, try some local tasty snacks namely Keropok Lekor (chewy fish crackers), Ikan Bakar (barbecued fish), Ayam Percik (grilled marinated chicken), Apam Balik (sweet griddle pancakes) and a variety of local kuih (colourful desserts). There is a wealth of tasty local food to be savoured.
3. Strategic location offers numerous day trip opportunities
Easily accessible to the tropical foodie paradise of Penang and idyllic Koh Lipe island, Langkawi serves as a great point of transit between Malaysia and Thailand. Popular islands in Thailand such as Krabi, Phuket and Koh Phi Phi have a direct ferry service to Langkawi, spanning no more than a few hours. You can also hop on a ferry back to Kuala Kedah and venture around the rest of mainland Malaysia.
Kuah Jetty is Langkawi's port of call where you board high-speed ferries to your desired destination. Game to explore Penang's phenomenal cuisine? A ferry can easily take you there under three hours. Prefer lounging on the shores of picturesque Thai islands instead? A fuss-free ferry ride can ship you over in 90 minutes. Jazz up your holiday itineraries by incorporating exciting day trips and maximise this archipelago's ideal location.
4. Natural landscapes here are truly alluring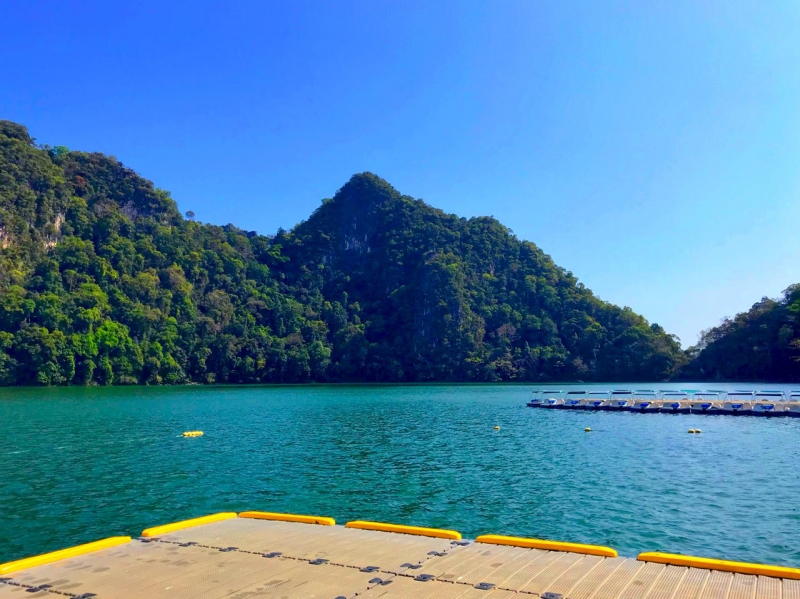 The natural attractions of Langkawi from its bird-filled parks to its lush rainforests and dreamy beaches, helped the island attain the esteemed World Geopark status. The status, awarded by UNESCO, emphasises not only the natural beauty of Langkawi but also its sustainable socio-economic development. Mangroves rich in flora and fauna are prominent, allowing you to garner a deeper understanding of the ecosystem.
Pulau Dayang Bunting (Pregnant Maiden Island) is a perfect spot for witnessing Langkawi's natural splendours. Be warned though, monkeys are abundant and they will grab anything that appears to be food, even plastic bags. Fun Fact: Even though the island is surrounded by the sea, the lake within (an actual underwater cave!) is purely freshwater. Leap from the pontoons and dip into the refreshing waters. Believe it or not, legend has it that swimming in this lake boosts female fertility!
Nature enthusiasts will love Langkawi for its iconic mountainous landscapes, limestone karst islands, and fascinating mangrove forests. From snorkeling amongst colourful corals in Pulau Payar Marine Park to splashing in the shallow waters of Pulau Beras Basah, Langkawi's natural charm is inescapable.
5. Wildlife diversity makes for fun-filled family outings
Langkawi's rich ecology provides families with ample educational opportunities. From the Fabulous Flying Five – flying snakes, flying squirrels, flying foxes, flying dragons and flying lemurs – to a whopping 238 bird species, there is a lot to unravel beneath the island's foliage.
Trek through Langkawi's spectacular wetlands and beautiful limestone caves. Fun Fact: The cloaked monkey, notably the world's only flying primate, can be spotted easily at Langkawi's Datai Bay. Alternatively, venture off to secluded coves by boat and spot the incredibly diverse wildlife. Bird lovers should aim to spot the rare wreathed hornbill and the great hornbill within the Langkawi Mangroves, one of Southeast Asia's largest mangrove forests.
When you tour the waterways of the renowned Kilim Karst Geoforest Park, stand a great chance of spotting pythons and catch the the bonnet macaques' feeding session. Also, marvel at the fascinating sight of bat colonies hanging in limestone caves formed some 550 million years ago!
At Underwater World Langkawi near Pantai Cenang, glimpse at sea-faring citizens in Malaysia's largest aquarium, that is home to more than 4,000 varieties of fish and marine animals (penguins, giant rays, and seahorses!). Visitors can also walk through a 15-metre tunnel inhabited by aquatic residents such as sharks, groupers, and the elusive green sea turtle.
6. The Oriental Village is home to top-notch attractions and sights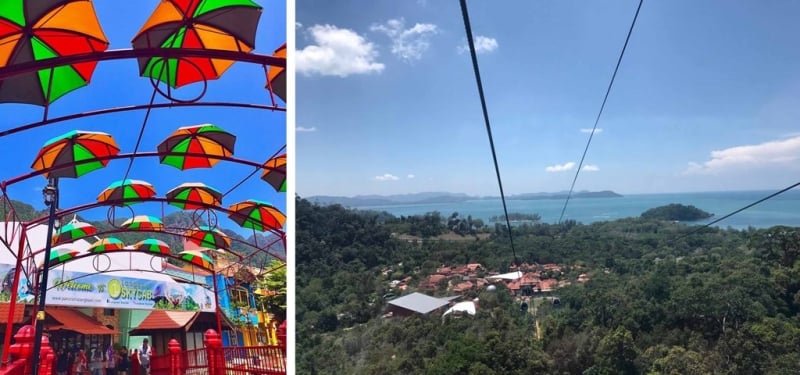 From the perspective of the soaring Brahminy kites and white-bellied sea eagles, there is no doubt that Langkawi is best viewed aerially. The best way to do that if you don't have wings? Hop on the Langkawi Cable Car, better known as the Langkawi Skycab at the Oriental Village. The cable cars will lift you above the dense rainforest decking Mat Cincang Mountain. The vertiginous 15-minute ride will take you past cascading Telaga Tujuh waterfall before reaching the summit of the steep-sided mountain, about 708m above sea level. The views across the mountain peaks and bay are absolutely worth it.
The viewing platforms allow you to appreciate the island's gorgeous panoramas and take advantage of the abundant photo opportunities to snap that perfect Kodak moment. On clear days, you can even see as far as the coastline of southern Thailand. From the top of Mat Cincang, you can also walk across the curved Langkawi SkyBridge – a 125m steel suspension bridge that stretches between the peaks.
Fun Fact: The Mat Cincang mountain range is one of Southeast Asia's oldest rock formations. Some 200 million years ago, tectonic forces pushed Mat Cincang above the surface of the sea to create Langkawi!
7. Duty-free shopping means better bargains

Once considered "Malaysia's best-kept secret", Langkawi now boasts several duty-free malls that are perfect for your shopping sprees. Bargaining is de rigueur here so be sure to haggle for local handicrafts, textiles, and other interesting souvenirs to take home. Spend some time out of the sun and in a cool air-conditioned mall.
Here are a few options to consider:
Zone Shopping Paradise: The massive shopping mall at Pantai Cenang is especially known for its liquor collection, branded bags, handicrafts, perfumes, and crystal glassware.
Coco Valley Duty Free Complex: Coco Valley Langkawi offers an assortment of inexpensive cocoa products, as well as imported whiskies, wines and champagnes. Located between Underwater World Langkawi and The Zon Shopping Paradise, there is no excuse to not make a pit-stop in between all your sightseeing!
Jetty Point Duty Free Shopping Complex: Home to fast food outlets, small shops, money changers and an information counter for tourists, Jetty Point Duty Free Shopping Complex is your one-stop shopping destination. With a collection of over 100 shops and an adjoining supermarket, Jetty Point Complex is a frequent last-minute shopping stopover for visitors before heading back to the mainland.
Teow Soon Huat Duty-Free: One of the most popular shopping venues in Padang Matsirat, Teow Soon Huat Duty-Free Shopping houses 60 retail stores, 12 eateries, and a giant supermarket. Aside from tobacco and chocolates, shoppers can also purchase household commodities, clothing, and luggages.
Go off the grid and witness Langkawi's ethereal beauty. From the vast swathes of wildlife-rich jungle to the karstic islets and underwater gardens, Langkawi will surprise you in ways you'd never see coming. This top tropical retreat awaits your grand arrival!