Many city-dwellers would say that one of their favourite things to do, aside from shopping and eating, is to travel. For those living in Singapore like myself, we are blessed to be surrounded by short getaway destinations that allow us to escape reality, even if only for a weekend.
But how about those who have way too much time and money on their hands that the thought of buying property, stocks, exorbitant commodities and services is mere small change? Take a sneak – and remote – peek at how some of the extremely affluent travel, and just what these massively pimped out projects entail.
Also read: 10 Professions that Will Allow You to Travel the World
1. By Commercial Plane – Crystal Luxury Air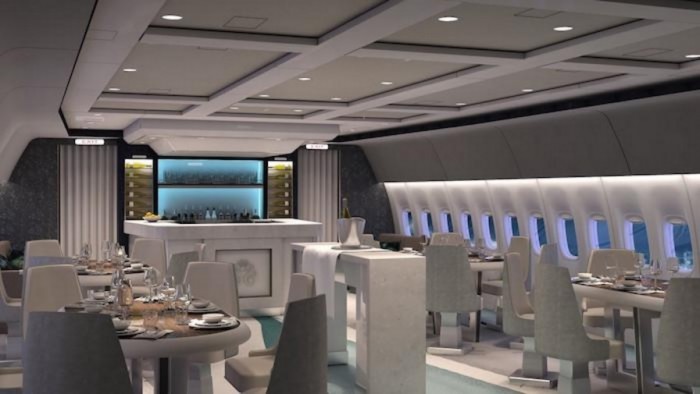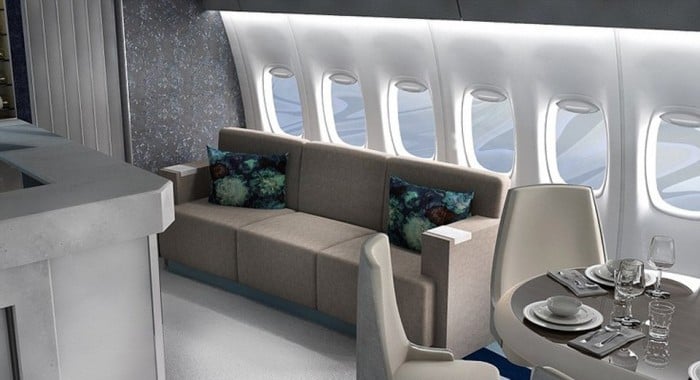 Crystal Cruise Lines (better known as Crystal Cruises) is probably known as one of the most elite and finest American luxury cruise lines around, and have recently decided to rack up extravagance points by taking opulence to the skies! Taking your standard Boeing 777-200 plane, Crystal Cruises is totally revamping its interior to create a spacious 84-seat luxury jet that ferries high-flying passengers on 7-, 14- and 28-day itineraries around the world.
Slated to take-off in October 2017, this plane model traditionally accommodates 300 passengers (just to give you an idea of how much space the remodelling will provide). The airplane will boast extra wide aisles, tables for sit-down dining, a fully-stocked bar and "the world's largest in-flight wine cellar". On every flight, passengers will have access to a staff that includes a doctor, a purser, a tour director, a private chef and a dozen butlers.
The first of its around-the-world itineraries is already open for booking, in fact! The 27-day inaugural schedule is in partnership with The Peninsula Hotels and kicks off on August 31, 2017, in New York City, before heading to Chicago, Beverly Hills, Shanghai, Hong Kong, Beijing, Tokyo, Manila, Bangkok, and Paris, where guests will stay in Peninsula hotels. More destinations will gradually be rolled out, but Crystal Cruises has already revealed that the trips will include between 12 and 15 stops and will see guests staying not only in hotels but more exclusive accommodations like castles not usually open to public and go on private night tours in exclusive museums, led by its director. Prices are said to start from the lower end of a six-figure price tag.
2. By Cruise Ship – Regent Seven Seas Explorer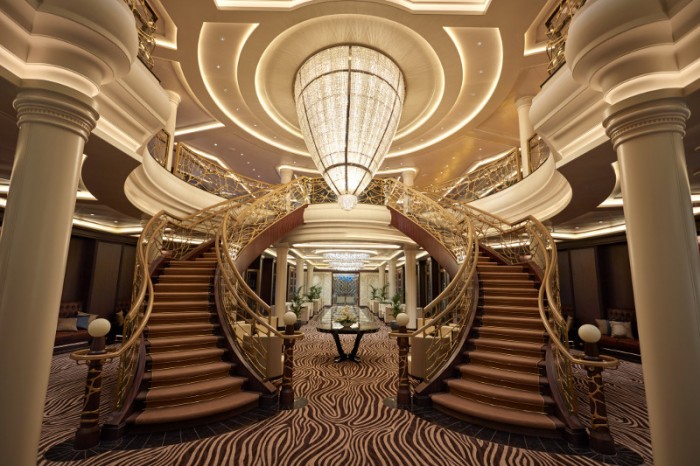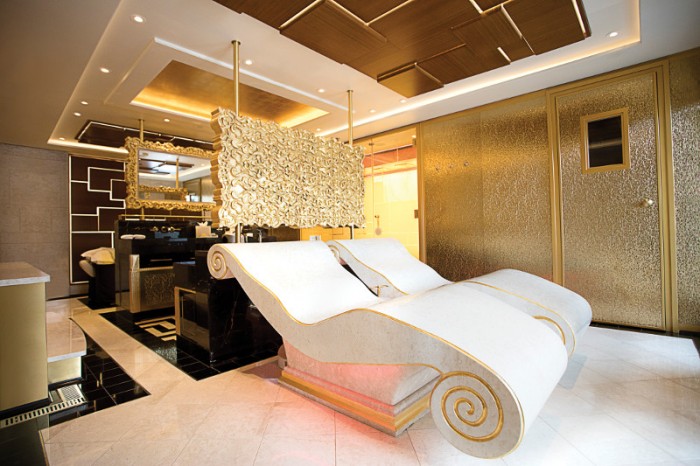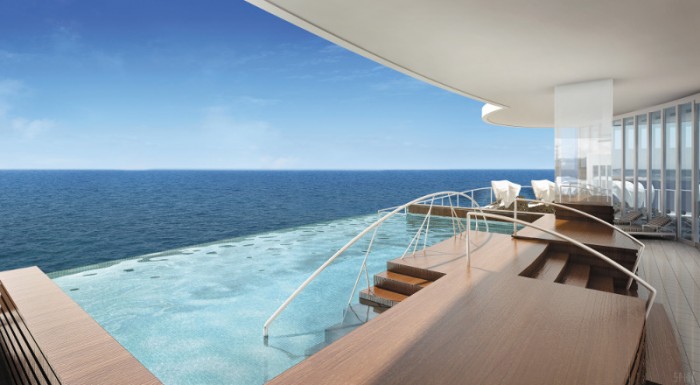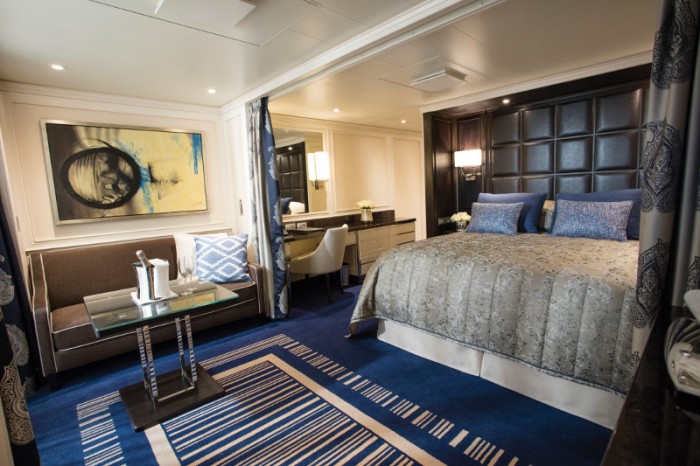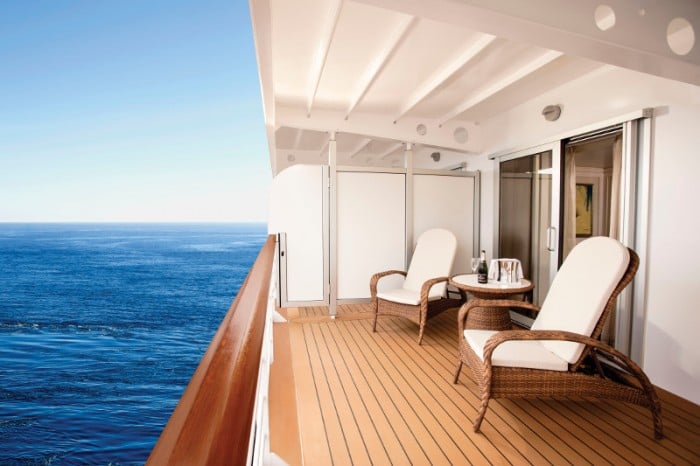 You don't hear of cruise ships being christened before its maiden voyage, much less by royalty. But on July 13, 2016, Regent Seven Seas Cruises welcomed to its fleet the Regent Seven Seas Explorer, with a christening carried out by Her Serene Highness Princess Charlene of Monaco. To put into words what this epic cruise liner represents, president and chief executive officer of Norwegian Cruise Line Holdings, Frank De Rio, boldly claims, "This idea that one-percenters are the evil empire of the world is over. It's time to celebrate success. It's time to celebrate wealth. This ship is a trophy to the one-percenters."
The Seven Seas Explorer is a $450 million, 750-passenger, all-suite triumph of luxury – with 5,000 glittering chandeliers and 2,200 pieces of art on board, including a Chagall and a Picasso or two hung at the double-door entrance to the Regent Suite. The 'Regent Suite' spans 3,875 square feet, with two bedrooms, a wrap-around veranda, and conservatory overlooking the bow, a Steinway grand piano, black marble bar, gold chandelier and flat-screen televisions galore. The suite also has its own spa with sauna, heated relaxation loungers and unlimited Canyon Ranch Spa Club treatments, along with a chauffeur and guide in every port, and first or business-class flights included in the price – which averages $10,000 per night.
3. By Train – Maharajas Express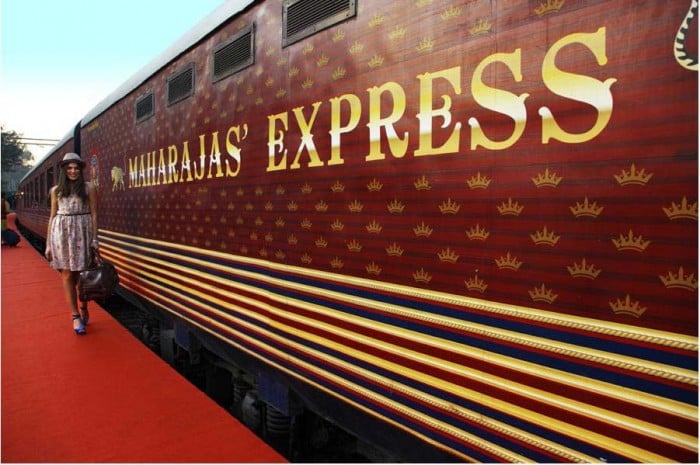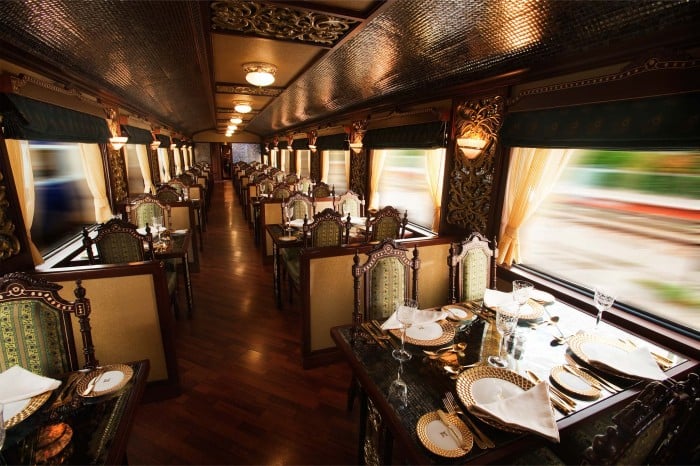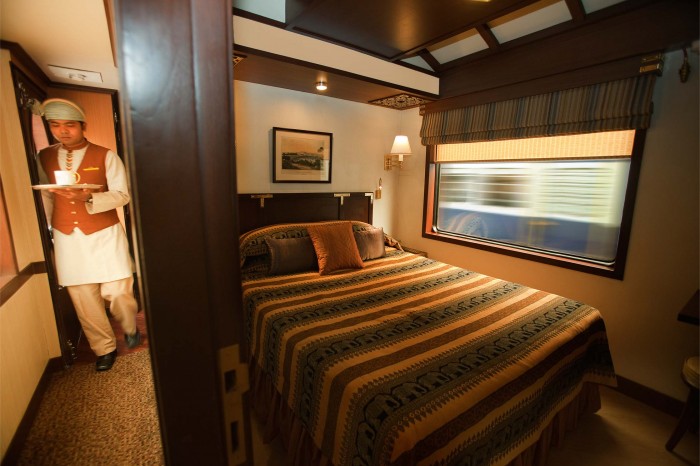 Image credit: Maharajas Express
Travelling on a train is far from cramped, uncomfortable and overall unpleasant when you're onboard the Maharajas Express. As India's version of the Orient Express, the Maharajas Express covers destinations like Mumbai, Jodhpur, Jaipur and Delhi, just to name a few. This lavish train can carry a total of 84 passengers, in elegantly appointed cabins – including a lavish presidential suite spanning over an entire carriage.
If you're into getting to know its numbers, you'd like to know that the Maharajas Express comprises of 14 guest carriages. There are 20 Deluxe cabins, 18 Junior Suites, 4 Suites and a plush Presidential Suite. There are two dining cars on the train (which make up Rang Mahal), complete with a Safari Bar, and should guests feel the desire to dine away from the crowd, en-suite dining service is also available. The Mayur Mahal plays as the sitting area of the Maharajas Express. With tickets starting from $3850, you're sure to feel like a Sultan on wheels.
4. By Motorhome – eleMMent Palazzo Superior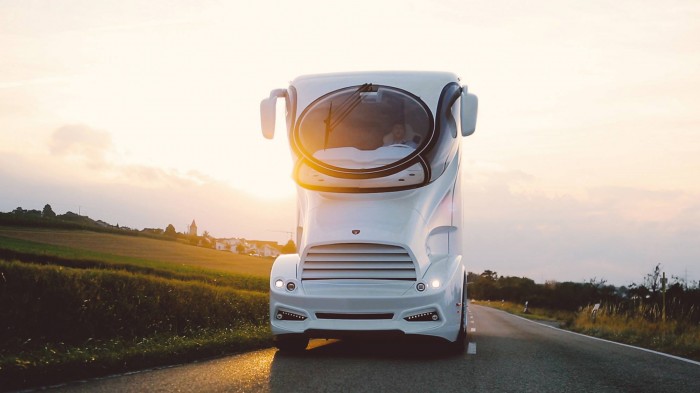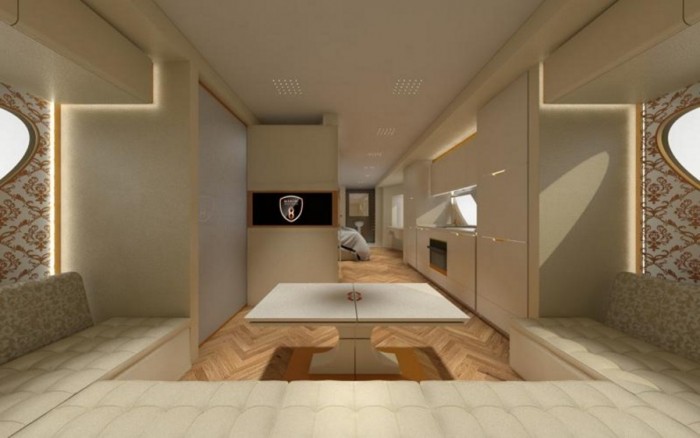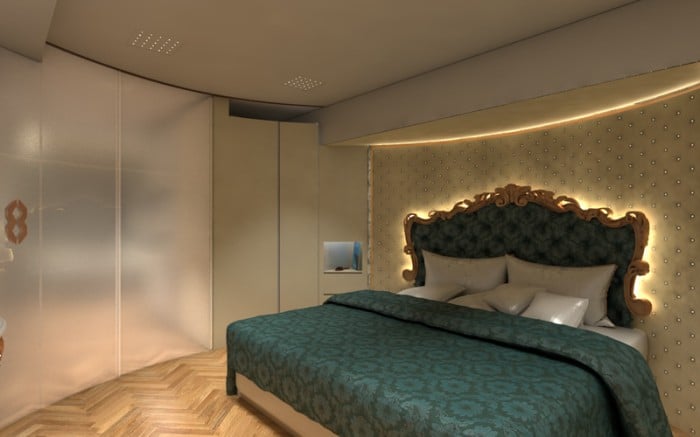 Image credit: Marchi Mobile
Fancy a wickedly expensive home that you can bring around with you? Then meet the eleMMent Palazzo Superior, built by Austria's Marchi Mobile. To begin, the Palazzo's space-age styling means that the front cabin looks like something straight out of an alien spaceship, with a circular central window complete with three windscreen wipers. One of the most outstanding features is a 4-metre couch within reach of a bar, a wine cabinet and an icemaker, and of course, a large TV screen across the room.
In the centre of the motorhome features a staircase, which leads to a liftable "flybridge" lounge, surrounded by fixtures and furnishings that like those in a luxury hotel. The master bedroom has a 40-inch TV, heated floor and air-conditioning. The large master bedroom also features a king-size bed, manufactured by the same company that supplies beds to the British royal family – just for grandiosity's sake. An adjoining spa area provides a private retreat for the owners and features a 1.5-square metre glazed rainfall shower. It even gets fancier at night, when guests can look at the night sky through the full-length sunroof, and enjoy the chill ambience of the vehicle, thanks to its subdued lighting. With a home that is that self-sufficient on the road, we honestly wouldn't blame anyone for not wanting to leave the comforts of the Palazzo. Oh, and did we mention its selling price of $3 million?
5. By Car – Rolls-Royce Phantom Drophead Coupe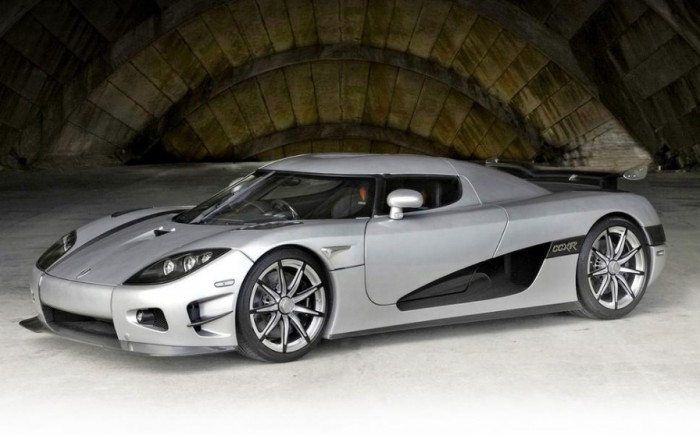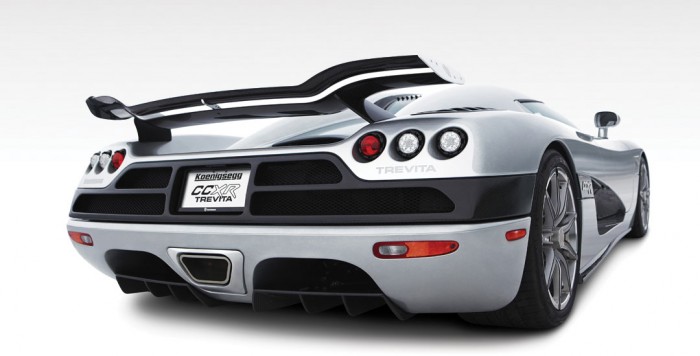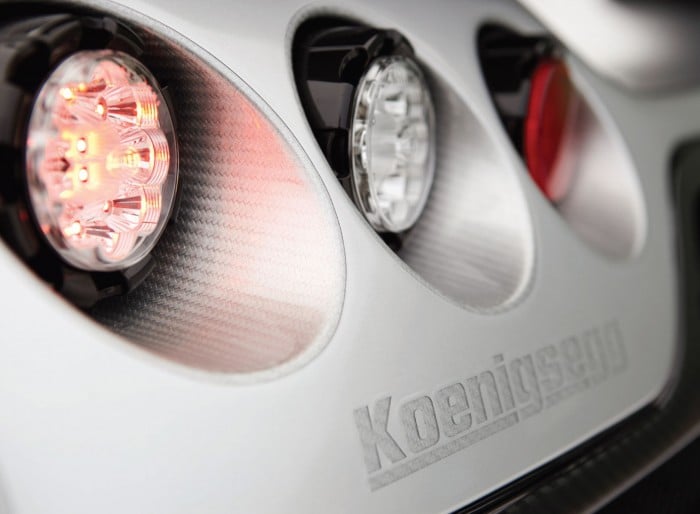 Image credit: Koenigsegg 
A car is a very basic mode of transport for many of us urban dwellers, so we wouldn't think to fork out that much cash on it unless we have too much in the bank. So, how much excess spending money are we talking about here? Well, if you're going for luxurious, then only $492,000. But if you're thinking about laying your hands on the most expensive street-legal automobile in the market today, you're going to have to set aside at least $4.8 million.
The former choice is the price tag of 2016 Rolls-Royce Phantom Drophead Coupe – an automatic, 2-door, 4-seat convertible that carries 6.8-litre and a 12-cylinder engine. The latter, on the other hand, screams of extravagant wealth and is held by the Koenigsegg CCXR Trevita. For those of us who aren't fans of the sports car look, we might question why this large body of metal on wheels costs a bomb. The magic word here is 'diamonds'. The Swedish manufacturer has managed to develop a new exterior finish called the 'Koenigsegg Proprietary Diamond Weave', which involves coating carbon fibers with a diamond dust-impregnated resin. The result is the shine of a million diamonds the second the car's body hits sunlight. The original plan was to have three limited edition Trevitas manufactured, but due to the extremely difficult and time-consuming manufacturing process, a decision to make the car even that more exclusive was made and now there are only two in the entire world. So, how does this diamond dust wonder perform? Let's just casually mention it goes from 0 to 100km/h in 2.9 seconds, with a top speed of 410+ km/h.