It's amazing how bodies of water have become a living haven of lost treasures from years to millenniums past. But it's not just the oceans. Lakes around the world contain just as much natural and cultural riches as their larger, saltwater counterparts.
Not long ago, the Philippines' Pantabangan Dam, the third-largest in Asia, revealed a sunken town that took locals, mostly the younger generation, by surprise. The reemergence was caused by the province's unusually low water supply in 2020. On the other side of the world, a lost Italian village appeared from a lake after seven decades. But not for the same reason.
Also read: 8 Dreamiest Towns in Italy That Will Steal Your Heart
Lost Italian village underneath one of Italy's prettiest lakes
For several years, Lake Resia (locally known as Lago di Resia) has stood as one of the most beautiful lakes in Italy particularly in South Tyrol province, near the country's borders with Austria and Switzerland. The reason mostly being that it boasts of a mysterious lone bell or church tower, once part of the abandoned village of Curon.
This fact alone continues to mesmerise travellers the world over. Among them are locals who pass by the lake to trek the surrounding hills and forests. Others go to the vicinity during winter. This is when the tower perches out of the walkable frozen Lake Resia and is backdropped by snow-capped mountains.
But before travellers could explore Lake Resia with these intentions, Curon was just as peaceful and entrancing. That is, until Italian authorities made the decision to combine two of its natural lakes into one to build a hydroelectric plant in the 1950s. Because of this, BBC said that more than 160 homes of mostly protesting families were submerged. Thus, forcing them to relocate completely or stay in the adjacent new village.
What Curon in Italy looks like several decades later
With the reappearance of more relics in Curon, courtesy of repair works that left the lake drained for a time, there's a higher chance that visitors will appreciate the body of water for its understated charm. Here are more Curon photos as shared by local resident Luisa Azzolini via Twitter.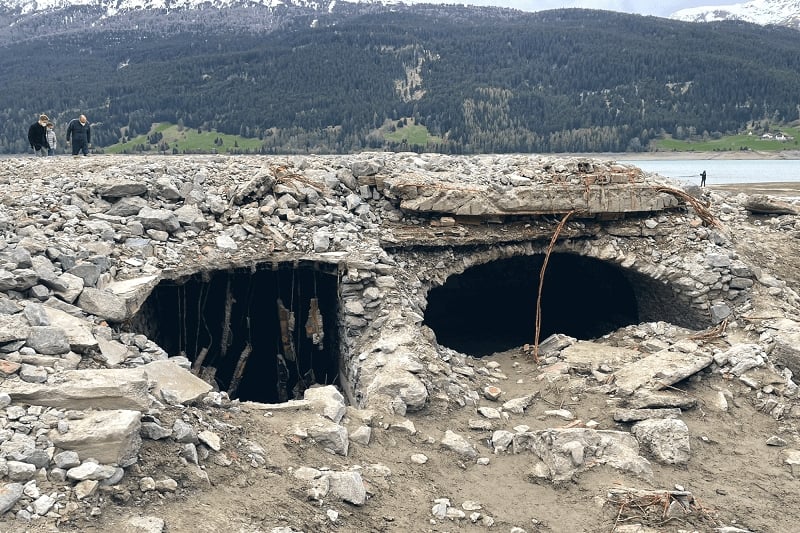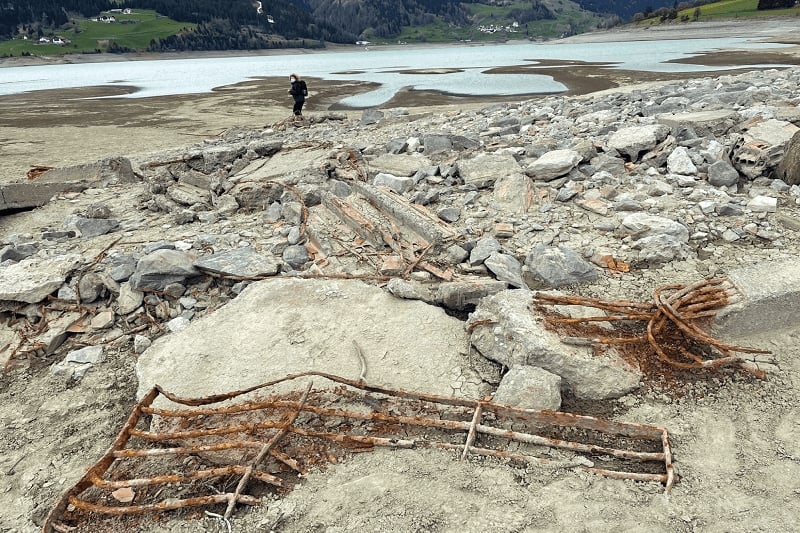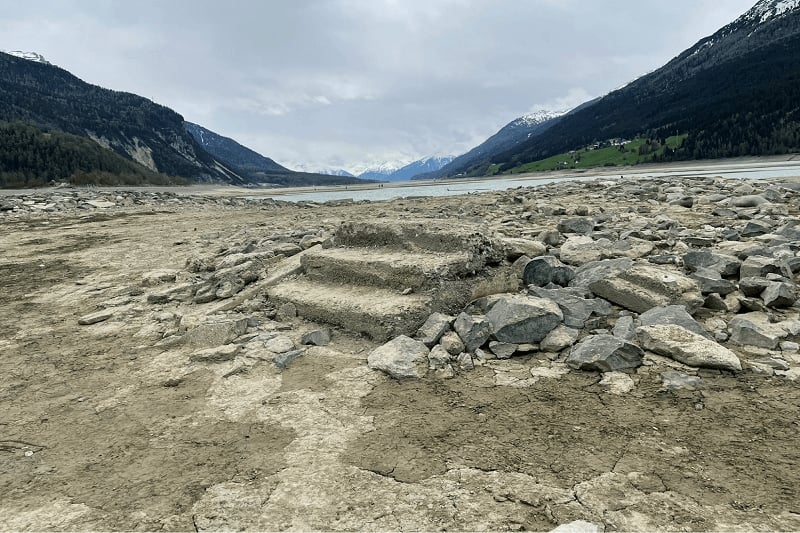 Also read: This Magnificent Biking Trail Lets You Circle the Largest Lake in Italy
In its water-less state, Lake Resia shows what's remained from the lost Italian village. These include steps, cellars, metal, bricks, and other rubbles from former structures that date back at least 70 years. Although it's unlikely that they will continue to be seen while the artificial lake stands, Curon remains an important part of Italian history that's simply fascinating beyond words.
---
Featured image credit: Pilat666 via Canva Pro