Even as someone living in Southeast Asia, Laos remains a mysterious and undiscovered terrain for most travellers. It's regarded as a Southeast Asian destination that's off the beaten path as opposed to its more robustly popular neighbours like Thailand or Vietnam. Still, two names stand out when we're talking about Laos: Luang Prabang and Vientiane.
In April 2019, Scoot commenced their three-times weekly services from Singapore to Luang Prabang and Vientiane, and we had the opportunity to visit these famed Lao cities.
Scoot is currently the only airline offering direct Singapore to Laos flight services, so we were truly escaping the ordinary when we boarded Scoot's inaugural flight from Singapore to Luang Prabang and Vientiane!
A speedy two-hour ride later, we arrived at our first destination, Luang Prabang.
Luang Prabang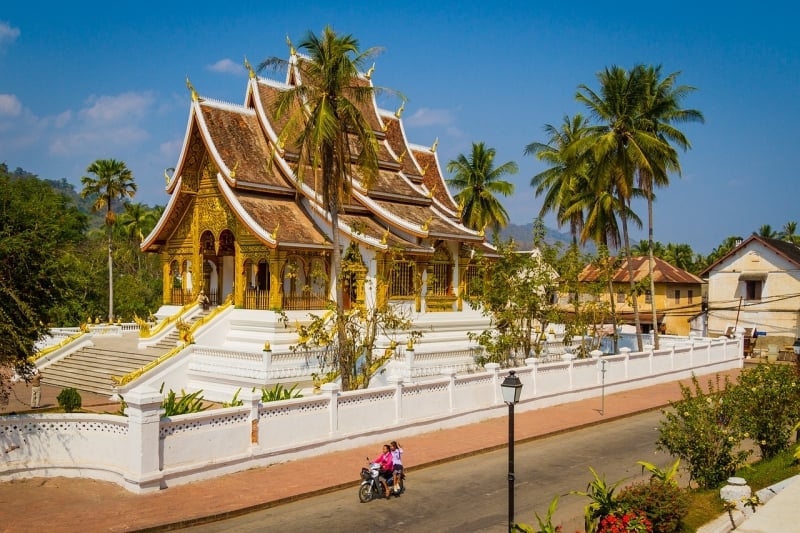 More than anything, Luang Prabang in north-central Laos is a city renowned for its reputation as a UNESCO World Heritage Site. Its unique townscape melding traditional Lao architecture and 19th century European-style structures is well-preserved, leaving behind an interesting urban fabric to explore.
With expectations for a culturally enriching experience, it was a pleasant surprise that the our time in Luang Prabang was also spent appreciating the natural and wildlife elements that Laos has to offer.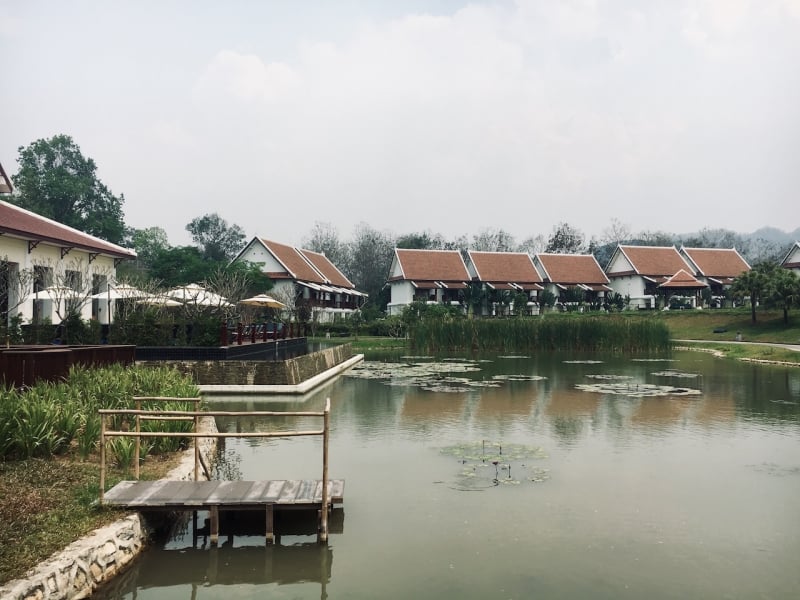 Upon reaching the city, we were welcomed at the Pullman Luang Prabang, an exemplary result of luxury made to blend with authentic Laos culture. Surrounded by water and greenery, the resort vicinity was an assurance of serene, restful nights.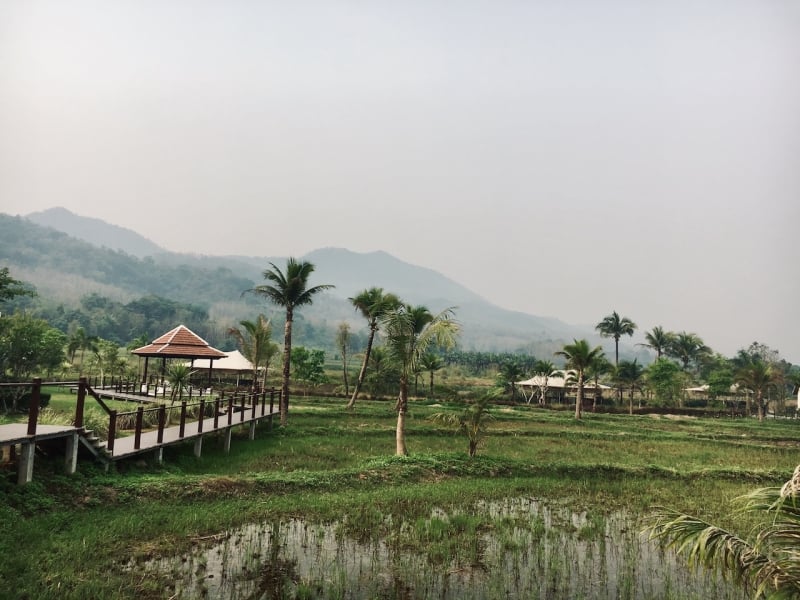 Scattered around the resort were roofed huts for resort-dwellers to lay under and enjoy views of paddy fields and mountains.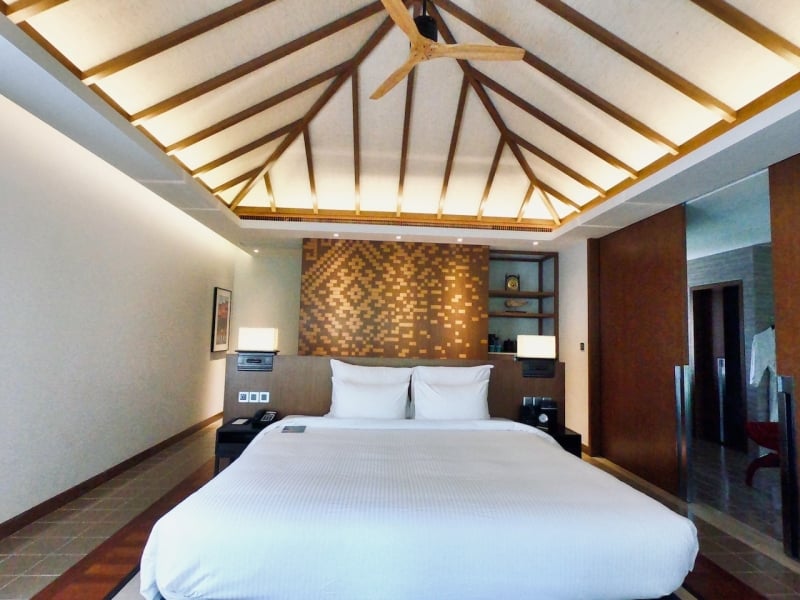 With the promise of a comfy bed and a spacious room to return to at night, we set off to take on the activities that await us in Luang Prabang!
MandaLao Elephant Conservation
The first stop in Luang Prabang: MandaLao Elephant Conservation. Laos was at one point known as the "Land of a Million Elephants", after all. Sadly, elephant numbers have dwindled across the country.
In a move to educate tourists and protect the welfare of elephants, this sanctuary provides the opportunity for visitors to encounter these majestic animals without riding them.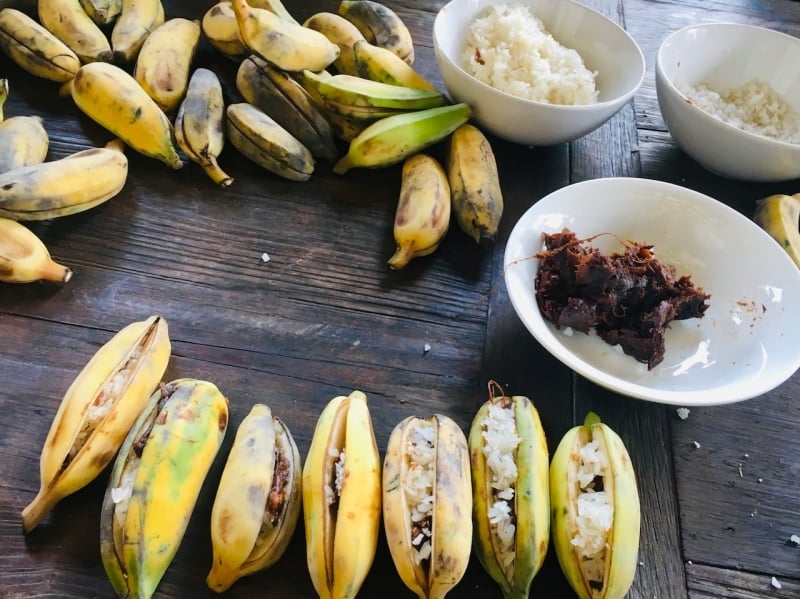 You'll be learning plenty of captivating facts about the elephants in Laos from the staff, but the fun truly kicks in when you get hands-on and prepare sweet and tasty treats to feed to the elephants.
According to the staff, hefty doses of banana sandwich stuffed with tamarind, rock salt and sticky rice will get the elephants so elated that they don't mind taking their medicine.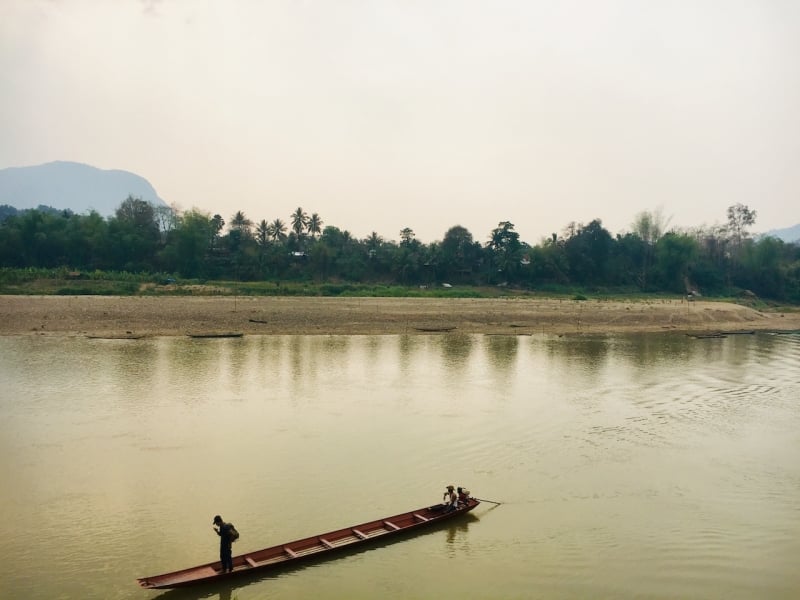 Board a boat to get to the other side of the Nam Khan River, where the elephants are situated in a secluded and forested sanctuary area.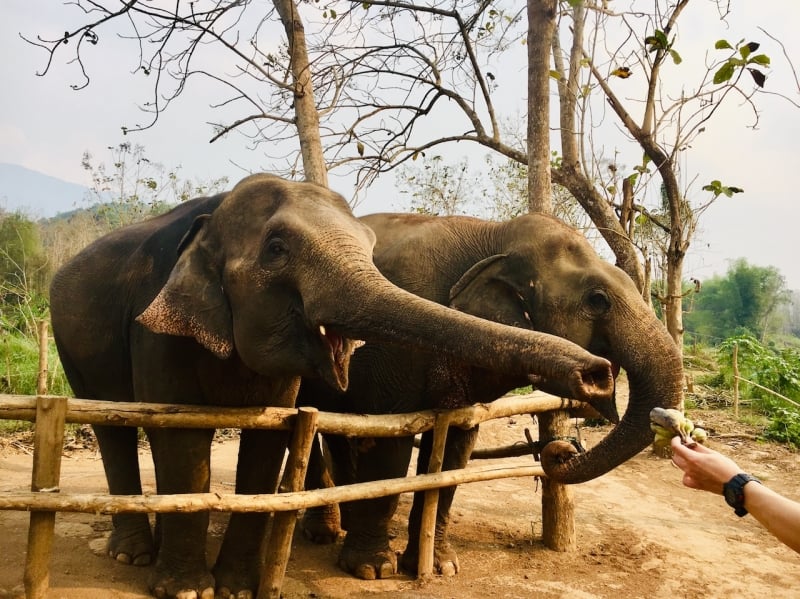 Upon reaching the sanctuary area, we were greeted by cheery elephants all ready to be fed. Getting friendly with these creatures isn't difficult at all. Entice them with food and watch in awe as they extend their long trunks to inhale whole bunches of bananas!
After you get them full, you can even take a walk among dense trees and vegetation alongside these gentle giants. Needless to say, this rare chance to walk with the elephants and admiring them up-close was absolutely unreal.
Address: MandaLao property along the Nam Khan River, 30 minutes away from the city centre (Meet-up is usually in the city centre)
Opening hours: 7.30am to 9pm daily (Make a reservation before going)
Laos Buffalo Dairy
Besides elephants, you get to meet other animals at Laos Buffalo Dairy!
A socially-responsible enterprise, Laos Buffalo Dairy doesn't stop at being a buffalo farm. It's also a site for training local farmers on good and effective farming practices and a place where children can attend English lessons.
As far as animals go, rabbits and pigs also make up the farm population.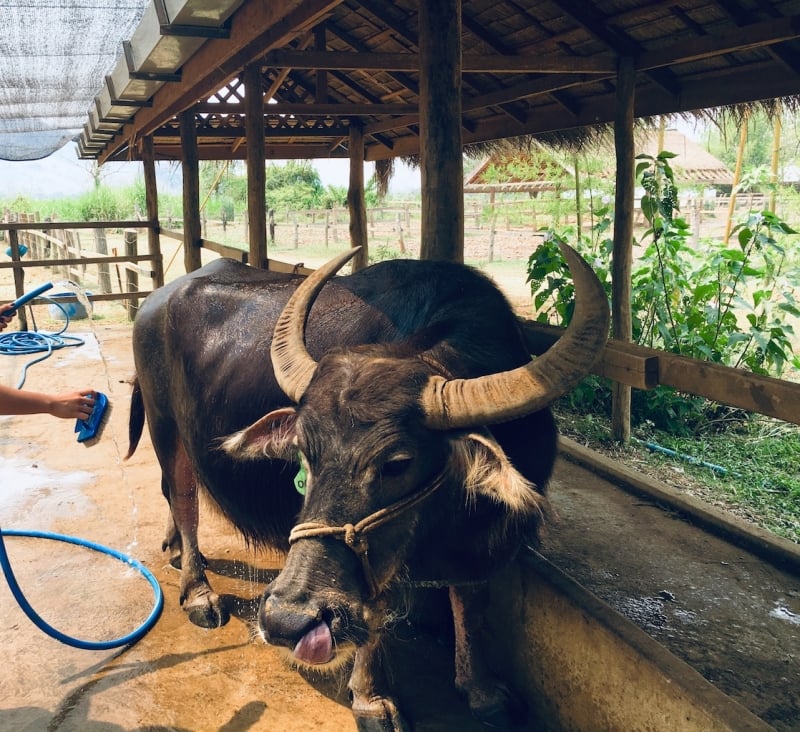 Watch a milking demonstration by the farmers, before you try your hand at milking the buffaloes.
Those who aren't fans of getting intimate with buffaloes in that way are also allowed to wash and scrub the animals. Another fun interaction was feeding bamboo shoots to the buffaloes — note that they prefer to munch on the leafy ones!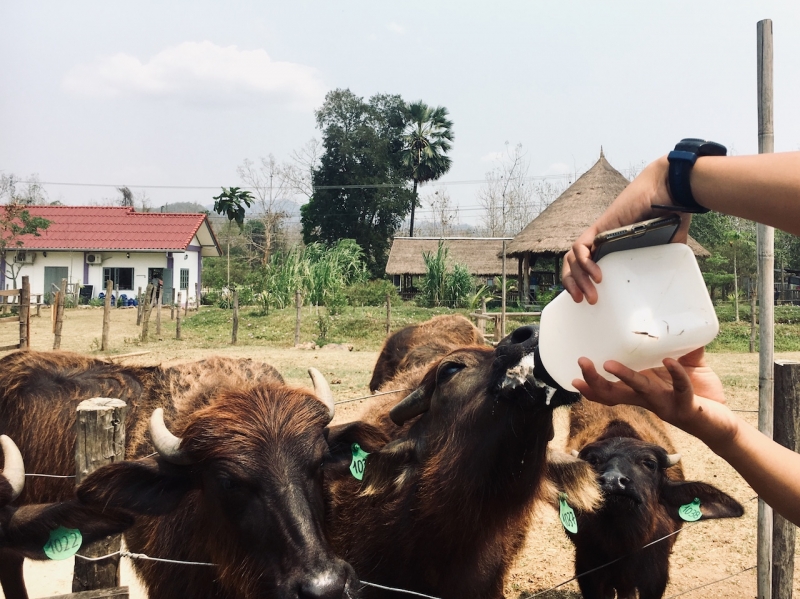 Feeding milk to hungry buffalo calves is another cool experience to have under your belt. As the larger ones can be more aggressive, make sure to get the little ones, too!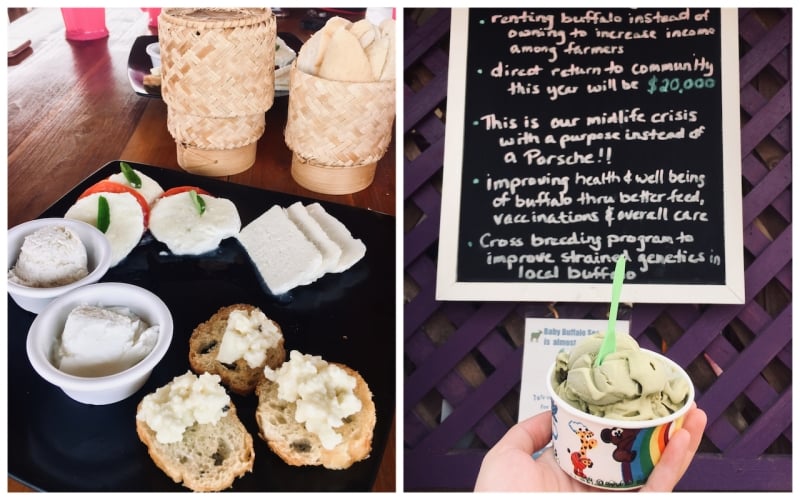 Here's a fun fact for lactose intolerant folks: Buffalo dairy is apparently easier to digest, so you should have little trouble enjoying the dairy products offered at the farm. With 8% fat content, buffalo's milk trumps cow's milk in terms of creaminess and — we'd also like to argue — taste!
It's safe to say that we were more than happy to devour the cheese platter and natural ice cream made from fresh buffalo's milk.
Address: Ban Muang Khay, Luang Prabang, Laos
Opening hours: 9.30am to 5pm daily
Kuang Si Falls
The Kuang Si Falls shouldn't need any introduction; this waterfall with emerald waters is without a doubt one of Laos's most famous attractions.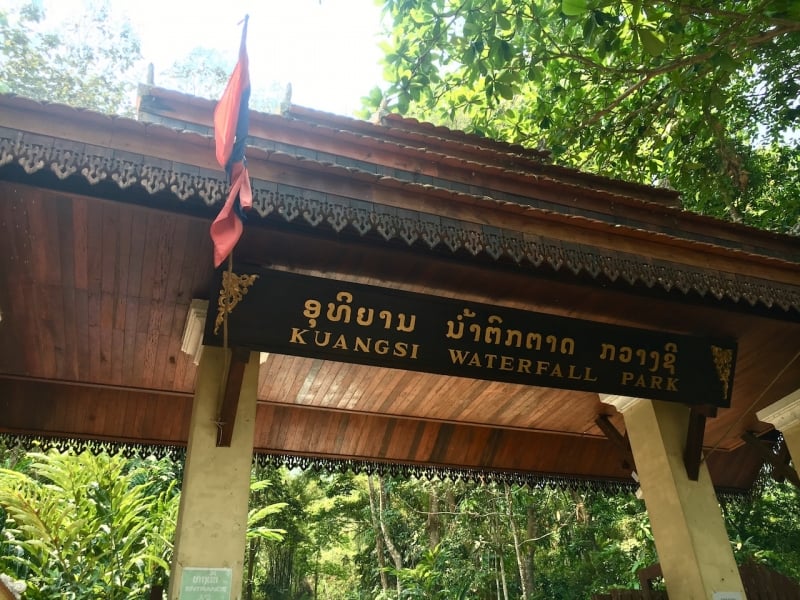 To enter the Kuangsi Waterfall Park, visitors have to pay a small fee of 20,000 kip (S$3.10). A trail will then take you through the forest, where there are some stops along the way, including the Tat Kuang Si Bear Rescue Centre where moon bears roam.
Though there's lots to see on the trail, be sure to go all the way up to enjoy crisp, cool air, and the incredible sight of cascading waters at the crest of the waterfall.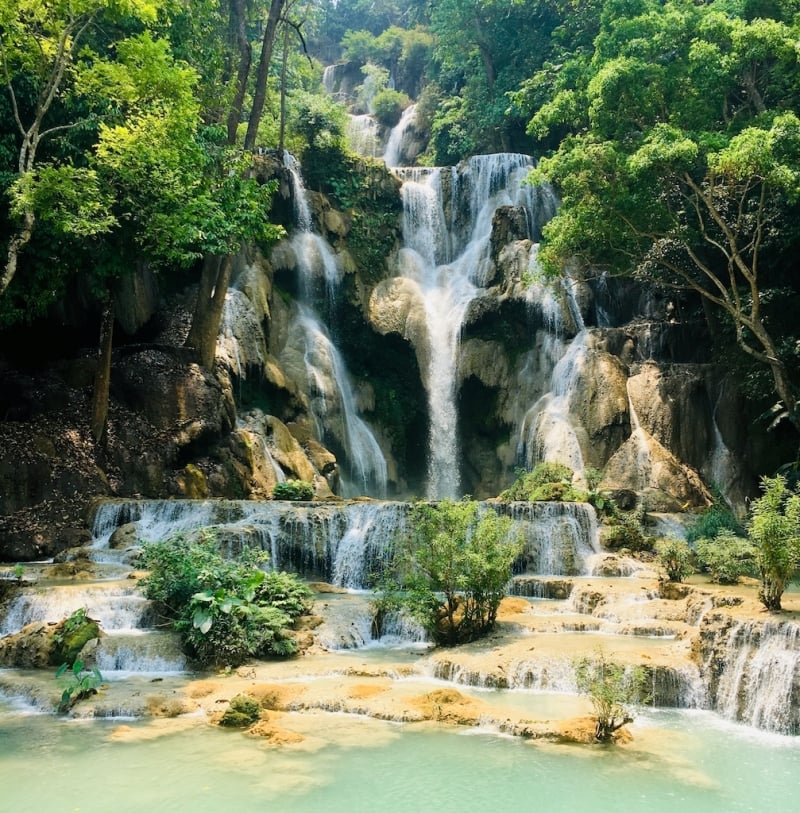 This fantastical-looking waterfall is named after a legend that a golden deer (kuang means deer) lived under the waterfall that was formed after an old man kept digging (si means dig) deep into the earth.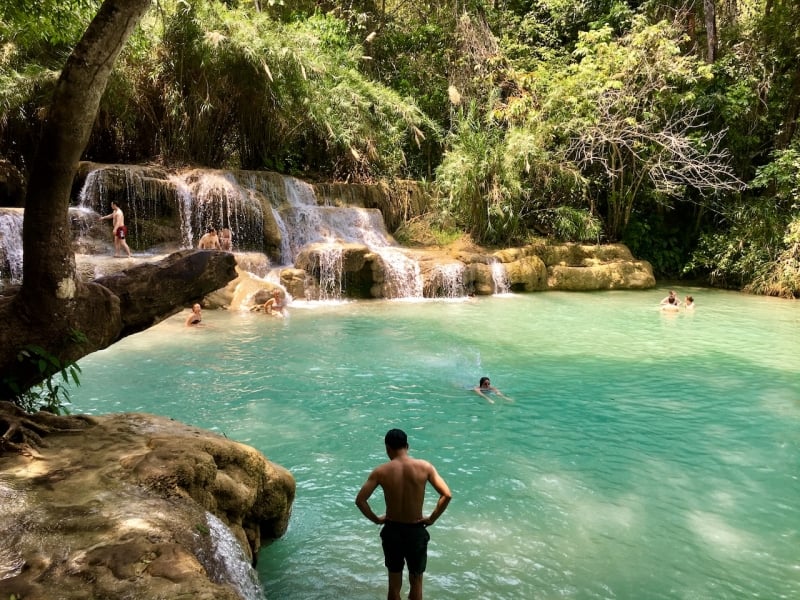 Despite its formidable reputation, Tat Kuang Si fully exceeded expectations. Its beautiful emerald waters are extremely clear, inviting you to at least splash around at the base of the falls.
Cool and refreshing, a swim in these waters is the pick-me-up you need while exploring Laos.
Address: Kuang Si Falls, Luang Prabang 06000, Laos
Opening hours: 8am to 5.30pm daily
Ock Pop Tok Living Craft Centre
Weaving has traditionally been a practice among the women of Laos, but at Ock Pop Tok (East Meets West), a Laotian and English woman have come together to build an institution propelling the economic value of the craft. By doing so, the centre aspires to elevate the profile of Lao textiles and artisans.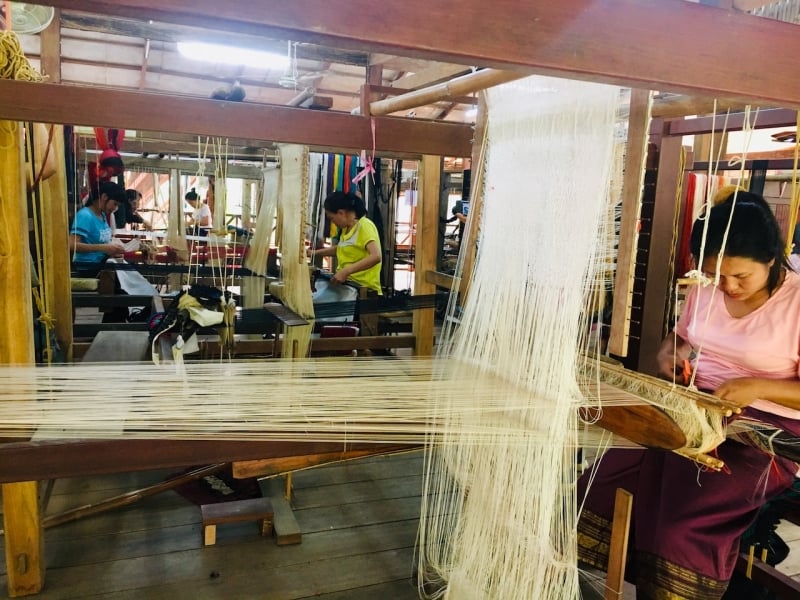 Founded on principles of fair trade and sustainable business practices, village women are given competitive wages to produce hand-loomed textiles. Each piece is intricately designed and can take an average of two weeks to produce.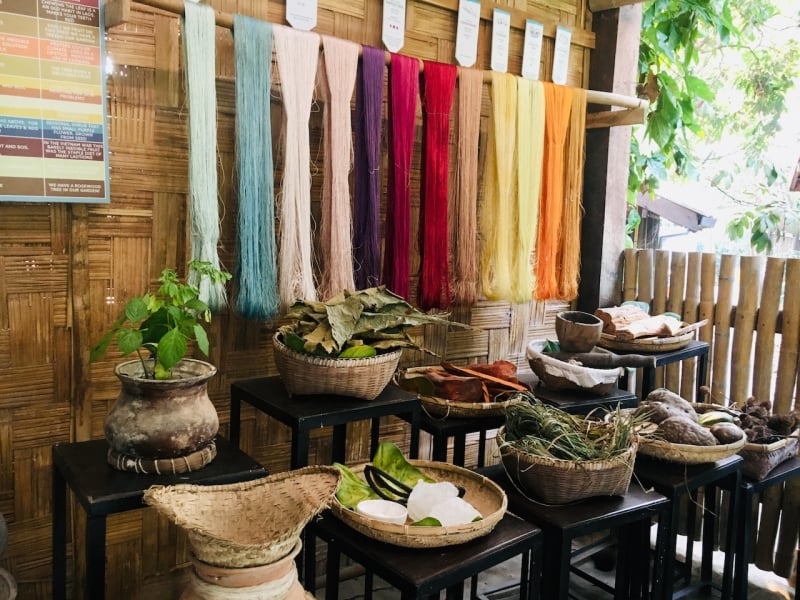 As much as possible, the centre uses the finest locally-sourced raw materials to create their products. Thread is dyed using natural "ingredients" such as plants (when they are in season), following recipes that have been perfected from generations ago.
The best part is that you can also attend a beginners' class at the centre itself! You'll have to clear your schedule for at least half a day, as the class will take about three hours to complete. Although it might seem like a lot of work to pick up a new skill from the get-go, you'll enjoy working with a calming view of the magnificent Mekong River.
At the end of which, you'll have produced your very own piece of textile that you can bring home.
Address: Ban Saylom, Luang Prabang, Laos
Opening hours:  8am to 7pm daily
Luang Prabang Morning Market
Rise before the sun comes up and participate in alms-giving, a spiritual ceremony you ought to experience in Laos to learn more about its culture.
After which, a visit to Luang Prabang's Morning Market is the perfect way to revel in the city's morning atmosphere.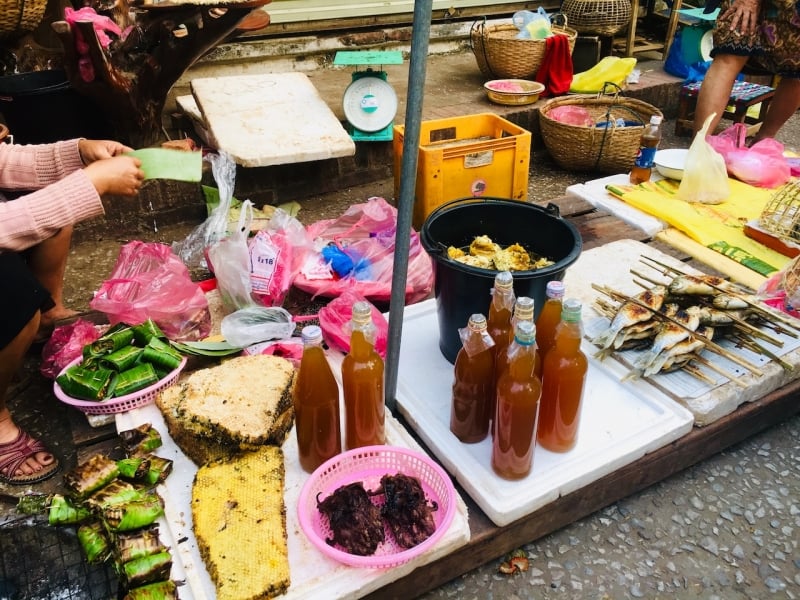 All sorts of snacks can be found at the market, including khmom ang (grilled bee honeycomb with larvae) and ping pa (grilled Mekong fish).
Also read: Top 7 Must-Eat Street Food in Luang Prabang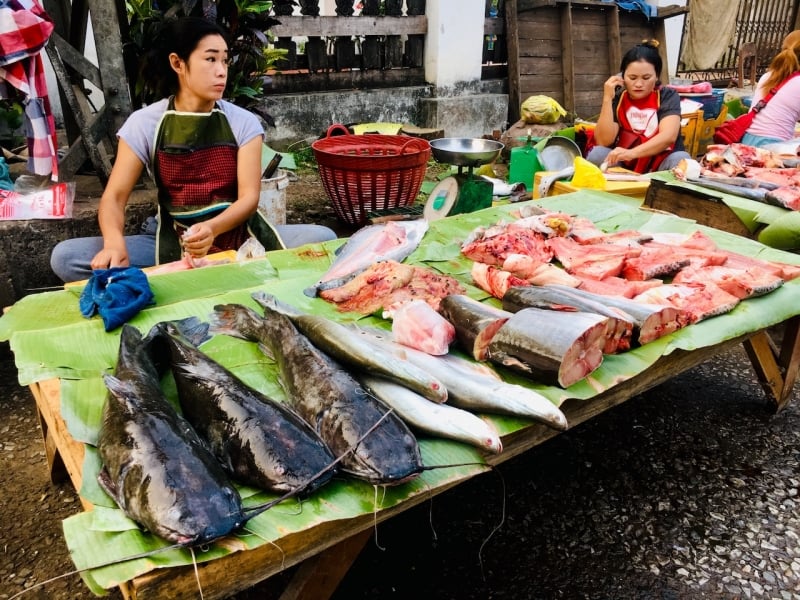 As we strolled down the narrow streets lined by numerous vendors on both sides, it was clear that fresh, locally-sourced produce was the main draw at this market. It's predominantly a market for locals to get fresh ingredients to cook at home, but there are also lots of packaged snacks to haul back home. Fried mushrooms and bamboo shoots, anyone?
Address: Alleys between Main St. (Sisavangvong Rd.) and Mekong River
Opening hours: 5.30am to 9am daily
Vientiane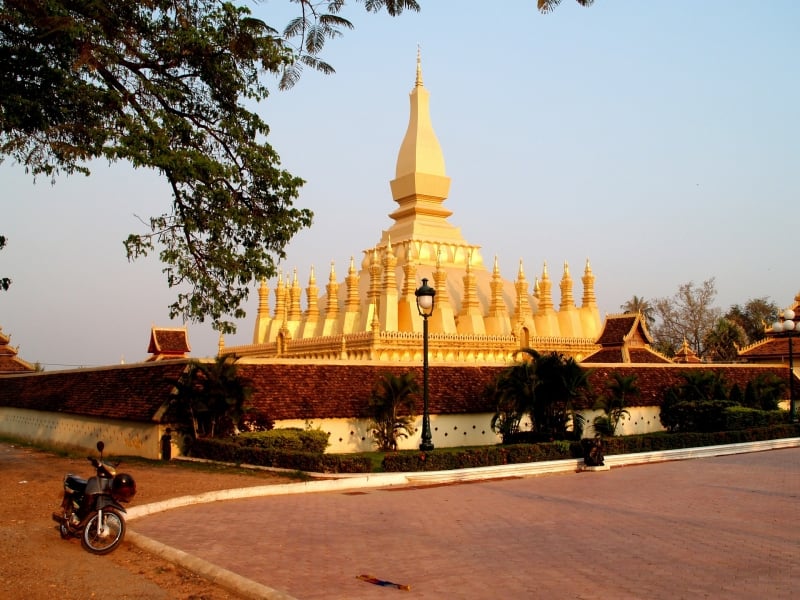 After an invigorating time in Luang Prabang, we were ready for whatever lay before us in Vientiane, the capital and largest city of Laos.
It's barely a one-hour flight away from Luang Prabang, but from the moment we left the airport vicinity, it was clear that the bustling city had an atmosphere starkly different from that of Luang Prabang.
Since most main attractions are within walking distance from the city centre, staying in ibis Vientiane Nam Phu Hotel was a true blessing.
Patuxai War Monument
Smack in the middle of Vientiane city is the war monument called Patuxai, which means "Victory Gate". Built between 1957 and 1968, it's dedicated to those who fought in the struggle for independence from France.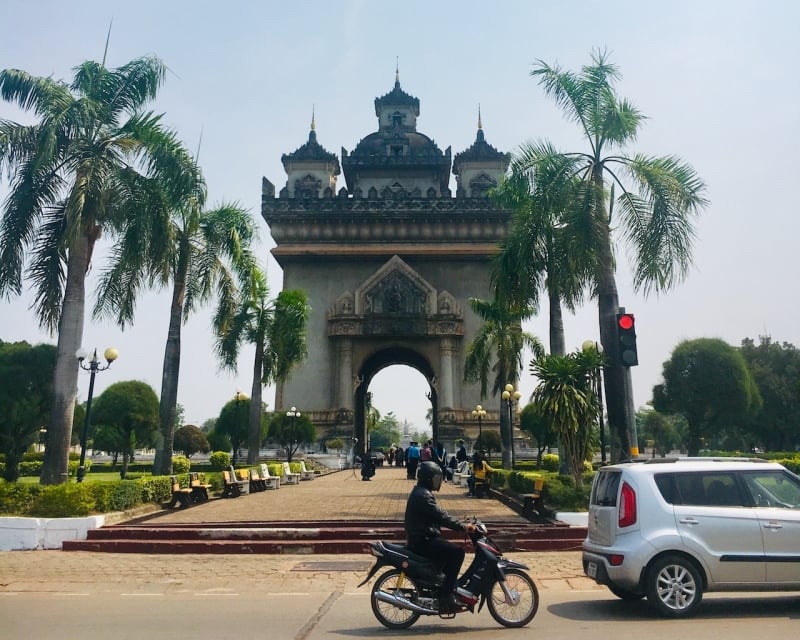 Many comparisons have been made with Paris's Arc de Triomphe, but it's very much Lao in its design. The monument's five towers are also representative of Buddhist principles.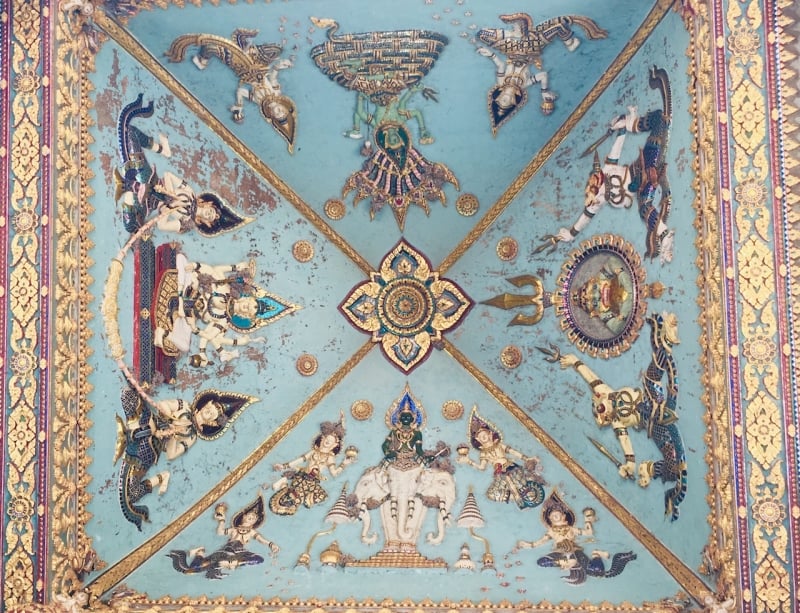 You can make your way up the monument to check out the view, but the real treasure can be found in the design of its ceiling. Look up, and you'll see it decorated with Hindu deities and mythological creatures, along with other intricate designs adorning the monument's interior.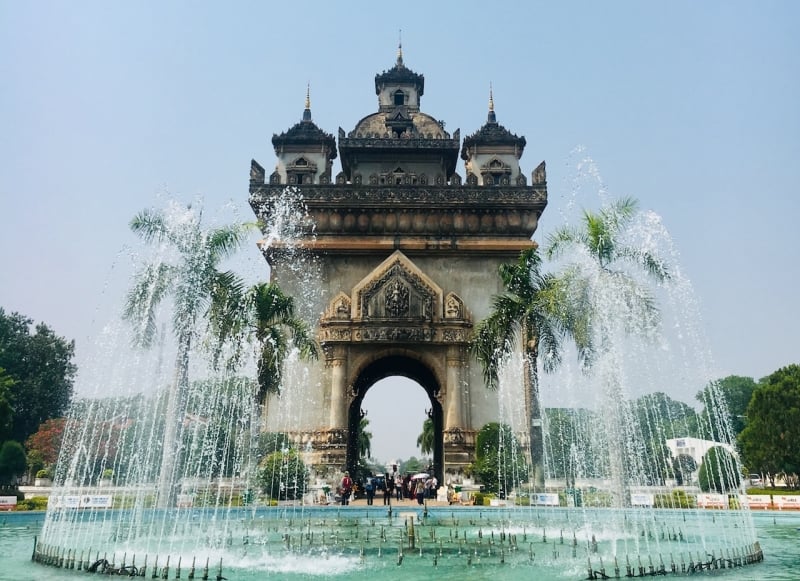 The monument can best be captured with the water fountain in view; it presents one of the best photo opportunities you'll get in Vientiane!
Address: P.D.R, Vientiane, Laos
Opening hours: 8am to 4pm daily
Ho Phra Keo Museum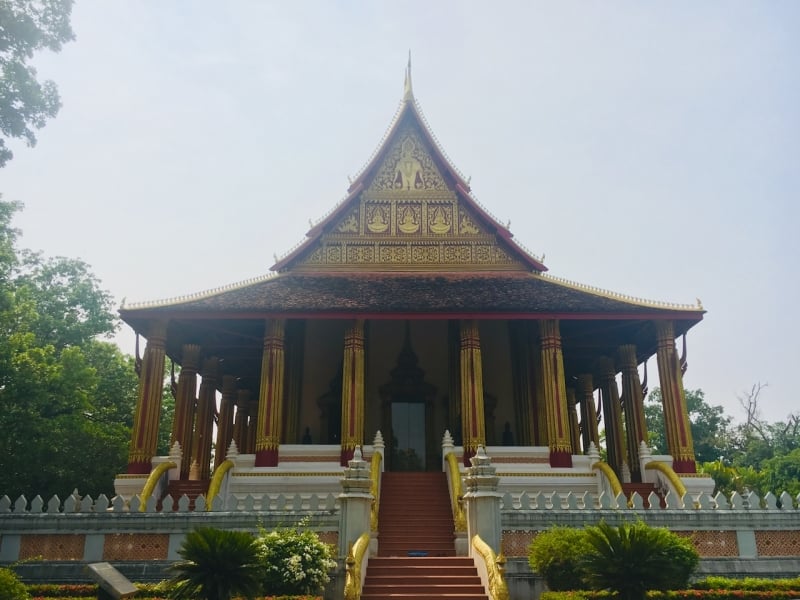 Ho Phra Keo or Haw Phra Kaew is a Buddhist shrine-turned-museum. It's one of the oldest temples that you'll find in Vientiane. Entry costs a mere 10,000 kip (S$1.60) for a look into this remnant of the old royal palace that had survived through war.
Besides exploring the main museum building, you can also take a peaceful stroll in the garden that surrounds it.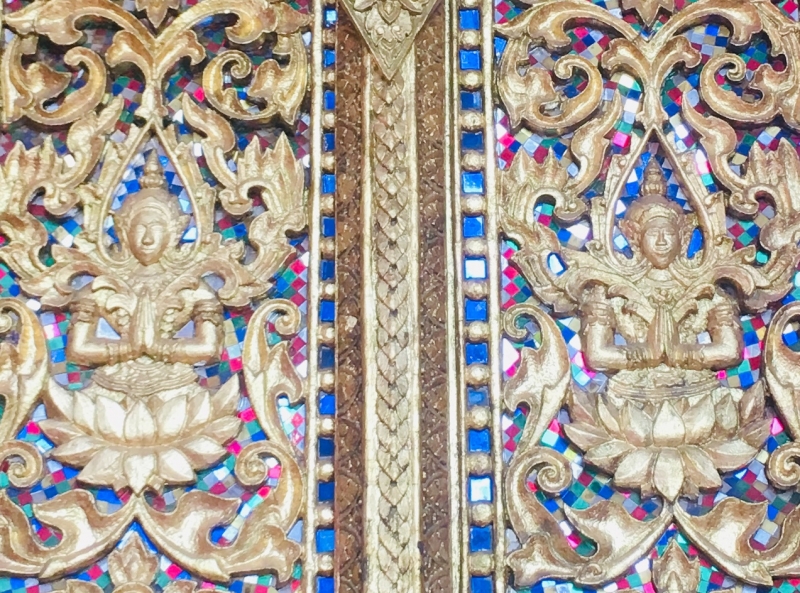 You'll have to remove your shoes before clambering up the main building's steps, but it's barely any trouble, especially when you get to examine the detailing in the museum up-close. There are so many intricate details to look into, including the Hindu carvings on the door of the temple as photographed above.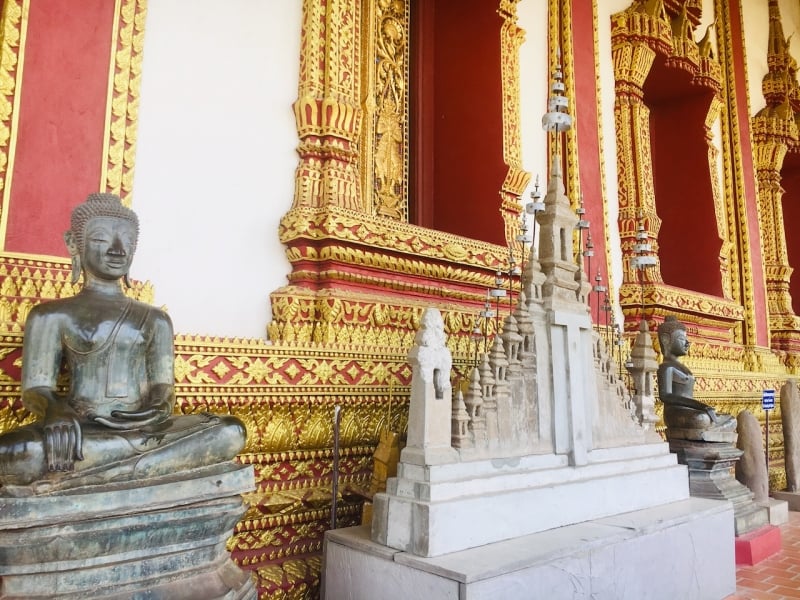 Although artefacts found in the museum aren't allowed to be photographed, it's fascinating enough to be given the chance to study treasures such as ancient Khmer stone tablets. Interesting relics and buddha statues also surround the main enclosed hall, so you can also look around on the outside as well.
Address: Setthathirath Road, Vientiane 0100, Laos
Opening hours: 8am to 12pm, 1pm to 4pm daily
Vientiane Night Market
As the sun sets in Vientiane, all along the Mekong River, rows of stalls will be set up for the riverside Night Market to commence. It's an endless stretch of stalls selling clothes and electronics, with some sections of street food and even a small funfair for kids to enjoy.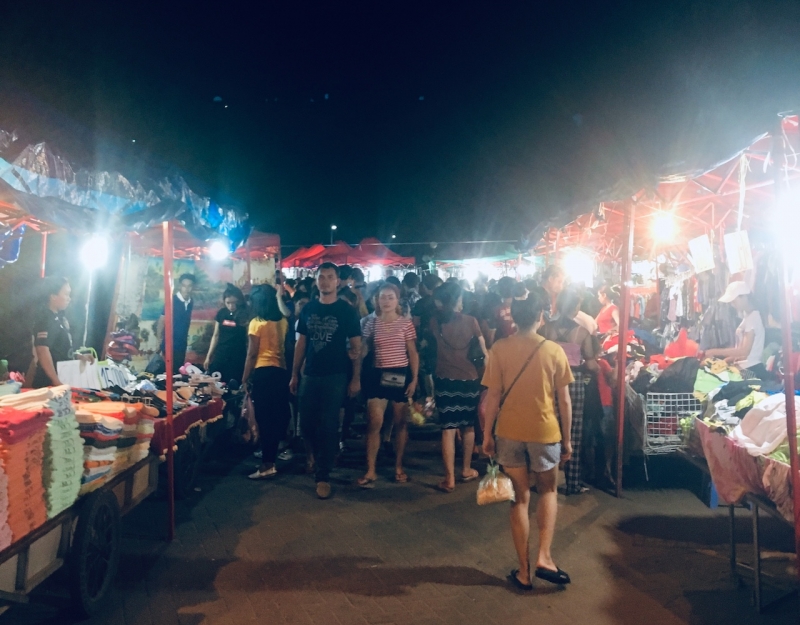 The bustling night market can get pretty packed around the 8pm mark, but the busyness surely contributes to the unique market atmosphere that's hard to replicate elsewhere!
Address: Mekong Riverfront, Vientiane, Laos
Opening hours: 6pm to 9.30pm
Buddha Park
Buddha Park, or Xieng Khuan, is located 25km southeast from Vientiane's city centre and can be reached after a 30-minute drive. A ticket into the park costs 15,000 kip (S$2.40) for foreigners.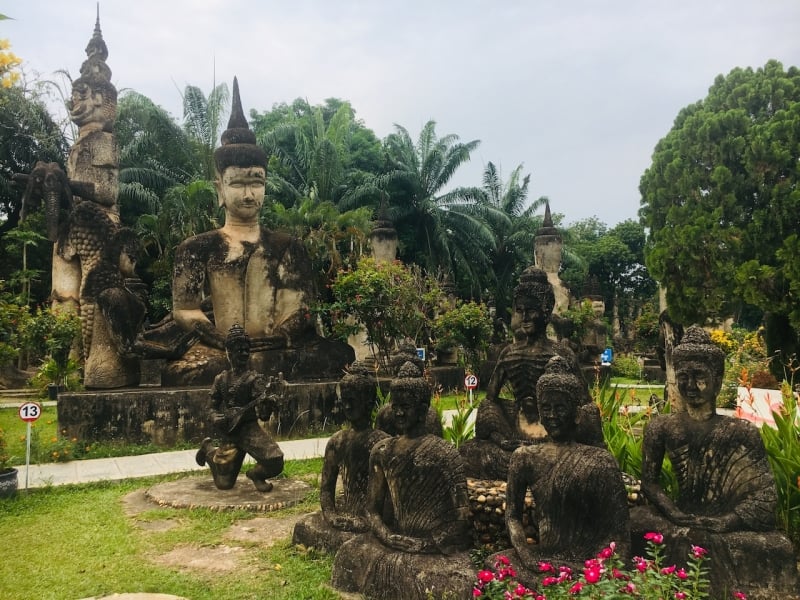 Consisting of over 200 Buddhist and Hindu statues, you'll get to walk around the sculpture park and attempt to decipher the story behind each structure. This open-air sculpture park was founded in 1958, although some of the statues in the collection look pretty dated.
Here's a challenge: Find the giant pumpkin sculpture and enter "hell" through the mouth of a demon's head to climb the narrow stairway up to heaven.
Located outside the city centre, the park was a welcome retreat from the quicker pace of life in Vientiane. There's even a section in the park facing the Mekong River with flower fields to frolic in. Look across the river and you'll find Laos's neighbouring country, Thailand!
Address: Deua, Thanon Tha, Vientiane, Laos
Opening hours: 8am to 5pm daily
Luang Prabang vs. Vientiane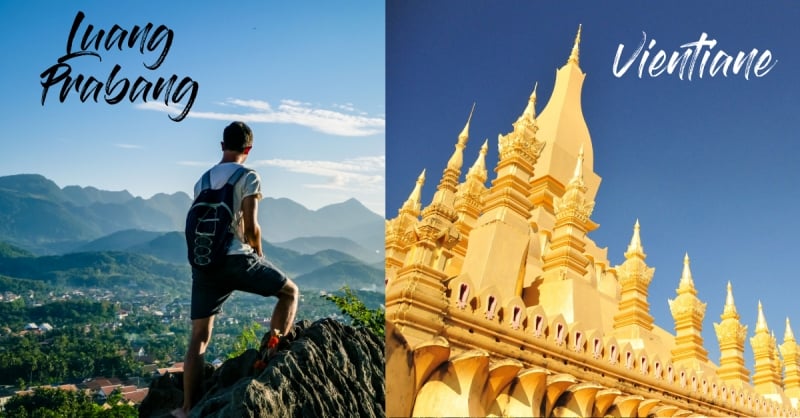 Choosing between Luang Prabang and Vientiane as we've experienced it ultimately boils down to this: if you prefer to experience a quieter and slower pace of life, as well as to be surrounded by nature and wildlife, you are sure to enjoy everything Luang Prabang has to offer. Our time in Luang Prabang was an immersive exploration into the sabai sabai (read: calming) way of life, especially with the opportunity to stay at Pullman Luang Prabang's nifty resort.
That's not to say that Vientiane's a complete miss — it's one for those who are always up for learning more about other cultures. Vientiane is rich in cultural monuments to discover; and in this case, the saying that "you never really know a country until you visit its capital" rings true. It's also where we met the friendliest people, be it locals or other fellow travellers.
If you don't have to make a choice between the two cities, both will grant you an enriching time in Laos.
Since Scoot's Laos route is a circular one, the journey starts from Singapore to Luang Prabang, and continues from Luang Prabang to Vientiane, before it heads back to Singapore from Vientiane.
With flights every Monday, Thursday, and Saturday, you could plan a trip where you arrive in Luang Prabang on Monday and head to Vientiane on Thursday before heading back to Singapore on Saturday.
With the added ease of these new direct flights, we'll definitely be back in Laos some day.
Also read: What to Expect When Travelling to Laos: Expectations vs Reality
A big thanks to the Scoot and AccorHotels for making this trip possible!