If you're planning to catch the spring blossoms in Kyoto, it's not too late to pack your luggage and grab a ticket. After all, this spectacular phenomenon only happens once in a year, and only for a couple of days. While you're in Kyoto this season, don't forget to head down to the outskirts of this ancient capital to catch these magical attractions in Arashiyama.
1. Bamboo Forest
Taking a stroll along the Bamboo Groves is going to feel akin to walking into a scene of a fairytale. This Japanese bamboo forest, located at the north gate of the Tenryuji Temple, is unlike any other forest you have seen before. Try to avoid the tourist crowd to fully soak in the bamboo's lush greenery and beauty. You're in for a breathtaking treat.
2. Kimono Forest
A Kimono Forest? Yeap, you heard that right. Clustered outside Arashiyama station, this breathtaking installation features some of the most impeccable kimono textiles created by artist Yasumichi Morita. All these textiles were dyed using the traditional Kyo-yuzen technique. Read more about this spellbinding attraction here.
3. Iwatayama Monkey Park
This is the perfect place to visit for those who love animals and looking over cities at mountaintops. The Iwatayama Monkey Park is located on Mount Arashiyama, where their very own wild snow monkeys run about the terrain at the top of the mountain. Guests are also allowed to buy treats at the park to feed the monkeys in a feeding shed. To get to the monkey park, visitors will have to climb up a trail of scenic greenery and cherry blossoms. The trek takes about 20 minutes.
4. Togetsukyo Bridge
Grab your picnic baskets and watch the spring blooms at Togetsukyo Bridge. It's one of the most popular cherry blossom viewing spots in Kyoto. The blue waters of the Katsura River make a stunning backdrop against those coveted pink blooms. Near the Togetsukyo Bridge also lies many souvenir and snacks stores. There are also Kimono rental stalls along the shophouses.
5. Sagano Romantic Train
On a getaway to Kyoto for two? Then you must not miss this iconic journey on Kyoto's most rustic and vintage train. The Sagano Romantic Train takes you on a ride through the most awe-inspiring landscape of Arashiyama and Sagano. Think pastel pink blossoms, rustic towns and majestic woodlands.
6. Hozugawa River Boat Tour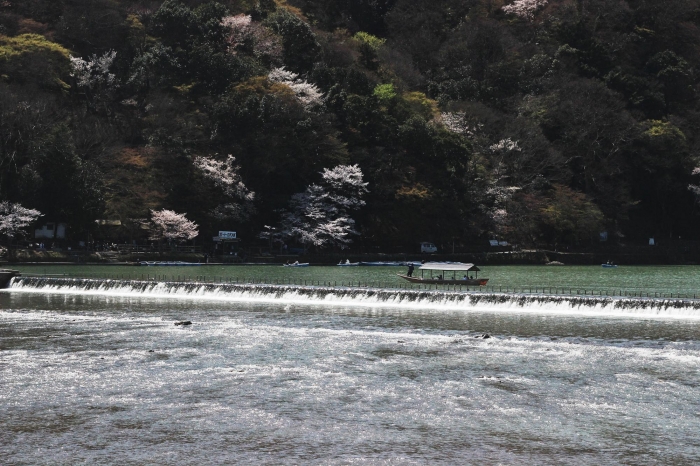 The best river boat ride in Japan? You heard that right.
The Hozugawa River Boat Tour is one of the best ways to tour some of Arashiyama's most scenic sights. Sit back, relax and cruise on rustic flat-bottomed boats that are helmed by experienced boatmen armed with oars and bamboo poles.
7. Saga-Toriimoto Preserved Street
If shopping at old shophouses for trinkets and all sorts of knickknacks is your kind of thing, then you don't want to miss Arashiyama's Saga-Toriimoto Preserved Street. As the name suggests, this historic street is going to take you back in time to old Japan. They also have various restaurants selling Japanese sweets and seasonal dishes. Make a stop here for lunch or tea for a taste of Kyoto's traditional cuisine.
8. Arashiyama Temples
When you're in Arashiyama, visit some of the oldest temples in Kyoto. Most temples are Japanese Buddhist temples and among them, some used to house Japan's Imperials. Those keen on Japanese history will be delighted to stumble upon priceless sculptures and ancient calligraphy works in these temples that date back to Kyoto's past era.
Also Read: 12 Reasons Why Travellers Love Kyoto