If you have spent a couple days in Tokyo and are itching to explore a new destination, what's stopping you from packing a small bag and hopping on the next bullet train? Get off the beaten path and make your way to some of Japan's hidden gems.
1. Shirakawa Village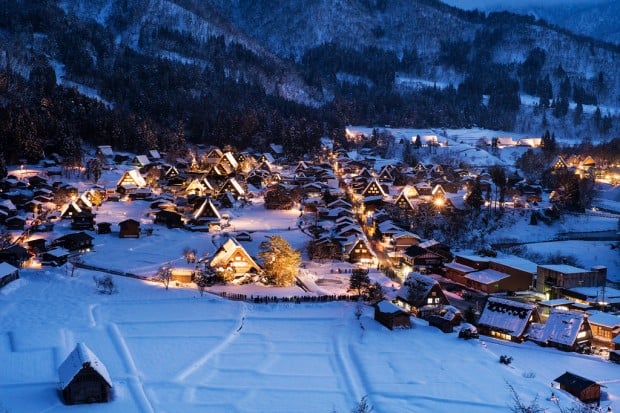 Image credit: かがみ~
Why not get away from the crowded streets of Shibuya and immerse yourself in the dream-like land of Shirakawa Village? This village, also known as Shirakawa-go, is located at the base of Mt. Haku-san in the northwestern region of the Gifu Prefecture. These little cottages are uniquely constructed in the "gassho-zukuri" architectural style, and were registered as a UNESCO World Heritage Site. Gassho-zukuri roughly translates to "prayer-hands construction" style, and can be distinguished by a thatched, slanted roof that strikes the appearance of two hands that are joined in prayer. These unconventional roofs allow the houses to resist the weight of the heavy snowfalls this region receives in the long winters.
2. Kurashiki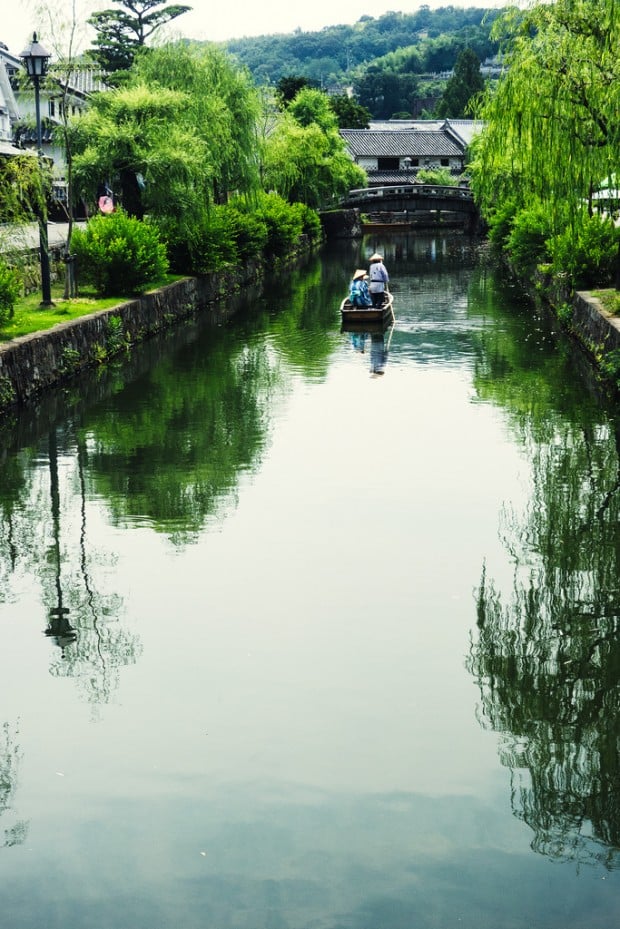 Image credit: [cipher]
One step into the city and you will realize why some refer to it as the Venice of Japan. Kurashiki succeeds in preserving the architecture of the old Japanese scenery where people worked and lived during the Edo period. Located in the southern region of the Okayama Prefecture, this historic city is well-known for its storehouses (kura) with the weeping willows that follow the banks of the old canal. The light posts located by the river is illuminated by a faint glow at night, and creates a different kind of beauty from the city lights of Tokyo.
3. Matsue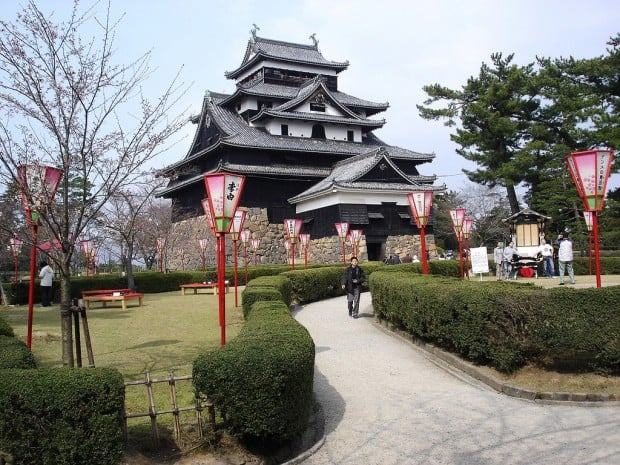 Image credit: CTG/SF
If you're captivated by myths and legends, Matsue is the perfect place for you. This is where most of Japan's ancient legends are set, and it is also home to Lafcadio Hearn, one of the first Westerners to become a naturalized Japanese citizen. You can also explore the interior of the Matsue Castle, which has historically withstood earthquakes, fires and wars since 1868.
4. Izumo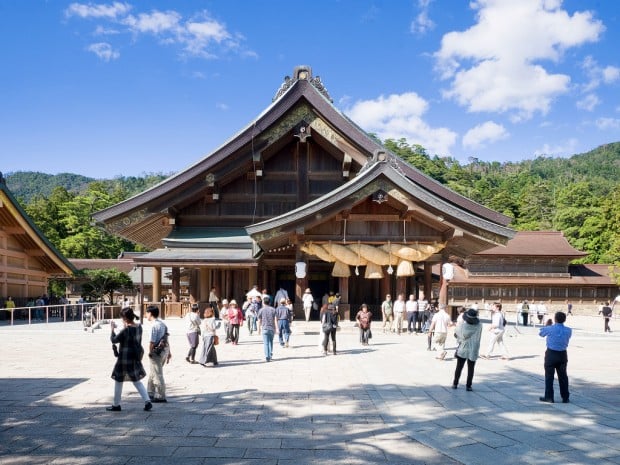 Image credit: かがみ~
Located an hour away West from Matsue by train, Izumo prides itself in Japan's oldest and most important Shinto shrine, Izumo Taisha, as well as its famous Izumo soba noodles. According to the Izumo district myth handed down from one generation to the next, it is said that the God of fortune, O-kuninushi-no-miko received Izumo from another God in exchange for his former territory. If you're around the area mid-May, make sure to visit the Imperial Festival where the locals congregate to pray for a happy life.
5. Ibusuki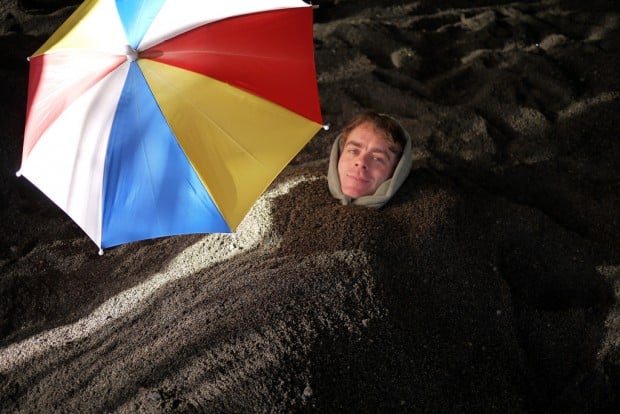 Image credit: Jody McIntyre
Located in the Satsuma Peninsula, Ibusuki is famous for its sand baths. As deceiving as these "baths" may sound, sand bathers stay clothed and dry throughout the experience. They are provided with yukata robes and buried under piles of naturally heated sand by steam from all the active tectonic movement in the inner-earth. After this short detoxification session, bathers often enjoy a little dip at the on-site onsen to wash off the sand.
6. Beppu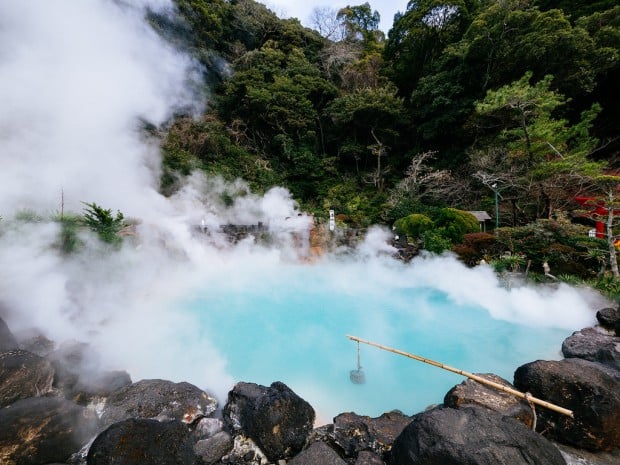 Image credit: Thomas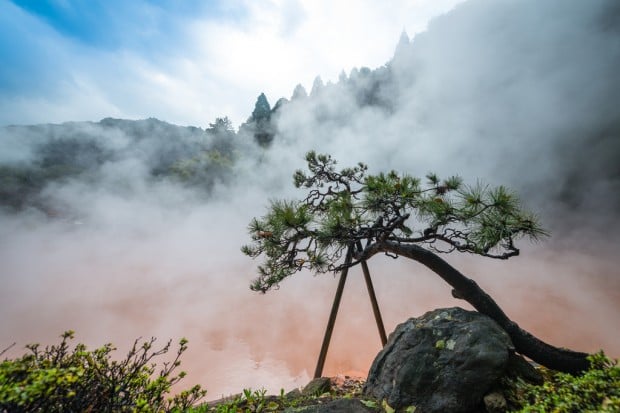 Image credit: かがみ~
Hopefully, the closest you'll ever get to hell is the jigoku of Beppu. The hells of Beppu consist of eight hot springs dedicated to viewing rather than bathing. Each hells features a different "themed" hell, such as the Blood Pond Hell or the Sea Hell, which spout different colored steam. Beppu never fails to remind of us of the beauty of tectonic activity that continues to shape Japan.
7. Kaga City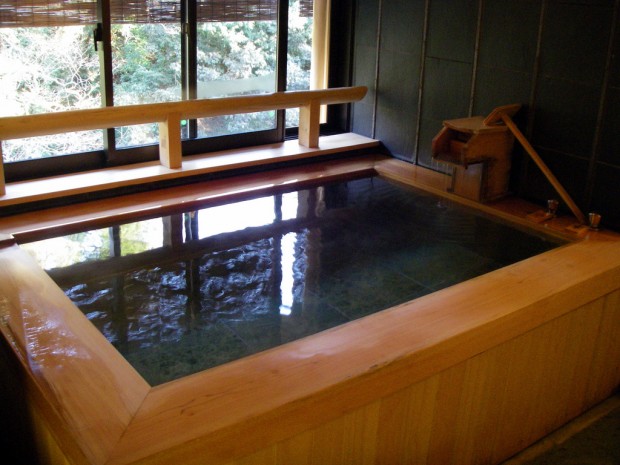 Image credit: Ryosuke Hosoi
If the onsens in Beppu weren't enough to fulfill your onsen cravings, douse yourself in the hot springs of Kaga City. These hot springs were discovered 1300 years ago by Monks, and have received high ratings and approval from visitors since then. Kaga Onsen is famous for its communal public baths, which is located in the centre of every town.
8. Kenrokuen, Kanazawa
Image credit: bryan…
Kenrokuen translates into "Garden of the Six Sublimities," which refers to spaciousness, seclusion, artificiality, antiquity, abundant water and broad views; six crucial aspects that contribute to creating the perfect garden in Chinese landscape theory. Originally part of the grounds of the Kanazawa castle, Kenrokuen boasts a range of flowering trees that create distinctive colours for different seasons.
9. Yamagata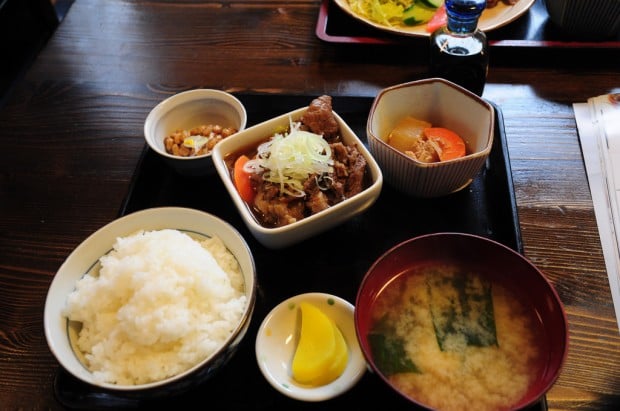 Image credit: Dao-hui Chen
Not only is Yamagata appreciated for its mountainous beauty, it is also attractive to tourists for its numerous delicacies such as the finest rice farmed on the Shonai Plain, wine and sake brewed in the area by fresh air and water, soba and various fruits and seafood.
10. Nagano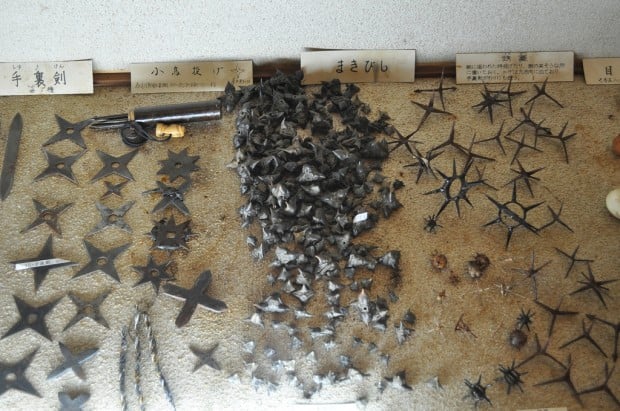 Image credit: Jérôme Sadou
Nagano City originally developed from being just a small temple town to famously hosting the Winter Olympic Games in 1998. If you're interested in Ninjas, just northwest of the city is home to the Togakure Ninja School. Drop by the Togakushi Ninpo Museum and the Kids Ninja Village to learn a thing or two about the history of ninjas in the area.
11. Sakurajima, Kagoshima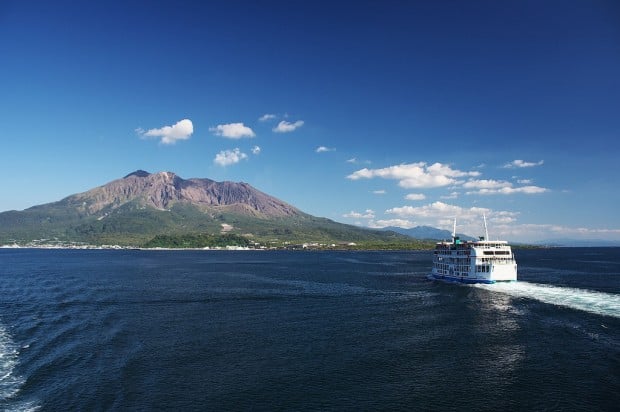 Image credit: Soumei Baba
Symbolic to Kagoshima, and one of Japan's most active volcanoes since the 8th century, Sakurajima continues to smoke and erupt multiple times a day. With an impressive elevation of 1117 metres and a circumference of 50 kilometres, Sakurajima boasts awe-inspiring views that make all your worries feel insignificant and puts your life into perspective.
12. Karuizawa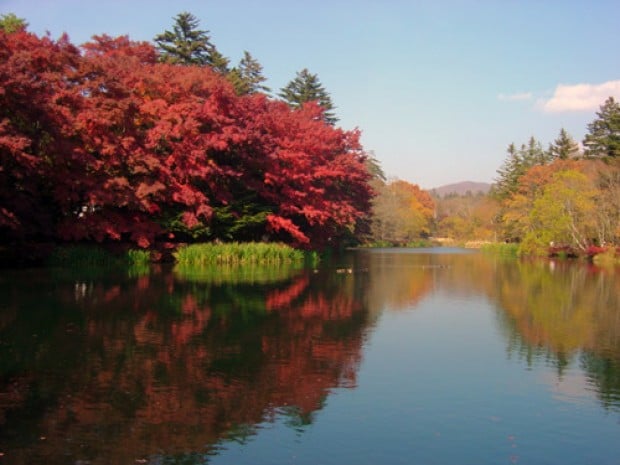 Image credit: Leo D'lion
Karuizawa to Tokyo is the almost the equivalent of the Hamptons to New Yorkers. Basically, it is an accessible, upscale holiday destination to get away from the stress of everyday life in Tokyo. Karuizawa is located at the base of the active volcano Mount Asama in Nagano. A variety of seasonal outdoor activities such as skiing in the winter and golf in the summer may be enjoyed.
Be sure to combine your trip to Karuizawa with a visit to the Kusatsu Onsen which is blessed with spring waters that are believed to have healing properties! This famous onsen is tucked high in the mountains and offers stunning picturesque scenery. You can easily visit both Karuizawa and Kusatsu Onsen on a free-and-easy 2D1N trip (from S$488) which includes:
3 days Rail Pass for unlimited travel on the JR East shinkansen in the Kanto area
1-night accommodation in a twin room
2 meals
Transport by bus
After taking a long soak in the wondrous onsen, visit the biggest outlet mall in Japan, located just in front of Karuizawa Station. Shopping and relaxation in one trip – check!
Whichever destination you end up choosing, you will find yourself lost in the beauty of the nature Japan has to offer.