Second-hand goods. Pre-loved items. Thrift shops. When it comes to saving that extra buck, one man's rubbish is another man's treasure. But in Japan, the thrift culture revolves around far more than "rubbish", with items often in good or near mint condition up for sale in recycle shops, as they call it.
Buying something you love can make you happy but snagging a bargain would make one even happier! So, here's a brief guide on some things you should take note of when visiting a recycle shop or franchises where you can get that collector's item you've been eyeing or even that household appliance that you so desperately need.
Selling your pre-loved possessions at a recycle shop is (almost) as good as giving it away
Often, the price quoted for pre-loved items sold to recycle shops is next to nothing compared to what you bought it for. Like elsewhere in the world, thrift shops make a profit by reselling items at a much higher price than what they bought for it, so you might want to rethink selling your possessions in Japan. Some locals, however, do prefer to sell their unwanted items for a bit of cash rather than throw it away, so it really boils down to your preference.
The prices of pre-loved items vary according to their estimated value and condition
Be careful if you are considering on buying something much cheaper than its expected cost. Recycle shops would often cut down on the prices of items if a part of it or its packaging (especially for hobby-related items) is damaged or missing. They usually, however, make it easy for buyers by stating the condition of an item on its price tag or on a label. If you have difficulty reading Japanese, approach the staff for help or get a friend who's fluent in Japanese to tag along.
Collector's items, on the other hand, may be priced much higher than their actual retail price if it is of value among collectors. If the collector's item is priced affordably (and has little or no damage), you can be sure that it'll be gone by your next visit, so grab it while you can!
Be careful when purchasing electrical appliances!
Voltages vary across countries, so be extra careful in ensuring that the voltage requirements of that appliance or gadget you are getting match your home country! Getting this wrong could result in blackouts and a rendering of your beloved appliance useless (as I had learned the hard way). Some shops may sell appliances suitable for overseas use, but you may have to approach the staff to inquire about this.
Recycle shops are a book lover's dream
If you're proficient in Japanese and want to get cheap reads, or if you wish to get that one particular book at a bargain, you'll be spoilt for choice. There are probably almost as many recycle bookstore chains as there are gyudon chain restaurants, so you can find them easily in any shopping street or neighbourhood.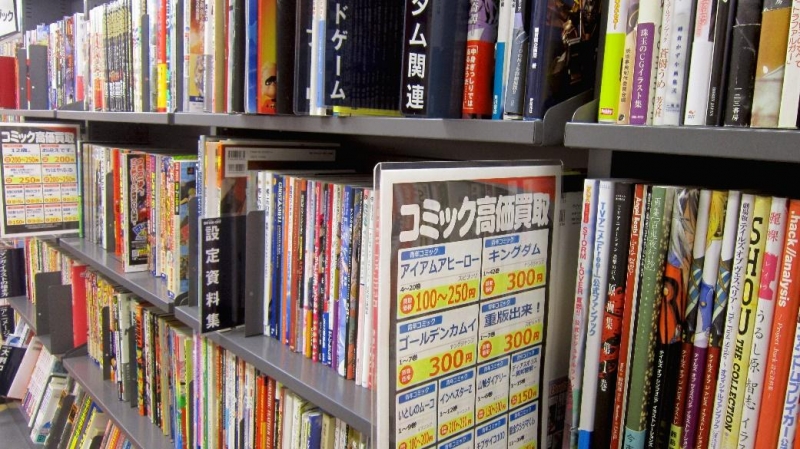 Not looking for Japanese books? There isn't any harm in looking inside. Recycle bookshops also house sections of manga and art books, and if you're fortunate enough, you can find just what you want there. Plus, it's also interesting to witness Japan's tachiyomi (立ち読み) culture of standing up and reading in play here as locals love to visit recycle bookstores, grab a book, and read right in front of the shelf they had plucked the book from.
Recycle stores chains to check out in Japan
Ready to head to a recycle shop and get those bargains? Here are some chains to get you started!
The Off Stores (Book Off, Hard Off, Home Off, Hobby Off, Off House)
Probably the most easily accessible, the Off stores consist of various franchises that sell different types of pre-loved items. Book Off sells second-hand books and has the highest number of branches compared to any other pre-loved book chains in Japan.
The names are indicative of the type of pre-loved items they sell (Hard Off sells hardware, Hobby Off sells hobby-related items, etc), and you may sometimes find them combined into a large complex full of pre-loved items. There are also bigger versions of Book Off (Book Off Bazaar, Book Off Plus) that sell more than just second-hand books. Some branches also offer a section of foreign language books but the collection is often limited, so don't get your hopes up.  
Manga Souko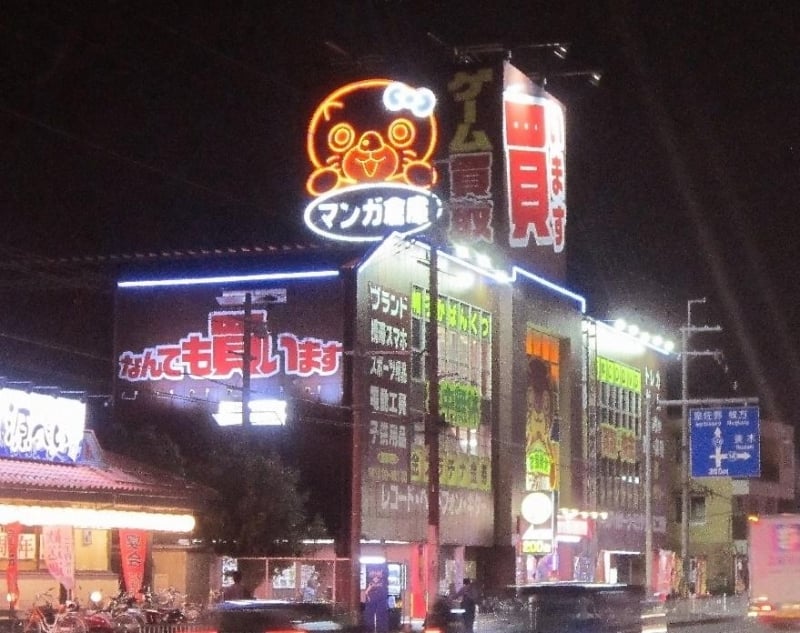 As the name suggests, this is a chain that specialises in selling hobby-related items, though they do sell some other pre-loved items like appliances, clothes and musical instruments as well.
The chain is represented by their cute otter mascots called Rakko 1, 2, and 3, which are prominently featured on the façade of each branch. Though they are not as widespread as the Off Stores, Manga Souko branches tend to be big complexes worth getting yourself lost in for an hour or two.
Mandarake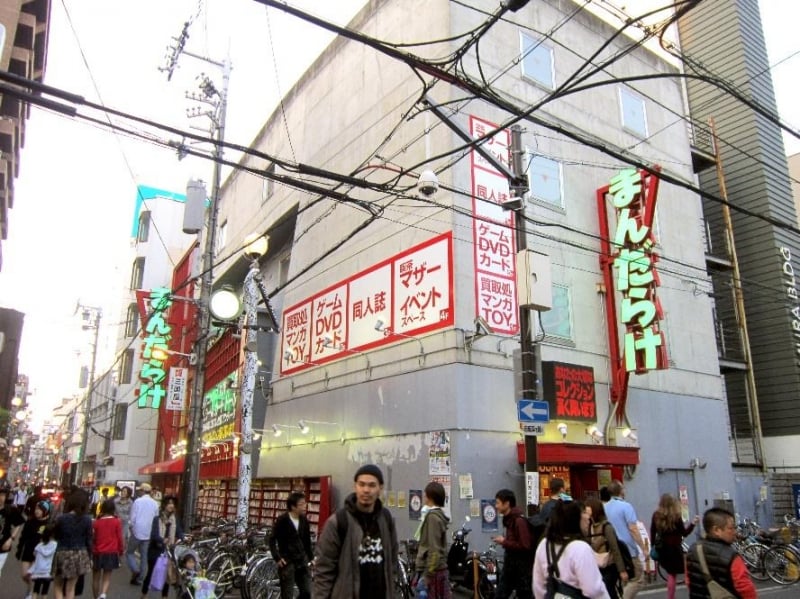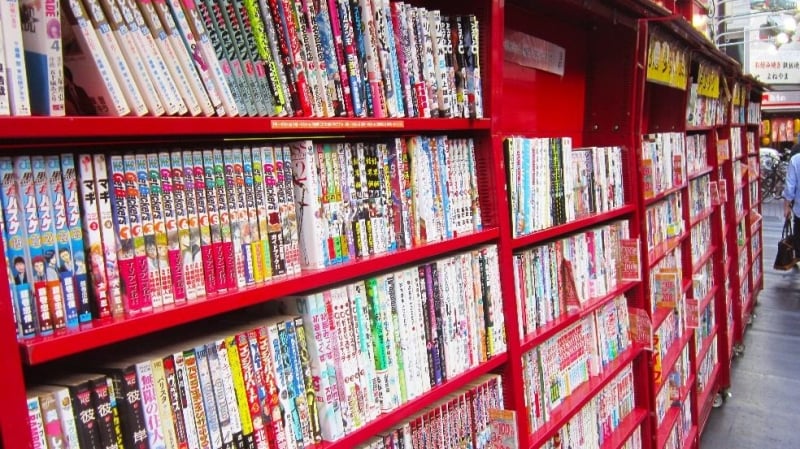 Any otaku should know about this franchise because it is dedicated to selling pre-loved hobby items. If you are a fan of any anime or manga series, this is the place to go to for a cheap souvenir (or souvenirs) to bring home. Mandarake branches tend to be medium-sized and can span a few storeys, so you can probably find what you desire here!
Treasure Bomb (買取王国)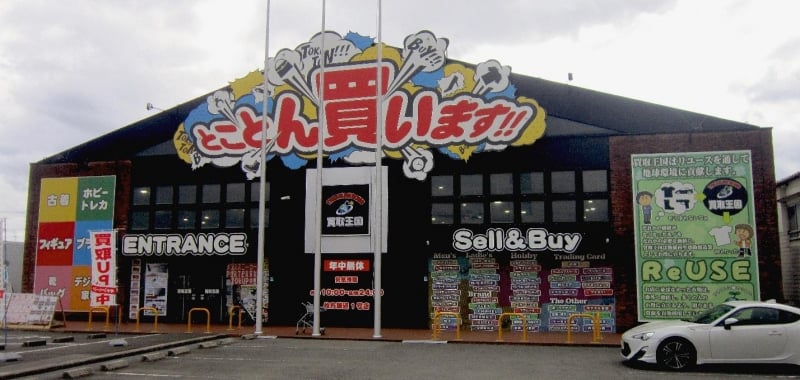 Treasure Bomb is a franchise that is more varied in the types of second-hand goods they sell. Like Manga Souko, they may not be as easily accessible, but the branches are often big complexes good for a stroll in. If you are looking to thrift-shop for clothes, appliances, and other non-hobby related items, you can consider paying Treasure Bomb a visit.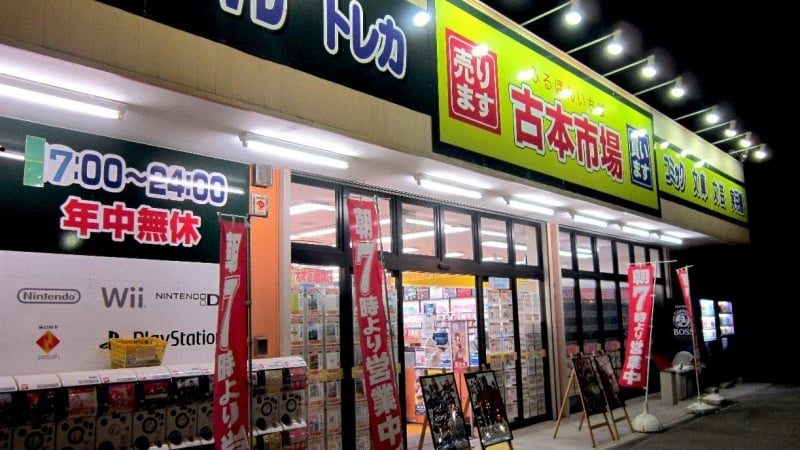 None of these franchises near you? If you can't find any of these near your location or if none of these franchises appeal to you, other recycle and thrift shops are just a web search away. Some keywords to try are "recycle shops" and "thrift shops" as such shops in Japan don't usually go by the term "second-hand". Here's hoping that you have a great time bargain hunting and getting sweet deals!