It's said that many fall in love with fall. Cliché as it may be, this is a truth that rings true in many travellers' hearts. There's a certain magic in the way those perfectly shaped red maple leaves spiral gently to the ground, and the way they come to settle with a sigh atop a bountiful, albeit haphazardly arranged, blanket of crinkled yellow. It's the season where the blistering summer heat gives way to refreshingly cooler weather, where a barely contained anticipation fizzles in the air, and every photo instantly becomes magazine-worthy.

Each season may have its perks, but autumn is the season where opportunities abound, and the surrounding foliage bursts with colour. And above all, if you're looking to have a taste of this multi-coloured magic, you don't even need to venture far at all! From September to November each year, Korea magically transforms into a red and orange wonderland. If you're looking to have a taste for yourself, here are 9 must-visit places in Korea that look absolutely more stunning in autumn.
Read more:A 48-Hour Seoul Itinerary: Experience the Best of Seoul's Autumnal Beauty
1. Asan Gingko Tree Road
Those who travel to Korea during autumn are often in search of stunning landscapes, and this is the epitome of all fall scenery. The Asan Gingko Tree Road is a long avenue lined with towering trees, the leaves of which turn a gorgeous golden yellow in the fall. This, indeed, is the yellow brick road brought to life.
The beauty about fall is how picturesque the leaves look on the trees, and also on the ground. Lining the banks of a river, the trees form a canopy tunnel of sorts above an extensive yellow carpet. Do note that this avenue is a hotspot for photographers; we recommend visiting early, or spending a night in Asan, to ensure that your visit is free from the hordes of crowds. Feel free to skip or ruffle through the leaves – come the next morning, there'll be a fresh layer coating the ground.
How to get there:
Take the subway from from Seoul Station to Baebang Station (Seoul Subway Line 1; 3,000 won (~S$3.50), 2.5 hours), then hop onto a taxi to get to the Asan Gingko Tree Road.
Take the KTX train from Seoul Station to Asan Station (14,000 won (~S$16.70), 40 minutes), then hop onto a taxi to get to the Asan Gingko Tree Road.
2. Changdeokgung Palace
Located right in the heart of Seoul, Changdeokgung Palace's Secret Garden offers visitors entrance to a whole new world. As hidden as it is enigmatic, the Secret Garden was a place for olden royalty to gain some respite from their duties and, by extension, the outside world. True to its name, the Secret Garden is shrouded in overhanging foliage, and seems to be encased in its own little bubble of tranquility. Gone are the sounds of cars and chatter; here you can be one with nature whilst enjoying some treasured peace and quiet.
It's said that Changdeokgung Palace's Secret Garden is simply breathtaking in autumn, and rightly so. Feast your eyes on fountains of red maple leaves cascading over a gently rippling pond, the red gracefully interspersed with hues of yellow and orange. Exploration of the Secret Garden is permitted by tour only, and it's no surprise that autumn sees a surge in attendance. There are a few tours running a day, and only 100 tickets are sold for each tour. 50 tickets per tour can be booked online, whilst the other 50 are reserved for walk-ins. It's recommended to book your tickets at least an hour in advance, and to allow yourself 20 minutes to get from the main gate to the Secret Garden.
How to get there: 5-minute walk from Exit 3 of Anguk Station (Seoul Subway Line 3)
3. Nami Island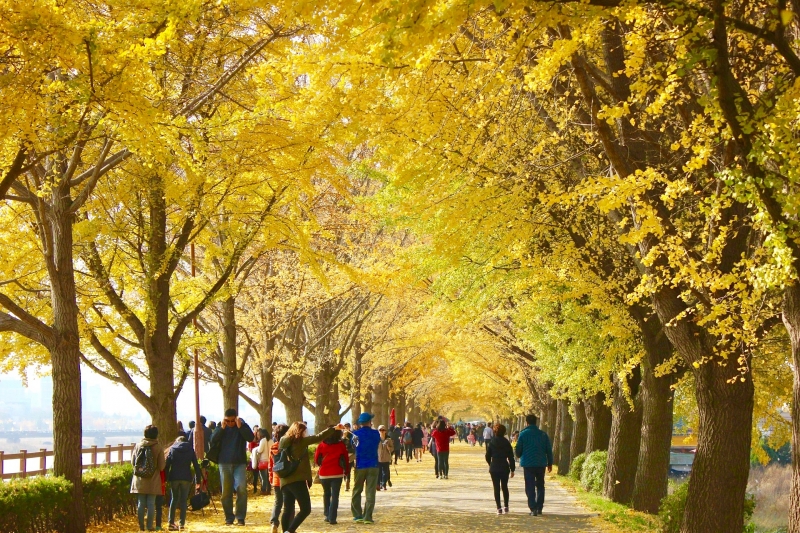 Shot to fame as the filming location of dreamy Korean drama, 'Winter Sonata', Nami Island remains a staple on any traveller's Korea itinerary. Stroll down the avenue of honey yellow trees, and watch as the sunlight reflects off the surface of the Han River. If you're up for a little more adventure, however, Nami Island is a great place to try some watersports. Set out in a banana boat, tear up the water in a jet ski, or paddle leisurely in an adorable swan boat. One benefit of being out on the water is the ability to gaze upon Nami Island's autumn foliage in its entirety; marvel at how the island seems to be covered in varying tints of colour.
Many combine a visit to Nami Island with a visit to Petite France and Gangchon Rail Bike, but our advice for you is to take it slow. Autumn brings cool temperatures and gentle winds, and the grasses are dry and smooth. Sit back or lie down, relax, and watch as the world around you comes to a still. For those who can't get enough, book a night's stay at the lodge on the island and revel in the hushed silence that dusk brings.
How to get there:
Take the train to Yongsan Station (Seoul Subway Line 1), then take the ITX train to Gapyeong Station (4,800 won (~S$4,70), 60 minutes). Transfer to a Gapyeong Wharf, from which you can take a ferry, or a zipline for the more adventurous, to Nami Island.
If you're planning on visiting more than one place, the Gapyeong Tour Bus that departs from Gapyeong Station can bring you to Nami Island, Petite France and the Garden of Morning Calm for just 6,000 won (~S$7.16).
Alternatively, shuttle buses leave from Insadong and Namdemun at 9.30am every morning, and returns from Nami Island at 4pm. Return tickets cost 15,000 won (~S$18), and a 1-way ticket costs 7,500 won (~S$9).
4. Seoraksan National Park
Autumn foliage can indeed be found everywhere in Korea, but why not make an entire trip out of it? Venture out of the city to Seoraksan National Park, where you can, quite literally, be surrounded by enveloping colours. Choose to embark on the many hiking trails or, if you're there just for the view, hop onto the cable car that will bring you right to the top of Mt. Seoraksan. Fun fact: Mt. Seoraksan is actually South Korea's third highest mountain! At the top, go on a short 5-10 minute hike to Gwongeumseong Fortress, the walls of which are covered with creeping branches full of red maple leaves.
Gaze at the vibrant colours juxtaposed starkly against sheer rock faces – it's truly a sight to behold. For beginner hikers looking to get in on the action, we recommend attempting the trail leading to Biseondae Rocks, which starts not far from Sinheungsa Temple located near the entrance. The trail is two kilometres long, and won't take more than an hour to complete. Make your way to the Fairy Pools, a bubbling pool of water perfect for a refreshing dip. Depending on your stamina, make your way further for another 30 minutes to reach Geumganggul Cave, from which you can enjoy a breathtaking view of the valley covered in red, orange and yellow.
How to get there: Take the subway to Gangbyeon Station (Seoul Subway Line 2), and head to DongSeoul Bus Terminal across the road to board an express coach heading to Sokcho. The ride costs 17,300 won (~S$20), and lasts for approximately 3.5 hours. From the Sokcho Bus Terminal, take bus 7 or 7-1 to Seorak-dong (30 minutes).
5. Deoksugung Stone Wall Road
Stretching from Deoksu Palace to Jeongdong Theater, the Deoksugung Stone Wall Road constitutes a romantic stretch of road that's a favourite haunt for local and tourist couples alike. Legend has it that any couple who ambles along the road together will eventually break up, but many remain drawn to the stretch and choose to defy this myth altogether. Despite being beautiful in all seasons, it's during autumn that the stretch lights up with dazzling colours. There are multiple street food stalls set up along the length of the wall, so grab a steaming cup of tteobokki (Korean rice cakes) and take a languid stroll.
Dubbed as the less-touristy alternative to Gyeongbukgung Palace, do time your trip to Deoksugung Palace to coincide with the Royal Guard Changing ceremony, which takes place daily at 11am, 2pm and 3.30pm in front of the Daehanmun Gate. For a more immersive experience, go on a free tour of the adjacent Deoksugung Palace. Bear witness to the seamless amalgamation of East meets West, as you'll see Korean architecture alongside Western buildings. Plus, the grounds make for a fantastic autumn foliage viewing spot! Snap an aerial view from the Jeongdong observatory, entrance to which is entirely free of charge.
How to get there: Exit 2 of City Hall Station (Seoul Subway Line 1 & 2)
6. Jeonju Hanok Village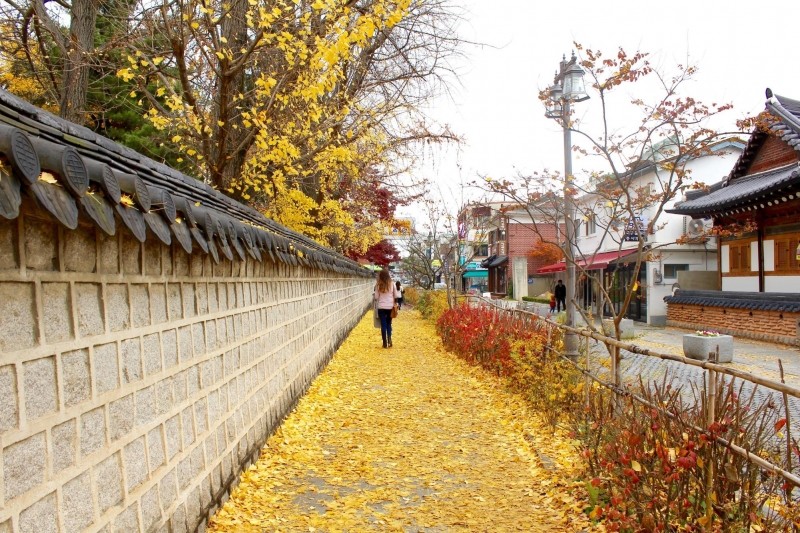 The bigger counterpart of Seoul's Bukchon Hanok Village, the Jeonju Hanok Village gives visitors the opportunity to gain insight into the local's quaint and rustic way of life. We recommend renting a hanbok (Korean traditional costume) and slowly weaving your way through the village's numerous alleys nestled in between more than 800 houses. Did you know that Jeonju is where bibimbap (Korean mixed rice) originated? Drop by the food street for an authentic taste and, if you wish to spend longer exploring the village, spend the night in one of the traditional houses. One interesting fact about these houses is that they employ a sub-floor heating system, ensuring that the floor remains heated no matter the season. Talk about comfort!
How to get there:
Take an Express Bus from Seoul Gosok Bus Terminal (Seoul Subway Lines 3, 7, 9; 18,700 won (~S$22), 2 hours 40 minutes) to Jeonju Express Bus Terminal. From which, take a taxi to Jeonju Hanok village.
Alternatively, take the KTX (34,000 won (~S$40), 1.5-2 hours), or the Mugunghwa train (17,600 won (~S$21), 3.5 hours) directly from Seoul Station to Jeonju Station. Afterwhich, take a taxi to Jeonju Station.
7. Naejangsan National Park
"Naejang" means "many secrets", and that's exactly what you'd find within the Naejangsan National Park – tree-lined paths boasting vibrant 'traffic light colours', the park's iconic Uhwajeong Pavilion, and even a little waterfall or two. Despite being a little out of the way, Naejangsan National Park remains to be one of the country's most popular autumn foliage viewing spots, with locals and tourists alike flocking here to see this truly magnificent sight for themselves.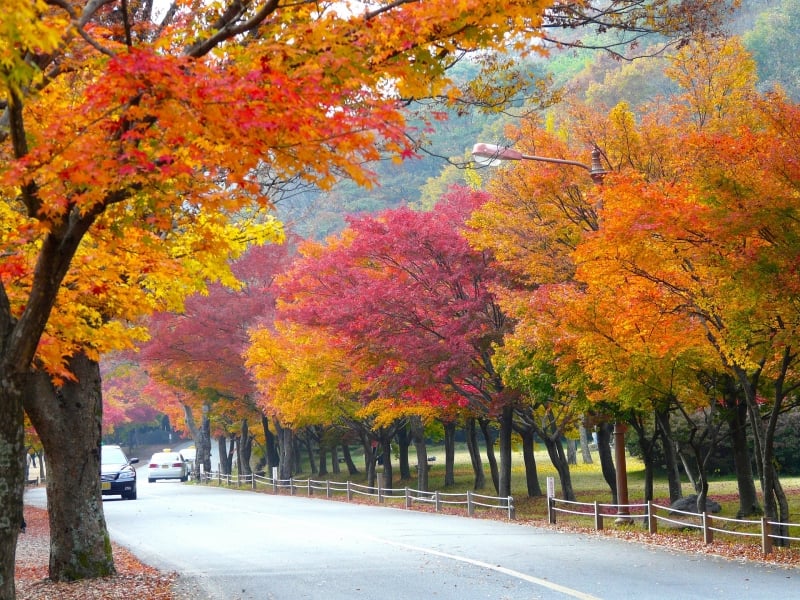 Why waste any time indoors during this spectacular season? Pack a picnic, bring some music and lie back beneath the lavish display of colours. In fact, the park hosts a yearly Maple Tree festival, which only serves to add to the fun.
How to get there: Take the subway from Seoul Station to Yongsan Station (Seoul Subway Line 1), transfer to the KTX that will bring you to Jeong-eup Station (40,000 won (~S$47), 1.5 hours), before taking a local bus to Naejangsan National Park.
8. Samcheongdong
Sometimes dubbed as the hipster central of Seoul, Samcheongdong is a delightful mix of eclectic cafés, vintage shops and whimsical art galleries. Go on a mural hunt, people-watch with a latte in hand, or take pictures with the uniquely decorated shopfronts. There's even a shop with a giraffe statue standing sentinel out front! During your exploration, don't forget to look up – the trees above streets and alleys boast a dazzling kaleidoscope of colours.
How to get there: Exit 1 of Anguk Station (Seoul Subway Line 3)
9. Bulguksa Temple
Bulguksa Temple is found in South Korea's ancient capital of Gyeongju, which is also fondly known as 'the museum of walls'. It's possible to visit on a day trip, but why rush your experience? We recommend signing up for a temple stay, where you'll get to experience a traditional tea ceremony, waking up at the crack of dawn together with the monks, and more. One good thing about the temple stay is having the opportunity to explore the hallowed temple grounds early in the morning, where virtually no tourists are around. Take your time to wander around the various wooden and stone structures, or appreciating the vivid red foliage.
Treasure the opportunity to marvel at the wonders of autumn without external interference. Your photos will also be blissfully devoid of people! Whilst you're there, do make the time to visit Seokguram Grotto as well, which together with Bulguksa Temple, make up a UNESCO World Heritage site.
How to get there:
Take the KTX from Seoul Station to Singyeongju Station (44,700 won (~S$53), slightly over 2 hours)
Alternatively, take a bus from Gangnam Express Bus Terminal to Gyeongju Express Terminal (fare ranges from 20,400-33,300 won (~S$24-S$40), 4-5 hours)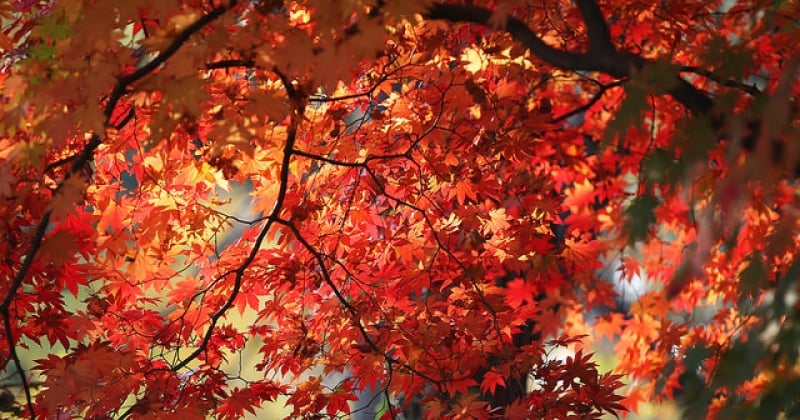 Indeed, come every autumn, Korea's stunning vistas simply explode with colour. Many may argue how Korea is a destination that's spectacular in every season, but we find that autumn might very well find a way to creep into every traveller's heart. Autumn goes as quickly as it arrives, and the transient quality of its ethereal beauty is exactly what makes this season, for lack of a better phrasing, quite extraordinary.
For more information on where to go and what to do during the wonderful season of autumn, bookmark Korea Tourism Organization's official website and Facebook page. All around Korea, leaves are already beginning to change in colour, and the peak of this sensational season is just around the corner. Start planning your trip and take lots of photographs while you're at it; this once-in-a-lifetime experience is definitely one for the history books.
---
Brought to you by Korea Tourism Organization (Singapore).