Known to some as the "City of Angels", and to others as the "Sin City of Asia", Bangkok is as neurotic and unpredictable as its alter egos suggest.
In spite of its longstanding reputation of being chaotic and disorganised, Bangkok still appeals to tourists all over the world for some peculiar reason – it's the second most visited city in the world in 2015, second only to London.
It is on our quest to uncover the reason that we decided we owe it to our readers to find out what are the best things to do while in Bangkok, some of which are unabashedly classic tourist traps, and some of which are startling hidden gems that might have evaded even the most frequent Bangkok visitors.
Whatever the case, whether you're a veteran Bangkok traveller, or a bright-eyed first timer, here's our ultimate 3 day itinerary to take on the charming capital of Thailand.
Day 1 – Of Culture and Heritage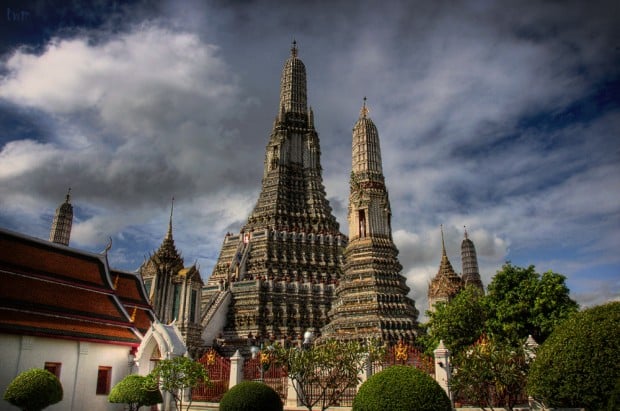 Image credit: Jason D' Great
1. Cruise down the Chao Phraya River
After breakfast, take the BTS (Bangkok's skytrain) to Saphan Taksin. It's time for your introductory course to Thai culture, and what better way to do it than to cruise along the famous Chao Phraya River. The Sathorn Pier is just located directly in front of Saphan Taksin BTS station.
From there, hop on to the Blue Flag (Tourist Boat) run by the Chao Phraya Express Boat Company. The Tourist Boat runs from 9am to 7pm every day, and costs 40 baht for a single trip, or 100 baht for an all-day pass allowing for unlimited trips.
2. Marvel at the majestic Grand Palace and Wat Phra Kaew (Temple of the Emerald Buddha)
Start off your walking trip at the Grand Palace and Wat Phra Kaew, which are conveniently located next to each other. The temple and palace are open every day from 830am to 330pm, and each costs 500 baht to enter.
Tips: As the temple is Thailand's most sacred site, short pants, bare feet and sleeveless shirts are not allowed. To avoid the queue at the entrance for sarong rental, dress appropriately.
3. Contemplate the meaning of life in Wat Pho (Temple of the reclining Buddha)
Our next attraction is located a mere 10 minutes' walk away from the Grand Palace. Wat Pho is famed for its golden giant reclining Buddha standing at a remarkable 15 metres tall and 46 metres long, which depicts Buddha attaining nirvana.
The rest of the temple is worth exploring as well, particularly the four chapels containing the 394 gilded Buddha images, and the exquisite murals covering the walkways around Wat Pho. Wat Pho was the first public university in Thailand, specialising in science, religion, and literature. Today, it is more well-known as the national headquarter for traditional medicine and the ancient art of Thai massage.
Tips: If you're not a fan of waiting but really want to experience the prestigious Wat Pho Thai massage, you can pre-book an appointment slot through your hotel or accommodation provider, or you can contact Wat Pho Massage directly at 02-221-2974 or 02-225-4771.
Wat Pho opens every day from 8am to 5pm and costs 100 baht to enter, while the massage pavilion opens from 8am to 6pm.
4. Bask in the glorious sunset from Wat Arun (Temple of the Dawn)
Time to get back across the river! Hop on to a ferry that brings you to Wat Arun pier. With its majestic spire over 70 metres tall, adorned with tiny pieces of coloured glasses and Chinese porcelain, it is little wonder that many consider Wat Arun one of the most beautiful temples in Thailand. Wat Arun opens every day from 8am to 5pm, and costs 50 baht to enter.
Tips: For the more active, you can climb the stairs around the tower. The steps are steep and not easy to climb, but if you do it you'll be rewarded with one of the best views in Bangkok. The highest point offers vantage views of the winding Chao Phraya River, the Grand Palace, and Wat Pho.
5. Let your hair down on Khao San Road
As the sky turns dark in Bangkok, you wouldn't want to be caught without a cold drink in hand. Khao San Road is as boisterous and noisy as its name sounds, overflowing with energetic partying people, street food, tattoo shops, Thai massage parlours, swanky clubs and bars, all screaming loud, vibrant nightlife. If you're feeling especially brave, take your pick of the bugs on sale to bite into: crunchy spiders, cockroaches, grasshoppers, scorpions, you name it! Oh and while you're at it, decide if you're team fried, caramelized, sweet, or salty. Talk about being spoilt for choices!
Tips: If there's still some time to spare and you want to indulge in your inner intellectual, why not pop into one of the many second-hand book shops that have congregated in this area? Expect to find a wide variety of English novels, fiction titles, and many worn out copies of backpacker favourites like The Beach. Some of the shops have a buy-back scheme, so you can sell the book back at half the original price after reading it. Sounds like a good deal to us!
Day 2 – Modern Bangkok: Of Shopping and Movies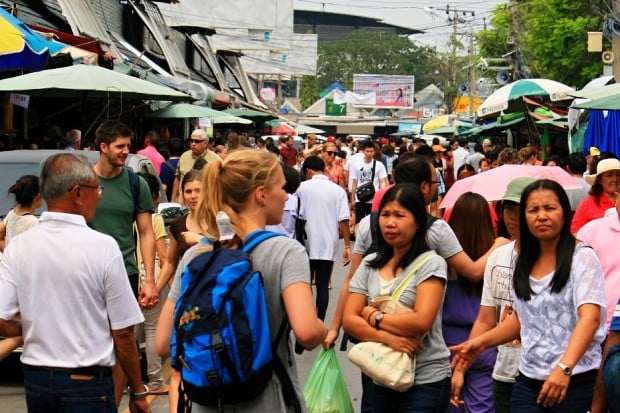 Image credit: David Curry
1. Take on Chatuchak Weekend Market
No trip to Bangkok would be complete without braving Chatuchak, the largest market in Thailand. Also known as JJ Market, there are more than 8000 stalls challenging you to literally 'shop till you drop'! Be prepared to bargain! However, Chatuchak only opens on Saturdays and Sundays 9am to 6pm, and Fridays 6pm to 12 midnight.
Tips: As most vendors do not accept cards, bring enough cash. Also, don't leave without trying the coconut ice cream.
2. Shopping bonanza in the Siam area
If you're not in Bangkok on a weekend, you can start your mega shopping day in the Siam area. This chic area houses numerous big shopping centres, including Central World, Siam Paragon, Siam Center, Siam Discovery, and MBK, all within walking distance from one another.
Tips: If your legs tire after hours of non-stop shopping, consider watching a movie at Siam Paragon, probably the best cinema complex in Bangkok. Before every movie, the cinema will screen a tribute video to his majesty the king. Remember to stand to show respect.
Do check out the largest aquarium in Southeast Asia: the Siam Ocean World in Siam Paragon if you have time too!
3. Late night shopping at the Patpong Night Market
Taking the BTS and only two stops away from Siam station (alight at Sala Daeng), the Patpong night market is easily the most notorious and popular night market in Bangkok. If you're looking to get some souvenirs home, or just some counterfeit clothes or bags for yourself, you're at the right place. Just remember to bargain hard!
Tips: As Patpong is located in Bangkok's red light district, don't be surprised to see girls (and boys) strutting their stuff touting x-rated shows and DVDs, or beckoning you to special massages.
Day 3 – Tranquility in a bustling city: Of nature and magnificent views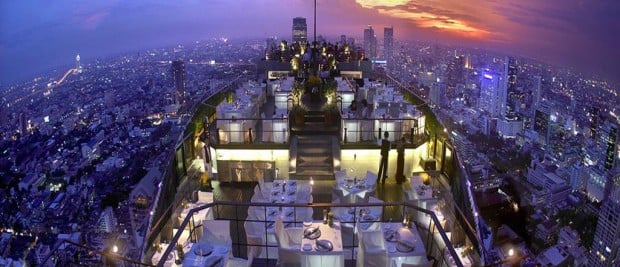 Image credit: Mighty Travels
1. Calm your senses at Lumphini Park
Two consecutive late nights at Khao San and Patpong might have left you feeling a little overwhelmed, so for your last day in Bangkok, we're going for a take-it-easy approach.
Lumphini Park is to Bangkok what Central Park is to New York. Named after the birthplace of Buddha in Nepal, it is the largest public park in the city and a welcome escape from the crowded streets and noisy roads you've grown used to in the past couple days. Take a slow stroll. Rent a paddle boat at only 40 baht. People watch. Do nothing and watch time pass by. Or finish reading that book that you picked up earlier at the second hand bookstore.
Tips: Go on a Sunday evening and you might be lucky enough to catch a free classical orchestra performance.
2. Indulge in a little Rooftop Bar Time
It probably wouldn't feel complete to finish an itinerary of a capital city without an "on-top-of-the-world" moment. A mere 15 minutes walk away from Lumpini Park is one of the best rooftop bars in Bangkok; the Vertigo and Moon Bar sits proudly on top of the 61st floor of the Banyan Tree Hotel. As its name suggests, it's probably not the best place to be if you have even the tiniest bit of acrophobia (fear of heights), but if you're okay with heights you're in for an amazing view.
Tips: Plan to come here around sunset to see the golden hue as the sun goes down on the Bangkok skyline.  
And with that, we have come to the end of our 3 day what to do in Bangkok itinerary! Don't be afraid to mix it up a bit, throw in some other attractions that pander to your interests, toss some out of the window, learn some simple Thai to communicate itchiness to the Thai masseuses, be open to trying new things, and make the most out of your trip to this dynamic capital we affectionately call the Big Mango.
How to get around Bangkok
Taking the train
Bangkok has two main railway lines — the BTS Skytrain and the MRT. The routes are easily found on Google Maps as well and prove to be much more reliable than buses are. Taking the train is sometimes even faster than taxis as you can bypass the crazy traffic jams. You can also use this mode of transport to save on your taxi fare by first taking the train to the nearest train station of your destination.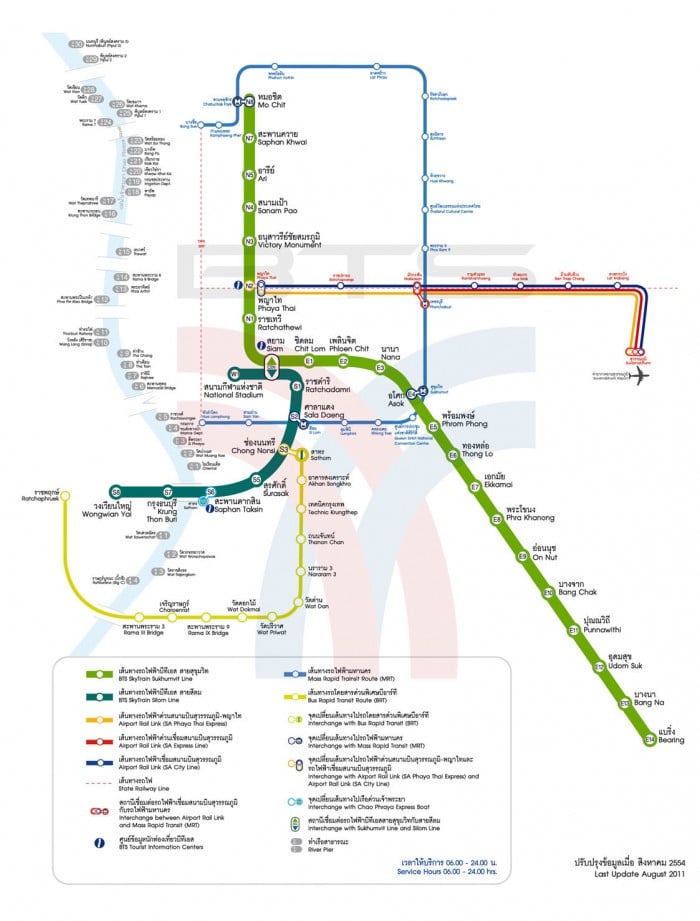 Image credit: Bangkok Mass Transit System Public Company Limited
BTS Skytrain
The BTS Skytrain has two lines. The Silom line runs from west to south, and the Sukhumvit line runs from north to east. You can switch between the two lines at Siam station. The Skytrain runs on overhead train track. Trains run from 6:30am to midnight. They arrive every 3 to 6 minutes.
If you wish to switch to the MRT, which is the underground train railway, you can do so at Sala Daeng or Asok stations.
Fares and Skytrain Passes
One-way tickets
You can choose to pay train fares by buying one-way tickets. Fares start at 15 baht per stop.
One-day Pass
These passes allow you to hop on and off the train for unlimited times for a single day. They cost 120 baht.
BTS Rabbit Cards / Stored Value Cards
BTS Rabbit cards can be used to access all BTS stations. However, BTS rabbit cards cannot be used at MRT stations. MRT has their own pass, which will be explained below. BTS Rabbit cards are cards with value stored in them. They cost 100 baht plus a refundable deposit of 50 baht. They are valid for 5 years and is more convenient than buying one-way tickets if you are going to be in Bangkok for a while.
30-Day Pass for Adults
The price of the 30-Day Pass varies according to how many trips you take.
15 trips costs 375 baht (25 baht per trip)
25 trips costs 575 baht (23 baht per trip)
40 trips costs 840 baht (21 baht per trip)
50 trips costs 1,000 baht (20 baht per trip)
Mass Rapid Transit network (MRT)
The MRT consists of 18 stations. It is more expensive than the BTS. Trains arrive every 5 to 7 minutes. serves 18 stations and stretches for 20 km in a horseshoe shape from Hua Lamphong in the South (near Chinatown) to Bang Sue in the north. Trains arrive every 5-7 minutes, and connect to the BTS Skytrain at Sukhumvit and Silom stations (where you can walk to Asok and Sala Daeng stations in the BTS line.)
Petchaburi Station is 300m from the Airport Rail Link's Makkasan Interchange Station, where you can change to the express train to Suvarnabhumi International Airport.
Fares and Skytrain Passes
MRT Smart Cards
The cards cost 230 baht in total consisting of 30 baht fee, 50 baht card deposit and 150 baht travel value. You can find these at any ticket office.
One-Day Pass for Adults
MRT's one-day pass also costs 120 baht, similar to the BTS pass. They can be used for unlimited times within a single day.
Three-Day Pass for Adults
The three-day pass costs 230 baht and ends on the midnight of the third day.
30-Day Pass for Adults
The 30-day pass costs 1,400 baht and ends on midnight of the 30th day.
Taking a taxi
Taxis are plentiful in Bangkok and are a very cost-effective way to get around. If you stick to Bangkok's city centre, fares should prevail at around 100 baht. However, please check that the driver is using his meter. Some drivers may claim that their meter is broken and some don't bother lying and flat out refuse! Stay firm and if the driver still refuses to do so, you can get out and find a more honest driver. However, if you are in a rush or in an area with no taxis, you can still haggle with the driver for a decent fare before boarding. Either way, make sure the driver is either using the meter or you have an agreed-upon fare as you do not want to end up coughing up an exorbitant fee at the end of your trip.
Taking a motorbike taxi
Isn't this an ingenious idea? You will see these yellow-vested motorbike drivers resting by the pavements at times. These are good alternative to cabs for quick journeys. However, make sure you wear a helmet. It is also not exactly the safest way to travel as well, so approach them at your own risk and make sure you are insured.
Where to stay
1. Old City or Khaosan/Banglamphu
Things to do: The Old City is home to Bangkok's most magnificent historical attractions. You can visit stunning temples and historical structures such as The Grand Palace or the magical Wat Arun. Khao San Road has gained a name for itself as a backpacker's paradise with many budget sleeping options and access to bars, clubs, market stalls and travel agents. Your money goes a long way here (you can get much better accommodation here for the same price as a rundown hotel in the city). The ambience is infectiously carefree and the party vibe is palpable.
Transport: The cons is the transport here. The closest public transport is taking a boat from the Phanfa Leelard pier. The closest BTS stations are Siam, National Stadium and Ratchathewi but these are all 5km away and require a taxi or tuk tuk to get there, which would cost about 70 baht.
2. Silom
Things to do: Silom is the Central Business District and you will see many office folks. It transform into a food haven at night and brings you the iconic, infamous nightlife of Patpong with its night market and red light districts. Everything is much more affordable here in comparison to the earlier locations. Silom is a great place to try everything, especially food.
Transport: It is near Si Lom MRT station and Sala Daeng BTS station. 
3. Sukhumvit
Things to do: Sukhumvit is an exclusive district stretching 18km long. It has the latest shopping malls and access to great food and happening nightlife. It is modern, cosmopolitan, and has many malls such as Terminal 21, Emporium Shopping Mall, and EmQuartier. Lounge at sexy rooftop bars and party it up at the go-go bar Soi Cowboy or Levels Club & Lounge which has a bar, lounge, and clubbing room. If you're here to party, shop, or experience a little of everything, then this is a great place to stay.
Transport: The BTS Sukhumvit line runs over Sukhumvit road from east to west. The most convenient station to stay at is Asok, which is right in the centre and also close to the MRT line.  
So, there you have it! This ultimate 3-day Bangkok itinerary is packed with the best things to do in Thailand. It will make you want to go back — again and again. Whether it's for sinning or amazing sight-seeing, this trip will be unforgettably awesome.
Also read: 10 Thai Massage Places in Bangkok That Are Super Shiok!