If you regularly commute between Singapore and Malaysia by car, your wallet will likely feel a lot lighter soon, with both countries raising and introducing various charges at the Johor-Singapore Causeway. It was recently announced that Singapore will be matching any new or increased toll charges put in place by Malaysia, on top of the raised VEP (Vehicle Entry Permit) fee.
In case you're not up-to-date or are confused about the ongoing fee and toll changes between Singapore and Malaysia, here's a quick summary for you.
Timeline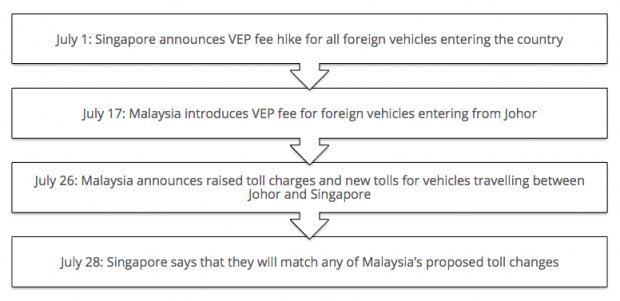 Earlier this month, Singapore announced a hike of the VEP fee on foreign vehicles entering the country, raising the fee from SGD 20 (MYR 51) to SGD 35 (MYR 90) for private cars. In return, Malaysia also announced their decision to implement a VEP fee for foreign vehicles entering Johor Bahru, with the specific fee to be confirmed at a later date.
Newest reports from Malaysia have suggested that the existing Causeway tolls for all cars entering Johor will also be raised, with additional tolls for all cars exiting Johor to be introduced. Starting from next month, MYR 9.70 (SGD 3.80) and MYR 6.80 (SGD 2.70) will be charged respectively for cars entering and exiting at the Sultan Iskandar checkpoint. This means that Singaporeans taking a day trip to Malaysia will need to pay a total of MYR 16.50 (SGD 6.50) in toll charges, excluding the tolls on Singapore's side.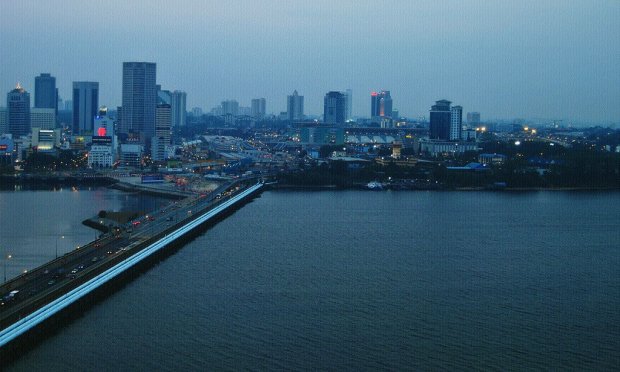 Image credits: http://bit.ly/1zt0kYM
In response to these reports, Singapore has said that it is customary for its tolls to be pegged to those set by Malaysia. "If there is indeed a new toll, or an increase in toll charges at the Causeway, the Singapore Government will match the new toll and increase in toll charges in due course," said a spokesperson from Singapore's Land Transport Authority (LTA). Currently, both foreign and local cars leaving Singapore through Woodlands Checkpoint and Tuas Checkpoint pay SGD 1.20 (MYR 3) and SGD 3.20 (MYR 8.20) in toll charges respectively.
For drivers regularly travelling by car between Singapore and Malaysia, some budget replanning will probably have to be done to deal with all these additional charges.
The table below outlines the various changes in the toll and VEP charges for vehicles travelling between Singapore and Malaysia. Note that toll charges apply to all cars, while the VEP fee only applies to foreign registered vehicles, meaning that Singaporeans only have to pay the VEP fee when entering Malaysia, and vice versa.
Rate Changes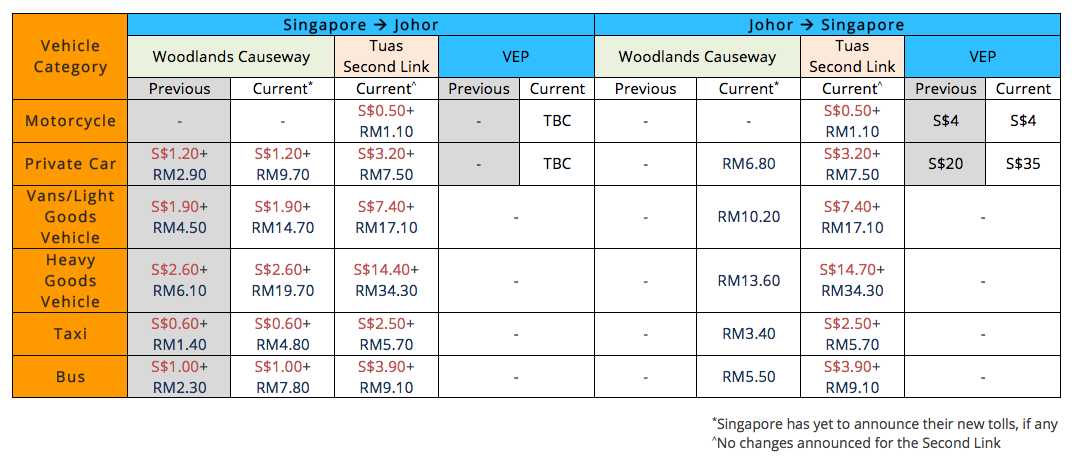 Is it still worthwhile for Singaporeans to enter Johor for weekend shopping trips? We're not too sure about that anymore. What are your sentiments?