New Zealand is a must-visit travel destination for obvious reasons – incredible unspoilt natural scenery, warm and hospitable people, thriving wildlife and a rich culture. In fact, this paradisiacal place has been listed as one of the Top 10 countries to travel to for 2018!
This picture alone is enough to convince you to make that trip down south! But if you're really busy and don't have time to plan, or just really don't want to take on the stress of planning, then why not check out Jetabout Holidays' specially curated packages? Grab your family and friends, and take your pick from these top 4 New Zealand itineraries for your next vacation.
These packages include accommodation, travel via coach, inter-island ferry rides and admission charges. Do note that the prices do not come with flights, but you can book flights easily with Jetabout Holidays. Self-drive options are also available, so do enquire with Jetabout Holidays to find out more!
If you have only less than seven days of leave to spare for a holiday, then you should seriously consider Jetabout Holiday's 6D4N Northern Escape tour! Here are some of the highlights that promise an authentic and fascinating experience of the north island!
Travel period: Now till 30 April 2019
*terms and conditions apply
Bay of Islands – Hole in the Rock Cruise
Jetabout Holidays will bring you on a cruise to take in the sights of the iconic Hole in the Rock formation located at the northern tip of Cape Brett. Passing through the hole is said to be a huge blessing in Maori culture, so who knows, you might be lucky if the tides are in your favor!
Think azure blue skies, sparkling seas and dolphins cavorting in their aquatic playground. The journey to its rocky face is highly picturesque, and dolphins and whales are common sights in the surrounding waters. Keep your cameras near for that opportune shot of this amazing wildlife!
Waitangi Treaty Grounds
Take a step back in time and discover New Zealand's most important historic site. It is so significant that there is even an official public holiday called Waitangi Day! It commemorates the signing of the Treaty of Waitangi, which is regarded as the nation's founding document.
The Treaty Grounds feature the newly opened Museum of Waitangi, the historic Treaty House, the carved meeting house and the world's largest ceremonial war canoe. Take a walk through the grounds while enjoying panoramic views of the Bay of Islands!
BOOK THIS 6D4N NOTHERN ESCAPE TOUR NOW!
For those who are adrenaline junkies and would like to try your hand at activities like bungee jumping, then this specially curated 6D5N Southern Splendour tour package is perfect for you! Bringing you to New Zealand's southern island, this tour shows you the best of amazing cities such as Christchurch and Queenstown as well as its surroundings. Starting from just SGD $1,345 per pax, this tour packs in the top sights and gives you the most bang out of your buck. Read on to check out some of the thrilling experiences that you are in for!
Travel period: Now till 30 April 2019
*Terms and conditions apply
Milford Sound Cruise
Go on an unforgettable journey into the heart of New Zealand's most famous destination, Milford Sound. Deep within Fiordland National Park, spot multiple rainbows when the sun shines at just the right angle against the mist from cascading waterfalls and glide past glacier scarred rock walls and if you're lucky, spot various kinds of marine wildlife including seals, penguins and dolphins!
Queenstown Activities
Sitting at the shore of crystal-clear Lake Wakatipu, Queenstown is the one-stop destination for adventure amidst New Zealand's amazing natural scenery. It offers all types of extreme sports and adventure experiences, like skydiving, river rafting and paragliding just to name a few!
Calling all adventure junkies! The most famous thrill-seeking activity among tourists would definitely be Bungee jumping off the Kawarau Bridge. At 134 metres high, this bungee jumping spot is the highest in the whole Southern Hemisphere! Plus, it's the only place in Queenstown where you can share the excitement (and fear) and Tandem Bungy with a loved one!
Alternatively, if bungee-jumping isn't your thing, you can enjoy the adrenaline rush as you glide over white-water rapids of Shotover River instead!
BOOK THIS 6D5N SOUTHERN SPLENDOUR TOUR NOW!
Just said "I do" to the love of your life? Wondering where you both should head to for that romantic honeymoon? Well don't fret, because Jetabout Holidays has the perfect 10D8N New Zealand Romance Package that promises an unforgettable and romantic time together. Starting from only SGD $2640 per pax, this package is all you need for a lifetime of sweet memories!
Travel period: Now till 30 April 2019
*Terms and conditions apply
Waitomo Glowworm Caves
Did you know that glow worms glow to trick their prey, attract their mate and fend off predators? This tour will bring you marveling at Mother Nature's spellbinding light display as you take a guided tour through the glowworm-studded Waitomo Caves. The glow worm is native and unique to New Zealand, and thousands of these creatures shine their unmistakable luminescent light.
Polynesian Spa
Rejuvenate yourself at the Polynesian Spa and discover nature's precious gifts at Rotorua! Housing geothermal spectacles in its backyard, the 28 mineral pools at Polynesian Spa are supplied by two natural springs, the ideal place to unwind and relax. It's no surprise that this spa establishment is often recognized as one of the top 10 spas in the whole of New Zealand!
TranzAlpine Train
Next, you'll enjoy perhaps the most scenic train ride in New Zealand (and anywhere in the world)! Running once daily between Christchurch, Arthur's Pass and Greymouth, be awestruck by the spellbinding natural landscapes as you journey through the misty mountain ranges of the Southern Alps. This is truly a romantic experience that's perfect to kick start a lifetime of marital bliss!
Franz Josef and Fox Glaciers
This itinerary's next stop will be at the jaw-droppingly beautiful, the Franz Josef and Fox Glaciers, are New Zealand's most famous rivers of ice in a dynamic glacial environment. Both of them have highly picturesque and breathtaking valleys. While glaciers in other parts of the world are retreating, the Fox and Franz Josef glaciers still flow almost to sea level. Take in this spellbinding sight hand-in-hand with your other half on Jetabout Holiday's New Zealand Romance tour!
Lake Tekapo / Church of Good Shepherd
In the center of the south island lies Lake Tekapo, a delightful alpine village featuring an outstanding landscape sculpted by successive Ice Age glaciers. Lake Tekapo gets its intense milky-turquoise color from the fine rock-flour (from the glaciers) which is suspended in the water. It is also characterized by grasslands of golden tussocks, and the lake is surrounded by hectares of pink and purple Russell Lupines in summer!
On the shores of the lake, you'll see the pretty and quaint Church of Good Shepherd, built in 1935 for the pioneer families who lived in the Mackenzie District. Don't forget to snap an insta worthy shot of the church with the magnificent Lake Tekapo and the Southern Alps in the background!
BOOK THIS 10D8N NEW ZEALAND ROMANCE TOUR NOW!
Starting from only SGD $2775 per pax, this wholesome 12D10N Enjoyable New Zealand package is THE ultimate tour that you'll ever need, to experience the best of both the north and south islands of this spectacular country! To convince you further, here are some of the awesome highlights of this package.
Travel period: Now till 30 April 2019
*Terms and conditions apply
Rotorua / Te Puia Thermal Reserve
A geothermal wonder, Rotorua is famous for its bubbling mud pools, natural hot springs, shooting geysers and of course, Maori culture! It's volcanic landscape is unique in all of Oceania, and many guides who work here have direct links to Rotorua's earliest hosts.
Te Puia Thermal Reserve features about 60 hectares of geothermal wonder and the Pōhutu geyser is the star of the show, erupting about 20 times a day and spurting hot water up to 30m skyward. It's a truly spectacular sight to witness!
Rainbow Springs Nature Park
Set amidst the native trees and forests of Rotorua, Rainbow Springs Nature Park offers an action-packed, fun-filled day for the entire family! Learn all about New Zealand's fascinating wildlife and natural history, and meet various creatures that call this part of the world home! Have an up-close and personal session with New Zealand's national bird, the Kiwi!
Aoraki / Mount Cook
Fun fact: Legend says that Aoraki and his brothers were the sons of Rakinui, the Sky Father. While on a sea expedition, their canoe overturned and when the brothers climbed on top of the canoes, the freezing southern winds turned them into stone. The canoe became the South Island, and Aoraki and his brothers became the peaks of the Southern Alps!
You will be enthralled by the New Zealand's highest mountain at 3754m, and at the foot of the mountain sits the village of Mount Cook. The beauty about this place is that you don't have to be a mountaineer to visit, and it offers spectacular views at night for stargazing!
BOOK THIS 12D10N ENJOYABLE NEW ZEALAND TOUR NOW!
Discover New Zealand with Jetabout Holidays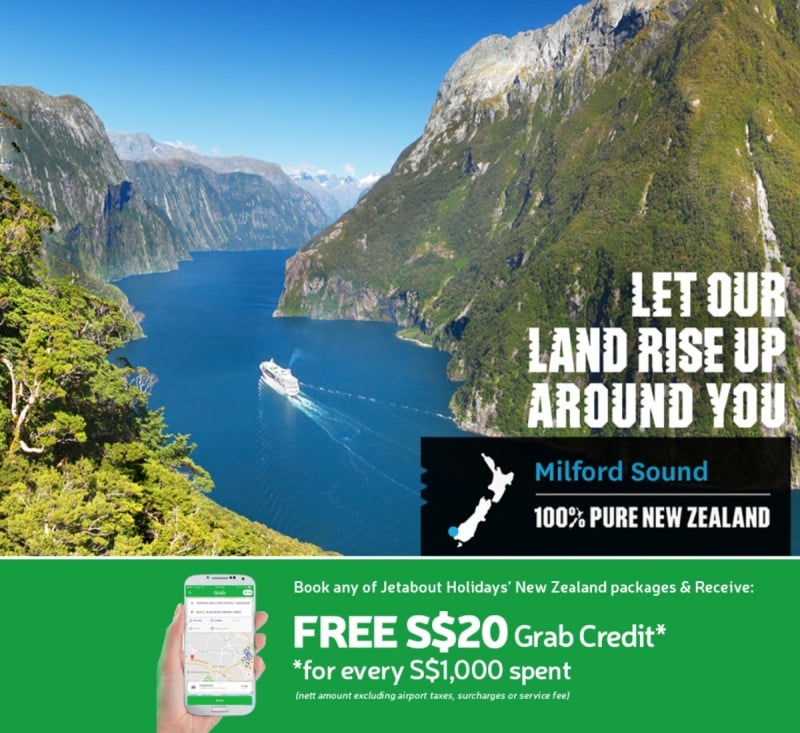 So get ready for colossal mountain ranges, breathtaking nature, exotic wildlife and rich Maori culture, because New Zealand is about to blow you away! With these amazing itineraries to choose from, you will definitely find one that suits your interests, budget and time constraints.
*Terms and conditions apply
Don't forget that self-drive options are also available for these itineraries, so do check with a Jetabout Holidays for more information. There are also a multitude of other New Zealand itineraries that you can check out here! There's no time to waste, tick New Zealand and its many wonders off your bucket list today.
---
Brought to you by Jetabout Holidays & Tourism New Zealand.