The Wizarding World of Harry Potter (WWoHP) is a definite must-visit when you're in Universal Studios Japan (Osaka). Doesn't matter if you're a casual fan or a diehard Potterhead (raises hand hysterically), enter its gates and you'll be transported into an enchanting world of Harry Potter magic.
On your first visit, WWoHP may seem as complicated to navigate as Hogwarts. As with any theme park, Universal Studios Japan (USJ) will be teeming with visitors, most of which would throng to its main attraction, WWoHP itself. Be prepared – the park's infamous for its snaking queues and mega long waiting time of up to three hours! We sure wished we could throw on an invisibility cloak and sneak past all the queues in the park.
Nonetheless, lots of fun awaits. Here, we've compiled a couple of tips and tricks that'll send you flying into the amazing Wizarding World like a Quidditch Champion!
1. Arrive early and get tickets even earlier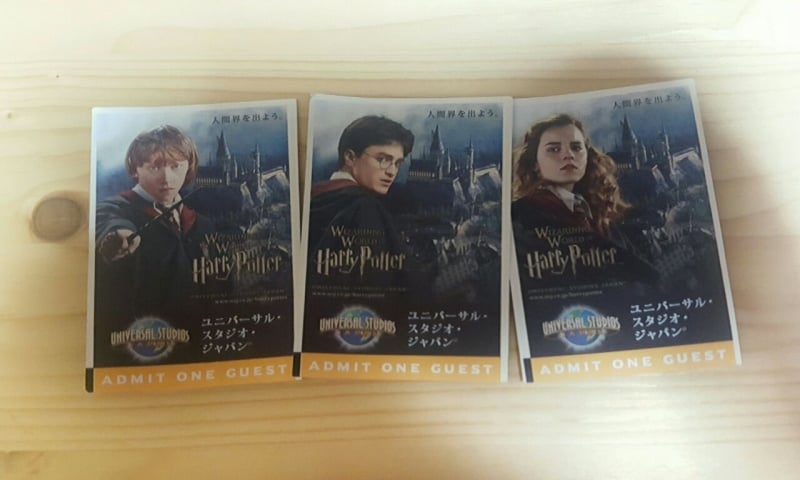 First and foremost, there are three ways to buy a ticket to the park: from USJ's partner hotels, travel agencies, or the ticket booths at the park's entrance. As mentioned, the theme park is insanely popular amongst tourists and locals alike, and it has a limited cap on the number of visitors every day. To save yourself from the last-minute rush, book your tickets way in advance from travel agencies online! You'll find a list of travel agencies on the USJ website, but we recommend JTB since they're the only agency that sells the Universal Express Passes as well (more on Express Passes later).
From what we know, the least crowded days are Wednesdays and Thursdays so if possible, plan your trip on those two days!
On the day of visit itself, you definitely need to arrive at USJ early. Trust us, a few hours of sleep is a worthy sacrifice. We recommend reaching at least an hour before the gates open at 9am (or 9.30am on certain days). As an added incentive, the park is known to open up to two hours earlier than its stated timing on especially crowded days.
Now this is where it gets confusing: you'll have to collect an additional timed entry ticket to WWoHP, on top of your entry ticket to USJ. Confused already? Not to worry, we'll break it down for you! Once you've entered the main park, make a beeline straight for the WWoHP ticket machine, located by Park Side Grille and Azzura di Capri (centre of the map). Needless to say, there'll definitely be a queue of Potterheads there. At the ticket machine, choose the earliest timeslot possible to enter WWoHP, because you get to stay in the area for as long as you want, beginning from your entry time! So, earlier entry means more time to explore the Wizarding World!
2. Consider an express pass
Diffindo may be used to cut things but not queues. However, magical tickets do exist and they're called express passes. An express pass may appear to some as an unnecessary additional cost to your already-expensive Japan holiday. However, do consider purchasing one. Not only will you get to ride your favourite HP rides quicker than the Firebolt, you'll also join the express queue for other famous rides in USJ, leaving more time for you to roam around the likes of Honeydukes and Zonko's Joke Shop!
If you decide to get one, it is best to make your reservations in advance as they are popular and tend to run out quick. In particular, the Universal Express Pass 4 includes use for the crowd-pleaser Harry Potter and the Forbidden Journey ride, and the Universal Express Pass 7 includes use for both Harry Potter and the Forbidden Journey and Flight of the Hippogriff.
If you didn't manage to get an express pass, there's no need to be too bitter. While queuing up for Harry Potter and the Forbidden Journey, you will slowly walk through the grand castle of Hogwarts where you can admire the talking portraits, Dumbledore's office, as well as the Defense Against the Dark Arts classroom. Yes, even waiting in line is magical – only in WWoHP.
Another benefit of getting an express pass is that it comes with a timed ticket to enter WWoHP! This means that you can collect an additional ticket and enter the park at two different timings. If this is your plan, we still suggest starting your day in the Wizarding World, explore the rest of USJ after lunch, and re-enter WWoHP one last time in the evening or at night.
Book your E-tickets in advance and head directly inside to enjoy the thrilling Hollywood-based rides including WWoHP. Also, be sure to get a Universal Express Pass! Skip the lines so that you can enjoy as many of your favorite rides as possible. Join the express lanes for the rides listed and note that the pass is only valid for a one-time use per ride.
Note: Any pass that includes Harry Potter will also give you a timed entry ticket into WWoHP!
3. Go straight to the rides
So you've entered the magical realms of WWoHP. What next?
As you pass through the archway into Hogsmeade, you'll probably see pockets of people gathered around various attractions. As tempting as it may be, save the photo-taking, show-watching and shopping for later, and head to the rides right away! Choose between Flight of the Hippogriff or Harry Potter and the Forbidden Journey and get in line! Most visitors will get caught up at the front of the park, leaving the queues of rides at the back considerably shorter.
Another reason to ditch the shopping for later is that the rides require you to leave your belongings in the locker before embarking. Save yourself the hassle and travel light when boarding these thrilling attractions!
4. Drink delicious Butterbeer
If it isn't already, drinking Butterbeer should definitely be on your bucket list! This popular wizarding beverage is a must-try for every Harry Potter lover! After all, who can resist Butterbeer?
Depending on the season, two out of the three flavours (cold, frozen, and warm) will be available. For an experience most akin to the books and films, choose the cold rendition. Also, the park offers the drink either in a regular plastic cup or a collectible mug. Choose the latter if you want an iconic souvenir to bring home!
The parks sells Butterbeer at two locations: Three Broomsticks and Hog's Head. Brace yourself, the queue at both pubs will be long, but the one at Hog's Head tend to be shorter. So pop on the HP soundtrack, pretend you're a Hogwarts third-year student on a Hogsmeade weekend trip, and treat yourself to a delicious mug of foamy butterscotch heaven!
5. Let a wand choose you at Ollivanders 
"Curious indeed how these things happen. The wand chooses the wizard."
Your trip to WWoHP isn't complete without a visit to Ollivanders. Just as Harry did when preparing for his first year, enter the dusty wand shop and get the most important of your school supplies. In the shop, there'll be a mini show where a member of the wizarding staff (sadly, not Mr. Ollivander himself) will pick a lucky visitor to experience the ritual practice of the wand choosing his master. The wizarding staff typically pick enthusiastic guests, so don't be afraid to make yourself stand out!
The newest attraction of WWoHP is its often-overlooked immersive Wand Magic experience. Using special Magical Wands which you can purchase from Ollivanders, you'll be able to cast spells throughout Hogsmeade. Just look out for the bronze medallion symbol on the pavements and start practising your spells. Remember: swish and flick!
6. Discover the best spots
These photo spots are guaranteed to make Collin Creevy buzz with excitement. It's one thing to get your tickets, enter WWoHP, and experience all the rides within it, but it's a whole other task ensuring you take the perfect pictures that capture all the magic (y'know, to show off to all your other Potterhead friends back home). These are some spots you might want to consider for your shots: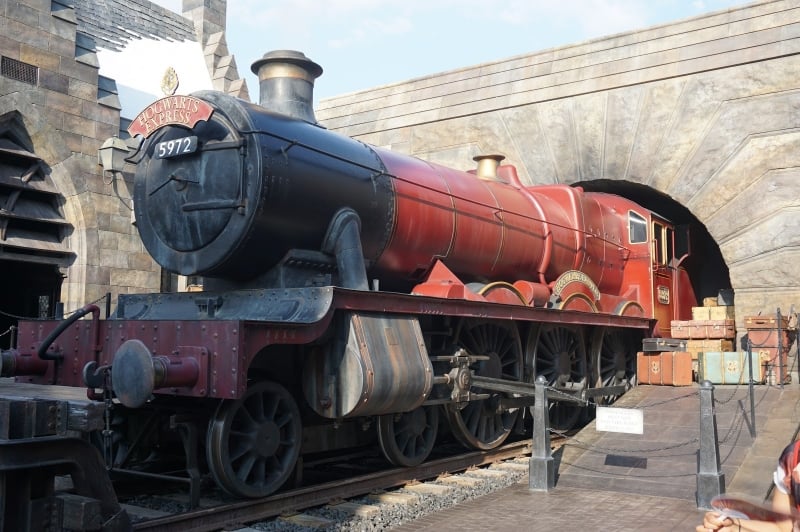 The Hogwarts Express
If you're lucky, you'll also bump into the Hogwarts Express Conductor who would be more than happy to snap some pictures with you.
Archway to Hogsmeade
The entrance to the park itself. It's the perfect place to show everyone that you've left the Muggle world.
Flying Ford Anglia (located outside WWoHP)
You can't miss the striking blue car of the Weasleys as you enter or leave the WWoHP. Careful though, the Ford Anglia might have a life of its own!
Honeydukes
Step into the legendary sweet shop and you'll be greeted with a gorgeous splash of colour. From Every Flavour Beans to Chocolate Frogs, a photo of the shop is enough to send your mouth watering.
Castle view from the Three Broomsticks
While most guests will follow the main path to the front of the castle, the outdoor seating area at the Three Broomsticks tavern offers a picturesque view of Hogwarts and its glistening reflection in the lake.
Sirius Black poster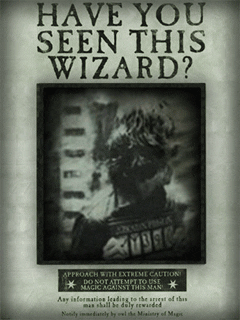 This poster is a reminder of why wizarding photos are MUCH better than muggle photos. GIFs, what?
By the Great Lake
What lurks beneath the surface of the Black Lake? Mermaids? Grindylows? A giant squid? Stand by the stunning waterfront and you might find out!
BONUS:
WWoHP isn't just great for Instagram, though! Aside from the visual extravaganza, visitors can also expect a treat (well, sorta…) for the ears. Audio clips of our beloved Moaning Myrtle are played at the female toilets at WWoHP, so even your toilet journey has a splash of magic. Is there anything they miss out?? YOU BET NOT!
7. Watch the enchanting street shows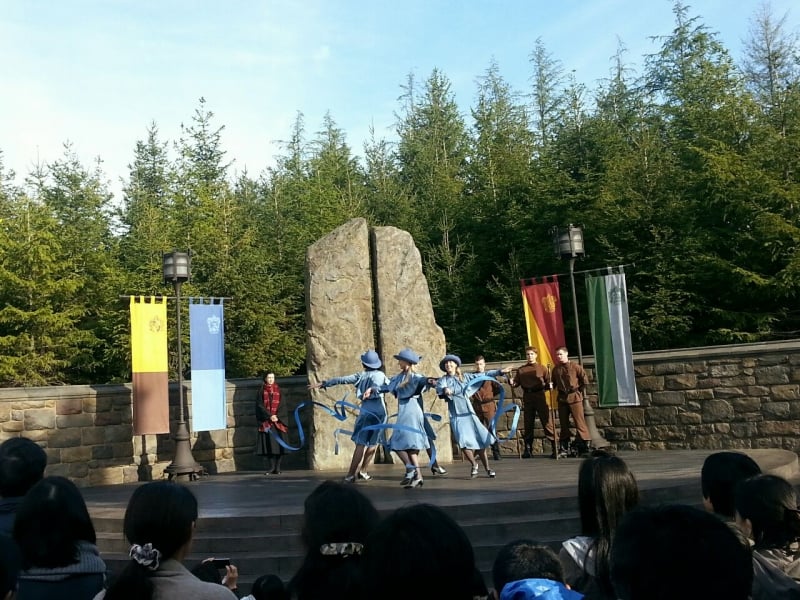 There are three street entertainment shows in WWoHP at different timings, all located at the performance area by the tracks of Flight of the Hippogriff. You should expect a huge crowd watching the performances. Queues start to form about half an hour before the shows start, so be sure to join the queue early in order to get the best seats in the house!
Our personal favourite was the Triwizard Spirit Rally which showcases the charming wizards and graceful witches from Durmstrang Institute and Beauxbatons Academy of Magic. For the hardcore fans, don't miss the Frog Choir performance by the students and their pet frogs. As in the franchise, it's an initiation ritual welcoming students back to Hogwarts at the start of the school year.
8. Don't leave too early!
Perhaps one of the best times to return to WWoHP is when it gets dark and visitors start to leave USJ. This is when you can admire the lights of the Hogwarts Castle against the blanket of the night sky, as well as Hogsmeade Village. Be sure to have a happy memory ready in case you come across Dementors!
Not only will you get to appreciate the beautiful architecture in the Wizarding World in peace, you also can look forward to the Expecto Patronum Night Show. Coming in after dark is a sure way to lumos maximise your visit to WWoHP. Do remember to check USJ's official website to double check that the show runs on the days you are planning to visit! It would also be advisable to give the first show scheduled for that day a miss as that's when most visitors will be there.
A visit to WWoHP is definitely worth it but it requires sufficient planning in advance. There are so many amazing attractions in USJ that it is important to plan your entire route for the day (or days)!