If you're craving an escape from metropolitan Tokyo and the overly-crowded areas of Osaka and Kyoto, why not consider Hokkaido for your next year-end family vacation?
However, planning a trip to Hokkaido can be daunting for many, especially since the easiest way to get around is by car. Why not take this opportunity to plan a family road trip? Just think: you'll have the freedom to go wherever you please, and the space to (unashamedly) sing along to your favourite tunes as you drive along. It's the perfect recipe for bonding as a family. But if nobody in your family has a driver's license, there's no need to worry! You can always hire a driver to take you around – who can also serve as your guide. In addition, hiring a driver is a good opportunity for you to have some interaction with a local, plus learn some basic Japanese phrases along the way!
Whichever you pick, a road trip in Hokkaido makes for a great opportunity to create precious memories. Arm yourself with this 5D4N itinerary and you'll be all set for your year-end holidays!
Day 1: New Chitose Airport – Asahikawa
When planning a Hokkaido trip, most people start from Sapporo and set their sights on visiting Hakodate, Lake Toya, Noboribetsu and the like. However, why not shake things up and venture someplace different for a change? Instead, kickstart your trip from Sapporo before heading to Asahikawa and Shimukappu, both of which transform into a spectacular winter wonderland come year end.
Arrange to pick up your car rental (or have your guide pick you up) from Sapporo's New Chitose Airport, and drive to Asahikawa. The journey will take approximately 140 minutes, so get ready your playlist, plug in the GPS and get ready for a wild ride! Alternatively, if you're travelling here from other parts of Japan, you can choose to take a domestic flight straight to Asahikawa Airport.
Asahiyama Zoo (旭山動物園)
First stop: Japan's number one zoo! Home to more than 150 species and 800 animals, the animal enclosures at Asahiyama Zoo are designed to allow visitors to get as close to the animals as possible – without disrupting the animals in any way. For example, glass tunnels through the penguin and seal exhibits, as well as glass domes in the polar bear and wolf exhibits, allow visitors to observe the animals from 'within' their natural habitats.
A definite highlight of Asahikawa is the Penguin Parade! Usually held twice a day during winter, the Penguin Parade sees a group of King penguins march through the park. Fun fact: the Penguin Parade is not a show for visitors but is, in fact, an exercise routine for the little creatures. In addition, children can enter the zoo for free, so there's really no reason not to head over as a family to experience this for yourselves!
Address: Higashi Asahikawa-cho Kuranuma, Asahikawa, Hokkaido, 078-8205
Snow Museum (雪の美術館)
Next, head to the Snow Museum, a museum dedicated to snowflakes! Many visitors have described the Snow Museum as the real-life kingdom of Elsa from the popular Disney movie, 'Frozen'. And with huge ice columns, an ice corridor and snowflake-shaped decorations adorning the entire house, it's not hard to see why!
The highlight of the Snow Museum is the Snow Crystal Room, where you can see these beautiful snowflakes in all their glory. Despite being mere creations, the snowflakes are incredibly life-like! Get up close and you'll be amazed by the sheer detail and effort of each unique snowflake. P.S. This room also makes for a great photo spot for a family photo!
Address: 〒 070-8028 3-chome Minamigahiga Asahikawa-shi, Hokkaido 1-1
Kaimono Koen Shopping Park (買物公園)
Who doesn't love having some retail therapy? Make a beeline for the Kaimono Koen Shopping Park, the main street of which actually stretches across a total of 13 blocks. If you're looking to get a headstart on souvenirs to bring back home, check out some of the products made by Asahikawa craftsmen – they sure make for unique gifts that can't be bought anywhere else!
Apart from shopping, you can also go on a quest to spot the 100 outdoor sculptures that are in the park. Grab one of the "Asahikawa Outdoor Sculpture Map" brochures, have fun with the kids by finding all the sculptures and taking family photos with each one. Family photos, check!
At the end of the day, indulge in a bowl of the famous Asahikawa ramen. The ramen here is soaked in a shoyu (Japanese soya sauce) broth, and is usually topped with pork slices, bamboo shoots, green onions and an onsen egg (also colloquially known as 'hot spring egg').
Most of the restaurants at the Kaimono Koen Shopping Park open till late, so feel free to shop to your heart's desire before grabbing a bite.
Address: 7 Chome Miyashitadōri, Asahikawa-shi, Hokkaidō 070-0030, Japan
Where to stay in Asahikawa
If you're looking for an accommodation that can comfortably fit the whole family, look no further than this quaint log cabin that will give you a winter holiday experience unlike any other. This apartment is a good choice for families who want to explore the vicinity without too much hassle, as it's just a five-minute drive away from Higashikawa Town Center and a 10-minute drive away from Asahiyama Zoo. If you are flying straight into Asahikawa Airport, this accommodation is located only a short 15-minute drive from the airport!
Plus, this log cabin even comes with its private sauna. Yes, that means that your family can have your own private sauna all to yourselves. What a perfect way to keep yourselves warm during the winter, huh? Use the promo code <SAVE8> when booking this vacation rental on HomeAway and enjoy 8% off your booking!
BOOK YOUR STAY WITH HOMEAWAY NOW!
Day 2: Asahikawa
Canmore Ski Village (キャンモアスキービレッジ)
What's a winter holiday without some snowy action? Head to the Canmore Ski Village and try your hand at skiing or snowboarding! If you're worried that this might be unsuitable for the kids, fret not. The resort offers kid-sized skis and snowboards, as well as a total of six trails that vary in difficulty. Even if you're a complete amateur, it doesn't mean that you have to miss out on the fun! Just head to easier trails, and you'll be cruising down in no time with just a little practice. You can choose to spend the night here, but we recommend simply taking a day trip. After all, there's still so much to see and do in Hokkaido!
Should you get peckish, there are also dining options available here for your family to replenish your energy before heading off to your next destination. There's also a free-for-all lounge fitted with heating facilities vending machines for you to take advantage of!
Address: 〒 071-1405 Hokkaidō Kamikawa-gun Higashikawa Machinishi 5 gōkita 44-banchi
Tatsuno Yu Onsen
After a day of working those muscles off at the ski village, pamper yourselves at an onsen (Japanese hot spring). There are plenty in Hokkaido, but we recommend Tatsuno Yu Onsen due to its close proximity. Lay back and relax in the heated pools while you allow the natural spring water to work its magic. Ah, what a great way to wind down after a long day in the cold winter weather!
The onsens are usually gender segregated, with separate areas for men and women. Do take note that temperatures can go up to 40 degrees or more, so do take your time to acclimatise your body, and take care not to immerse yourself for more than 20 minutes at a time.
Address: 91 Higashi Asahikawa-cho Kamiheison, Asahikawa 078-8207, Hokkaido
Day 3: Asahikawa – Shimukappu
Mount Tokachi (十勝岳)
On your third day, explore Daisetsuzan National Park, the biggest National Park in Japan. When you reach the parking lot, follow the trail at the end of road and you'll be able to reach the Ansei Crater in less than an hour. Don't worry, it's an easy hike that's suitable for all ages. The views at the Ansei Crater are absolutely amazing in winter, but do tread with caution as it is situated in a volcanically-active area!
For those feeling a little more adventurous, you can hike all the way up to the peak of Mount Tokachi from Ansei Crater for even better views. The journey up the peak takes four hours one-way, so you might want to skip out on hiking to the peak if you don't have a lot of time on your hands!
If your family can't get enough of soaking in onsens from the day before, then you'll be delighted to know that there is an onsen here as well. Spend some time in the Tokachidake Onsen, which is located 1280 metres above sea level. Talk about soaking in a hot spring with a view!
Address: Biei-cho, Kamifurano-cho, Shintoku-cho, Hokkaido
Ice Village (星野リゾート トマム アイスヴィレッジ)
Take your vacation up a notch when you visit the Ice Village, where you'll be able to soak up in the true spirit of winter. Featuring a bunch of winter-themed activities, Ice Village is opened only during the winter season. So unless you're coming back to Hokkaido during winter in the near future, this is one place that you really won't want to miss!

Feeling peckish? Settle into your dining booth (made of ice!) at Ice Sweets Café and munch on some winter-themed goodies. On top of that, you'll also be able to slide down a slide completely made of ice. No matter your age, let loose and enjoy this wintry spectacle! We'll warn you though: "one last time down the Ice Slide" just won't cut it, for both adults and kids alike.
Warm yourselves up by gathering round the bonfire and roasting some marshmallows. After rushing around so much for the past three days, take this time to take things slow and enjoy time together as a family. Have a good laugh at the funny things that have happened on your trip, and just enjoy some good old bonding time. This may be one of the simpler activities, but it's certainly going to be one of the moments your entire family will remember for years to come.
Address: 〒 079-2204 Hokkaidō Yūfutsu-gun, Yūfutsu-gun Shimukappu-mura Nakatomamu, Nakatomamu
Where to stay in Shimukappu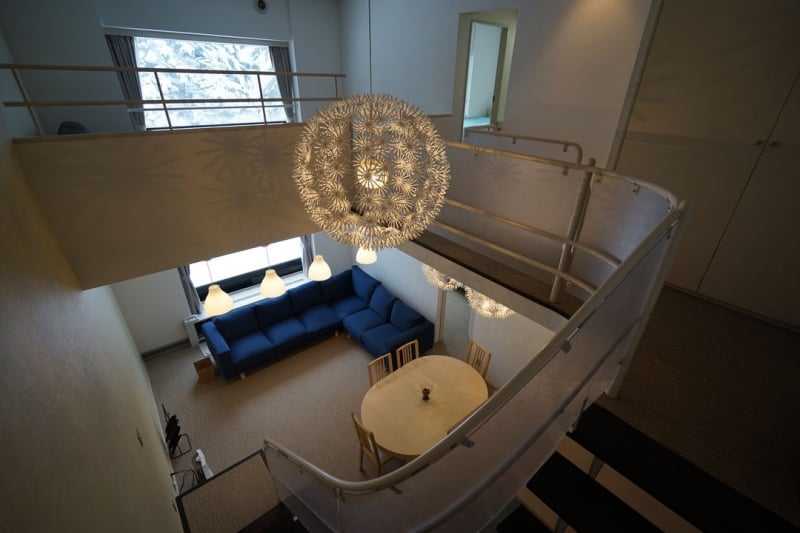 Situated in the Hoshino Resort Tomamu, this serviced apartment can house up to eight guests, making it ideal for larger families. Guests can enjoy access to public baths, pools, as well as activities such as golf and skiing (at a discounted rate). All rooms come equipped with a washing machine and dryer, both of which are a godsend if you wish to have a batch of freshly washed clothes. The accommodation is a two-storey maisonette, and offers dazzling views of white panoramas. The living area is perfect for sharing a meal, and comes equipped with both a sofa and dining table. Plus, get 8% off your HomeAway vacation rental with the promo code <SAVE8>!
BOOK YOUR STAY WITH HOMEAWAY NOW!
Day 4: Shimukappu
Unkai Terrace (星野リゾート トマム 雲海テラス)
Start off your day with a nice cup of coffee for the parents and a warm bowl of soup for the kids at Overlook Café, which overlooks (pun intended) the Unkai. An especially mesmerising sight to see, Unkai means "sea of clouds". On a chilly morning, enjoy a light breakfast with the family against a backdrop of this stunning view. You'll feel as if you're dining at the edge of the world!
Whilst you're there, don't miss out on the Cloud Pool, which is a giant hammock in the shape of a cloud. Designed to hold up to a maximum of 10 people at one time, this is another place that the family will absolutely love. Not to mention how insta-worthy the place is! With the highest point suspended eight metres from the ground, it'd feel as if you're floating among the clouds.
For those who prefer to sit and watch the changing movement of the clouds, the Contour Bench is the place for you. The benches are modelled after the different contour lines of a mountain, and can seat up to 200 people at any time. Make sure to shift around on the benches to truly enjoy the differing sights and angles of the Unkai!
Address: Nakatomamu, Shimukappu, Yufutsu District, Hokkaido Prefecture 079-2204, Japan
Mount Tomamu (トマム山)
From Unkai Terrace, take a short 40-minute hike up to the peak of Mount Tomamu. Located 150 metres higher than Unkai Terrace, believe us when we say the views up here are even more impressive. And because the Unkai that you see is completely dependent on the weather and the movement of the clouds, every visit will give you a different, yet equally spectacular, view.
Address: Nakatomamu, Shimukappu, Yufutsu District, Hokkaido 079-2204, Japan
Michinoeki Shizentaikan Shimukappu
Make a pitstop at Michinoeki Shizentaikan Shimukappu, which is a roadside station that's frequently been cited as a good resting place. Here, you'll find stalls selling a wide variety food, randing from rice balls and takoyaki to ice-cream. There's also a convenience store here for you to stock up on some snacks for the road. Don't forget to visit the washroom before continuing the rest of your journey!
Address: Japan, 〒 079-2201 Hokkaido Prefecture, Yufutsu disutorikuto, Shimukappu, azachūō
Chapel on the Water (水の教会)
Once you've refuelled, make your way to the Chapel on the Water. While there are allocated timeslots for public, we feel that the best time to visit the Chapel is in the evening or at night, when the cross will be illuminated by light behind it. There is usually a long queue waiting to go into the Chapel, and visitors are only allowed to spend about 15 minutes within the premises. Nevertheless, the cross standing sentinel above the serene water is a sight to behold for all, no matter their religion.
Address: Tomamu in Shimukappu village, Yufutsu-gun, Hokkaido 079-2204
DAY 5: Shimukappu – Chitose
Chitose Outlet Mall Rera
Feel like you haven't done enough shopping yet? Well, there's still time left for you to do some last-minute shopping before you head back home!
Take the route back to New Chitose Airport, which is located about a 60-minute drive away. Return your car at the airport, and hop onto a shuttle bus to Chitose Outlet Mall Rera. The outlet mall is located just 10 minutes away from the airport, and houses well-known brands such as Coach, Gucci, Levi's, Hush Puppies and many others. Check out this list of stores available and plan your route. And the best part? All of the stores found here are factory outlet stores a.k.a. where everything is going below retail prices, which means you can shop to your heart's content knowing that you're scoring plenty of great bargains!
Address: 1 Chome-2-1 Kashiwadaiminami, Chitose, Hokkaido Prefecture 066-8765, Japan
BONUS: Explore New Chitose Airport (新千歳空港)
If you still have some time to spare before you have to get to your departure gate, take a little adventure around the airport to discover some of the cool things that it has in store!
Found on the third floor of the Domestic Terminal Building, the Airport History Museum is split up into three main areas – History Zone, Gallery Zone and Symbol Zone – with each one showcasing a different part of the New Chitose Airport story. You can even see the evolution of the airport's uniforms over time!
Whilst you're there, hop over to the Sky Museum, which is a place that can help visitors better understand the airport and aviation business through interactive experiences. With the Tibikko Uniform Experience, kids are able to dress up in professional pilot and cabin crew uniforms. What a novel photo opportunity, so get your kids into one (or several) of these uniforms and snap away! There is also a flight simulator and a work experience corner to give visitors a taste of how it's like to be working in this industry.
Last but not least, who can resist a sweet treat? End your trip (literally) on a sweet note by dropping by the ROYCE' Chocolate World. The first of its kind to be found in airports, ROYCE' Chocolate World is a new-concept chocolate shop that includes both a factory and a museum all in one store. Learn more about the history of chocolate, the process of making chocolate and, of course, buy some limited-edition chocolate that you can't find anywhere else back home!
All raring to go to Hokkaido for a smashing year-end holiday? There are so many things to see and do and, at the end of the day, all anyone needs is a comfortable and cosy accommodation to unwind at. Cliché or not, the accommodation you choose can very well either make or break your trip, so choose wisely!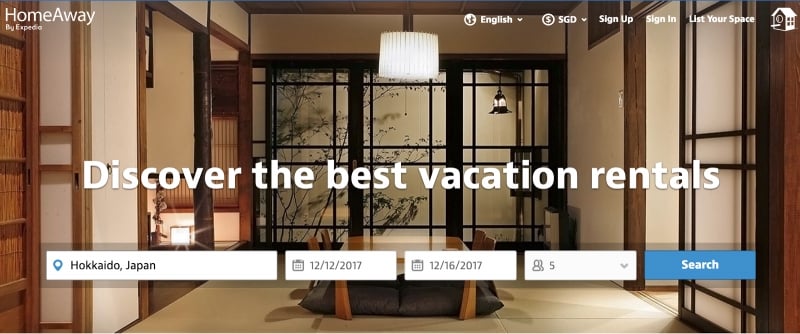 Instead of the usual hotels, why not try staying in a HomeAway vacation rental? For the same amount (or even less) than what you'll pay for multiple hotel rooms, a HomeAway vacation rental will give you the most precious thing of all: the space to bond as a family. No more separating into individual hotel rooms at the end of the day; with HomeAway, you can delight in a common living area where you can sit together as a family and spend some precious quality time. What's more, most properties that you rent on HomeAway usually come with a fully functional kitchen, a washer/dryer and other appliances you usually find in your own home to make travelling a total breeze for families – especially if you have younger children with you!
Besides, staying in one of these vacation rentals is also a good way to immerse yourself in the local way of life! Many of these accommodations are located right in the heart of local neighbourhoods, and hosts are often eager to show off their home country.
There's, truly, no better way to feel at home – even if you're thousands of miles away. And to top it all off, use the promo code <SAVE8> upon checkout to enjoy 8% off your booking!
Check out all of HomeAway's Hokkaido vacation rentals, and we guarantee that you'd find one that'll be perfect for your family. Don't rush into booking your accommodation, and take your time to slowly browse through the tons of options and reviews before deciding which one will suit your family best. And when you've made your choice, process your booking securely and voila! You're all set. One unforgettable holiday in Hokkaido, coming right up!
---
Brought to you by HomeAway.