The Japanese are known for their high-speed bullet trains that have been whisking passengers around the country at speeds of up to 320km/h. Now you can indulge in a full array of luxurious Japanese treatments while zipping through the country on board the trains!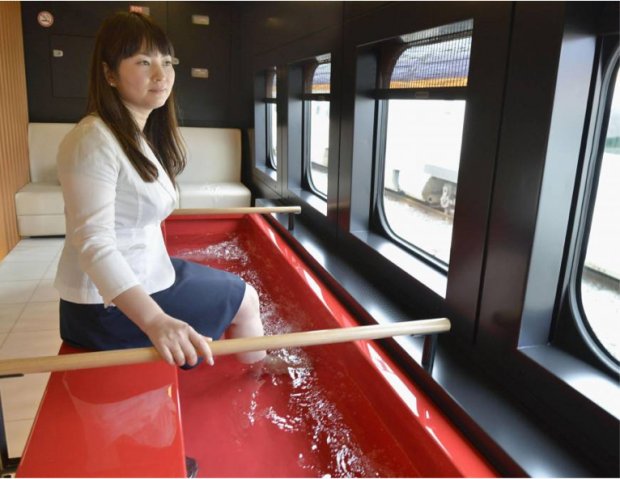 Image credits: East Japan Railway Co.
East Japan Railway Co. unveiled new luxury trains that feature traditional foot baths, resting area with tatami mats and tables carved from sakura cherry trees. Starting from July 19 to September 28, passengers on board the luxury trains from Yamagata to Fukushima can soak their tired feet while speeding through the beautiful landscape.
Yamagata is a popular destination for onsen (hot springs) & ashiyu (foot bath). The beautiful scenery and the natural hot spring water make it an ideal place to soak your fatigue away.
Now you can experience the best of Yamagata before you get there!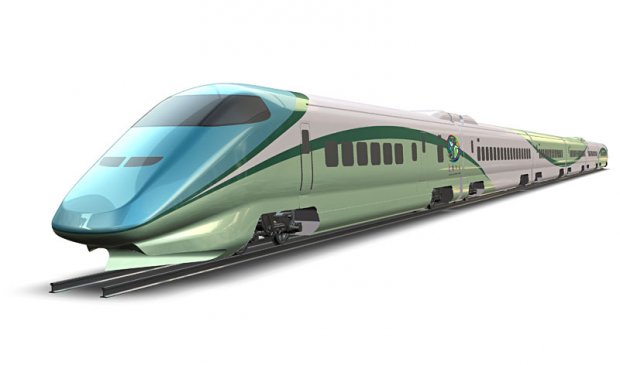 Image credits: Kenokuyama design
Even before you start the train journey, the luxury factor has already set in. The luxury trains feature a sleek new design by Ferrari designer Ken Okuyama. The Yamagata native integrated his hometown's attractions into the exterior of the train. The Zao white main body is inspired by Mt. Zao's snowy landscape, the metallic blue front symbolising the Mogami river, and the flowy lines of Gassan Green representing the Gassan mountain. You don't have to worry about missing your train; it is hard to miss.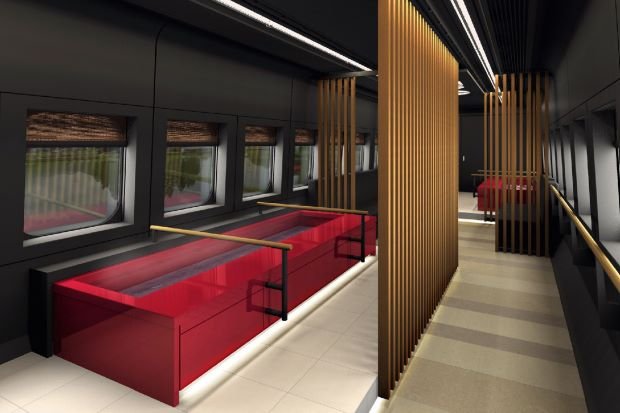 Image credits: East Japan Railway Co.
Now that you are onboard your sleek new ride, the new luxury trains have a special carriage retro-fitted with two ashiyu, each ashiyu give four passengers a chance to experience the traditional warm-water foot bath experience while speeding across the idyllic landscape of Yamagata.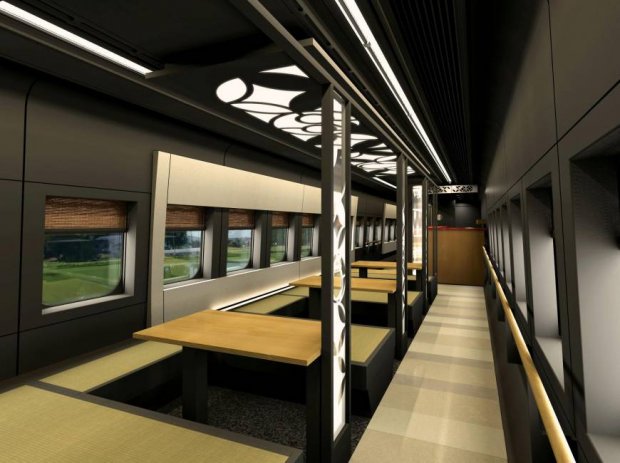 Image credits: East Japan Railway Co.
Relax in a traditional Japanese Sake-house where tatami mats are laid in the next carriage. The luxury doesn't stop there and the train's tables are made of wood from cherry blossom trees.
In addition, unlike most Sake-houses where guests have to kneel on the tatami mats, this luxury Sake-house features cut-outs in the floor below so that you will not need to kneel Japanese-style.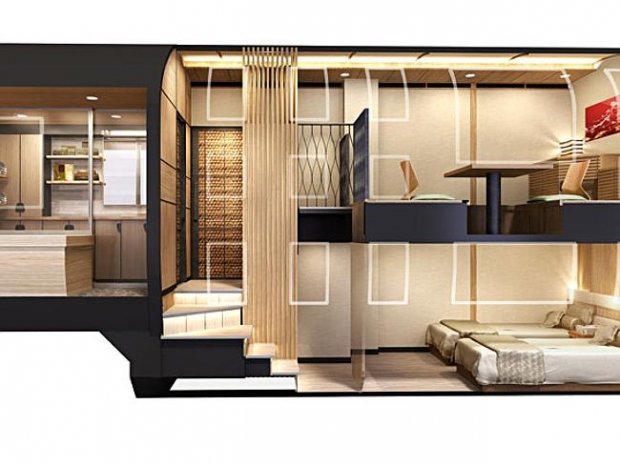 Image credits: East Japan Railway Co.
East Japan Railway Co. is not stopping at this series of luxury train. They are preparing to introduce even more lavish trains featuring deluxe suite carriages and champagne gold exterior.
In the meantime, indulge in the luxury of a foot bath and sake as you admire the scenic landscape of Yamagata. The ride ahead looks incredibly luxurious for Japan rail passengers!
Inspired? Book your Japan trip now and catch the train!