Not to be outdone by other islands, this sprawling Indonesian city promises one of the best shopping experiences in Southeast Asia. Jakarta runs at a pace much faster than Bali and Yogyakarta; it has grand shopping malls and street vendors from all corners, selling just about anything you can think of. As the vibrant capital of Indonesia, it has plenty of treasures and surprises hidden up its sleeve — and you can find them, but only if you know what you're looking for. 
Bringing home the right souvenirs for your loved ones is always challenging, no matter where you are in the world. Luckily, we've done the hard work for you, so that you can focus on making the most out of your trip to Jakarta, Indonesia! 
From antique homecrafts to ethnic accessories, there are many dazzling things to buy in Jakarta for a dose of retail therapy. We guarantee that you won't be able to resist these Indonesian souvenirs from Jakarta! What are you waiting for? Let the hoardi — or, rather, collecting begin! 
Also read: Walking in Jakarta: The Hidden Sights No Guide Will Tell You
1. Batik fabrics and products
One of the most popular things to buy in Jakarta? Why, batik fabrics and products, of course! Certainly, if there's any souvenir that embraces the diversity of cultures in Indonesia, it's batik — a famous wax-resistant dyeing technique and a timeless craft throughout the archipelago. 
Artisans have devoted their time and attention to make these handwoven products. As a result, batik fabrics tend to be colourful and quite intricate with brightly-coloured patterns. Just like in the streets of Bali, you can find an exciting array of batik products in Jakarta: elegant scarves, pants, shawls, blouses, pillowcases, bags, and more! The cherry on top? They look and feel great on you! 
2. Wooden carvings and handicrafts
Some of the most thoughtful souvenirs you can buy from Jakarta are wooden carvings and handicrafts. A hit among travellers and residents alike, these woodcrafts are loved not only for their aesthetic but also for their intricacy. Each island in Indonesia has its own traditions and designs for wood carving. 
Take your pick from larger pieces of home décor such as tables, sculptures, wall displays, and other housewares; or intricate crafts such as key chains, tiny statues, card boxes, dining utensils, and wooden masks. These thoughtfully made products give travellers an opportunity to bring home a special piece of Indonesian art. No matter which ones you end up choosing, these traditional Jakarta souvenirs will make stellar additions to any home! 
3. Indonesian coffee
If there's anything in your collection of Jakarta souvenirs that can transport you right back to the streets of Jakarta, it's bags and bags of Indonesian coffee. Just a whiff is enough to remind you of the coffee haven you came from — all the delicious brews that give Indonesia a coffee culture worth travelling for. Needless to say, people take their coffee pretty seriously here. 
As the fourth largest coffee producer in the globe, Indonesia has some of the tastiest coffee you will ever try! From arabica grown in Java to the earthier robusta in Bali, a wide selection of premium coffee beans are sourced from coffee-growing regions across the archipelago. You can buy these prized beans from supermarkets and cafés in Jakarta such as Anomali Coffee, Giyanti Coffee Roastery, Tanamera Coffee, Common Grounds, and so on. 
Feeling lethargic before work? Whip up a cup of Indonesian coffee in your kitchen, and start your day with high-quality brews from one of the best coffee capitals of the world. Your mornings will never be the same! 
4. Jewellery, gemstones, and accessories
While you're shopping for things to buy in Jakarta, a few pieces of jewellery might catch your eye! You'll come across plenty of antiques, ornaments, silverworks, and accessories with the finest craftsmanship in Southeast Asia. So if you're hoping to add a little sparkle to your attire, you're in the right place! 
Not sure what gifts to get for your loved ones? How about their birthstone? Jakarta's Rawa Bening Market is a haven for precious stones such as amethyst, garnet, sapphire, opal, jasper, and quartz. You can't go wrong with silver either, as there are many necklaces, earrings, bracelets, pendants, and rings to choose from. Luckily, these Jakarta souvenirs come at budget-friendly price ranges, too!
5. Rattan bags, wallets, and containers
It takes everything within our power not to hoard as many of these rattan bags as we can! If these handwoven items look slightly familiar, you might have seen them hanging off the shoulders of stylish people or taking up space in other people's cosy homes. Perfect for storing keepsakes and valuables, these authentic Indonesian products come in sling bags, wallets, journals, baskets, lunch boxes, and just about anything you can leave your things in, really! More importantly, these gifts are as sturdy as they are beautiful. 
Many travellers like to buy round sling bags from the streets of Bali, but you can also purchase these classic Jakarta souvenirs from stores and markets across the capital. 
Also read: Bali Souvenirs: 25 Unique Items & Where to Buy Them
6. Homegrown fashion
Want to steal this look? In Jakarta, you can! From loose and flowy pants to vivid sarongs, the fashion finds in this dynamic city will make your everyday style look more colourful and laid-back! Here, you'll witness centuries-old techniques of textile production working together with the latest fashion trends to produce clothes that are quintessentially Indonesian. Throw on an eye-catching sarong and pair it with a handwoven bag, or put on some dangling earrings to boot! Don't be afraid to play around with your look. As you strike out on the streets and boutiques of Jakarta, the level of creativity among local designers will blow you away. 
7. Pouches and coin purses
Looking for more things to buy in Jakarta? We'll give you a hint: If we were close friends and you didn't think to give us one of these adorable pouches from your trip to Jakarta, we would be just a little disappointed. Travel pouches come in handy all the time, you see; and more importantly, they won't break the bank! You can easily enter one store after another, picking out your favourite pouches among other wonderful Jakarta souvenirs, until you end up with a bag full of these affordable and high-quality goodies!
8. Wayang puppets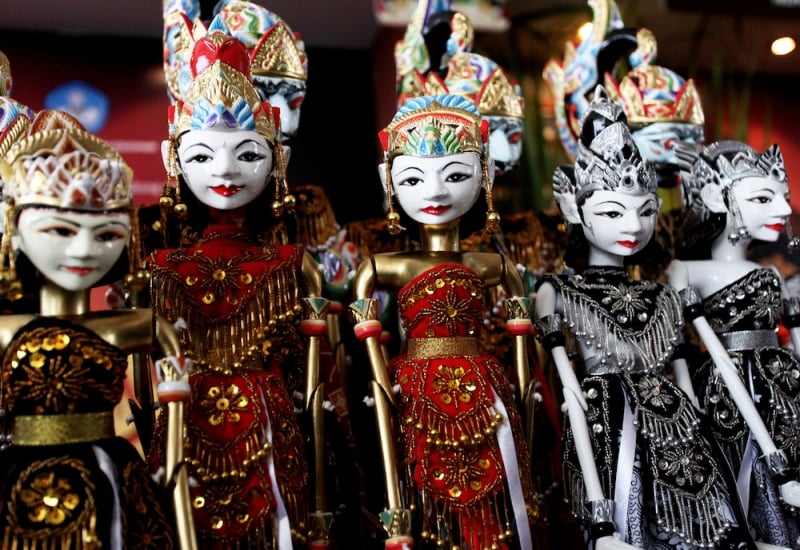 For centuries, Indonesians have used the art of puppetry to tell dramatic stories and ancient myths. Today, this beloved storytelling tradition is known as wayang kulit, or shadow puppet theatre, as well as a UNESCO-designated Masterpiece of the Oral and Intangible Heritage of Humanity. Though many regions in Indonesia have their own designs of wayang puppets, these three-dimensional woodcrafts have one quality in common — all of them are made by hand! 
These enchanting puppets are designed to represent a different human, character, or animal. Sure, it's a little on the quirky side of Jakarta souvenirs, but that's why we love it! You can choose from a selection of wayang puppets for clever gifts to present to your friends and younger relatives! 
9. Indonesian snacks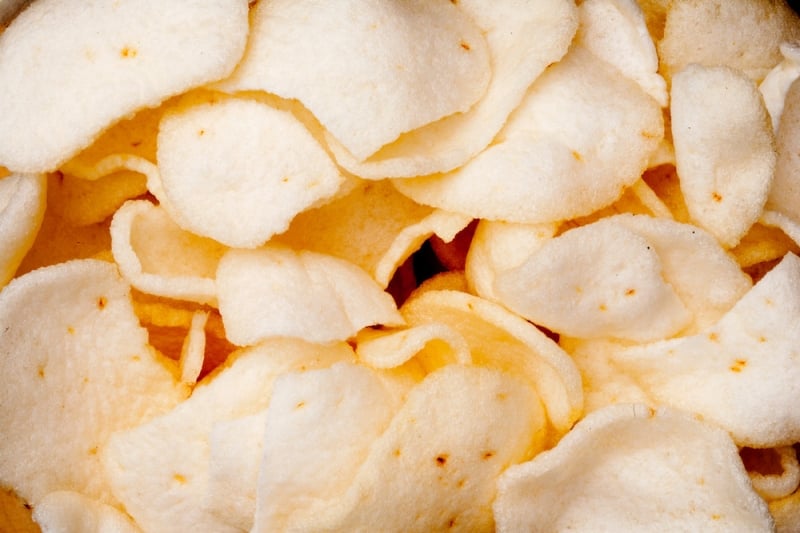 If you're a foodie who loves to travel, you've most likely feasted on well-loved Indonesian dishes such as nasi goreng, chicken satay, bubur ayam, and gado-gado. But did you know that you can bring home Indonesian snacks as well? 
When it comes to picking memorable things to buy in Jakarta, you can't go wrong with tasty food! You won't have to look very far to discover them either, as street vendors often sell deep-fried crackers called krupuk with flavours of shrimp, fish, seaweed, rice flour, and tofu. You can also visit the local supermarkets for sweet potato chips and cassava chips. 
Other crowd-pleasing Indonesian snacks include biji ketapang, roti gambang, kembang goyang, and dodol betawi. Truly, there's nothing like salty and savoury snacks to remind you of your time in Jakarta. It will be as though you never left! 
10. Essential oils and aromatic incense
You don't have to be an advocate for essential oils to enjoy the benefits they provide. Not only do essential oils calm your nerves, but they also help in easing the troubling symptoms of stress, fatigue, and insomnia. Meanwhile, aromatic incense sticks freshen up any room, thanks to their natural and sweet-smelling scents. Together, these fragrant Jakarta souvenirs brighten your day by creating a relaxing ambience at home, soothing the mind and the body. Who wouldn't want that? 
Also read: 18 Reasons You Should Visit Indonesia
If you're travelling to the capital of Indonesia soon, be sure to keep an eye out for these unique Jakarta souvenirs! Ranging from trendy to lip-smackingly good, these tried-and-tested items can easily serve as gifts that you and your friends will love. 
Among these tempting things to buy in Jakarta, which are the souvenirs that you plan on keeping for yourself? Let us know which ones caught your attention!