Indonesia is a land that is going places. And it is going places fast. Its people are resilient and enterprising; and the multitude of experiences on offer is so contrasting and vast that it has to be personally experienced to be believed. None of all this should come as a surprise, of course; after all, this is a country of 17,000 islands, 300 languages, and a surface area that runs along the equator for a good 5000km. To expect any less would defy the very laws of heterogeneity.
In fact, venturing through Indonesia can sometimes feel like you're traipsing through a hundred different continents – such is the kind of diversity we speak of. It is an incongruous combination of people, customs, traditions, food, arts, history, and dramatic landscapes; and a huge fraction of it is still left so untapped that it feels like, perhaps, it requires more than an intrepid spirit for the undertaking.
But don't boggle your own mind just yet; this untamed nation is a journey that rewards the flaneur. Unless you have a gap year to spare, no one should ever feel pressurised to accomplish its full plethora of experiences in one epic endeavour. After all, life here doesn't revolve around an itinerary; so start at street level, have patience, learn to savour, and you will stand in good stead.
1. Yogyakarta
The historic heart of the nation, Yogyakarta is an essential stop in any Indonesia itinerary. This city is a cultured charmer and exudes a distinctly laid-back air that will more often than not, make you stay beyond your expected timeframe. Ancient but dynamic, Indonesia's most approachable city hurtles towards modernity with a heady mix of tradition and drive. Its cultural smorgasbord can be traced all the way back to the 9th century, and together with the crumbling decadence of its burgeoning tourist scene, makes for a rich, wonderfully rewarding, and incredibly varied city to explore.
If there is one tip I would give to anyone heading to Yogyakarta, factor in at least one day more than you think you need.
Go if… you can't get enough of the country's history, arts, culture, people… or just the whole of Indonesia, really.
Don't go if… the likes of Angkor Wat never moved you.
Experiences not to miss…
1. Waltz through the iconic streets of Jalan Malioboro. Yogyakarta is fundamentally arts and culture, and nowhere else in the city condenses it into one concentrated district like Malioboro does. This festive 24-hour street is a riot of colour and commerce, and comes packed with everything from local craft markets to air-conditioned malls to street side vendors. At night, the entire place comes alive with throngs of street food stalls that will give you more than your money's worth in food and atmospheric experience.
2. Risk your life with an intrepid trek up Mount Merapi, the second most active volcano in the country – and there are 129 in Indonesia. This fiery mountain erupts like a clockwork every five to eight years, and the last eruption happened in 2014. Do the math. Go now before it actually becomes a real risk to be at Mount Merapi.
3. No trip to Yogyakarta is complete without the full Borobodur Experience. This includes watching the sun rise from Setumbu Hill, a visit to Borobodur which sits a five-minute drive away; and closing the day with hypnotising sunset watch at Prambanan Temple. Pack extra batteries – this itinerary is a mountain-load of photo opportunities and you don't want to run low before the day ends.
2. Solo (a.k.a. Surakarta)
Solo is the central meeting of cultures right smack in the heart of Java but continues to remain one of the most overlooked cities in the country. Admittedly, it's not an instinctive choice for anyone jet-setting their way through Indonesia: few even consider it a travel option – and those who do usually end up passing it on for Yogyakarta, Solo's larger and louder sister.
Which is really quite a pity because all things considered, Solo retains an inexplicable charm that one can't quite put his finger on. It is hearty, and raw, and traditional; and the vibe here is very relaxed and unpretentious. It's definitely a lot less touched by tourism than Yogyakarta, and as a result, provides a more authentic cultural adventure for even the most conservative traveller.
Go if… you're a culture or history enthusiast.
Don't go if… you need to do more than shop, eat, and live in the past.
Experiences not to miss…
1. Go on a spree at Pasar Triwindu, an antiques market so traditional the barter system remains a valid means of transaction. It doesn't matter if you're seeking original replicas or tourist fodder: here, you'll find a diversity so copious it'll feel more like a cultural lesson than an actual shopping junket.
2. Something else you can't miss out while faux-shopping in Solo? Batik. Enter the Laweyan Batik Village. As Indonesia's main textile centre, you can expect nothing short of the most exquisite traditional batik direct from factories. Traipse through all 25 hectares of this charming little set-up, soak in the air of an antiquated past, and learn to make your own batik even, if that's your thing. Don't forget to mingle and engage in a little frivolous bargaining while you're at it – it's all part of the experience here.
3. Indulge in the gutsy rustic flavours of Solo's Street Food – this should be on everyone's to-do list. Solo is highly famous for its food and you can spend months here and still not exhaust the possibilities. Of the plethora of dishes on offer, get your hands on Nasi Gudeg (unripe jackfruit served with rice, chicken and spices), Nasi Liwet (steamed rice cooked in coconut milk and chicken broth, served with a host of side dishes), and Srabi (mini rice puddings served on a crispy pancake with banana, jackfruit or chocolate topping). Many will tell you that street food doesn't get more lip-smackingly good than Solo.
3. Medan
Shame on you if you find yourself bored in Medan. This understated city may lack all the trump cards needed to be a touristic ideal, but it is tranquil, peaceful, and incidentally the stepping stone to some of the most beautiful treasures in the country. Imposing mountains and dramatic sceneries from the very hallmarks of Medan; with solitude, style, and scenery all wrapped up in a neat package for those looking for an on-the-go retreat. This is the kind of city that makes you want to quit your job and live in your bathrobe… forever.
With a population of about 2 million people, Medan is the largest city outside of Java; but it is interesting to note that there is no single ethnic group that forms a majority here. Instead, travellers get treated to an extensive array of cultures, off-the-beaten-track wonders, as well as a rich culinary tapestry that will charm even the most discerning traveller out of his/her disenchantment. The catch? Medan is fast becoming less of a secret every day and pretty soon, authenticity will be hiding in its lakeside waters.
Go if… if you're craving for a monastic calm.
Don't go if… slow-paced travelling makes you restless.
Experiences not to miss…
1. Venture the off-beaten path to Kawah Putih Tinggi Raja. This crater might not be easy to find, but no one who's ever been there will tell you it wasn't worth it. This exotic beauty is highly reminiscent of the gorgeous Pamukkale pools in Turkey; but think twice as it is actually a hot spring consisting of limestone hills and water boiling enough to fry an egg. Don't go in.
2. There are many living Batak villages scattered around Sumatra (especially in Lake Toba) – find one and explore it. You'll be uncovering one of the most fascinating ethnic tribes that ever walked the face of this Earth. In as short a sentence as possible, the Bataks were indigenous people who practised cannibalism, black magic, and Tendi, a morbid reburial ceremony that involves digging up the dead and reburying them for elevated status. Fun fact: one of these three things is still openly practised today.
3. Find your peace and quiet at Lake Toba. Take a dip, have a lakeside meal, visit the country's tallest waterfall: this serene beauty is the perfect place to unwind and while the time away – especially if you're turbo-touristing your way around the country. Don't forget to stop by Sipisopsio and Sibolangit Waterfalls: the latter is also known as the Two-Colour Waterfall, which gleams a magical greyish blue due to the phosphor and sulphur contained in the water. Go ahead, it's your one chance to pretend you're a deity.
4. Semarang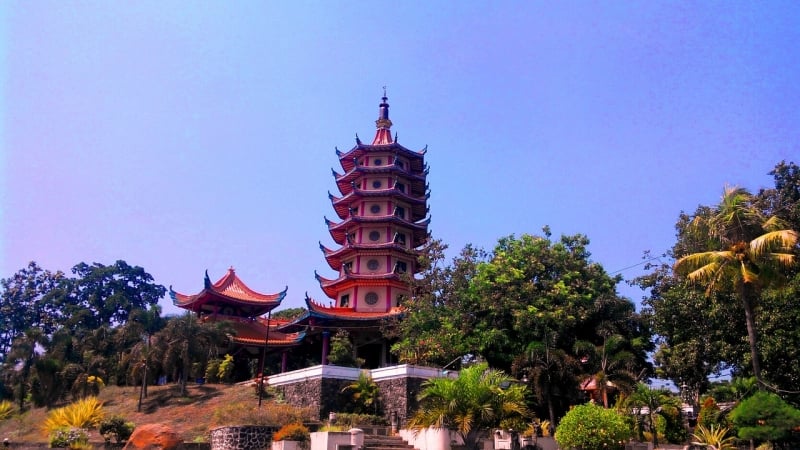 Indonesia's hitherto unheard-of city is fast drawing attention from the upcoming crowd of millennial travellers. Richly atmospheric and historical, this stop is a worthy choice for those looking to waltz into the country's colonial past while having their tummies filled (not literally at the same time, mind you); and for once, the food exceeds the hype. Semarang's top ticket is its Old Town, a quarter that might appear charmless to the untrained eye, but which remains an essential experience for anyone trying to piece together the country's myriad influences and historical reference points.
Go if… you're into that whole colonial bish-bosh. And food.
Don't go if… dilapidated buildings give you rashes.
Experiences not to miss…
1. Semarang's Old Town warrants a day of full exploration. The rundown facade of this bustling quarter hints of its former colonial glory, reflecting a beautiful blend of ethnic influences which have created an unparalleled townscape across the region. It might come across as a bit of a slum district at first glance, but those who know better will appreciate its historical significance and background story. Places you shouldn't miss out on includes Chinatown, Gereja Blenduk, and the old post office, amongst many others.
2. Lawang Sewu is technically located within Old Town, but has such a chequered history that it necessitates a point all on its own.  Also known as the building with a thousand doors (they're actually full-length windows), this charming edifice was originally built as the headquarters for the Dutch India Railway Company – but was converted into the Japanese headquarters during WWII. More specifically, its basement was promptly transformed into a dungeon prison where POWs were locked up, tortured and executed. Today, Lawang Sewu is known as one of the most haunted buildings in the city – you'll be hard-pressed not to notice the chilling atmosphere when entering the basement, traces of its past atrocities still lingering in the air.
3. Eat like you've never eaten before. Semarang has a profound grasp of ingredients and creates dishes using a mellifluous blend of ethnic flavours – most of the time ending up a little too good to be shared. Noteworthy renditions include Lumpia, a Semarang-version of the Chinese spring roll; Nasi Ayam Semarang, an unconventional take that serves up with coconut milk-infused chicken and Labu Siam (squash stew); and Lekker Paimo, a spectacular jagung manis (sweet corn) pancake that comes with all sorts of in-betweens, including mozzarella, tuna, and delicious dollops of daging. Not enough? Slurp it all down with a bowl of Soto Selan, a spectacular Soto Ayam medley that comes with steamed rice, vermicelli, bean sprouts, and also bergedel, tempe goreng, and satay.
5. Jakarta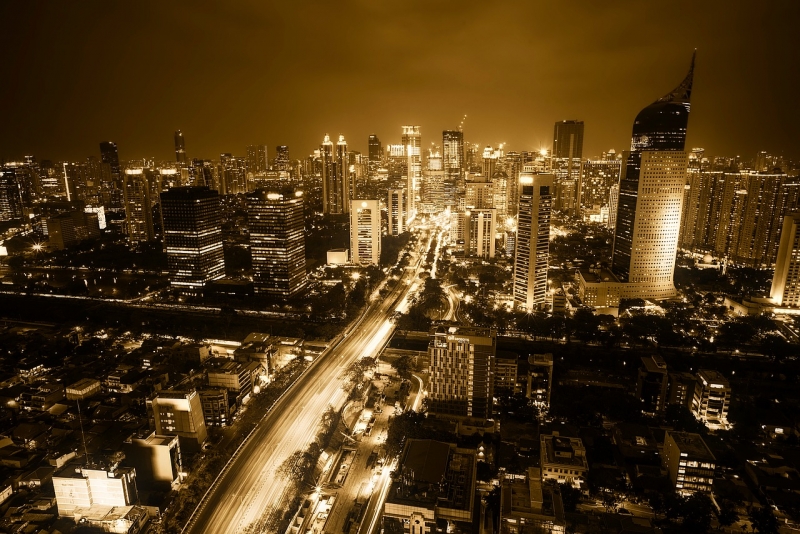 Don't worry. The traffic happens to everyone. You'll either be drawn into its strangely thrilling vortex or find it overwhelming altogether. The key to enjoying this booming city is not to fight its frenetic pace, humidity, and gaggle of people; but to go with the flow. Because once you put on your dauntless cap and swerve past the initial extremes, this buzzing metropolis is actually quite the treasure trove of awaiting discoveries. From brash new buildings to antiquated colonial quarters, the city blends old and new with charm, wit and class, all while surging at full speed ahead.
All things considered, Jakarta isn't exactly one of Indonesia's primary tourist destinations, but it is the capital of country; and like all urban metropolises, there is a taste of outlandishness that makes it worth your while – if you know where and how to look.
Go if… you like the hustle and bustle of city life.
Don't go if… you hate crowds, traffic, and ghastly pollution.
Experiences not to miss…
1. Conquer Jakarta with a self-guided Walking Tour around the City. Start from Istana Merdeka (the Presidential Palace) and Istana Negara (the State Palace), then work your way through other historical sights like the Istiqlal Mosque, Gereja Cathedral Church, and Glodok, Jakarta's very own Chinatown (which, incidentally, is the biggest one in the whole country). Don't forget to pay a visit to Old Batavia, the most atmospheric part of the city that boasts a nostalgic array of Dutch colonial buildings left from some 60 years past.
2. If you're tired of the mall culture in Jakarta, try Pasar Santa on for size. This hip new market on the block is made up of more than 350 food and shopping joints and is highly reminiscent of a typical weekend market in Bangkok – except here, it's open every day. Expect to find novelty knick-knacks, vintage records, curated fashion pieces, and a whole slur of grub that will be right up your Instagram alley.
3. In Jakarta, obsessive luxury isn't considered eccentric or marginal, but the norm. So for one night, don on your best gear, put your best shoes and get ready to lounge sky-high in some of the city's best rooftop bars. Some of the edgiest rooftop haunts include 56th-storey Skye, K22 and their menu of bespoke culinary cocktails, La Vue Bar at The Hermitage, or even Karumba, Jakarta's only rum bar. Hankering for the royal treatment? Tick off Alila's The Edge, Cloud Lounge & Living Room, and Ritz Carlton's Level Eight Bar.
6. Bandung
There's something about Bandung that visitors just love. Forget the fact that there's really not all that much to do in the city proper: the laidback food scene, bucolic villages and relaxed vibe – they all make up for it. It's the perfect blend of relatively urban modernity and small-town friendliness. And factor in the visual dramatics that await just stones' throws from the city's confines, you've got yourself Bandung: cool, collected, intoxicating.
Go if… timeless adventures at a laid-back pace are your kind of thing.
Don't go if… long drives to said adventures make you nauseous.
Experiences not to miss…
1. Enjoy the cool mountain air atop Tangkuban Perahu, an active volcano about 30 km north of the city. This is the only crater in Indonesia where you will be able to drive up to its very rim, a risk that will most definitely not disappoint. Prepare to be greeted by sulphur fumes (though not quite as bad as the next location to be mentioned), as the volcano is very much still alive.
2. To end your Bandung stay with a celestial touch, take a long drive up to Kawah Putih Ciwidey, the most mesmerising volcanic crater you'll find for miles. Unlike Tangkuban Perahu, this one's dormant and carries in it a striking, almost-magical turquoise-coloured lake shrouded in mist for full effect. The tree-clad cliffs surrounding this staggering beauty reach around 2,500 metres above sea level – really, it couldn't make for a more dramatic landscape even if it tried.
3. The scenery game is strong in Bandung – and so is the food. While away evenings eating to spectacular views at these absurdly breathtaking places that really know how to create a culinary experience: The Valley Cafe, Lereng Anteng, Dusun Bambu, and Rumah Miring Bar. Warung Daweung on Bukit Moko is an absolutely hidden treasure and a personal top favourite; and like all hidden treasures, the journey is long and arduous, but unequivocally a gratifying one.
Now that you've decided on which city to visit, it's time to look for the perfect accommodation to complete your vacation! For the best stays in Indonesia, visit TripZilla Stays.