When one thinks of Yogyakarta (or 'Jogja', for short), the most recognisable monument is Borobudur. The breathtaking sunrises witnessed here are worth getting up in the middle of the night for, and you will undoubtedly be greeted by a sizeable flock of like-minded visitors upon arrival.
However, this city in Java isn't only about its temples and history; there are also some amazing activities and experiences that'll get your blood pumping. Here are some of them. 
1. Hop on a bicycle and explore Borobudur
When in the cultural city of Jogja, Borobudur is a must-visit for any first-timer. If you're able to muster the motivation to wake up at 3am or so for a hotel pick-up and endure a two-hour drive to the site to catch a magnificent sunrise, I would say do it. But don't make the journey just to see the first rays of the day; hop on a bike and follow a guide as he takes you through the villages that surround the temple and give you an insight into how locals live their daily lives.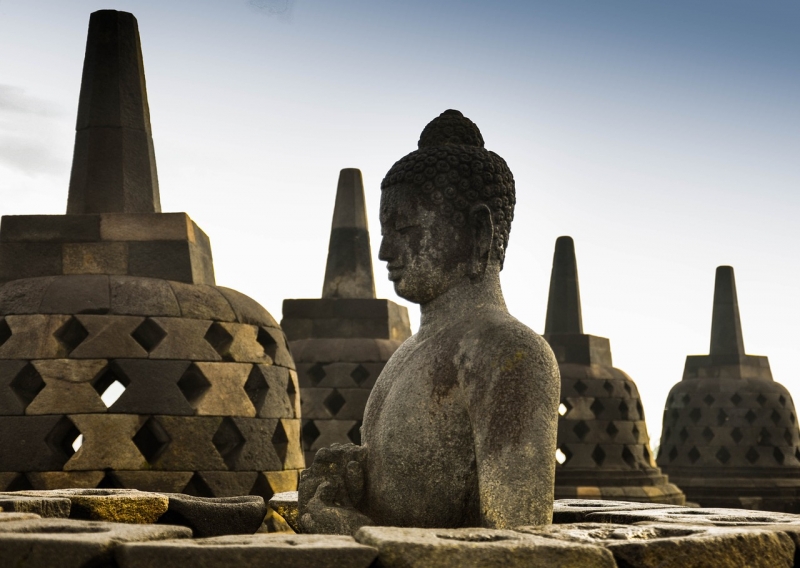 But don't make the journey just to see the first rays of the day; hop on a bike and follow a guide as he takes you through the villages that surround the temple and give you an insight into how locals live their daily lives.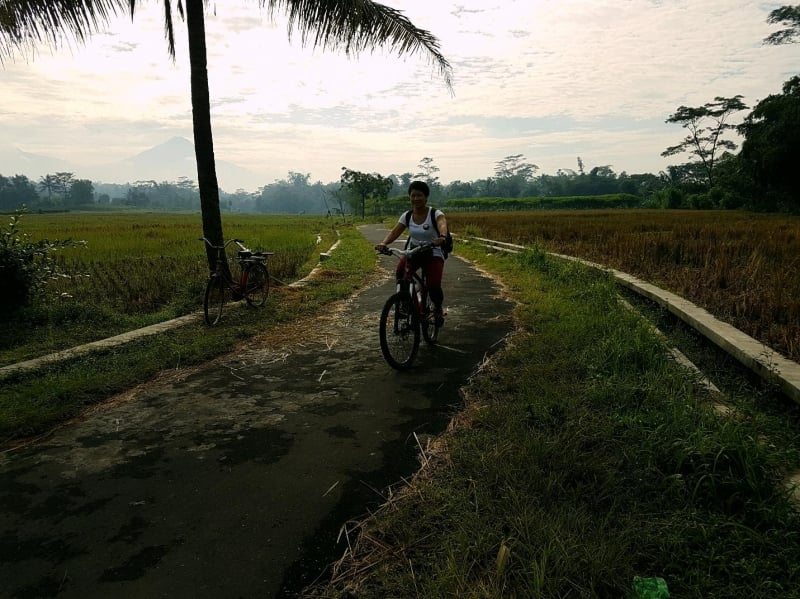 There are several package options available to visitors (which you may book independently), but a good estimate would be RP320,000 (about SGD32) for a six-hour tour. The tours would typically navigate you through rice fields, traditional homes, craft and agricultural pit stops, as well as offer opportunities to meet the locals and learn more about their daily grind with hands-on experience.
I recommend that you embark on this cycling tour right after you witness the sunrise from Borobudur as the weather will most likely be much cooler in the morning.
2. Ride a jeep to Mount Merapi
Did you know that you can opt for the lazy man's alternative to climbing Mount Merapi? For those who aren't keen on legging it up the mountain for several hours, you can choose to view the majestic landform from a 4X4 jeep that will take you on either a two-, four- or six-hour tour.
The tour guides will share with you the history of the mountain's eruptions, the affected surrounding villages and the resulting landscape that you'll view as you get driven up the rocky terrain. Each jeep can comfortably fit three passengers, but you can squeeze in up to five passengers if you need to.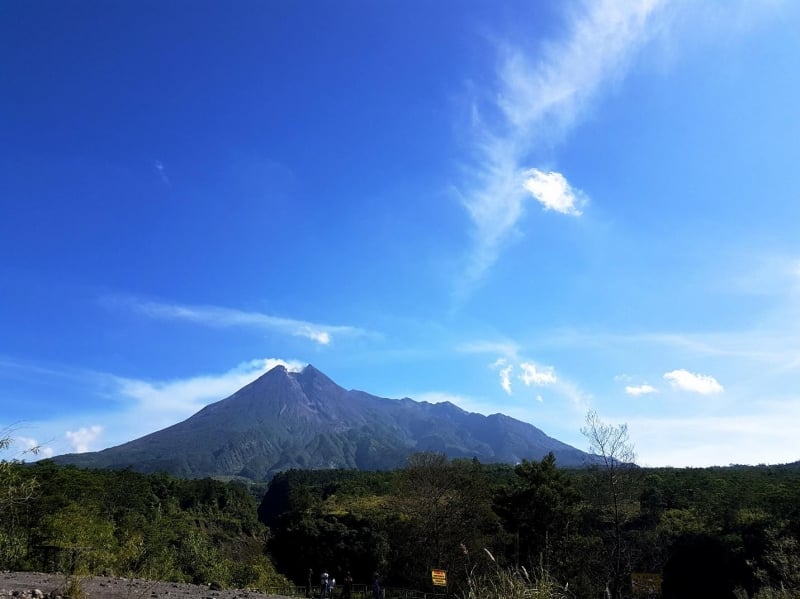 One of the pit stops along the way is Museum Sisa Hartaku (meaning 'My Remaining Treasure Museum') established by a small family, Mr Kimin and Mrs Wati. Their old house, which was affected by the last eruption in 2010, is the site of the museum. You'll get a chance to see personal family items like cutlery, clothing and furniture. There's even a clock that has stopped at the exact moment of the eruption, giving visitors a chilling reminder of the tragedy.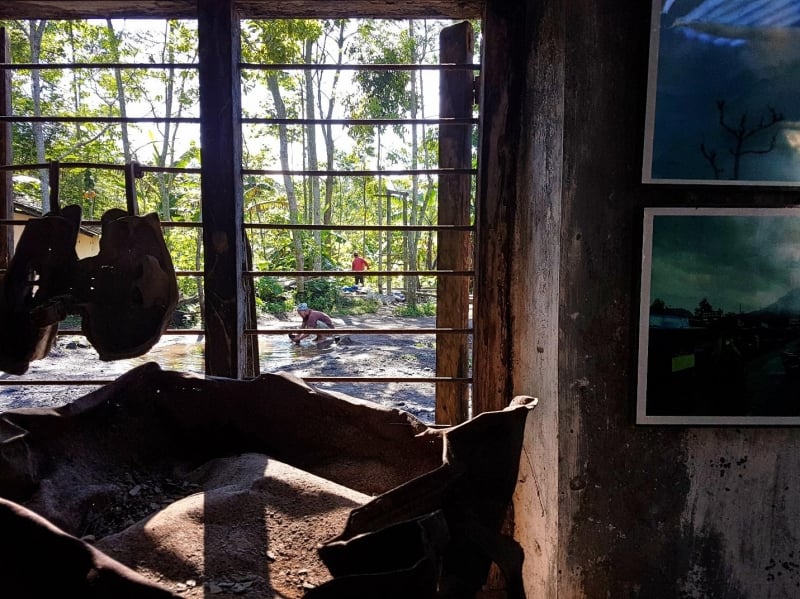 You'll also see the 'Alien stone', which was hurled out of the volcano's pit during the eruption, as well as a bunker, where two bodies were found trapped inside during the 2006 eruption. It has not been used since. On clear days, you'll be able to see the summit of Mount Merapi without having to get too close to it, and be able to take in the scenic views of the surrounding lowlands.
Expect to pay about RP350,000 (about SGD35) per person for an all-inclusive tour (the shortest duration), which includes transport from and to your hotel, entrance fees, the jeep ride and water.
3. Descend into Jomblang Cave
Fancy Indiana Jones-ing through muddy caves and searching for the light at the end of the tunnel (almost quite literally)? This experience is a definite must on your Jogja trip if you're all about discovery and adventure on your vacations!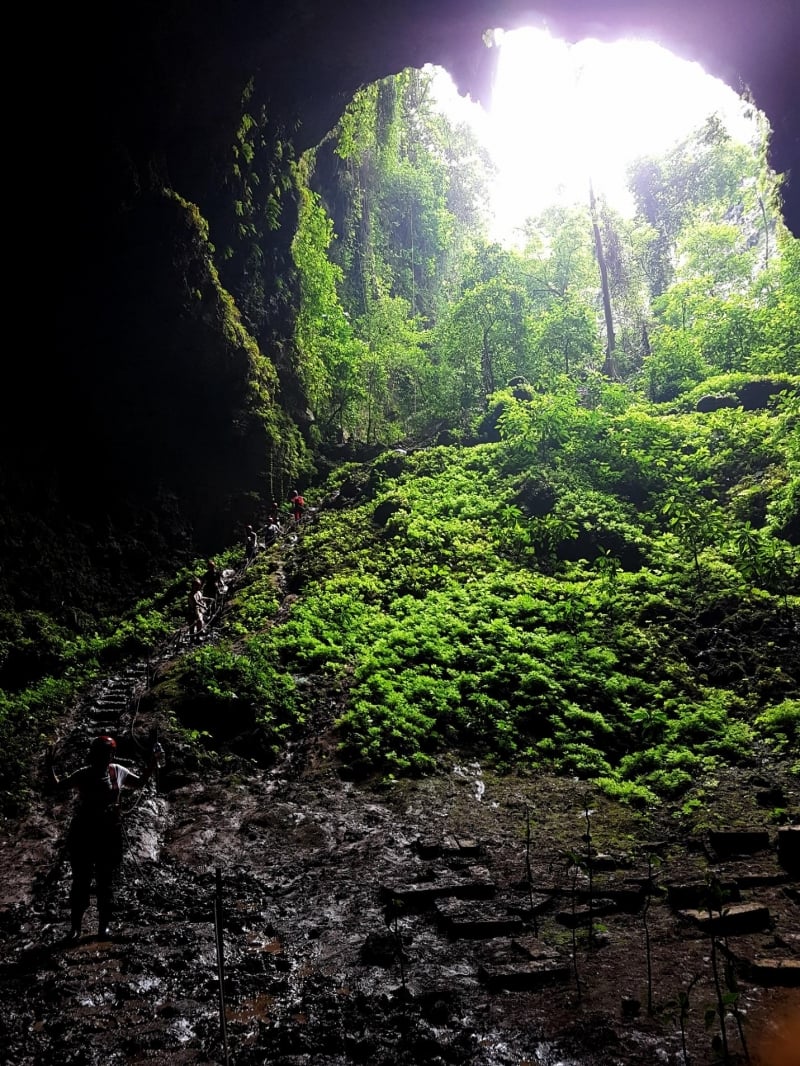 Imagine yourself being lowered about 60 metres into a sinkhole to reach the entrance of the cave, before descending a flight of very slippery, mud-laden stairs to begin your walk through a 250-metre tunnel. With barely any light – except for a single flashlight used by the guide – you'll make your way to the other side of the tunnel where a breathtaking flood of lights pour in from the roof of the Grubug Cave. It's mesmerising, to say the least, and you'll get plenty of time for photo ops as well as to soak in the serenity of cave.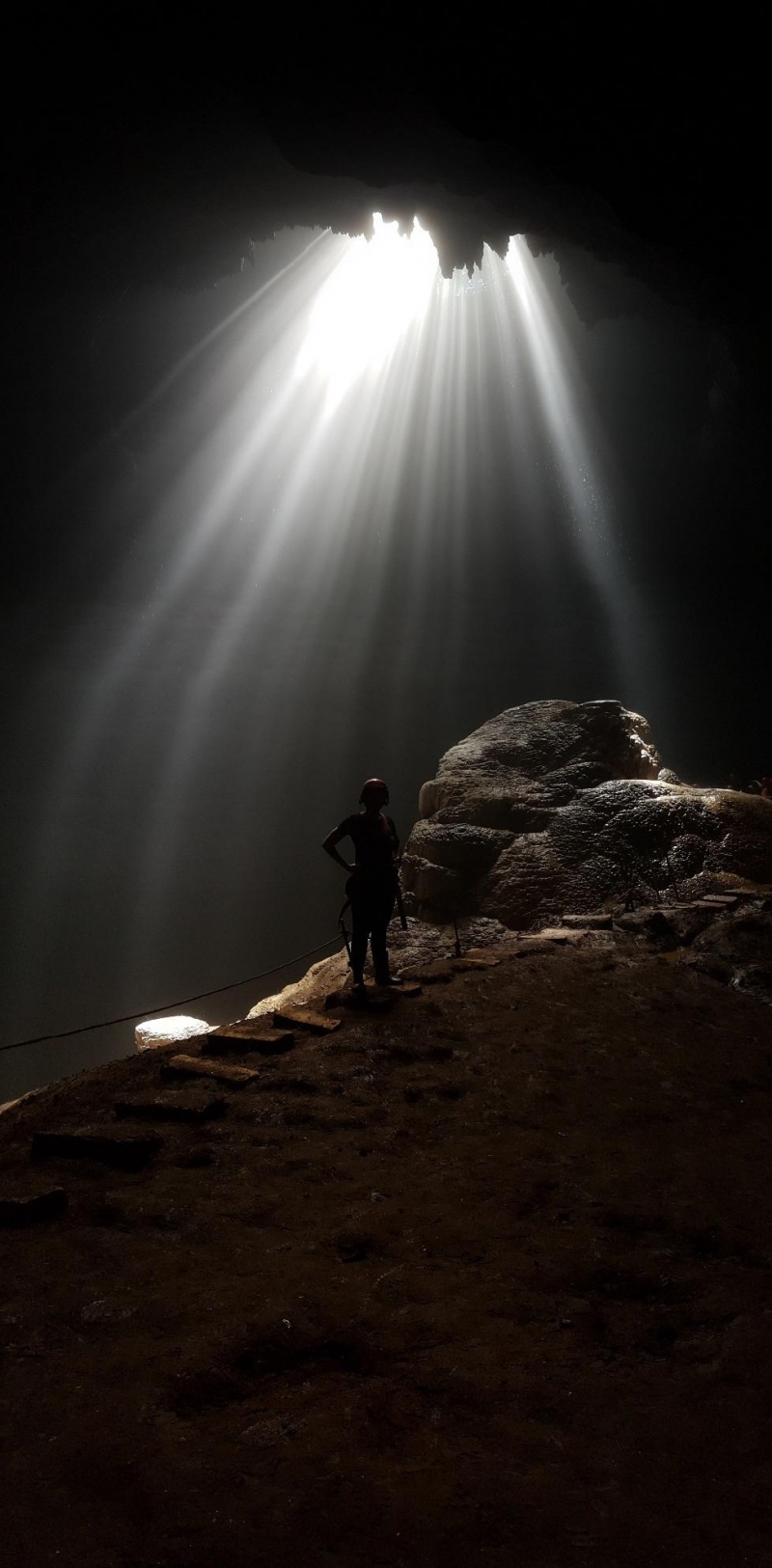 Getting there takes about an hour and a half from Jogja's city centre and it's highly recommended that you plan your time well, as they will only have one tour per day. The guides will typically start lowering the first visitors into the sinkhole at about 10am, and will only accept a maximum capacity of 25 people per group.
Most visitors arrange for their own driver to get them there, so the price can vary quite a bit. However, the actual caving activity itself costs RP450,000 (about SGD45) per person and includes safety equipment, boots, water, a guide and lunch. Remember to bring an extra change of clothes and plenty of wet wipes, as you're almost guaranteed to come out caked in mud! It may seem like a lot of effort, but trust me, it's all worth it.
4. Cruise along the river on a tube at Pindul Cave
If you're still keen to explore a cave, but aren't a fan of heights and getting gritty, how about lying back in an inflatable rubber tube down a lazy river that winds through a cave?
Visitors will still be able to appreciate the natural landforms of Jogja in this much more laid-back version of caving, as you sit back and allow the gentle river flow to push you along. There will also be a guide cruising along while educating you about the stalactites, stalagmites and wildlife (read: bats!) that you'll find along this easy cruise.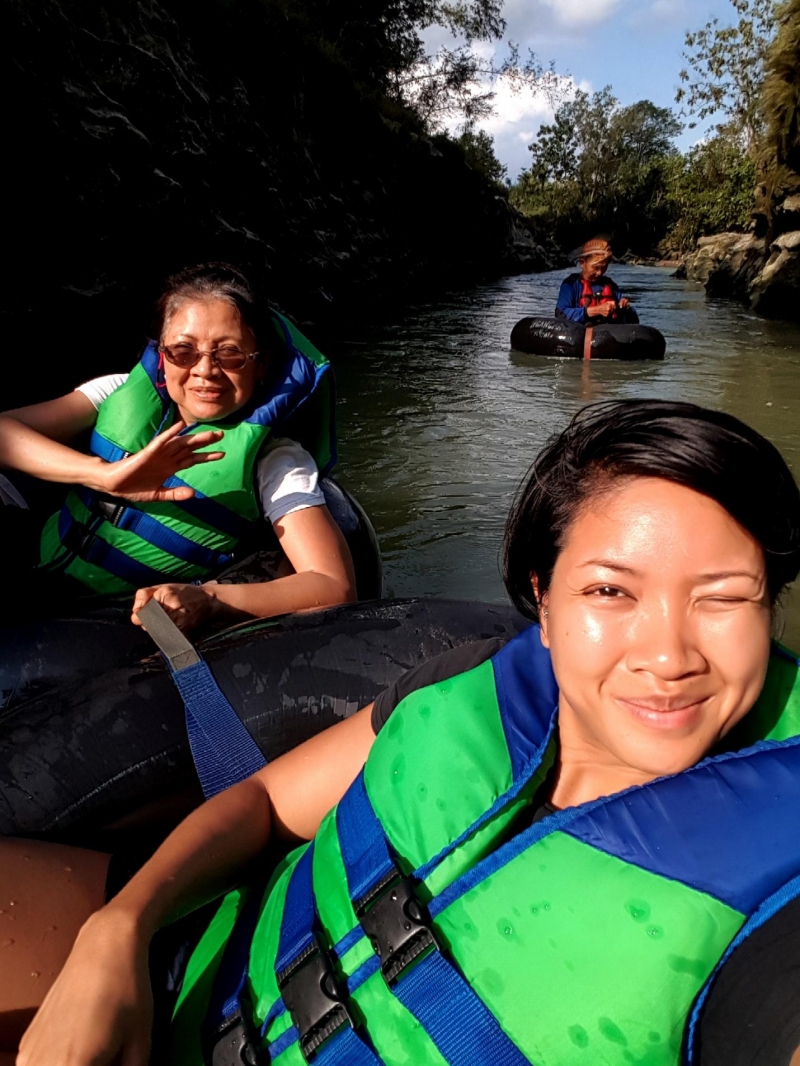 As this Goa Pindul (Pindul Cave) is close to Goa Jomblang, many do opt to do this activity straight after. It also proves to be a great way to relax and wash off any remaining mud after a good morning workout! For the kids (and the kids at heart), there are mini waterfalls and stops along the way where you can enjoy a cooling shower and even jump off a seven-metre cliff. The best part is that the whole experience takes no longer than an hour and anyone, from seven to 70 years old, will be able to enjoy this, along with an affordable entrance fee of RP45,000 (about SGD4.50)!
The best part is that the whole experience takes no longer than an hour and anyone, from seven to 70 years old, will be able to enjoy this. On top of that, the entrance fee is affordable at just RP45,000 (about SGD4.50)!
5. Ride a gondola at Timang Beach
Timang Beach is a rather long three hours drive from Jogja's city, but for those seeking an alternative thrill-seeking ride, the journey will be more than worth it. As the beach is only just beginning to gain popularity with tourists, there's yet to be an official entrance fee and you will be asked by locals to donate a small fee while travelling along the path to the beach. There is a parking area where your driver will drop you off and you will be advised to hop on to motorbike taxis. The motorbike taxis will then take you through the final three kilometres along the road to the beach. The cost for the motorbike taxi is RP50,000 (about SGD5) per person.
Be sure to look out for a painted sign that points you in the direction of the gondola once you arrive at Timang Beach. The first sight of the gondola's crazy structure might intimidate most as it sits precariously between the mainland and a rocky outcrop just 20 metres offshore. Between the two, the waves thrash around below excitedly, and the first question you're bound to ask yourself is 'How safe is this?'. Luckily, the team of men working the pulley system are organised and communicate well via their walkie-talkies, so you can be assured they know their stuff. The price is another issue that may throw some off. The staff asks for RP200,000 (about SGD20) at the start, but are open to bargaining, so you're more than welcome to test your skills!
Other than being able to witness a stunning view of the beach and the coastline, some may argue that the trip isn't worth it, given the long car ride and the above-average cost just to stand in a gondola for 20 metres and back. But hey, if seeking out-of-the-ordinary activities is your thing, I reckon you'll be excited enough to endure the car ride.
Now that you have a sense of what adventures Jogja has in store for you, be sure to consider extending your stay beyond just a handful of days. There are plenty more exciting activities that Jogja can offer like sand boarding, visiting its pristine waterfalls, white water rafting and even braving the flying fox and watching the sunset from Kalibiru National Park! If there's one thing you can be assured, it is that you won't be short on ideas to fill your time while in Jogja.