The Amazon River and Rainforest, to me, has always been a place of mystery and intrigue, a place that seemed to only belong on the pages of geography textbooks. It's a place that's often spoken about with a tinge of awe, with many waxing lyrical about the sheer vastness of the place or the staggering amount of wildlife that lives there.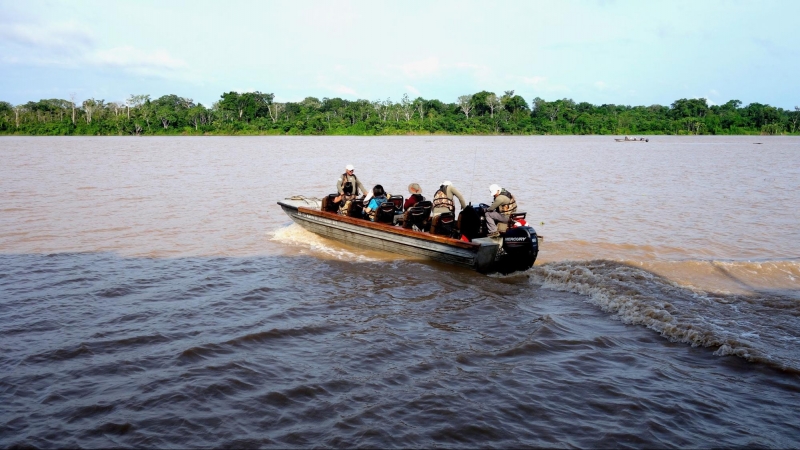 The Amazon river and rainforest may perhaps be better described as an enigma; no two stories align, with every experience overflowing with adrenaline, wonder and the inkling that this is, in fact, one of the few places in the world that have been left untouched by man.
Indeed, the sheer untamed wilderness of the Amazon is exactly what attracted us to its shores. There are different ways to explore the region; however, we visited as a family and chose to embark on a 3D2N cruise. This cruise would provide us with accommodation, meals and guided excursions – we ventured out on two excursions a day, with the chance to participate in activities like a Peruvian cooking class in between. Whether you embark on a cruise or other forms of exploration, here are 13 things you can do, or realise, in the Amazon!
1. First, you'll realise that the rainforest is teeming with wildlife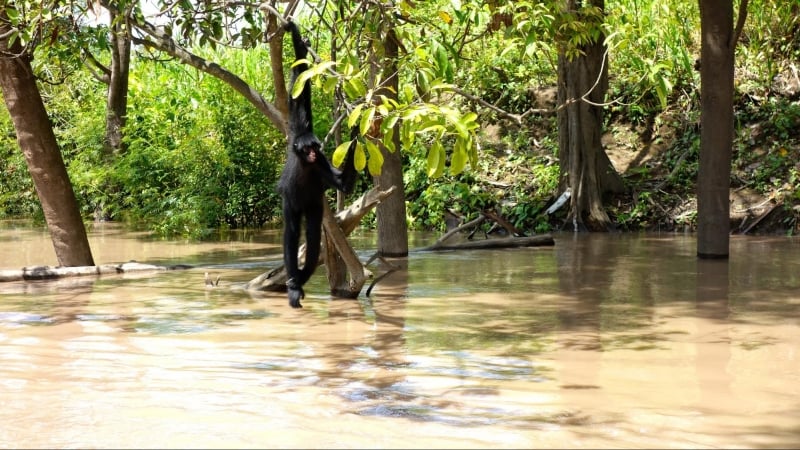 Indeed, you'll be greeted with wildlife in every direction. Be it a silky-haired monkey hanging languidly from a tree or birds of every colour flying high above, every turn you make will be a treat for the senses. Anaconda and crocodile sightings are also possible, albeit being few and far between. If you're lucky, you might even get to spot a sloth! Revel in the sheer experience of navigating your way along the river, with your heart skipping a beat every time the greenery rustles.

The Amazon basin is also a haven for bird-watching enthusiasts. The Amazon river is home to many little inlets, where boats can literally meander amidst the foliage – allowing avid bird-watchers armed with heavy-set binoculars to get up close and personal.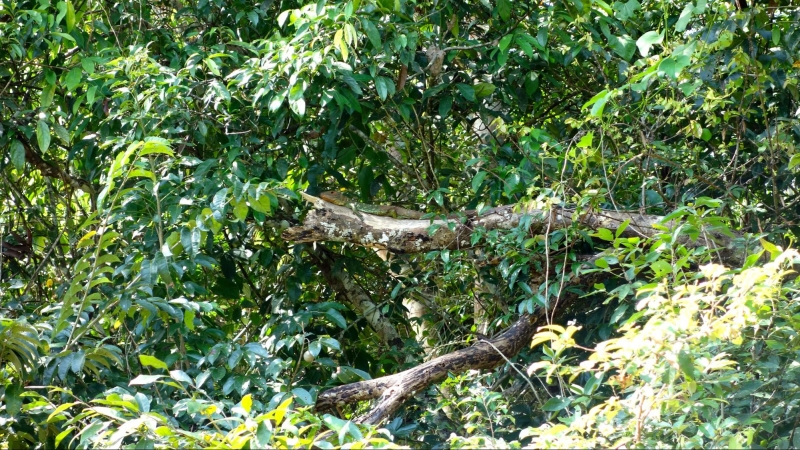 The Amazon rainforest is indeed home to a vast array of wildlife; yet, not all can be spotted with an untrained eye. Can you spot the lizard in the picture above?
2. Which you can learn about from highly knowledgeable guides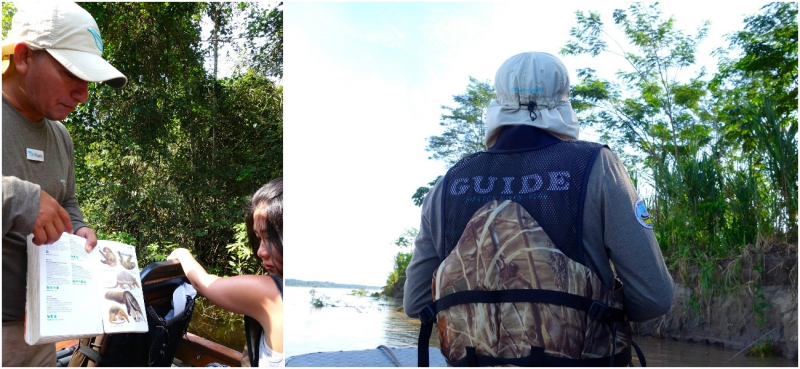 If you wish to maximise your experience, it's always best to travel with an experienced guide. Not only will these guides be able to spot expertly camouflaged wildlife, they're also more than willing to impart their years of knowledge to eager individuals. They come armed with a wealth of knowledge about the various species, habits and idiosyncrasies of what creatures inhabit the Amazon basin.
And don't forget that the Amazon basin is extremely vast – it covers an approximate area of over 7 million square kilometres, occupying a whopping 40% of the entire South American continent. For the uninitiated, it'll be terrifyingly easy to lose your way within the basin. With a guide, you'll have nothing to fear – giving you the luxury of simply focusing on enjoying the experience to the fullest.
3. You'll get to go piranha fishing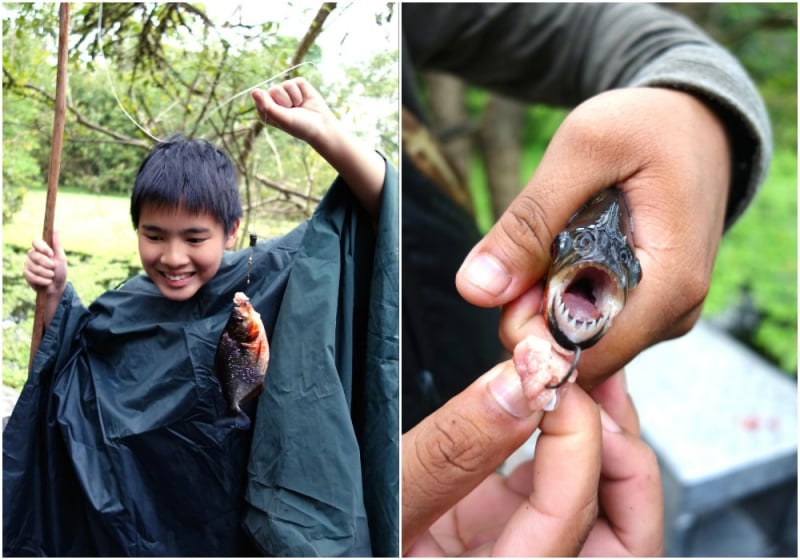 Piranhas are often painted to be horrifying flesh-eating creatures, instantly devouring any creature that crosses their path. Indeed, they have the most fearsome of reputations, with Hollywood not doing them any favours by dramatising this very image of ferocity.
Yet, piranhas are a mainstay of the Amazon River, with some 30 species inhabiting the waters. They do have rather sharp teeth and a strong bite but contrary to misconception, they hardly attack humans. In fact, some species are even vegetarian by nature! Piranhas hardly attack living creatures, only attacking if the creature is dead or dying. As with any other species, they will only strike if provoked. And even so, any strike is hardly likely to be fatal.
And by experiencing a session of piranha fishing, you'll realise that they're actually a lot smaller than most would imagine.  
4. Or hold a Caiman with your bare hands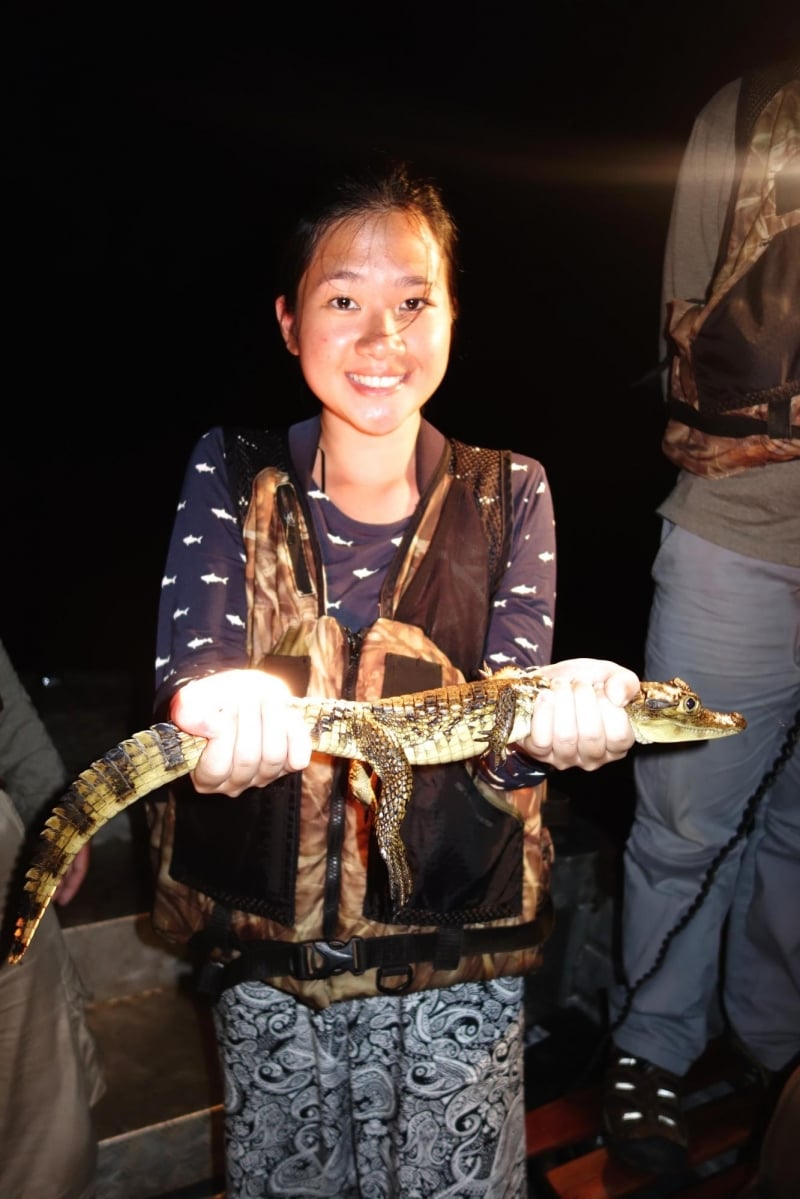 Think of caimans as small crocodiles that lurk amidst the Amazon basin. These scaly creatures are nocturnal, mostly only coming alive at night. Spotting one hence requires venturing out on a night excursion, accompanied with a skilled guide and a strong flashlight.
What happens is that the guide will shine a torchlight along the banks of the river, only stopping the boat should he spot anything resembling a caiman. Should the sighting prove successful, the guide can scoop the caiman out of the water for a once-in-a-lifetime photo opportunity only suitable for the brave of heart.
5. You can even jump into the river for a swim
Because who else can say they've actually swum in the Amazon River? However, our advice to you is to not try this without a guide; the waters of the Amazon River are murky with no way of glimpsing what lies underneath.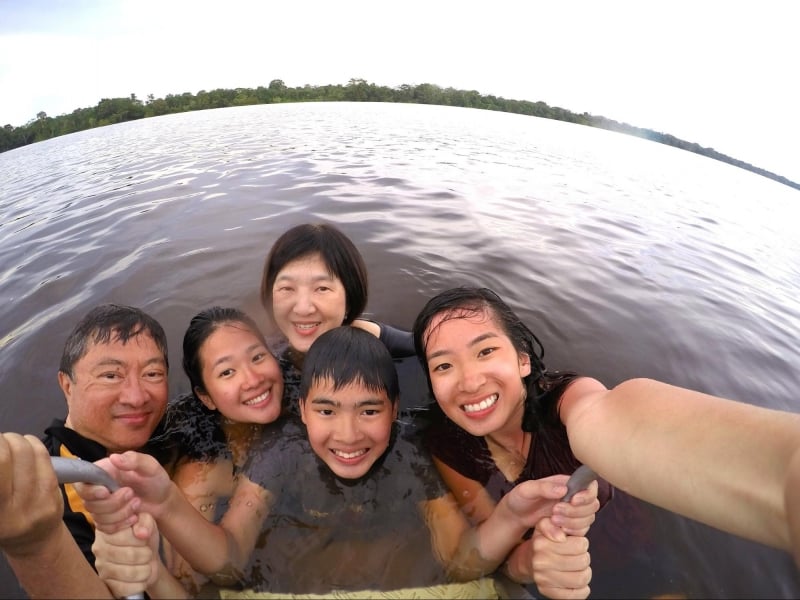 Our guide brought us to a spot where he guaranteed was safe to swim – a statement which we trusted based on his years of experience. This nevertheless still requires a (rather literal) leap of faith so do make a judgment based on your own discretion.
6. You can paddle a rowboat alongside locals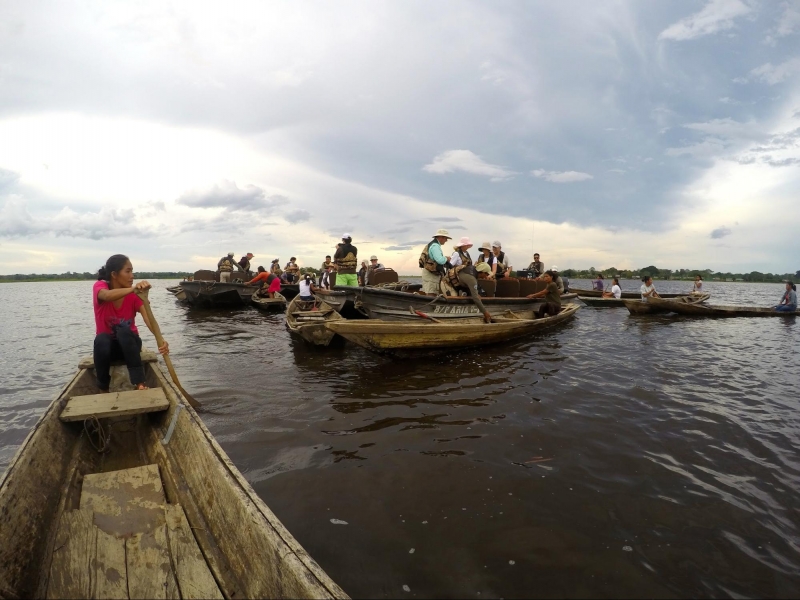 Granted that this may be a rather touristy activity but it was an activity that we nevertheless enjoyed. Whilst out on an excursion, we were approached by a group of locals – each paddling a wooden canoe of sorts. We were offered the opportunity to join them on a paddling session, with each session lasting from 15-30 minutes.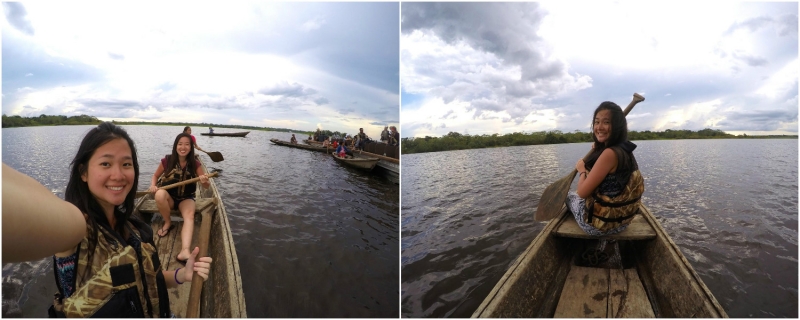 It was quite the idyllic session as we paddled lazily through the waters!
7. Or hike through the rainforest on foot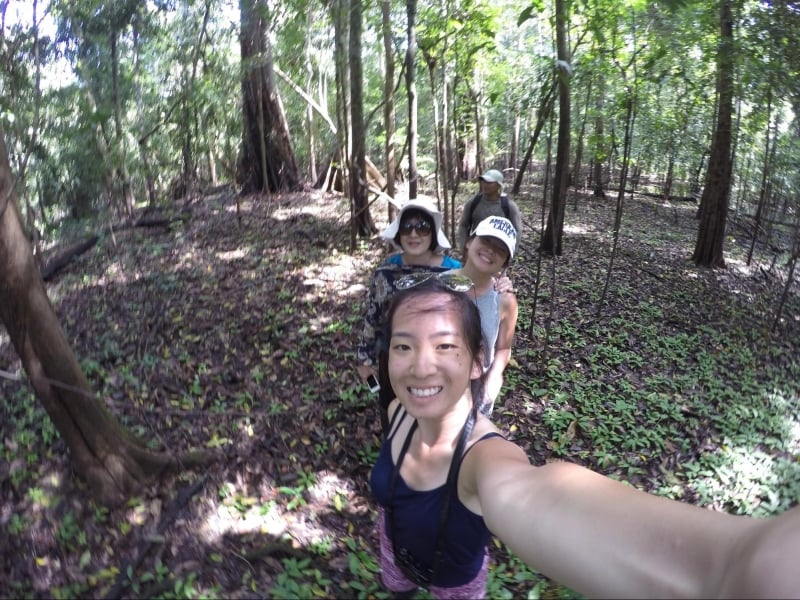 You'll also get the chance to go on a trek through the Amazon Rainforest. Do be warned that the mosquitoes are rather huge and persistent – we were advised to cover up with long-sleeved shirts and pants, which we highly regretted not adhering to. It's also ideal to slather on lots of insect repellent!
8. Where you'll find things that are simply mammoth in nature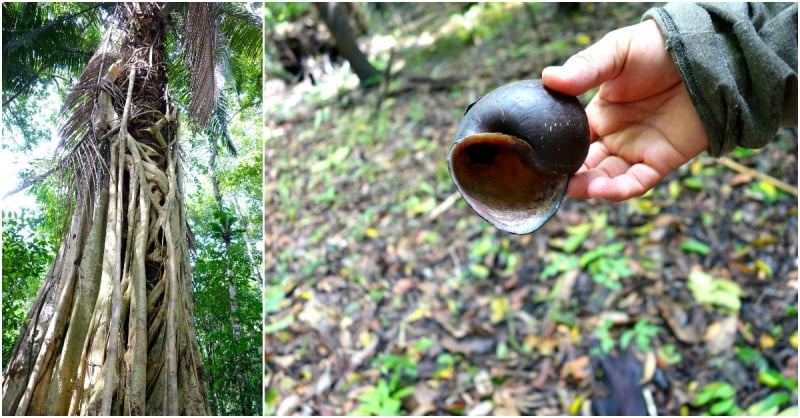 Trees tower above, with staggering vines enveloping their colossal trunks. We even came across a giant shell – imagine what used to live inside it!
9. You'll be able to feed manatees at a local conservation centre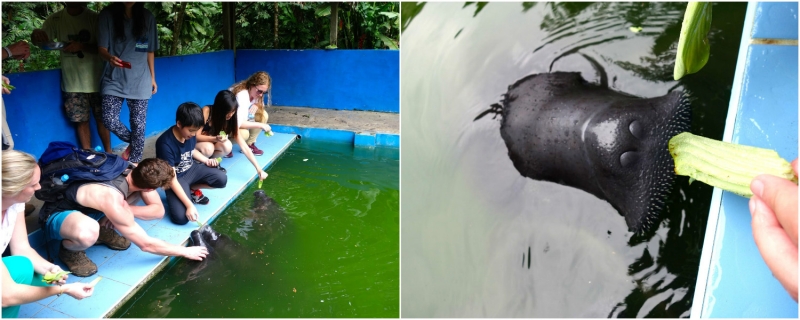 Manatees are like huge adorable babies, complete with sniffling noses and an inquisitive nature. The Amazon Manatee, in particular, is an endangered species, with many falling prey to poaching. Babies and infants are often sold as exotic pets, with the adults being hunted as food by Amazonian tribes.
In a bid to protect this very species, the Amazon Rescue Centre focuses on rescuing and rehabilitating orphaned manatees, nursing them back to health before releasing them back into the wild. They provide veterinary treatment and feed manatee calves with bottled milk, allowing visitors to feed older infants with leaves of lettuce. This is part of a weaning process, where the older creatures are being weaned off milk and onto aquatic vegetation. Do your part by visiting the centre to learn more about these efforts and to interact with these adorable manatees!
10. And make friends with the local children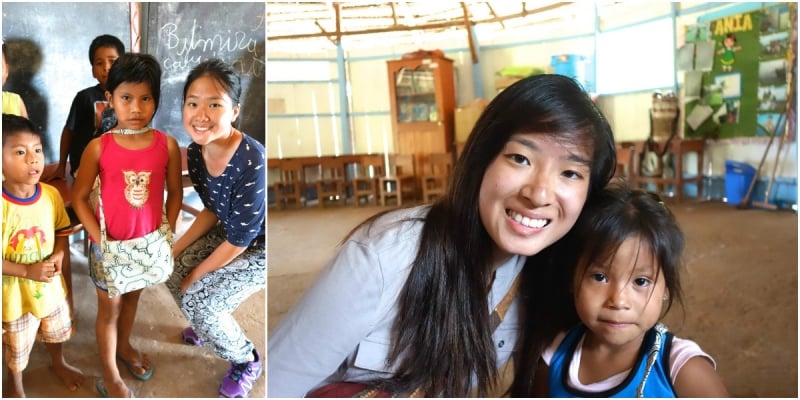 Our cruise also brought us to a local village, where we were able to make friends with the local children. Despite a language barrier, we were able to gain insight into the locals' way of lives and left inspired by how content they were with their current livelihoods.
If you wish, you'll also be able to purchase some arts and crafts that have been lovingly handcrafted by the villagers. Any proceeds will go towards the maintenance of the village.
11. The sunsets are mesmerising even on a cloudy day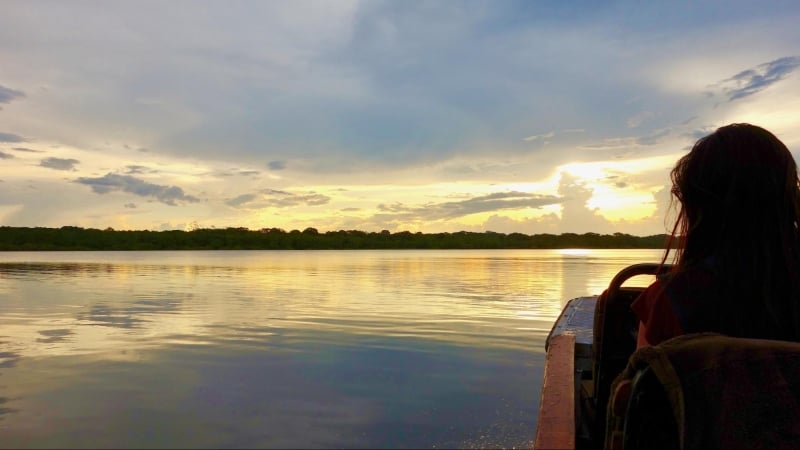 There's just something about watching the sun go down above a vast and rippling mirror of water. We didn't speak a word during the entire duration of the sunset, choosing instead to soak in the tranquil atmosphere.
12. Made even more so with a glass of bubbly in hand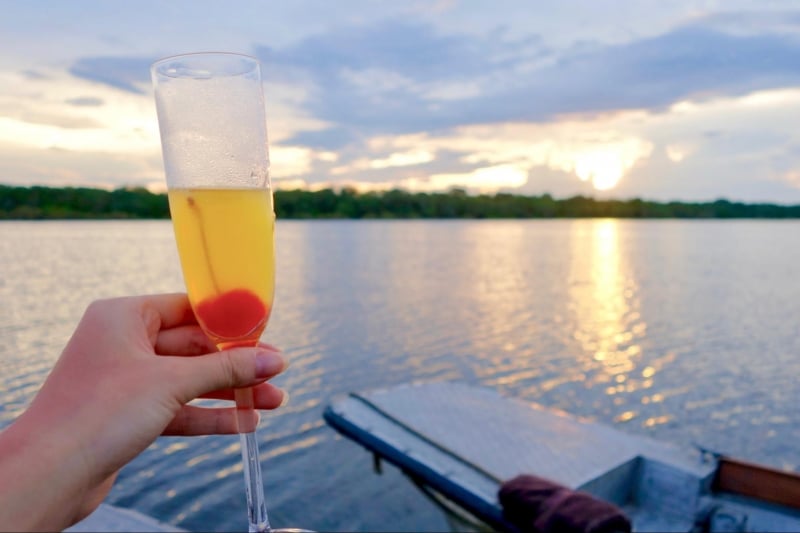 Champagne for the adults, fruit juice for the minors. It's the perfect way to end the day.
13. Lastly, imagine waking up to this view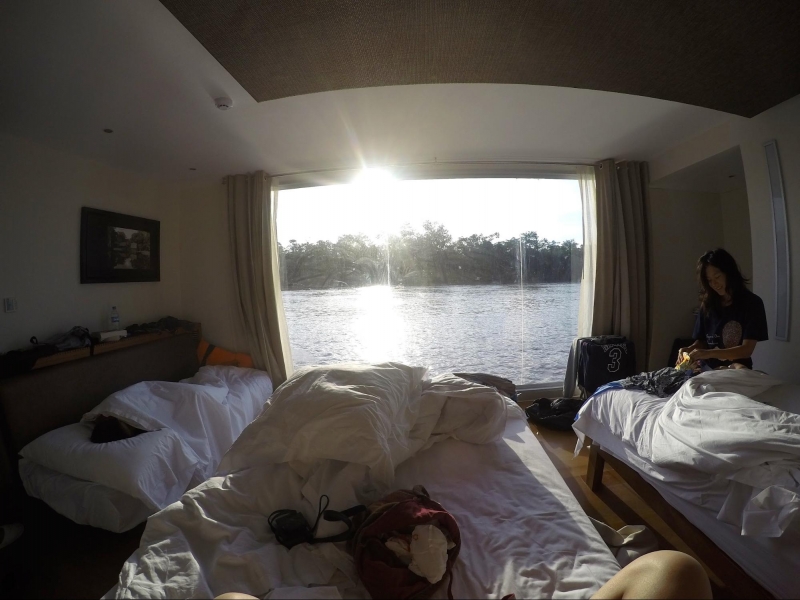 We woke up each morning to a stunning view of the Amazon River as we cruised along the tributaries. Is there anything more amazing?
To be able to immerse oneself fully in the wonders of Mother Nature is, to put it simply, nothing short of amazing – and we are privileged to have had this experience.
How to get to the Amazon Basin
We first flew into Iquitos in Peru, which is about a 2-hour flight from the capital of Lima. Our cruise company picked us up from the airport, before taking us to the cruise ship. You'll also be able to book your tour from Iquitos city itself. You can choose to explore either the Peruvian side or the Brazilian side of the Amazon basin; for the latter, you can fly into Manaus in Northern Brazil.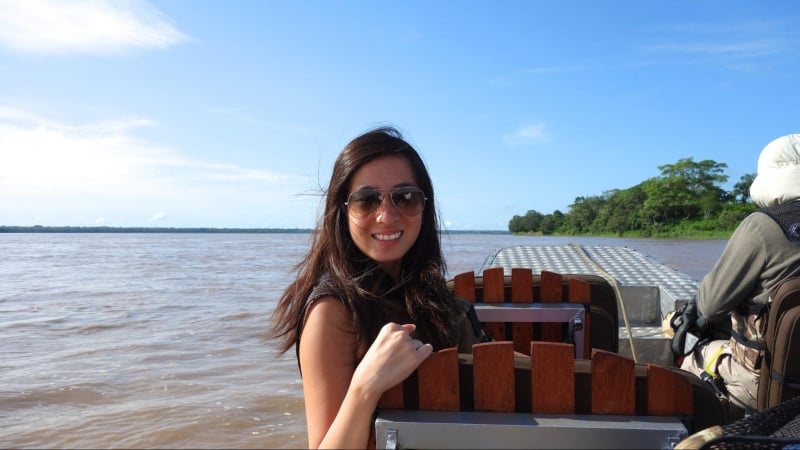 So yes, exploring the Amazon Rainforest and River doesn't have to remain a lofty dream; put this in your bucket list and get ready for the experience of a lifetime!