Are you yearning for a summer vacation but worried that it might burn a hole in your pocket? Fret not, island hopping in Bohol is budget-friendly and sure to fulfil your need for a paradisal getaway! Home to vibrant coral reefs and unique geological formations, Bohol is unquestionably nature's haven.
On your first visit to Bohol, embark on the Panglao island hopping adventure to Balicasag and Virgin Islands where you can experience the tropical paradise and gain an up-close-and-personal encounter with Bohol's marine life. Needless to say, Bohol truly lives up to its "Heart of the Islands" appellation.
Here's a guide to kickstart your travel in Bohol, Philippines!  
What to expect
Reviews of Panglao island hopping have generally expressed discontentment due to additional costs incurred. Before embarking on your island hopping adventure, here are some things to note to set your travel expectations and avoid a disappointing trip.
Panglao island hopping rental generally includes:
Boat rental (all vessels registered with Coast Guard)

Pick-up & drop-off Alona Beach

Dolphin-watching

Island hopping to Balicasag & Virgin Islands

Life jackets
Costs are approximately PHP 1,405 per pax (~S$35) for two persons, PHP 1,105 per pax (~S$28) for 3 persons and PHP 955 per pax (~S$24) for four persons. However, if you book through your hotel, the costs are likely to be cheaper and you don't have to haggle with the boatmen for lower prices.
You might have to pay for:
Snorkeling at Balicasag Island Marine Sanctuary: PHP 150

(~S$3)

per pax

Snorkeling gears with life vest: PHP 150

(~S$3)

per pax

Environmental / municipal fee: PHP 150

(~S$3)

per pax

Lunch: PHP 300

(~S$6)

per pax
Dolphin-watching
Kickstart your island hopping adventure in Bohol with dolphin watching as you witness nature's most intrepid swimmers on your way to Balicasag Island! Not to worry, your guide will procure the best spot to get a glimpse of Bohol's adorable dolphins. Be sure to opt for an early boat ride at 6am to maximise your chances at seeing these marine creatures. However, dolphin sightings are not guaranteed due to weather conditions or other possible natural occurrences.
Tip: Pack some snacks or breakfast as you are likely to leave your hotel before breakfast. You can also pack your own lunch to save costs.
With their amusing and lovable antics, you'll be sure to fall in love with these somersaulting sea creatures. Just imagine watching dolphins just a few metres away from your boat… that's one tick off your bucket list.
After the dolphin watching activity, you'll make your way to Balicasag Island just thirty minutes away. Get ready to unleash your inner marine biologist!
Balicasag Island
Upon your arrival at the Balicasag island, you will transfer to a small outrigger canoe and head to the reef. Balicasag Island is renowned for its array of marine sanctuaries and wildlife. The island is relatively tiny with just 600 metres in diameter, but its sugar-white beach and vast selection of native stalls gives you a rich taste of the local charm.
At the reef, snorkel in the crystal waters of Balicasag Island Marine Sanctuary and swim over brightly-coloured reefs and fishes. You can also feed the fishes at Balicasag Reef. If you couldn't get a glimpse of the dolphins on your way to Balicasag Island, not to worry, the island is home to more than 11 species of dolphins!
If you're lucky, you might even catch sight of sea turtles! As a marine sanctuary, there's just too much to discover in Balicasag Island. After exploring the underwater wonders of Bohol, you will head to Virgin Island where a beautiful and unique experience awaits.
Virgin Island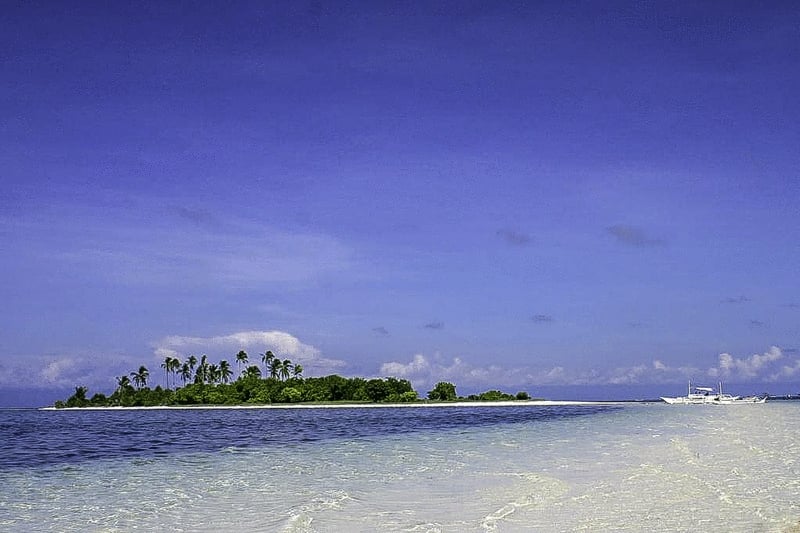 Virgin Island – the name of the island itself is sure to perk up your ears! No, it has nothing to do with virgins. The name 'Virgin Island' is an allegory of the ebb and flow on the sandbar which represents a 'virginal' purity.
Virgin Island is a mere 20-minute boat ride from Balicasag Island. Do note that boats are not allowed to anchor inside the floating buoys near Virgin Island. Visitors have to walk in the shallow waters of the ocean on the sandbar which lies on the Panglao Reef Flat. Walking in the midst of the ocean is certainly intriguing for first timers! Bonus: The entrance to the island is free of charge.
Tip: You may want to bring along aqua shoes as there are many sea urchins.
Be sure to try their exotic selection of fresh seafood, cooked with tomatoes, ginger and garlic! Alternatively, you can get the banana cue or fresh buko for approximately PHP 20 (~S$0.50) and PHP 50 (~S$1.20) respectively.
You might wonder why there are no price tags on the snacks, beverages and souvenirs in the 'store' near the visitor centre and museum. Well, that's because you don't buy them! To get these items, just give a donation of any amount. The visitors' centre and museum are in themselves emblematic of the local life through the native architecture made of nipa, wood and bamboo. They are also filled with photos of Franciscan friars (members of the originally mendicant Roman Catholic religious order founded by St. Francis of Assisi) which will hint the peculiarity of this island.
To begin with, no kissing, toys, or picnics are allowed on the island. You'll find religious statues and dioramas, as well as hanging tree angel adornments all around the island. Unbeknownst to most, what seems to be a tropical island paradise is also a pilgrimage centre owned by the Philippine Center of St. Pio of Pietrelcina. So if you're in for a quirky tropical paradise experience, Virgin Island is sure to provide you with some!
Alona Beach
After a day of island hopping, you can drop off at Alona Beach to relax and unwind. With its pristine white sand and turquoise waters, Alona Beach is a popular tourist destination on Panglao Island. The 1.5 kilometre-long beach is home to beautiful resorts, bars and many restaurants, giving you a real flavour of local life.
The beach is for the most part busy and lively, so if you're looking for some peace and quiet, this is not the place. Be sure to try the food at the beach bars and restaurants, serving the freshest seafood you can get! Enjoy a massage on the beach, sip your cold beer, rejoice in the sea breeze and unwind.

If you're looking for a worry-free and budget-friendly paradisal summer experience, Panglao Island Hopping will not disappoint. From Balicasag marine sanctuaries to the alluring Virgin Island, this budget-friendly island hopping in the Heart of the Islands is surely one to remember!