When friends scroll through my Instagram feed or hear about my weekend plans, they'll be surprised by how close my sisters and I are. Although we see each other at home every day, we would still go out together to hang out with mutual friends almost every week. We simply have the best time when we're together, due to the fact that we can totally be our goofy and authentic selves without any judgements.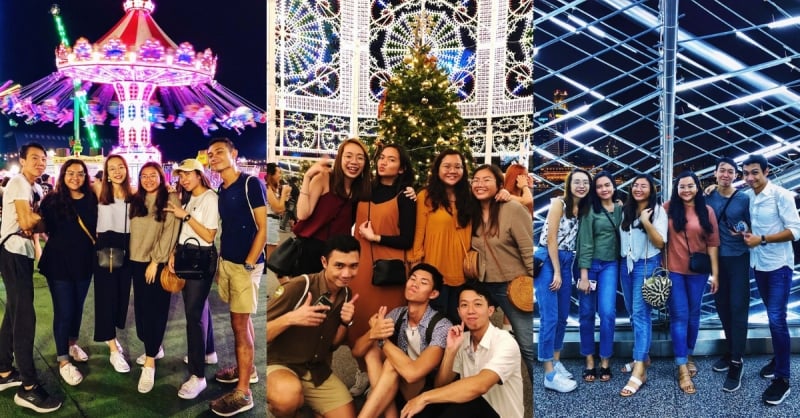 One comrade left behind
I'm the eldest at 24 years old, and I have two sisters; Iza (22) and Hana (20). Yeap, we are all born two years apart, thanks to my parents' exceptional family planning skills.
Iza and I went on two long trips together; two months in Europe back in 2017, and about one month in North America in 2018. As much as we wanted all three of us to go on these trips, Hana was pursuing her diploma then, while Iza had graduated and was taking a year off before attending university.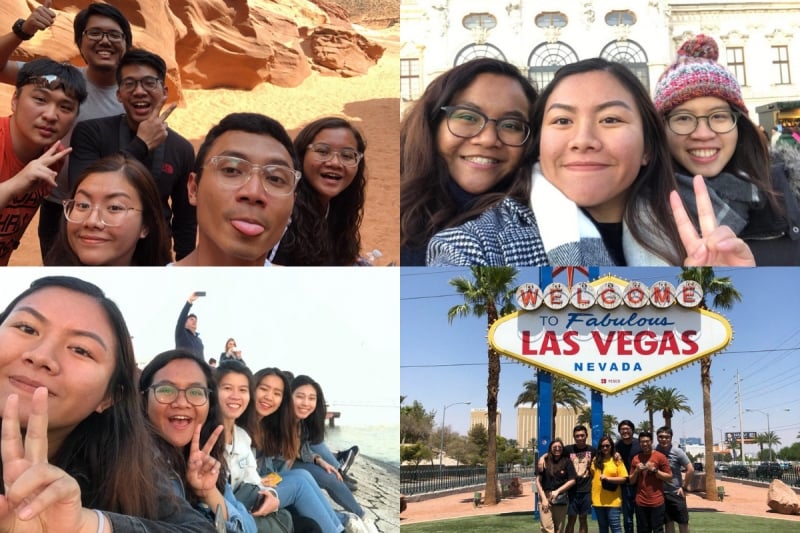 In 2017, I was on a semester exchange programme in Grenoble, France. The programme was four months long, and Iza decided to join me midway. In 2018, Iza and I went to North America to join my cousin in his post-exchange trip. We spent a week with him and his friends, then we were on our own for the rest of the trip.
Also read: Travelling with a Sister: The Good, the Bad and the Hilarious
The Sisters who are Monica and Rachel
Iza and I have very different personalities. I am introverted while Iza is extroverted. I am highly organised and detail-oriented, while Iza is spontaneous and tends to leave things until the last minute. While I don't mind wearing anything I pull out of my closet, Iza cares highly about her appearance. In a nutshell, I'm a Monica, while Iza is a Rachel. We couldn't be any more different personality-wise! Fortunately, we have similar preferences in other things that matter, such as music, entertainment and food.
The planning process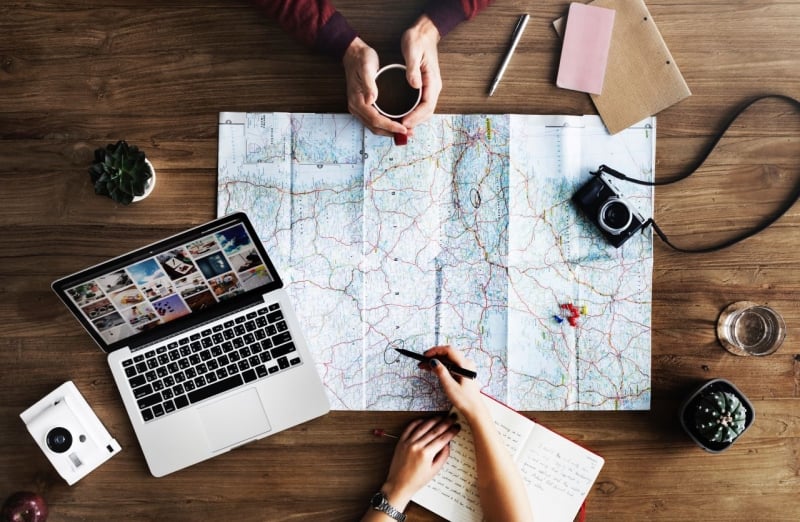 Being the organised and detail-oriented sister, the boring tasks of trip planning fell on my shoulders. While I had to settle travel insurances and electronic travel authorisation (ESTA) procedures, Iza was leisurely pinning places of interests and Insta-worthy cafes on her Google maps. To give her a little credit, she did shortlist the accommodations and transportation options. We then discussed and decided on the final decision together. But who had to make the bookings and fork out the money first? You guessed it, yours truly.
Parents' reactions
I consider my parents to be modern and cool. They were really supportive of us going on these trips, despite us being two young women. I think our relatives were more worried as they kept questioning my parents' decision to allow us to travel alone.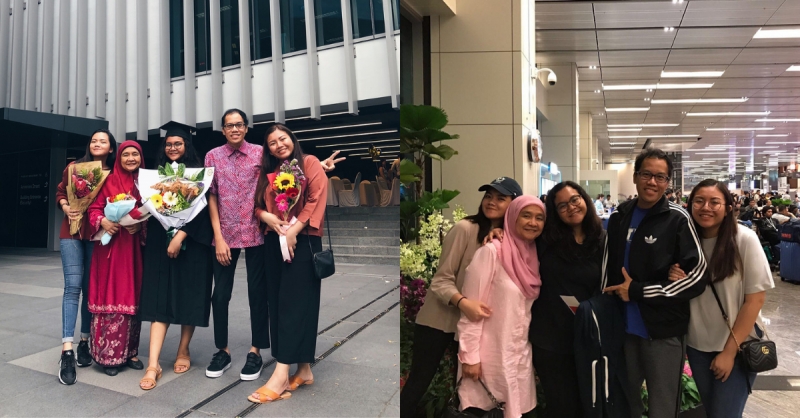 I presume my parents were confident in their decision because Iza and I complement each other well. Of course, I'm the responsible one who keeps our passports safe and money in check. On the other hand, Iza is more street-smart; she's better at reading maps and not afraid to approach people for directions. Trusting that their little girls won't get robbed or lost, our parents let us venture other parts of the world together. We are extremely grateful for this, so thanks mum and dad!
Quarrels and squabbles
Here comes the part you have all been waiting for: the sister showdown! As mentioned earlier, Iza and I have similar likes and dislikes; we are not picky eaters, we dislike museums and we love to shop for hours on end. Therefore, we hardly quarrel when it comes to eating, sightseeing or shopping.
When do we go for each other's throats then, you ask? Well, we start to squabble when it comes to taking photos for the 'gram. Yes, we are that basic.
Round 1: Amsterdam, 2017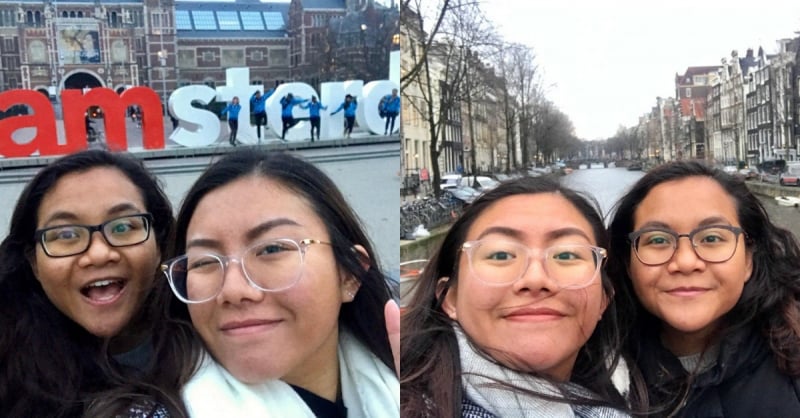 We took an overnight bus from Grenoble and arrived in Amsterdam at about 6 am. It was too early to check in, so we decided to leave our bags in the hostel first. The hostel's corridors were very narrow and the receptionist wasn't very friendly. I had already given him my luggage and couldn't wait to leave and explore the city. When I turned back, Iza was unzipping her luggage. She wanted to take out her coat which was sitting all the way at the bottom!
Her things were sprawled on the narrow corridor and the receptionist was clearly getting impatient. I too was getting annoyed and kept rushing her. When I asked why the coat was so important, she irritatedly snapped back that she wanted to take Instagram photos in that very coat. *rolls eyes* After what felt like an eternity, we finally headed out of the hostel and a cold war ensued. That was until she had to ask me to take photos of her.
Round 2: San Francisco, 2018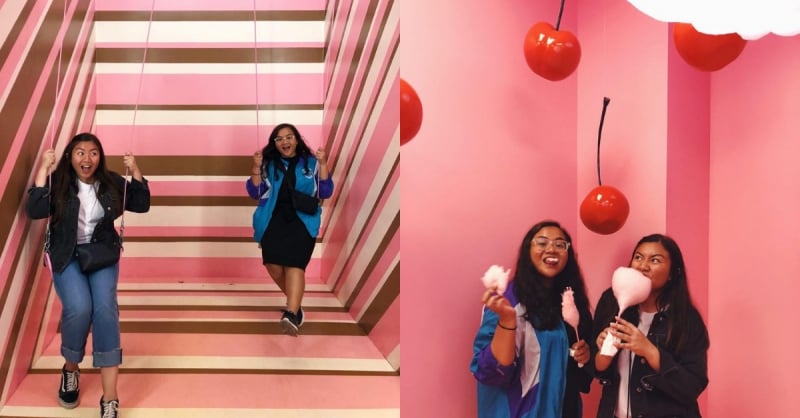 We visited the famed Museum of Ice Cream, an interactive dessert-themed art exhibition, in San Francisco. One of the exhibits is a sprinkle pool. Only a certain number of people can enter the pool at one time and are given five minutes in there. It was a race against the clock to take pictures of each other in the pool. Then we proceeded to other themed rooms and really enjoyed our time there.
On our way back to our Airbnb, we reviewed our photos on the subway. Iza wasn't happy with how I took photos of her, and I do agree it was not my best work. In my defence, the time frame was too short to get a proper photo. To get a better view of the photos on her phone, I laid my head on Iza's shoulder and laughed at her photos. Irritated, she tried to shake my head off her shoulder and her elbow accidentally hit my face. She then simply changed seats and didn't talk to me until the next morning.
We did have other minor disputes along the trips but these two incidents definitely stand out. I think it's quite unfavourable that we didn't apologise to each other after these episodes, but I like that we both get over these inconveniences pretty easily and carried on our trip like nothing ever happened.
Sibling rivalry
There's no denying that we all love spicy stories about sibling rivalry! Therefore, I've squeezed some juicy deets from TripZilla's family and friends about their experiences of going on a long trip with their siblings.
In December 2013, Dina and Dini went to Australia for a volunteering stint in Hobart, Tasmania, They also explored Sydney and the national parks near the city. The whole trip lasted about a month.
Is there special reason why you chose to travel with your sister?
"We both had the spare time and money, so why not? I also thought that it'd be an eye-opening experience for my sister who doesn't travel so often!"
What was the worst disagreement you guys had and how did you resolve it?
"Well… towards the end of the trip. I felt like we both had had enough of seeing each other 24/7. My sister, who was having that time of the month, was being extra moody and it showed on her face. We were hanging out with some new friends at the Blue Mountains, and a small bunch of us decided to take the train to Sydney to catch the New Year's Eve fireworks. In Sydney, because my sister looked so unhappy, which affected the whole atmosphere, I decided to turn back to the Blue Mountains and miss the fireworks. We never really resolved this, honestly. We came home complaining to our Dad about each other. However, when looking back at the memories, I'd like to think that we both remembered the good times instead of the bad ones."
Would you travel with your sibling again? Why or why not?
"Yes, but not for a whole month! I think the maximum travel duration for me and a sibling is ten days! Beyond that, all the flaws come out and we'll start to get irritated with each other for many little reasons."
Associate Editor Sarah Khan and her two sisters
Any special reason why you chose to travel with your sibling?
"We wanted to spend some quality sister time as we're all pretty busy and lead fairly separate lives right now. Also, there are fewer people on earth whom I have more fun with, so it's a completely natural decision!"  
What was the worst disagreement you guys had and how did you resolve it?
"This is the thing with sisters – we love hard, and we fight hard. I remember being incredibly annoyed with my older sister once on holiday (she must've been quite pushy about something) and proceeded to give her the silent treatment for the second half of the trip… Needless to say, I was trying to prove a point but ended up being miserable! So now I've learnt to just lighten up when we have tiffs. Life's too short to be grouchy!"
Would you travel with your sibling again? Why or why not?
"Of course! My sisters and I are incredibly close and I find that we make pretty compatible travel buddies. I hope to do another sister's trip soon as one of them is tying the knot soon, and it would be nice to do our final sisters' trip as a trio of single ladies! A perk of growing older is that you become more sensible and rational about things, so the fights are far and few as well."
Zahin and his elder brother, Haziq
Any special reason why you chose to travel with your sibling?
"My parents didn't allow us to travel by ourselves without each other and it was our first trip overseas without any figure of authority. It was either we go together or go nowhere"
What was the worst disagreement you guys had and how did you resolve it?
"Actually, we had no disagreements, as it didn't make sense to piss each other off in a foreign country. Of course, there were some places I wanted to go that my brother didn't, like the Harry Potter World, but it wasn't so bad because I did manage to see other things that were interesting."
Would you travel with your sibling again? Why or why not?
"I would say sure. I pretty much felt safe in his company, plus he did settle a lot of the accommodation and flights. I basically just went along with the trip."
Hafiz and his elder sister, Zakiah
Hafiz travelled with his sister, Zakiah, in 2015 to London and Manchester.
Any special reason why you chose to travel with your sibling?
"I travelled with my sister because she was the only one available out of my siblings. I needed to clear my NS leave days and my sister was due for a belated graduation trip."
What was the worst disagreement you guys had and how did you resolve it?
"I can't recall the worst disagreement but it was always frustrating to hear "anything" as a response when sometimes travelling requires being ultra decisive."
Would you travel with your sibling again? Why or why not?
"I wouldn't mind travelling with my sibling again but it wouldn't be my first option."
Whether you're sisters, brothers or a brother-sister pair, travelling with your sibling is definitely something you should do at least once in your lifetime. You'll learn so much more about each other, and forge a bond stronger than ever… if you don't end up killing them first.
Also read: 7 Struggles of Travelling with Your Siblings