Do you know the best place to catch the Northern Lights?
How about skipping the lines at the Vatican Museum & Sistine Chapel in Rome?
Where in Europe can you buy branded bags at the best prices?
Wouldn't it be pretty neat to know these things to get the most out of that much-awaited trip to Europe? We've got you covered. We get the insider's scoop from Europe experts Mei and Paul, who have travelled to Europe countless times as tour managers from EU Holidays, and know the in's and out's of this continent like the back of their hands.
Also read: 5 Ways to Be a Better Traveller
1. Where can we get the best view of the Northern Lights? How best to capture the Aurora on camera?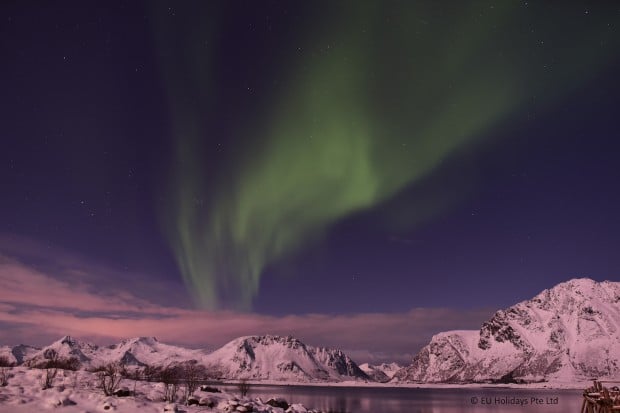 Probably the best place to see the aurora — Lofoten Islands, Norway, Home of the Northern Lights
Mei: I'd say the place scoring the highest chance to view the Northern Lights would be the Lofoten Islands in Norway (Home of the Northern Lights). This is probably the best place to see the aurora. There's not much light pollution there, and offers a very scenic view. The snow peaks across the fjord provides quite a dramatic setting to the aurora display. The tours we brought from December last year all caught the Lights, and it was simply magical!
But still, it does test your patience. To see the aurora, you must have patience. Once, we were the last bus remaining. Just as we decided to give up and head back, the snow stopped. A passenger shouted, "Aurora, aurora!". In a second, the lights start to dance right before our eyes. It brought such joy to everyone. The Northern Lights is really something you have to see in your lifetime!
Paul: It really depends on your luck. Norway, Finland, Alaska, and Canada are locations where you can see the display of aurora lights from October to March. Although, 2 conditions must be met — the sky must not be cloudy; and the solar wind activity must be high. Even then, it's highly unpredictable.
Here are some tips on how best to capture the Northern Lights on camera:
You will need a good camera that has manual settings.

Set your ISO to 800. After you get the hang of it, you can play around with the ISO to adjust what you like and what your camera is capable of. For now, just set it to 800 ISO.

Set the shutter speed on 15″ (15 seconds). This number can also be changed according to the brightness of the aurora, or as you get the hang of what your camera can handle. Small, cheap cameras usually need a longer shutter speed. More expensive cameras, or cameras with faster lenses can capture the aurora at far less than 15″. Give it a try. If it is very dark (no moon), try for an even longer shutter speed if your camera permits.

Set your focus to infinity. Sometimes this symbol looks like little mountains, or a sideways number 8. It is the opposite of macro, which is sometimes shown as a little flower symbol and means close-up.

You must place your camera on a surface or use a tripod. You can take a picture while holding your camera, but it will be blurry. If you place your camera on top of your car, turn off the engine.

Point your camera to the aurora. Hopefully there isn't a light source in that direction, such as a streetlight. This will put too much light on your photo.

You can download an app called Northern Lights Photo Taker for S$1.48 from the App Store (only for iPhone). It helps to take fairly good pictures if the aurora is strong enough.
2. Are there ways to skip the lines at places like the Vatican Museum & Sistine Chapel?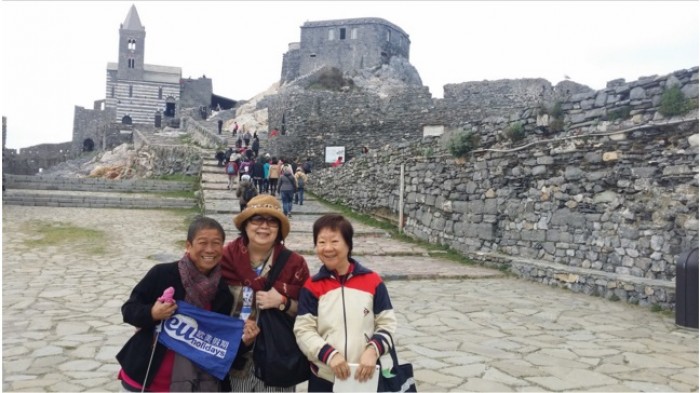 Walking through European history with Mei, the expert
Mei: Firstly, there are usually less lines during Winter. Also, if you book your ticket online, it saves you the time it takes to queue to buy the tickets at the Sistine Chapel. When you book online, the system allocates a time slot for you. Be sure not to be late! You need to arrive at least 15 minutes before the allocated time. However, you might STILL need to queue to get into the Vatican Museum & Sistine Chapel itself. The Vatican Museum is a big museum that tells of Italian history like no other, so it's very popular. For tours this year, our company has made special arrangements to enter the Vatican Museum right away, skipping the lines!
At the end of the museum visit, you will enter the Sistine Chapel and you will be awed by a viewing of "The Last Judgement" by Michelangelo — this is a depiction of the Second Coming Of Christ and the Final & Eternal Judgement by God of all Humanity. This chapel links directly to St. Peter's Basilica, so you can go directly inside this church — skipping the queue again!
Paul: There are fast access tickets (group reservations with fixed timing scheduled beforehand) for places like the Sistine Chapel, Eiffel Tower, and the Colosseum.
For some attractions, like St. Peter's Basilica in Rome, you will definitely need to queue as the entrance to this magnificent monument is free!
3. Where can we get the best branded bags in Europe?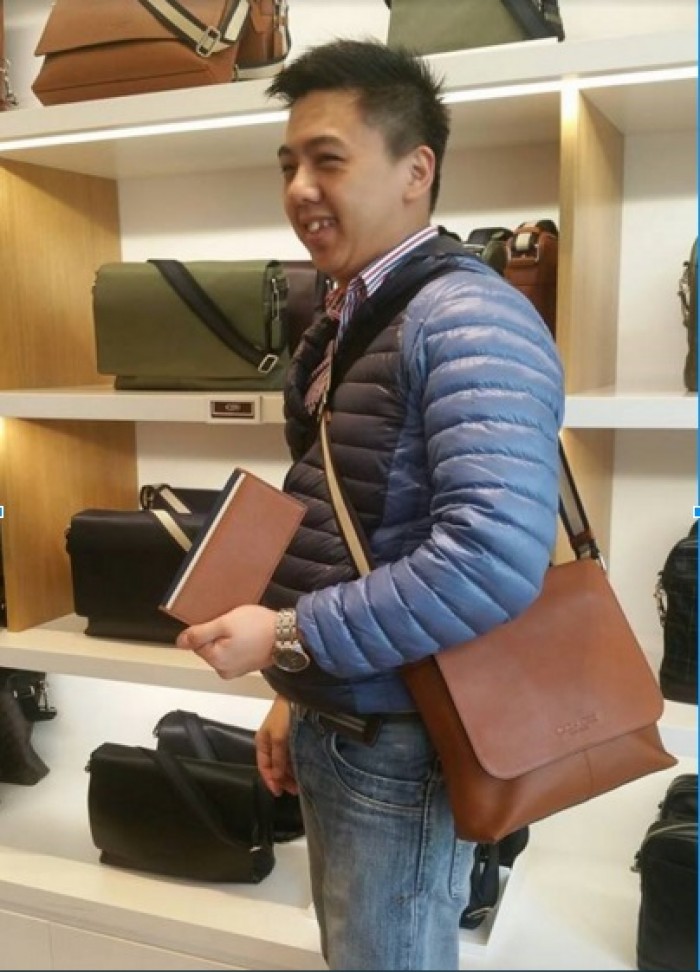 "How do I look carrying this coach bag? Shall I get this matching wallet too?"
Mei: In terms of price, my passengers have told me that Germany is slightly cheaper due to their stable economy. Some tourists also buy in Zurich due to the lower exchange rate, but tax rebate is not high, so it really depends on the exchange rate.
It's probably the easiest to buy in Paris because the tax rebate is so easy. When you buy from department stores in Paris, the tax rebate is done right there. You get your cash back right away. So it's not as troublesome as having to queue at the tax rebate counters at airports and you don't get your cash instantly.
The airport in Paris uses the Pablo system — if you do not manage to get your cash in the city center, you can do it at the airport in Paris. Simply scan the tax form and you are done! After scanning, you can either choose to get the rebate refunded to your credit card, or you can choose to collect cash back. Note that this applies only for purchases made in Paris.
Paul: Most major cities in Europe have factory outlets with designer brands, so you will find cheaper prices for selected classic items. For the latest designs, you will get better prices in the brand's country i.e. Chanel, Longchamp and Louis Vuitton in Paris; and Prada in Italy.
One factory outlet that we visit very often as part of our Central Europe itinerary is the Barberino Designer Outlet near Florence, Italy. You can always get the best deals for Prada items there!
4. How do we plan a Europe itinerary with the least budget?
Mei: If you do Europe free and easy, you can definitely be more flexible. However, be prepared for the cost to be higher. It usually is. Also, it's not easy to cover more than one country if you're going free and easy. Carrying big luggages on a European train is no small feat — the platforms are so high! You have to explore the cities yourself if you go without a guide, and getting from place to place within a city can be quite a hassle. If you travel with a group tour, meals, guides, and entrance fees are all arranged for you. There's no need to plan and that saves you from all that headache.
Paul: At EU Holidays, we offer economy tours — packages that offer 3-4 star tourist class hotels, with lesser meals. This is a great option for budget conscious travellers. For lunch, you can buy a sandwich or a slice of pizza in the city centre so that you have more time to explore and buy souvenirs. This type of lunch will cost you less than ten euros, including a cup of coffee.
If you prefer to travel free and easy, try to travel off season — generally October to April in Europe. You will enjoy cheaper airfares, spend less time in queues, and will likely save some accommodation cost. Rail passes can also save you a lot of money if you are travelling a lot on your trip. For shorter trips, point-to-point tickets are probably cheaper. Choose second-class train cars instead of first-class ones. The former costs about 50% less! The difference in comfort is usually minimal, not like first class versus economy class on airplanes!
5. Do you have recommendations on Europe destinations for big families?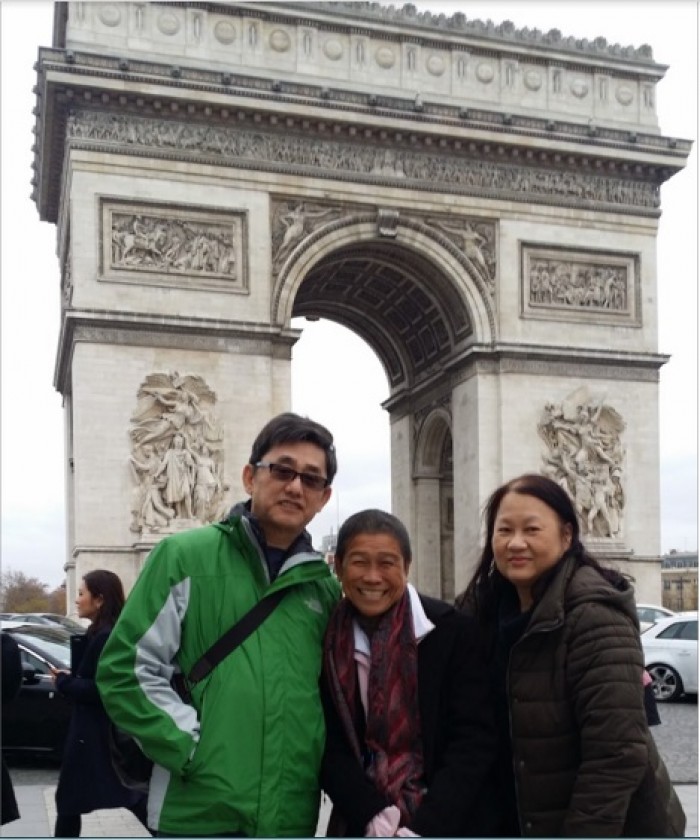 It may be cold, but that doesn't stop us from having a good time travelling in Europe!
Mei: For families that are big, such as those with three generations, I would definitely recommend a Italy, Switzerland and Paris itinerary.
Kids love Switzerland. Be it summer or winter, there's always snow on the mountain which the children love. There are plenty of activities on the mountain. There's the Titlis Cliff Walk where you walk on a suspension bridge, there's the Glacier 3000 Alpine roller coaster that's suitable for both the old and the young. It's not a roller coaster ride that you're familiar with — it's safe and easy. Many of my passengers want to ride it again and again, even the seniors. It's an activity suitable for everyone.
Italy is an educational place across all ages. You learn about the Roman empire with your own eyes. It's also good training for younger ones to appreciate what they have.
The shopping in Paris is really not just for the young ladies. I have found many of the seniors loving the experience of just window shopping there. It's eye-opening for them, and contrary to popular belief, the seniors are not sitting in cafes but walking into the stores as well.
Paul: Switzerland, West Coast of USA, New Zealand, and Australia. These destinations have many activities for younger travellers as well as lovely scenery for the elderly to enjoy.
I also recommend Norway, because of its magnificent scenery and fjords. Every bus journey is a scenic ride! You will go "Wow!" continuously on the bus, and your cameras will be constantly on standby! Of course, as an added bonus, you might get a chance to see the Northern Lights!
6. Are there places that we must visit before they disappear?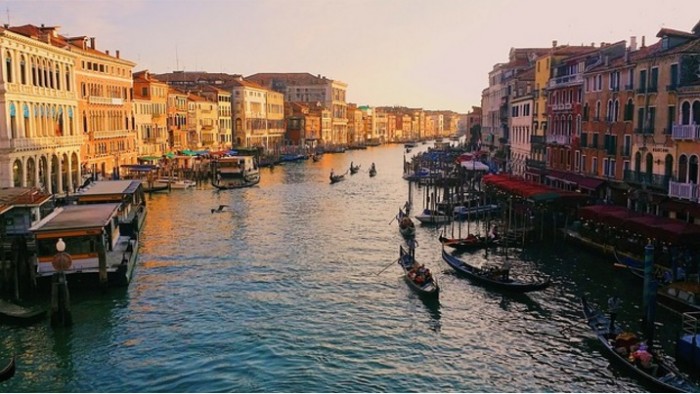 Venice, probably the world's most romantic city! Must visit!
Mei: Well, there's the Northern Lights that are dimming, so that's somewhere you want to check out before they fade away. With global warming, sights are not the same as before. In the past, winter was a truly silvery world. It's not as white now with lesser snow. Autumn used to be gold. Now, not so much. Tulips used to bloom beautifully. Now it's not as good.
The original feel and authenticity of some places are also gone because of all the maintenance work that had to be done. For instance, 20 years ago the Colosseum was not so "nice". It was very broken, but that's how authentic it was. There's too much "touch up" now. Spain has gotten very modern too. In Portugal, they've added many shopping places. Streets are different now because of the likes of McDonald's that spring up. Highways didn't use to have such developed pit stops. It used to be that the residents from the countryside would provide you food for free or very cheap. Now, they've learned how to charge tourists. Norway, however, is still relatively untouched with all their natural landscapes.
Paul: Venice, the famous romantic city one must visit in Italy. It is said to be sinking about 2mm per year, and there are increasingly frequent floods along Venice's canals now.
This is due to the rise of sea levels and the movement of the Adriatic plate on which Venice sits on.
Floods are happening more frequently along Venice's canals now, with residents having to walk on planks to stay above the floodwaters in large parts of the city about four or five times a year.
A multibillion-dollar effort to install flood-protection walls that can be raised to block incoming tides is nearing completion. These barriers were designed to protect the city from tides that are coming in higher as overall sea levels are rising in response to climate change.
So I would visit Venice as much as I can!
7. Have you encountered any Singaporean travellers with weird behaviour?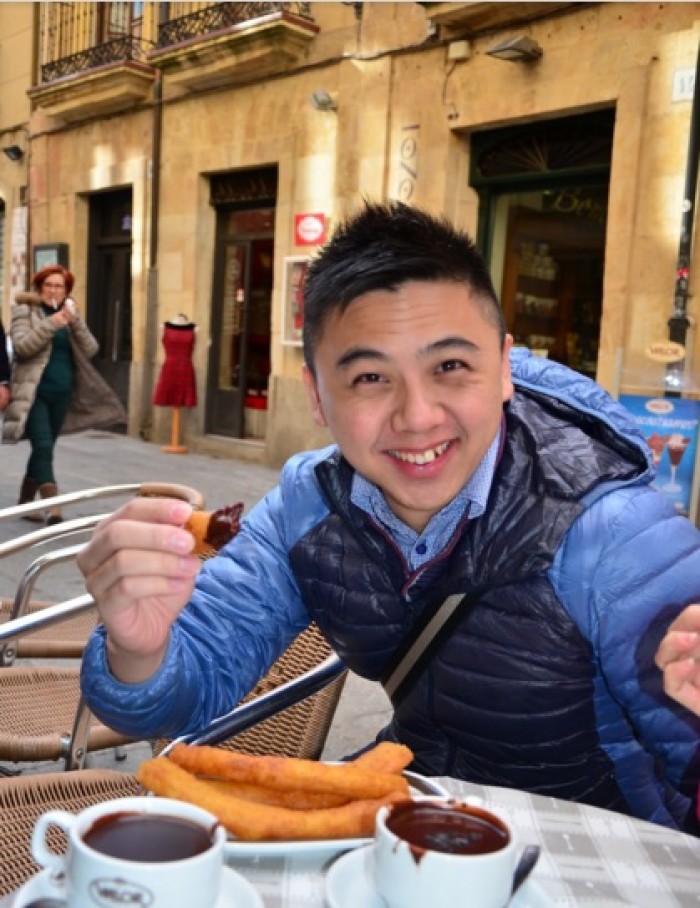 Let's have some churros — Spanish version of youtiao — dipped in thick chocolate sauce! Yummy!
Mei: Oh, plenty! There are many cultural differences between Europe and Singapore, so it's important to know this and adjust our expectations before we visit. We usually ask customers what they're expecting from the trip first. For instance, for Italy tour packages, I do advise them to avoid Italy if they don't like architecture very much.
Some Singaporeans are not happy about being charged for water at a restaurant and complain a lot about that. But that's how it is in Europe. In European culture they cannot fathom why we would drink something so plain and bland as water. But now as more and more Chinese travel, Europeans are getting used to preparing hot water for tourists. But they charge for it. They don't have a hot water tap like we do at our Singapore coffee shops. They use the coffee machines to heat up the water. Some travellers get culture shock at such things. As they say, when in Rome, do as the Romans do. Many travellers do return home to Singapore more appreciative of what we have.
Paul: It's fun to see some funny behaviour from Singaporean travellers!
I've seen some customers "dabao" (takeaway) food items from hotel breakfast, or from dinner the previous night so that they can eat these items for lunch at no cost. Yet, they spent thousands of dollars on shopping!
Some Singaporeans wear their pyjamas and slippers for hotel breakfast while other guests were in smart casual attire!
I have also encountered customers who consumed minibar items from their hotel room and forgot to pay upon checkout! There was once we were already departing, and the hotel staff came running after the bus!
On one occasion, I brought my customers to Berlin to try out a German pork knuckle. I remember this family of three, all adults, complaining that they were not full after the meal…because they only ordered one pork knuckle! It was meant to be one pork knuckle per person! Haha!
Also, these days, the camera must always "eat first". Every dish served has to be photographed first or taken a selfie with before consuming!
Also read: 10 Travel Tips and Precautions for Every Smart Traveller
8. What are some perks of joining a tour with EU Holidays?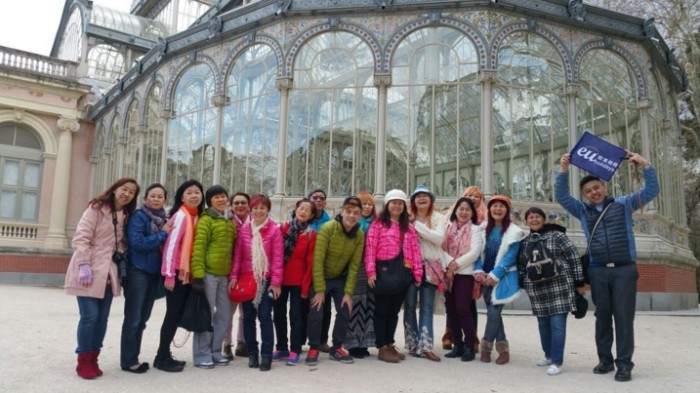 Plenty of smiles and good cheer travelling with EU Holidays!
Mei: I've been in this trade since the 1980s and am happy to say that EU Holidays dares to be unorthodoxed.
We were the first tour company to offer sledging on the Swiss Alps as one of our activities.
We are also bold in our choice of hotels and even negotiate for exclusivity. Take staying in Venice Island in Winter for example. We arranged 2 way porterage at the pier, so that luggages is also transferred to the hotel. Venice by night is really really nice!
Another example is staying in Trübsee Alpine Lodge, a hotel 1,764 m above sea level in Switzerland, for our central Europe summer programs. This hotel has only 37 rooms! The only way to get to this hotel is by cable car. And the famous Mt Titlis is another cable car ride away!
These unique experiences are very worth it, and that's why we go the extra mile to include them into our programs.
For meals, we offer local food, such as the Swiss fondue. We also like bringing our travellers to Michelin Star restaurants. There's also wine, and the lavender fields in France. EU Holidays also has tours that do a single European country such as Germany or Italy at very affordable rates.
Paul: We have the biggest pool of experienced Tour Managers. Yet, the company still actively provides training to both experienced and young Tour Managers in different sectors to enhance passenger travel experience. That's great continuous learning opportunity for us as Tour Managers. As a young company, we are also friendlier and very willing to provide more information regarding any tour package.
EU Holidays is certified for the Singapore Service Class in 2016, so customers can also be rest assured of our service standards. We believe in GEMS — Go-the-Extra-Mile service!
| | |
| --- | --- |
| | With over 28 years of experience in the travel industry, Mei is a veteran tour manager and is very popular with her customers. She knows Europe like the back of her hand and is well-versed in European history. She even stationed in France as a local tour guide before! Many customers appreciate her honesty, sincerity and have praised her for the way she goes the extra mile for them. |
Mei is excited to share her wealth of Europe travel tips:
| | |
| --- | --- |
| | Paul has been to Europe over 40 times and brought more than 1000 customers there, mostly to Central and Eastern Europe, UK & Ireland, Spain, Portugal and Greece. He's known to be helpful, positive and dedicated in his six years in the travel industry. Customers who travel with Paul are always delighted because he is humorous and entertaining. He even brings song sheets to lead passengers on the bus to sing local folk songs. Think "O Sole Mio" while being on the bus in Italy — puts you quite in the mood for Italian opera, don't you think? |
Here's Paul on an exciting roller coaster ride in Naturlandia, Andorra:

About EU Holidays
EU Holidays are the leading experts when it comes to Europe and USA travel. Their tour managers are highly knowledgeable, extremely passionate about travel, and provide excellent service.
To book a trip with EU Holidays, visit their website at http://www.euholidays.com.sg/, call +65 6535 8535 or email [email protected]
---
Brought to you by EU Holidays.