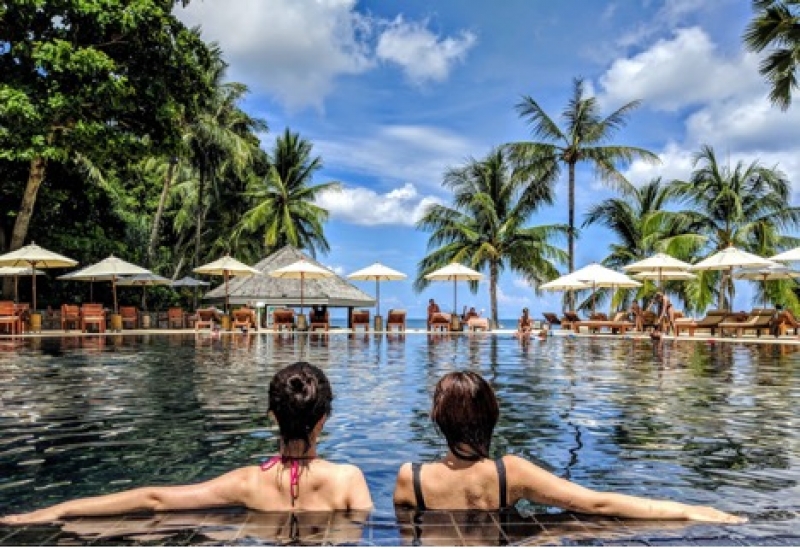 At a time when crossing international borders is out of the question, staycation surely comes to mind. That's because it is fast becoming an alternative to a sojourn in a faraway country – especially during this unprecedented time. Let's cut to the chase though, what makes vacation truly exciting is the novelty of a new place. We are able to immerse ourselves in experiences that are not of the everyday variety. So, how are we able to recreate the inexplicable feelings of excitement and anticipation on our next staycation? Here are some sure-fire tips to ensure that your 'vacation' spent near home feels like a real holiday.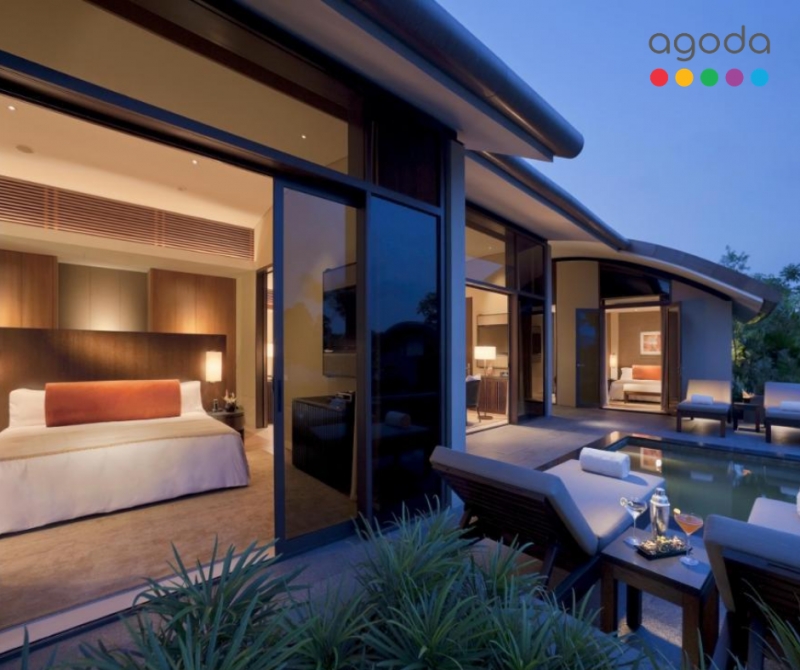 Avail yourself to the Agoda promotion to enjoy 20% off local hotel bookings from 14-16 August. With a range of hotels to choose from like Capella & Kempinski, you can enjoy the staycation you truly deserve for a fraction of the cost.

Enjoy this deal from 14-16 August when you pay using HSBC Credit Card.

T&Cs apply.
1. Steep yourself in culture
As a melting pot of different cultures, there are pockets of history and heritage in every corner of the island. A staycation can help you rediscover sights and sounds you might have missed as a local. The best place to be a tourist in your own country is Kampong Glam, a charming enclave where culture and art come to life. Weave in and out of the preserved shophouses as you hunt for eclectic steals, or sip on teh tarik while you admire the alleyways splashed with wall art.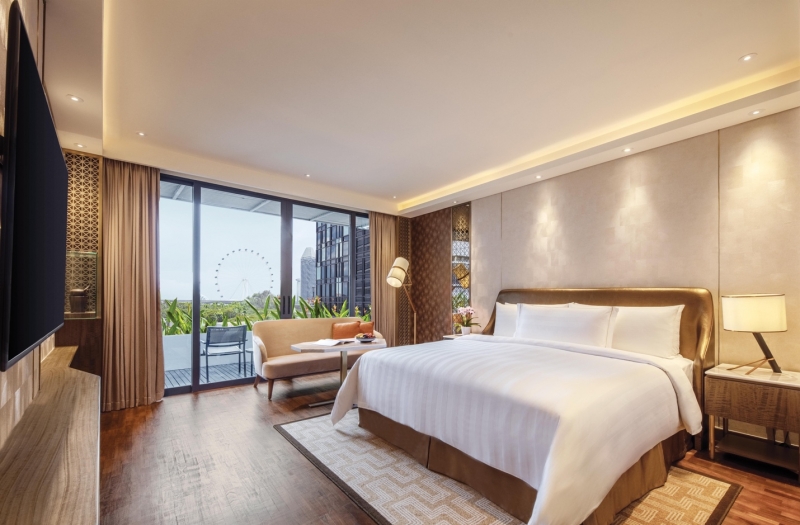 Situated just a short walk across this cultural hotspot, PARKROYAL on Beach Road is the perfect place for a staycation that feels like you're in an exotic foreign land. The sleek, modern interiors of their rooms form a nice contrast to the iconic Sultan Mosque in the neighbourhood, allowing you to unleash your inner culture vulture while being pampered by luxurious amenities.
Enjoy up to 20% best room rate for PARKROYAL on Beach Road, with complimentary breakfast for 2. Sleeping in is also no longer a luxury with late check-out at 3pm available!

Hungry for more? The first 50 HSBC Cardholders to make their booking from 14-16 August can enjoy an extra S$50 dining credits.

Exclusive to HSBC Credit Card members.

Promo period: 14 August- 30 September 2020
Stay period: 14 August- 30 September 2020

T&Cs apply.
2. Treat yourself to spectacular waterfront and skyline views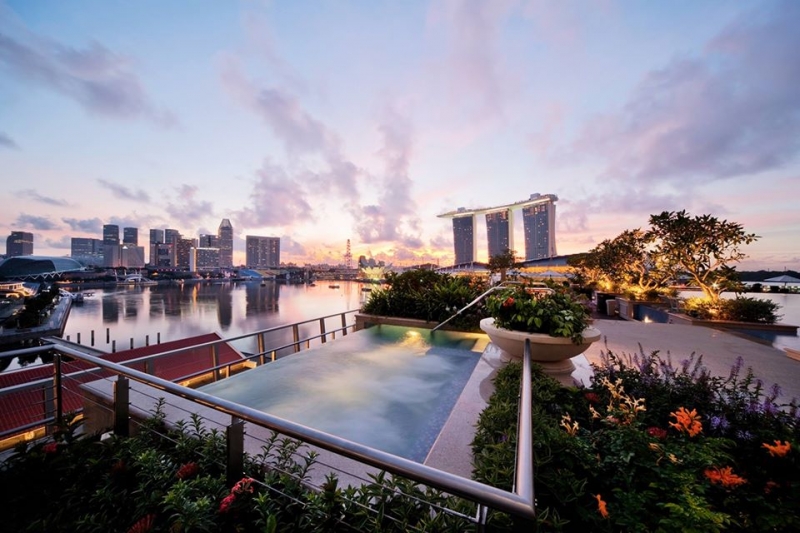 Image credit: The Fullerton Bay Hotel
Part of what makes a staycation-vacation amazing are the spectacular views that will have you scrambling for your camera. Panoramic shots of city skylines will always give your Instagram aesthetic a boost, and with its soaring skyscrapers and gleaming architecture, the Marina Bay skyline is fast becoming an iconic postcard-worthy view of Singapore that will make both locals and tourists want to stop and marvel.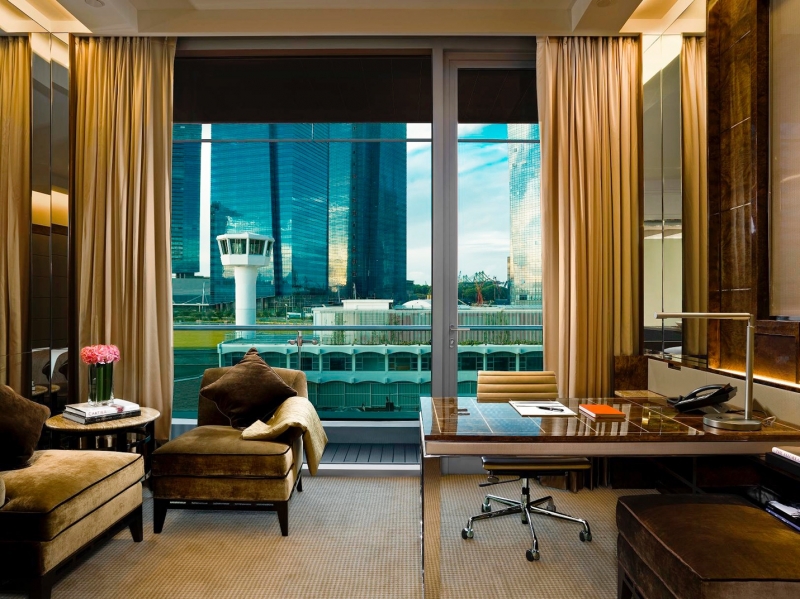 One of the best vantage points with a bird's eye view of the area is at The Fullerton Bay Hotel. Imagine waking up to the unobstructed view of Marina Bay from the exclusive balcony of your room. A staycation in the 100-room waterfront heritage jewel will guarantee your sweeping views that will take your breath away. Against such a backdrop, there'll be no excuse not to unplug and take a break from emails and social media.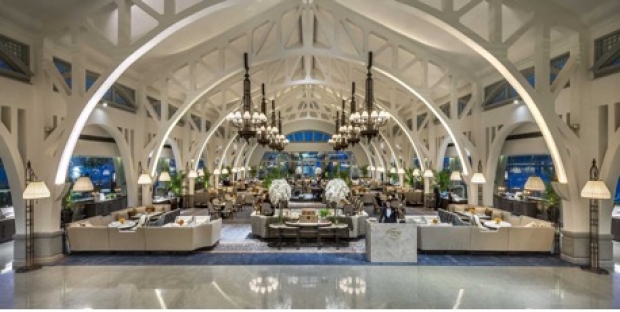 Go for a walk around the hotel precinct, or dine in style beneath the elegant arches of the hotel's contemporary lobby. You can be forgiven for thinking you're unwinding overseas!
Satiate your taste buds at a multitude of renowned restaurants with the S$80 dining credits you'll receive when you book a stay at The Fullerton Bay Hotel's glamorous deluxe room for only S$510++ per night. It comes with complimentary breakfast for two as well.

Exclusive to HSBC Credit Card members.

Promo period: 14 – 31 August 2020
Stay period: 14 August – 30 September 2020

T&Cs apply.
3. Choose a staycation with a wide range of holistic activities nearby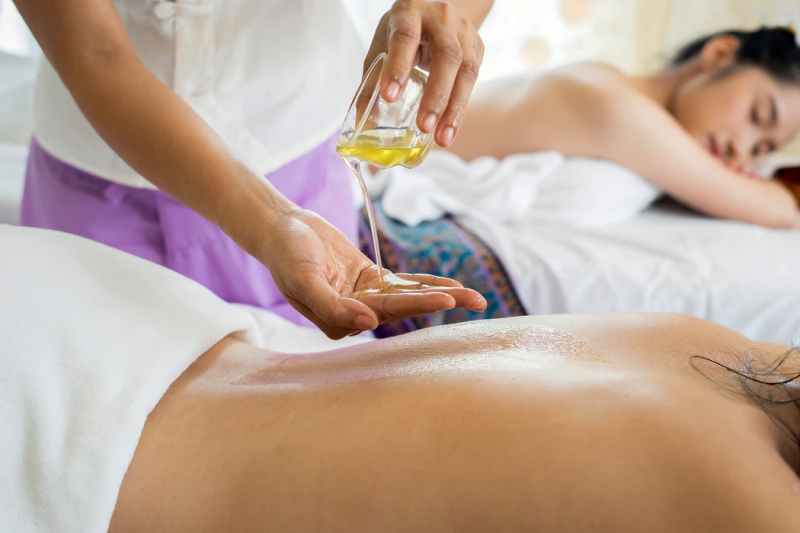 If your travelling style involves experiencing a plethora of different activities during a vacation, planning a staycation around the type and variety of things you can do within the vicinity is a must. Having your favourite activities within earshot of your hotel means that there will be less time spent on the road and more time immersing yourself in doing the things you love.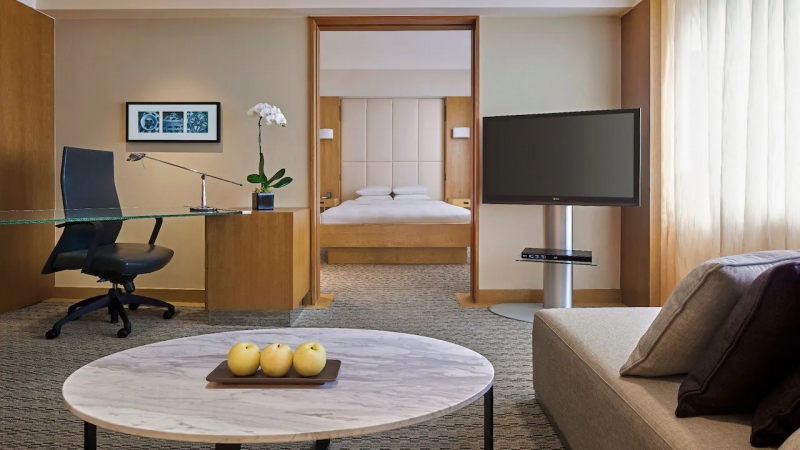 A five-minute walk from Orchard MRT Station, Grand Hyatt Singapore is right in the heart of Singapore's prime shopping belt, which should be any shopaholic's dream. The hotel also offers luxurious accommodation, an elegant outdoor pool and a spa, and four dining options offering a delectable variety of cuisines, including the award-winning restaurant, mezza9. Conveniently located along Scotts Road, it takes 10 minutes by foot to Singapore's first UNESCO, the Singapore Botanic Gardens, and 10 minutes by car to the marina area.
With the bed and breakfast staycation package at Grand Hyatt Singapore, you can avail yourself of 20% F&B discounts, $50 spa credits and 5% Isetan discount for only S$250++ (with a guaranteed upgrade to Deluxe Room). That's not all, you can enjoy a complimentary breakfast for 2. See how this exciting deal will allow you to transform your staycation into a dream holiday with perks you can enjoy at your doorstep?

Exclusive to HSBC Credit Card members.

Promo period: Now – 31 December 2020
Stay period: Now – 31 December 2020

T&Cs apply.
4. Take many photos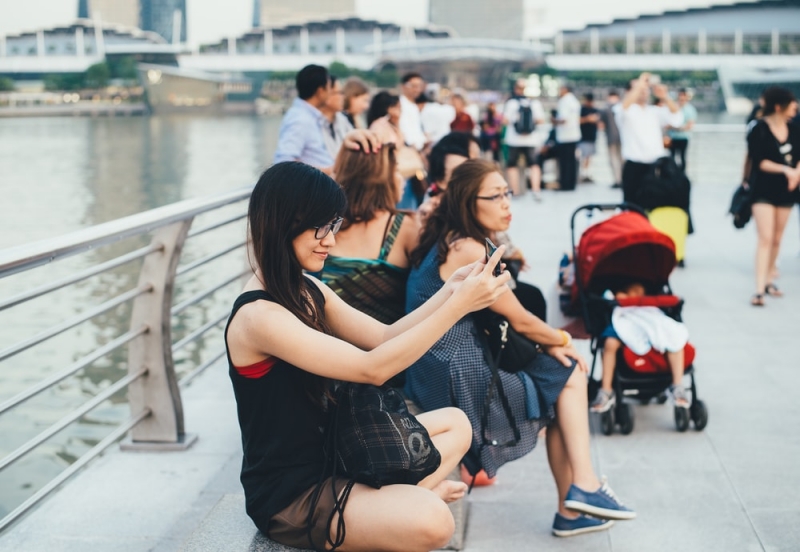 When we're halfway across the globe, we become obsessed with taking our cameras out to snap the best photos. This is because we want the snapshots to become conduits of our best memories. Looking back at them will help us remember all the pleasant moments and spectacular sights we encounter during our travels. Photos are a great way to trigger nostalgia and a passageway for us to momentarily relive moments.
That's why, next time you are on a staycation, recreate that vacation vibe by putting your photography skills to good use. Snap more than enough photos just like you would if you were frolicking on a beach in Maldives or ambling around the quaint streets of Prague. And, if it has been long since you updated your Instagram with travel #OOTD, you can finally share gorgeous images from your equally exhilarating staycation. Get creative and think outside the box. Make use of the hotel facilities, facades and interiors for a striking Instagram backdrop. But, remember not to spend too much time behind the lens of your camera and compromise on the overall experience.
At The Fullerton Hotel Singapore, every nook and cranny of this charming hotel makes for an Instagram-worthy backdrop for your staycation-vacation. With its tastefully picture-perfect interiors and stunning vistas of the gleaming Marina Bay, you are sure to take a good snap for the grid.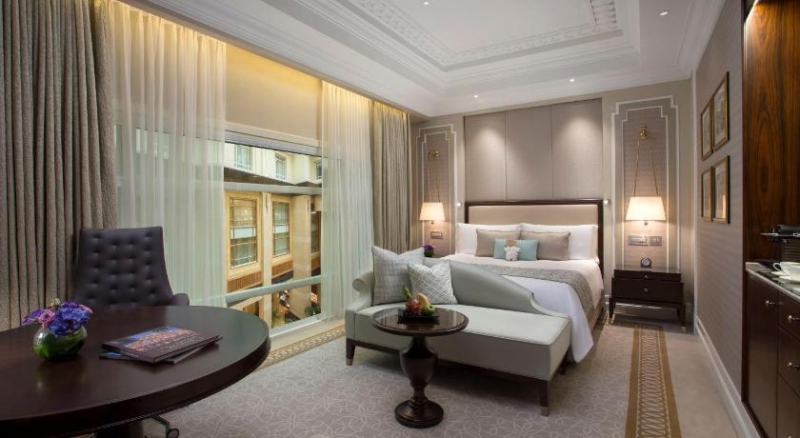 From 14-16 August, the first 50 HSBC cardholders will enjoy HSBC Staycation Treats at a special rate of S$254++ with S$80 dining credit and breakfast at The Fullerton Hotel Singapore's newly refurbished premier courtyard room.

Exclusive to HSBC Credit Card members.

Promo period: 14 – 31 August
Stay period: 14 August – 30 September 2020

T&Cs apply.
5. Relax and bask in tranquility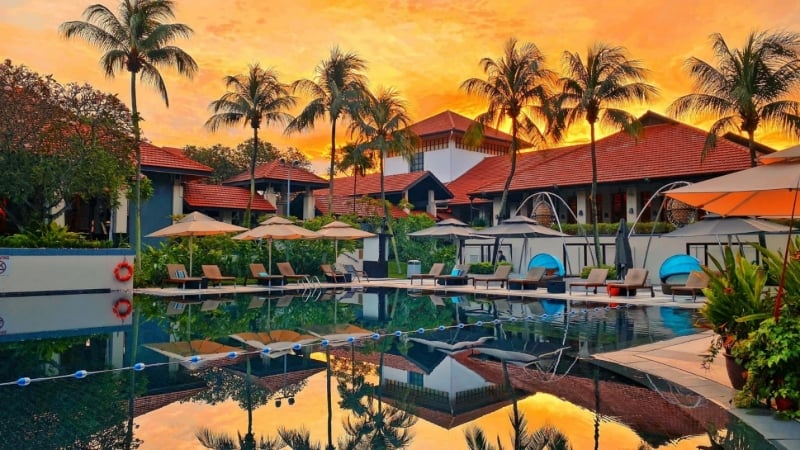 As with any vacation, a staycation is all about making time and space for the break you deserve. Going on an island getaway can offer you a chance to sip on a Mai Tai and put your feet up. The good news? You don't need to look far to relax under balmy palms or go on a leisurely cycling session by the beach with your family. The Island of Fun, Sentosa, is a great place to escape urban living and let your stress disappear.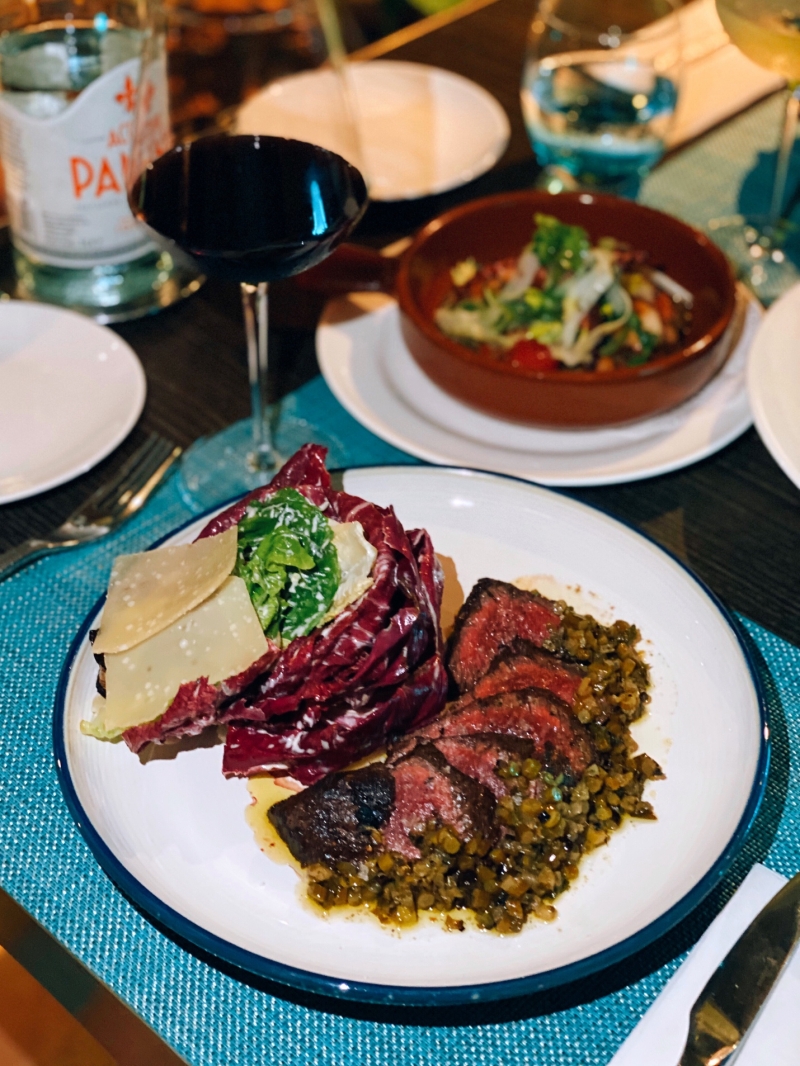 Pamper yourself and indulge in delectable flavours of Italy paired with a stunning sea view at The Cliff. Tuck into handmade pizzas and other Italian classics with the little ones, or if the mood strikes, go for one of their finest selection of premium wines. If a rejuvenating massage is exactly what you need to loosen those stiff shoulders, the hotel award winning spa, Sofitel SPA, will leave you in good hands and revitalised with their treatments and body scrubs.
Gather your loved ones and take advantage of the Infinite Family Experience Package at Sofitel Singapore Sentosa Resort & Spa. From S$288++ for 2 pax per night, you can enjoy Full Gourmet Dining Experience which includes breakfast, lunch and dinner, complimentary bottle of red wine and more.

Exclusive to HSBC Credit Cardholders

Promo period: 14 – 16 August, first 50 bookings only
Stay period: 14 August – 31 December 2020

T&Cs apply.
Your desire to visit a foreign country will slowly ebb away if you make your next staycation feel like a vacation. With all these tips, you're sure to do a staycation right! Do not let your travel plans that have been nixed dampen the mood. Have the staycation you truly deserve. That said, in light of the COVID-19 situation, staying safe should be your utmost priority, even with the mandatory safety measures put in place by hotels. Always remember to put on a mask while on the premises, wash your hands with soap regularly and observe social distancing whenever possible. The only thing you will be returning with are indelible memories! Like these exclusive HSBC staycation deals? Look out for more of them at HSBC's website or Facebook page!
---
Brought to you by HSBC.