Contributed by The Panoramic Soul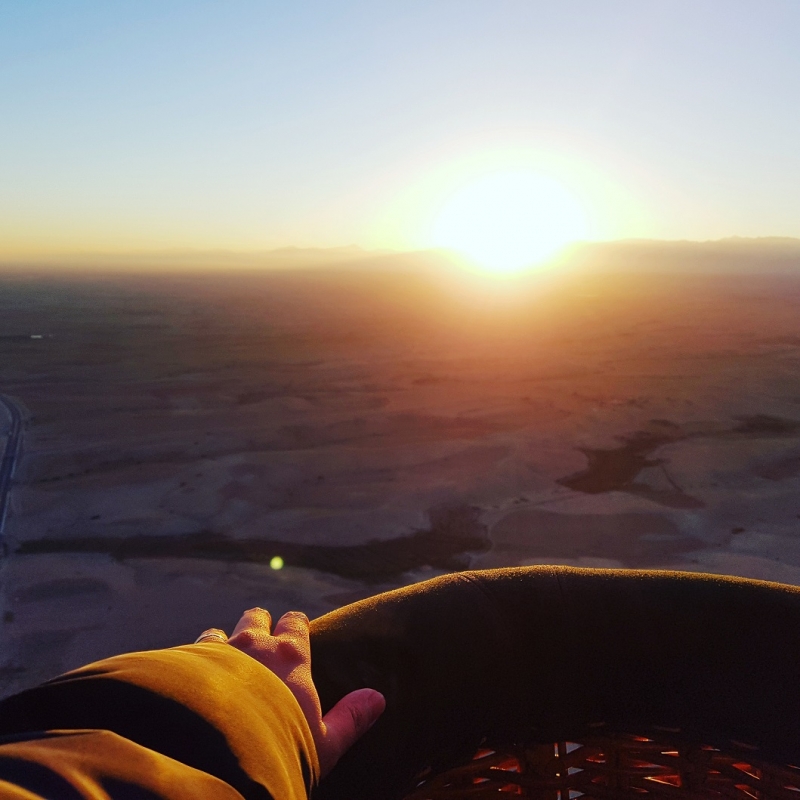 Written while surrounded by vast farmlands with olive shrubs in the cold Moroccan dawn, as the clear blue sky stands in contrast to the earthen soil, with the Atlas Mountains in the background. Just before the sun rises and warms up the cold morning, and as the villagers wake up and go on with their routine.
A hot air balloon ride is one of the most serene, even romantic activities that a traveller can participate in. It immerses you into a different level of perspective that will leave you breathless and in awe. Decades ago, hot air balloons were used as a means of transportation for travelling around the world.
Also read: 15 Awe-Inspiring Hot Air Balloon Rides Around the World
Now, it is one of the most popular tourism activities that can be the highlight of any travel experience. Hot air ballooning is not readily available everywhere, and what makes it unique is that no two hot air balloon rides are the same. It gives you a new vision, and for me, it really is a baptism of air.
Why baptism of air?
The hot air balloon company that I've gotten in touch with promotes this activity as such, and I definitely agree with this assessment because, unlike riding an airplane or skydiving, it gives you a subtle immersion into the air that incites a serene feeling that permeates the soul.
These are just some the most popular hot air ballooning destinations around the world:
Cappadocia, Turkey
Bagan, Myanmar
Pampanga, Philippines
Cairo, Egypt
Marrakech, Morocco
Prior to my visit to Marrakech, I found out that there are hot air balloon activities in the area, and I inquired in a heartbeat. I wanted this year to be filled with really immersive and worthwhile experiences, and as a first-timer, I really took a chance. Hot air balloon schedules are typically done early in the morning before the sun rises, and it took more or less an hour to setup the unit. I was a bit scared, and I'm telling you right now that before we boarded the basket, I had a minute of doubt about whether I wanted to continue or not – but I did.
The ascent was immediate. Before I knew it, we were already more than 500 feet above the ground. It was spontaneous, and I felt a heady mix of fright and excitement. The ground crew became small as dots as we looked down. The air was calm, and there was this incandescent hope that emanated from the sun that was just starting to rise. The feeling was arresting, and because almost all passengers were first-timers, no words were spoken – no wows, no amazeballs – just a silent vision of awe. It was only when our pilot broke the silence that everyone seemed to come alive. Then the pilot initiated this conversation:
Pilot: Is this your first time riding a hot air balloon?
Me: Yes.
Pilot: Oh, me too.
Me: X_X
The Moroccan landscape is something I'd describe as otherworldly. It doesn't have the complex rock formations of Cappadocia or the balloon traffic in Pampanga (in fact, during our schedule, there were only three balloons afloat), but it brings you somewhere unfamiliar. The reddish earth made us feel as if we were hovering around the Martian grounds, only to be reminded later that we were still on Earth because of some patches of olive farms and grazing goats.
We remained peacefully drifting around the outskirts of Marrakech for about an hour, and then our pilot told us that our landing spot would be completely random. This duration can be either too long for the frightened, or too short for the inspired. There is this absolute surrender to where the winds will bring us. The only thing that can be controlled is how we land, but the pilot told us that landing may not be as smooth as comfortable, and no two landing spots are the same. Areas where olive trees are being cultivated are off limits; these areas are prohibited landing sites unless under an extreme emergency.
After we landed, the crew started to pack the balloon and disassemble the basket. Of course, we had our group photo taken. With all smiles, we were like a diverse family from different countries. We then visited a Berber family for the traditional Moroccan breakfast of crepes and mint tea (I think I drank six cups, probably more). Our pilot prepared our "graduation certificates" as we ate our breakfast.
To travellers who are thinking of adding this activity to their bucket list, I highly recommend going for it because it is a one-of-a-kind experience. You should do this activity at least once in your lifetime because it really promotes an immersive experience. Being adrift and seeing the view with your own eyes are things that are best left experienced rather than described.
Also read: This is What a Hot Air Balloon Ride in Cappadocia Feels Like
I dedicate this article to the amazing group with whom I've had my first hot air ballooning experience in the outskirts of Marrakech. To John, Jake, and Kate (U.S.), Alex and her beau (United Kingdom), to the Brazilian lass who encouraged me to travel further, and to our crazy-in-a-good-way pilot, Hicham – cheers to all of you!