Hong Kong and Taiwan are two incredibly popular tourists destinations in Asia. Whether you're looking for a conventional vacation experience or something off the beaten path, the two countries offer amazing attractions and a rich culture that'll definitely make for a great holiday. But if you had to make choice, which would you choose?
We're pitching Hong Kong and Taiwan against each other, in categories including shopping, food, natural scenery, and more. Let the battle begin!
Shopping
Both countries have dozens of top shopping choices for all kinds of travellers. However, while Taiwan has its share of famous night markets, like the Raohe Street Night Market and Ximending Shopping District, Hong Kong is an absolute shopper's paradise! From glitzy mega-malls to budget thrift stores and local night markets, the diversity of shopping spots guarantees you'll never be short of shopping options.
Take your pick from popular favourites like Langham Place for a more upscale spree, Temple Street Night Market for a local experience, or even Dragon Centre and Fuk Wa Street for an oasis of inexpensive electronic products.
Winner: Hong Kong
Nature
For those who are planning to get away from the city and admire the natural beauty outside, head to Taiwan! The country is home to great mountains and quaint countrysides, as well as plenty of natural landforms. Experience the picturesque landscape of Taiwan at places like the Golden Waterfalls in Xinbei, Qingjing farm in Nantou, and Sun Moon Lake which offers an utterly beautiful reflection of the hills and sky in the water. And of course, the world-renowned Alishan Mountain is a must-visit to view Taiwan's alluring nature.
Of course, Hong Kong has its fair share of scenic attractions too. Trek up the Dragon's Back hiking trail or to Sheung Tam Stream to discover the hidden gems of the country's national parks. That being said, as fascinating as these hikes and lakes are, Taiwan arguably offers a greater variety of natural landscapes to explores its great outdoors.
Winner: Taiwan
Cityscape
Besides the quiet countryside and untouched nature, you can experience stunning sights within the city as well. For the urbanite travellers, Hong Kong seems to be a better choice, perhaps because the majority of the country is the bustling city itself! However, Taiwan's capital does boast the world's third tallest building, the super skyscraper Taipei 101, towering over the city with 101 levels and 508-metres above ground. Nonetheless, Hong Kong's iconic city skyline is an unforgettable spectacle that lights up every night at 8pm for a dazzling Symphony of Lights show.
Winner: Hong Kong
Culture
Although both countries have roots in China, they have diametrically different and distinct customs. A large part of Hong Kong's history is rooted in its development as a former British colony as well as a major trade and financial port. Because of its rapid advancement and dense population, most of its traditional history has unfortunately been kept in museums, or as preserved colonial buildings from the Victorian and Neo-Classical era.
On the other hand, Taiwan seems to have a more celebrated culture, with elaborate temples like the Chung Tai Chan Monastery, as well as the renowned Lungshan Temple. Moreover, one of the most recognisable Chinese traditions also hails from Taiwan; every year, tourists from all over the world flock to the train tracks of the rural Pingxi district for the Pingxi Sky Lantern Festival, where they release sky lanterns with their written well-wishes. Over centuries old, this practice is a testament to Taiwan's rich and interesting traditional culture.
Winner: Taiwan
Food
When you think about Hong Kong, it's difficult not to recall the mouth-watering Chinese delicacy known as dim sum. Traditionally served in steamer baskets, these bite-sized delights are packed with flavour and a distinct local touch. A trip to Hong Kong won't be complete without a dim sum feast! On top of that, the country also has extremely affordable Michelin-starred restaurants if you're in the mood to treat your taste buds to some culinary masterpieces.
Also Read: 8 Michelin Street Food Stalls You Must Visit in Hong Kong
On the other hand, Taiwan's street food is equally mind-blowing. Indulge yourself with the famed braised pork rice and scallion pancakes that are readily found is most night markets and food streets. And to top it all off, don't forget to have a cup of thirst-quenching bubble tea!
It's really tricky picking the winner for this category, simply because both countries are food havens in their own right!
Winner: BOTH
Transport
In terms of getting around, Hong Kong as an incredibly extensive MTR subway network that connects you to every other area in the country. With its integration of the Octopus smart card, the transit railway system has been made even more convenient, even for tourists! On top of the MTR subway lines, Hong Kong also has ferries and minibuses, as well as tramways that the locals affectionately call "ding ding trams", for alternative ways to travel around the city.
In Taiwan, its railway system and inter-city buses makes it equally accessible to comfortably get across the country. Granted that it might take longer than a premium high-speed train, but you'll enjoy scenic views along the way on the road. Commuting in these two countries shouldn't be much of an issue because of their far-reaching and tourist-friendly transport network. Thus, for this category, we're giving it a draw!
Winner: BOTH
Accommodation
Both countries are no short of accommodation options, offering everything from lavish hotels to budget hostels. You'll definitely be able to find a suitable stay for any price range. But for the most value-for-money deals, Hong Kong boasts plenty of quirky homestays and guesthouses, most on the outskirts of the dense city.
Taiwan, on the other hand, is packed with unique accommodations on top of the standard hotel and hostels. Ranging from capsule apartments in the city centre to village stays in the countryside, these options are guaranteed to give you the bang for your buck, as well as jazz up your usual stay in the country. Because of this, Taiwan's accommodation wins by a narrow margin over Hong Kong!
Winner: Taiwan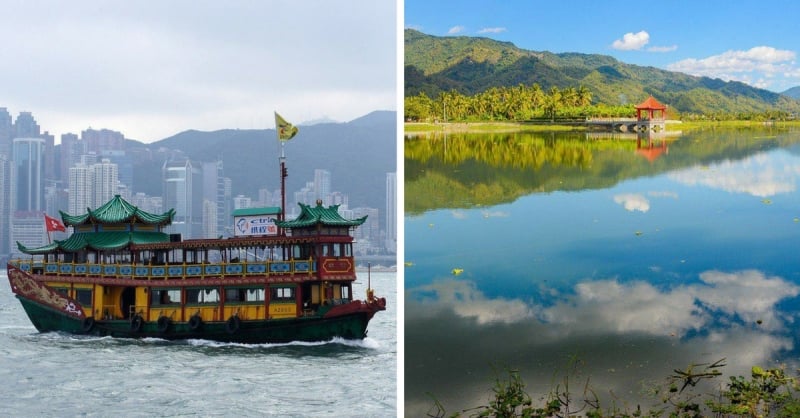 All in all, the two countries offer unique ways to experience their exciting attractions and cultures. If you have the opportunity, you should definitely visit both!