It's a little over a month to Christmas, Michael Buble is slowly defrosting in his cave but, more importantly, the year-end festivities are fast approaching! After a long year, what better way to end 2017 than an unforgettable Christmas vacation to somewhere different from the familiar hustle and bustle of Singapore?
For a magical time of great fun, you can't go wrong with Hong Kong Disneyland!
The theme park on Lantau Island is one of the biggest tourist destinations of the Hong Kong, with  seven different lands and countless attractions. With so many activities to do and places to visit, here are 7 tips that will help you to make the most of your precious vacation.
Plus, Hong Kong Disneyland has rolled up a couple of exciting deals to give you that extra push. 2-Day tickets are going at a discounted price of HK $649, simply top up an additional HK$60 (~S$10) for the second day and take your time to appreciate all that Hong Kong Disneyland has to offer!
For a more immersive experience, book yourself a stay at one of the Hong Kong Disneyland Resort Hotels and receive up to a fantastic 40% off your stay.  
Give yourself a treat during this end-of-the-year break, and head over to Hong Kong Disneyland for a magical Christmas celebration!
1. Stay in the new Disney Explorer's Lodge
Opened earlier this year in April, the explorer-themed Disney Explorer's Lodge is the latest of three hotels located in the Hong Kong Disneyland Resort. The hotel is equipped with brand-new facilities, and features four themed gardens that showcase the diverse and rich cultures of Asia, Africa, South America and Oceania. This December, the hotel will be decked out in festive decor to commemorate the Christmas spirit and spread the holiday cheer!
Staying at any one of the three hotels will also give you exclusive access to numerous exciting perks: hotel guests are able to get priority admission passes to selected attractions in Park. You'll have a designated entrance to the Park and beat the queue for tickets during this peak holiday season, and ensure a fun time with certainly much less hassle!
When you visit Hong Kong Disneyland, taking photographs with the ever-popular Mickey is definitely a must! Mickey and his friends will be meeting Guests at this hotel in an exclusive explorer outfit, only available this hotel!  This is definitely something you won't want to miss.
During the holiday season, all Disney hotels will be festively decorated, the rooms will also be given a festive touch with in-room decorations, holiday-inspired amenities and more.
For families with young toddlers and infants, the resort is a child-friendly accommodation that has special arrangements for infants, such as bed frames and bath basins available upon request. There's no need to be deterred if you're travelling with the young ones – Disneyland is a place for everyone of all ages to enjoy!
In addition, there's a special 40% off hotel stay offer this festive season, so there's no time to lose.
Start booking your room
at the new Disney Explorers Lodge for an unforgettable Christmas celebration!
2. Enjoy activities in ALL the Hong Kong Disneyland hotels
If you're staying at the Disney Explorer's Lodge, did we mention that you'll get to enjoy access to all the other hotel's activities as well?
From visiting the grand and elegant Hong Kong Disneyland Hotel to the cinematic-themed Disney's Hollywood Hotel, there's plenty of engaging activities for everyone right at their doorstep. Not only will this enhance the exciting day-trip that Hong Kong Disneyland brings, the resort hotels offer a brand new experience, unlike any other!
One of the all-time favourite activities of hotel guests is having a session of the ancient Chinese Tai Chi exercise with Goofy at the Hong Kong Disneyland hotel! Now that's the way to start your morning!

During this holiday season, you can also get into the festive spirit with a host of fun activities such as gingerbread decorating classes and the little Santa's training workshop. If you are staying at the end of December, be sure to join the complimentary New Year's Eve Countdown Party as the Resort welcomes the New Year!
3. Join in the special Christmas celebrations
Hong Kong Disneyland is one of the most magical places to soak in the Christmas atmosphere, and the best time to do so is during the "A Magical Twilight Snowfall" show along Main Street USA! There'll be carolling in front of a gigantic Christmas tree, performers dancing down the streets, and dazzling lights. As the night falls, Mickey and his friends will wish for snow for a truly special Christmas holiday.
Premiering this year is also none other than the Christmastime Ball, a fun-filled musical extravaganza that will simply blow you away! Be dazzled by the festive decorations, and snow-capped trees that adorn the forecourt of Sleeping Beauty's Castle. With a flurry of energetic performances that will certainly tempt you to bust out your best dance moves too, soak in the joyful holiday mood as your favourite Disney characters take the stage in their best Christmas outfits! Be sure to stay all the way till the end so you can witness the spectacular snowfall that concludes this incredible show!
Not only is the entire theme park decked out for the season, it is also fitting that your favourite Disney characters are too. This December, Mickey and friends have donned a brand new set of costumes that'll definitely get you into the jolly Christmas spirit. Try to spot them for a photo opportunity at the various celebrations around the park!
With all these unique experiences to usher in the yuletide cheer, you can be sure that this Christmas vacation will be the most magical one yet!
4. Send a postcard to spread the Christmas spirit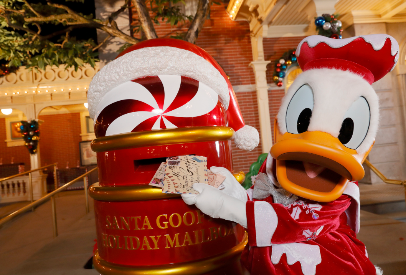 A trip to Hong Kong Disneyland is guaranteed to leave you overflowing with fun and joy, so why not share your experience with your loved ones back home? At Santa Goofy's Post Office, you'll be able to mail a special postcard to your friends and family in Singapore for FREE! Exclusive to this season, your heartfelt messages will even be imprinted with a unique Santa Goofy Commemorative Postmark.
5. Visit the attractions exclusive to Hong Kong Disneyland
There are so many Disney theme parks around the world, but what makes Hong Kong Disneyland stand out from the rest? Unique to the park are two featured lands – Grizzly Gulch, and Mystic Point that is exciting for all adventurers at heart!
The latter is set in an exotic jungle and features Mystic Manor, the house and private museum of Lord Henry Mystic,  where guests explore a collection of illustrious art and artifacts. Grizzly Gulch, on the other hand, will take you back in time to the American Wild West, to a gold mining town with erupting geyser springs, and even an old town jail.
When you're there, be sure to check out the Big Grizzly Mountain Runaway Mine Cars, which is a mine train roller coaster that'll send you speeding through mining mountains and dark caverns! Definitely an exciting way to kickstart your adventure.
6. Experience the first Marvel themed ride at a Disney Park
Are you a hardcore Marvel fanatic? If so, then you'll be overjoyed to know that the Iron Man Experience – the first ever Marvel themed ride to be featured at a Disney theme park, is officially open at Hong Kong Disneyland!  
Get ready to immerse yourself in the world of superheroes as you explore the sprawling grounds of Stark Industries, witness the latest Stark innovations, get up close and personal with the iconic Iron Man Mark III Suit, the arc reactor, the gravity-defying Iron Wing, and many more!
Take flight on a thrilling aerial tour of the city to get a unique perspective of the latest and tallest addition to the Hong Kong Skyline – Hong Kong Stark Tower and be prepared for action as there are reports of Hydra elements operating in the region. After your mission, have a close encounter with the Marvel Superhero – Iron Man himself!
7. Catch the Amazing "Disney in the Stars" Fireworks
This may not be a secret tip per se, but no experience in Hong Kong Disneyland will be complete without watching the iconic fireworks show in front of the Sleeping Beauty Castle! Be awed as the breathtaking lights and color sparkle above the sky to your favorite Disney tunes.  This will be a great chance to catch the fireworks this holiday season as the show will take its final stage on January 1, and Sleeping Beauty Castle will be undergoing transformation next year.
And if you don't want the fun to end, grab 2-Day tickets, at an additional top up of just HK$60 (~S$10), for two full days of magic!
8. Plan your trip in advance
Plan your day in advance to make the most out of your time in Hong Kong Disneyland. Grab a Times Guide at the park entrance or at any Disneyland hotel (alternatively, check the official website) for an overview of all the show times in the park. Shows and parades such as the "Festival of the Lion King", "Flights of Fantasy Parade", and of course the magnificent "Disney in the Stars" fireworks are not to be missed! With this handy guide, you'll be able to plan your day around catching these amazing entertainment shows.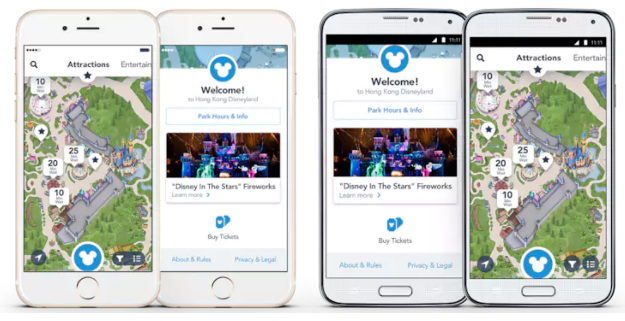 Did we also mention that Hong Kong Disneyland has a mobile app for the tech-savvy guests, which is available on both iPhone and Android? The app provides you with a map highlighting the attractions in the park, and even gives you real-time information of the wait times for individual rides and shows. With such detailed information, this would definitely help you to better plan your route to tackle all the magic the park has to offer!
For families with toddlers and young children, Hong Kong Disneyland also offers special services like strollers available for rental to make for a more pleasant adventure for the entire family.
Have these tips on hand, and you'll be well on your way to having one of the most unforgettable year-end holidays ever! To make this trip even more enticing, simply top up an additional HK$60 (~S$10) for a 2-Day ticket, so you'll get an extra day at Hong Kong Disneyland!
Ready for some Disney magic this Christmas? Book your tickets now and experience the festive cheer at Hong Kong Disneyland!
---
Brought to you by Hong Kong Disneyland.