I can understand why folks return again and again to Hoi An – which also translates into peaceful meeting place. It really is uniquely charming, the "Old Town" being well deserving of its place on the UNESCO World Heritage list. The whole vibe of the place had me hooked from the get go.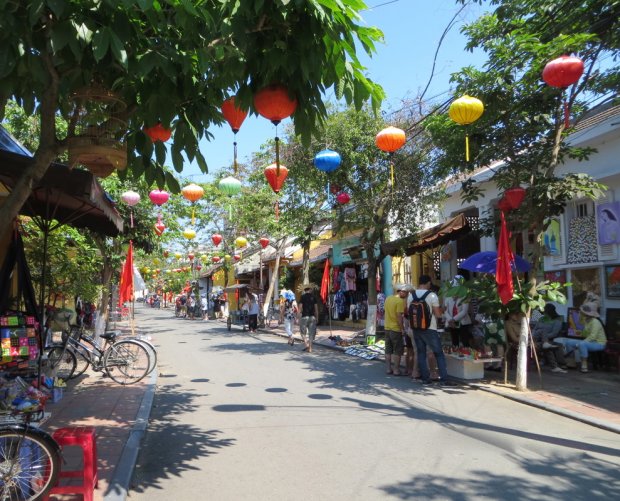 Being a very short 2 hours and 30 mins plane ride from Singapore, it is a fantastic place to go for a long weekend, or in our case a 5-day break.
SilkAir now flies direct to Da Nang which is about a 30 minute drive from Hoi An.
Also read: Travel Guide: Exploring Vietnam's Central Coast
Situated on the South Central Coast in the Quang Nam province, Hoi An nestles against the Thu Bon River. The 'Old Town" is an area to each side of an old Japanese covered bridge. These streets are only accessed by foot or bicycle. Motorbikes and cars are only allowed at certain times of the day. There is a loud speaker announcement which will let you know that the mopeds are coming, the mopeds are coming! Bicycle rentals are very popular as you can imagine, and a great way to get around. We just chose to walk and explore the myriad of shops and art galleries, stopping for a cool drink now and again at a lovely cafe or bar.
These flower urns let you know you are entering the Old Town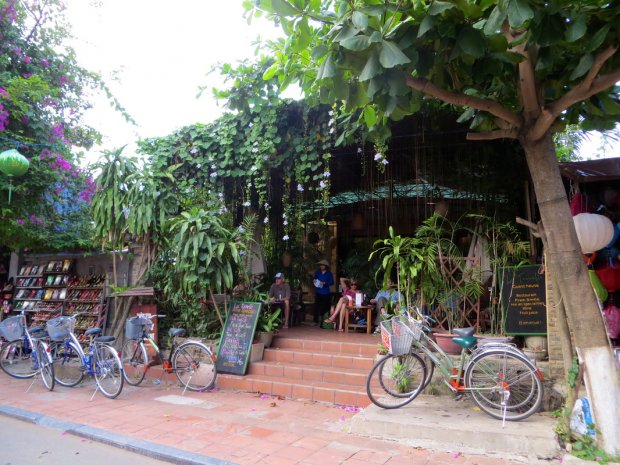 Cool spot for a refreshing drink
If history is your thing, you can buy a Hoi An entrance ticket at one of the many ticket booths in order to go inside the temples, meeting houses and museums within the "Old Town".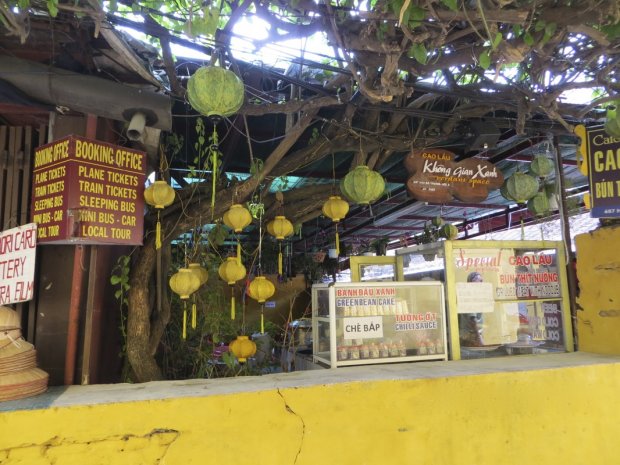 Seems like you can buy tickets for everything here 😉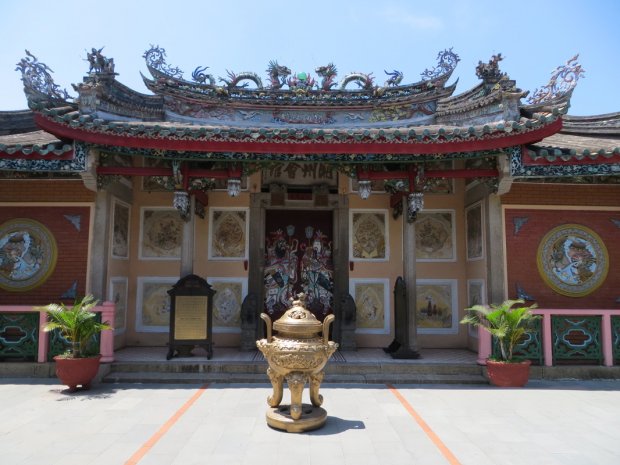 As mentioned earlier, the Japanese Covered Bridge, complete with a Buddhist temple hanging off one side, is the central attraction in Hoi An.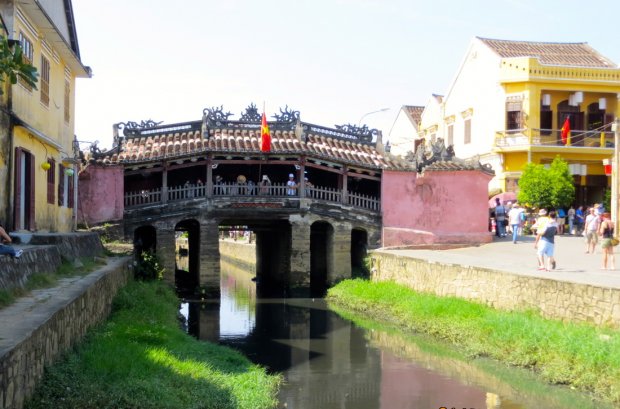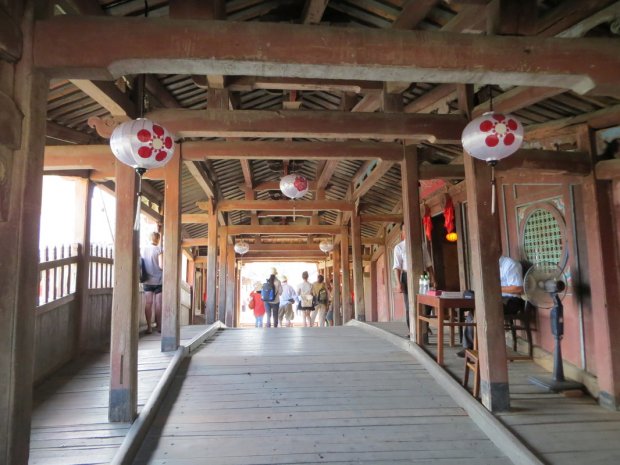 Inside the covered bridge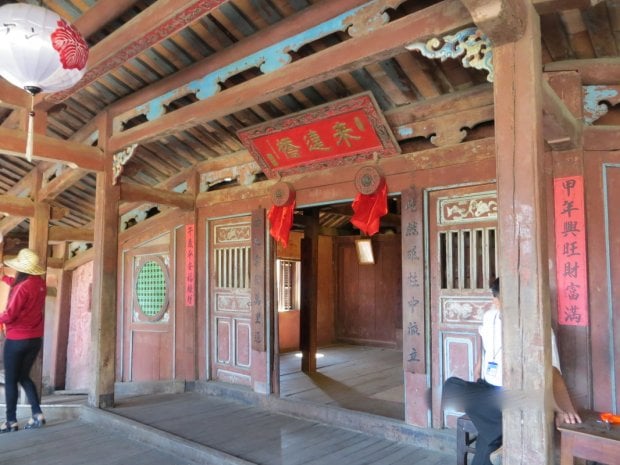 Buddhist Temple inside the covered bridge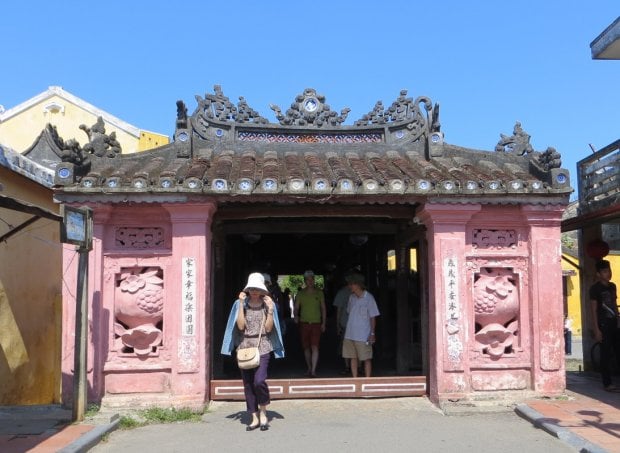 Entering the covered bridge
Close to the Japanese Bridge is another bridge which leads over the river to An Hoi Island. Sadly, we never made it across to that side of the river on this trip.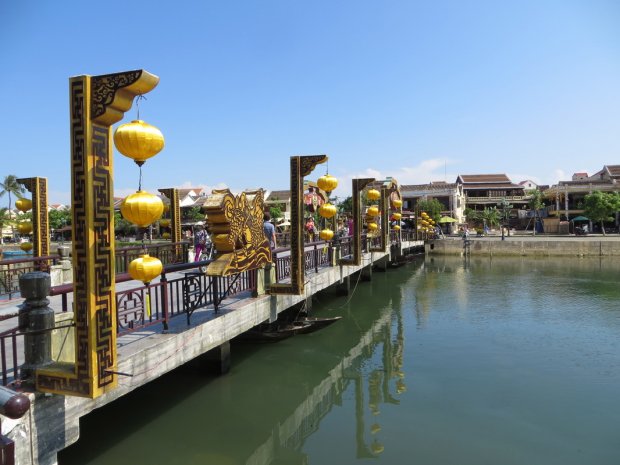 At night Hoi An comes alive, around the river especially so. Lanterns are everywhere. All along the river as dusk falls, you will find Aunties and young children selling lanterns for you to buy and float down the river, along with a wish. As the full night descends, the atmosphere becomes even more magical. Lanterns hang from the bridge, the trees, the buildings.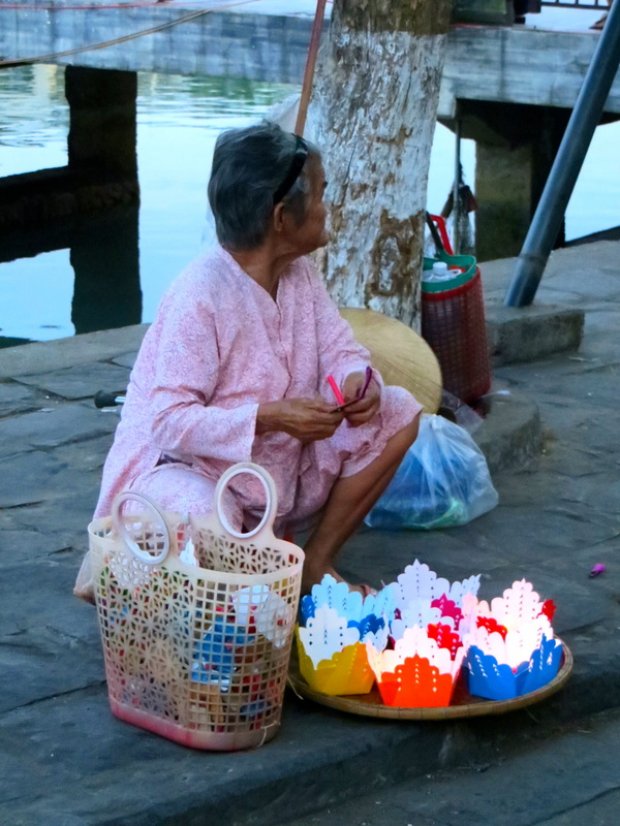 An Auntie with her lanterns for sale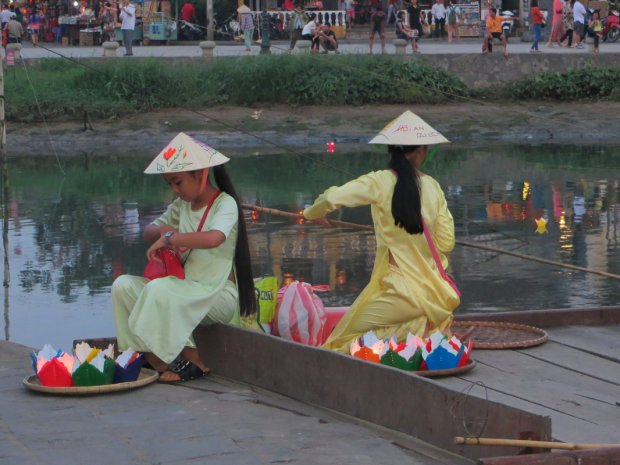 Young girls selling you a lantern to float down the river
Souvenirs were many and varied as usual, but I did think that they seemed pretty good quality. One particular souvenir caught my eye. Think it is pretty safe to say that some snakes may have been harmed in the making of this souvenir. Needless to say, it remained in the shop!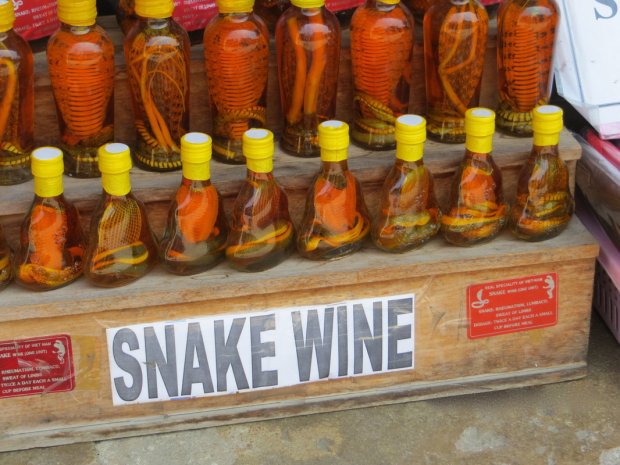 Possibly the major tourist industry in Hoi An, are the Tailors. There are many, many tailors all over the town who can either copy a favourite garment for you, or help you design something new. Not only clothes, shoes and bags can also be custom made. We went to Blue Gecko mainly because a friend had been there the week before. With only a few days, we did not want to spend too much time going from one place to another.
Hubby had a couple of suits made along with some shirts and dress pants. I had some of my favourite tops copied and also some dresses made. We spent a couple of hours in the shop on the first day, picking out fabrics and being measured. Two days later we went back for our fittings. It was quite incredible, only a few minor tweaks here and there. We also at that point ended up ordering more tops and shirts because we liked what was made, hubby even had two belts custom made in leather. Everything was all done and finished by the fourth day and at great prices. Well below anything we could hope to pay here in Singapore.
Here are some more reasons why I loved Hoi An.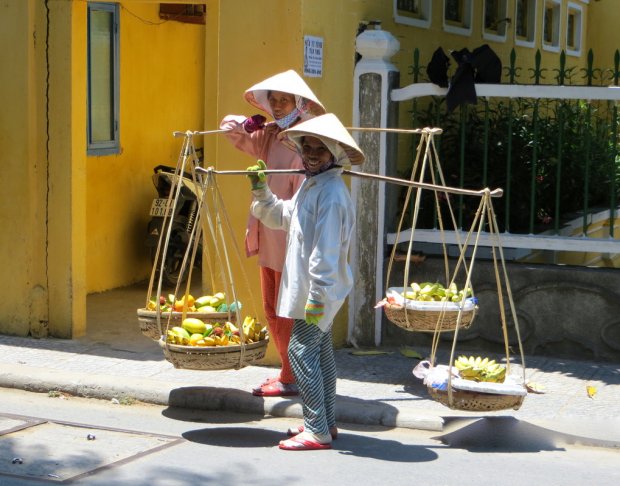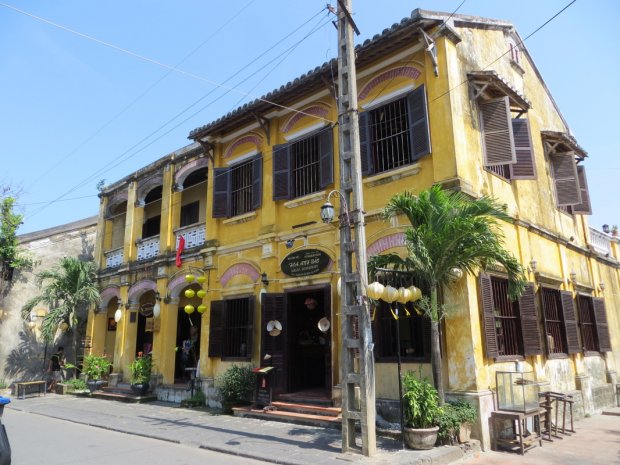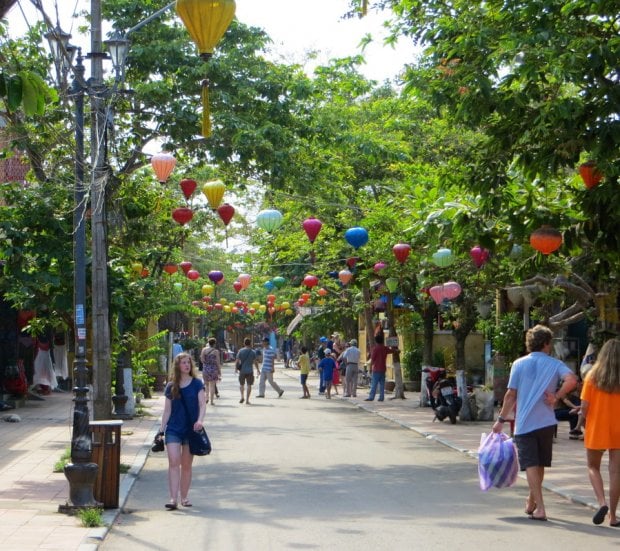 Staying within walking distance of the town would have been ideal. This trip though we used our Hotel points (thank you ever travelling hubby) and stayed at the Hyatt Regency, which was approximately half way between Da Nang and Hoi An, on a strip of coastline which is currently being developed. However, we were only a short 20 minutes taxi ride away from Hoi An (at a cost of about USD15 / SGD20 each way.) If I return, or should I say when, I would definitely choose to stay close to the Old Town of Hoi An.
Also read: 5 Best Luxury Resorts in Vietnam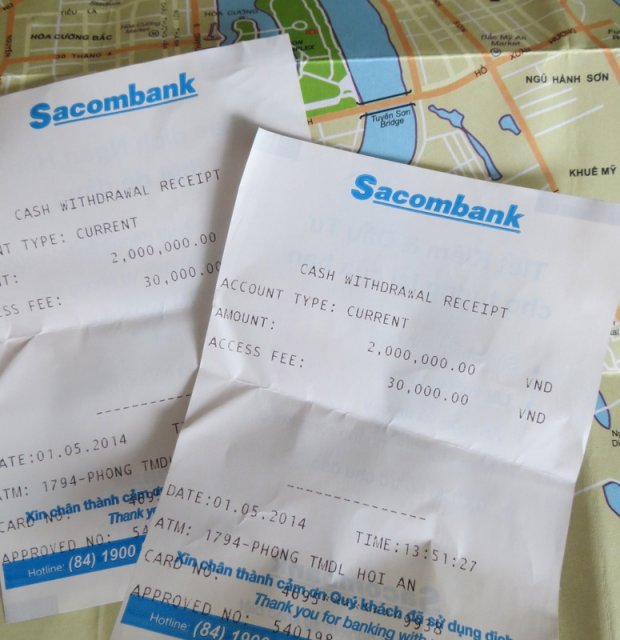 Side note here, you can pay for most things in US Dollars in Vietnam. The local currency however is Vietnamese Dong, on getting some money from the ATM, we found we were multi millionaires lol! At the time of our visit, USD1 equalled VND21147.00.
Some of our taxi rides were also pretty interesting. These involved a lot of honking. There are motorbikes and bicycles everywhere and we were not really sure what the rules of the road were. People overtaking all over the place. Quite a few times I closed my eyes and hoped for the best. I decided that the honking was a kind of "just letting you know I am here" message lol! All that said, we did not see a single accident while we were there. Check out the video below for a snippet of our taxi experiences.
Also read: Amazing Load Balancing Acts on Vietnamese Bikes
At the end of the day, it is safe to say that Hoi An has been one of my favourite Asian destinations so far. I can't wait to go back.
Contributed by It's Lynny Kansas.