Part of the reason why Ho Chi Minh City is so captivating is the fact that it's so full of life, pulsing at every step of its busy streets. But sometimes this very phenomenon can overwhelm its visitors: after some time, the constant river of motorbikes, crowded street markets and nightlife spots that keep going until the early morning hours might cause you to experience sensory overload.
Luckily, if you ever feel like you need to escape the noise, Vietnam's busiest city is a great base for a plethora of excursions that will remove you from all the hustle and bustle. Without further ado, here are some of most attractive day trip destinations which are only a bus ride away from HCMC.
1. Mekong River Delta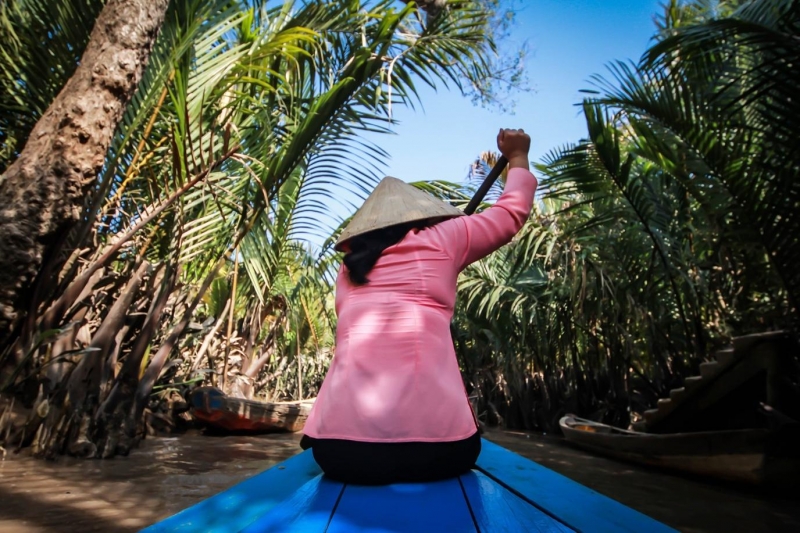 Regardless of whether you are a longtime Ho Chi Minh City resident or someone who is there on a quick visit, it would truly be a shame to stay in this part of the country without visiting the hauntingly beautiful Mekong River Delta. For all its immensity, this area can be explored in one afternoon, during which you can enjoy the tropical nature, try local delicacies (elephant ear fish is a favourite) and ride a small sampan boat for your very own Heart of Darkness experience.
Also Read: How to Explore the Mekong Delta from Ho Chi Minh City
2. Cu Chi Tunnels
History buffs, this one is for you. Cu Chi tunnels are an elaborate network of underground passages built by the Viet Cong and used for fighting strategy, as hiding places and supply routes. By exploring this area, you can get a better sense of what life looked like at the height of Vietnam War and learn a little more about the combat tactics used by the Viet Cong forces. Visitors hungry for adventure can step inside one of these extremely narrow tunnels or even try their hand at firing a machine gun.
3. Cao Đài Temple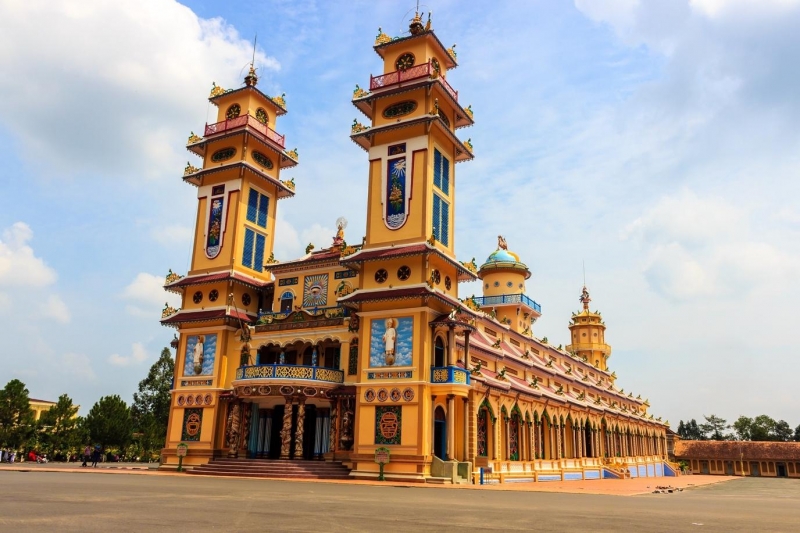 For a more serene adventure, head over to the Cao Đài Temple, where you can get acquainted with Vietnam's syncretistic religion of the same name, an amalgamation of Buddhism, Taoism and Confucianism. This blend is also reflected in the temple's unique architecture which, due to its structure, even bears resemblance to Catholic cathedrals. Once inside, you can observe the intriguing, one-of-a-kind imagery painted on temple's walls in bold yellow, blue and red hues. Four times a day, the temple holds ceremonies where visitors can observe the service in the form of prayers and hymns.
4. Black Virgin Mountain
The Black Virgin Mountain (or Núi Bà Đen) is a perfect destination for those looking to get their heart rate up and enjoy the wilderness of south Vietnam. Along the way, you will come across various pagodas and caves, and once you reach the top of this 986-metre-high giant, you will be treated to spectacular views of the area. Alternatively, if you're in a mood for a physical challenge, you can take the gondola lift that will take you to the ornate temple complex found in the middle of the mountain.
5. Hồ Tràm Beach
If by "getaway" you mean something that involves relaxation and relaxation only, you'll be pleased to hear that a stunning yet quiet beach awaits you some 120 kilometres away from the bustling District 1 of Ho Chi Minh City. The never-ending stretches of pristine sand and translucent water will be enough to give a peace of mind to most; however, if you want to go the extra mile, you can also schedule an appointment at one of Hồ Tràm's spas and pamper yourself with a beauty treatment or massage.