Ah, Italia. It has been my life's dream to visit this gorgeous country! Upon graduation, I decided to turn my dream into reality and plan a trip to Italy. I could hardly contain my excitement, and literally counted down the days till the date of departure!
All in all it was an incredibly amazing trip, but we also faced countless obstacles and difficulties. Why, I might even go so far to say the trip turned out to be pretty topsy-turvy. I'm just glad we returned back to Singapore safely! Here's what happened:
1. Getting to Italy: an eventful journey
My best friend and I booked our airfare during an ongoing promotion, and we were overjoyed to grab our flights at such a steal! On the day of departure, we realised that we only had 1 hour of transit time between our flights. I had some doubts initially but simply shrugged it off. Everything will be fine, right? Right….?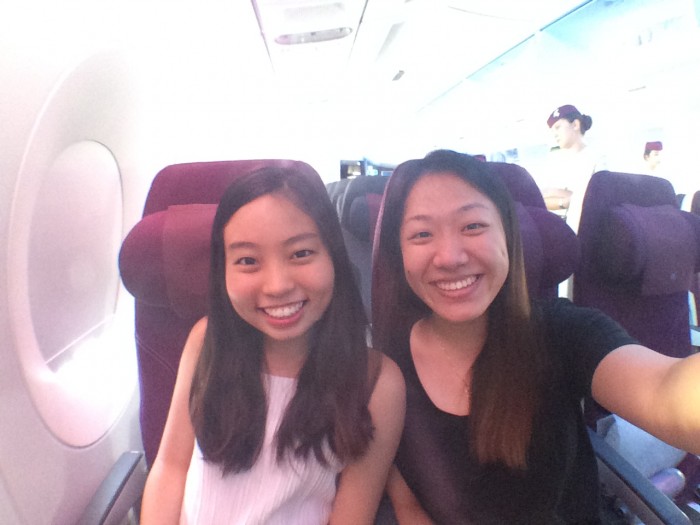 Look at us, all excited for our adventure. ITALY, HERE WE COME!
While transiting at Doha, we saw an airline staff standing in the middle of the airport with a sign saying "LAST CALL for Flight XXXX". Imagine our shock and horror! We ran as fast as we could to the boarding gates; that moment felt like a sheer race against time. We dashed towards the boarding gate, hoping with all our might that the plane would still be there. We were the last passengers to get on board, but thankfully, we managed to board the flight in time!
However, a new problem presented itself – our luggages would only be checked-in on the next flight! We were dismayed to find that our travel plans would be wrecked; we bought tickets in advance for the Vatican the next day, and if we waited at the airport for our luggages, we wouldn't be able to make it in time! We had to decide whether to stay at Fiumicino airport for the night, or head to our Airbnb for the night and return to the airport the next day to collect our baggage.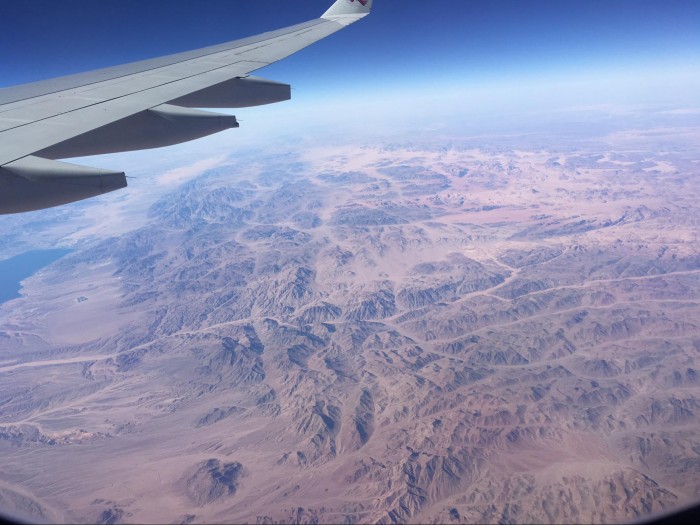 Despite the unfortunate events, we still enjoyed a pretty great view on the way to Rome!
We eventually decided to board the scheduled plane to Rome and stay a night at the airport. We were so thankful that we had purchased travel insurance prior to our trip, and could thus claim our losses incurred from the baggage delay. If you've heard that travel insurance isn't a travel necessity, think again! Take it from me, knowing you're insured will be a great load off your chest. Our luggages finally arrived 12 hours later, and our Italian adventure was finally off to a (however rocky) start!

My dream of visiting Italy finally came true!2. ROME: When in Rome, do as the Romans do
Despite such an eventful start to our trip, we were determined to stay optimistic and positive about our holiday. Ain't nothing gonna get us down! We started off with visiting the Vatican Museums and the Sistine Chapel, which were a huge eye-openers for us. The grand paintings that stretched from the ceiling to the floor, the marble statues and the rich history were all just so overwhelmingly beautiful!
My favourite was the view from St Peter's Dome, the cupola – it was unlike anything I've ever seen! We spent such a long time gazing out at the breathtaking panoramic view of St Peter's Square and the crowd below.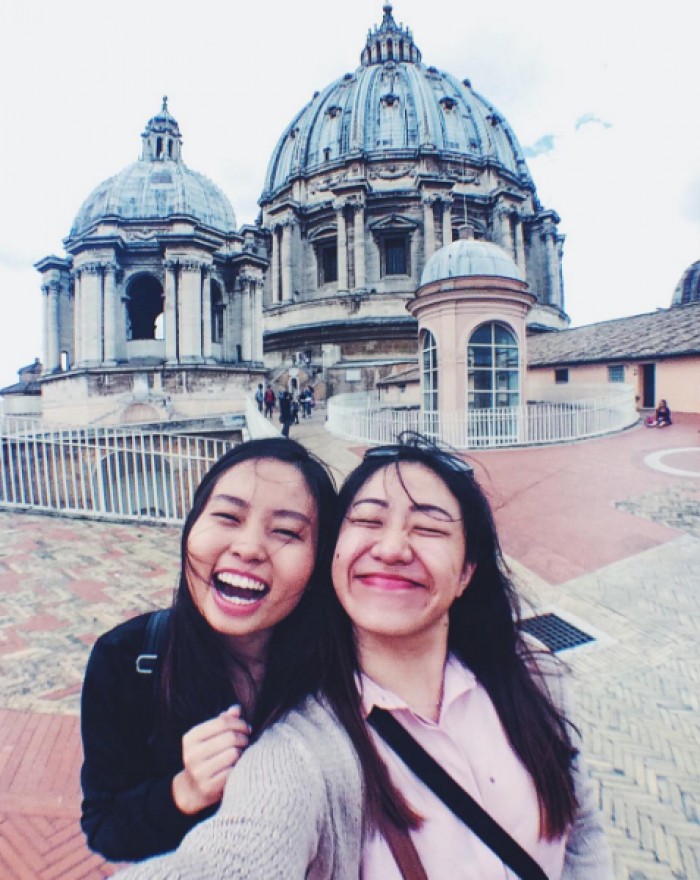 It was so cold and windy at the top but we absolutely loved it!
We spent the evening at the beautiful Piazza Navona, which was bustling with street artists, acrobatic performers, painters, and chock full of restaurants by the piazza with a wonderful ambience. We even saw a guy dancing with fire! The highlight of my day, however, was grabbing a gelato from Frigidarium, which I'd definitely recommend everyone to try! In fact, this humble joint might even be one of the best gelato places I've tried during my entire Italian sojourn.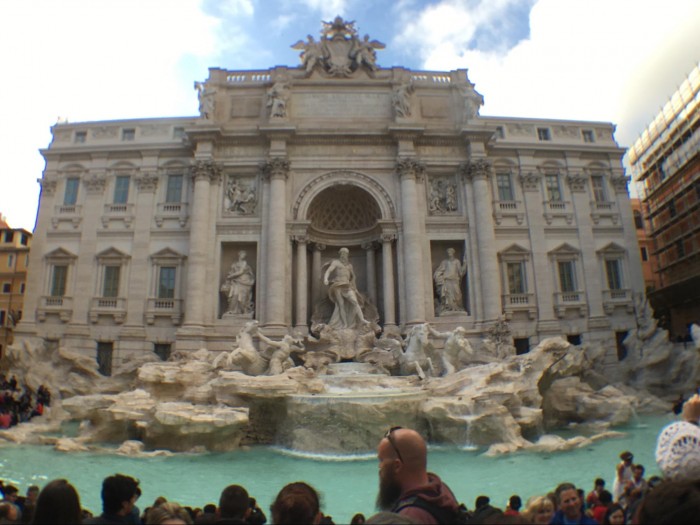 The Trevi Fountain looked incredibly majestic and stunning in real life in pictures, and even more so in real life!
The next day, we visited two of Rome's most iconic landmarks – the Pantheon and the Trevi Fountain. To my surprise, the Trevi Fountain was actually way bigger than I imagined it to be! Be sure to keep your belongings close to you at all times; we always carried our backpacks in front of us to avoid being victims of any pickpocketing incidents. Why, we looked like two little pregnant ladies!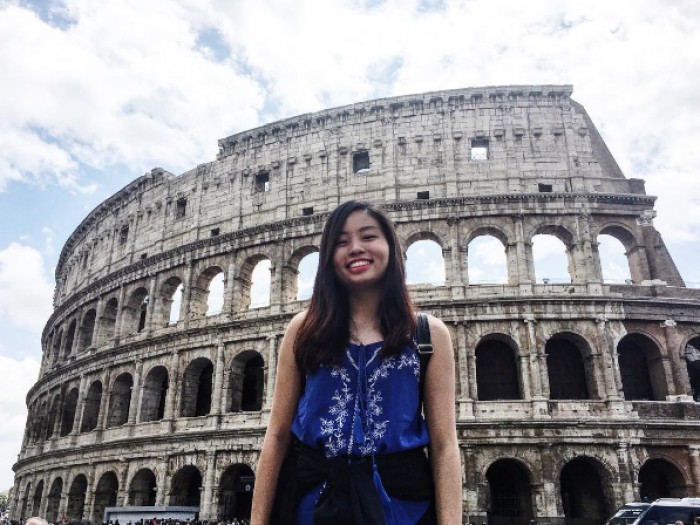 Ah, what wouldn't I give to be a gladiator back then at the Colosseum!
On our third and last day in Rome, we visited the Colosseum, Roman Forum, and Palatine Hill. Three days are definitely not enough to explore this stunning city fully – we wish we never had to leave!
Our next destination was Florence, so we headed to Termini Station to catch our train. As we were looking at the display board to confirm which platform we were supposed to head to, a guy tapped on my shoulder and pointed to my bag and jeans, which had drops of brownish liquid all over. He offered some wet wipes to me and tried to clean my bag, while I preoccupied myself with wiping the disgusting liquid stains off my jeans. Before I knew it, his accomplice had sneaked up behind us and ran away with my friend's backpack, which she had placed on the ground beside her! Thankfully my left arm was still holding the straps of my backpack so when he tried to yank it away from me, I reacted quickly and snatched it back while he fled. We screamed and tried to chase them down but it was all futile. They literally disappeared like ninjas into the crowd! I couldn't believe it – had we just fallen prey to one of Europe's famous scams?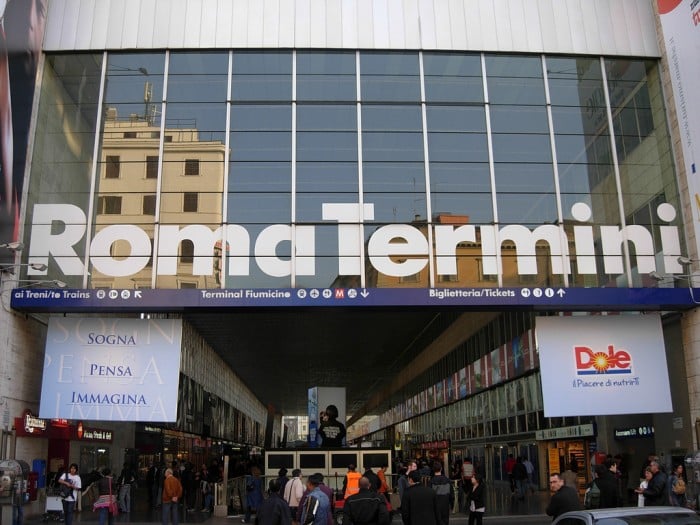 I was too preoccupied with the incident, I didn't manage to take any photos of Termini Station so here's one that I found online! | Image credit: xiquinhosilva
Everything happened so fast and within seconds; it all seemed like a blur to us. The whole situation felt so surreal – Our route to Rome was already a bumpy experience and now after 3 peaceful days, tragedy had to strike again?! The worst thing? My friend's passport, credit cards, cash and other valuables were all in her backpack, and now everything was gone. Once again, we heaved a sigh of relief with the knowledge that hey, at least we had travel insurance! It wasn't the end of the world, although it sure felt like it. After making a police report, we had to head to the Office of the Honorary Consul-General of the Republic of Singapore (wow what a mouthful) in Rome, to make the necessary arrangements. Sigh, just our luck!

Ahhhhh, that view… someone take me back please!3. FLORENCE: Land of stunning art collections
Nevertheless, we decided to put the incident behind us once we got to Florence. There's no point in dwelling on the past! Pisa is situated only an hour away from Florence, and is home to the famous Leaning Tower of Pisa. We hopped onto the train, and soon we were faced with a surreal albeit highly amusing scene – an entire lawn filled with countless tourists striking wacky poses with the tower! We couldn't resist joining in, and had so much fun thinking of creative poses and photobombing other people's photos!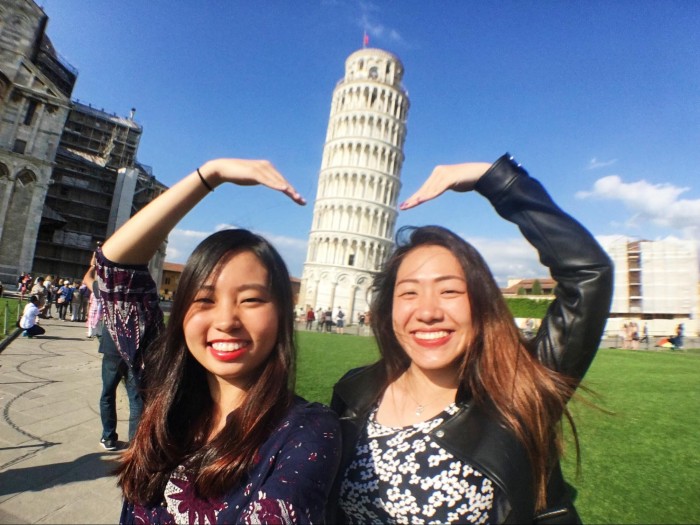 AH, I JUST LOVE EVERYTHING ABOUT ITALY. Also, we took about a million tries to get this right!
After our hilarious encounter with the Leaning Tower of Pisa, we returned back to Florence to immerse ourselves in the city's famed art collections and gorgeous scenery. In a nutshell, we visited Piazza Del Duomo, climbed up Giotto's Campanile, and shopped for awhile at Mercato Centrale. We even got to see the works of Botticelli, Leonardo Da Vinci and Michaelangelo up close at the Uffizi Gallery! At the end of the day, we headed to Ponte Vecchio to catch the sunset and take in the picturesque scenery by the river.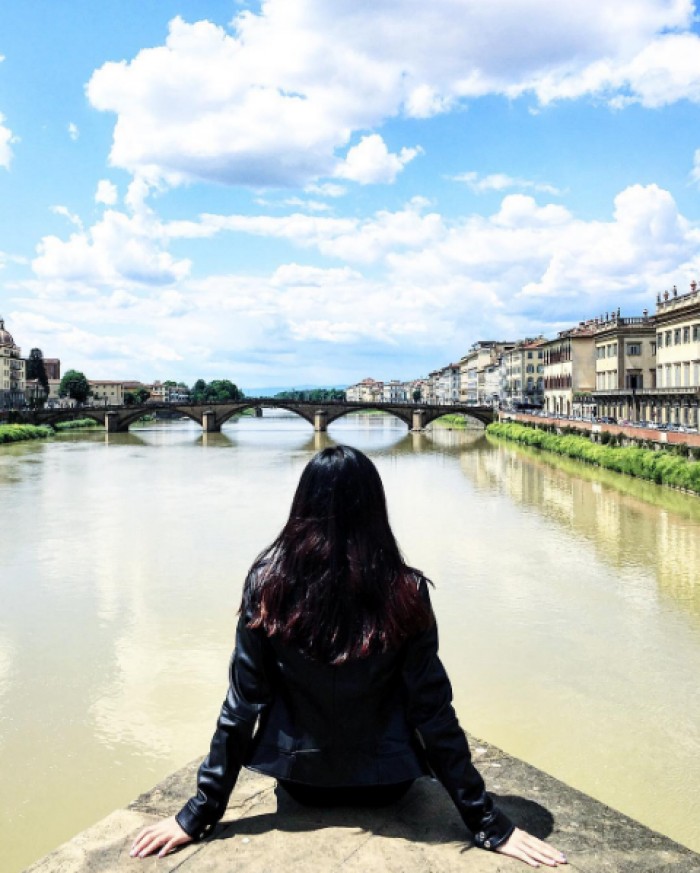 Marvelling at the beauty of this iconic river in Florence.
Soon, it was time to head back to Singapore. All in all, I'm just grateful that nothing dangerous or life-threatening happened. Our flight back was surprisingly smooth, we had no luggage delays, and touched down safely. It was a great end to the trip!
Travelling is always full of surprises, but hey it's always good to be prepared for the unknown! After such an eventful trip, I've learnt travel insurance is a true lifesaver. If you think that travel insurance is an unnecessary expense, THINK AGAIN! Take it from me, I totally speak from experience. Make sure you get your travel insurance before you embark on any holiday!
Ready to travel all around the world? Don't forget to get your travel insurance and ensure a fuss-free trip. Bon voyage!