Article originally appeared on The Occasional Traveller
Annyeonghaseyo! I've never been much of a fan of Korean Pop or Korean Dramas. I have plenty of friends who are Hallyu fans, but all I had was passing knowledge of popular names – Running Man, Rain, Psy… and honestly all these K-stars look the SAME to me. Whether it's just sheer proliferation of boy and girl groups or the easy acceptance of plastic surgery, I just never got swept up in that Hallyu wave.
But a week in Seoul makes it practically impossible to stay ignorant of Korea's biggest mega stars – what's pretty awesome is how much the Korean people adore their local talent. Korean stars are all over TV channels, kitschy souvenirs and various tourist attractions (which I'll tell you a bit more about), I can now tell you for sure that I can 100% recognise two Korean songs in particular because they are STUCK IN MY HEAD – they kept playing these songs everywhere I visited!
Behold my earworms:
Psy's latest single Daddy dropped in the start of December and is playing EVERYWHERE in Seoul. It has a really kooky video and is annoyingly catchy~
Bang Bang Bang~ Big Bang is HUGE in the Hallyu tourism push
(I currently have a Big Bang playlist in the background as I write this post to get into the right groove. Turns out their hip-hop / pop type of sound makes me surprisingly productive)
To really get a sense of modern Korean culture, you should definitely acquaint yourself with their entertainment industry and biggest stars – while you might not be as lucky as I was to run into famous faces (more below on my Running Man encounter!), Seoul has several attractions to sate any thirsty fan's need to get up close with their favourite stars, and even get a glimpse into the backstage of the entertainment industry!
1. Grevin Seoul
This is the place to get up close and personal selfies with the stars!
Selfie with Bae Yong Joon of Winter Sonata fame!
You might be more familiar with Madame Tussaud's wax museum. Grevin is a French brand with a similar concept – they opened up their first branch outside of France in Seoul. There are four storeys worth of wax figures. Notable perhaps mixed in alongside international names like Madonna, Brad Pitt and Queen Elizabeth are a large entourage of Korean artistes and sports personalities like actors Kwon Sang Woo, Lee Min Ho and legendary ice skater Yuna Kim.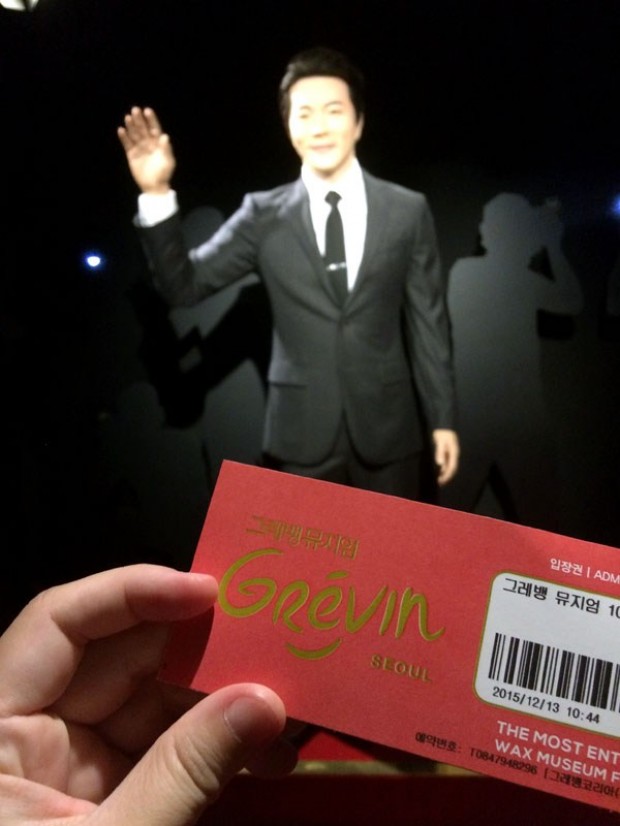 Are you waving at me Kwon Sang Woo? See the ticket with a barcode that you can scan
What I found interesting were the interactive elements, where you can scan your ticket to play mini-games or do other things like create your own wax model. It takes the experience beyond just a glorified place to take photos with famous people. You can even email yourself the results at the end for memories – here's mine!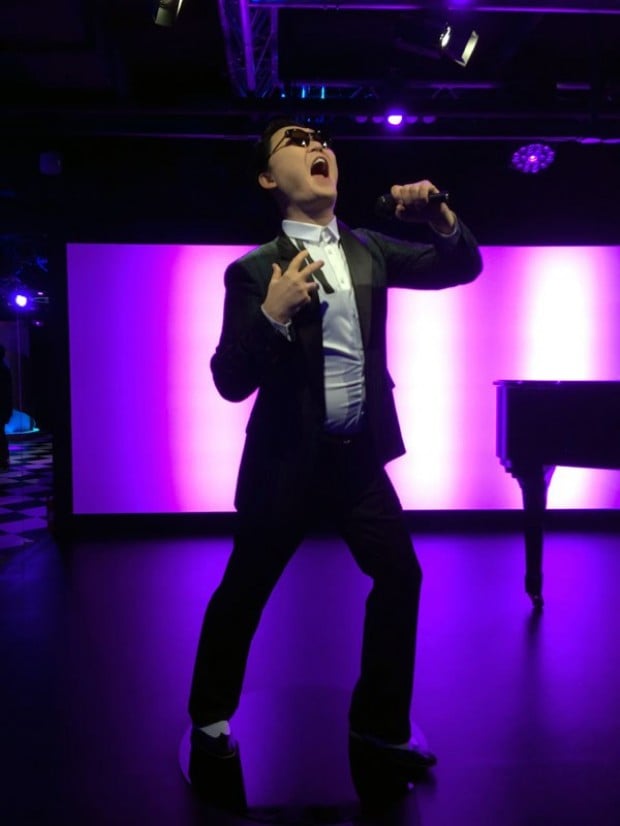 Psy on stage!
Suitable for: The selfie lover and star chaser who just wants to take selfie souvenir pix with their favourite stars.
Cost: It costs 23,000KRW for a regular adult ticket, though there are group and family packages, so it definitely makes sense to go with your friends. Ridiculous selfies aren't as fun on your own anyway! More here.
Location: Grevin Museum – 23 Euljiro, Jonggu, Seoul. The closest subway station is Euljiro 1-ga (green line 2), though City Hall (dark blue line) is not that far off either.
More about Grevin Seoul at KTO website.
2. K Live
The high tech holographic concert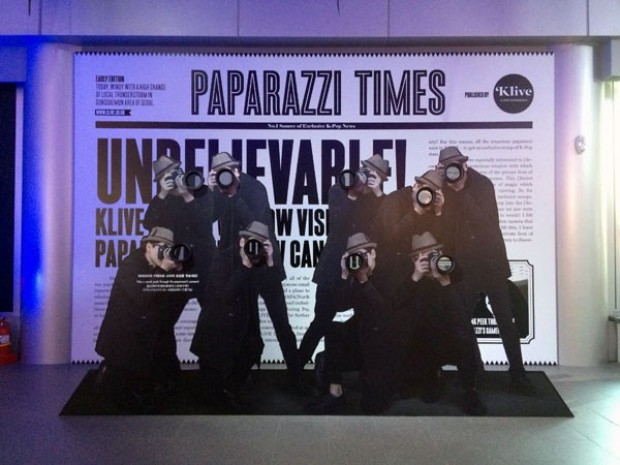 Smile for the cameras!
I've only been to one live concert in my life (Muse!), and I can imagine the K-pop experience would be quite mind-blowing with hordes of screaming fans. The K-Life experience is meant to showcase some of Korea's current leading pop stars on stage through life-like holographic projections.
They wouldn't let us take pictures in the hall with our mobiles, so you're going to have to make do with some descriptions and other people's videos that I've found on youtube!
Our 'concert' showcase that afternoon covered three of K-pop's current biggest stars – Gangnam stylin' Psy, girl group 2NE1 (say 'twenty-one') and of course boy band sensation Big Bang.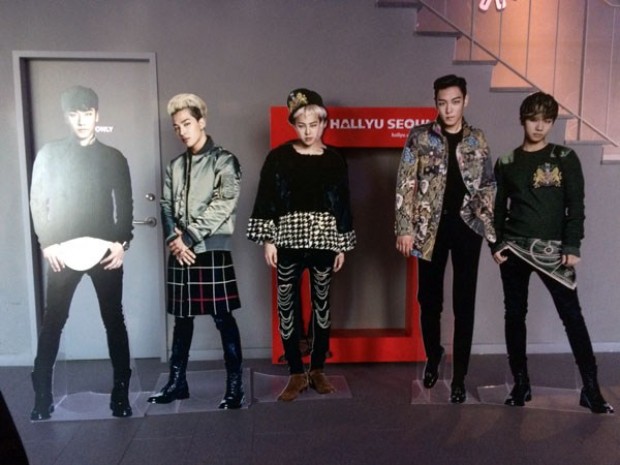 Big Bang in the house!
The projections are very cool and life-like, and the whole concert itself takes about 1 hour. Psy performed his mega hits Gangnam Style and Gentleman, complete with back up dancers and psychedelic effects that you could never achieve in real life. 2NE1 performed just one song and Big Bang rounded up the concert. Mixed with some 4D effects like spurting water and bubbles, it makes for a pretty surreal experience.
Also read: A KPOP Fangirl's Guide Around Seoul
Here's a video I found on Youtube to give you a better sense of what the experience is like. While waiting outside you can take lots of of photo booth pix with your favourite stars.
Again there was a whole interactive bit where your headshot is taken right before the show starts and superimposed onto hilarious graphics throughout the performance, so you become a part of the performance. There is even a mini-contest element where each group randomly selects a winner from the audience and 'interacts' with them on stage.
Suitable for: someone who appreciates the high-technology, or anyone with a group of friends who knows the songs. Part of the fun is in singing and dancing along to familiar tunes and you are encouraged to clap along, and even stand in the mini mosh-pit right in front if you and your friends are so inclined.
Cost: 15,000 KRW for a normal ticket in the afternoon, 33,000 KRW at night. It's dark in there anyway so I suggest popping in the afternoon since it's cheaper. More here.
Location: Very centrally located in Lotte Fitin in Dongdaemun, right opposite the Dongdaemun Design Plaza. Closest subway is Dongdaemun History Culture Station (Green line 2, Blue Line 4 or Purple Line 5)
To note: No photos or videos allowed inside the theatre unfortunately!
More on K Live at KTO website
3. MBC World
Welcome to MBC World!
Korean broadcaster Munhwa Broadcasting Corporation aka MBC, famous for Hallyu shows like Dae Jang Geum and Jumong, have recently set up MBC World at their headquarters in Sangam-dong, an indoor theme park of sorts where you can indulge your love for Korean pop culture.
There are various areas with different activities – if you love 3D galleries, there is an entirely K-themed one here in Zone B where you can put yourself on the cover of your favourite MBC programmes or pose with your favourite K-drama stars.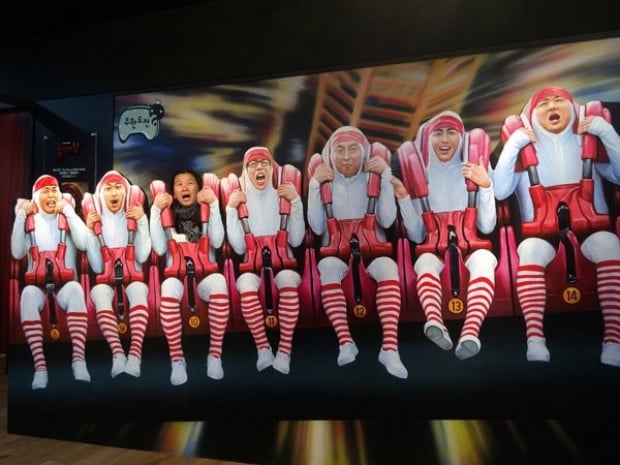 Yup that's me blending in with the Running Man cast
In Zone C, there are a whole bunch of high-tech photo booths each based on a different show – you scan your ticket to take your photos, which you can then print out for a small fee if you are so inclined.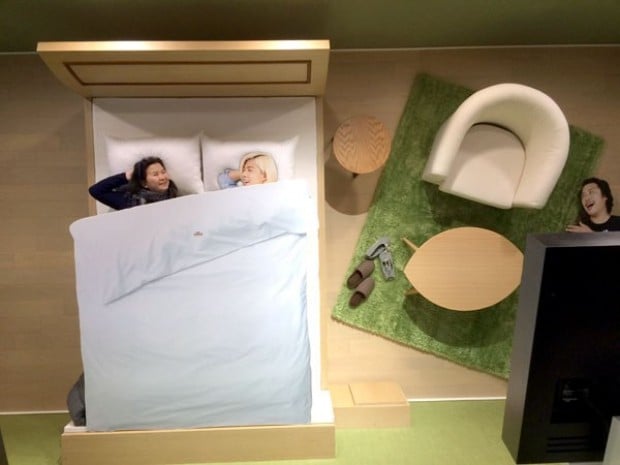 I got into bed with someone famous I think.
Here's a video one of my fellow media folk took of me trying out the photo booths. The technology is honestly quite impressive, the 3D experience a little bizarre, but if you are a big fan you'll probably get a kick out of being able to feel up your favourite stars virtually!
That's me with G Dragon in the 'We Got Married' booth – he's obviously one of their hottest stars to market Hallyu as he's practically everywhere both as Big Bang and himself.
In Area M, we got to watch another holographic concert like K Live, but this time it was just for G-Dragon (yes him again!), but in a much smaller and more intimate hall, though with the same gimmicky photobooth projections. The fun part here was that one lucky audience member got to be projected onto the stage and serenaded by the man 'himself', which seems pretty darn surreal.
Also read: 5 Korean Drama Filming Locations that Every Hardcore Fan Must Visit
Besides the concert theatre, you can learn some K-pop dance moves from virtual stars, as well as pretend to be part of the MBC Newsdesk among other things.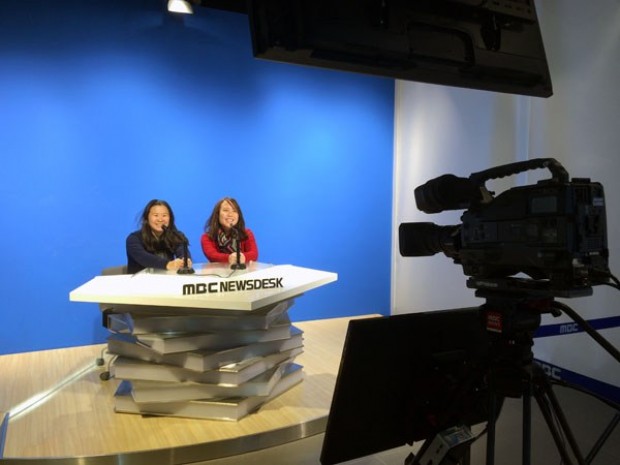 Me and fellow media Miranda pretending to be all proper newscasters. Ignore my fluffy hair…
All that aside, as this building is an actual broadcast studio space, you might get lucky like we did and run into some Hallyu stars while you are there! We were just about to leave Area C when my fellow tour mates gave a squeal and dashed off after a mini entourage – their sharp eyes had spotted Yoo Jae Suk, host of the popular Korean gameshow Running Man on a coffee break! While he declined selfie photos, he was still nice enough to say Annyeong! to the small crowd of swooning fans as he picked up his coffee.
Suitable for: Definitely go with your friends for this. There are lots of young people stationed around to help you take your photos, but nothing beats horsing around with like-minded friends and taking ridiculous pix with your favourite stars
Cost: An adult ticket is 18,000 KRW
Location: It's a little bit out of the way in the Northern part of Seoul. Take the subway to Digital Media City Exit 9 (Brown Line 6, mint-green Gyeonggui-Jungang Line or Airport Rail AREX line)
More on MBC World at KTO website
Are you a big Hallyu fan travelling to Seoul? Share with us your prime spots for getting the K-experience!
Thanks to Korea Tourism Organization who organized and sponsored this media trip and showed me a different side of Korea! I was all palace-d and temple-d out on my last Seoul Sojourn, so I did find this quite eye opening. I blame them for all the Big Bang earworms currently in my head.