Contributed by A Girl and a Bald Traveller
Now, while "The Girl" and I aren't married yet, we have started talking about it. Since we both enjoy travelling, one of the most natural topics we talk about is, "Where should we go on our Honeymoon?"​
 Being Singaporeans, we have a thing for beautiful beaches. (All we have are either polluted ones or artificial ones) So, here is our list of potential "Beach Honeymoon" destinations we came up with which fit the criteria of our busy Singaporean lives. Below are our guidelines for consideration:
 1. Must be relatively accessible (not too far), which means South/Central America, The Caribbean & those in the further Oceania region are out.
 2. Has to have a wide choice of luxurious accommodation. (At least the standard of what you can get in the Maldives or equivalent)
 3. Length of Trip has to be do-able (comfortable) in 2 weeks or EVEN a week.
 4. Can't be too common. No Maldives, No Boracay, No Bora-Bora etc. AND must have more than just a beach or be able to hop off to another country with relative ease. A week or 2 on a beach can be super boring.
1. New Caledonia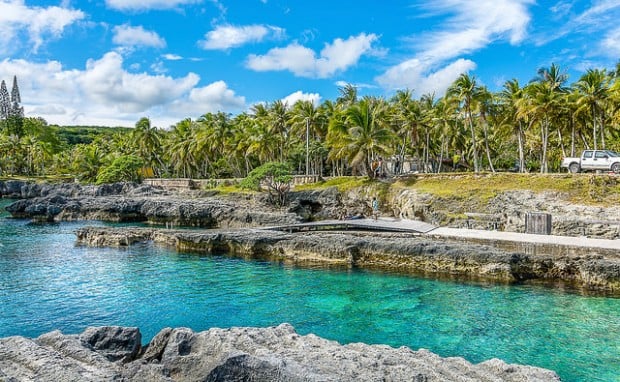 Image credit: CHRIStophe Robert HERVOUËT
New Caledonia is an overseas territory of France in the West Pacific. Besides the usual snorkeling and diving, there are mountains to hike (when you're bored with the sea stuff) and forests to camp in; or hop on a plane to one of its pacific neighbours like Vanuatu to see volcanoes or something.
Oh yes, and there are water bungalows should you really really want the Maldivian feel. It's also a paradise for foodies as New Caledonia is supposedly said to serve the most amazing French cuisine. (As opposed to the stuff you get in the Maldives).
To get here, simply catch a budget airlines flight to either Brisbane or Sydney. From Brisbane, Noumea, its capital is just 2 hours away with Qantas or Air Calin.
2. Guam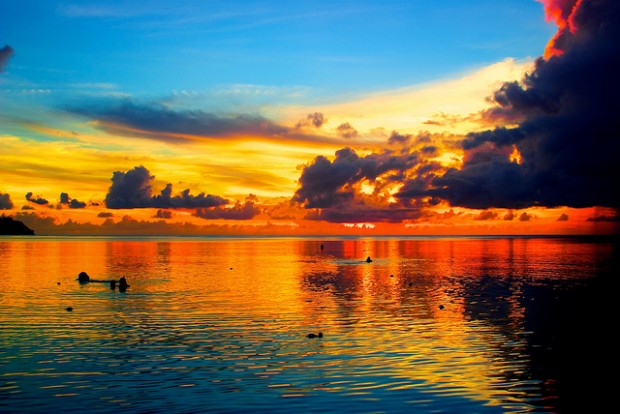 Image credit: Takuya ASADA
This is no Boracay (though it's less than 4 hours away from the Philippines). The beaches and waters here are home to more than just fish and coral. Wrecks and submerged tanks are the diving highlights here. (This was where WWII between the Japanese and the US was fought) Think of Guam as a mini "Pearl Harbour".
Don't expect water bungalows here. Beachfront Resorts is the accommodation of choice. More "Miami" than "Maldives",  Guam also ranks among the most beautiful places in the world to watch a sunset.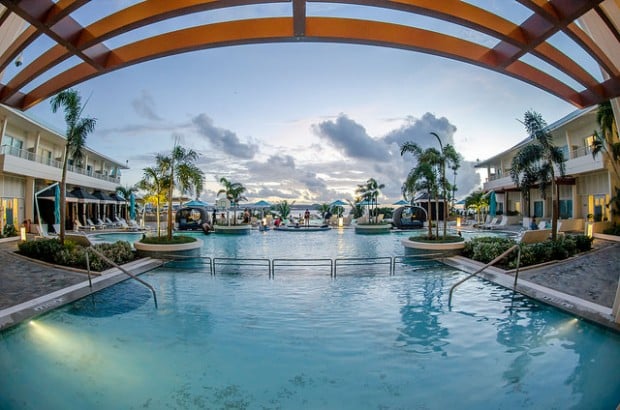 Image credit: 晧瑋 李
Jetstar should get you from Singapore to Manila under $150. Next, catch either Philippines or Delta Airlines direct to Guam at around $500 for a return ticket. For trekking, yet more WWII battle sites and "dirty karaoke bars" (if the wife allows a night of fun), fly to nearby Saipan, the largest of the Mariana Islands.
3. Mozambique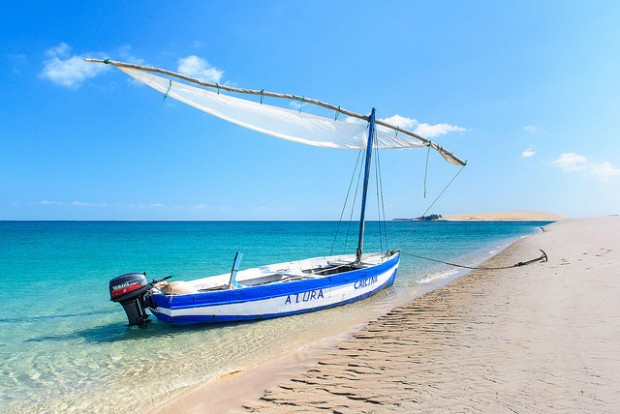 Image credit: Andreas Stephan
Probably the most stunning of Africa's coastlines are found in Mozambique. This time though, lets not talk about the beach and diving. (That's a given) When you go to Mozambique on a honeymoon, you get the one stop African experience you dreamed of; with a mix of Portuguese heritage (it used to be a colony of Portugal).
They have their own National Park, where you can see elephants, buffalo, and even lions. Oh yes, they have a Singaporean favourite, water bungalows too (Prepare extra cash for bribes though. Police are corrupted here).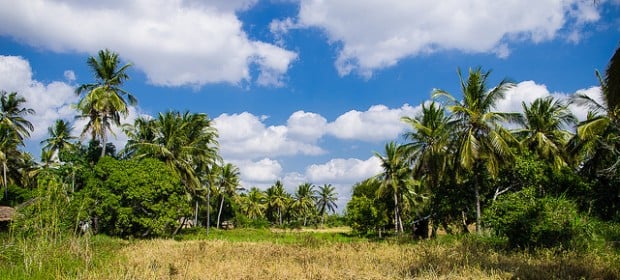 Image credit: Torbjørn Taskjelle
The cheapest way to get here is to first fly to Johannesburg. From Jo'burg, luxury coach, rent a car, fly, take your pick. Singaporeans need a visa to enter. Fortunately, we have a Consulate of Mozambique here, so it's pretty much hassle free. And if you have more time, you can extend your honeymoon to include South Africa and its world famous Kruger National Park.
4. The Seychelles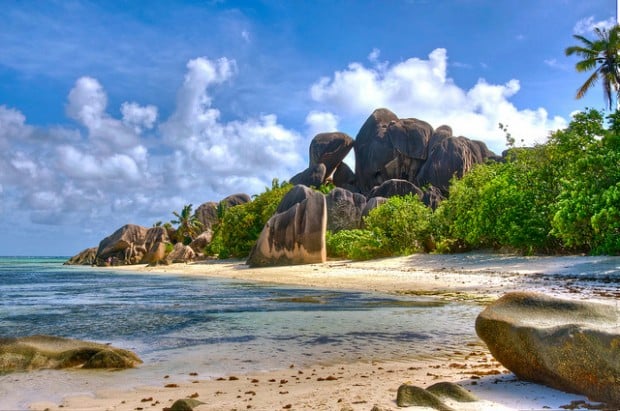 Image credit: Federico Robertazzi
The Seychelles is probably one of the most expensive countries to visit in Africa. Nonetheless, it's at the top of my personal "honeymoon list" of countries I would love to visit. The 3 most popular islands that make up the Seychelles are Mahe, Praslin (Plane from Mahe), and La Digue (accessible by boat).
Think of the Seychelles as Maldives but with the addition of the World's Largest Coral Atoll (ring shaped reef) where you can see Tiger Sharks, Giant Manta Rays, (not stingrays) and the largest land tortoise in the world.
Sri Lankan Airlines will fly you here from $753. If you're lucky, you might be able to visit Sri Lanka for free (I will explain how in another post) and experience more than a beach on your honeymoon.
5. Tunisia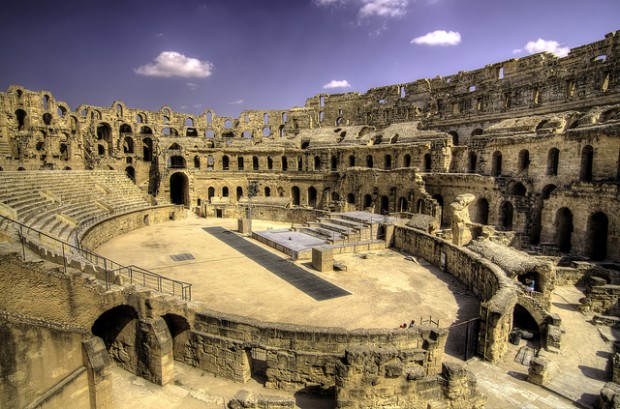 Image credit: Walid Mahfoudh
If you're wondering why I didn't put up a picture of sand and the blue sea, it's beacuse the beach makes up a fraction of the wonders this country has to offer. Tunisia is the dream come true of a history buff, movie nerd, wannabe explorer, beach boy, and honeymooner.
It is home to loads of UNESCO Heritage Sites, movie sets, (Gladiator, Star Wars, etc was filmed here) the Sahara Desert (more accessible here than from Morocco), white sandy beaches you can ride camels on, and upmarket All Inclusive Resorts for the honeymooner.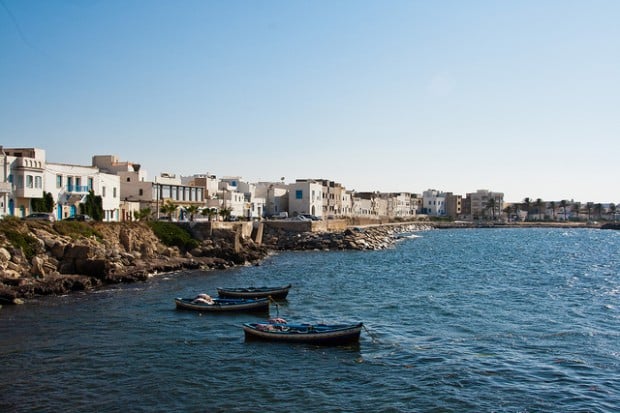 Image credit: Christopher Rose
Lufthansa or Air France should cost you $1.2k. Once you're here, Desert Tour or Star Wars Tour, you be the judge. Just don't waste your time on the beach or laze in your resort for your whole trip, this isn't the Maldives.
6. Vanuatu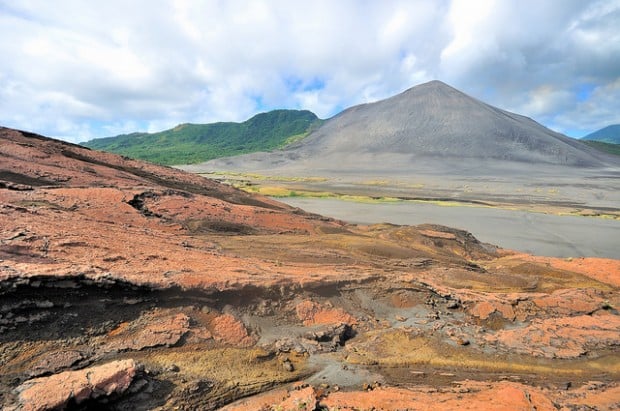 Image credit: Adrien Cretin
Now, we've been to Vanuatu.
Would I recommend it for a honeymoon? Well, yes, if you've money to spend. No, if you're broke. Costs are probably on the high side (by my standards, Singaporeans might do just fine) compared to the rest of the Pacific.
If you do decide on Vanuatu, it'll probably be the most memorable honeymoon ever. Active volcanoes, a tribal culture, beautiful beaches and lagoons, simply amazing. (For more details, refer to my Vanuatu post which is out next week) Yes to water bungalows and expensive resort style accommodation too. Perfect!
Image credit: Jane drumsara
Find your way to Brisbane. From there, Port Vila, it's capital is less than 3 hours away. Virgin Australia is the cheapest option at around $450. You'll have to pay more to fly and island hop though, as the main attractions are on different islands.
7. Cyprus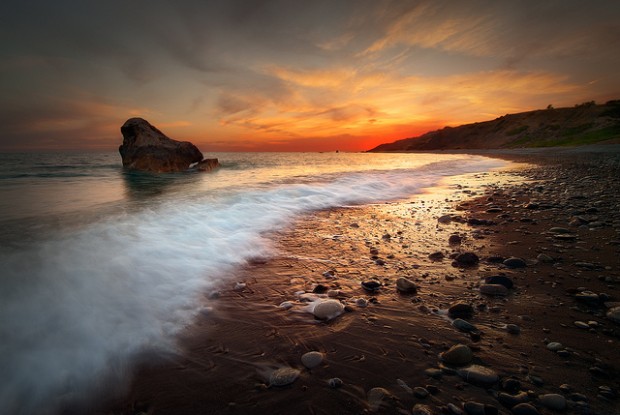 Image credit: Tomasz Huczek
Yes, Cyprus is part of Europe. If you've enjoyed a holiday in Greece or Turkey, this should be first on your list. More than just white sandy beaches and blue sea, you'll find archaeological sites (if you "like" Ephesus in Turkey, or Acropolis in Greece, you'll be a hypocrite if you say ruins are boring), UNESCO Sites, mountains for trekking, and in Ayia Napa, one of the hottest party destinations in the Mediterranean.
Ever watched a movie where the stars lazed around in hillside/ cliffside with villas overlooking a blue sea? That's going to be you if you decide on Cyprus for your next honeymoon.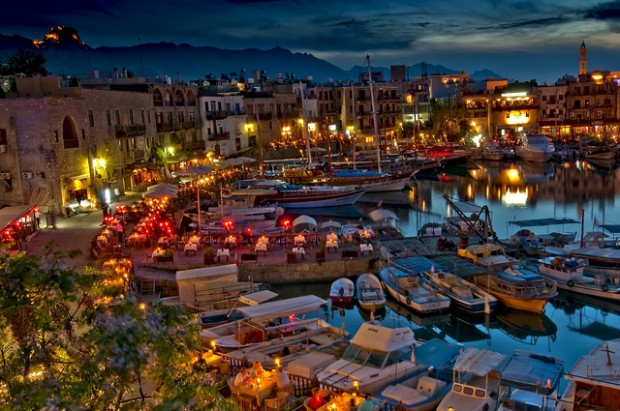 Image credit: Ulrich Kersting
Get yourself to Athens and spend a week in Greece, island hoping or whatever it says in the tourist guidebooks. From Athens, Larnaca is 1 hr 45mins away with Aegean Air (the cheapest flight available). A possible side trip from Cyrpus is a cruise to Beirut, capital of Lebanon.
Also read: 10 Unconventional Beach & Island Honeymoon Destinations in Asia