If you have spent a few days in Tokyo and feel in need of escaping the jostling crowds for some peace and quiet, we have a solution for you.
Say hello to Hakone, a beautiful town nestled in the mountainous region just an hour and a half away from Tokyo by train. This hidden gem is dotted with a variety of onsens (hot springs) and offers splendid views at every turn. Before you begin your journey, get yourself a Hakone Free Pass – it covers all Odakyu-affiliated modes of transport on the island and grants discounts on some attractions. With this, you're all set to go.
Here's my take on the top seven things to see and do on your visit to Hakone:
1. Take in nature's grandeur at Lake Ashinoko
The first stop on this list is the highlights of Hakone: Lake Ashi. Lake Ashi is one of the best viewpoints of Mt. Fuji. The stunning view of the mountain along with its reflection in the crystal clear blue waters of the tranquil lake is truly a remarkable sight to behold! I definitely recommend having a picnic along the lake to indulge in the grandeur of nature at your own pace.
For a different viewing experience (and more photo opportunities), go for a sightseeing cruise on board a pirate ship. The iconic Hakone pirate ships ferry people between the north and south ports of Lake Ashi. The journey is approximately 30 minutes and it offers a fun way to experience the lake.
The Hakone Free Pass covers your fare for the pirate ships but is limited to seats within the second class cabin. However, for a small top up fee, you can upgrade to the first class cabin, which gives you access to the front half of the ship!
2. Take the Hakone Ropeway
The Hakone Ropeway delivers quite the sightseeing experience! The service features gondolas that can hold about 10 passengers each, departing at approximately one-minute intervals from each station. Enjoy the magnificent aerial view of Mt. Fuji, Lake Ashinoko and Owakudani Valley on your 30-minute ride from Sounzan Station to Togendai Station.
The admission fees for the Hakone Ropeway are covered with your Hakone Free Pass!
3. Feast on the famous black eggs of Owakudani Valley
Owakudani Valley, also known as the "Valley of Hell", is an actual active volcano valley. Your ability to visit this place really depends on luck – the last time I was here, the entire area was closed due to bad weather conditions and the potential "grumpiness" of the volcano. If you do get the chance to explore Owakudani, be sure to take precautions as the volcanic gases will (literally) take your breath away. There are masks provided, but friends with respiratory conditions are still advised to stay away.
Once you have reached Owakudani, head up to the "boiling site" which is a short ten-minute trek from the ropeway station. Here, you can sample the famous black eggs which are freshly boiled in the bubbling natural springs from the volcano's steam vents. The eggs emerge blackened because the sulphur and iron in the boiling water react with the eggshells. Sold at 500 yen for five, each black egg is said to add on seven years to one's lifespan. Could this be a step towards immortality? (Just kidding.)
4. Soak in quirky baths at Yunessun Spa
As mentioned, Hakone is dotted with a variety of onsens. However, if I could only recommend one, I would definitely pick Yunessun Spa Resort because of the unique experience they offer.
This amazing place is almost like an onsen theme park, giving you the opportunity to soak in different "flavoured" onsens such as coffee, red wine, matcha and sake. There are even quirky themed onsens such as one that is shaped like a bowl of Nissin cup noodles, with toppings and noodles made out of foam to boot, and also a Doraemon bubblegum soda pool.
For those who prefer something more conventional, there is also a regular open-air scenic bath with a beautiful view of the surrounding mountains.
Admission fees are 2,900 yen for adults and 1,600 yen for children.
5. Wander around the Hakone Open Air Museum
Art lovers, rejoice! Hakone is not only known for its natural beauty, but also for its variety of museums and galleries. For a unique museum experience, visit the Hakone Open Air Museum which attempts to create a harmonic balance of nature and art by displaying various sculptures on the fields, set against a backdrop of the surrounding valley and mountains.
Admission fee is 1,400 yen with the Hakone Free Pass.
6. Feel the Italian vibes in Hakone Glass no Mori
The Hakone Glass no Mori is another impressive attraction that is worth visiting. Get ready to step into a whole new world; this little compound mimics the streets of Italy with Italian style buildings housing the Glass Museum, shops and a café. There are also charming, well-sculpted gardens where you can take a leisurely stroll. Glass ornaments adorn the trees and around the pond, giving you a gorgeous view of the grounds which are exceptionally enchanting – especially under the sun.
Take your time to explore the Hakone Venetian Glass Museum, which displays over 100 different pieces of Venetian glassware dating from the 17th to 20th century. Like the Open Air Museum, admission fee to Hakone Glass no Mori is 1,400 yen with the Hakone Free Pass.
7. Explore the historic Odawara Castle
If your budget is a little tight, I recommend swapping the museums mentioned above for Odawara Castle. This is another spot touted for having one of the best views of Mt. Fuji as well as the famous seasonal Japanese cherry blossoms.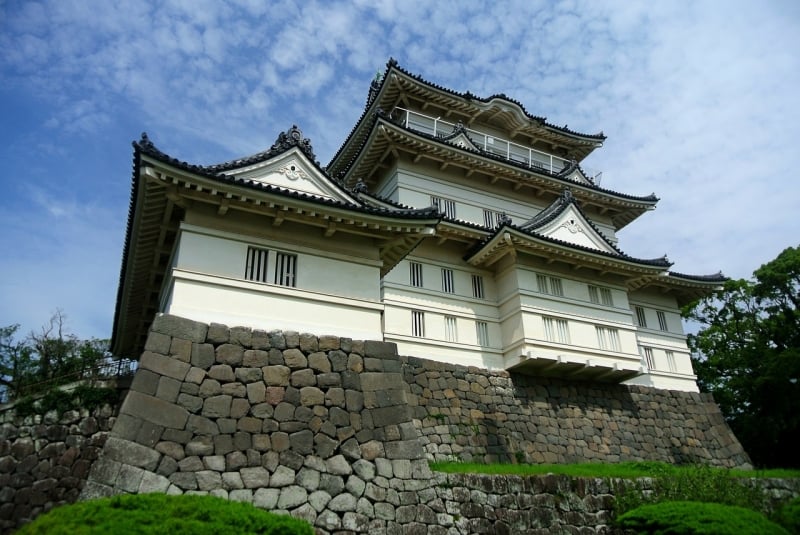 Be sure to head to the castle's observation deck to be treated with perfect panoramic views when you reach the top! The Odawara Castle Historical Museum is also located on the castle grounds and this is where you can learn about the history of the castle and Odawara. There is even a mini zoo within the compound and other exhibits and displays about the history of Samurais.
Don't miss a photo stop during your visit! There are Ninja and Samurai costumes as well as kimonos available for rental at the souvenir shop, and you can proceed to have your photos taken with the Odawara castle in the backdrop.
Admission fee into the castle keep and the museum is 650 yen.
So take your pick from our list and craft your perfect itinerary – be it for a daytrip or longer. Rest assured you'll return to Tokyo refreshed, ready to take on the rest of Japan. Trust us, Hakone is a place you definitely do not want to miss.