Have you ever heard of the Japanese dish called omurice (pronounced omu-raisu)? Simply put, omurice is an omelette made with fried rice and usually topped with ketchup. "Omu" comes from omelette and "raisu" comes from the Japanese pronunciation of rice. It is a western-influenced meal that is commonly served in many restaurants and homes in Japan. It is a meal that brings back childhood memories, as many western diners in Japan have omurice on the kid's menu. Just thinking about it makes my mouth drool!
There are a couple of restaurants in Japan that say they were the "first originators" of the omurice but the most famous creators are Rengatei in Tokyo and Hokkyokusei in Osaka. After World War II, the influence of Western cooking and the accessibility to ingredients such as ketchup, onions, green peppers, and meat made it easier for restaurants and families to make this tasty meal.
In search of some omurice, I ventured to Restaurant Rengatei in Ginza, which had a very old-school retro feel, inside and out. Fun fact: this restaurant is also famous for being the originators of the pork cutlet and hayashi rice (hashed beef with rice). Next time I will have to try other things on the menu!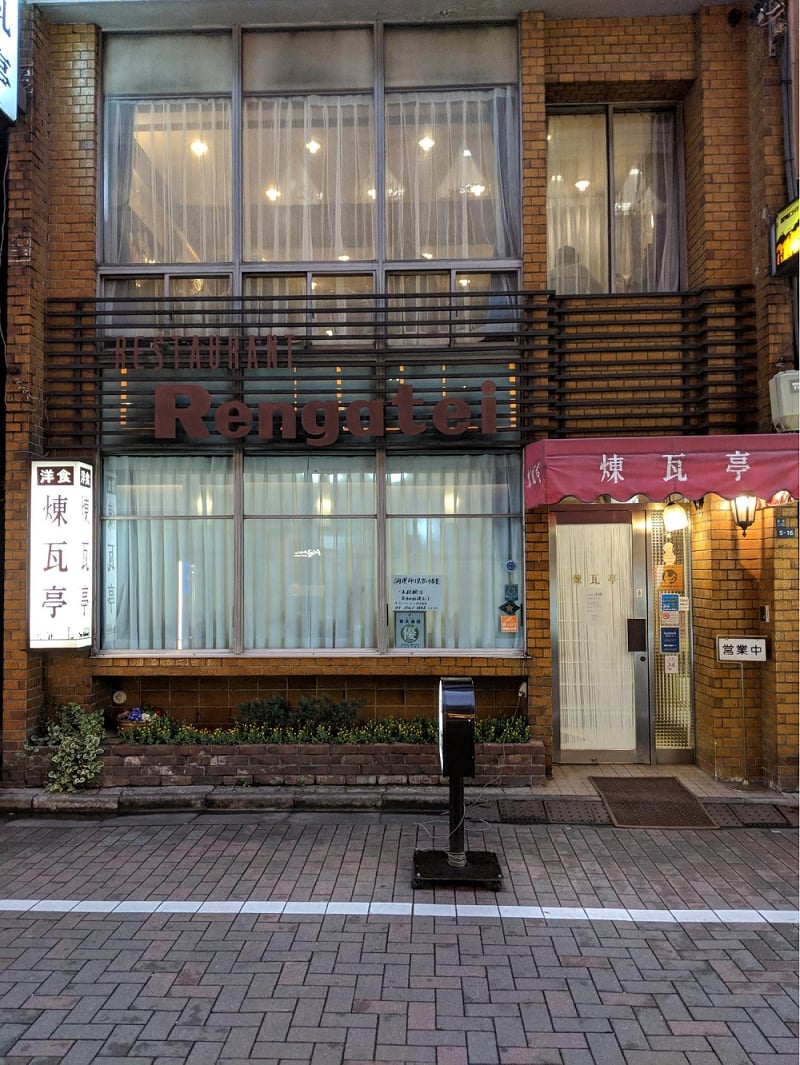 I was quite surprised when the omurice I ordered was served to me. If you look closely at the photo, you can see that the fried rice and eggs are mixed together! Instead of being an omelette, it was just a very eggy fried rice. Apparently, this is how they first introduced their omurice at Rengatei, and the restaurant has kept it this way ever since. The dish itself was 1,500 yen (around USD15), which I thought was pretty pricey for a simple meal. In terms of taste, I would probably give it a 3 out of 5.
On the other hand, Hokkyokusei, the restaurant in Osaka, serves their omurice the way that most people now know it as – with the egg wrapped around the fried rice. Compared to Rengatei, the omurice varieties served here are more reasonably priced, around 700 to 900 yen (USD7-9). I haven't had the opportunity to try this restaurant yet, but from what I hear, there are always long queues during lunch and dinner time since they don't take any reservations. If you interested in checking out their version of omurice, perhaps go at odd hours during the day and avoid weekends.
Omurice is a very simple meal, but it is actually quite challenging to make. To get the soft egg to perfectly wrap around the fried rice takes patience and lots of practice. If you are willing to test your cooking skills, try the recipe below (from Omurice no Iroha) and see if you can make it at home!
Ingredients
200g cooked rice
50g chicken breast
1 small green pepper (bell pepper)
1/4 onion
Ketchup
Salt
Pepper
2 eggs
2 tsp vegetable oil
Preparation/Cooking
First, dice and mince the chicken breasts and vegetables, as you would do it normally for an omelette. Next, in the frying pan, add the vegetable oil and cook the chicken until it is slightly brown. Once the chicken changes color, add the vegetables and sprinkle a little bit of salt and pepper for seasoning. After the vegetables are cooked thoroughly, add the cooked rice and mix for a few minutes, then turn off the heat to add the ketchup and mix well.
In a separate frying pan, pour some vegetable oil and add the beaten eggs. Before the eggs get cooked completely, add the fried rice you made earlier on top of the thin layer of egg, to the edge of the frying pan that is closest to you. Then slowly, wrap the egg from the other side of the pan over the fried rice and it is complete! (Wrapping the egg around the rice is the hardest part of this dish).
Transfer the omurice to a plate and add ketchup as the finishing touch!
The cooking method above is actually the "easy" way to make an omurice. If you really want to challenge yourself, you want to be able to make the egg melt as you cut into it – a technique that takes multiple tries to perfect. With this version, instead of wrapping the egg around the fried rice, you just cook the eggs by itself and place it on top of the fried rice, like so.
As a result of Rengatei and Hokkyokusei making Western-influenced dishes like the omurice popular, there are now various restaurants that create their own versions, making it a classic Japanese dish. So, if you are traveling to Japan and have a sudden craving for omurice or if you are genuinely curious to experience what it tastes like, here are ten popular omurice restaurants in Japan that you need to explore.
1. Youshoku Miuratei (Musashiseki, Tokyo)
2. Kitchen+ (Jiyugaoka, Tokyo)
3. Meguro Mitsuboshi Shokudou (Meguro, Tokyo)
4. Musashiya (Shinbashi, Tokyo)
5. Ginza Swiss (Ginza, Tokyo)
6. Kitchen Mirupowa (Kokusai Center, Aichi)
7. YOU (Higashi Ginza, Tokyo)
8. Meijiken (Shinsaibashi, Osaka)
9. Kitchen Check (Ikebukuro, Tokyo)
10. Grill Ron (Umeda, Osaka)
Honestly speaking, there are many other restaurants that are more popular than Rengatei and Hokkyokusei now, so try giving these places a shot.