Matcha-flavoured KitKat, hazelnut KitKat, dark chocolate KitKat… Pfft, we're so over that! Nowadays, it's oh-so-easy to find these flavours available practically everywhere. But did you know that there's tons more totally quirky, wacky flavours of these sweet treats that's only found in Japan? Well, my dear friends, you're about to find out, so read on to get your mind totally blown!
Also Read: What to Eat in Japan: 23 Must-Try Foods Other Than Sushi
1. Hot Japanese Chili KitKat
Image credit: Bodo
Spice up your life (and your taste buds!) with this hot, sizzling flavour! For those who don't know, apparently chili and chocolate are a really, really good pairing. Go slow on this one, though – I heard the burning sensation only comes as an after-taste. Yikes!
2. Wasabi KitKat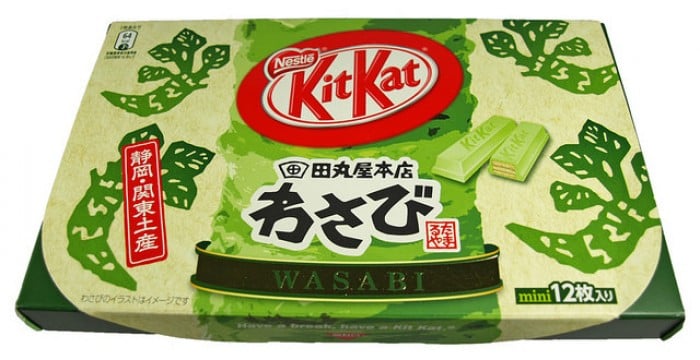 Image credit: Bodo
Just thinking about this brings tears to my eyes… And that signature sharp, tingly feeling up my nose. Thank goodness, though, that this white-chocolate beauty isn't as potent as the actual thing, so for those too scared to try the real deal, here's a sweet (literally) alternative for you!
3. Raspberry & Passionfruit KitKat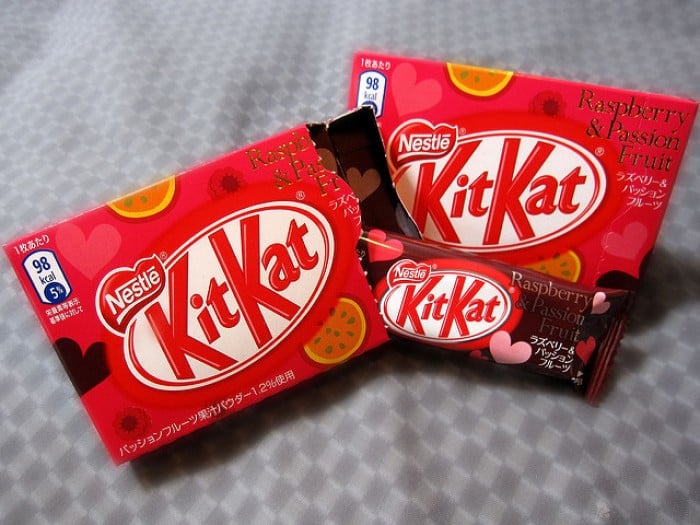 Image credit: Fried Toast
Inject some passion into your life with this special edition KitKat made exclusively for, duh, Valentine's Day! With raspberry and passionfruit cream wrapped in silky dark chocolate, tantalise your taste buds with this delicious treat! Alternatively, a totally cute gift for your lover's sweet tooth, if you've run out of awesome gift ideas. You're welcome.
4. Rilakkuma Hot Cake KitKat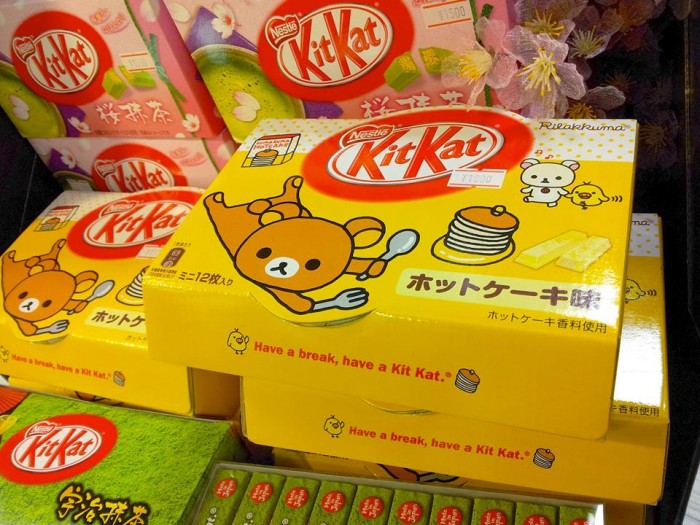 Image credit: Japan Kit Kat Facebook
Even if you don't like hot cakes, you definitely have to get these cuties if you're Rilakkuma fan, just for the heck of it! But with that being said, who doesn't like hot cakes? Plus point: take a bite of these babies instead of the actual thing to save those precious calories and stomach space!
5. Baked Potato KitKat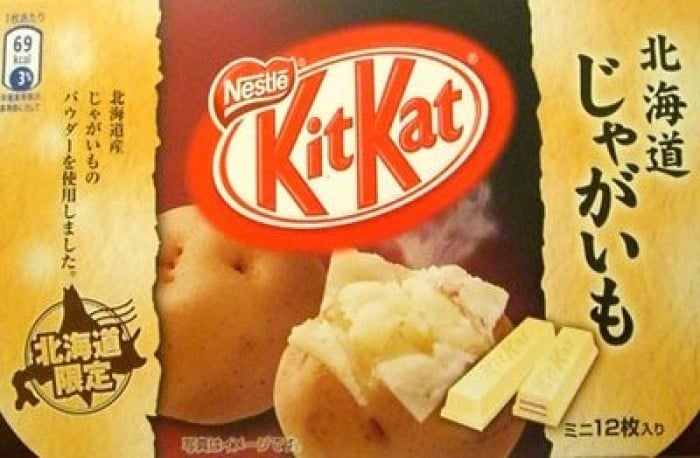 Image credit: Japan Kit Kat Facebook
Wow… Does potato even have a taste?! Trust the Japanese to come up with these downright wacky flavours! Well, I suppose one good thing about this is that no one on earth actually dislike potatoes, right? Right?? My best bet would be that this probably has some interesting earthy tinge to it.
6. KitKat Kinago Ohagi (Mochi)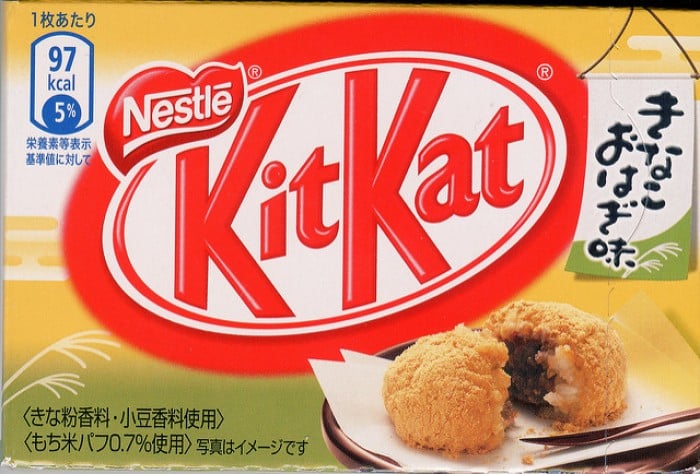 Image credit: Ged Caroll
Oh. My. Goodness. Gracious. Just shut up and take my money now! Mochi-flavoured KitKat, say what? Apparently, it is possible with the ever-amazing Japan! So supposedly, the red bean flavour doesn't come out very strongly… But who cares, because apparently the toasted soy flour and rice flavour are simply heavenly. Mmm… I'm salivating already!
7. Ginger Ale KitKat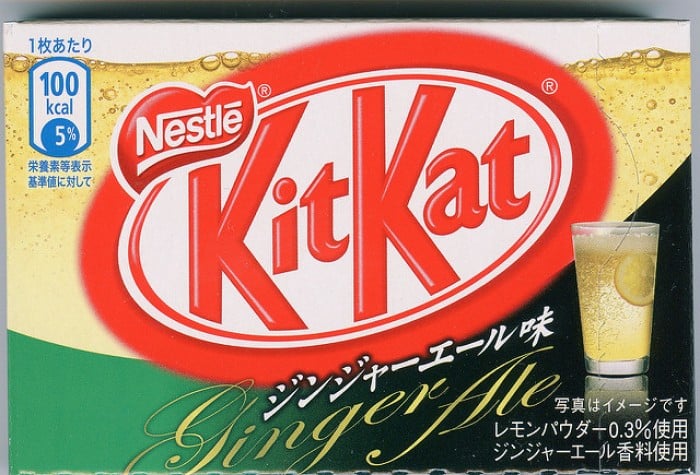 Image credit: Ged Caroll
When it's too early for you to grab a drink, this ginger-ale flavoured KitKat's probably your next best alternative. No real alcohol inside, sadly. Nevertheless, this is one pretty unique flavour you wouldn't want to miss out on!
8. Apple Vinegar KitKat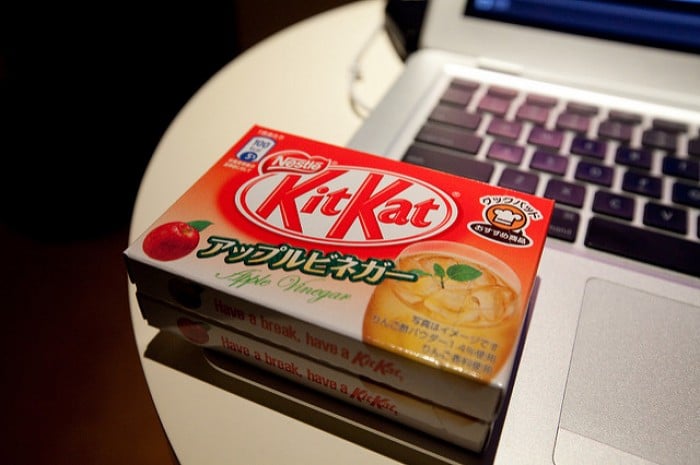 Image credit: Geoff Stearns
So drinking vinegar's a thing in Japan, where the Japanese drink it for health purposes. I suppose it really is, then, since this KitKat has 20 less calories than its cousins of other varieties! And not to worry, it doesn't taste as tart as it sounds, so grab one of the shelves the next time you find yourself in Japan!
9. Toasted Pudding KitKat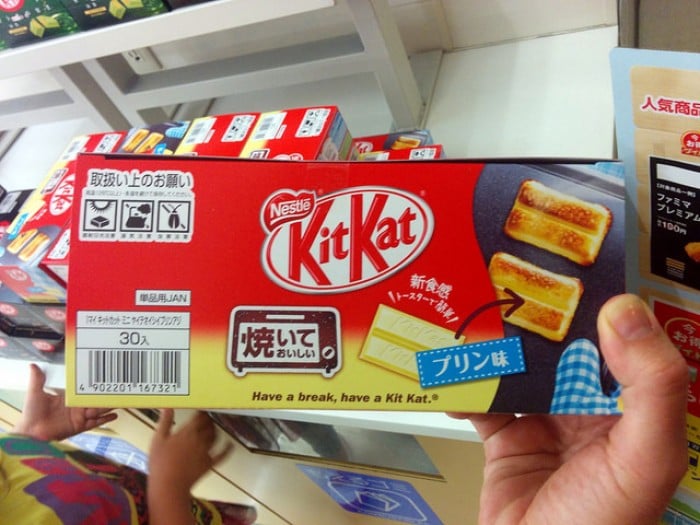 Image credit: Cory Doctorow
Yes. Yes, my friends. Now you can have your KitKat and toast it too! My friend bought some back from Japan a few years back and we eagerly popped them into the oven, gluttons that we are. And let me tell you, the flaky, delicate texture combined with the melt-in-your-mouth sensation and rich pudding flavour was totally heaven. in. my. mouth.
Also Read: 5 Days in Osaka: An Itinerary for Food, Frolick and Fun
10. Vanilla Ice Cream KitKat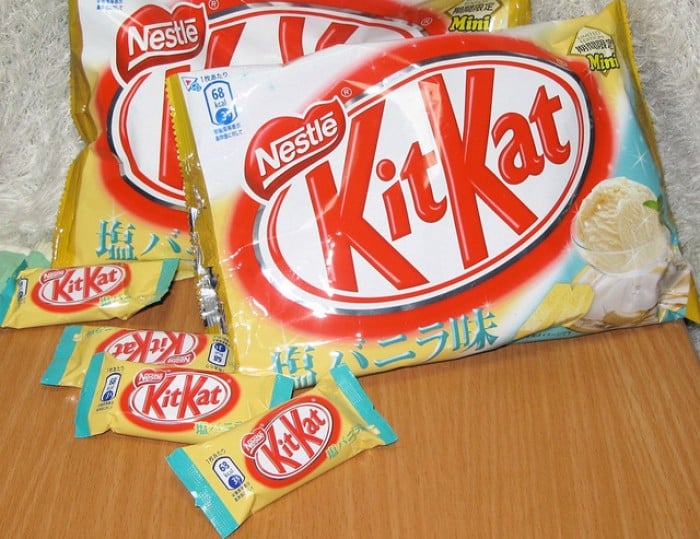 Image credit: Catherine
A tasty treat made for the summer season, beat the heat with these icy delights! And I mean this quite literally – apparently, for maximum enjoyment of this flavour, you're encouraged to freeze these babies for the best vanilla ice cream KitKat experience! Baked KitKat, frozen KitKat… I salute your ingenuity, Japan.
11. Edamame KitKat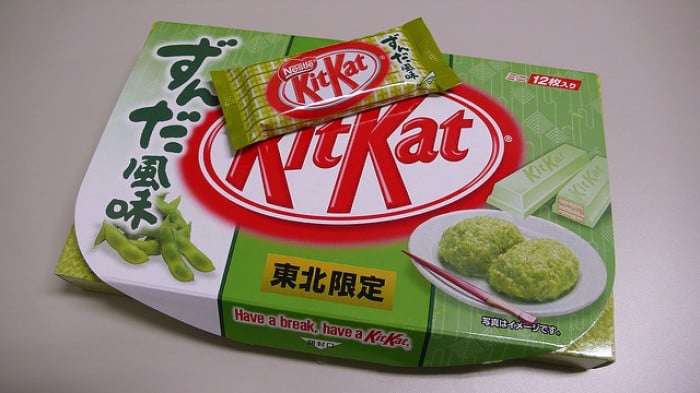 Image credit: Max Braun
Can I just say, gross?! Edamame (or soybeans) are like, one of the rare few veggies that have ever managed to get my seal of approval, but combining it with chocolate… Wow. For the brave and adventurous, try this out in Japan, or if you're like me, snapping a pic would totally suffice.
12. Sour Orange KitKat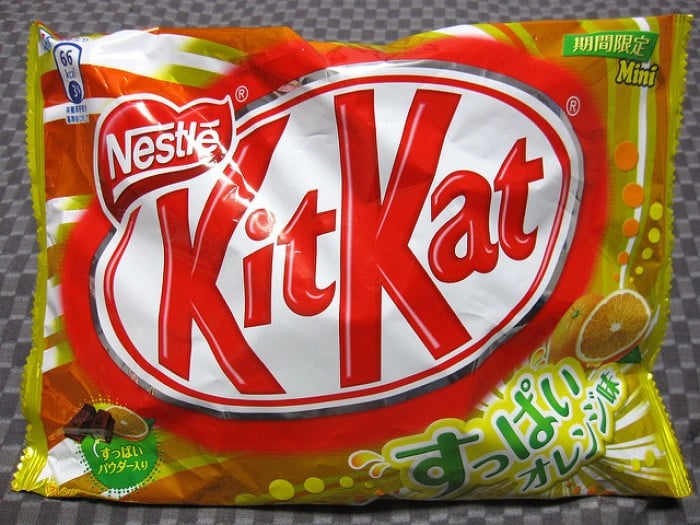 Image credit: Fried Toast
These aren't just ordinary orange-flavoured KitKats, nope, no siree. Japan just had to take it one step further and make these sour orange chocolatey delights! For those who can't take the sweetness of the usual KitKat flavours, try this tangy alternative for a more pleasurable experience instead!
13. Yuzu KitKat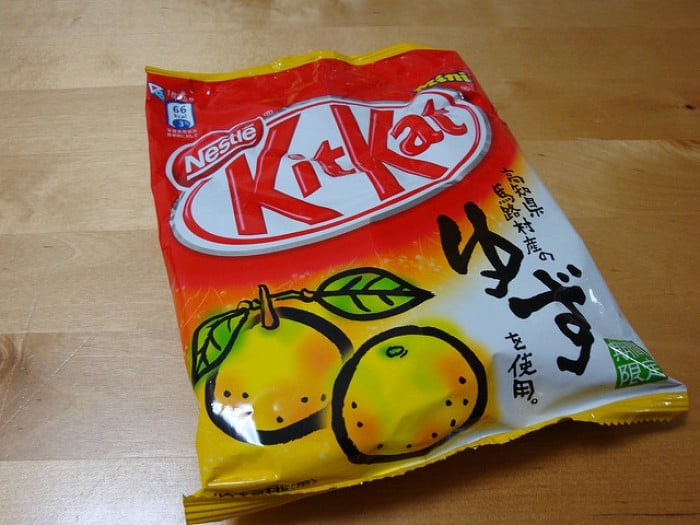 Image credit: David Pursehouse
Or, if sour ain't your thing, then grab a pack of yuzu KitKat off the shelves instead! A more nuanced treat that has all that citrusy and chocolatey goodness, it ends up with that iconic bitter-yet-refreshing taste that we all know and love from this popular Japanese fruit!
14. Soy Sauce KitKat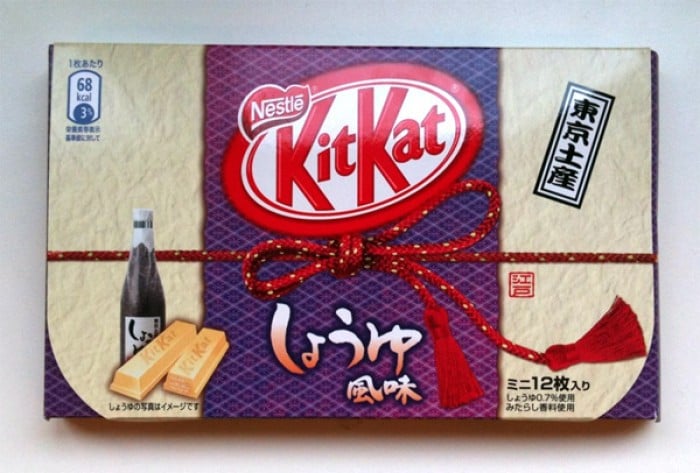 Yikes! What a flavour, huh? Thank goodness it doesn't taste too much like the actual, mega-salty soy sauce… Instead, there's the nice subtle flavour of this popular Japanese dip imbued in the lovely white chocolate, so all that flavour, but none of that salty chocolate grossness!
15. Roasted Sweet Potato KitKat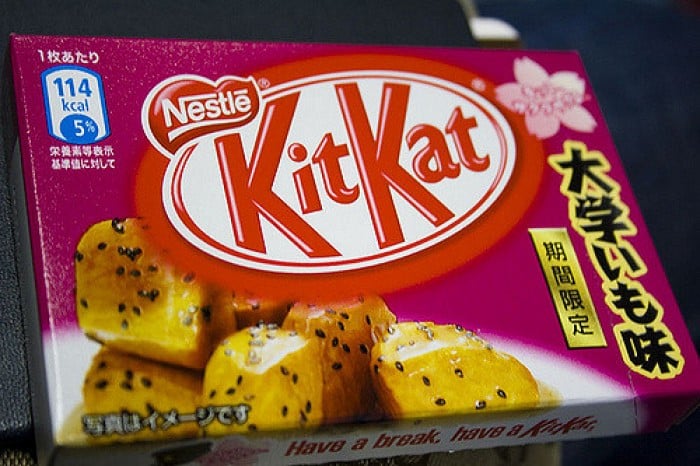 Image credit: adrain8_8
Mmm… Daigaku Imo. A perennial street snack in Japan, hats off to Nestle for combining the all-time Japanese favourite of roasted sweet potato with this super popular candy that's bound to be a winning combination with the locals!
16. Muscat of Alexandria KitKat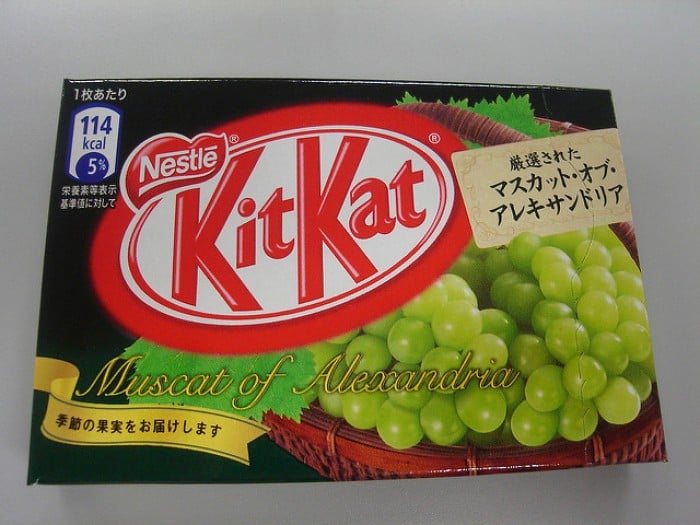 Image credit: David Pursehouse
Sounds pretty fancy, aye? In reality, it just tastes like grapes, really. Nevertheless, it'd be a pretty good (and posh-sounding!) gift to bring home for your friends and family! "Hello, my friends! Have some simply delectable Muscat of Alexandria KitKats, of astounding quality and delicate labour!"
17. Gateau du Mont-Blanc KitKat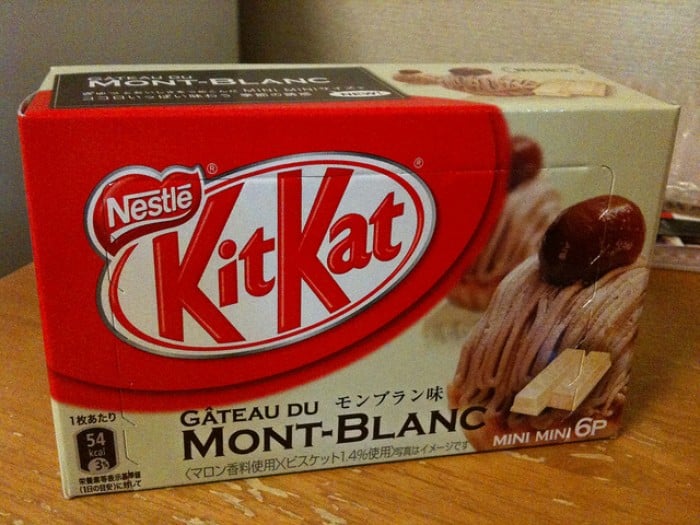 Image credit: Karl Baron
Ahhh, yet another exquisite-sounding flavour of KitKat! Inspired by a chestnut cream dessert, this totally sweet thing provides you with all the right notes of this delicious nutty dessert without the hefty price tag! Many thanks, Nestle, many thanks.
18. Caramel Pudding KitKat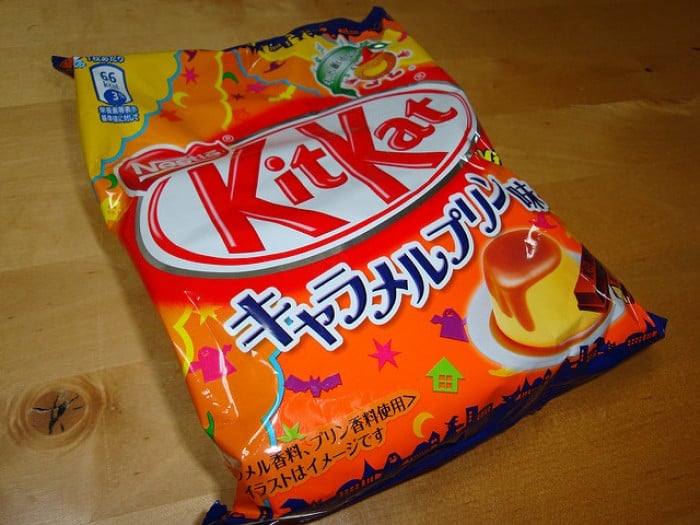 Image credit: David Pursehouse
All you hardcore caramel fans, this is the KitKat for you! With a superbly strong caramel scent that hits you right in the face (or nose, rather!) the minute you tear open the package, you just know that this ain't gonna disappoint. Bonus: this candy bar has actual smoky notes, just like the real deal! Pretty neat, huh?
19. Sakura Matcha KitKat
Image credit: Bodo
I mean, why just stop at matcha? Why not go even further and step into uncharted territories, where no man has ever dared to tread before? No man except Nestle in Japan, that is. Indeed, with this Sakura Matcha KitKat, feel the two great flavours of this land compacted into one tiny candy bar. It doesn't get any more Japanese than this!
20. Red Bean KitKat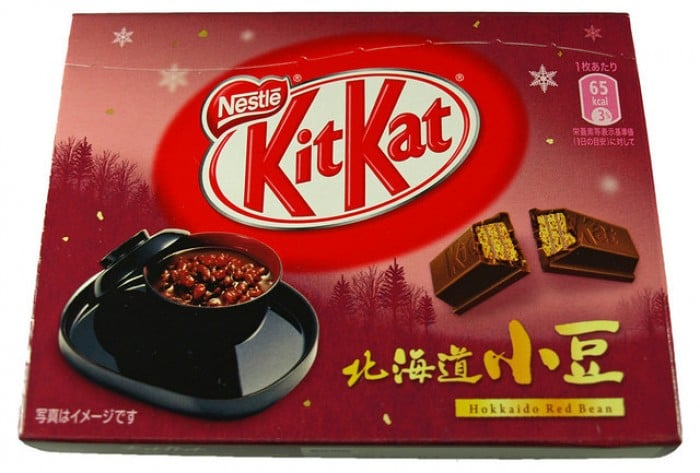 Image credit: Bodo
Ahhh… Another totally Japanese flavour! Hokkaido's ingredients are known to be super fresh, so you'll definitely be wowed by the strong-yet-not-overly-powering flavour of the red bean combined with chocolate.
21. Red Bean Sandwich KitKat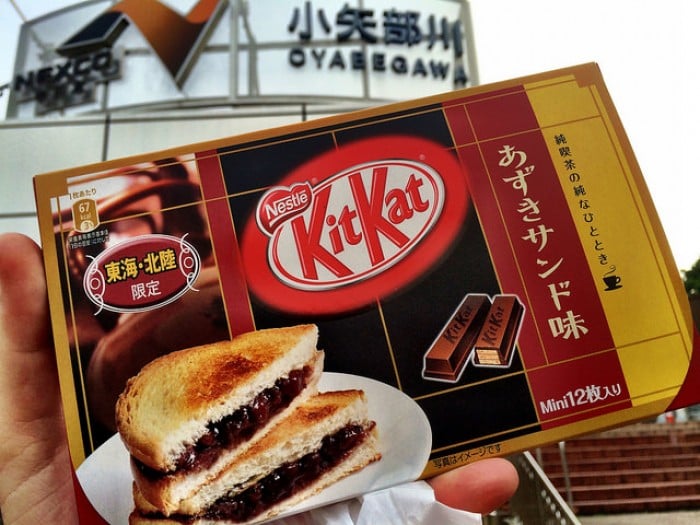 Image credit: Karl Baron
And of course, Japan being Japan once again, why stop at just red bean? Why not have a red bean sandwich flavoured KitKat as well? Tasting almost exactly the same as the previous KitKat, this interesting flavour holds the taste of burnt toast as well! Yes, you read that right, burnt toast. Not everyone's cup of tea, but definitely an interesting KitKat to try!
Also Read: 24 Super Fun Things to Do in Tokyo on Your Very First Visit
22. Vegetable Juice KitKat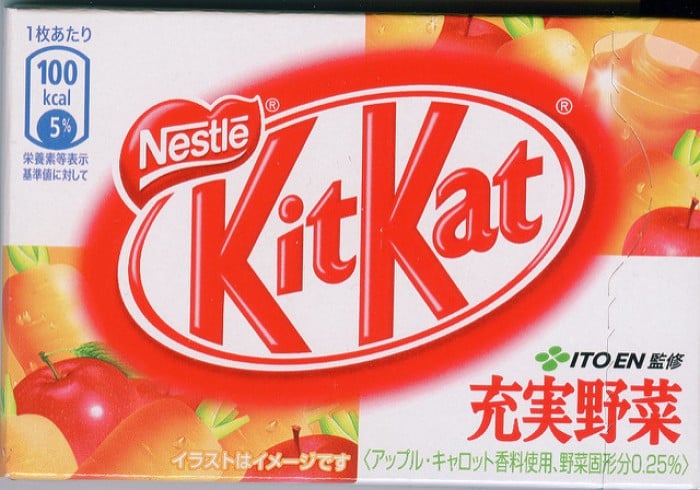 Image credit: Ged Caroll
In all honestly, vegetable juice seriously puts me off. But hey, don't knock it till you've tried it, amirite? Thankfully, this doesn't taste too weird, as suggested by the pretty *ahem* unique sounding flavour. Instead, there's notes of apple and carrot juice, but not too much that makes you feel like you've reached your vegetable consumption limit of the day.
23. Fruit Parfait KitKat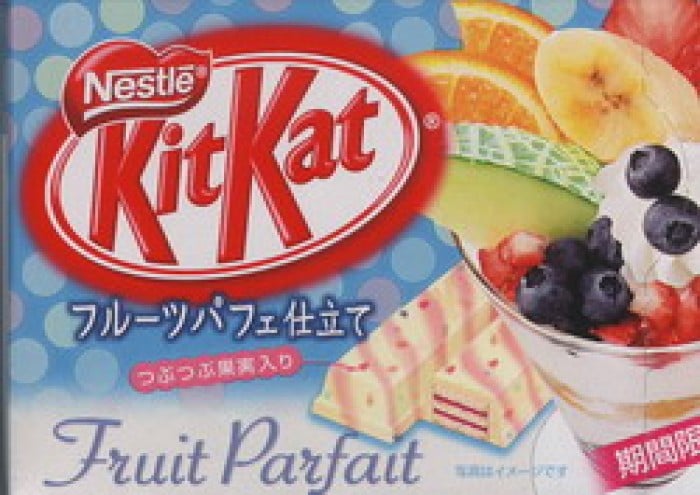 Image credit: 23N!
If you really can't stand the sound of 'vegetable juice', though, then maybe the Fruit Parfait KitKat is more up your alley? With freeze dried morsels from five different fruits littered all over the strawberry choco-streaked white chocolate, this is perfect for the totally sweet-toothed!
24. Rum and Raisin KitKat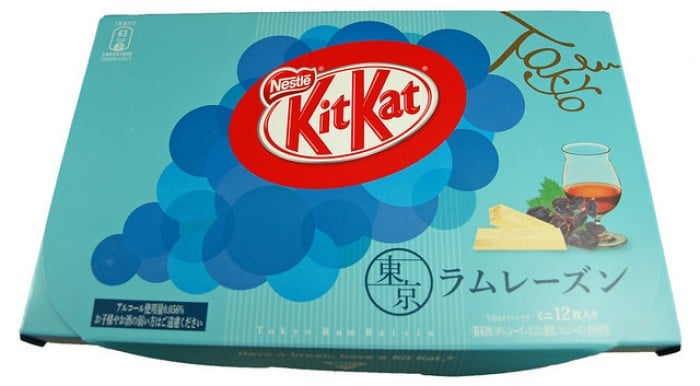 Image credit: Bodo
With 0.056% alcohol imbued in its totally delicious interior, this is a pretty tasty way to get drunk, no? Although you'd probably need to finish maybe, like, 200 of these to even feel a lil' kick! I wouldn't mind, though, if calories didn't count.
25. Cola and Lemon Soda KitKat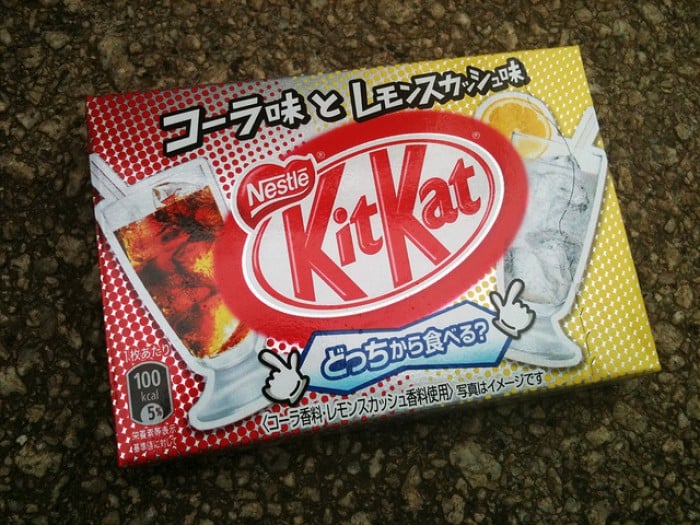 Image credit: Mr. Brian
Wow! 2 in 1? It doesn't get any better than this! So these babies even come with a little fizzle as an aftertaste, with a perfectly tangy flavour to even out the sweet, sweet chocolate. And, yes, it does taste and smell like cola and lemon soda!
26. Sake KitKat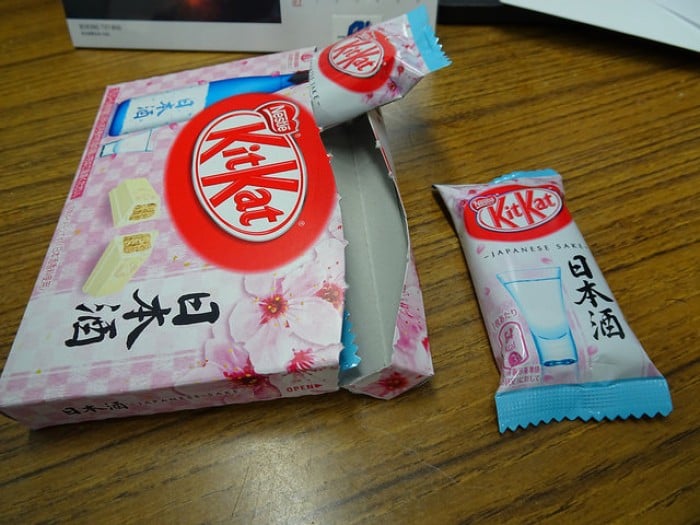 Image credit: Cookie M
If you've been to Japan and haven't drunk a drop of sake, boy, you're missing out! The alcoholic drink of Japan, this is the perfect mix of adult-yet-childhood-reminiscent snack for you, with the sweet chocolate and smooth aftertaste of sake blending in well together, and a pretty high alcoholic content of 0.8%! Compared to the Rum and Raisin KitKat.
27. Strawberry Cheesecake KitKat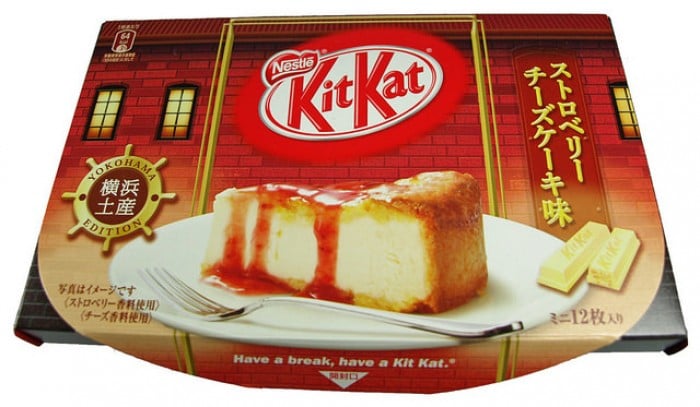 Image credit: Bodo
Mmm… Cheesecake. Who doesn't like cheesecake!? Creamy, sweet, rich, and with a tinge of savoury, that's an all-rounded perfect. Okay, so I might be biased because this is my absolute favourite dessert, but hey, you can't go wrong with cheesecake-flavoured anything!
28. Cinnamon Cookie KitKat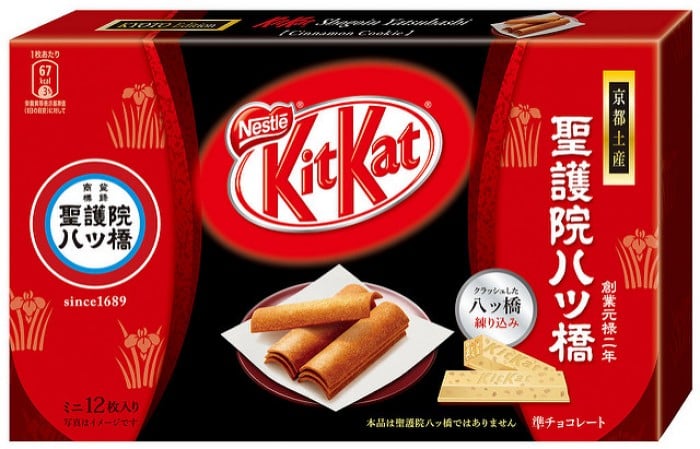 Image credit: Nestle
Okay, so this isn't especially unique, but I love cinnamon, so here it is. So sue me! Seriously, though, the mildly sweet chocolate and iconic taste of cinnamon with its subtle flavours are a great combination for the less sweet-toothed eaters. Just be careful not to wolf down too much at one go!
29. Cheese KitKat
Image credit: Ricardo Zappala
Wow. Okay. So this is pretty interesting. I'm kind of put off by how the cheese might taste when combined with chocolate… But I'm a huge fan of both individually, so hey no harm trying this out, amirite? You never know, this might be the best one of the lot yet!
30. Annin Dofu KitKat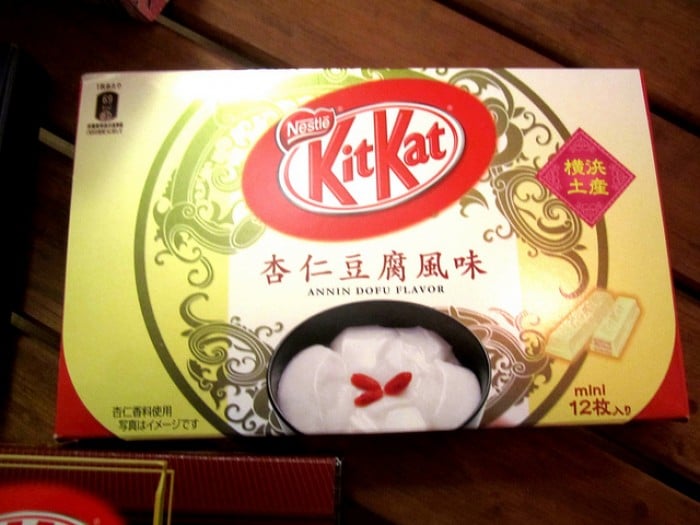 Image credit: Amy Ross
Basically a jelly dessert with an almond flavour, I suppose it'd be a pretty unique experience to taste what this is like when it's been translated into chocolate form. I mean, after all, the texture are seriously worlds apart, so maybe… Kind of surreal? Nevertheless, the intense flavours of Annin Dofu would be sure to make this a memorable KitKat experience!
31. Royal Milk Tea KitKat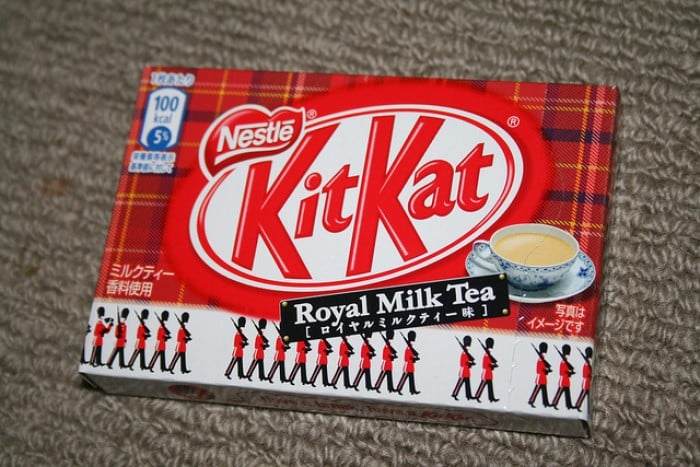 Image credit: Emily
Boy, you'd think the Brits would have beaten the Japs to the punch with this flavour! Thank goodness the Japanese did think of this, though, because this chocolate wafer really does capture the deliciousness of the actual drink, with hints of floral and the fragrance of the tea! YUM.  
32. Plum Soda KitKat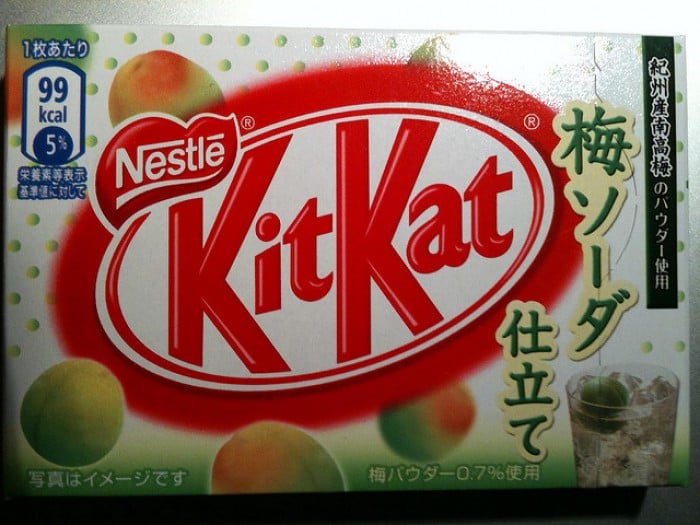 Image credit: 23N!
And finally… Plum Soda! This is so not one for everyone, with the sour flavours of the plum combining with the tarty soda tones, all combined together into the sweet, white chocolate… It'd take a pretty special taste bud to really enjoy this candy!
Also read: 16 Things Japan Does Better Than Your Country
Japan sure knows how to KitKat it right. With so many flavours abound, it's almost impossible to pick just a few! So the next time you find yourself at the Land of the Rising Sun, take my extremely awesome and useful advice: just. buy. everything.