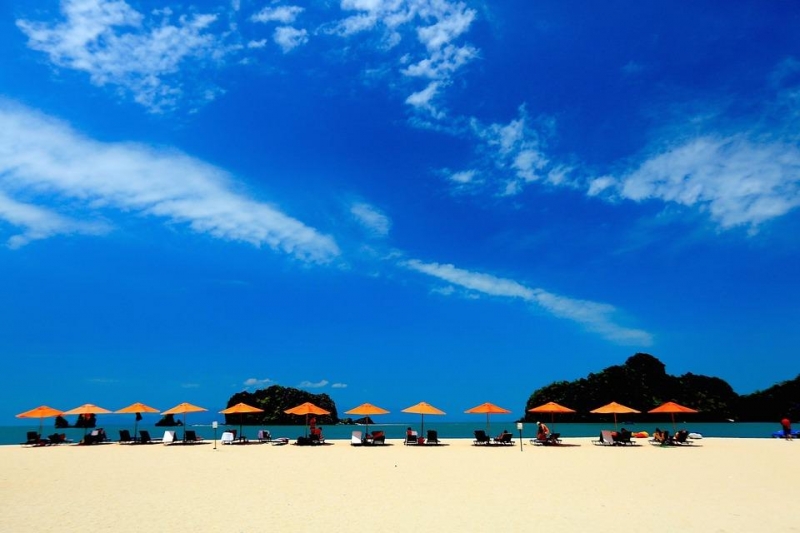 Known as the Jewel of Kedah, Langkawi is, in essence, an archipelago made up of 99 islands some 30km off the mainland coast of Malaysia. Popular among locals and foreign tourists for its unbelievably beautiful beaches and natural splendour, if you ever decide to visit this tropical paradise, it could be one of the best decisions you make.
There's plenty to see, do and yes, eat in this prominent getaway destination. Here's a short 3D2N guide to the best beaches and landmarks you shouldn't miss!
Day 1 – Sights to behold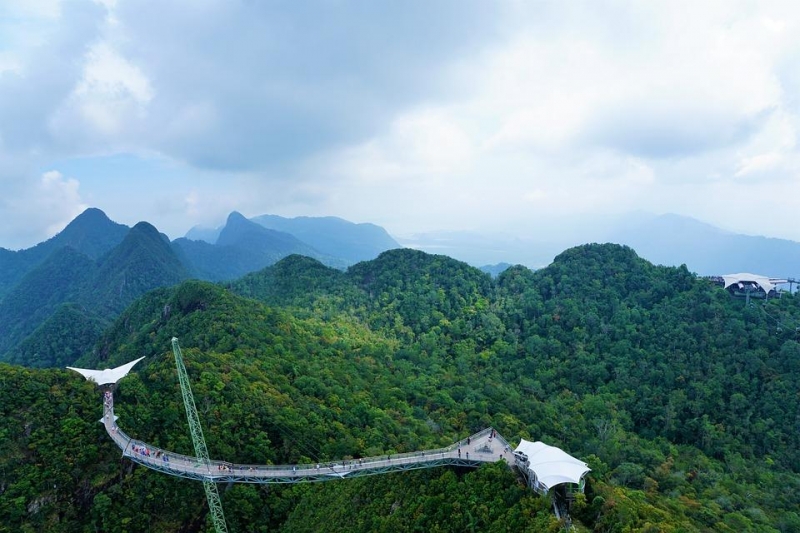 Before hitting any of the beaches, be sure to head up to the Langkawi Sky Bridge – which is a 125 metre-long, steady, curved pedestrian bridge that's so high up it might make some folks squeamish. Here, you can catch a nearly-full view of the island's many destinations, including the several islets surrounding Langkawi and the Telaja Tujuh waterfalls. You might want to ride the cable cars up there early, however, in order to avoid any possible long queues.
Next, stop by Shark Bay Beach for a light picnic. With decent facilities and plenty of shade for those who want to just sit back and enjoy the ocean view, this shore also features shallow waters and interesting tide patterns that can be found at certain times.
As the sun begins to set, it's time to make your way to the Tanjung Rhu Public Beach (which may be a bit of a drive depending on where you stay on the island). Many have said that the Langkawi sunset is best right here, casting a pinkish/purplish tone on the sky as you watch the night take over the day.
For a laid-back, leisurely island meal accompanied by lush greenery and rolling fairways, head over to The Fat Frog – a family run restaurant that offers pretty views and hearty, wholesome cuisine. Options on the menu include Mediterranean Salad and a fresh catch of the day.
Day 2 – Time for some fun in the sun
Directly south of Cenang Beach, Pantai Tengah Beach is a haven for water sports enthusiasts. While swimming isn't practical here, if you're looking to get your blood pumping in the morning, you can find water activities, including jet skiing, banana boating and paragliding sessions.
Cenang Beach (which is about a 20-minute drive from Koah) should be next on your list. Take a dive into clear waters or just spend your time on the shore. This is one of the more popular beaches, pretty much constantly filled with loads of people as well as food and drink options.
Hungry after all that splashing about? Drop by Restoran Siti Fatimah – a popular nasi campur joint on the island – for the opportunity to enjoy a combination of Malay-style dishes served with a piping hot plate of white rice. Here, most of what's available is composed of meat, seafood and vegetable selections.
Day 3 – Time for adventure
Today you'll be getting down to some snorkelling fun at the area around nearby Payar Island. Seeing that this site has been a marine park since 1985, corals and marine life are thriving and plentiful.
If you want to end your trip with something other than blissful beaches and picturesque ocean views, why not visit the Telaga Tujuh Waterfalls? This destination (which means Seven Wells Waterfalls in English) could be best described as a series of seven connected nature pools made up of seven separate waterfalls that lead into Mount Mat Cincang. It's a magical natural landmark that many consider the island's most appealing attraction.
Next, it's time to grab a quick lunch at Pia's the Padi before setting off. This eatery is known for its great Indian-style food and has received loads of good reviews. The chicken masala with rice and roti combination is supposed to be an experience that must be had!
For those in the know, Langkawi needs no introduction. With pristine beaches, amazing natural landscapes and thriving townships, there's so much to see and do here that you'll probably need to come back a second time in order to get the most out of all that this incredible destination has to offer.