When it comes to Malaysia's vibrant portfolio of tourist attractions, Pasar Seni in Kuala Lumpur is one of the locations that stands out the most. In Malay, pasar seni translates to "art market" — in reality, it is a famous interchangeable train station on the KL Metro that's named after Central Market near Petaling Street. Both the MRT and LRT platforms are located in the same train station, which makes Pasar Seni convenient for exploring. 
If you were to ask the locals, Pasar Seni has always been considered a hub for local art, culture, and heritage. Besides the Central Market, there's so much to see and experience! When you want to plan a creative day out with yourself or somebody else, here is a 24-hour guide to savouring the best of what Pasar Seni has got to offer. 
Also read: The Ultimate 6-Day Singapore-Malaysia Itinerary For First-Timers
Pasar Seni, Kuala Lumpur in the morning
1. Central Market
Central Market in Kuala Lumpur is one of Malaysia's historical landmarks, and visiting it is one of the top things to do in Pasar Seni. It was once a wet market in 1888, but today, it's the perfect place for art lovers and tourists alike. Inside, you can treat yourself to a myriad of shops selling handicrafts, souvenirs, collectables, and more! The stalls are all grouped into different zones: Lorong Melayu, Lorong Cina, and Lorong India. 
For first-timers, do drop by Ainna Artwork for a DIY batik workshop. Batik is a unique dyeing technique that originated in Java, Indonesia. However, at Ainna Artwork, the batik designs are all designed by their in-house artist and reflect the Malaysian landscape. 
After that, you can learn more about Chinese calligraphy in Lorong Cina. In the same zone, you can get your fortune read at Master Chin Palm Reading. In Lorong India, you can get henna designs on your hand at Unique Art Of Henna. If you're in the mood to shop for clothes, head upstairs to the Mezzanine Floor!
Venturing outside to the Central Market Annexe, you can visit the Illusion 3D Art Museum, Art House Gallery, and the Central Market Art Lane where you can admire stunning art and paintings done by local artists. 
2. Katsuri Walk
Right beside Central Market, you can indulge in a self-led tour of Katsuri Walk. There are more vendors out there, selling many things like clothes, shoes, watches, and tons of snacks like Malaysian street food and fresh fruit. Arguably, the best time to visit would be during significant holidays, like Hari Raya or Chinese New Year. This is because there's much more to see, including seasonal items that are relevant to the holiday festivals. 
3. Lim Kee Cafe
Now let's take a break from all the shopping and sightseeing and grab a bite. Aesthetically pleasing cafes in KL are trending right now, and you do not want to miss any of them. Petaling Street is pretty famous in KL for its range of cafes and restaurants. Many foodies would come here to cafe hop and take pictures at Instagrammable cafes. If it's still early for you, head to Lim Kee Cafe. You can try a classic form of Malaysian breakfast — roti bakar, soft-boiled eggs, and coffee. 
Pasar Seni in the afternoon
4. Merchant's Lane
To add to Petaling Street's list of famous restaurants and cafes in KL, Merchant's Lane would be perfect for brunch and lunch. They specialise in a vibrant menu with both local and Western-fusion dishes. You can order their South China Sea (grilled salmon with hash and eggs), Port Klang (a seafood platter), The Taukay (beef burger with peanut sauce), or any of their pasta dishes. Better yet, if you want dessert, the cafe has cakes you can indulge in! 
Cafe hopping is also one of the more popular activities under things to do in Pasar Seni! When you want to spend the afternoon with a detour of cafe hopping, we recommend
Vintage 1988, Mingle Cafe, Leaf & Co Cafe, The Hungry Tapir,
and
Yew Yew KL. 
Also read: A Foodie's Guide to Malaysia: Where and What to Eat in Penang, Ipoh, Kuala Lumpur, and Melaka
5. Urban Artisan
In the mood for ice cream? Let's head to Urban Artisan, which is conveniently located across from Merchant's Lane. They specialise in colourful soft-serve ice cream worthy of Instagram pictures. What makes this dessert shop stand out would be the menu of unique flavours that changes weekly. Some of the flavours I've tried include sea salt, matcha, Thai coconut, and Valrhona chocolate. You can opt to eat your ice cream in a cone or sandwiched within a  crispy yet soft waffle. 
6. Niko Neko Matcha
Niko Neko Matcha is a Malaysian matcha artisan brand. Besides matcha, they also specialise in houjicha and genmaicha. If you want the best matcha in town, head on to Niko Neko Matcha 2.0 in Petaling Street. You can choose from a variety of rich matcha green tea drinks, like their signature matcha latte and mocktails. Pair it with their artisan cakes and pastries and you've got yourself a true piece of heaven for matcha-lovers. 
7. Petaling Street
Petaling Street is one of the other top things to do in Pasar Seni, Kuala Lumpur and arguably one of the city's most famous locations. It's a massive flea market where tourists and locals alike flock here to do three things: Figure out what to eat in Pasar Seni, take pictures, and continue shopping for merchandise. Like with any flea market, everything's a sensory experience. You can stop by any of the rows and rows of stalls selling whatever you can think of, including clothes, bags, toys, shoes, wallets, accessories etc. 
If you want to snack on something, we recommend apam balik, muar chee, air mata kucing, and soybean milk. 
8. REXKL
REXKL is another unique arts and culture hub in Pasar Seni Kuala Lumpur. It's a community hub for many kinds of events, including theatre performances, workshops, and screenings. Visit The Back Ground, a food hub in KL specialising in local F&B entrepreneurs. 
Besides food, they also support local businesses here too. If you want to visit a gorgeous bookstore in the heart of KL, BookXcess at REXKL is a must-see. Imagine floor-to-ceiling shelves with shelves of books, all packed in a comfortable space and rugged interior. For the book-lovers, you can describe BookXcess as this maze with its hiding nooks, and every corner is a photo-op. 
9. Chan She Shu Yuen Clan Ancestral Hall
So we've touched art, food, and shopping in Pasar Seni. Now, let's check out he, specifically the religious temples near Petaling Street. Chan She Shu Yuen Clan Ancestral Hall was built between 1899 and 1906. The architectural design was modelled after Chan Clan Ancestral Hall in Xiguan, Guangzhou, China. As of 2006, it was declared a heritage building. Contrary to popular belief, Chan She Shu Yuen serves as a clan association building than a traditional Chinese temple. 
In the past, clan associations helped immigrants settle and find work. Today, their societal roles remain just as important as they organise festive and religious celebrations, as well as religious prayers. 
10. Kuan Yin Temple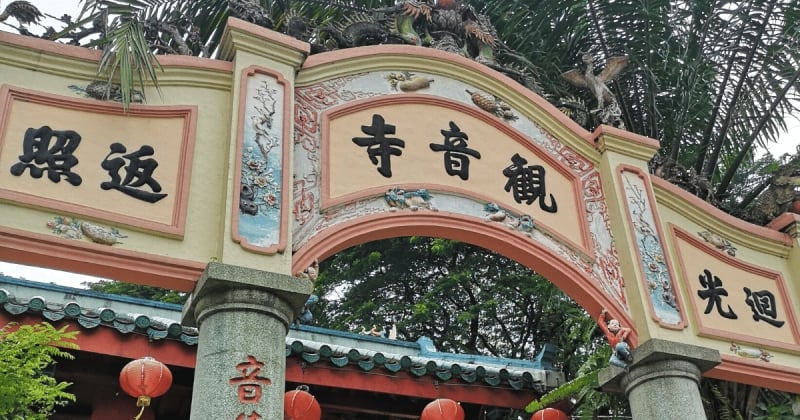 The Kuan Yin Temple is a two-minute walk away from Chan She Shu Yuen Clan Ancestral Hall. The Chinese temple was built in 1880 and honours Kuan Yin, the Goddess of Mercy. As it is located on a hill, you will need to do a little bit of climbing to reach the temple. While it's smaller than the previous location at Chan She Shu Yuen Clan Ancestral Hall, the Kuan Yin Temple in Pasar Seni is beautiful and worth visiting. The temple is peaceful, and you get a view of the city roads below.
11. Sri Maha Mariamman Temple
On the edge of Petaling Street, you can find Kuala Lumpur's oldest Hindu temple, Sri Maha Mariamman Temple. Established in 1973, the temple is one of many famous attractions in KL as it represents the city's Hindu culture. Admire the Raja Gopuram at the entrance, as well as the beautiful sculptures that depict historical moments from Ramayana.  
Pasar Seni in the evening
12. Kwai Chai Hong
Kwai Chai Hong in Petaling Street is yet another creative and tourist-friendly stop in the heart of KL. In fact, it's one of the top places you can visit in Pasar Seni, Kuala Lumpur because there's so much you can explore here! Interact with the art murals that depict life in Chinatown during the 1960s and pose among the colourful restored shophouses. 
During the day, it's a trendy Instagrammable spot in the city, with seasonal art installations to complement the murals. But did you know that Kwai Chai Hong is home to even more cafes, restaurants and bars? 
After dinner, explore the rest of the alley with its bars. Some of the famous bars in the area include Concubine KL, Baijiu, Small Shifting Space (SSS), and G-String KL. Each of these bars follows its own individual style, evident in its interior aesthetic and drinks. With all of them located near each other, bar-hopping is a must. While you're off cafe-hopping during the day, make a quick shoe switch to partake in one of the best things to do in Pasar Seni at night. 
Pasar Seni is perfect for hangouts and dates, even if it's a date with yourself! No matter what you want to do, there are so many places you can go to explore your interests. So if you're looking for someplace to spend 24 hours in Kuala Lumpur, make sure to check out Pasar Seni! 
---
Featured image credit: Marco Verch via CCNull