Boasting world-class financial institutions, tranquil green spaces and mouthwatering local dishes, Singapore is a popular transit hub and cruise destination for many international travellers. Unfortunately, this means that most of these travellers don't get to spend much time in Singapore. If you're one of them, why not look for a way to fully maximise your limited time in this beautiful Garden City?  
We've got the perfect solution for you. Introducing… the Gogreen e-Mobility Lifestyle Hub! Situated at the Fullerton Waterboat House, this is the ultimate one-stop destination for renting convenient mobility devices such as e-scooters and Segway MiniPros. Travelling free and easy on such e-mobility products is trending right now – it's the best way to get around and it's totally legal!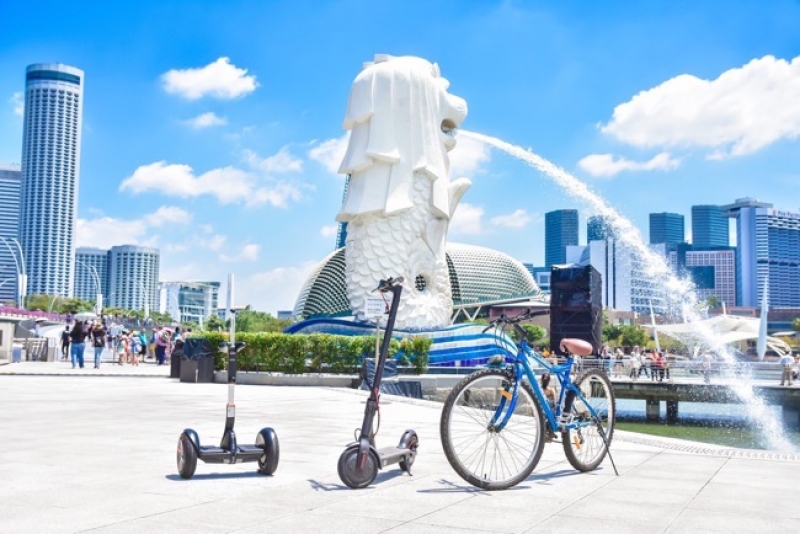 With a Segway MiniPro, you'll get to zoom around Singapore in a way that's faster, safer and much, much cooler! The best part? You'll get to visit some of the best Singapore sights in just two short hours. For all you lazy people out there, we've got an itinerary all planned out. And guess what, we've tried out the route ourselves!
1. Fullerton Waterboat House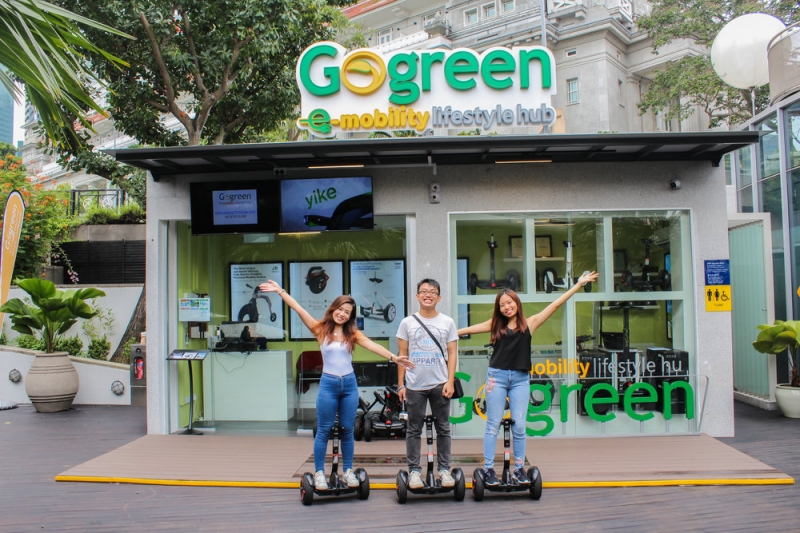 First things first, head to Fullerton Waterboat House to grab your very own Segway from Gogreen E-Mobility Lifestyle Hub! There's no need to manoeuvre the Segway MiniPro using your hands, you can simply use your feet to steer. Even though I was originally nervous about having nothing to hold onto, I soon got the hang of it and started zooming around smoothly. Yup, it's that easy!
But if you have any questions, don't forget to ask the friendly and patient instructors at Gogreen E-Mobility Lifestyle Hub. Trust me, they'll be more than happy to help!
Feel free to spend a couple of minutes riding around the beautiful Fullerton area to get used to your Segway MiniPro, or maybe even drop by the nearby Merlion Park if you have some time to spare!
2. Chinatown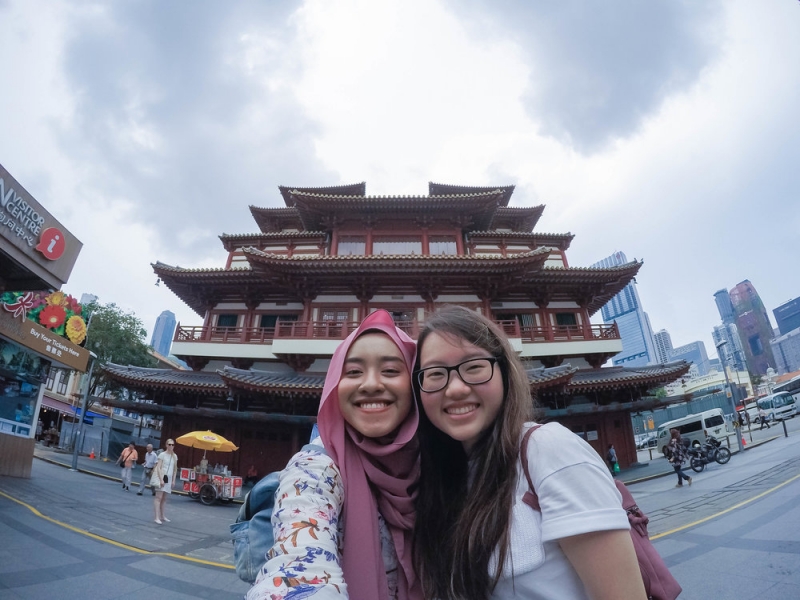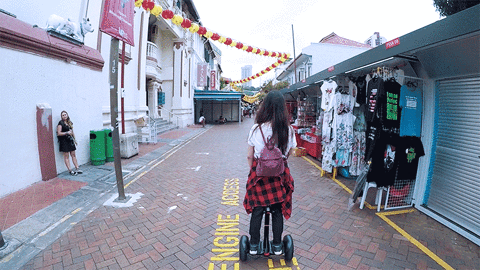 Light and speedy, your Segway MiniPro will bring you to Chinatown in no time! You can choose to zoom past the throngs of tourists while admiring the traditional shophouses and heritage buildings, or slow down and roll along the streets to fully appreciate architectural beauties such as the Buddha Tooth Relic temple, Sri Mariamman Temple and the Masjid Jamae Mosque. If you're feeling slightly peckish, you can even grab a delicious bun or drink from the street stalls nearby!
3. Clarke Quay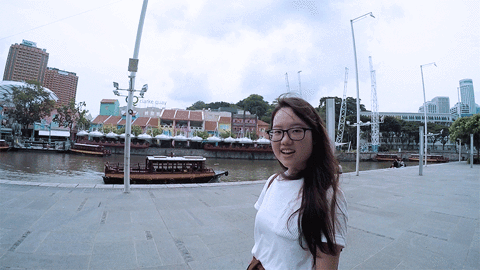 Keep on riding towards the Singapore River and you'll find yourself at Clarke Quay, a famous historical riverside quay in Singapore. This is your chance to glide along the riverside and take in the views of the charming restored shophouses and colourful buildings lining the quay. With a Segway MiniPro, you don't even have to spend much energy to whizz along the river.
Feel the cooling breeze along the riverfront as you whizz past, or wave hello to the other locals and tourists looking at you in amazement and delight. Also, don't forget to grab a sinfully yummy ice-cream cone from Azabu Sabo or Tsujiri and indulge AS you ride away on your Segway MiniPro. It's one of the best perks of being able to ride hands-free!
4. National Gallery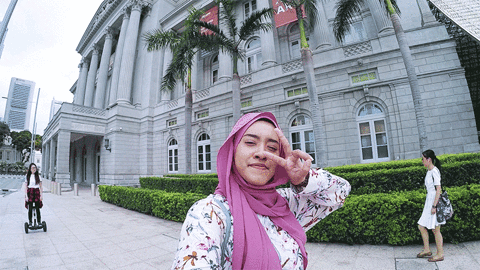 Near the mouth of the river lies the National Gallery, which houses the world's largest public collection of Southeast Asian art. The building of the National Gallery was converted from the former Supreme Court and City Hall buildings, so don't forget to slow down on your Segway and snap some pictures of this lovely classical-style building! There are plenty of Instagram worthy corners within, but you can take it up a notch by posing with your very own Segway MiniPro. Why take mainstream photos when you can pose on a cool device?
5. Esplanade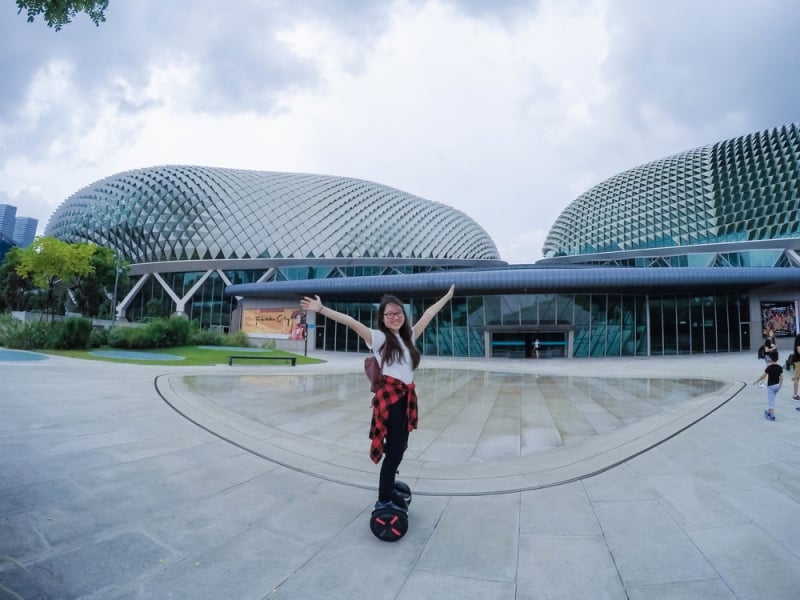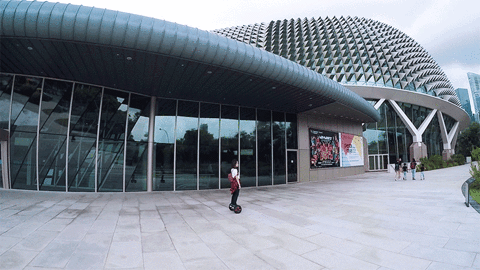 You can't miss out on the Esplanade when you're in Singapore. Fondly nicknamed "the Durian" by Singaporeans due to its spiky exterior, Esplanade is a world-class performing arts centre that hosts a diverse range of dance, music and theatre performances. Roam around the area on your trusty Segway MiniPro and try to find the best angles to take pictures with it!
We felt like trendsetters as everyone else could only watch on in envy, while we glided around in utter enjoyment. We even got stopped by eager passers-by several times, enthusiastically asking about the Segway MiniPro! That was how cool we looked!
6. Singapore Flyer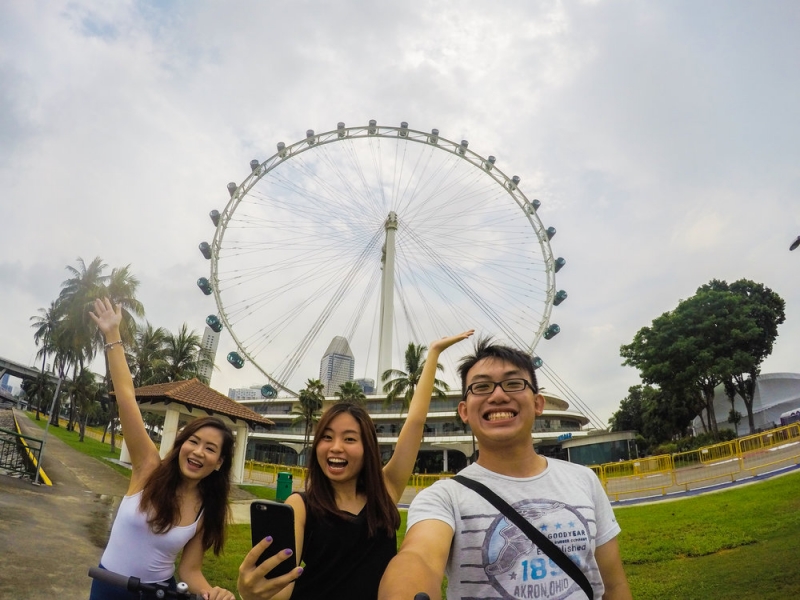 Then, zoom past The Float @ Marina Bay and enjoy stunning panoramic views of the bay area before arriving at Singapore Flyer, one of the most well-known icons of the city. This giant ferris wheel is one of the world's largest observation wheels, so feel free to take your time to appreciate this architectural gem.
If you're hungry, grab a quick snack from one of the food stalls at the Singapore Flyer. After all, nothing says Singapore quite like a piece of kaya toast or a plate of chicken rice!    
7. Helix Bridge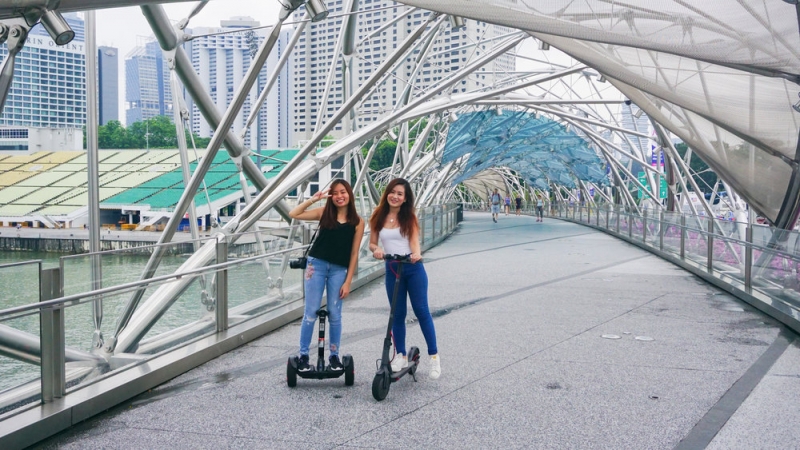 After which, turn left and head onto the swanky Helix Bridge. Inspired by the double-helix structure of DNA, this 280-metre bridge is great for you to whizz along and soak up the wonderful view of Singapore's skyline.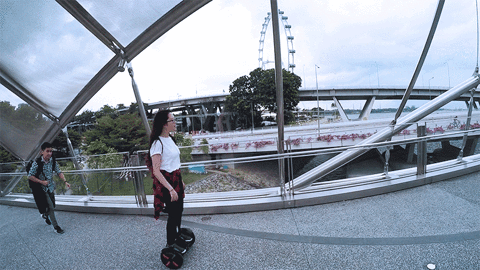 With such a unique design, the Helix Bridge is THE perfect place to get your ideal Instagram shot. Don't worry, it is extremely convenient to take photos or even videos while riding the Segway MiniPro! Just stop anywhere you like, snap a photo, and keep gliding! Sounds fantastic, huh?
8. ArtScience Museum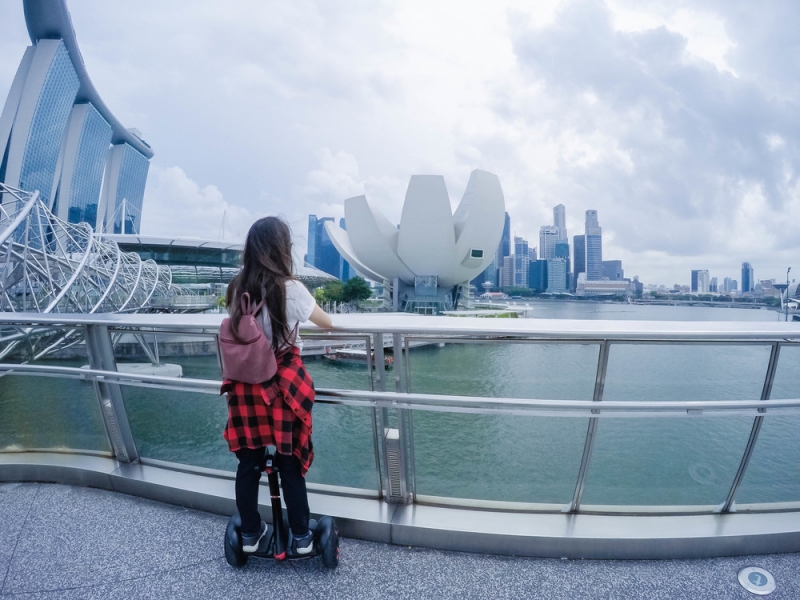 Descend from the bridge and you'll see the elegant ArtScience Museum. Inspired by an open lotus flower, this museum is home to several international exhibitions that connect both art and science. Fun fact: the design of the museum is also meant to symbolise the welcoming hand of Singapore! Don't believe me? Glide around the museum on your Segway Minipro to spot the resemblance!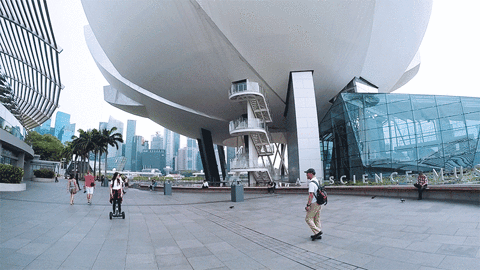 The large empty area right outside the museum is also perfect for you to zip up and down the pavement without a care in the world. Don't forget to stretch out your arms (yay to hands-free Segway MiniPros!), feel the wind caress your hair, and relish the joy of the moment. It doesn't get any better than this!
9. Marina Bay Sands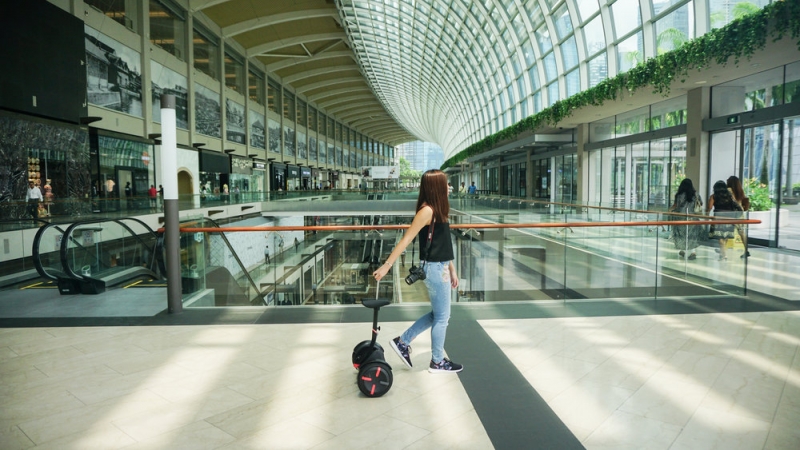 Right next to the museum lies the Marina Bay Sands, an integrated resort perched at the edge of the spectacular Marina Bay. This remarkable complex dominates the Singapore skyline and is one of the most iconic symbols of Singapore! Even though you can't ride your Segway MiniPro in the complex, all you have to do is grab the attached handle and pull it along with you wherever you go. It's so simple and incredibly light!
10. Gardens by the Bay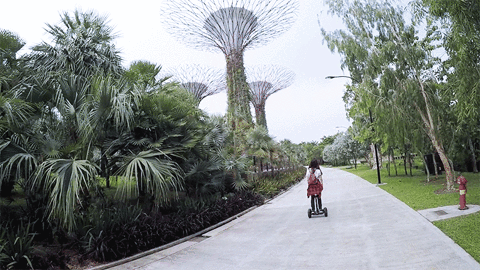 How could anyone miss out on Gardens by the Bay? Occupying 101 hectares of land, this stunning garden truly exemplifies Singapore's vision to be a "garden city". You'll have so much fun zipping past the awe-inspiring Supertrees and colourful blooms!
There are a couple of bumps and slopes in the garden, but fret not – the Segway MiniPro comes with a self-balancing function! It was so effective that even people like us (with no sense of balance whatsoever) could get around safely and easily.
11. Back to Fullerton Waterboat House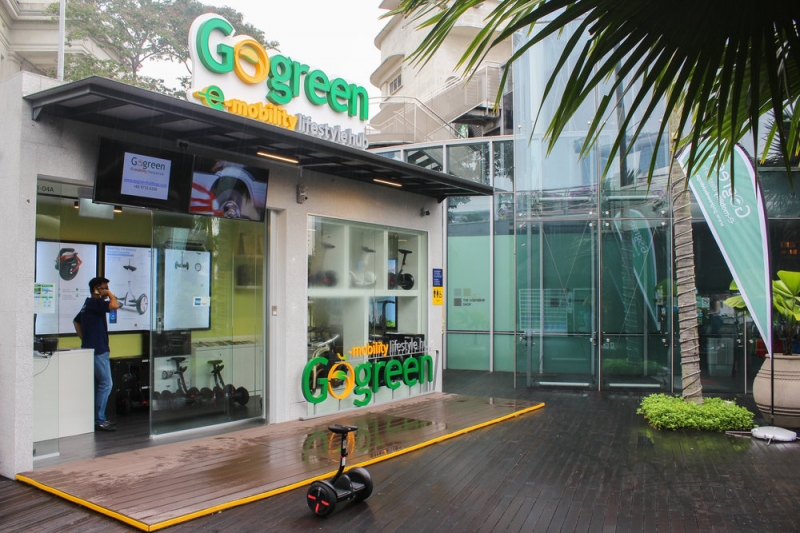 Lastly, end off your exploration back at Fullerton Waterboat House. Take one last look at the scenic bay area and take some selfies with your sleek Segway MiniPro before dropping it off at Gogreen e-Mobility Lifestyle Hub!  
And there you go – a short but comprehensive itinerary that will bring you through some of the best Singapore sights in just two hours! Feel free to mix and match the attractions to create your own unique itinerary.
With a convenient Segway MiniPro, exploring Singapore is so much easier, safer and merrier. So the next time you drop by Singapore, don't forget to head to Gogreen e-Mobility Lifestyle Hub to pick up a handy Segway MiniPro. There's really no better way to explore Singapore! Gogreen is the leader in the market for such e-mobility rental services, so you definitely know you're in trusted hands.
Where: 3 Fullerton Road, #01-04A, The Fullerton Waterboat House, Singapore 049215
Operating hours: 11am to 9pm daily (last rental is at 8pm)
*Overnight rental is also available
---
Brought to you by Gogreen Holdings.